Male Puberty Rules Out Access To Female Racing As FINA 'Gold-Standard' Policy Safeguards Fair Play For Women & Creates Open Category For Transgender Athletes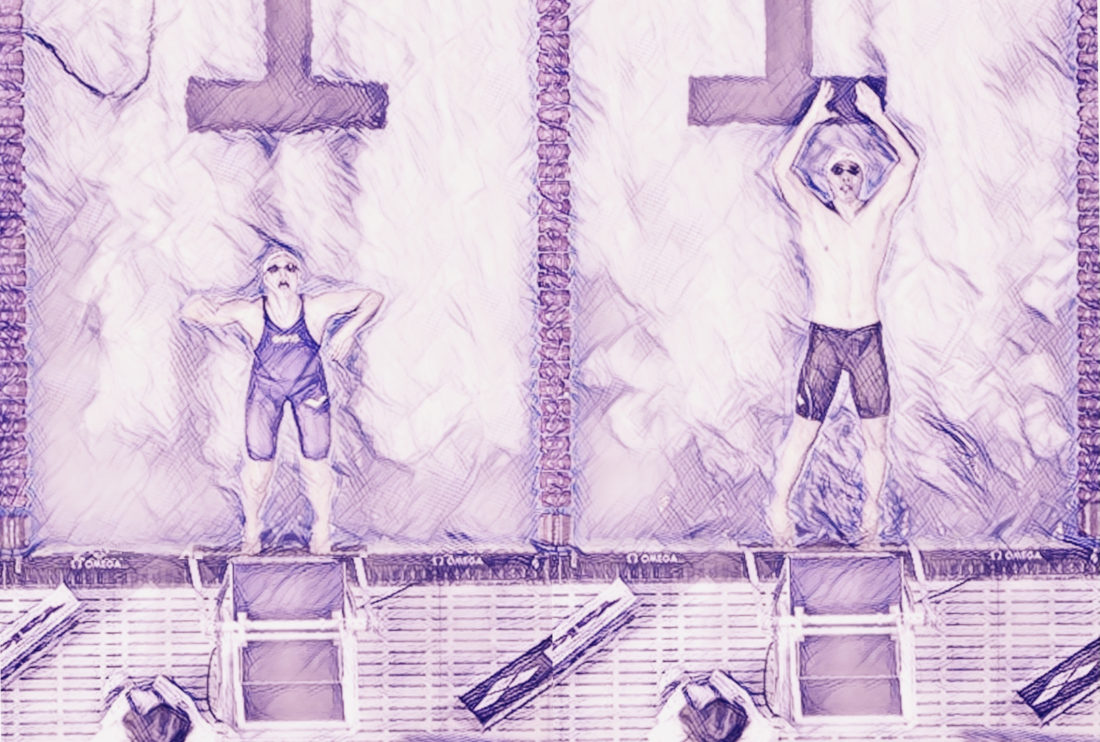 Transgender swimmers will be barred from competing in elite races for women if they have gone through any part of male puberty following a vote by the sport's world governing body FINA.
The policy, which comes into effect Monday June 20, will require transgender athletes to have transitioned by the age of 12 to be eligible for women's events in swimming and other aquatic sports.
At an Extraordinary Congress (the ultimate power of voting in aquatics) held in Budapest by Fina, swimming, diving and water polo's global regulator, delegates from 152 nations voted 71 per cent in favour of what Brent Nowicki, the executive director of FINA, described as the "industry gold standard" for inclusion in sport.
Fina, the global regulator for swimming, diving and water polo, plans to create an open category in which transgender athletes can compete and will appoint a group to determine how this might work.
Sharron Davies, 1980 Olympic swimming medallist for Britain and advocate for women's rights, broke down in tears when the verdict came in, so great the relief on hearing that FINA had bucked the trend and voted to make fair play for women just as important as inclusion of transgender athletes in Olympic sport. Davies has "paid a price" for asking federations to get the balance righty, so vile has some of the debate been in the Wild West of social media that spills into political and worklife realms.
She told The Times and State of Swimming: "I am over the moon. I couldn't stop crying. Here's a decision that finally backs the rights of women to have their own category saved for female athletes. It's been a long, hard road and anyone who spoke up for women, pointed to the obvious science and how it plays out in sports like swimming has been bullied and harassed. I hope this gives other sports the courage top do the right thing and empower women to speak up without feeling they're going to be shot down in flames."
Having had her "personal safety and shy work threatened" Davies thanked FINA, its director Brent Nowicki, president Husain Al-Musallam and all leading a reform process at the federation: "I'm very proud of them for calling in genuine experts and listening to the actual science that process the case we've been making. They've done the science, asked the athletes/coaches and stood up for fair sport for females. Swimming will always welcome everyone no matter how you identify but fairness is the cornerstone of sport."
She hoped that "other federations who listened to lobby groups and made decisions that ignore the science and based their policies on emotions" would think again.
From 1hr 46.30 into the video, watch the Congress presentations of world-class scientists, lawyers, human rights experts and athletes, the speeches delivered by Olympic champions Summer Sanders and Cate Campbell the highlight of the session:
The policy would not have kept Lia Thomas from racing in National Collegiate Athletic Association (NCAA) competition this year. Thomas made headlines around the world in March when, at the end of a controversial winter racing season, she became the first transgender athlete to win an American college title.
The NCAA could have adopted new USA Swimming rules to bar Thomas but opted against doing so. Similarly, it is independent from Fina and could choose to allow transgender women into female races in future.
However, Thomas – who has expressed a wish to race for the United States at the Olympic Games in Paris – will no longer be able to compete in women's swimming at international or national level.
After hearing that Thomas saw no issue in racing in the women's category at U.S. trials in 2024 in search of a place on the U.S. team for the Paris Olympics, Nancy Hogshead-Makar, triple Olympic swimming champion of 1984 who later became an advocate for women's sport and championed Title IX rules in the United States that made it illegal to discriminate against women in sport and in the provision off women's sport at U.S. colleges and universities, said: "I affirm who [Lia] wants to be for all of her life. Whether it's employment, the classroom, or anyplace else. But when it comes to sports, sports is not based on identity. It is based on biology. That is why we have the women's sports category."
Not Everyone Happy That FINA Has Opted To Safeguard Female Category
Not everyone was happy. While Lia Thomas, the first transgender athlete to win an NCAA American college title in March this year, was reported in the U.S. to have declined to comment on the FINA move, 'Athlete Ally' – an LGBT advocacy group which organised a letter of support for Thomas in February, called the new policy "discriminatory, harmful, unscientific and not in line with the 2021 IOC principles".
That message was shot down in flames by presentations from experts in science, law and human rights, including London-based James Drake QC, a Court of Arbitration for Sport arbiter, and Jonathan Taylor QC, another legal mind specialising in legal disputes in sport.
Among world-leading experts in the fields of human development, endocrinology and human performance and exercise physiology, Australian Dr. Sandra Hunter from the Department of Athletic and Human Performance at Marquette University in Milwaukee, Wisconsin, noted that from age 10 or the onset of male puberty, boys experienced a twenty-fold increase in testosterone over girls.
Dr. Hunter, who specialises in sex and age differences in humans, said:.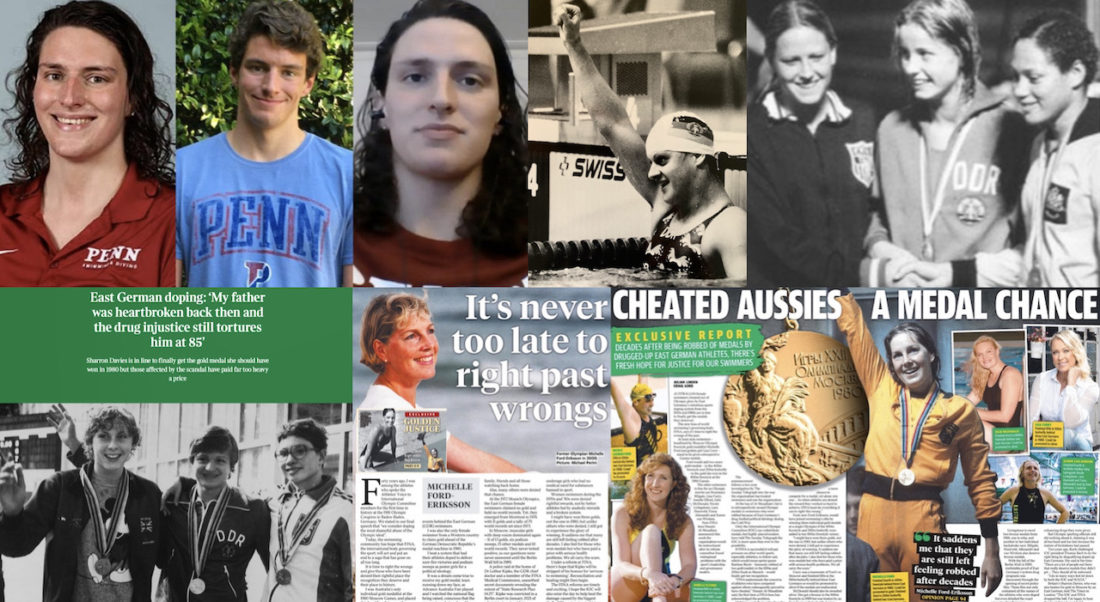 "And that heightened level is throughout life. Let's be clear: Testosterone is an anabolic steroid and enhances athletics performance. Males are stronger, faster, their hearts pump more blood … males are on average taller, with longer limbs, bigger hands to pull that water. The best performing males from 12 year onwards are stronger, can jump higher and further in water and out of it. Even if testosterone is later suppressed, many of the key effects of puberty will be retained, such as stature, the response of skeletal muscles to training."

Dr. Sandra Hunter – image: Women's Swimming was scorched by the androgenisation of girls through doping and now is threatened by a similar challenge to Fair Play as decisions makers at the NCAA, Ivy League and University of Pennsylvania allow transgender athletes born and raised boys to men to race biological women – and win. Clockwise from top left: Lia Thomas, positions 1 and 3, Will Thomas, position 2; Caren Metschuk of the GDR; GB's Sharron Davies with GDR's Petra Schneider and Agnieszka Czopek, POL from a screenshot in The Times; and the Australian Telegraph spread featuring Michelle Ford and teammates hoping for a reconciliation process to heal the wounds of the GDR's systematic doping
In swimming, she noted, by the age of 14, the best boys in the world are already racing faster than female World-record pace. The American 13-14 boys age group records in the 50, 100, 200m freestyle are all faster than the Women's world record in those events.
One slide showed how Katie Ledecky's stunning 8:04 World record, one way ahead of the curve of her peers, ranks 458 among men. Most of her closest rivals among women are outside the best 1000 men in the world.
Sprint events are even more impacted: Sarah Sjostrom's 23.71 World record over 50m freestyle ranks outside the top 4,500 men.
All the evidence stacked up to inclusion and fair play for women being "in conflict", said FINA executive director Brent Nowicki. "Fina's approach in drafting this policy was comprehensive, science-based and inclusive, and, importantly, Fina's approach emphasised competitive fairness."
The new FINA policy would prevent Thomas from representing the United States at national or international level. Thomas had expressed a desire to race at the Paris Olympic Games in 2024.
Fina hope the creation of an open category will set the "industry gold standard" for inclusion in sport that respects the second "essential" pillar of the policy, fairness for women.
The policy is obligatory for all national federations and overrides "any domestic policies" when it comes to qualifying for international competition, and setting World records, Nowicki confirmed. National federations can set their own rules for domestic competition that does not lead to FINA competition. It is expected that many national federations will apply the FINA rule across the board but there are details to nail down when it comes to community and age group competition, for example. The working group will report in six months to determine the make-up of the open category which could potentially come into effect in 2023.
Fina argued that fairness for women was just as important as inclusion. Experts in biology, exercise physiology and human development told delegates that male puberty granted hugely significant physical advantages in a sport such as swimming.
The Fina policy notes: "Because of the performance gap that emerges at puberty between biological males as a group and biological females as a group, separate sex competition is necessary for the attainment of these objectives. Without eligibility standards based on biological sex or sex-linked traits, we are very unlikely to see biological females in finals, on podiums, or in championship positions; and in sports and events involving collisions and projectiles, biological female athletes would be at greater risk of injury."
Open Category Working Group
FINA delegates voted overwhelmingly in favour of a policy that preserves traditional sex categorisation in aquatics sports but opens up the possibility of open categories for transgender athletes by 2023. FINA will create a working group to consider what "Open" would look like, with the president setting a six-month deadline for the group to report back.
Depending on whether other international sports follow Fina's lead, the Paris Games could feature the first open-category races with transgender athletes. Fina will appoint a working group and ask it to report back within six months to determine what the new category will look like.
The policy is obligatory for all national federations and overrides "any domestic policies", Nowicki confirmed. It should help to ensure that any challenge at the Court of Arbitration for Sport (CAS) has a limited chance of success.
Fina's vote drew plaudits from the World Swimming Coaches Association (WSCA), whose president, Jon Rudd, handed a position statement to Fina last month that called for the women's category to be preserved for female athletes only.
The WSCA paper states: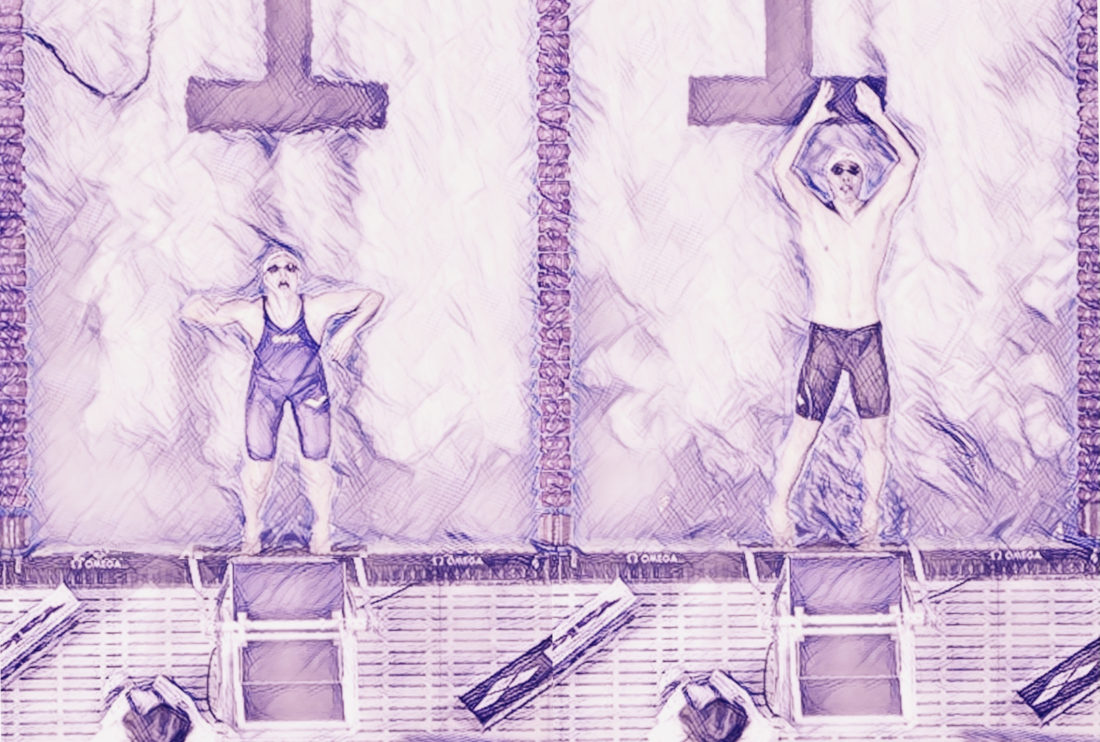 "Competitive fairness cannot be reconciled with self-identification into the female category in a gender-affected sport such as swimming. The average differences in strength, stamina and physique between the sexes is significant. Transgender females are, on average, likely to retain physical advantages listed above, even if testosterone suppression is utilised."

WSCA – image – The advantages over women in sport of a transgender athlete who benefitted from male puberty can be seen off every wall and the splits down the lane line – image, cartoonized photo by Patrick B. Kraemer
Rudd, here in Budapest to witness the vote, tweeted:
Husain al-Musallam, the Fina president, summed up by saying: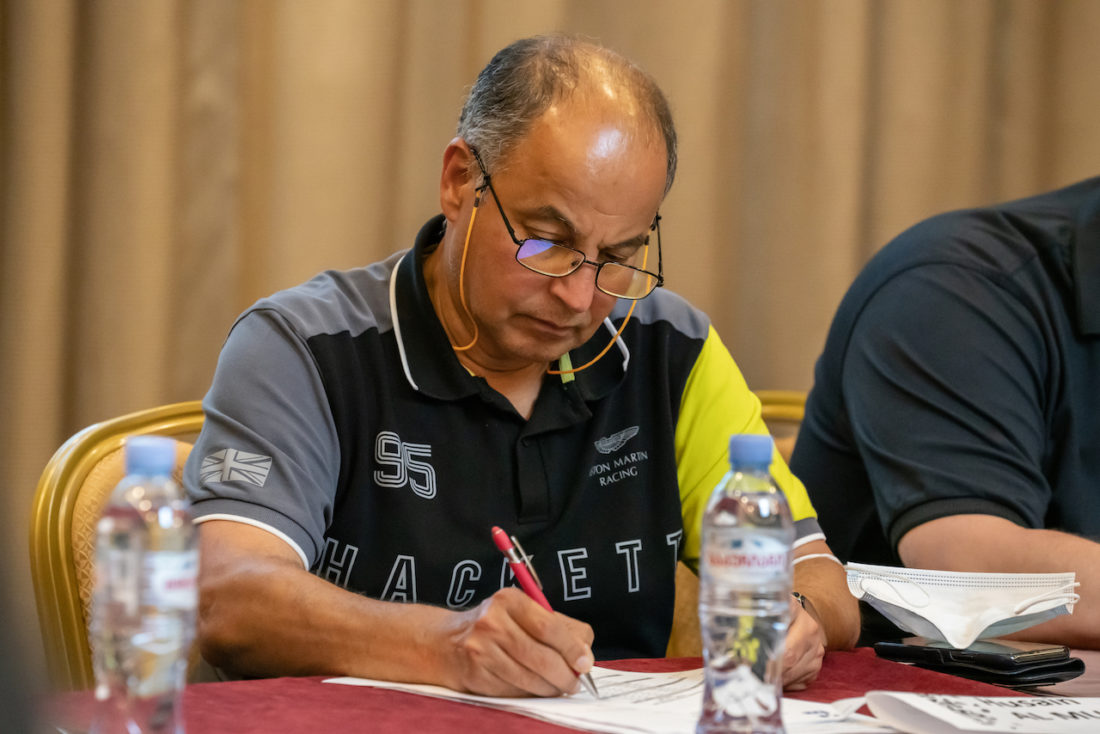 "We have to protect the rights of our athletes to compete, but we also have to protect competitive fairness at our events, especially the women's category. Fina will always welcome every athlete. The creation of an open category will mean that everybody has the opportunity to compete at an elite level. This has not been done before, so FINA will need to lead the way. I want all athletes to feel included in being able to develop ideas during this process."

Husain Al-Musallam – courtesy of FINA
Related SOS coverage: