Emma Weyant Gets Virginia Sorority Of Success Started As 1st Woman Home In NCAA 500y Free Before Cuomo, Douglass, Walsh & Walsh MaKe It A Cavaliers Riot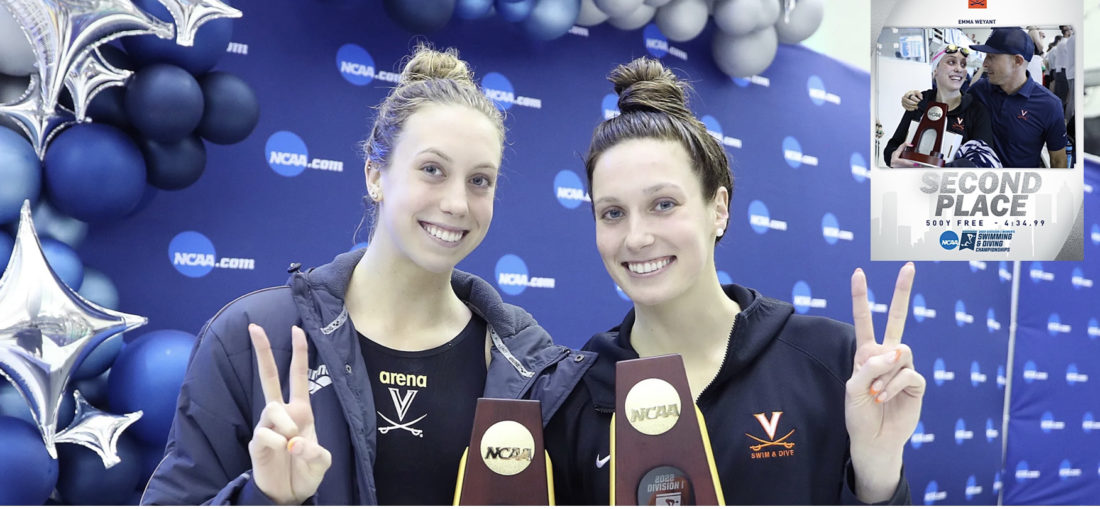 Emma Weyant got the University of Virginia party started as the first woman home in the 500 yards freestyle before teammates Kate Douglass, Lexi Cuomo and the sisters Walsh, Gretchen and Alex made day 2 a UVA riot at the NCAA Women's Swimming and Diving Championship.
Dominance was on display throughout the session, from the first NCAA women's championship open* race in which transgender athlete Lia Thomas*, who raced among men as an average club swimmer called Will for the first three years on the Virginia swim team, topped the 500 yards free ahead of the women's champion Emma Weyant, the Olympic 400m medley silver medallist at Tokyo 2020ne whose 4:34.99 was the third fastest ever by a Virginia swimmer.
Thomas, on 4:33.24 beat three Olympic medallists to the wall. After Weyant came Olympic 1500m silver medallist at Tokyo2020ne Erica Sullivan, on 4:35.92, with Brooke Forde, Olympic silver medallist in the 4x200m free in Tokyo, on 4:36.18.
So, that means Thomas, outside the best 500 in the USA among men in 2019, just beat three Olympic silver medallists among women.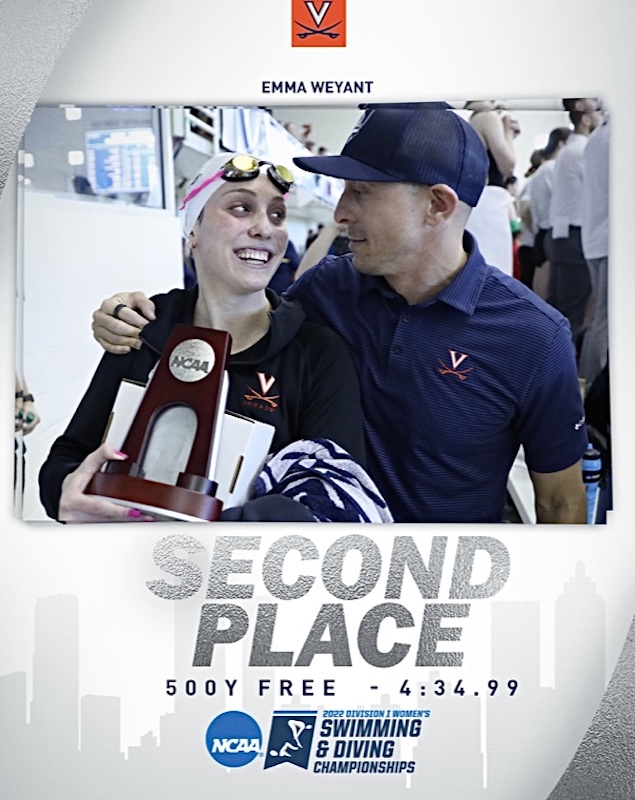 The toxic environment created by the NCAA and the Ivy League this season, was summed up in a speech by U.S. Senator Tommy Tuberville (R-AL) yesterday in which he said:
"It is imperative for Congress to act so that an entire generation of women aren't discouraged from pursuing their athletic dreams, whether on a field, court, or in a pool."
The Race:
On the podium after the 500 yards, Thomas stood behind a sign reading "National Champion", while Weyant and the next two women home stood behind the third place sign in a deliberate act of placing distance between themselves and the athlete they have been instructed not to talk about on pain of losing funding and their places on college swim teams. 
One of Thomas' Penn teammates has spoken out, on condition of anonymity. She said: "We are fully supportive of Lia's transition but we just don't feel she should be competing on the women's team because we have no chance of ever competing fairly with her."
That interview in full:
Virginia's Sorority Of Success
In Atlanta heats yesterday, Virginia placed eight in finals and after Weyant's win in the women's 500 yards, Alex Walsh broke the NCAA and American record in the 200 IM (1:50.08), Kate Douglass, who scorched an American record 20.87 in the 50 free heats, shaved the sprint standard back to 20.84, with Gretchen Walsh a whisper away on 20.95.
Gretchen and Alex Walsh then extended their sibling force to Virginia's sorority of success with Douglass and Lexi Cuomo for victory in the 4x50y free.
The efforts of Douglass and Gretchen Walsh in the solo 50 made them the fastest and third-fastest ever in the years pool that is confined to the United States and then largely in the college realm.
At the post-race press conference, Douglass said: "After this prelims session we were pretty excited. It was a pretty dominant prelims session with eight final swims. We came in tonight wanting to continue that momentum. Emma (Weyant) started that off in the first race of the night and we kept it going. It was a really exciting night. After ACCs, I was pretty excited to swim the 50 here. Going 21.0 was exciting and I thought I might be able to go under that mark. That was awesome to see that record go down because that was a goal of mine since the start of the season."
The events in Atlanta are unfolding against a backdrop of the most toxic NCAA Swimming season in history because of governance failures that have allowed a biological male to tow very significant male advantage into women's swimming, without regard for women's rights nor respect for women and the nature of performance sport.
As the NCAA women's championships proceed, here is a parallel event of significance in the debate about inclusion and the need to preserve women's sport for women:
The Real March Madness:
The related press statement:
WASHINGTON – U.S. Senator Tommy Tuberville (R-AL) today spoke on the floor of the U.S. Senate about the "real" March madness: biological males competing in the 2022 NCAA Women's Swimming and Diving Championship and the further erosion of Title IX protections for women's athletics.
The Senator emphasized the need to keep Title IX protections in place to provide female athletes a fair playing field and called for the passage of the Protection of Women and Girls in Sports Act, legislation he cosponsored which would prohibit federal funds from going to athletic programs that do not uphold Title IX protections and ensure the definition of "sex" in Title IX is based "solely on a person's reproductive biology and genetics at birth." Senator Tuberville also previously introduced an amendment prohibiting educational institutions from receiving federal funding if they allow biological males to compete in women's sports.
Excerpts from the Senator's speech:
"…the discussion should not about inclusivity. It should be about fairness."
"I would argue that by allowing biological males to compete in women's athletics, Democrats have set serious efforts for women's equality back by decades. And ultimately, this will have the effect of discouraging many young women from participating in sports."
"In a recent article, two parents of a current collegiate athlete said 'I think the NCAA needs to change its policies, and find a way to include transgender women without trampling all over biological women.' Well, the NCAA has been silent. They have failed to take decisive action in ensuring a level playing field for women. And so now Congress must act to do so. This is why I joined Senator Mike Lee, and 16 fellow colleagues, in introducing the Protection of Women and Girls in Sports Act of 2021."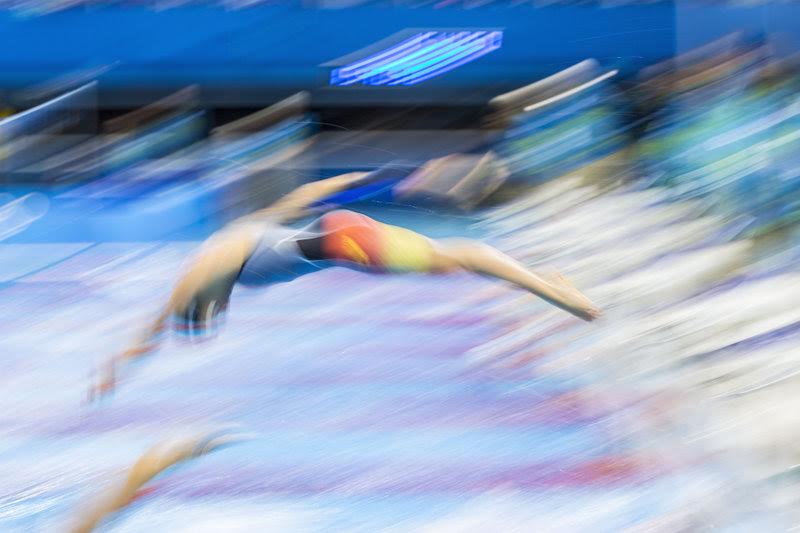 "It is imperative for Congress to act so that an entire generation of women aren't discouraged from pursuing their athletic dreams, whether on a field, court, or in a pool." 

"Having been a coach for 40 years, I can attest, more so than anyone else in Congress, that there are fundamental physical differences between men and women. But you don't have to take my word for it. A recent study concludes that, 'On average, males have 40-50 precent greater upper limb strength, 20-40 precent greater lower limb strength, and an average of 12 pounds more skeletal muscle mass than age-matched females at any given body weight'." 
"Title IX has provided women and girls the long-denied platform that had always been afforded to men and boys. It ensures female athletes had the same access to funding, facilities, and athletic scholarships. Before Title 9, female athletics received less than two percent of college athletic budgets — and athletic scholarships for women were virtually nonexistent. And since the 1970s, when I first started coaching, female participation at the college level has risen by more than 600 percent."
"This week's NCAA championship will once again emphasize that this debate is not limited to the halls of Congress – but one that we're seeing play out across the country. It is an undeniable fact that biological males have a physiological advantage over females. So, let me be clear: the question here is not should we be inclusive and supportive of all athletes – it is how. The first step the Senate can take to address the wrong that the NCAA has allowed to happen is to pass S.251 [Interdiction for the Protection of Child Victims of Exploitation and Human Trafficking Act]. I ask my colleagues to stand up for America's female athletes and support these efforts to preserve women's sports."
Senator Tommy Tuberville represents Alabama in the United States Senate and is a member of the Senate Armed Services, Agriculture, Veterans' Affairs, and HELP Committees.
Related SOS Coverage: