A Waking Nightmare For Women In Sport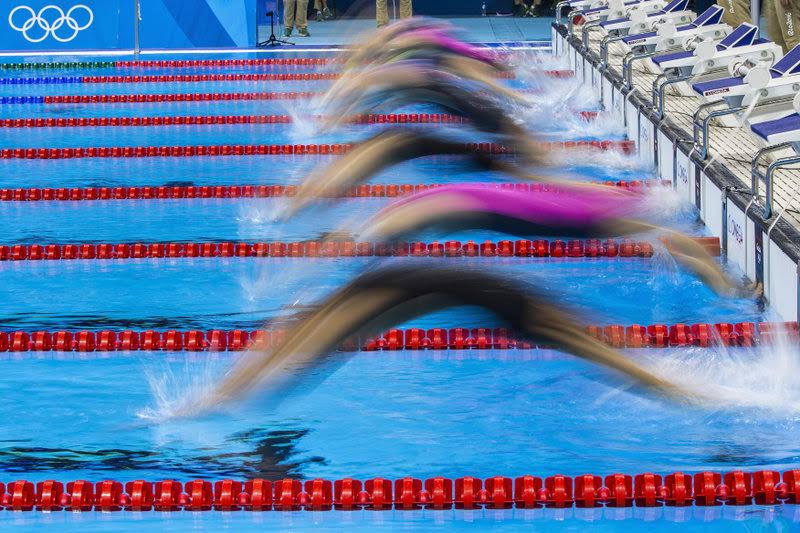 The gender debate rarely mentions the androgenisation of girls and the waking nightmare for women in sport embedded in a book of Olympic history that shows us why male advantage has no place in female sport. Here are some of the issues the debate raises through a swimming perspective.
Does Testosterone Really Give Caster Semenya an Edge on the Track? The question, used as a headline in the New York Times on May 1 this year, cuts to the chase in a furious debate destined to end in either the survival of women's sport or the end of it. The answer the NYT came up with was: 'probably, so medical experts say. But whether that means athletes like her should be barred from competitions is a fraught question".
Indeed it is. Starting with media reports that fail to mention certain essential things, such as Semenya being a DSD (disorders of sex development) athlete with an XY chromosome and including a troublesome fact in the balance of argument: the rights of one athlete have weighed heavily in coverage that has focussed much too little on the rights of all women and the risk that women can no longer be confident that they are competing within a reasonable range of advantages and disadvantages to be found in any population or community of humans (as opposed to competing against rivals who enter the race with physical capacities and competitive advantages significantly beyond said range).
At the heart of the issues is a refusal to acknowledge a simple fact: chromosomes and the associated biology and processes of development are for life even if and when and where gender and gender choices are fluid. It was that clinical clarity that drove the planners of State Plan 14:25 who understood precisely what they needed to achieve in order to dominate women's sport: turn girls into boys. That job was done with biting efficiency, as the trail of medals, mugging, misery and medical histories confirms.
In sport, sex matters and sex has always been equivalent to gender but gender identity and the ideology accompanying it is shaking the very roots of the fair-play principle underpinning sport and its sex-based categorisation.
Here is the first in a two-part series looking at the arguments:
Here we are, on the edge of the 30th anniversary of the fall of the Berlin Wall: so few lessons learned to the point of ensuring the horrors of the past do not return to haunt us anew; and no lessons learned among guardians in charge for 20, 30, 40 and more years, nor lessons embraced among those able but unwilling to impose the checks and balances on those guardians even when the people most hurt by that failure are the very people they represent, the athletes whose health, welfare and wellbeing have been sacrificed at the alter of a marriage twixt status quo and self-preservation.
Here we are, Andrea Pollack, three Olympic golds to her name and three months in the grave, gone at 57.
We will never know whether or to what extent her battle with cancer was related to her being doped, between the ages of 12 and 19, with steroids designed to tilt her girlhood to just enough boyhood to make her a butterfly swimmer and world record holder who the rest of the world could not compete with.
We do know that some of her GDR teammates from back in the 1970s and 80s believe there is a link, for they've said so in statements to the German media that trickle and, in accordance with events, flood yet.
What we can also say with certainty is that the little blue and pink pills, Oral Turinabol – Chlorodehydromethyltestosterone (CDMT; brand name Oral Turinabol), anabolic–androgenic steroid, the 4-chloro-substituted derivative of metandienone (dehydromethyltestosterone), in common use among cheats for half a century now)– and the workloads they and related injections provided the alchemy for building a girl into a tomboy who in 1976 got down to a minute flat, 100m 'fly for Olympic silver and 2:11 over 200m for Olympic gold.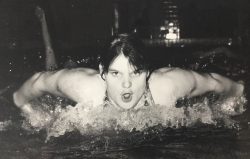 Think of the 14-15-year-old girls in your program 43 years down the stream of human progress and spot the ones going that quick: hard to find. Indeed, the 2018 world rankings confirm that there were just 12 girls of that age capable of swimming faster than Pollack did in 1976 (two years shy of 59 and 2:09 world records).
In wider context: European Swimming, 1973-1989… more than 80% of all medals went to GDR women, more than 90% of all gold to GDR women buoyed by the 'benefits' of artificial maleness that would become curses in the real lives of many down the years.
We know the truth. And so did Andrea, who stood in a Berlin court room with other athletes in the 1998-2000 German doping trials and gave witness to the abuse behind her three gold and three silvers at the Olympic Games, her two silvers and a bronze at world titles and two golds and a silver at European championships.
In 1976, after Montreal 1976, she also raced at European juniors. Take away the silvers won by teammates in her wake and Pollack beat the next best European age-peer girl by 4.9sec over 100m and 8.72sec over 200m, the bronze medals to a national record holder from Italy who, in common with all those behind her, had no chance of getting remotely close to a swimmer buoyed by the chemical boyhood added to her nature.
Among the men distributing the pills and administering the injections was Dr Lothar Kipke, the FINA medical commission man criminally convicted in the Doping trials but to this day the holder of a FINA honour for services to swimming.
Pollack was one of the first wave from a medals-machine of Wundermädchen who took the GDR from being a good swim nation with a few successes to its name in the 1960s to being the powerhouse in the pool among women between 1973 and 1976. She led a GDR sweep in the 200m butterfly at the Montreal Olympic Games in 1976, taking the Olympic record of 2:11.51 she set in heats down to 2:11.41 for the crown ahead of teammates Ulrike Tauber and Rosemarie Kother Gabriel.
That race contributed to a domination for the GDR's women the sport had never seen the like of: of the 39 medals on offer in Montreal, 18 of them went to the GDR, whose women claimed 11 out of 13 golds and 6 silvers and a bronze, in the sum an 18/26 count of all the gold and silvers up for grabs.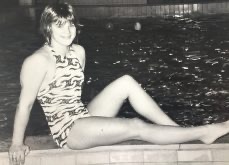 Years later, after the fall of the Berlin Wall, Pollack worked as a physiotherapist at the Berlin Olympiastützpunkt (high-performance centre) but rarely made public appearances. In 2005, as Frau Pinske, she was a guest at a "50 Years of Elite Sports" celebration staged at the Bundesleistungszentrum Kienbaum.
When Bildnewspaper revealed the news of Pollack's death to former Olympic teammate Rica Reinisch, now 54 and long a victim and an advocate for victims of GDR doping, she said: "I have not seen her for 25 years. I feel very bad right now, I have goose bumps. She was an incredibly happy person. We always had our fun, even if she was a Berliner and I Dresdnerin. She had a very unique, dark sense of humour. We had many beautiful memories in common."
Reinisch quit swimming at 16 in 1982 after triple gold at Moscow 1980, Pollack's swansong Olympics. Rica's ovaries were swollen and a non-sports doctor advised the family that she would be wiser to leave sport.
With a nod to Pollack's cancer, Reinisch said: "I can well imagine that Andrea could have long-term consequences for the disease, but I'm not a physician and can not say for sure."
Reinisch, a long-time advocate of justice for the victims of the GDR's State Plan 14:25, once said: "We were guinea pigs, there to win Olympic gold, used like a taster in ancient Rome. I can clearly remember that I was 14 years old when my trainer Uwe Neumann gave me Oral-Turinabol for the first time. When my ovaries were treated in the hospital, the doctors found an excess of male hormones. To be able to heal me, they also injected me with estrogen. From that 'cure' I ballooned like a yeast cake."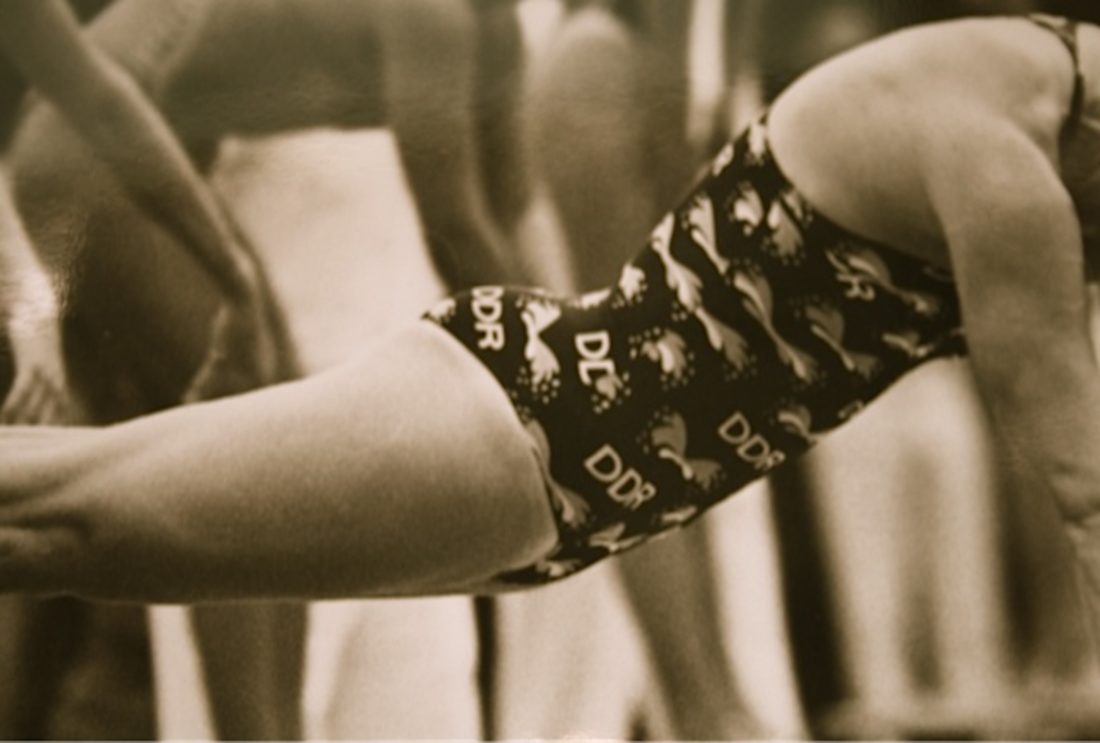 She described young athletes as "a perfect manipulation machine" for politicians, coaches and doctors. "We were told you are here at a special school, it costs the state a lot of money, now do something for it. Being downgraded [to a normal school] was seen as a disgrace for us, the children".
Some of the manipulators faced the music in court 20 years ago. Among them Dr. Ulrich Sunder, a man with a name a letter beyond apt description (Sunde in German = sin).
The boss of the Sports Medicine Service of the GDR, he admitted in court that doctors had gone "along with this struggle without questioning the dangers, the fallout".
His defence came down to "only following orders", his testimony including sickening references such as: "… I was told by my medical superiors that the deep voice, the hair, the virilisation would all reverse after the women stopped taking," the little blue pills and stopped receiving injections' "we left it to the experts to inform us if there were problems". The experts and their apprentices are dead or dying these days. The problems live on.
Despite the waves of hurt and harm before him in court, in the shape of women with serious medical problems, a history of multiple miscarriages, in spite of the bitter testimony of women who brought their disabled children to court with them, Sunder seemed proud of his work: "The swimmers were unbelievable," he boasted. "Their muscle mass was enormous, their recovery between heavy workloads remarkable … and most of the swimmers handled the drugs very well."
Those 20 years ago, he also spoke these words echoed by leaders of FINA and other federations unwilling to change a single result nor acknowledge requests for reconciliation: "There is waning interest … people don't care about what happened 10 or 20 years ago in the DDR."
Dr Dorit Rosler did. She broke down in court, apologised to the victims of abuse, and said: "We documented all of this: the pills, the time of day, the training regimens … I was far too obedient. We were pressured into producing for the political leadership; we were tasked with creating champions in sport for the glory of the communist state."
She noted what many others had noted: that if she had refused to do the work she was asked to carry out, she would have simply been replaced. One of the key scientists who worked with swimmers like Kristin Otto, Helge Pfeifer once told me: "It was a simple choice: I could continue to work in the area of expertise I was trained in or I could clean toilets for the rest of my life."
Rosler went further, however, in her statements to the media during the doping trials when referring to the choice she made to stay in the system and do as she was askerd/told: "That was the the same excuse used during the Third Reich, that if we didn't do as Hitler asked, another doctor would carry it out. I should have shown more courage."
And she went on to do just that: by spending many years, long after the fall of the Wall, treating the women athletes who developed medical problems beyond their sports days.
Those doctors who did object in DDR days, Rosler noted, were "removed from the DSSV (the East German swimming federation)".
They were removed by people that included four men honoured to this day by FINA alongside Kipke.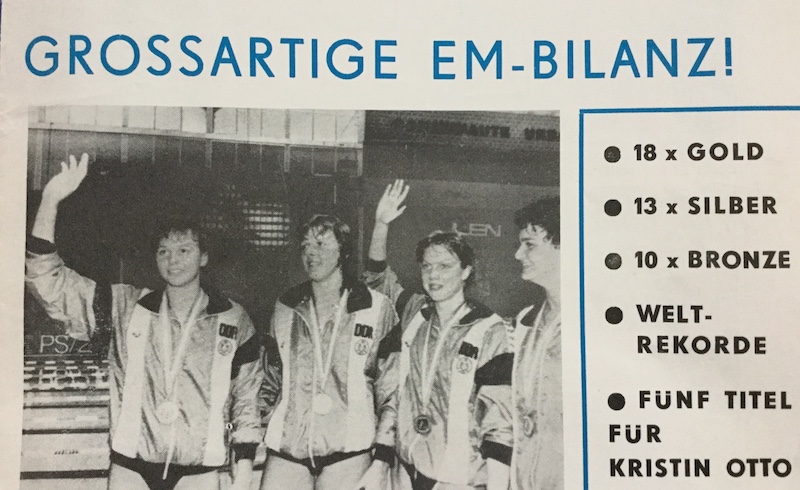 As Rosler – herself something of a victim of grown men sitting round a table and deciding to roll out a policy and program with abuse of minors at its core – put it:
'Have we learned nothing?'

Dr Dorit Rosler
Answer: we learned a lot. The bigger question is 'what have we done with the knowledge' to ensure no repeat, to protect the health and welfare of women?
Answer: not nearly enough.
And now comes the next threat to the integrity and fairness of women's health, one not unrelated to State Plan 14:25: the gender debate in sport.
As we consider those issues, keep in mind the following words from former GDR swimmers Cathérine Menschner and Martina Gottschalt, both mentioned later on: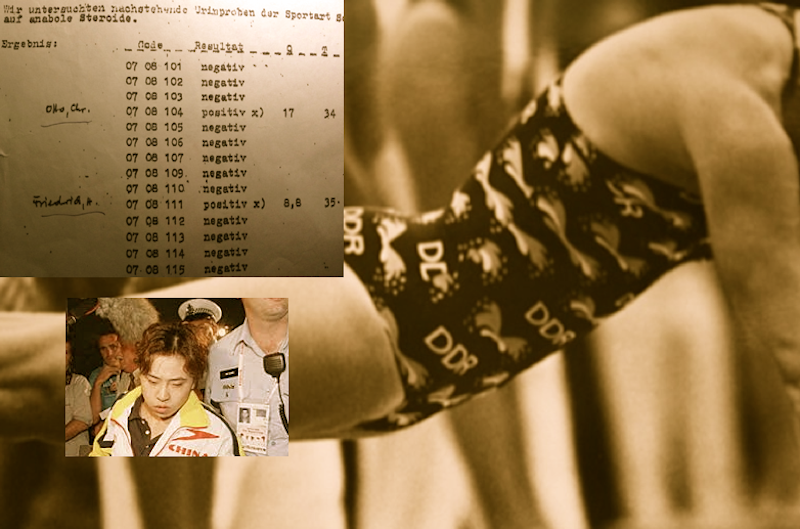 "The consequences of doping children are massive: I have had five miscarriages. And I'm sure the manipulation of my hormone balance is responsible for that." – Menschner

"Look my 15-year-old son in the eye and tell him you were just following orders," – Gottschalt, in court as her severely disabled son sat quietly next to her, to Kipke, as signatory to the Hippocratic oath of healing and no harm and a signatory to and tub-thumper for the anti-doping rules of FINA he advocated abroad but torched on a daily basis back home.

Image: Signs of androgenised athletes in the GDR; a ragout of a report from Kreischa, the IOC-accredited lab, showing athletes and the positive tests kept a secret; and [inset] Yuan Yuan, one of China's victims of abuse on a trail of tears down the years
There are two main strands or argument in a complex field:
Girls to women are born with XX chromosomes – so what to do about girls to women born with XY chromosomes with and the 'advantages' (strength and size, for example) of those born with YY, otherwise known as boys to men?
Those born boys but as men identify as women.
In life generally, such things are matters of rights and respect and understanding of the complex nature of human experience and choice. In sport, the issues are critical to the very nature of sport, fair play and why it is important that XX competes with XX and YY competes with YY.
The debate in the middle of all of that has turned into a furious arena, complete with name-calling, threats and intimidation of those who believe women's sport should be for humans born as girls with XX chromosomes because anything beyond that introduces maleness and distinct advantage outside the range of 'standard' difference.
Point 1 above, which this first of a two-part feature considers, is best characterised by the case making headlines around the world: Caster Semenya, the South African runner.
A tidal wave of articles and features followed a ruling from the IAAF, the world athletics federation, that Semenya would have to take testosterone reducing treatment if she wanted to continue to race in her signature 800m event (but not in other events, bizarrely one might say with a nod to the history of GDR sport).
What the vast bulk of those articles, particularly those siding with Semenya and not the IAAF, did not mention was a key and clear fact: she was born  46 XY DSD. In sport, she has competed as a woman but that Y and its male nature, is significant.
It counted for much in a Court of Arbitration for Sport ruling some weeks ago in support of IAAF decisions that included requiring Semenya – and other 46 XY DSD-born athletes (from a population in which 1 in 10,000, some academic papers say 20,000, are estimated to be one of many variables in humans categorised as DSD) – to take testosterone-reducing medication if she wanted to continue to race in her signature 800m event on the track. That ruling did not extend to other events/distances, leaving many long-time observers of sport scratching their heads: in the context of historic results and outcomes and state plans in many sports, such distinctions made no sense whatsoever.
This week, the CAS ruling was not so much overturned as set aside by a Swiss Court – the Swiss Federal Supreme Court (SFT) no less – in a move that will surely have sent shudders down the collective spines of the 'autonomous' blazers of the International Olympic Committee and its respective international federations, many of them, like FINA, based in Switzerland. CAS is the ONLY body that may deliberate on challenges and counter challenges to sporting law, the rules of international federations such as FINA.
Here's an example of that from swimming: "A Member, member of a Member, or individual sanctioned by the Doping Panel, the Disciplinary Panel or the Ethics Panel may appeal the decision exclusively to the Court of Arbitration for Sport (CAS), Lausanne Switzerland. The CAS shall also have exclusive jurisdiction over interlocutory orders and no other court or tribunal shall have authority to issue interlocutory orders relating to matters before the CAS."
And: "C 26 ARBITRATION: Disputes … between FINA and any of its Members or members of Members, individual members of Members or between Members of FINA may be referred for arbitration by either of the involved parties to the Court of Arbitration for Sports (CAS), Lausanne. Any decision made by the Arbitration Court shall be final and binding on the parties concerned."
Well, apparently not.
Before Semenya, there were others who challenged international sports rules in domestic courts – and won. In the case of Astrid Strauss, the GDR distance freestyler who denied many, such as Britain's Sarah Hardcastle, the prizes they should have won, and tested positive in the days beyond the fall of the Wall, the ruling she won (that she could not be barred from competition because that infringed her rights, ruled a German court) only applicable in Germany. As such, there were no losers: she raced on (not for long) at home, while international waters remained a forbidden zone.
The history of decisions stacked with inconsistency is a fat tome. It got fatter when the FINA Doping Panel gave the benefit of doubt to Sun Yang after the swimmer played a role in the smashing of a blood sample last year and admitted in its report that the "success" of the swimmer in arguing against a penalty hinged on an interpretation of whether the term "official documentation" (as shown by the pee-checker at an out-of-competition test) was singular or plural, Sun having argued that it was plural and the checker needed to have shown more ID than he did.
Women & Gender In The Rule Book
That is called into question by FINA's own Constitution and Rules, which cover the FINA Doping Panel and at C 3.21 state: "Whenever the fact or context so requires in order to give effect to the FINA Rules, words in the singular shall include the plural, words in the plural shall include the singular; words of the masculine, feminine or neuter gender shall include any gender, except in the specification of a Competition being for male or female Competitors; and correction of any clerical errors shall be made."
In other words, it makes not a jot of difference in the realm of FINA and those governed by its rules whether you interpret words and terms as singular or plural: all things can and should be interpreted as both being possible and applicable. That principle was abandoned by the FINA Doping Panel when it came to its decision on Sun Yang. It is a point that may be tested when the World Anti-Doping Agency's appeal against the ruling is heard at the CAS (no date has yet be set for a hearing at the time of publication of this article).
The theme of inconsistency in federation rules and approaches to sticky problems is highly pertinent. As sports scientist Ross Tucker notes in an excellent analysis of the Semenya situation, there is a high level of inconsistency in the IAAF's argument and the science and 'evidence' the track and field federation based its decisions on. He made that point, among others, in evidence he gave in the Semenya hearing at CAS in favour of the athlete's appeal (on that point).
Talking backwards through events, Swiss judges this past week ruled that Semenya will not need to take testosterone-reducing medication to compete (in the 800m event, all distances from 400 to the mile covered) when they temporarily suspended a the IAAF ruling backed by CAS against Semenya's appeal a month before.
The IAAF said its eligibility rule for DSD athletes would remain in place until they receive official notification from the Swiss court, adding a note that has widespread support in sport and all the more so in women's sport:
"We will continue to fight for what we believe is in the best interests of all female athletes in our sport."
The Swiss Court said that it had "super-provisionally instructed the IAAF to suspend the application of the 'Eligibility Regulations for the Female Classification for athletes with differences of sex development' with respect to the claimant, until the decision on the request for issuance of provisional measures. At present, it is not known when the Swiss Federal Supreme Courts will issue an interlocutory order concerning these provisional measures."
The court found that the IAAF's ruling for athletes with differences of sexual development (DSD) were discriminatory, but concluded that the discrimination was "necessary, reasonable and proportionate" to protect "the integrity of female athletics".
So, more deliberation and challenge to follow in a story stretching back to 2009, when 18-year-old Semenya ran the fastest 800m time of the year to win gold at the Africa Junior Championships.
A month later, in August, Semenya was asked to undertake a gender test before the World Championships in Berlin. She is told by her own federation that it is a random doping test – and is therefore unaware of what she is agreeing to. She wins the 800m world title and then, somehow, news of her gender test reaches the media. It will be another three months before reports start suggesting that Semenya has female and male characteristics. Even so, she is cleared to race season after season, picking up more titles along the way – as a woman among women.
In 2014, India sprinter Dutee Chand, 18, is banned from competing with women after a hormone test shows natural levels of testosterone normally only found in men. The following March, 2015, Chand begins a legal challenge against the IAAF's 'gender test' and in July that year is cleared to compete as the CAS suspends, for two years, the introduction of an earlier version of IAAF rules requiring female / women athletes to take testosterone-suppressing medication.
Come 2016, we find Semenya taking Olympic gold against a backdrop of questions from fellow runners suggesting she should not be eligible to compete among women.
In 2017, research commissioned by the IAAF concludes that female / women athletes with high testosterone levels have a "competitive advantage" and in April last year that led to the IAAF introducing new rules for female / women runners with naturally high testosterone.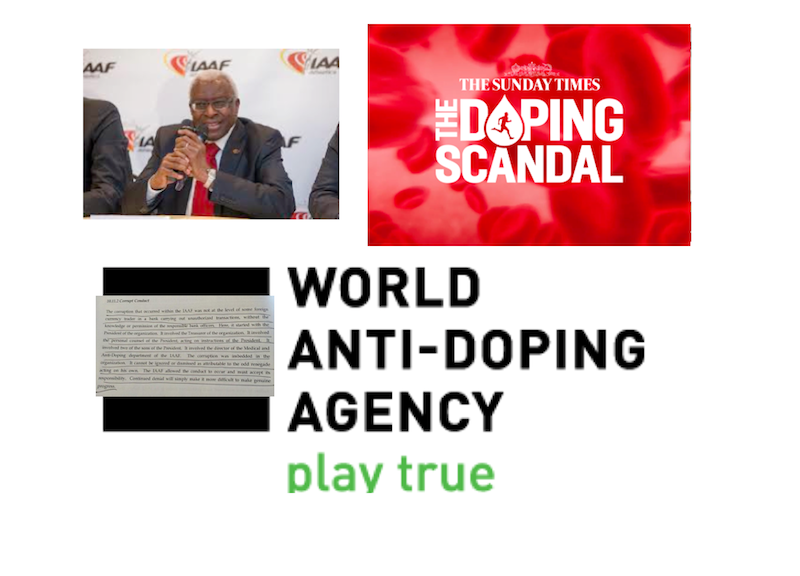 Semenya challenges that and in February this year, her challenged was heard by the CAS. She loses the case on May 1 but sin June 3, that is set aside by the Swiss Federal Supreme Court.
The IAAF defended its new rules, saying that is is "convinced there are some contexts, sport being one of them, where biology has to trump identity". It "believes the right to participate in sport does not translate to a right to self-identify into a competition category or an event".
Further, "to define the category based on something other than biology would be category-defeating and would deter many girls around the world from choosing competitive and elite sport after puberty." Regulations [for those with differences of sexual development] are a necessary, reasonable and proportionate means of protecting fair and meaningful competition in elite female athletics, and CAS agreed."
The Swiss Court should reverse its decision to avoid "serious confusion" among athletes and event organisers and "to protect the integrity of the sport", said the IAAF.
Countering those views, Raswyn Lovett, co-chair of the International Working Group on Women in Sport, Diane Huffman, president of WomenSport International, and Professor Rosa Lopez de D'Amico, president of the International Association of Physical Education for Girls and Women sent the IAAF a letter in which they said the proposed regulations "imply wrongdoing and come with a penalty" and "force an athlete to take medication that alters their natural state".
The rules did not "enforce gender inequality", the IAAF responded. Indeed, they were introduced "precisely because the IAAF is committed to protecting the rights and opportunities of female athletes".
The track and field federation set out its stall with this mission statement:
"The challenge that the IAAF faces is how to accommodate individuals who identify as female (and are legally recognised as female) but who – because of a difference of sex development – have XY chromosomes that lead to testes that produce high levels of testosterone, and therefore have all the same physical advantages over women for the purposes of athletics as men have over women."
Whatever the IAAF and Swiss Courts arrive at, the questions will remain – and they will be just as valid as they have been all along, regardless of we find the scales of justice to be at any given point in weighing up the arguments.
Testosterone (T) is said to be irrelevant or "not a silver bullet" by some. The truth lies elsewhere.
Take this from Tucker:
"Back to the root issue, the reason for the separation between men and women is the effect of androgens on the physiological systems that are germane to performance. One can debate for hours how predictive high levels of T are for performance, and there is without doubt a lot of poor thinking in this space – when people argue that high T does not guarantee performance and thus T is not the difference between men and women, it makes me want to bang my head repeatedly on a desk. It is a poor argument, appallingly lazy and disingenuous."
Quite.
He continues: "Fundamentally, the difference between the men's world champion and the women's world champion in any given event is 'androgenisation' or virilization that drives a set of secondary sex characteristics including higher muscle mass, lower fat mass, greater strength, increased cardiovascular capacity and function, more haemoglobin, different skeleton. There are of course other changes, but they are not germane to sport.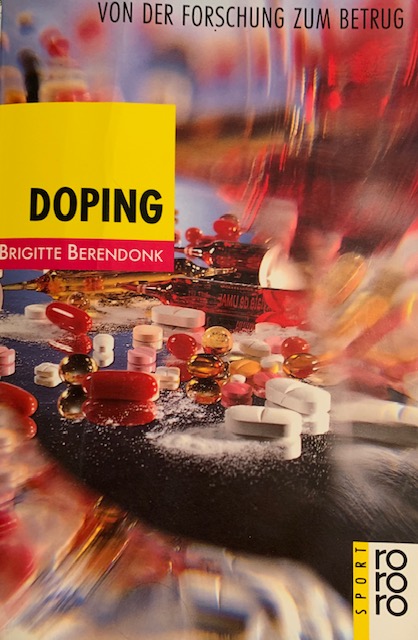 When discussing T and performance, it is important, in my opinion, that the issue is framed appropriately. By this, I mean that one should NOT be asking whether women with high T outperform women with low T, or that men with high T are better athletically than men with low T. This approach creates numerous "loopholes" and erroneous thinking, the main one being that you can explore this relationship, NOT find it, and then conclude that T is not important. This is what many academics have done – they will look for associations between T and performance in a group of athletes, all men or all women, and then find no association, thus concluding that T has no effect."
They are wrong, of course – and the history of swimming results and outcomes, coupled with the point and purpose of State Plan 14:25 scream that truth to and from every peak and valley.
Take the following points made to me when I met Prof. Werner Franke a few years ago. Dr. Franke is the man who, with his wife and former athlete Brigitte Berendonk, helped to save forests of Stasi documents from the Stasi shredders before the dust of a falling Wall had settled. He noted:
male sex hormones, androgens, to which testosterone and its derivatives as anabolic steroids belong, are needed by both genders for their entire lifetimes
they help to determine everything from the various sexual differentiations of the embryo to the development of sexual characteristic at puberty and, beyond that, maintain sexual functions (for the purposes of reproduction, men and women having distinct roles in that critical part of the survival of the human species)
androgens are required in the generation of new cells and the structures of skeletal muscles, bone, the formation of fat, and in organs such as the brain, kidneys and others vital stuff
the extreme variety of biological effects involved in those processes are controlled/signalled by special androgen receptors in the relevant cells: they ID each other, 'talk' to each other and provide critical and specific information to the genetic material (DNA) – upon which the cell responds by building new proteins.
biologically active androgen is primarily found in the testicles, ovaries, adrenal glands, skin and fatty tissues
men produce 2.5 to 10mg of testosterone daily; women produce about a tenth of that amount
the plasma level of testosterone for men is about 3,000 to 9,000 pg/ml; for women, its 100-500 pg/ml
Testosterone levels in men are 295 to 1,150 nanograms per deciliter of blood, while the levels in the women are 12 to 61 nanograms per deciliter of blood.
from puberty, such levels make an enormous difference, contributing not just to sexual development but the shape and size and strength of male and female, including dimensions of hands feet, capacity of lungs, muscle mass and much else.
Back to Oral Turinabol and the purpose of those 1mg pink pills and 5mg blue pills and the Turinabol ampules (Turinabol-Depot replacer by Testosterone-Depot around 1978 because the Turinabol hung around in the system for too long for the comfort of tho se wishing to avoid positive tests) that were injected intramuscularly.
They are anabolic steroids, derivatives of testosterone.
In 1981, Prof. Manfred Donike, a pharmacologist from Cologne, developed an indirect procedure for testing for testosterone, by measuring the testosterone:epitestosterone ratio. Knowing the natural quotient in the body allowed him to identify readings out of that natural range as testosterone introduced artificially. With the IOC, a ratio of 6:1 was set for testosterone to epitestosterone: anything higher would indicate a positive test.
The GDR had insiders at the IOC and FINA and other federations, members of medical commissions and anti-doping bodies among them. Knowledge is power – and the exploitation of 6:1 ensued. No GDR swimmer ever, in GDR days, tested positive in official tests but Stasi (state security police) papers confirm that many tested positive in internal tests at the IOC-accredited laboratory at Kreischa in Saxony.
Official documents showing the names of swimmers – including three Olympic champions – next to ratio and level readings and the word "positiv" are a part of the official record, have been produced in open court and are housed in various places in the world. They are available to federations such as FINA should they ever choose to act on information now known for at least decades and, in some cases, included as evidence in the convictions of officials in the doping trials, FINA's Dr. Kipke among them.
GDR doctors and scientists knew and were aware of two critical things:
the rate of 'success' through steroids administered to teenage girls on the cusp of puberty (the record shows that some as young as 12 were doped) was far greater than use of steroids among boys and men for obvious reasons: the effects of plying girls with the traits of boys and increasing the maleness in women was far more dramatic in terms of the gains to be made over other girls and women.
There were other dramatic effects, too: side-effects of the chemicals of choice in the GDR sports system included fatal liver and heart conditions, brain retardment, disruption and destruction off fertility, abnormal rates of body and pubic hair, enlargement of the clitoris, imbalance in metabolic processes. Such things, at least in Germany, are no longer 'theory': they were used to secure official and legal compensation for victims.
Fast-forward to today and we find the same basic knowledge of the architects of State Plan 14:25, of Donike, of Franke and many others echoed in a New York Times article explaining the Semenya case:
Testosterone "builds muscle," said Dr. Benjamin D. Levine, who studies sex differences in athletic performance at the University of Texas Southwestern Medical Center. "It builds skeletal muscle, it builds cardiac muscle. It increases the number of red blood cells."
The effects are seen whether the hormone is naturally present or introduced with drugs. In one of the most infamous examples, women who represented East Germany at the Olympic Games in the '70s and '80s achieved astounding success after they were unknowingly doped with anabolic steroids including testosterone.
"The science is quite clear," said Dr. Aaron Baggish of Massachusetts General Hospital, who is an expert on testosterone's effects. "An androgenized body has a performance advantage."
What's the difference between testosterone, a leg, an arm & a lung? A great deal
Some wishing to support Semenya despite the facts of biology, sex and any strength not scientific argument, reached for the following arguments that some media have fallen for because the simplicity of thought makes for a lovely graphic:
Usain Bolt had really long legs and Michael Phelps had really long arms, so why can't Semenya have really high testosterone?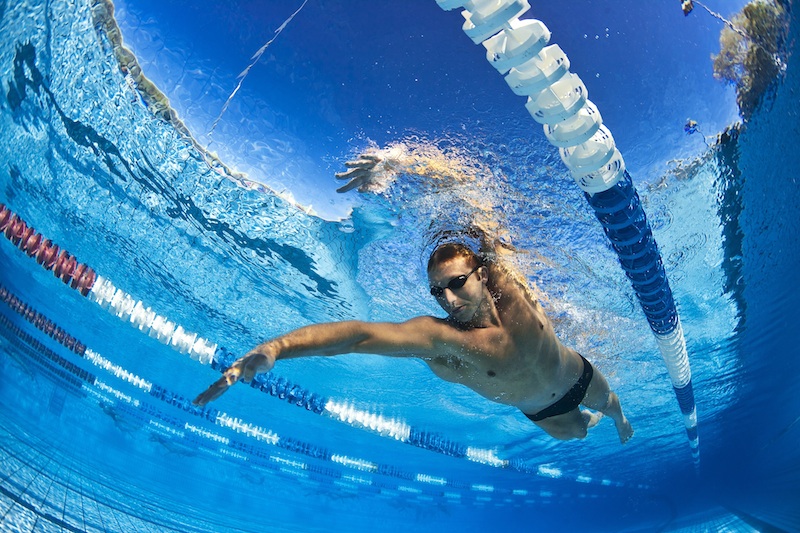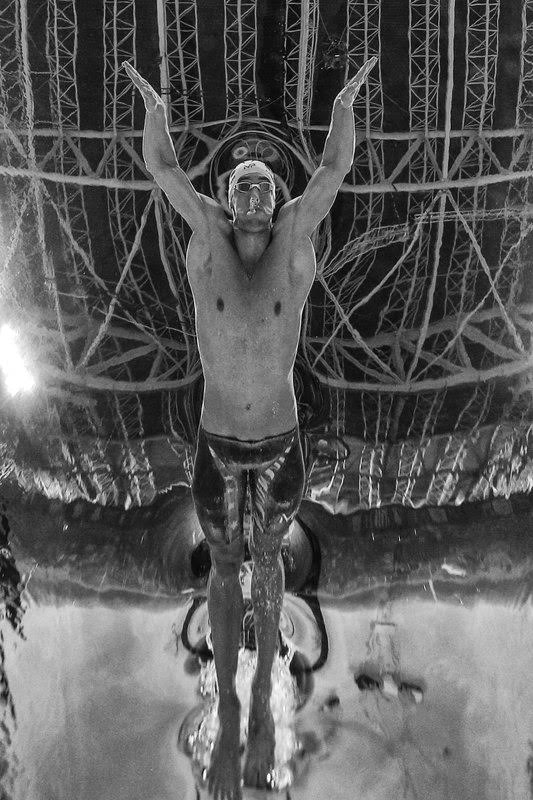 Easy: sports organisations and their rules do not classify athletes by arm, leg, lung and size of foot, no matter how much the size of such things contributed to the might of Thorpe, Phelps, Bolt, Biondi or anyone else. Sports organisations and their rules DO classify athletes by sex – and there are two of those in sport: men and women do not compete for very good reason.
In the mix of simplistic and simply erroneous argument are suggestions that the world of sport should move to being more inclusive by allowing para athletes to race with the able-bodied – and for the same prizes.
Nothing could be more stupid if the interests of fairness, purpose and point are to be served: anyone in swimming knows very well that those the vast majority of those winning para golds would not stand a chance in hell of making an able-bodied final nor even qualifying for international waters.
Then there's 'well, Britain's Sharron Davies was big and strong and could beat some boys' – and other such absurdities. True, she is Amazonian and athletic. True, she has and doubtless still can beat an awful lots of average boys and men in water – as well as girls and women.
Here's truth, too: she's bigger than me … but not, at my best, stronger. At my best way back when, I would have beaten Sharron in many races, though not as a master (I once paddled in the lanes beside her for a season when she was making her comeback – no contest, she could kick my ass on any stroke, any distance 🙂 … in my day, however, I was a decent swimmer who on a good day would have given Petra Schneider (GDR) a very tight race.
Schneider beat Davies for Olympic 400IM gold to silver in 1980 by 10.54sec: a massive margin. Schneider had, by then, been alchemised, androgenized. In swimming terms, she had the capacity of a boy. But she was XX and had far less advantage that any trans women athletes have through natural male development.
Davies, a much better swimmer than me, was not the first woman home that day in Moscow but she was the first clean athlete home and she was the first athlete home with her XX and other readings in the same place as nature had intended them.
Back to Tucker: "Fundamentally, the difference between the men's world champion and the women's world champion in any given event is 'androgenisation' or virilization that drives a set of secondary sex characteristics including higher muscle mass, lower fat mass, greater strength, increased cardiovascular capacity and function, more haemoglobin, different skeleton."
Davies has been invited to do the media rounds and taken to social media to raise the ghost of injustices from her era to highlight why it is crucial to preserve women's sport for women, XX and within a range that does indeed include advantages and disadvantages of the kind we see when comparing a Ledecky, a Sjostrom, a Belmonte, an Adlington, an Evans, a Mary T, a Gould, a Meyer, a Fraser with many more.
In support of Davies's argument is a majority of medical experts who believe that testosterone is exceptional and not to be compared with legs, arms, lungs, feet, determination, discipline, smart work and much else that goes into what it takes to become a champion.
In one study, Dr. Benjamin D. Levine, of the Institute for Exercise and Environmental Medicine in Dallas, put sedentary young men and young women through a year of athletic training. They started out with similar-sized hearts. A year later, the men's hearts were much larger, the result of muscle-building directed by their naturally occurring much higher levels of testeosterone.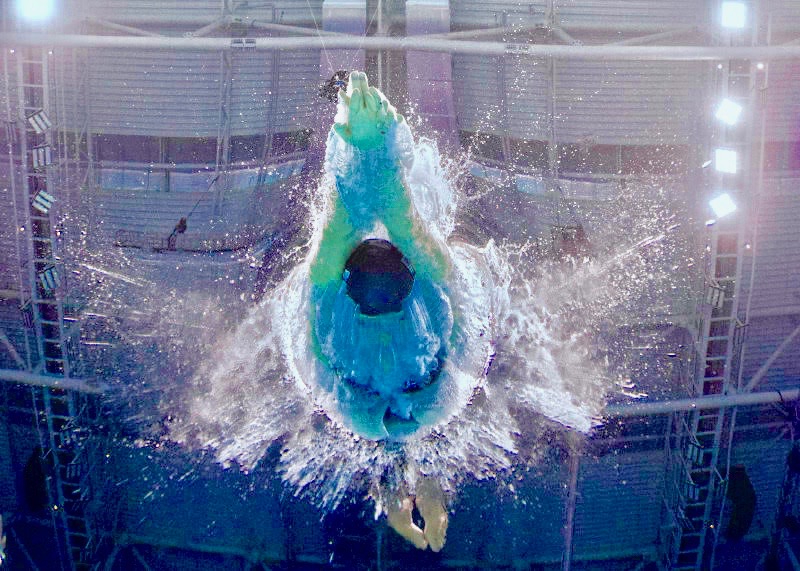 In swimming, there are exceptional cases of the best of women producing performances than many boys could only dream of. Katie Ledecky, the American who is the most outstanding woman swimmer of her era and one of the all-time greats of her sport, is a case in point. Even then, there are a fair few young men who would beat her on the clock (mind matters, so who knows what would happen in an actual race…). Against the best men, however, Ledecky would have no chance: she would not make a major final, let alone have a shot at a prize. No matter: she's one of the most outstanding swimmers the world has ever known.
Her 15:20.48 world record over 1500m freestyle from last year gives her an advantage over the second-best ever, Lotte Friis (DEN) of almost 20sec, or more than 1sec every 100m of the race. Phenomenal. The time leaves her outside the best 600 men, however.
Doriane Coleman, a former middle-distance runner who is now a law professor at Duke University, confirms that picture on the track: in 2017 alone, she found, more than 10,000 men and boys running 400m races beat the best times of the three best women in the world had ever run.
The IAAF took such things as their first reason for action when it came to Semenya but in trying to determine what the difference in obvious difference was all about and where lines should be drawn sought to show that the 'evidence' for justifying rules on DSD athletes was stronger in some events than others.
While Ms. Coleman confirmed to the NYT that in middle-distance running events, athletes' results "show that they have a clear performance advantage", a recent study also showed that athletes "who identify as women" but who have testosterone levels in the male range are overrepresented in women's middle-distance running events.
These athletes won 30 medals in Olympic and world championship races at distances ranging from 400 to 1,500m, the NYT asserted in an article last month, while noting: "Their incidence in the general population is just 1 in 20,000, meaning they were overrepresented by about 1,700-fold on the podium, the study concluded."
If you have not by now already done so, then read Ross Tucker's excellent explanation on why he is sympathetic with the IAAF's efforts to safeguard women's sport for women, he believes there is an "internal contradiction" in the arguments used to determine why a bar on DSD athletes in certain events but not all events is "fatally flawed". He also explains very well the variants of DSD that make a big difference to performance in sport and why lumping all DSD together does not work if evidence-based fairness is a guiding light.
A recent Guardian headline asked:'Is fair play in running more important than fairness to Caster Semenya as a human?'
The editorial concluded: "If fair play has in any sense been restored to athletics, it's hard to shake the sense that something important has been lost."
No denying the emotions involved, no denying what it all means for the one athlete but the answer to the headlines question is: yes, the rights of XX demand respect, understanding and support, too, otherwise women's sport would not be that. We're not talking about the human rights of people born outside XX XY norm; we're talking about what XX plus Y and related means of XX in elite sport.
We're talking about whether the vast majority of women should have their rights sledgehammered in order that a ratio of DSD athletes far in excess of that 1 in 20,000 in general population – in others words, relatively high numbers of DSD athletes in the elite athletic population compared to the levels you will find in the general population – can have their rights upheld.
While no-one has an automatic right to be an elite athlete and all must fulfil certain criteria and abide by certain rules to enter that club, all have a right to expect fairness, safety, welfare and health (physical and mental) at the core of values and practice in world-class sport.
The conclusion of the Guardian comment indicates that it has overlooked the rights of those who must race against rivals with very distinct competitive advantages. What is lacking in the author's reasoning and in general in media coverage, often from people who were babes or not born when the first wave of GDR underage victims of abuse were being rolled out as ambassadors in tracksuits on a mission to thrash the world of women in sport, is knowledge, the backdrop and the facts of the Sporting Crime of the 21st century.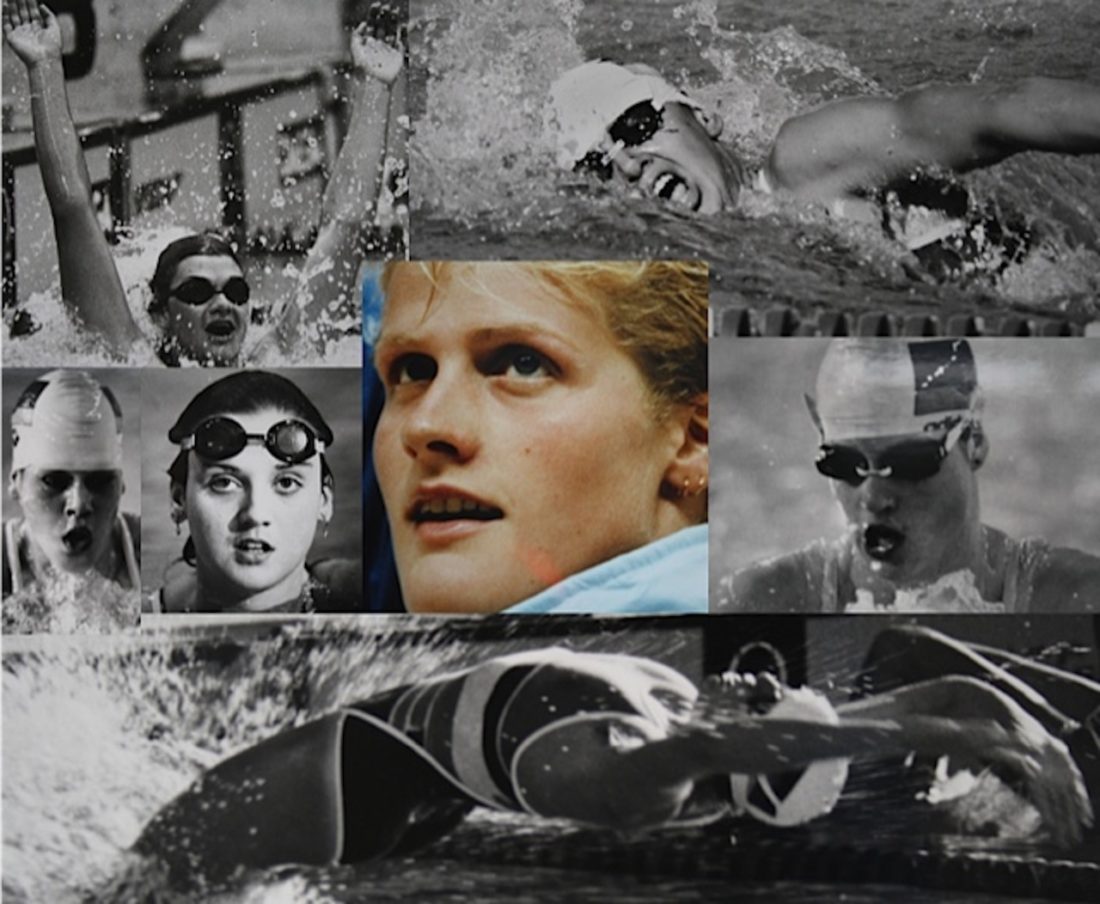 If the masterminds of State Plan 14:25 were world class at anything, it was this: the criminals, among them doctors, scientists and politicians, knew what it meant to make girls more like boys, they knew how to achieve it (not just 'take this build muscle' but 'take this and this and that and two of those and that regime will help you do workloads beyond the capacity of your rivals, build strength beyond the capacity of rivals and deliver certain success for the state'); and they knew, too, that while handing out nicer apartments and pushing people up the waiting list for the family Trabant and other privileges, there were hiding the truth they knew about the high risks and serious side effects for the teenage girls they were systematically abusing.
The abusers were soaringly excellent at keeping a good note, too, and so we know the truth, those notes and the result sheets of the 1970s and 1980s confirming the woeful wipeout delivered to women's sport.
The following from this author's archive serves as a reminder of what can happen (and did happen) when sport becomes a pawn for the politically and/or/ financially powerful:
Doping: From Research to Deceit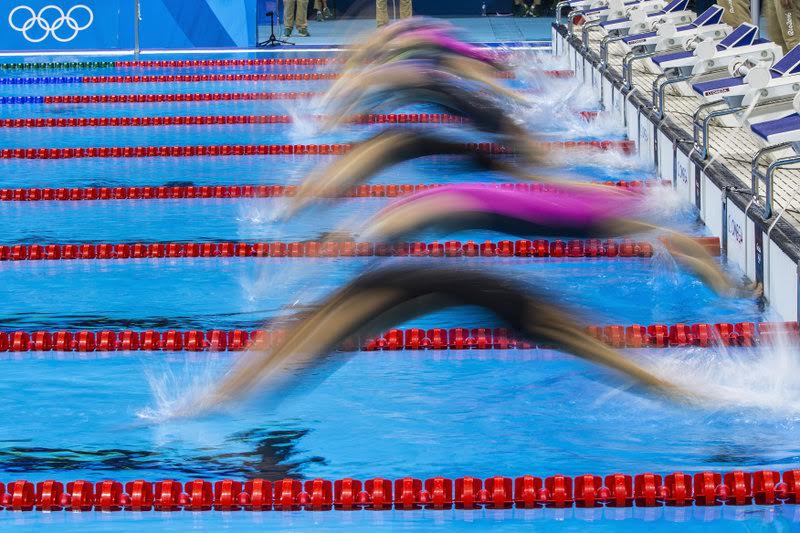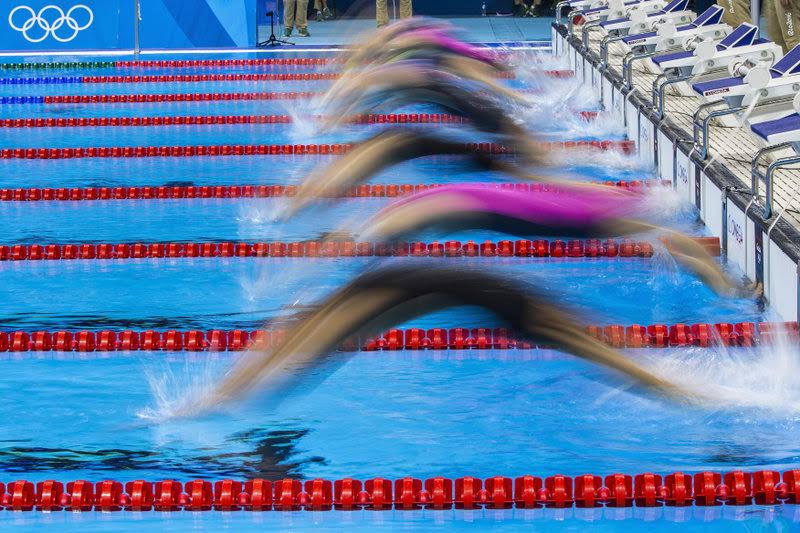 The book of the above title confirmed – in part through Stasi and other documents saved from the shredders by people, since deceased, who worked with the authors Prof. Werner Franke and his wife Brigitte Berendonk – the existence and nauseating detail of State Plan 14:25, complete with the dosages of Oral Turinabol administered to specific athletes, generations of swimmers included.
On 26 August 1993, after the former GDR had disbanded itself to accede to the Federal Republic of Germany in 1990, records were opened and State Plan 14:25 confirmed: the Stasi, the GDR state secret police, supervised systematic doping of East German athletes from 1971 until reunification in 1990. Doping existed in other countries but the GDR was officially unique in so far as having a state plan designed to win in international sport as a way of saying 'look how great our democratic republic and socialist/communist state is'.
The body and bulk of what was discovered is now held in places public and private in several countries, safe from the long arm of any single authority that may ver wish to suppress the truth. Some of that evidence was used in legal cases against coaches, doctors and others in the German doping trials of the late 1990s and subsequent compensation claims by athletes who suffered a spectrum of woes, from personal health, physical and psychological problems to the horrors of inheritance in the form of children born with club feet and a variety of other disabilities.
Oral Turinabol was just part of the poisonous cocktail of substances administered not only to medal-winning 'ambassadors in tracksuits' but to many who were never destined to make it beyond the Berlin Wall. Like the bulk of good but not world-class swimmers in the world, they were club swimmers – but with a dark difference; they served as human guinea pigs to test the effectiveness of substances that had never been clinically trailed in labs before bing administered to the athletes.
The Times in London carried the first post-reunification interview with Kornelia Ender in December 1991, penned by me and revealing her recollection of regular injections and pills that she now knew, along with the rest of us, to be performance-enhancing substances. News agencies, broadcasters and news publications galore from around the world revealed similar cases, after cases, many confirming the shocking depth, width, malice aforethought and criminality of State Plan 14:25.
In the late 1990s, as the doping trials unfolded, a special page on the internet was created by doping victims trying to gain justice and compensation, listing people involved in State Plan 14:25. Those people included Dr Lothar Kipke, who remains on the list of those who received "FINA Pins", the awards given to those who have graced swimming with good service and upheld all the best of values.
There was never any official proposal from the USA or others with cause to speak up for their athletes to have Kipke and other convicted criminals removed from the FINA honours list and for that to be officially recorded and publicised. This year, after a campaign to recognise victims of the GDR crime on both sides of the divide, I lodged a request with FINA to have that situation reviewed. I am yet to hear news of any progress.
It is well past the time when leading members of FINA, the USA at the helm of them, pressed for the kind of recognition of the past that would result in Kipke's official removal from the list of FINA honourees with an accompanying statement acknowledging the crimes committed, as recorded by the German court.
State Plan 14:25 & It's Harm To Women
State Plan 14:25 held that children (for many of those doped, particularly in sports such as swimming, were under age) would be doped with substances such as anabolic steroids, some never clinically tested on animals before human guinea pigs were plied with them, and without the knowledge or consent of their parents. The 1966 blueprint refers to the drugs as "Unterstutzenden Mitteln", or "supporting means". The blueprint would not be signed as official policy until 1974 but experimentation on athletes started much earlier – certainly from 1971 with research for the plan dating back to the mid 1960s. It was the biggest pharmacological experiment in sports history.
The drugs, administered by doctors and coaches, included Oral-Turinabol, a synthetic anabolic agent developed for cancer patients; testosterone derivatives; and "STS 646", a drug considered too dangerous to licence inside the GDR but given to teenagers before being tested on lab rats. "The pills came in a box of chocolates," Catherine Menschner would say in court in 1999. You are unlikely to know her name. By the time she spoke she had suffered seven miscarriages in the years after quitting the sport in which she was fed a diet of drugs but not for international glory. "I was a guinea-pig. I was used to test drugs for better athletes so they could win for the GDR," she said.
The masterminds behind the plan were Manfred Ewald and Dr Manfred Hoeppner. Hoeppner made his base at 21 Czarnikauer Strasse, Berlin, doping HQ, the hub of State Plan 14:25 if you like. The room is just 3 metres square. In it he penned his reports for his Stasi (secret police) overlords on a fold-down table he had installed because there was no room for a proper table. The room was all taken up by boxes of steroids ready for shipping to sports programmes around the country. Hoeppner filed some 1,000 reports to his Stasi contact. Ewald was always in the loop as chief political player at the scene of the crime. In 2000, Ewald, then 74, was found guilty on 20 counts of contributing to bodily harm, the tip of an iceberg of his involvement in a terrible crime.
Ewald, who started off his court case a confident and robust man but ended it with a ruling that his health would only allow him to appear for two hours a day, received a 22-month suspended sentence and Hoeppner an 18-month suspended sentence, the fact that they had criminal convictions against their names more pertinent than the lenient nature of their penalties. Together they had faced 142 counts of assisting grievous bodily harm. On grounds of time, the judge heard just 22 cases before coming to his conclusion that the men before him were as guilty as sin.
Ewald was not handed a financial penalty, as so many others were, for his part in State Plan 14:25, on the grounds that much time had past since he had been up to his eyeballs in guilt. It took German authorities the best part of 10 years to get cases to court, even though the same evidence as produced in 1998-2000 had been available in 1992-93.
At Hoeppner's right-hand was Dr Lothar Kipke, member of the medical commission of FINA. In that capacity he bangs the anti-doping drum but back home he is one of the worst offenders in the sporting crime of the century. A former member of the Nazi party, Kipke was described in a German court in Berlin in 2000 as "the Joseph Mengele of GDR sport". He will also be damned by Hoeppner's hand.
"In preparation for team travel to the US, Dr Kipke forced … athletes to be given testosterone injections. Dr Kipke is brutal in giving the injections. He doesn't consider any pain it causes to the athlete and almost rams the syringe into the body." – Hoeppner's notes to his Stasi liaison officer.
Hoeppner and Kipke sat at the helm of a covert network that coerced and corrupted doctors, coaches, scientists, chemists and swimmers, among others athletes. He keeps a tight ship: beyond issuing "supporting means guidelines" with specific instructions on dosages, he orders abortions:
"Should a pregnancy occur while anabolic steroids are being taken then it is recommended in all cases that an abortion is carried out." Children born to athletes who had taken steroids are to be delivered in a Stasi clinic so that "a decision could be taken as to what to do" in the event of "complications".
Hoeppner later got cold feet as the monster he created got out of control and coaches started to choose their own doses for their girls (and boys). Most victims were teenage girls. Yes, they would compete in the category for women but at the time they were doped and abused, they were children.
Carola Nitschke and Antje Stille were 13 when they were put on a steroid regime, court cases would reveal in 1999 and 2000. In his trial, Kipke adopted the role of Nazi concentration camp guard: "I was only following orders…". There to hear him was former swimmer Martina Gottshalt, who urged her abuser to "look my 15-year-old son in the eyes and tell him you were just following orders". Her son, Daniel, sat beside her, his clubfoot swinging under the bench.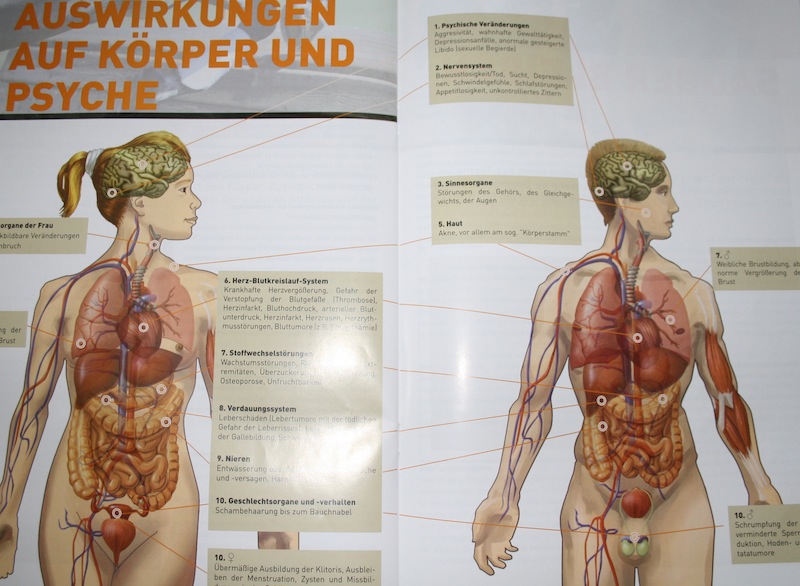 In Leipzig, Prof Dr Helga Pfeifer is among those rolling out State Plan 14:25. As she confessed to me in 2005 during a reflection of her GDR days and in the days after it was revealed that she had been selling flume equipment for Chinese swim programmes in Shanghai:
"Yes, I was involved. I knew about the doping … The doctors decided. I was informed. I knew. I didn't want to risk 35 years of sports science work and I don't feel I have to apologise for that. I know which system I had to live and grow up in. No-one at the time knew how long that system would be in place."

Image: NADA's 2014 educational material seeks to have young people understand how their bodies are magnificent without the need to cheat. The network headed by Hoeppner and Kipke extended to beyond Berlin HQ.
Pfeifer handles the sports science data at the heart some of the biggest Olympic sports, swimming included. It is unfair, she told me, to taint "brilliant" work with the doping that was a part of something bigger. Many beg to differ, if only because neither she nor we can say how good GDR swimmers might have been had fair play been the watchword of a rotten regime. Two months after the Berlin Wall fell, Pfeifer, with official government permission Down Under, was invited to the Australian Institute of Sport. Her scientific papers were still to be found in the library of the AIS in recent years.
Pfeifer, along with many others steeped in the task of rolling out State Plan 14:25 were never called to account in a court of law. Among coaches, national team coaches Juergen Tanneberger and Wolfgang Richter and the East German swimming federation general secretary Egon Muller were among those who received one-year suspended jail sentences after being found guilty grievous bodily harm for having distributed steroids to under-age athletes without their knowledge. Several other national team coaches who had continued to coach Olympic, world and European champions throughout the 1990s, also had their careers brought to a halt after being convicted in trials in 1999 and 2000.
If their guilt was weighty it paled by comparison to that of Kipke, of whom one lawyer for victims said:
"He gave injections, he initiated experiments, and didn't care about the individuals. He knew exactly what he was doing."
Kipke, 76 and retired in Leipzig the last we heard, provided a packed courtroom in Berlin in 2000 with this explanation: "At 14 the girls were biologically adult. That's why we could give them the stuff. They weren't considered minors anymore." Or even human, some might say.
Kipke was found guilty on 58 counts of grievous bodily harm to underage female athletes, was served a 15-month suspended sentence and ordered to pay a $10,000 fine. That was January 2000. By October 3 that year, time would run out on the GDR doping court cases under a statute of limitations and all those not already called would walk free. Kipke was among seven GDR officials to receive honours from FINA. He received his in 1985, the year in which Stasi documents show that those who were spying on a spy reported back to Stasi bosses that Kipke appeared to relish administering doping in a "brutal" way. The rotten regime itself saw in Kipke a man who ought to be reined in. Dark irony indeed.
Among doctors called to court to account for their role in a massive deception was Dr Dorit Rosler. She would set up a surgery in Czarnikauer Strasse in post GDR days with the very purpose of helping victims of the GDR doping system. In court, Rosler broke down in tears when she faced some of those victims and said:
"I should have shown more courage. In Nazi Germany we did what we were told to do. The GDR doping machine was no different; we were just carrying out medical orders … have we not learned anything?"
No such level of remorse from Dr Dieter Binus, Dr Ulrich Sunder (sounds like Sünde, 'sin' in German) and Dr Horst Tausch. They all broke the Hippocratic oath and indeed the law when they administered drugs to swimmers. They were convicted of bodily harm. They continued to practice as doctors years after the doping factory their talents were put to use in had ceased to produce dark results. Among others working in the system was Dr Eberhard Koehler, who sought an injunction to try to prevent publication of a book on GDR doping in which he was named.
He was not alone among those wishing to keep the past a secret and denying that events took place in the way that Stasi documents clearly suggested that they did. Before travel to racing outside the GDR, all swimmers were tested and their urine samples sent to the IOC-accredited laboratory at Kreischa, a place charged by the Olympic movement with the task of catch cheats. In fact, what Kreischa did was to make sure the world would never catch the GDR cheating. Sportsmen and women found positive for drugs simply stayed at home, many after serious attempts had been made to wash their bodies of damning evidence. Little wonder that not a single GDR swimmer was ever caught, even though Stasi documents would later reveal the names, with specific doses of drugs administered, of generations of Olympic and world and European swimming champions.
In my archive is a copy of a Stasi document that shows tests taken on four women – three already Olympic champions by then – at Kreischa, a place not far from Dresden and close to where I sit writing these words. The tests were conducted two weeks before racing at the 1989 European championships in Bonn. All four were massively over the allowable testosterone:epitestosterone limit. Between them they claimed six solo medals, four gold, a silver and a bronze, while all four women contributed to a clean sweep of all three relay events for the GDR. Between 1970 and 1989, no other nation claimed a gold medal in women's relays at the European championships.
Many a success was built on a little blue pill made in Jena at the eponymous drugs company Jenapharm. Its representative sat at the table when State Plan 14:25 was discussed and honed, according to Stasi papers. None was ever called to account for their role in the mass abuse of large numbers of young athletes.
"If the treatment with anabolics is long-term, or at high dosages, real possibility for androgenic side effects exists. Skin conditions such as acne will develop, virilisation effects such as deeping of the voice, growth of facial hair, masculine habits, increased sexual appetite, and clitoral hypertrophy will all occur." – Jenapharm (drug company) paper, 1965.
In 2003, Jenapharm, beyond its GDR days, won Germany's Golden Pill Award for services to womanhood. Two years on the company was named in a law suit by 162 athletes, many of them swimmers. Jenapharm's parent companies denied any wrongdoing. In a statement, Jenapharm acknowledged that the company was obliged to "collaborate in the GDR 'Staatsplan 14.25', but that it was not a driving force behind the national GDR doping programme". The blame rested with politicians, sports doctors and coaches. The athletes' claims were unfounded, the company said.
Ultimately, an out-of-court settlement was reached and victims compensated by the pharmaceutical industry in Germany and by the German Olympic Committee, which assumed the responsibilities of the GDR Olympic body after reunification.
Among the victims were swimmers who in their 30s and 40s suffered defects to heart, liver, gallbladder, chronic back pain, damaged spines and reproductive organs, tumours, had endured multiple miscarriages and given birth to disabled children.
Some of those stories may only be told alongside revelations found in Stasi documents confirming the sporting crime of the century because of Prof Werner Franke, a cell biologist and cancer expert in Heidelberg, his wife Brigitte Berendonk and their lawyer Dr Michael Lehner.
One of the few victims to have spoken eloquently in public about her plight is Rica Reinisch, who at the age of 15 won three gold medals at the Olympic Games of Moscow in 1980, each win producing a world record. "The worst thing was that I didn't know I was being doped," she told The Guardian years later.
"I was lied to and deceived. Whenever I asked my coach what the tablets were I was told they were vitamins and preparations."
Years on and Prof Franke would say: "There was no medical reason to give steroids. It was against the law of the German Democratic Republic. It was against medical ethics. Everybody knew these drugs were not allowed. The people who participated in this clandestine operation knew that they would lose privileges if they refused to take part.
"But they also knew they wouldn't be executed. Some of the arguments now resemble those brought forward in the Third Reich. Those involved disapproved of what they were doing. They knew it was wrong. But they also knew it was a matter of national prestige, and was good for their careers. The Jesuits have a saying: 'For the greater glory of God.' This is what happened here."
God and goodness, of course, had nothing to do with the abomination of the GDR's State Plan 14:25.
It was from 1990 that the many who spoke out against the massive deception on which GDR sport was built felt truly free to do so. Two decades on from reunification, there are those who prefer to stay silent rather than tell the truth that unfolded at the expense of others who were robbed of their rightful claim to history. And there are former athletes who cannot lead normal lives, who live in pain, who take daily medication to help them to cope with the fallout of the poison pumped into their bodies.
In 2009, on the 20th anniversary of the fall of the Berlin Wall, Deutsche Welle reported the case of Berlin resident Birgit Boese, for whom just getting to and from work is a triumph. Noted the report: The 48-year-old former athlete depends on crutches to get around, and she and her husband have to forego visits together to the theater, movies or local swimming pool. "Because of the pain, we can't really take part in public life," she told DW.
Once groomed to show the world that the GDR was best at shot put, Boese now suffers from an irregular heartbeat, high-blood pressure, diabetes, nerve damage, kidney problems, "and a list of other ailments that have made her all but an invalid". Her journey through a nightmare started when she was just 11, when she started at sports school and was told to take the little blue pills that fed the East German medals machine.
Boese and 183 other victims of State Plan 14:25 were awarded compensation in 2006 from the German Olympic Sports Organisation (DOSB) and the drug company Jenapharm. Each received 9,250 euros from the pharmaceutical company in an out-of-court settlement and 170 of the plaintiffs were paid another 9,250 euros from the DOSB. Said Boese:
"It helped, sure. But for those with chronic illnesses and who have to pay out of pocket for medications, the money didn't go that far."
Officialdom in swimming has taken a 'let-sleeping-dogs-lie' approach to all of the above. This year, there were plenty of signs that Germany has long moved on: at the European Championships in Berlin in August, the corridors down which athletes, coaches media, public and others flowed to get to the stands were lined with an exhibition that related the story of the GDR's swimming past, the Oral Turinabol and what came of it all.
Alongside the billboard presentations were stands belonging to NADA, the German anti-doping agency. There were brochures for parents and other brochures for their athletic offspring, agents were on call to answer questions and information was abundantly available. Bravo!
Germany has had a tough time keeping up in world waters of late but it has reached a deeper understanding with its past, settled on a better course – and can be proud of having done so.
A Different Perspective
Long gone is the time to stop portraying 14 to 16-year-old victims of abuse as thieves, cheats and deceivers (that thought as pertinent today as it was back in the days of the GDR and the 1990s). Those whose names flood the books of swimming records and results from the 1970s and 1980s grew up in a time and a place and in circumstances that put a torch to suggestions that they had a choice, could have objected, could have told someone, could have gone home told their parents and expected their parents to step in.
This was a country, at the political level and beyond sport, in which, some objectors who later developed cancer believe that they were deliberately exposed to radiation while waiting to be called for interrogation; a country in which many were shot dead while trying to escape to a place of choice through barbed-wire barricades.
Down the years, I have met many of the GDR's swim champions and medallists. In two cases, I detected a troubling tone of self-justification and defence of an indefensible system. In the vast bulk of cases, the swimmers, polite, pleasant, well-educated and getting on with what might be described as "ordinary lives" – beyond the pills and potions and sports-related problems that they endure – manage to speak with dignity and patience about painful episodes in their lives.
Some of them may well have gold medals but they are all victims to one degree of another. Victims of the likes of Kipke, who, like them, has kept his international honour in official terms.
In 2013, SwimVortex joined hands with Swimming World to call for a better way of dealing with the past, called on officialdom to seek a way of recognising Babashoff, Brigitha and Co without making Ender and Co victims all over again.
Our purpose was clear: let the record stand – alongside every footnote necessary to make sport an honest place for future generations while treating victims on all sides with the dignity and recognition that they deserve.
Official silence has followed ever since. As we approach the 30th anniversary of the fall of the Berlin Wall, the IAAF needs to rethink key aspects of its approach to the latest issues threatening to reduce fairness in women's sport. It should, however, hood its head up: where other sports lag and turn a blind eye, Track and Field has at least had the courage to take on a thorny issue that must be debated in all sports if women are to have confidence that those lining up next two them do not include significant male characteristics that afford them similar certainty of success that the architects of State Plan 14:25 pursued to devastating effect so many decades ago.
End of archive extract
The androgenization they set out to achieve, and did achieve, meant domination of world waters (and similar 'success' in many other sports). Consider the top of the all-sports Olympic medal table in 1976 and 1988, the columns gold, silver, bronze:
1976. 1988

SOV 49 41 35 SOV 55 31 46
GDR 40 25 25. GDR 37 35 30
USA 34 35 25. USA 36 31 27
Population: SOV and USA, either side of the 300m mark. GDR? 16 million.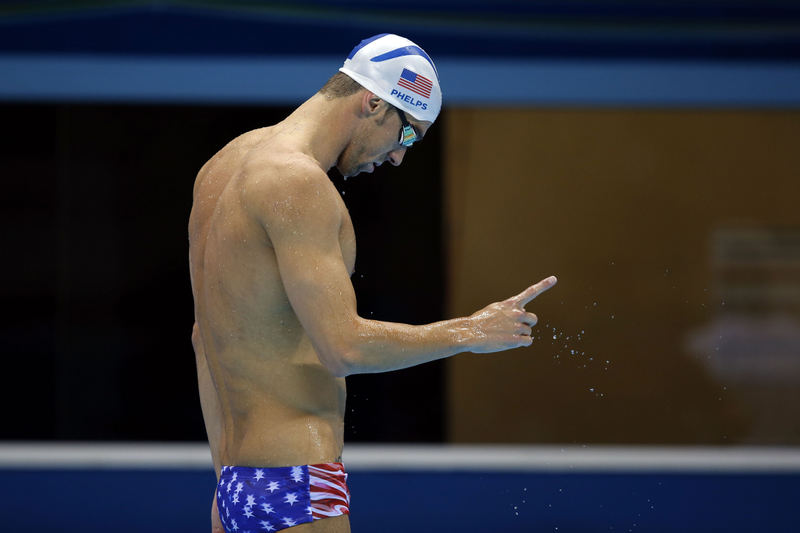 That aforementioned Guardian columnist wrote of the IAAF/CAS ruling that went against Semenya : "If fair play has in any sense been restored to athletics, it's hard to shake the sense that something important has been lost."
Well, dear columnist, something important was lost long ago… and it has never been recovered.
The victims stretch as far as the eye can see, both sides. Women's sport as a whole was also among the victims.
Is it fair to Caster… ? I get know further with a question that starts with that in the absence of one that starts with "… is it fair that every result of an era in which girls were more like boys (on their way to a lifetime of ill-health, multiple miscarriages, disable children and more woe still) stands to this day and defines 'women's sport'? No. And:
'Is it fair that swimmer x has had mental health problems for many a long year and undergone therapy for the damage done to her by theft of prizes, status, life chances and more because said swimmer, a decade of 5am rises, four hours in the pool every day and more behind her, finished 4th behind 3 GDR girls more like boys?' No.
Did that athlete lose something never to be regained? Yes.
Was the something lost much more than a medal? Yes.
Who speaks up for her in this debate? Few.
Who spoke up for her human rights? No-one.
Where were all the writers now suggesting we consider whether the situation of one athlete is more important than the entire status of and fair play in women's sport? Nowhere.
As said, something was lost long ago. Now to suggest a fine outcome would include what was lost falling deeper into the depths of 'never mind, what's done's done and can never be undone' in order for us all to feel we've done the right thing by one athlete while knowing that more wrong has been done to the many simply asking for fairness and knowing that those criminal minds are still out there watching and waiting and plotting for the moment a loophole appears in the warp of women's sport, seems to miss the bigger point and invite harm to the blocks of women's sport.
In the mix of debate, as mentioned, we saw the physical and biological swimmer strengths of Michael Phelps held up as the example that ought to justify allowing the advantages of Caster Semenya. Such comparisons are perverse, attempt to make XY a factor in a debate about XX and what +Y might mean for XX … and do a disservice to both MP and CS.
Those in the CAS process against Caster S did themselves no favours and sport a disfavour by including debatable and even what some suggest is erroneous data in their argument, as Ross Tucker has eloquently pointed out. As for events A, B and C 'IN', E, F, G and P 'OUT' – just doesn't work.
Nor do anti anti-doping rules. Impossible, immoral, unethical. All words that may be used to describe the act of asking athletes not to dope but then asking others, like Semenya, to take drugs to meet the anti-doping rules by reversing their nature – and then only in some events. A recipe for more harm and hurt in a realm pulverised by damage down the decades.
Will The Gender Debate Lead To New Categories In Sport?
What to do? Create new categories of athlete, as it has been in para sport? Where once it was the binary of sex that, entirely logically, defined who gets to complete with whom, will there be a new category or categories based on gender self-identity?
As Tucker notes, that would not be as straightforward as it sounds: within DSD athletes are a multitude of variations, some that have 'elevated' levels of testosterone but cannot use it; some who can partially use it; and others who can use the testosterone, do use it and gain significant advantages outside the range of the vast majority of women, XX. A similar but not, on all points, the same argument is blazing when it comes to transgender women in sport.
Davies brings all issues to one logical conclusion when she says:
"To protect women's sport, those with a male sex advantage should not be able to compete in women's sport."
She advocated other models of inclusion and is among those of us suggesting an open category is among potential solutions when it comes to balancing fair play with inclusion. Sharron's remarks drew fury from Rachel McKinnon, a transgender cyclist who won a Masters Track World Championship title last year. Davies was a "transphobe" and was "sharing hate speech", said McKinnon.
Not so, says Sharron Davies – and many agree. Tennis ace Martina Navratilova, who had a trans coach, apologised for suggesting that trans athletes were cheating but made sure 'sorry' came with a 'however, we need to be aware': "I certainly was not suggesting that transgender athletes in general are cheats. I attached the label to a notional case in which someone cynically changes gender, perhaps temporarily, to gain a competitive advantage. We should not be blind to the possibility and some of these rules are making that possible and legal."
Cheating is a reality of sport. It's a human. The anti-doping system, with its imperfections, is there to protect clean athletes, fair play and sport as a realm we can all have faith in, while understanding that there will always be some who try to game the system and even succeed in doing so.
That 'not be blind to the possibility' from Martina Navratilova is where I depart a touch from Ross Tucker when he writes "neither side had evidence".
That may well be true in the context of prevailing cases. However, let's remind ourselves of where the GDR women won gold medals at Olympic, World and Continental levels: every single distance 50 to 800m freestyle and all others events, all strokes and distances. No nation in swimming history had ever been able to boast, none have since been able to boast a regular 70% plus hit rate on all medals up for grabs at global level, while the GDR's 90% hit rate on all medals in events for women at Continental level unfolded in Europe, in the presence of 40 and more nations. Track and Field knew its fair share of jaw-dropping GDR moments, too.
If such statistics combined with a library of books on the GDR doping regime, its architects and outcomes – such as the academic tomes of Giselher Spitzer and the more close and personal accounts and witness of the kind Berendonk put together in her work "Doping – Von Der Forschung zum Betrug" – are not evidence enough, then there never was an Ancient Rome nor could the Egyptians have built the Pyramids.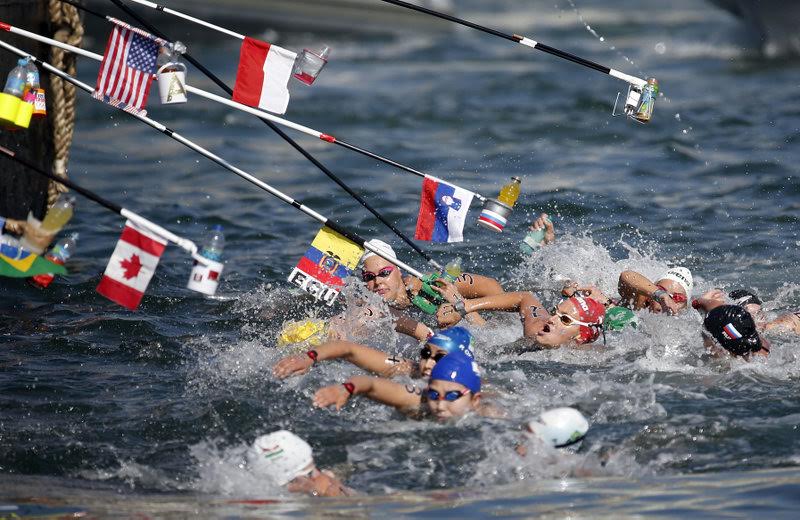 There is no easy 'right outcome' to the gender debate but the wrong outcome is easier to see: XX athletes should not be asked to race under rules that oblige them to compete against distinct levels of maleness that have been proven to make a difference to performance; asking athletes not to dope yet to dope to amend their nature to meet the criteria of another form of nature that makes sport a fairer place is to ask them to enter a bargain with the twin devils of irony and hypocrisy.
Given all we know about systematic approaches to performance in sport and access to the rewards that flow – be that GDR, China, Soviet Union and of late Russia or particular programs and rogues in the USA and in many places beyond – surely there is no-one who thinks there will not be people in this world working hard yet in pursuit of the potential and prizes to be had by introducing maleness to women's sport in any shape they can get away with.
That includes transgender athletes, born boys, grown into men and then identifying as women. The debate is polarised and in some quarters ugly and even menacing, with some big names of sport suggesting that women are being made to feel as though they cannot speak up in defence of XX in the face of the maleness of XY and more without being labelled as haters and worse.