Dressel, Huske & Walsh Lead The American Gold Rush On Day 2 In Budapest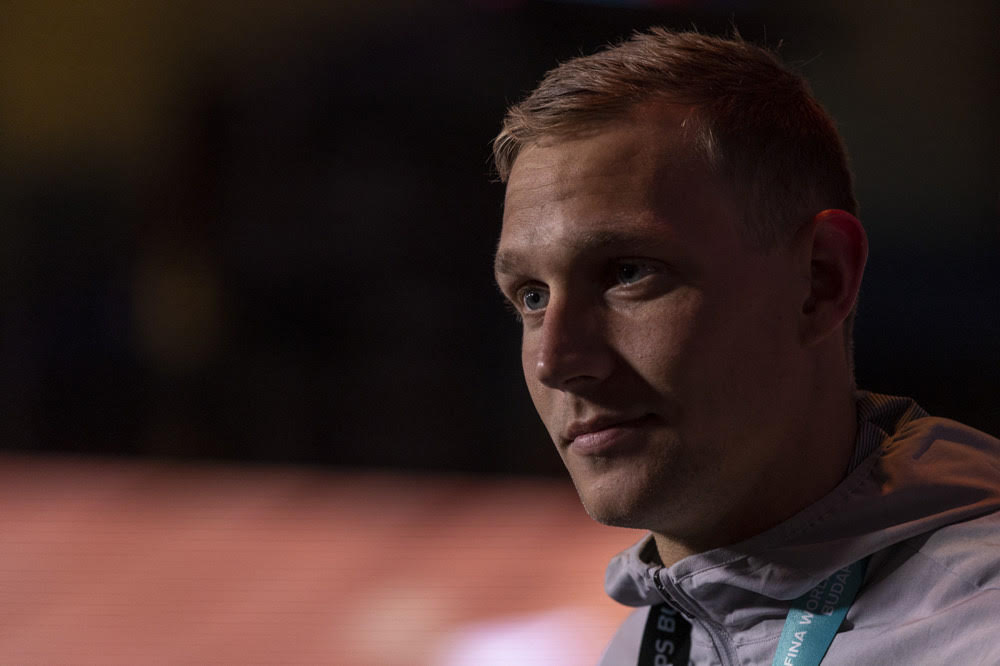 The United States took the lion's share of all honours on the second day of racing at the World Championships, a 22.57 blast from Caeleb Dressel in the 'fly dash and an American record of 55.64 from Torri Huske capped by a 2:07.13 punch from Alex Walsh in the 200m medley.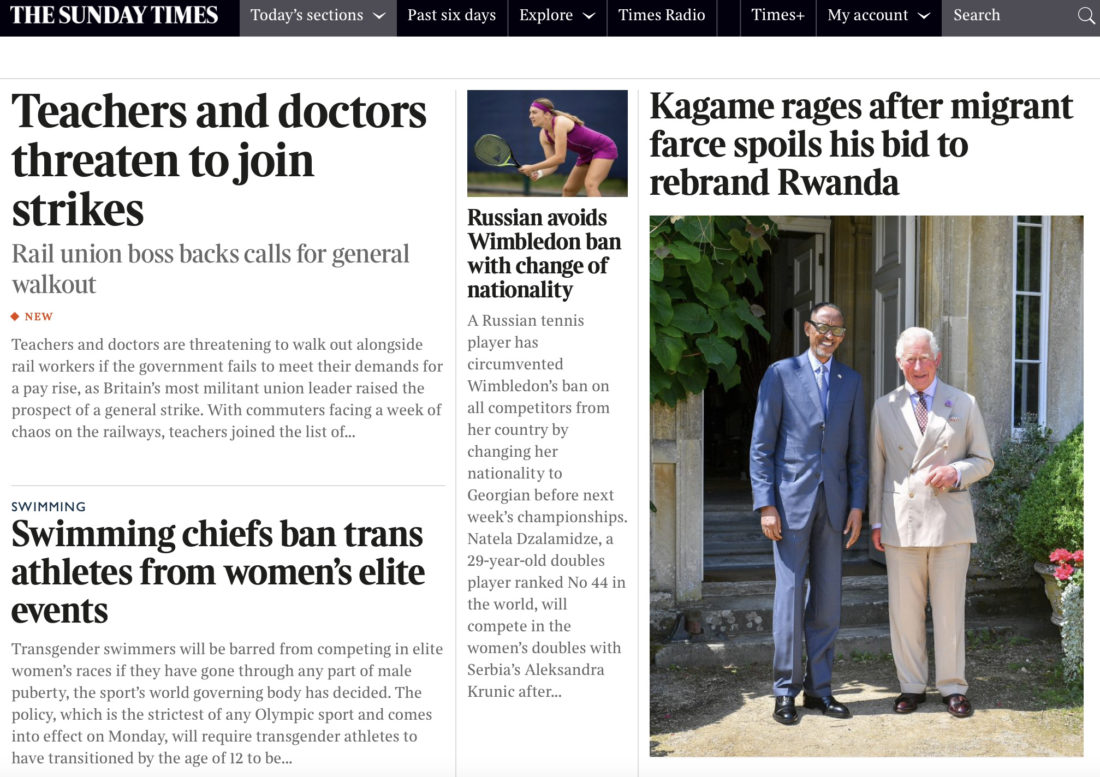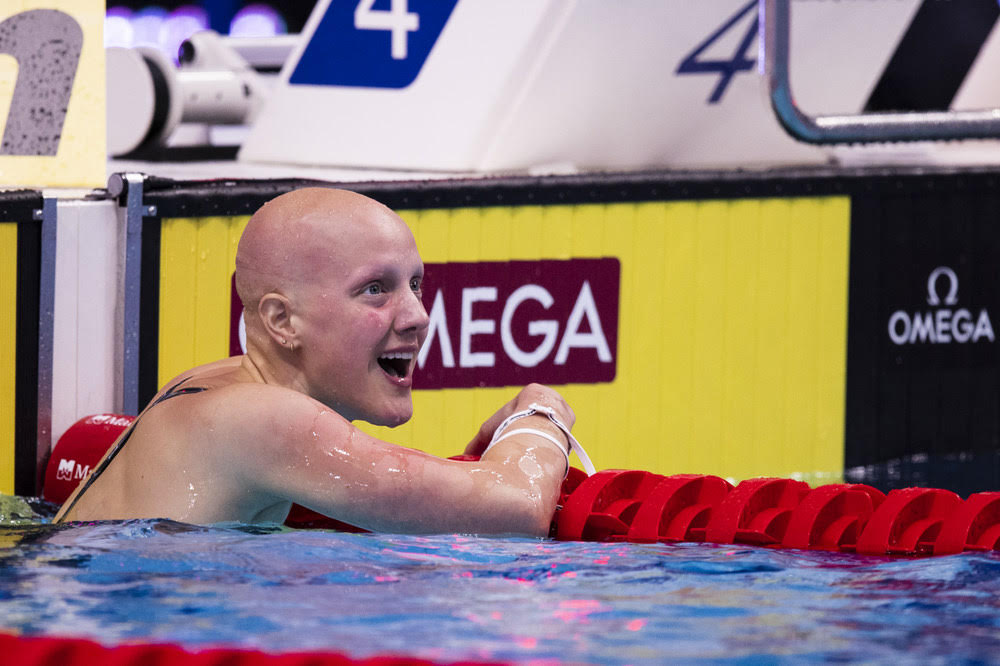 On a day when FINA revealed its 'gold-standard' inclusion policy and reminded us of events on a different day at NCAA championships back in March and took the bulk of swim headlines around the world, the action unfolded with many reporters scribbling on fair play in the pool for women well after the start of action at the Duna Arena.
The second evening session of the meet witnessed two World Junior records, a 1:44.40 from Roumanian teen David Popovici in the 200m freestyle semis and a 2:08.91 from teen Leah Hayes for bronze in the 200m medley behind teammate Walsh.
Budapest 2022: Schedule; Prize Money; Start Lists & Results; Where To Watch; FINA Pay-Per-View; Tickets; Covid Regs
Men's 50m Butterfly – Dressel Gold
Some of the greatest sprint wins are those where the margin is typically small but the win appears never to be in doubt. So not was with Caeleb Dressel, forever Gator, as he snapped gold in 22.57 ahead of Nicholas Santos (BRA), 22.78, and Michael Andrew, another to make it two medals a podium this day, on a personal best of 22.79 for his first long-course World titles medal.
Dressel, the first American to retain the 'fly dash crown, said: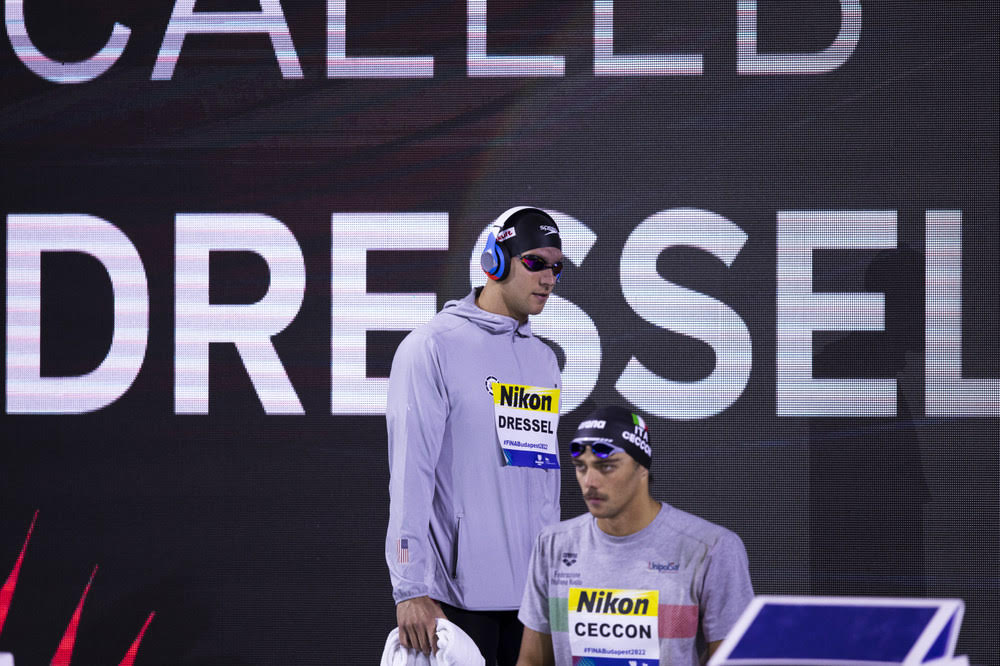 "Feels good to get the first individual [gold] out of the way. It's always the most nerve wracking. Feel like I executed well. Of course – you hear me say it a million times – it could have been better but that's okay. It worked good tonight so I'm just happy for Michael. I didn't know it was his first medal so it will be good to share the podium with him tonight."

Caeleb Dressel – image – Caeleb Dressel walks out for the fight – by Patrick B. Kraemer
Turning to his mental outlook for the next six days of racing, Dressel added: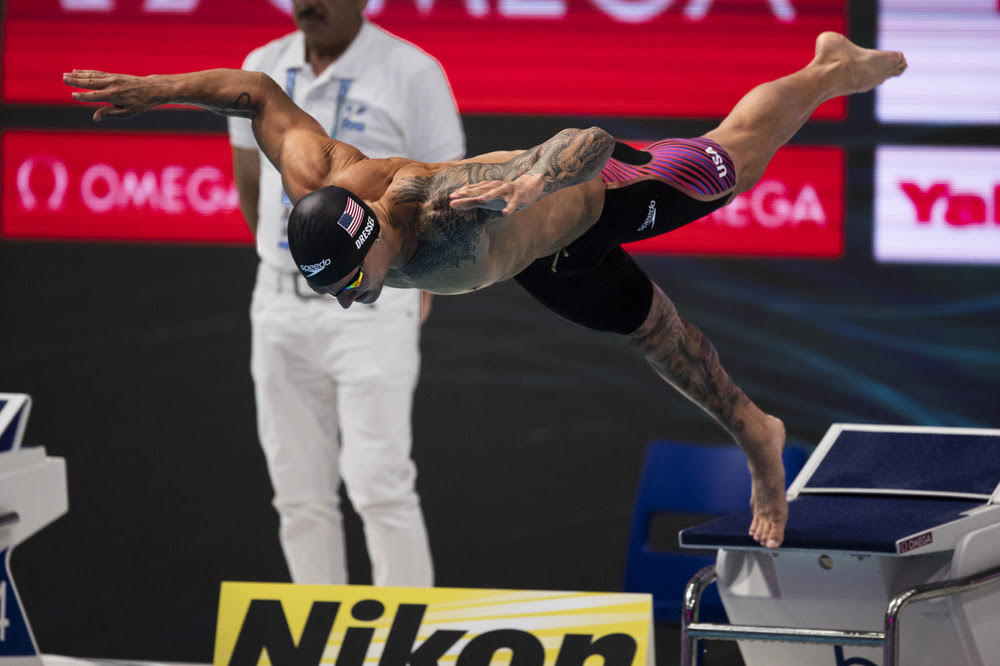 "Looking forward to the rest of the meet but looking forward to the day off tomorrow. I'm as good as I can be. Cards are different every single day so I'm trying to deal with them the best I can. Can't change how my body feels. Felt good enough today – wouldn't really change anything and I'm sure I'll be fine the rest of the meet."

Caeleb Dressel – image by Patrick B. Kraemer
Andrew paid plaudits to the champ helping to bring out the best in the rest: "As much as he's a teammate, I always want to beat him. It's nice having a guy like him in a lot of the events I race because it pushes me to work that much harder so I'm excited for the next couple years to race him. I see the way he pursues excellence so as an athlete, I look up to that. So, every day I hope to be on top of the podium with Caeleb."

Women's 200m medley – Walsh Wins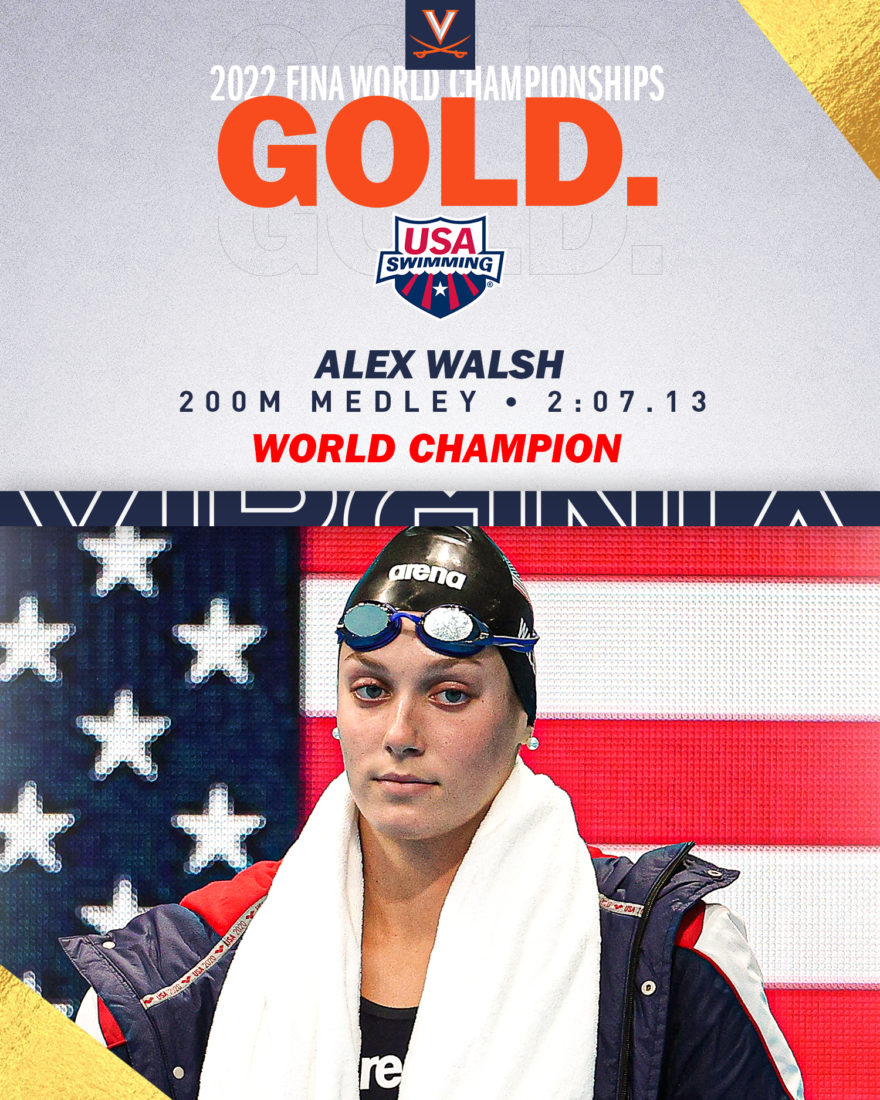 Alex Walsh, the Nashville native based at the University of Virginia, fended off a challenge from Australian triple Olympic gold medallist Kaylee McKeown and then celebrated twice within two seconds when her teammate Leah Hayes took bronze in a World Junior Record.
Walsh's winner is the fifth-fastest time in history and made her the first American to take the 200 title since Ariana Kukors at the Rome shiny suits circus in 2009. Having set the pace as fastest on 'fly, backstroke and breaststroke, Walsh's freestyle speed was surpassed only by Hayes.
The battle:

Katinka Hosszu's 2:11 left the Olympic champion of 2016 well shy of the medals and the dizzy days of Rio when she clocked a 2:06.58 Olympic record as Britain's Siobhan-Marie O'Connor
Got closer than anyone had expected anyone could, on 2:06.88, a big British standard.
With a node to Hosszu's home crown and a knowledgable Hungarian one at that, Walsh, who with sister Gretchen and their teammate and Olympic 400IM medallist teammate Emma Weyant helped the University of Virginia Cavaliers to the NCAA women's trophy in March, said: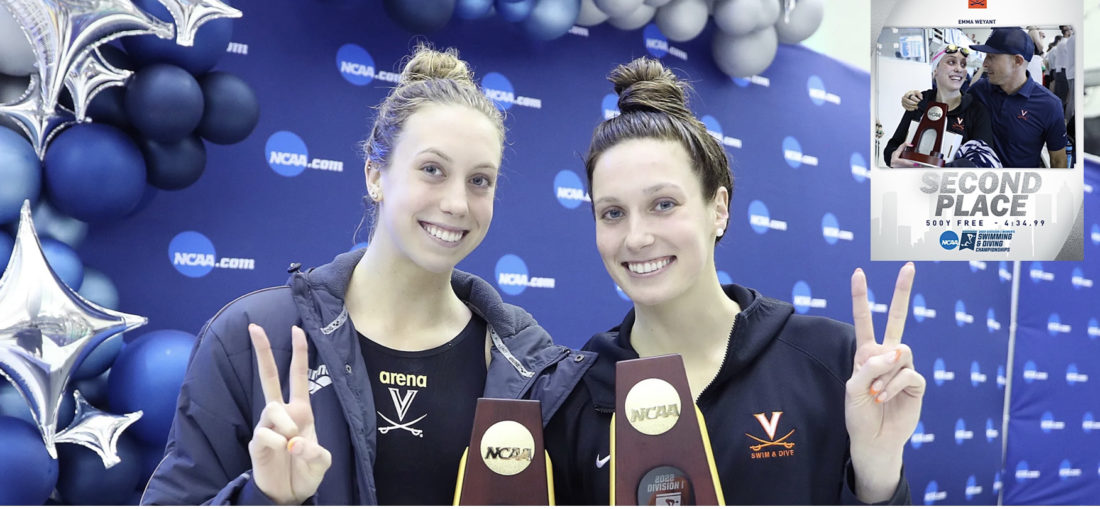 "I forgot what it's like to have so many people in the crowd and I was shocked, honestly, looking up from my race and seeing the stadium was full of people. I think that just brought me a lot of adrenaline and it's just such an honour to race Katinka [Hosszu]. I've really looked up to her all of these years and it was fun. I know her home crowd was rooting for her, but it made me really excited to race and I'm just grateful to be here in Budapest."

Alex Walsh – image – The Walsh sisters, Gretchen, left, and Alex, NCAA champions for Virginia, and Emma Weyant, inset, and head coach Todd Desorbo, celebrating the women's gold in the open 500 yards free
Racing in her first international final over 200m medley, McKeown, of Griffith University, rose to fourth-best Dolphin ever, on 2:08.57. She withdrew from the 100m backstroke to focus on the medley final on the way to adding the event to her next Olympic campaign in Paris, where, assuming qualification, she would defend the 100 and 200m backstroke crowns she claimed in Tokyo in a sizzling week for the top women's team in town.
McKeown pressed Walsh on all four strokes with an effort described by Swimming Australia as "the foundations … for an intriguing battle between the pair moving forward". Said McKeown: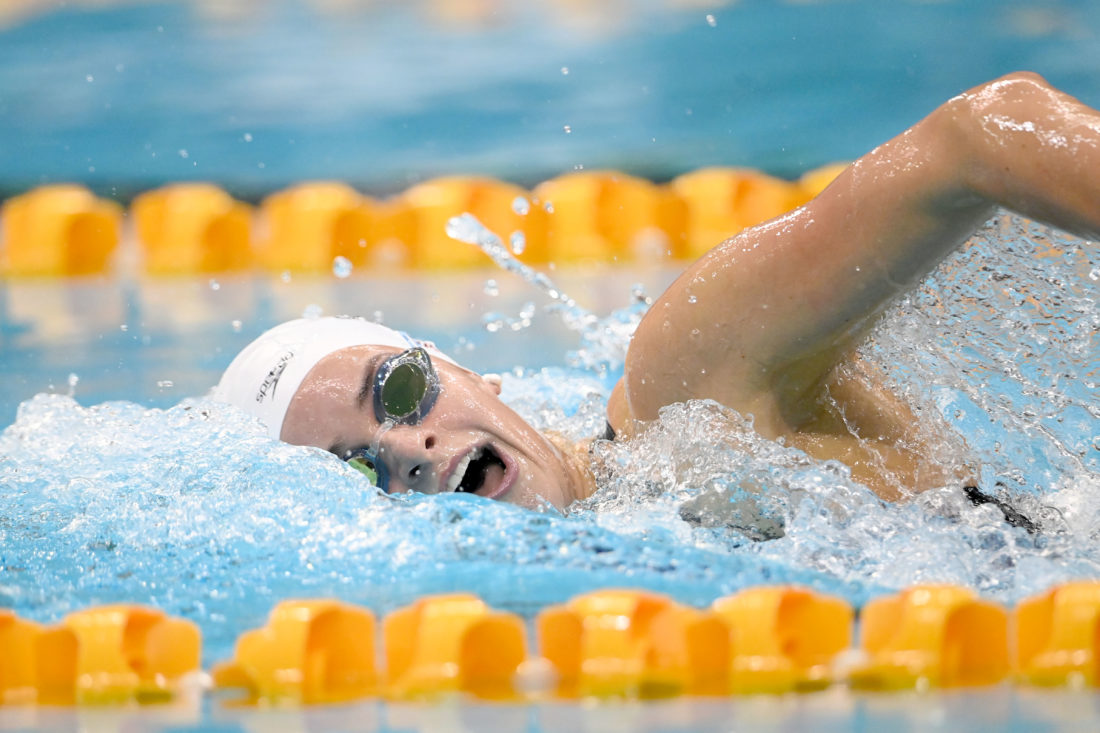 "I wasn't really expecting to come up and podium tonight it was more just getting the international experience. Sadly I pulled out of this event at the Olympics to focus on the backstroke and I think this is the perfect refresher for the next 3 years, just taking the pressure off and it was really good mentally for me.

"At the start of this year I wasn't even sure if I would be doing Worlds or Commonwealth Games because of my shoulder injury so I'm really proud of myself that I have managed to get here and gather the momentum to get on the podium in my first event."

Kaylee McKeown – image by Delly Carr, courtesy of Swimming Australia
Hayes' junior world record is not the fastest ever by a junior, China's Ye Shiwen having claimed Olympic gold in a then Olympic Record of 2:07.57 in 2012. FINA did not apply retrospective pressure when it got the youth book of standards started. Officially, Hayes' record got inside the 2:09.57 that had stood as the FINA age high bar to China's Yiting Yu since the Olympic Games in Tokyo last year.
On her first big podium, Hayes said: "It's surreal – to be on the podium with my teammate and to get a world record when I wasn't even expecting myself to win a medal at this world championships? I gave it my all! I've had my eyes on that record for a while now and I'm so happy to finally get it."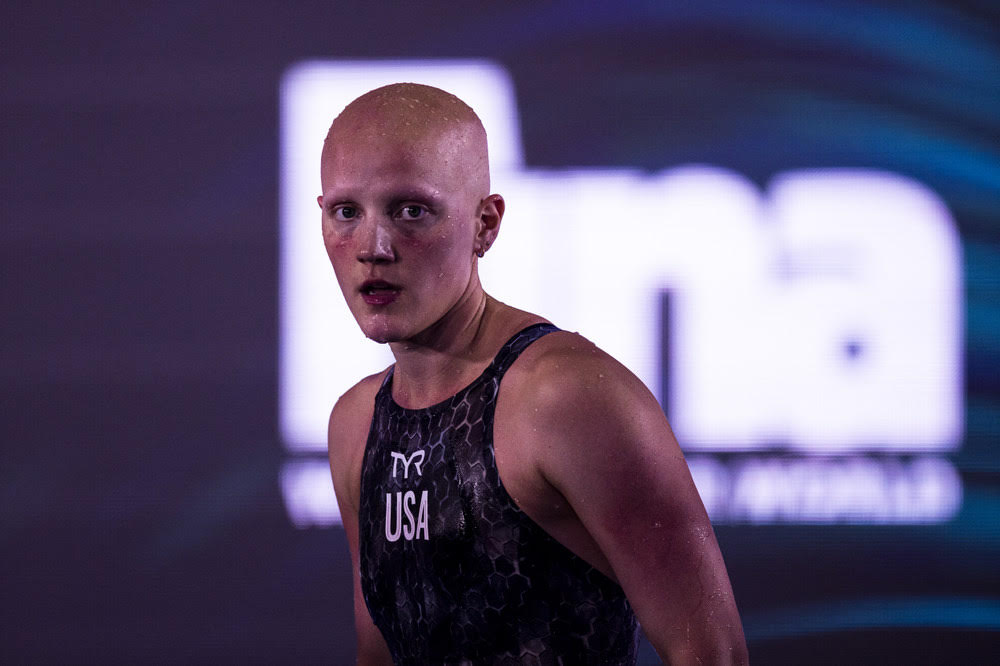 Women's 100m butterfly – Huske High
Torri Huske whistled inside the 56 mark with a 55.64 American-record victory after turning 0.29sec under the world-record pace set by Sarah Sjostrom when she became the first Swedish woman ever to claim Olympic gold back in Rio 2016.
The silver went to Marie Wattel in a French record of 56.14, the bronze to China's Olympic silver medallist Zhang Yufei in 56.41
Huske, who shaved 0.0-2sec off the national standard she'd set at U.S. Olympic trials a year ago, made gold her first long-course world-titles medal and said: "It's really amazing. I really don't know how to put it into words because it's kind of surreal. I feel like I haven't really processed it yet. I'm just happy I went a best time more than the place. At the end of the day, I just want to see that I'm improving myself."
The first American to win the title since Dana Vollmer in 2011 on her way to London 2012 Olympic gold as the first woman to race inside 56sec, entered the fray familiar with panning for gold at the Duna Arena: she took the World Junior title in the same pool in 2019.

Men's 100m breaststroke – The March Of Martinenghi
Make hay while the big cat's away. In a Peaty–free fight, Italian Nicolo Martinenghi (ITA) took the crown in 58.26 ahead of double Olympic silver medallist Arno Kamminga (NED), 58.62, the bronze to American Nic Fink in 58.65.
Martinenghi, 22, looked forward to a home-in-Rome return to business with peaty at European Championships in August and said: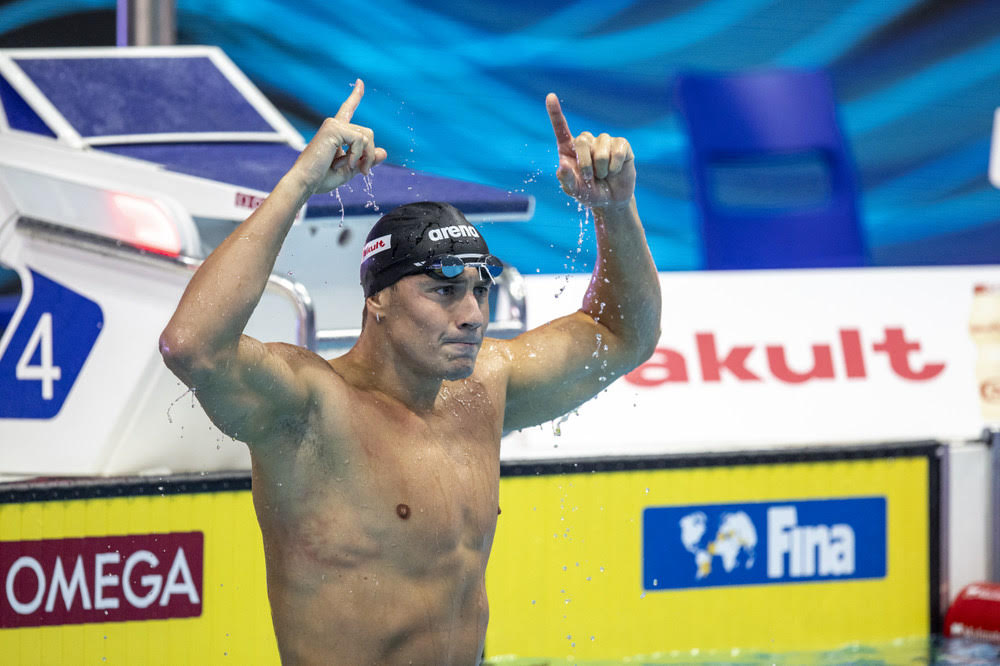 "I think it is 100% the mentality and not 100% of my physical shape because I don't have 100%. But in this kind of competition the mentality does everything. It is not the same without Adam – I know – but I am happy to stay on the throne that he has got. Probably the best thing is that it's my first final, my first gold medal at the worlds at the same swimming pool as my first World Championship team five years ago so that's impressive.

Probably I'm happy to be the first guy that used this moment without him. I spoke with him before I come here and I said let's come back faster because the throne needs its king! It's beautiful to stay on the throne in this position."

Nicolo Martinenghi – image by Patrick B. Kraemer