Indecent Exposure Laws Cited In Letter To U.S. Legal Authorities Highlights Litigation Threat To Sports & College Bosses Blind To Women's Rights In Transgender Debate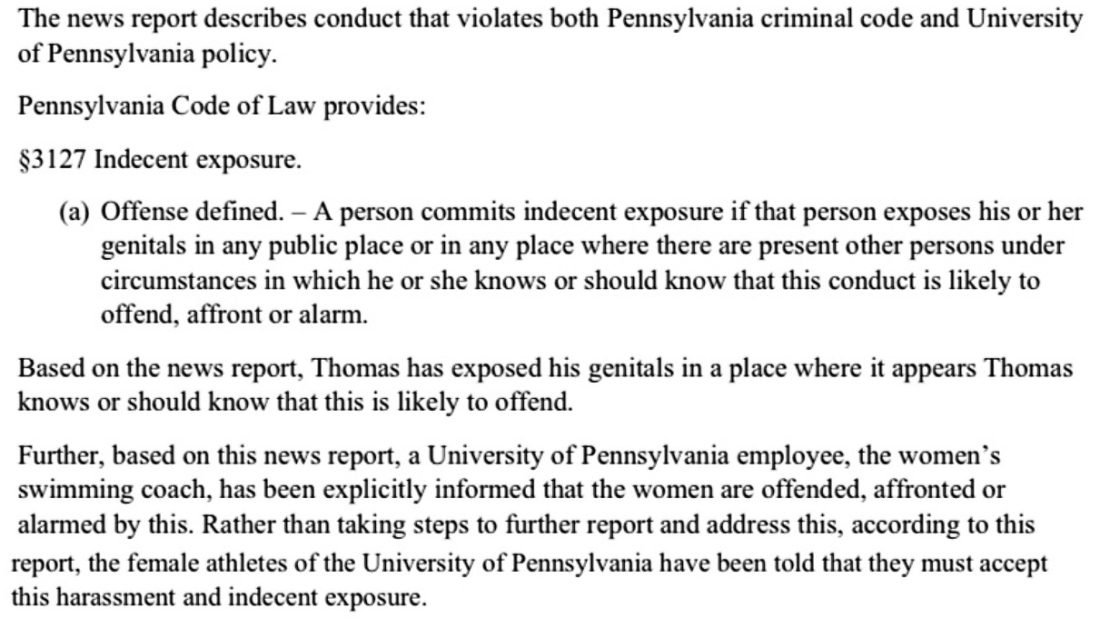 A letter to police and and other legal authorities in Philadelphia reporting a potential and alleged violation of the laws on indecent exposure caused by the presence of transgender swimmer Lia Thomas in the women's changing rooms at the University of Pennsylvania has turned the heat up on sports and college authorities under pressure to safeguard women's sport for biological women.
Women's Declaration International (WDI) drew up their letter to the legal authorities listed at the top of their document (read it in full at the foot of this article or go to the place on the WDI website where you can read and download the letter) after journalists working on American affairs for the British media outlet Daily Mail Online were told by athletes on the Penn women's swimming team that their concerns about being exposed to Thomas' male genitalia in the women's changing room had resulted in them being told to "accept this harassment and indecent exposure".
The issue of transgender inclusion in women's sport has been a runaway train hurtling down a track towards a sport such as swimming for many years. Sports governors chose to ignore it until it was staring them in the face in the form of blazing headlines the world over after Lia Thomas, outside the best 400 men in his best events when racing as a man on Penn University's Swim Team two years ago, catapulted into the record books in women's racing as the force to beat in 200 and 400 yard freestyle events this college season ahead of an NCAA Championship season in which a different form of March Madness has lasted all winter.
College and NCAA rules did not require Thomas to do much more than identify as a woman in the infancy of a transition process in order to qualify to race among women in college swimming. The storm that ensued forced the NCAA to drop its lax inclusion rules and adopt a new USA Swimming inclusion policy that requires any transgender woman to prove that there testosterone levels did not exceed a set limit for 36 months prior to seeking registration required to compete in women's racing.
Now, it has come to this: a complaint from the WDI that the conduct of Penn, its swim coaching staff, and college sports authorities in the Ivy League "violates north Pennsylvania criminal code and University of Pennysylvania policy.
Citing the Daily Mail's interviews and the Pennsylvania Code of Law, WDI USA President Kara Dansky and US Director of Keep Prisons Single Sex (KPSS) Amanda Stulman, in a letter dated February 1, highlight the following: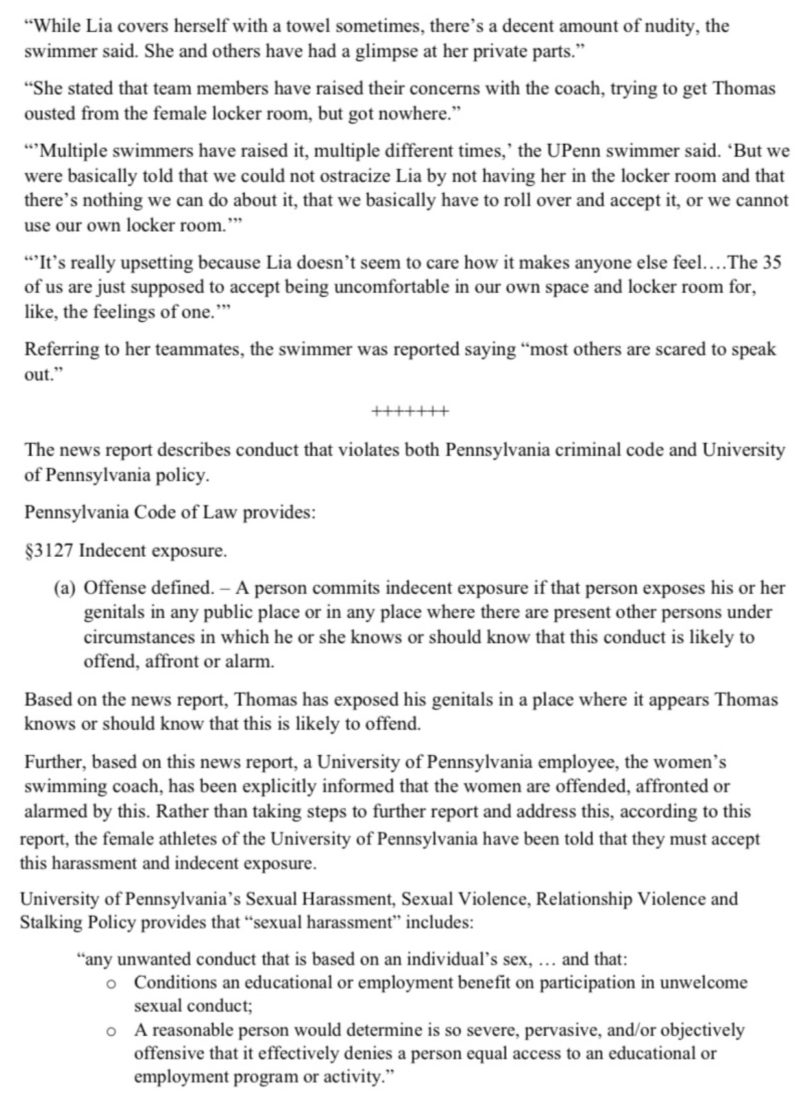 Apart from the key allegation of indecent exposure, the letter makes clear that women swimmers feel that they have been forced into silence under threat of penalty that extending to being "kicked off the team", in words quoted by the Daily Mail, which yesterday ran a commentary from Jennifer Braceras, the director of the Independent Women's Law Center, in which she explains why she feels that women's sport can't be decided by testosterone levels and that the only fair women's sport competition is between biological women.
If attempts have been made to silence Penn women's team swimmers, such behaviour would reflect another issue yet to be resolved in the wider world of swimming and sport, where athletes and others have found themselves ostracised for raising serious issues that ought to set alarm bells ringing.
If current athletes feel it, many long retired have endured the same for many years, a poignant case in point that of Nancy Hogshead-Makar, who says she was offered legal-advocacy contract renewal at the Women's Sports Foundation only if she agreed NOT to advocate for athlete sexual safety on the United States Olympic Team.
That happened at a time when the Larry Nassar scandal was shaking Olympic sports authority to their roots as hundreds of women came forward to expose a catastrophic failure of oversight among officials at USA Gym, the United States Olympic Committee and related authorities.
Now, WDI raises related concerns at a time when the 1984 Olympic swimming champion is advocating for the Penn women's swim team and their families.
Hogshead-Makar, a lawyer, has welcomed the WDI intervention:
SOS Coverage On What Transgender Inclusion Means For Women's Sport
Women's Declaration International (WDI) Letter In Full: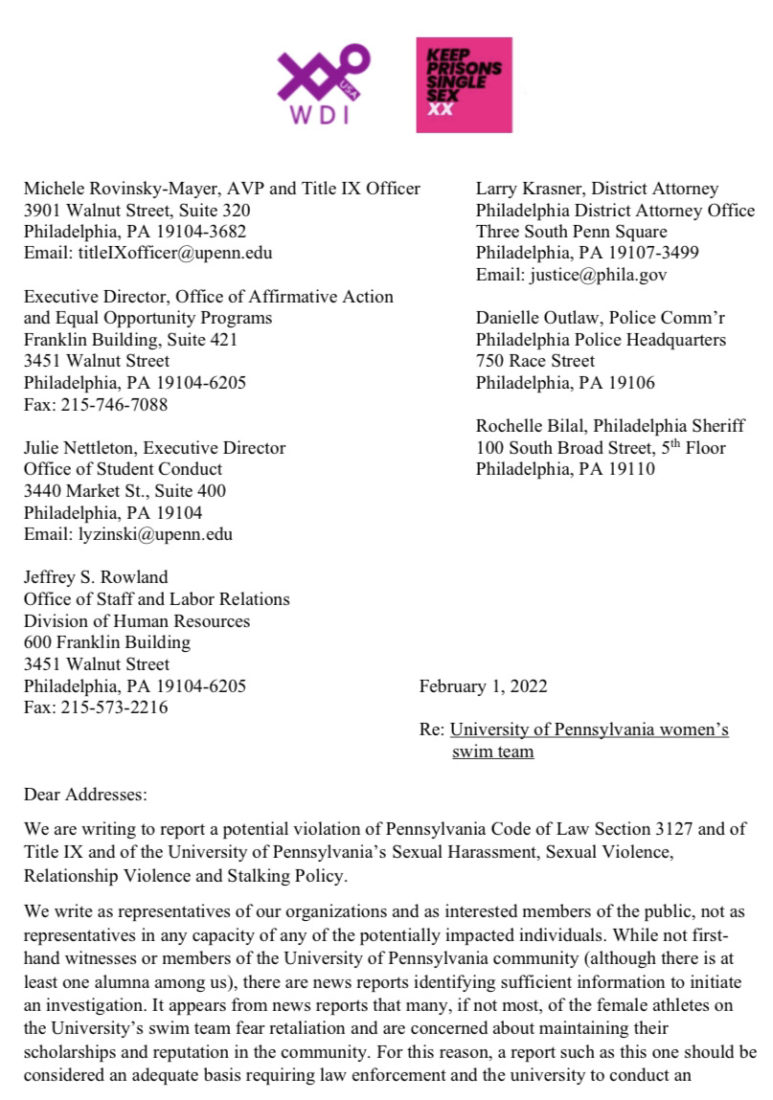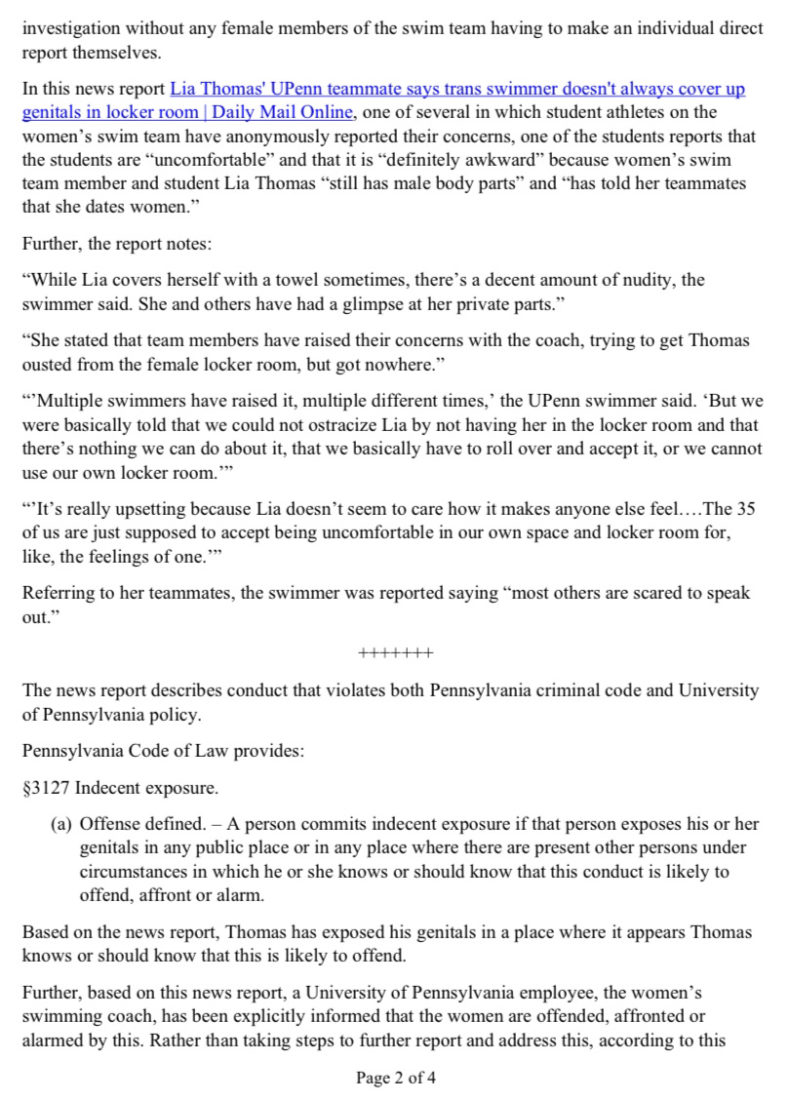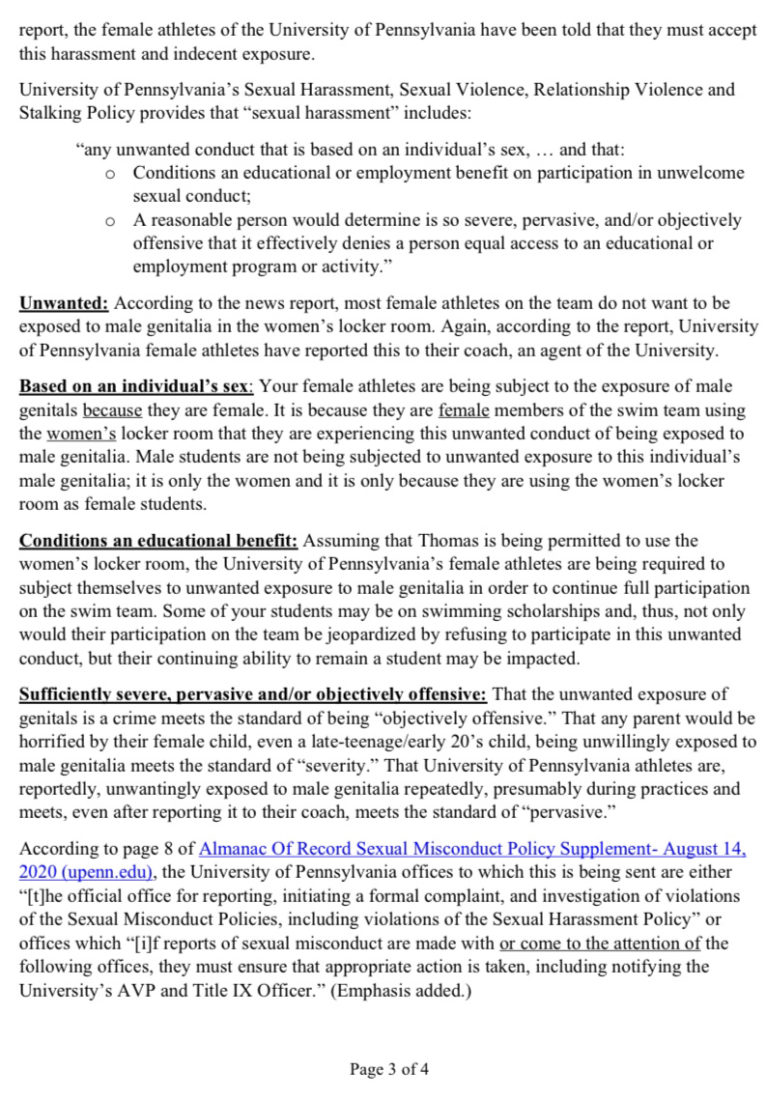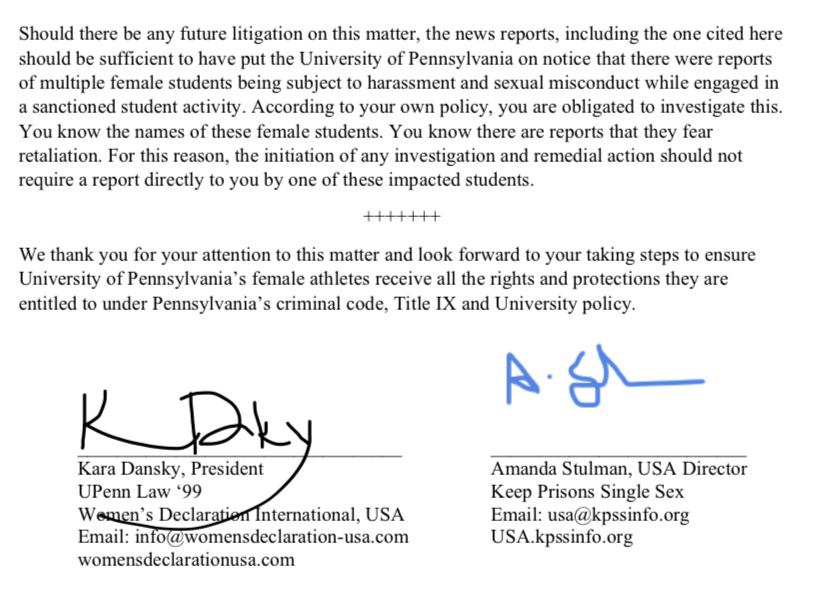 About Women's Declaration International (WDI)


FROM OVER 140 DIFFERENT COUNTRIES

IN COLLABORATION WITH OVER 385 ORGANIZATIONS
What is The Declaration?
The Declaration on Women's Sex-Based Rights is the founding document of Women's Declaration International (WDI). It makes WDI distinct from other radical feminist organizations and guides all of our actions and decisions.
The Declaration re-affirms women's sex-based rights as outlined in the Convention on the Elimination of all Forms of Discrimination against Women (CEDAW), which was adopted by the United Nations General Assembly on December 18th, 1979. It was further developed in the CEDAW Committee General Recommendations, and adopted, inter alia, in the United Nations Declaration on the Elimination of Violence against Women 1993 (UNDEVW).
CEDAW is a tool that has helped, and continues to help, women worldwide to successfully fight sex-based discrimination. Here is why:
CEDAW requires signing countries to enact policies that reject sex-based stereotypes, as well as prejudices and customs based on the idea that either sex is better or worse than the other.
CEDAW affirms "gender" means the roles, behaviors, activities, and attributes a society considers appropriate for either sex.
CEDAW affirms gender is socially constructed, learned, and performed, not innate or essential.