When Roland Matthes, 'Rolls Royce Of Backstroke', Cruised Towards An Olympic Double-Double Never Repeated In 50 Years Since Munich 1972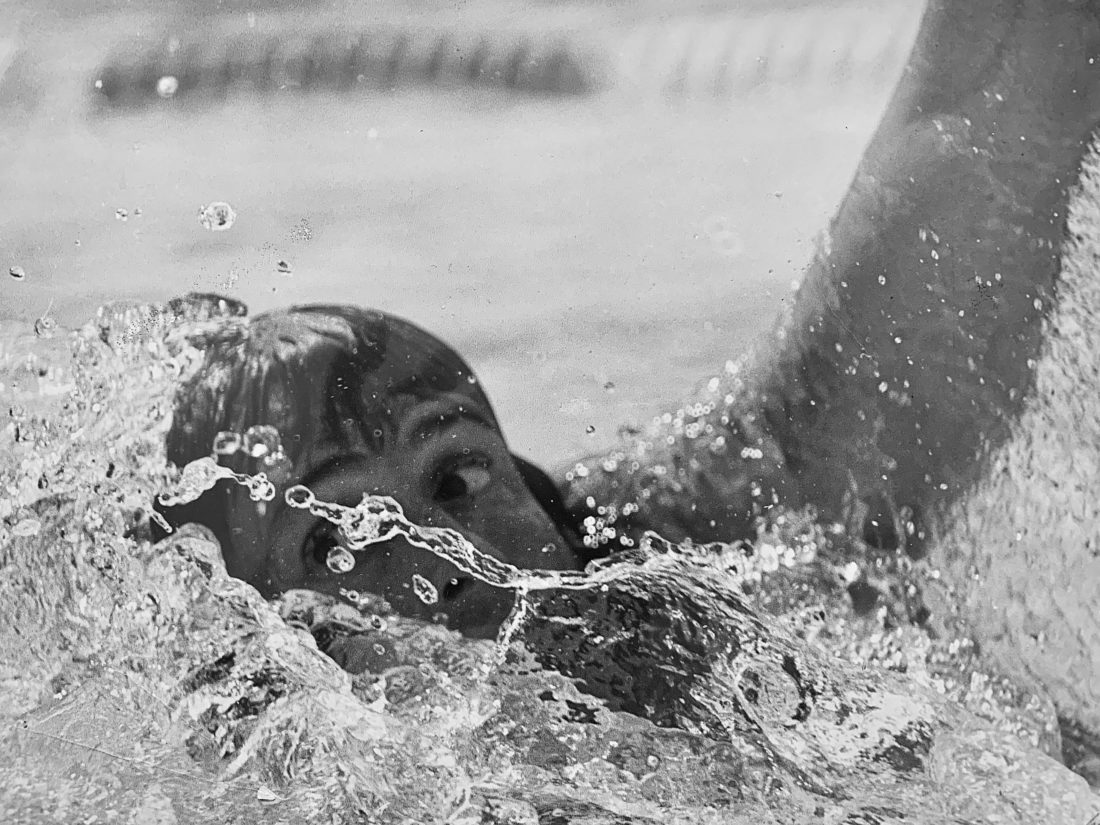 Roland Matthes did not live to see the 50th anniversary of a towering week at the Munich Olympic Games in 1972 but his achievement remains unique in swimming history to this day: no other swimmer has ever retained both the Olympic 100 and 200m backstroke titles.
On this day half century ago, Matthes joined Warren Keoloha (USA, 1924) and David Thiele (AUS, 1960) in the club of men who retained the Olympic 100m backstroke title. Four days later, the East German born in Erfurt, Thuringia, would become the first swimmer ever to claim the 100 and 200m titles not once but twice, in 1968 and 1972.
At his swansong Olympics in 1976, Matthes – known for his flexibility and being able to hold his thumbs together and swing his straight arms over his head for all of the near 360 – took his tally of honours to a total of four gold, two silver and a bronze over three Games. Between 1967 and 1976, the 21-times World record holder (16 of the standards on backstroke, 7 over 100m, 9 over 200m) was unbeaten on backstroke when it counted on the biggest of occasions. The closest to matching him in Olympic waters was American Aaron Peirsol, with podiums at three Games, the 100m title retained (2004-08) and 2004 gold in the 200 backed by silvers either side.
Pat Besford, the British doyenne of swimming journalists in her day dubbed the protégé of coach Marlies Grohe-Geissler the "Rolls-Royce of Swimming" because of the smoothness and elegance of Matthes' technique, a masterstroke of efficiency and calculation: each World record brought a bonus from his state and it appeared at times as though the swimmer was doing enough to take the record but not make himself heavy work for the next shot at relative pay day.
In The GDR, as in other Soviet bloc nations, athletes were rewarded with flats, cars and other lifestyle and financial benefits at a time when athletes in the West were banned from sport under prevailing "Amateur" rules of the Olympic Movement.
Matthes' career coincided with the construction of East German'y systematic doping program but the swimmer's assertion that he had taken no part in that was supported by various statements from officials who worked in the GDR program. In 2005, Prof Helge Pfeifer, one of the scientists who helped to deliver the doping program, revealed in an interview with this author that Grohe-Geissler was the only coach who "got away with always saying no but keeping her job … Roland Matthes needed no help".
So it often seemed. Between April 1967 and August 1974, Roland Matthes was undefeated on backstroke and remained so on the biggest of occasion until 1976. His achievements included unbroken gold at four European championships and three world championships in a row.
There were 19 solo world and 21 European records on backstroke, butterfly, freestyle and medley.
As an Olympian in 1968, 1972 and 1976 he won a total of eight medals (four gold, two silver and two bronze): In 1968 and 1972 he won gold in both the 100 m and 200 m backstroke, while in 1976 he was third in the 100 m backstroke, the winner John Naber, the American who took the pace on where Matthes had left it between 1967 and 1976.
Matthes and Naber became friends for the rest of life:
Munich 1972: Day By Day To A Date With Olympic Immortality
Day 2: 100m Backstroke
Roland Matthes (GDR) gave warning of what was to come when, aged 16, on March 23, 1967 in Magdeburg, he broke his first two European records, of 59.8sec (the first European to race inside the minute) in the 100m backstroke, on his way to a 2:11.2 over 200m. On September 21 the same year, he set his first world record, shaving 0.7sec off American Charles Hickcox's 100m global mark, in 58.4, and then, on November 8, just shy of his 17th birthday, he inflicted another wound on the same swimmer by carving 1.5sec off the world 200m record, in 2:07.9. Matthes would not be beaten in an international backstroke race until 1974 and remains the greatest backstroke swimmer in history.
In the four years in between claiming the 100m and 200m titles at the 1968 Games in Mexico and the opening of events at the 1972 Games in Munich, Matthes had improved the world record in the 100m four times and in the 200m five times. In the heats of the 100m in Munich, Matthes held back, content it seemed to watch Michael Stamm – who with Gary Hall was one of only two men, both Americans, to interrupt a string of 16 world records that fell to the East German – and Mitch Ivey* set the pace: Stamm claimed the Olympic record, in 58.63 (at the first Games to use official electronic timing) in the fourth heat and Ivey, second to Matthes in 1968, improved that to 58.15 in the fifth heat. Ivey then blasted a 57.99 in the second semi-final. Matthes progressed with times of 1:00.01 and 58.44.
The final, with three East Germans and three Americans, was a different matter:
100m Backstroke Date: August 29, 1972 Athletes: 39 Nations: 27
1 Roland Matthes GDR 56.58or
2 Michael Stamm USA 57.70
3 John Murphy USA 58.35
4 Mitchell Ivey USA 58.48
5 Igor Grivennikov URS 59.50
6 Lutz Wanja GDR 59.80
7 Jurgen Kruger GDR 59.93
8 Tadashi Honda JPN 1:00.41
In the showdown, Matthes turned first in 27.41, 0.06sec up on Stamm, with Ivey on 27.53 and a third American, John Murphy, fourth on 27.78. Out of the turn the race was won as Matthes increased his tempo and left his rivals lagging. The crown was retained in an Olympic record of 56.58, just 0.28sec shy of his own world record. Stamm took silver in 57.70 and Murphy, having passed Ivey in the closing metres, claimed bronze.
Four days later, Matthes became the first man to retain both the 100m and 200m titles. In 2022, he remains the only swimmer to have done so.
Day 6 – 200m Backstroke
Four days after retaining the 100m crown, Roland Matthes claimed the double for a second time. Michael Stamm (USA), second in the 100m final, broke Matthes's Olympic record in 2:07.51 in the second heat, before the defending champion responded with a 2:06.62 in the fifth heat.
200m backstroke Date: September 2, 1972 Athletes: 36 Nations: 25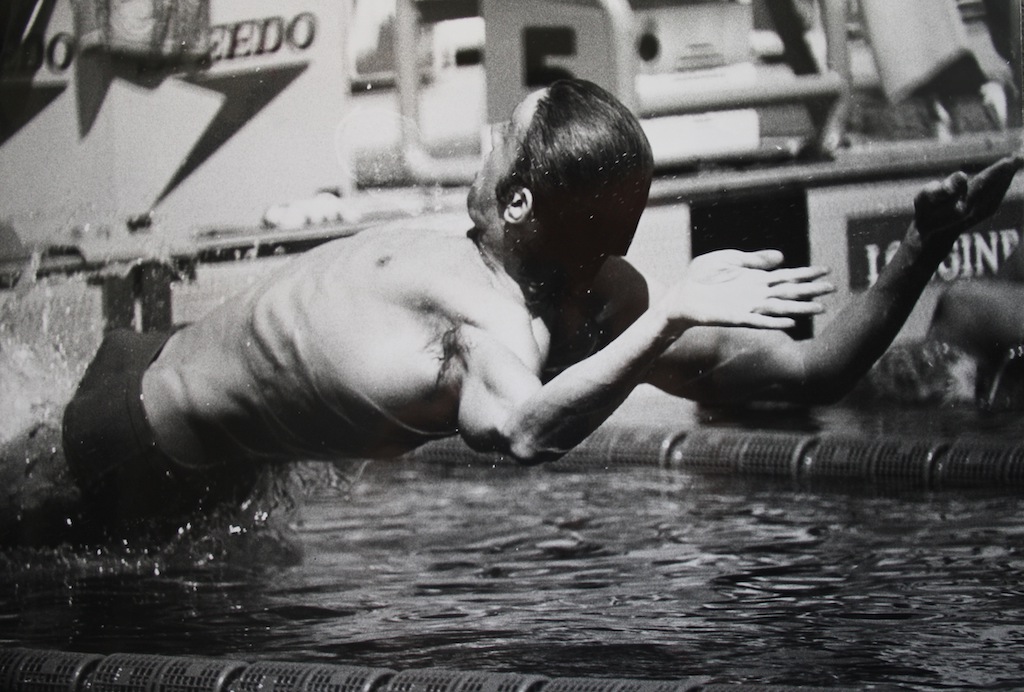 1 Roland Matthes GDR 2:02.82wr
2 Michael Stamm USA 2:04.09
3 John Murphy USA 2:04.33
4 Mitchell Ivey USA 2:06.59
5 Igor Grivennikov URS 2:07.29
6 Lutz Wanja GDR 2:08.67
7 Jurgen Kruger GDR 2:10.09
8 Tadashi Honda JPN 2:11.77
In the final, Matthes followed a well-worn path, letting his rivals set the pace down the first length – but only just: Mitch Ivey* (USA), fourth in the 100m, turned first in 28.29, with Stamm on 28.68 and Matthes on 28.85. At 100m, Ivey maintained the lead, in 59.34, Matthes having inched ahead of Stamm, 59.96 to 1:00.5. From there, the East German was the fastest, first at the last turn in 1:30.96, 0.46sec up on Ivey, with Stamm 0.6sec further adrift. By the close, Matthes had hammered home a world record of 2:02.82 (the standard declared an equal world record because the 2:02.8 at which the East German had set the mark was registered manually), leaving Stamm and Ivey to collect the minor medals more than a second behind the gold standard.
Behind the medal winners, the race was a fascinating mix of stars from non-backstroke events: in fourth place was Brad Cooper (AUS), Olympic 400m freestyle champion in the wake of American Rick DeMont's disqualification [review to come, day 5], and behind him Tim McKee, who was granted silver in the most controversial 400m medley final in history, one in which gold and silver were split by thousandths of a second for the first and last time in swimming history tomorrow: day 3 – 400m medley].
In Other Day 2 Finals At Munich 1972:
Women's 200m Breaststroke
Date: August 29, 1972 Athletes: 39 Nations: 22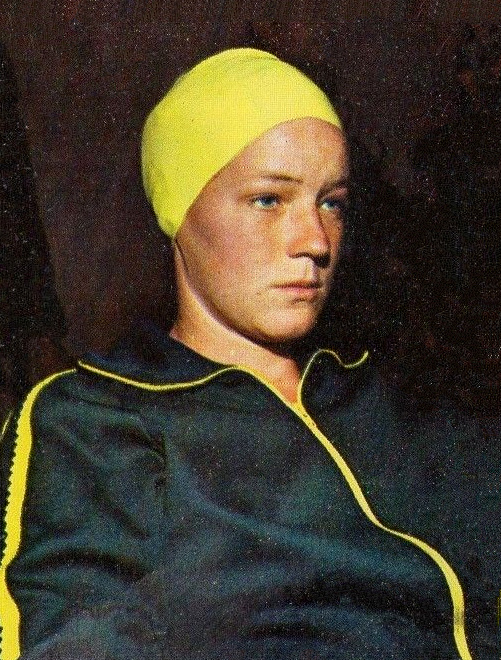 1  Beverley Whitfield AUS 2:41.71or
2  Dana Schoenfield USA 2:42.05
3  Galina Prozumenshikova URS 2:42.36
4  Claudia Clevenger USA 2:42.88
5  Agnes Kiss-Kaczander HUN 2:43.41
6  Petra Nows FRG 2:43.41
7  Ludmilla Porubaiko URS 2:44.48
8  Eva Kiss HUN 2:45.12
The world record still stood to American Catie Ball, who had retired by the time the 1972 Games came around. For Galina Stepanova (nee Prozumenshikova, URS), the 1964 champion, however, Munich marked her last stand in Olympic waters after she had won medals in all her previous outings. Her determination showed when, in typical fashion, she blasted off her blocks and shot ahead to lead at the 100m by an impressive margin – 1:17.90 to 1:19.63 – over Dara Schoenfield (USA) and four others within 0.10sec of the American.
The pack included Beverley Whitfield (AUS), who had turned last at the 50m mark but was starting to ease her way into contention. A length later, the Soviet star was still ahead with the only sub-2-minute split, with Americans Claudia Clevenger, Schoenfield and the Australian closing in a touch. With every stroke from the turn, Stepanova's advantage was whittled down and, with 15m to go, Schoenfield drew level.
The race then took an unexpected twist: Whitfield burst into a frenetic sprint, the momentum of which swept her alongside Schoenfield and Stepanova just past the 5-metre lane marker and ahead of them by the close to an Olympic record of 2:41.71. The Australian leapt from the water and shouted up at her teammates: "I kept my cool! This is the greatest feeling in the world."
Whitfield died suddenly at the age of 42 after a long bout of influenza lasting several weeks in 1996, the year after Hall of Fame induction.
"This great Australian will be missed not only by those within the Olympic Movement in Australia, but also by members of her local community who knew so well of the continual support she offered to many each day of her life," said Australian Olympic Committee President John Coates.
Winner of three gold medals at the 1970 Commonwealth Games in Edinburgh, Whitfield would be much missed, said 1960 100m freestyle Olympic champion John Devitt, at the time Swimming Australia Vice President-elect: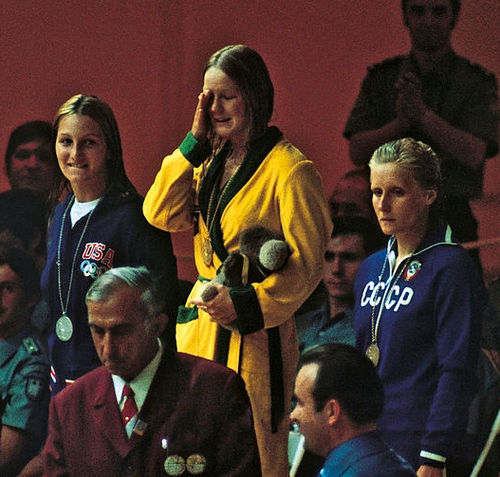 "Bev made a great contribution to both Australian swimming and the Olympic movement. Her performance in 1972 is still very fresh in my mind. She showed as much determination as I've ever seen from anyone to come from last at the 100m turn to claw her way back to win the gold. It showed so much about the kind of person she was – a real fighter who never, ever gave up."

John Devitt – image: Beverley Whitfield takes gold ahead of Dana Schoenfield, left, and Galina_Prozumenshchiko – thumbnail courtesy Wikipedia
Our SOS 50th anniversary trip down memory lane to Munich 1972: