Iron Mike Burton & The Historic Defence Of The Olympic 1500m Free Crown As Swimming Ended At Munich 1972 This Day 50 Years Ago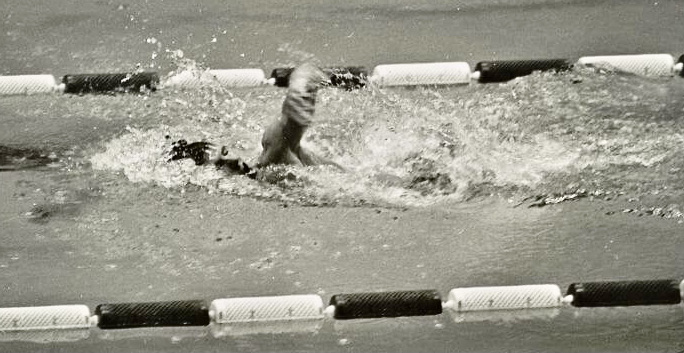 Born on the eve of Independence Day, July 3, 1947, Michael Burton, of Sacramento, California, would grow into one of the greats of distance freestyle: he won three Olympic gold medals in distance freestyle and set seven world records, five of them in the 1,500m, a record he shares to this day with Arne Borg (SWE, 1923-1928).
It all started against the odds. The son of a truck driver, Burton was hit head-on by a furniture truck while riding his bicycle aged 13. Eight weeks in hospital with a dislocated hip and torn ligaments dictated a slow recovery. His days playing football and basketball would be over for quite some, his injuries unsuited to contact sports and the thud on joints that comes with leaping about on land. His rehabilitation would best spent in water. An aquatic legend of the long laps was born.
Burton started to chip away at the world record over 1,500m in 1966. By the time he arrived at the 1968 Olympic Games in Mexico City, he was favourite for the longer event but in the 400m the world-record-holder was Ralph Hutton (CAN) in 4:06.5. All those who raced 200m or more in Mexico swam well below best, and some were more affected by the high altitude than others. Burton claimed the 400m crown in 4:09.0 ahead of Hutton and then ploughed a lonely furrow on his way to an Olympic record of 16:38.9 in the 1,500m.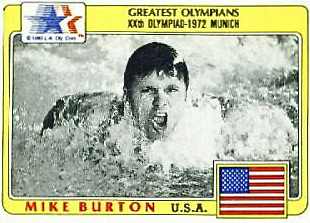 At 1.74m (5ft 9), Burton built a reputation as "Mr. Machine" and "Iron Mike", his strong worth ethic and steely mindset holding hands with training sets previously unheard of. Burton, who attended El Camino High School, won 10 AAU titles, and while at UCLA claimed five NCCAA titles: the 500 Free (1970), 1650 Free (1967, 1968, 1970), and 200 Fly (1970). Burton was also a four-time Pac-10 champion, helping to lead the Bruins to the Pac-10 Championship Team Title in 1970.
After retirement from racing, Burton coached at the Evergreen Swim Team in Olympia, WA until 1997, and then at the Seahawks in Billings, Montana, at the local YMCA until 2007. His daughter Loni also shone at Division II college level in the pool, winning twelve individual NCAA titles.
Burton's great moment unfolded on the last of eight days of racing in the Munich pool day of racing in a session that witnessed the 4x100m medley that delivered a record seventh gold medal for Mark Spitz and the third gold medal for fellow American Melissa Belote.
Munich, September 4, 1972 – Men's 1500m Freestyle Historic Golden Defence For Burton
At age 16, in 1972, Californian Rick DeMont (USA) became the youngest man ever to stop the clock first in an Olympic 400m freestyle title, finishing on 4:00.26, 0.01sec ahead of Brad Cooper (AUS). DeMont did not remain a winner for long, however. At U.S Olympic trials, DeMont had demolished the World 1500m record in 15:52.91, 4.19sec inside the time at which John Kinsella had held the standard since August 1970. The Munich 30-lap race promised a second gold after he touched first in the 400m freestyle. The story of what happened next is told in our review of the 400m final in Munich.
The Olympic record of 16:38.9, the time in which Mike Burton (USA) had claimed gold at altitude four years earlier, went down twice in Munich heats on September 3, 1972. A memory of 1968, with commentary from Murray Rose, the Australia distance king of 1956-60:
In Munich, Germany's Hans Fassnacht clocked 16:34.63 but that would not make the cut for the final. Then, in the second heat, Australian Graham Windeatt took the pace of the 1500m in Olympic waters below 16 minutes for the first time, with a 15:59.63, Burton also safely through as one of 13 swimmers to have swum below his winning time from 1968.
The defending champion had held the World record four times in his career: 16:41.6 in 1966; 16:34.1 in 1967; 16:08.5 at U.S. Olympic trials in 1968; and 16:04.5 in 1969. His best was yet to come.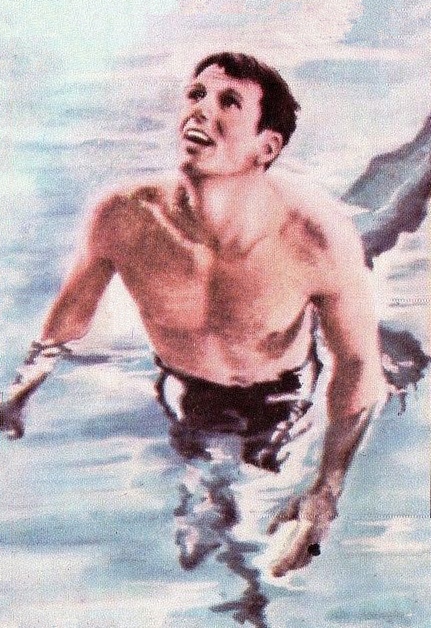 1500m freestyle – Athletes: 42 Nations: 30
1 USA 15:52.58wr Michael Burton
2 AUS 15:58.48 Graham Windeatt
3 USA 16:09.25 Douglas Northway
4 SWE 16:16.01 Bengt Gingsjo
5 AUS 16:17.22 Graham White
6 NZL 16:18.84 Mark Treffers
7 AUS 16:30.49 Bradford Cooper
8 MEX 16:36.03 Guillermo Garcia
In victory, Michael Burton (USA) became the first man since Britain's Henry Taylor in 1908 to keep a grip on the 1,500m freestyle crown, and first ever to do so at a Games recognised by the International Olympic Committee (Taylor's first win was at the Intercalated Games of 1906).
Here's how he did it in a terrific duel with Australian Graham Windeatt from the 600m mark onwards, after the American opened in 1:00.28 and 2:03.22 over the first four lengths, taking up the key splits from 400m, at which stage Burton was leading Windeatt by almost four seconds, with Brad Cooper (AUS), 4:12.41, Doug Northway (USA), 4:13.35, and Guillermo Garcia (MEX), 4:14.10, in between a duel not yet ready to show its hand but in place by 700m, when Windeatt got his feet on the wall ahead of Burton for the first time in the tussle. That would last until the 1200m mark, when Windeatt could not match the string of consistent 1:03s flowing from Burton:
4:10.70 (7:22.26); 8:25.86 (10:33.81); 12:42.10; 13:45.82; 14:49.57; 15:52.58 (1:03.01) WR Burton – gold
4:14:55 (7:21.96); 8:25.01 (10:32.19); 12:42.66; 13:47.96; 14:53.59; 15:58.48 (1:04.89) Windeatt – silver
Burton's successful defence of the crown was all the more remarkable for this: in the spring of 1972, Burton was diagnosed with a vitamin deficiency. That showed at U.S. trials when the Olympic 400 and 1500m champion of 1968 failed to make the team in the shorter event. In the 1500m, he just made the final, through in eight place and then just made the team in third place at a time when each nation was allowed to have three qualifiers for the Games.
Coached by Sherm Chavoor, Burton celebrated his victory at dinner with teammates, among them Gary Hall, who asked his teammate: "How did you do that?"
Burton replied in the manner of a man who had done the work and had no doubts about what he was capable of, telling Hall: "Gary, I have never, ever given up in a race in my life….and I was not going to start tonight."
Chavoor was mentor to the two biggest mid-to-distance freestylers at Mexico 1968, the women's 200m, 400m and 800m finals won by Debbie Meyer, who on seeing this anniversary feature on Burton, wrote to say: "Thank you for posting this! In my opinion Mike has been left out of so many recognitions, US Olympic Hall of Fame to name one, and many in Sacramento. If it were not for Mike and his work ethic I may not have done as well because I wanted to be like Mike!!" What a plaudit!
Burton, whose biggest rival in Mexico had been high altitude, celebrated the last of his seven world records this day 50 years ago, his run stretching from between 1966 to 1972, five standards over 30 laps and two over 800m (1968-69). He would keep the record until the advent of Stephen Holland (AUS), who would set the standard four times – 15:37.8 down to 15:10.89 – on his way to the podium in what is arguably the greatest three-way fight in Olympic 1500m freestyle history, at Montreal 1976 with Americans Brian Goodell and Bobby Hackett.
The first man to break 16 minutes for the 1650yd freestyle and first to swim inside 8:30 over 800m, Burton would not have been in Munich had it not been for the three athletes per nation rule: married, working to earn a living that left him short of time to train, the reigning Olympic champion made the final of the US trials in eighth place and finished third in the final.
---
That concludes our 50th anniversary trip down memory lane to Munich 1972. Our coverage: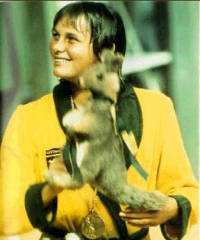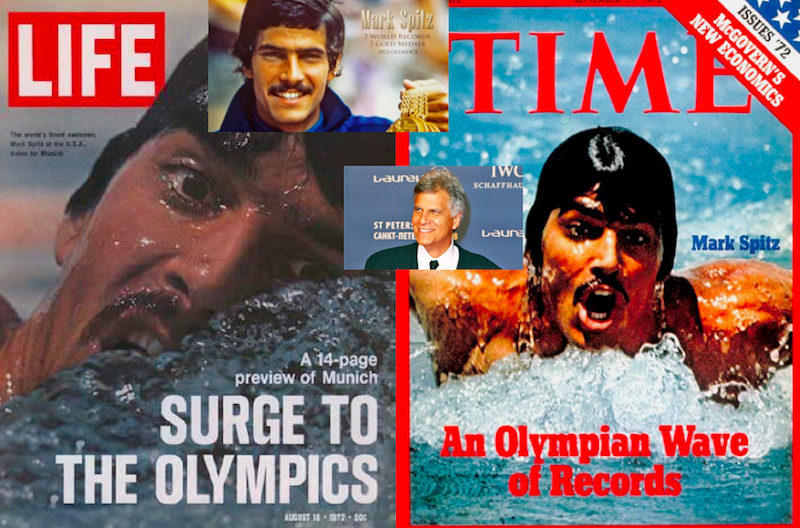 Over the course of eight days, 30 world records fell, 16 of them to men, 14 of them to women and the medals table featured 11 of the 52 nations that entered swimmers.
| Nation | Gold | Silver | Bronze | Total |
| --- | --- | --- | --- | --- |
| USA | 17 | 14 | 12 | 43 |
| AUS | 6 | 2 | 2 | 10 |
| GDR | 2 | 5 | 2 | 9 |
| JPN | 2 | 0 | 1 | 3 |
| SWE | 2 | 0 | 0 | 2 |
| URS | 0 | 2 | 3 | 5 |
| CAN | 0 | 2 | 2 | 4 |
| FRG | 0 | 1 | 3 | 4 |
| HUN | 0 | 1 | 2 | 3 |
| ITA | 0 | 1 | 2 | 3 |
| GBR | 0 | 1 | 0 | 1 |
The tally of 30 World records set a record in Olympic waters and remains one of the biggest standard-setting moments in the history of such scores.
The record at global level is 43, a tally reflecting the performance-enhancing nature of shiny suits at the Rome 2009 World Championships circus.
The morning after the swimming ended in Munich, when Mark Spitz was to have attended another round of media interviews, eight Palestinian terrorists broke into the Olympic Village. By the time the horror had ended, 11 Israeli athletes and a German policeman caught in crossfire had lost their lives.
FINA Congress stood down on September 6 as a mark of respect and condolences were sent to Israel conveying "deep and heartfelt sympathies at this time of your country's extreme loss".
The massacre was back in the news this week all these 50 years later: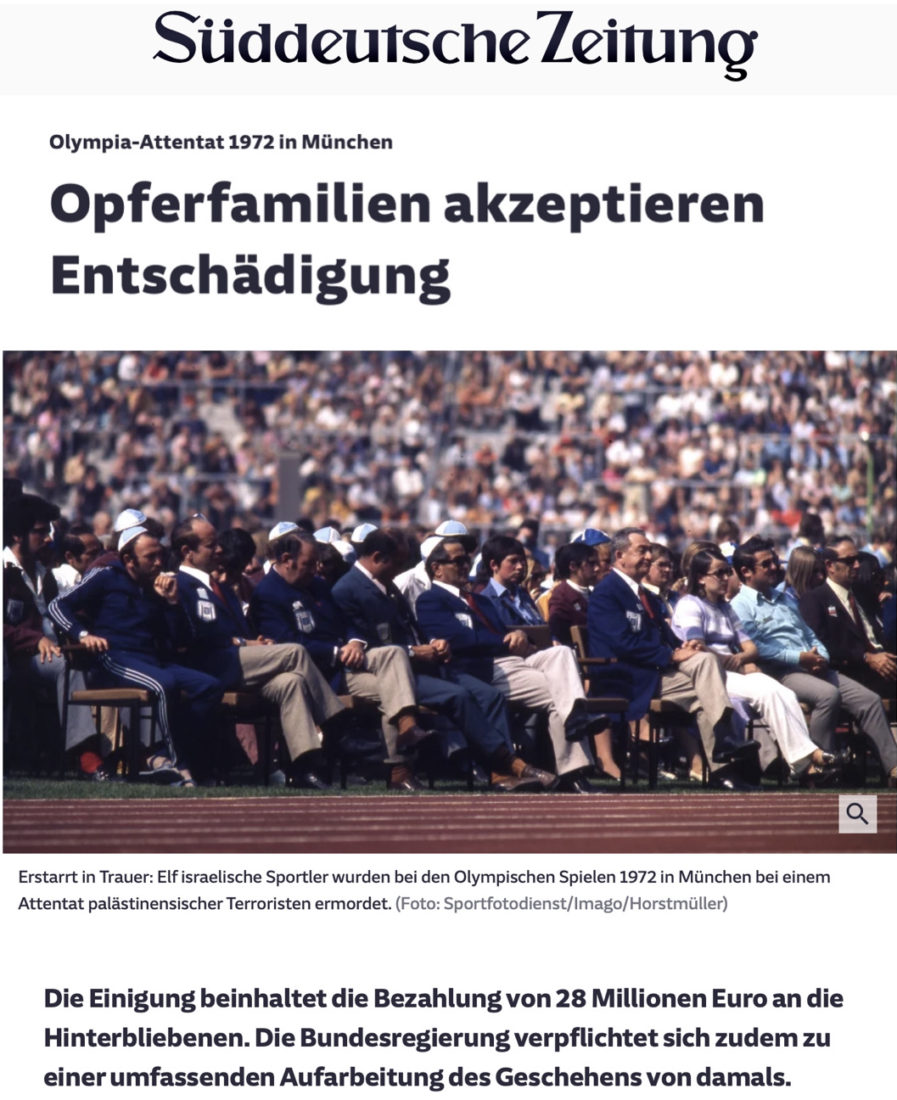 Family members of the victims of the 1972 Olympics massacre reached an agreement with the German government over a compensation payment, just days before the atrocity's 50th anniversary next Monday, September 5, 2022.
Families had planned to boycott the event but may now attend. "The government welcomes the fact that it was possible to agree with the relatives on an overall concept for the 50th anniversary," said a spokesman for German Chancellor Olaf Scholz.
Under the arrangement, historical files on the events of September 5, 1972 will be released and worked on by a commission of German and Israeli historians, and there will be further "recognition payments" by the federal government, the Bavarian state and the city of Munich.