The Legend, The Lore, The Hidden Tragedy In American Olympic 4×100 Medley Gold This Day 50 Years Ago At Munich 1972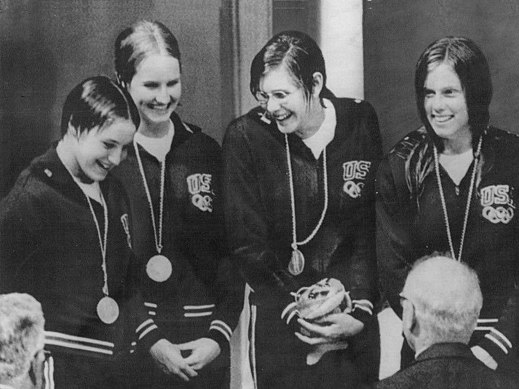 On this day 50 years ago in Munich, The United States 4x100m medley quartet of Melissa Belote, Cathy Carr, Deena Deardurff and Sandy Neilson dominated the Olympic final for gold in a World record of 4mins 20.75sec.
The relay unfolded on the same day Mark Spitz claimed his sixth gold in Munich, Shane Gould completed her five-medals success story in the 800m freestyle, and Gunnar Larsson took the 200m medley crown For Sweden ahead of Tim McKee after the two had endured the emotional roller-coaster of the "closest race in history", over 400m medley.
Each line-up had at least one great story in the midst of the many narratives of its quartet. At the same time, some, like Deena Deardurff were harbouring a dark secret of abuse that would be reported in the 1970s, 1980s, 1990s and be one of the key reference points for an Abuses Committee that recommended Safe Sports measures in the early 1990s.
While coaching authorities added some of those measures, including "no relationships between coaches and underage athletes" to their codes of conduct between 1988 and 1993, it took USA Swimming the best part of two decades to adopt some of the critical preventative actions.
At least some of the acknowledgments, corrections and apologies issued by USA Swimming when it revealed a "banned for life" register that had been kept out of the public domain, can be attributed to Deena Deardurff-Schmidt and the courage she found to make a public statement, and legal deposition, that lifted the lid on her own atrocious experience as a young athlete.
In her public statement in 2010, Deardurff noted that she had been sexually abused by her then coach (she did not name him but it was clear that Paul Bergen was the man in question) when she was aged 11 to 14. To this day, Bergen is an 'honor contributor' at the International Swimming Hall of Fame. Deardurff is among many survivors of abuse who point to sports authorities and acuse them of having turned a blind eye to the terrible truth.
Deardurff's Testimony:
Munich – September 3, 1972 – Women's 4x100m Medley
In Munich on the penultimate day of action in the Olympic pool, Melissa Belote, Catherine Carr, Deena Deardurff and Sandra Neilson thumped their opposition with a World record of 4:20.75sec. It was the last time the Americans would win a medley relay event at global level in the company of East Germans, 1973 to 1988.
Belote, Carr and Neilson had all won their solo stroke finals, while Deardurff had a different Games to the one she'd prepared for: she suffered a sprained ankle ahead of racing at the Games, got left behind at the start in the solo 100m butterfly final but still managed to finish the top American in fourth just off the podium, her medley relay berth secure.
In the four years that followed Munich, on the way and including Montreal 1976, East German national team and club squads broke the medley record four times: 4:16.84 for the inaugural World title in 1973; 4:13.78 for the 1974 European title in 1974; 4:13.41, a club team from SC Dynamo Berlin, in East Berlin at nationals in 1976; and then, at the 1976 Olympic Games – 4:07.95. The record would get chopped back in another four tranches to 4:03.69 by 1984 and remained in GDR hands between 1973 and 1992.
1 USA 4:20.75WR United States (Melissa Belote, Catherine Carr, Deena Deardurff, Sandra Neilson)
2 GDR 4:24.91 German Democratic Republic (Christine Herbst, Renate Vogel, Roswitha Beier, Kornelia Ender)
3 FRG 4:26.46 Federal Republic of Germany (Silke Pielen, Vreni Eberle, Gudrun Beckmann, Heidemarie Reineck)
4 URS 4:27.81 Soviet Union (Tinatin Lekveishvili, Galina Stepanova-Prozumenshchykova, Iryna Ustymenko, Tatyana Zolotnikaya)
5 NED 4:29.99 Netherlands (Enith Brigitha, Alie te Riet, Anke Rijnders, Hansje Bunschoten)
6 JPN 4:30.18 Japan (Suzuko Matsumura, Yoko Yamamoto, Mayumi Aoki, Yoshimi Nishigawa)
7 CAN 4:31.56 Canada (Wendy Cook, Sylvia Dockerill, Marilyn Corson, Leslie Cliff)
8 SWE 4:32.61 Sweden (Diana Olsson, Britt-Marie Smedh, Eva Wikner, Anita Zarnowiecki)
Every line-up included a great story from the book of swimming lore and legend, including:
For the USA: Melissa Belote claimed three golds medals and two World records in the last three days of racing in Munich
For the GDR: Renate Vogel fled East Germany in the late 1970s, her testimony of the doping program published widely in Austrian and German media, as well as English-speaking publications around the world. The International Committee, FINA and other sports authorities failed to investigate and, as such, failed to act. It would be more than a decade before the GDR doping era and abuse of athletes would come to an end with the fall of the Berlin Wall. Soon after that seismic geo-political event, Vogel and Christiane Knacke travelled to Lausanne to meet then IOC president Juan Samaranch. They handed him their medals and asked for them to be given "to the women who deserve them". Samaranch, they say, pushed the medals back as he replied: "Keep them. You weren't the only ones."
For the Federal Republic of Germany: Vreni Eberle didn't start swim training until she was 11. She retired at 22 after a string of international appearances, including Olympic selection to the 1968 and 1972 Olympic Games. Sixth in the 100m breaststroke final, Eberle came close to best speed in the medley relay heats, which is just as well: she Wass the only top stroke seed for the host nation in the heats and the morning quartet scrapped into the final in last place by a few decimals. In the final, the host' foursome won the battle for bronze over the Soviet Union and all four Germans received the national "Silbernen Lorbeerblatt" (Silver Laurel) prize.
For the Soviet Union: Galina Stepanova-Prozumenshchykova remained the only swimmer to have won five Olympic medals on breaststroke until 2008, when Australian Leisel Jones matched the feat. Breaker of five world records in the 200m, Stepanova inspired a Soviet tradition: between 1964 and 1980, Soviet women won 10 of the 18 Olympic medals on offer over 200m breaststroke. In 1976, Marina Koshevaia's world record of 2:33.35 led Marina Yurchenya and Lyubov Rusanova and in Moscow 1980, Lithuanian Lina Kachushite (2:29.54, Olympic record) led Svetlana Varganova and Yulia Bogdanova. The battle of 1980 began in 1978: in April, Bogdanova broke Koshevaia's world record by 0.03sec, in 2:33.32; in August, Kachushite, 15, swam 2:33.11 in heats and 2:31.42 to claim the world title ahead of Bogdanova; on March 30, 1979, Varganova clocked 2:31.09; seven days later, Kachushite settled the argument with a phenomenal 2:28.36, which survived for six years and two months. Unlike the case of the GDR, the Soviet Union, while suspected of using doping to enhance performances in sport, did not leave a written record confirming the kind of crime that we have long known about related to East Germany. In 2016 and 2021, Russia served two whole-nation suspensions that blocked the country from the Olympic Games, those Russian athletes able to attend the Games in Rio and Tokyo forced to compete under a neutral flag and, for those who made the medals, listen to Tchaikovsky instead of the Russian Anthem. Russia is currently barred from all international sport as a consequence of the illegal invasion of Ukraine by forces under the control of Putin and the Kremlin.
For The Netherlands: Enith Brigitha, who might have been the first black swimmer ever to claim Olympic gold had it not been for the GDR's systematic doping program; and Hansje Bunschoten, who hailed from Hilversum, a city with a great swimming history. Coach Jan Stender and the city once had a unique boast: he was mentor to eight world records holders who all lived on the same street in Hilversum. His charges held 41 world records in solo events and 10 World relay records. Among his charges were Nelly Van Vliet, the 1948 Olympic breaststroke champion, Mary Kok, Leonie denies, Geertje Woelema, Aly Voorbij, Rita Soon, Greetja Kraan, Rita Tigelaer and Hanny Termeulen.
For Japan: Mayumi Aoki, the first Olympic butterfly champion for Japan, at Munich 1972
For Canada: Marilyn Corson was on the team once more four years after claiming bronze in the first Canadian 4x100m freestyle relay ever to win an Olympic medal, Angela Coughlan, Elaine Tanner and Marion Lay completing the line-ups in 1968.
For Sweden: Britt-Marie Smedh, who finished 7th in the 100m breaststroke final, would later celebrate the birth of a daughter: on August 26, 1977, she gave birth to Malin Therese Alshammar, who would become one of the most decorated swimmers in history, with three Olympic medals, 25 World Championship medals and 43 European Championship medals. The story of her longevity and athlete sustainability is a resource Sweden has learned much from, the lessons yet to reach all shores on planet swimming in 2022, a year that has witnessed a European Junior, Pan Pacific Junior and World Junior Championship unfold within 10 weeks.
Our SOS 50th anniversary trip down memory lane to Munich 1972: