When Gunnar Larsson Got Gold 4:31.981 To 4:31.983 Over Tim McKee In Munich 400 Medley That Stopped Swim Clock At 0.01 For Next 50 Years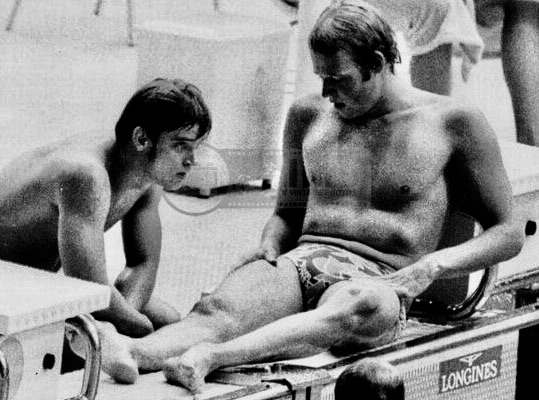 It would be the first and last time that Olympic swimming gold would be won by such an infinitesimal margin – 4:31.981 and 4:31.983, Gunnar Larsson the victor, Tim McKee the vanquished after an epic 400m medley final at the Munich 1972 Games 50 years ago this day.
On the eve of the Games In Munich, on August 21, electronic timing relatively new to the world and about to be used officially at the Olympic Games for the first time in the pool, FINA voted to recognise world records and times up to 0.001sec. It also stated, for the avoidance of doubt, that it would still recognise times of 0.01sec.
The decision to count the clock to 0.001sec would become the centrepiece of the drama that unfolded since days later, on this day 50 years ago at the Olympia Schwimmhalle.
The .002 That Split Gunnar's Gold From Tim's Silver & Forced A Change Of Heart At FINA
Coached by Don Gambril at Long Beach State and Harvard and by Lars-Erik Paulsson at home in Sweden, Gunnar Larsson ranks with Arne Borg as one of Sweden's greatest athletes and sits comfortably alongside a handful of men to have won both medley Olympic crowns at the same Games.
He did so in Munich in 1972, though his gold medal in the 400m medley at the age of 21 went down as one of the most controversial in Olympic history – not because the Swede won but because of the margin by which American Tim McKee was deemed to have lost.
On a day that saw Shane Gould deliver the second of her three gold and five solo medals in Munich, Larsson, in lane 4, and McKee, in lane 7, hit the end wall together. The scoreboard delighted both: a tie, at 4:31.98.
For eight minutes, time stood still on the scoreboard, the first shared victory in Olympic swimming history unofficial, unconfirmed. Then came the verdict: that small decision nine days earlier would decide the race – Larsson would be champion in 4:31.981, McKee the silver medallist in 4:31.983 – but both men would share the Olympic record at 4:31.98.
Never again would such a distinction be made: thousandths of a second ruled inadmissible in a 1973 FINA vote ahead of the inaugural World Championships in Belgrade, Yugoslavia (today Serbia), the same year.
Men's 400m Individual Medley – Larsson By 0.002sec
The Guinness Book of Records would call the Munich 400m medley final the closest race in sports history. It pitched Larsson, the double European champion from Sweden, against Gary Hall, the American who had set a world record of 4:30.81 at US trials 27 days before the bigger moment. Then there was McKee, at 5ft 8in (1m72) one of the smallest of world-class swimmers. He was one of the toughest and most flexible too.
The Olympic record fell twice in heats, to Andras Hargitay (HUN) in 4:37.51 at the helm of the first line-up, and then in the second to Gunnar Larsson in a European record of 4:34.99.
400m Medley Date of final: August 30, 1972 Athletes: 32 Nations: 24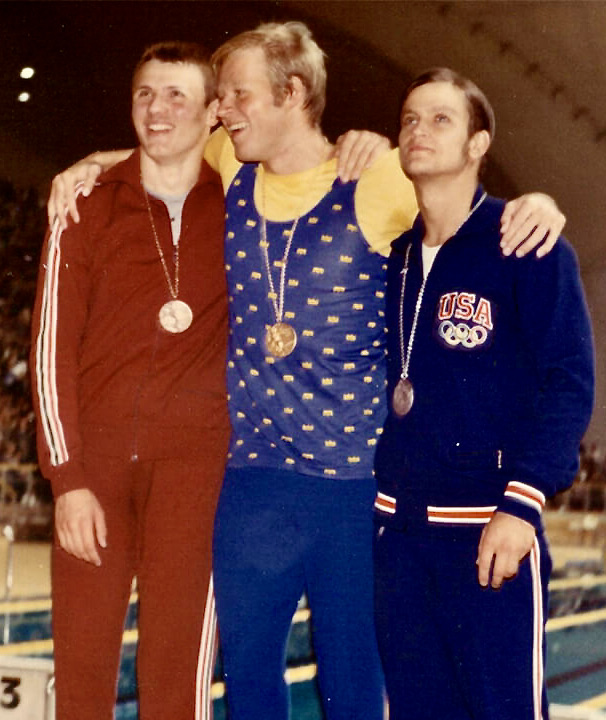 1 Gunnar Larsson SWE 4:31.98or 4:31.981
2 Tim McKee USA 4:31.98or 4:31.983
3 Andras Hargitay HUN 4:32.70
4 Steve Furniss USA 4:35.44
5 Gary Hall USA 4:37.38
6 Bengt Gingsjo SWE 4:37.96
7 Graham Windeatt AUS 4:40.39
8 Wolfram Sperling GDR 4:40.66
Only once in Olympic history has a race ended with two men being granted a joint Olympic record but one man given gold and the other silver.
World record holder Gary Hall (USA) was considered among the favourites for the title, having claimed silver in the 200m butterfly behind teammate Mark Spitz just two days before and having dominated the 400m medley for the four years since he claimed silver at the 1968 Games just 0.3sec behind teammate Dick Roth.
Hall stunned his rivals and the crowd with a 58.38 opening split that was inside world-record pace and even well inside the first 100m split of 59.10 in which he turned on his way to the silver in the 200m butterfly behind Spitz. Hargitay was nearest in 1:00.22, Steve Furniss (USA) on 1:00.78, McKee on 1:02.06, with Larsson languishing in sixth on 1:03.41.
Hall, one of two men to interrupt East German Roland Matthes' run of world records in the 200m backstroke, maintained a strong lead to halfway, turning in 2:06.32. Furniss was next through in 2:10.09, with McKee and Hargitay also inside 2:11. Larsson had work to do: still in sixth, he turned in 2:14.07, almost eight seconds behind Hall.
On breaststroke, it was soon apparent that Hall was dealing with three enemies: his rivals, his weakest stroke and the onset of fatigue. By 250m, McKee had passed the leader and a length later, on 3:29.91, he turned into freestyle with Hall still second in 3:31.04, Hargitay on 3:31.62 and Larsson, after an excellent 1:18.10 breaststroke split, now firmly in contention on 3:32.17.
Stroke by stroke, Larsson picked off his rivals, his world-class status over 400m freestyle coming into play: in 1970 he was European champion and record holder. McKee had company with 25m to go. From there, the naked eye could not make out which swimmer had the edge. By the end, neither could the clock to a hundredth of a second.
The race remains the only one in history to have been judged to the thousandths of a second. Years after Munich, when asked about his silver lining, McKee said: "You waste the present and the future when you dwell in the past."
For his part, Larsson has long looked back on the moment of his Olympic glory with a sense that he's not going to win, even though he knows he did. He once said: "Going into the last 50, Tim was way ahead of me, three or four meters ahead. I watch the video and every time, I don't think I am going to catch him. Every time, it is a new experience where I say, 'I won this time, also'."
Furniss and Hall, meanwhile, lost the battle for bronze to Hargitay, who at nine had almost drowned in the Danube. At the medal-winners' press conference, he held up his bronze medal and explained: "After that, my mother ordered me to learn to swim and this is what's come of it."
Larsson & McKeen The First Match That Never Was
Four days later, Larsson and McKee finished first and second once more, though the gap between them in the 200m medley left no doubt about who the winner was: Larsson set a world record of 2:07.17 to McKee's 2:08.37. Furniss was third, Hall fourth and Hargitay fifth.
A year on and Larsson claimed the inaugural World 200m medley crown at Belgrade 1973. After retiring from competition, he commentated on aquatic sports for Swedish television and was there to see McKee, just 5ft 8in (1:72m), win Olympic silver once more, 0.94sec behind teammate Rod Strachan at the 1976 Olympics in Montreal. McKee then took a job in a marketing firm but in 1982 gave that up to become a lifeguard on Miami Beach.
Since 1973, the rule on margins reads: "When automatic equipment is used, the results shall be recorded only to 1/100 of a second. When timing to 1/1000 of a second is available, the third digit shall not be recorded or used to determine time or placement. In the event of equal times, all swimmers who have recorded the same time at 1/100 of a second shall be accorded the same placing. Times displayed on the electronic scoreboard should show only to 1/100 of a second."
As a result, Olympic swimming has witnessed three occasions on which gold has been awarded jointly, all involving North Americans: Nancy Hogshead (later -Maker) and Carrie Steinseifer, USA teammates at a home Games in Los Angeles in 1984 were a match in the 100m freestyle; Gary Hall's son, Gary Hall Jr., and U.S. teammate and then teenager Anthony Ervin tied in the 50m freestyle at Sydney 2000; and Canadian Penny Oleksiak was a snap with American Simone Manuel in the 100m freestyle at the Rio 2016 Olympics.
In the mix of all that were other lines of swimming history, including the roles of Ervin and Manuel as the first swimmers of African-American descent to claim solo Olympic swimming gold medals, while at Rio 2016 Ervin also became the oldest Olympic swimming champion among men when he reclaimed the 50m freestyle crown at the age of 35, the 16-year gap between golds also a record in the sport.
The drama of Munich 1972 played out in the years ahead: Larsson was inducted into the International Swimming Hall of Fame in 1979, McKee was not recognised until 1998. Part of a long list of anomalies at the Hall, which has long welcomed U.S. relay swimmers to its ranks while Olympic solo champions from other nations have waited decades (some still wait) to have their achievements recognised.
Other Day 3 Finals this day 50 years ago at Munich 1972:
100m Breaststroke – Gold For Japan's Nabutaka Taguchi
At the first Games to register official electronic times, Mark Chatfield (USA) crushed the Olympic record in 1:05.89 in the first heat, to fall just 0.09 shy of the world record held by Nikolai Pankin (URS) since 1969. John Hencken (USA) took up the challenge in the first semi-final with a world record of 1:05.68 and 10 minutes later Nabutaka Taguchi (JPN) responded with a thumping 1:05.13.
Date of final: August 30, 1972 Athletes: 44 Nations: 31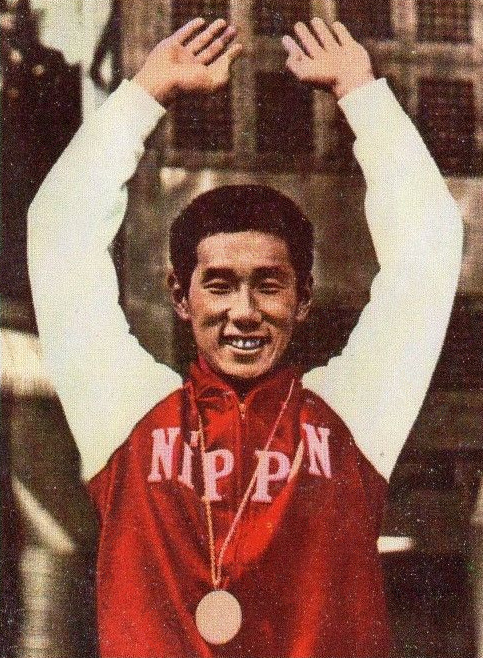 1  Nobutaka Taguchi JPN 1:04.94wr
2  Thomas Bruce USA 1:05.43
3   John Hencken USA 1:05.61
4  Mark Chatfield USA 1:06.01
5  Walter Kusch FRG 1:06.23
6  Jose Sylvio Fiolo BRA 1:06.24
7  Nikolai Pankin URS 1:06.36
8  David Wilkie GBR 1:06.52
Nobutaka Taguchi, towing a new status into the final with him, played a prudent, waiting game in the final. At the first turn, the three Americans, Tom Bruce, Hencken and Chatfield, in that order, turned in 30.66, 30.74 and 30.81, with David Wilkie (GBR) on 31.02. Taguchi held back, on 31.38. With 20m remaining, Bruce still held the lead, followed by Hencken and Chatfield but Taguchi had started to surge and as the rest felt the drain and pain and early speed, the Japanese challenger kept momentum going all the way to the end wall and a sensational 1:04.94 world-record victory, a first sub-1:05 in the history book.
Bruce and Hencken followed, with Chatfield locked out of the medals. Just 1.09sec split second to eighth in the final.
Taguchi's victory was Japan's first Olympic gold in the pool since compatriot Masaru Furukawa's 1956 victory over 200m breaststroke. Hencken and Wilkie got the better of their Japanese rival over 200m three days later, the American leading from the start to a world record of 2:21.55.
Women's 4x100m Relay Freestyle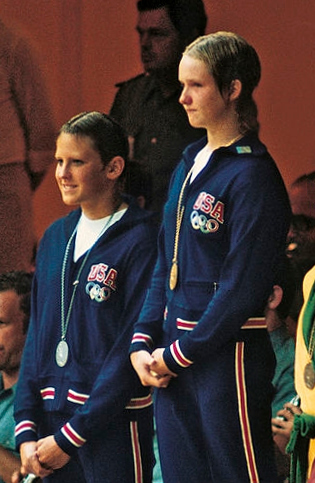 On the day she claimed the 400m freestyle gold in World-record time, Shane Gould also raced the heats of that event and final of the 4x100m freestyle, her only relay swim at Munich 1972. In those days, Australia, currently Olympic 4x100m free and medley Olympic champions, were not competitive in quartets. (In the virtual scenarios of the age… add current team strength ad the prevailing program of events in swimming to an overlay of Gould's career and you're looking at an eight-medal result at Munich 1972).
The strength then was with the United States, Sandy Neilson anchoring for a second gold of the Games after 100m free victory on day 2, while for the GDR, Kornelia Ender, 13, collected her second silver of the Games after finishing second to Gould in the 200m medley on day 1:
1 USA 3:55.19 United States (Sandra Neilson, Jennifer Kemp, Jane Barkman, Shirley Babashoff)
2 GDR 3:55.55 German Democratic Republic (Gabriele Wetzko, Andrea Eife, Elke Sehmisch, Kornelia Ender)
3 FRG 3:57.93 Federal Republic of Germany (Jutta Weber, Heidemarie Reineck, Gudrun Beckmann, Angela Steinbach)
4 HUN 4:00.39 Hungary (Andrea Gyarmati, Judit Turoczy, Emese Kovacs, Magdolna Patoh)
5 NED 4:01.49 Netherlands (Enith Brigitha, Anke Rijnders, Hansje Bunschoten, Josin Elzerman)
6 SWE 4:02.69 Sweden (Anita Zarnowiecki, Eva Andersson, Diana Olsson, Irwi Johansson)
7 CAN 4:03.83 Canada (Wendy Cook, Judy Wright, Mary Beth Rondeau, Leslie Cliff)
8 AUS 4:04.82 Australia (Deborah Palmer, Leanne Francis, Sharon Booth, Shane Gould)

Our SOS 50th anniversary trip down memory lane to Munich 1972: