The Vortex (July 11 – July 17) – Penn School District Restricts Trans Students To Birth-Sex Category In Sport As Swimming Controversy Thomas Honoured By NCAA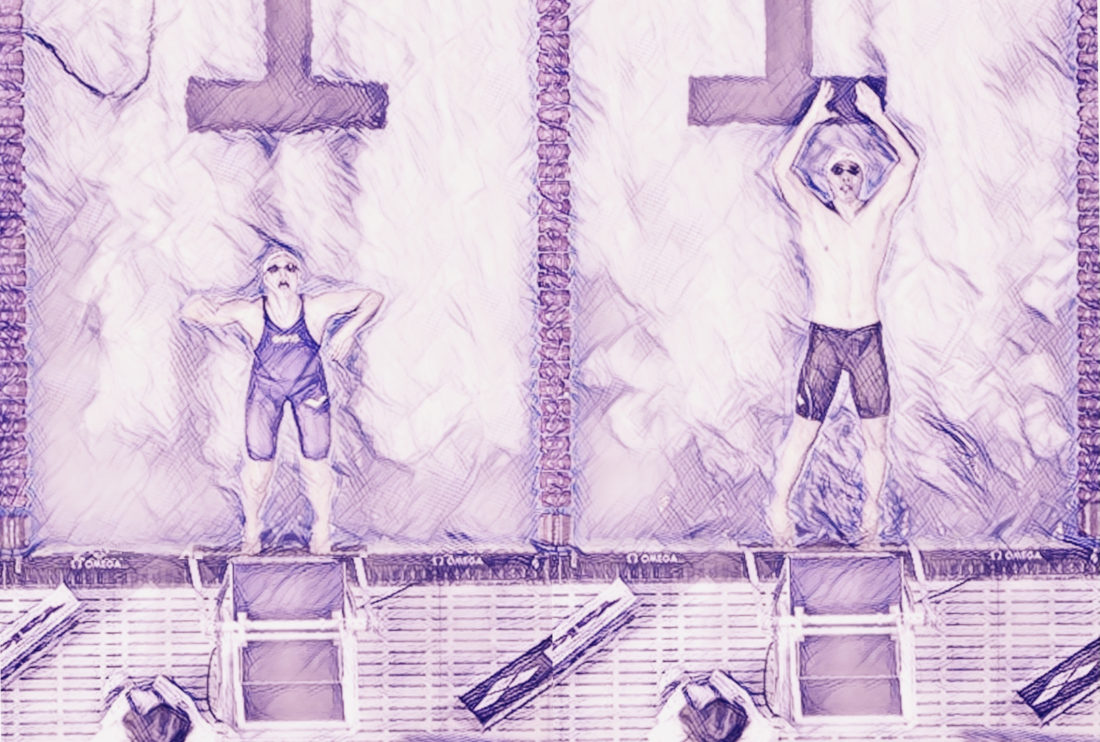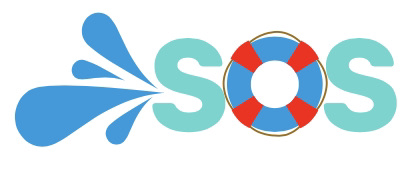 The Vortex is SOS' weekly digest and soak of swimming news, views and links to big events. Craig Lord is currently on writing retreat and taking break from usual coverage in 2022, barring focus on the European Championships in Rome come August and any big news along the way. The Vortex will soak up the best of the rest in short form.
In this week's Vortex:
Penn School District Restricts Trans Athletes To Birth-Sex Category
NCAA nominates Lia Thomas for Woman of the Year award
Defibrillators to be installed in all English state schools by 2023 after 10-year campaign
Leisel Jones and Grant Hackett to captain Dolphins Duel school
Max Litchfield withdraws from Team England for Commonwealths, citing 'personal issues'
USA Swimming releases 2023 domestic calendar to provide clarity
Swimming Australia to create Hall of Fame for its rich history
Sunday, July 17
A Pennsylvania school district down the road from the University of Pennsylvania where Will & Lia Thomas raced at different standards in different sex categories has approved a policy that restrict transgender students to the sports category of their birth sex in interscholastic athletics.
Board members of the Hempfield School District in Lancaster County approved the measure by a vote of 6–3 this week. "The policy goes into effect immediately and will require all athletes to play team sports aligned with their sex at birth," the paper reports. The policy includes:
"Separate athletic teams on the basis of sex preserve fairness, provide increased opportunity for girls, and are safer. As such, the district provides separate interscholastic athletic teams on the basis of sex."
There are two exceptions, The Epoch Times reports: "reasonable accommodations" will be given to girls who wish to participate in the boy's sports team, but only if there's "no female team for that sport during the school year"; and pre-pubescent biological males wishing to be included on girls' teams will be allowed if there is no other viable alternative.
Hempfield school board member Jim Maurer opposed the new policy because he believes that it makes the school district more vulnerable to legal challenges and could jeopardise its federal funding through Title IX, which prevents sex-based discrimination.
Sex-based discrimination can also, of course, be interpreted as allowing any male advantage into female sports. Legal challenges may also be brought on that basis where authorities are seen to discriminate against biological girls and women.
Last month, the U.S. Department of Education proposed an overhaul of anti-sex-discrimination rules, reinterpreting the term "sex" as something that doesn't have to have a biological basis.
The Biden administration says the changes would be in accordance with President Joe Biden's March 2021 executive order, which vowed to guarantee an educational environment "free from discrimination based on sex, including sexual orientation or gender identity."
That runs counter to the direction of travel in international sport, including Olympic sports such as swimming, the global regulator for which, FINA, no longer allows any athlete born male and development as a boy and man through male puberty, beyond the age of 12, to enter any competition in the women's category.
FINA called in experts to formulate policy based on science and lived experience when the International Olympic Committee handed the matter of transgender inclusion back to International Federations last autumn. A vote in Budapest at FINA Congress last month set a precedent in Olympic sport:
That process preceded the arrival of Lia Thomas in women's competition for Penn after the college swimmer had previously competed for the men's team as Will Thomas. Where Will had covered 200 and 400 freestyle events at a pace that ranked him outside the best 800 men in the world, Lia rapidly rose to a pace that placed her in the realms of the best 10-20 women in the world. That massive change of status saw Thomas become the first transgender athlete to claim an NCAA swimming title in the pool, transition from pre-pubescent male to female in those circumstances now ruled out in FINA competition and under USA Swimming rules.
NCAA Still Tone Deaf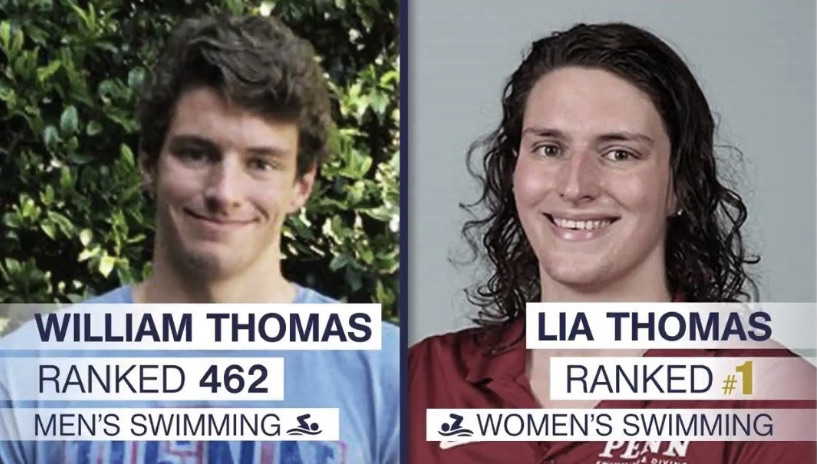 The NCAA continues to be tone deaf and ignore the appeals of women athletes, all of the science and decision-making in Olympic sport and this week nominated Thomas for the 2022 NCAA Woman of the Year award.
After winning the NCAA 500-yard freestyle title in March, Thomas said she hoped to race as a woman for the USA at the Olympic Games at Paris 2024. That will not be possible, not only because of complications with USA Swimming rules but the red line that FINA has now drawn in its new policy on transgender inclusion: Thomas would have to race at trials either as a man or as a transgender woman in the open category, the details of which will not be known until a committee report due on FINA's desk by the end of this year.
So far, the IOC has said nothing about whether it would also include an Open category in Olympic swimming competition.
Defibrillators to be installed in all English state schools by end of next school year
All state schools in England will have a defibrillator by the end of the 2022/23 academic year, the government has announced. The safety measure will be funded after 10-year campaign by parents of Oliver King, who died of cardiac arrest during a swimming race.
Department for Education (DfE) officials in Britain met campaigners including Mark King, father of Oliver, who was 12 when he passed away in the swimming race in 2011.
King and former England footballer Jamie Carragher have been working together to push for mandatory defibrillators in all schools.
Research shows that accessing a defibrillator within three to five minutes of a cardiac arrest increases the chance of survival by over 40%.
More on that story at The Guardian.
Thursday, July 14
The Return Of 544 and 478: Swimming Greats Leisel Jones & Grant Hackett Captain Dolphins' School For The Duel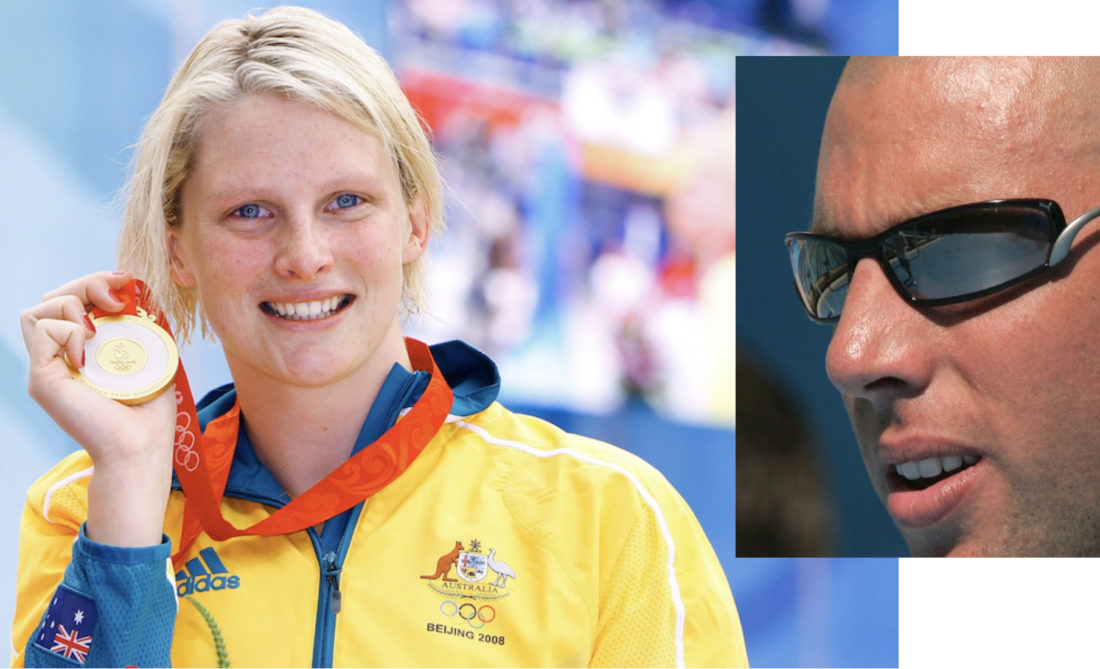 The Australian Dolphins have selected the first two members of their team to face the USA in the Duel in the Pool competition in Sydney in August.
Decorated swimming legends Leisel Jones OAM (Dolphin #544) and Grant Hackett OAM (Dolphin #478) will return to the Green and Gold to lead the Dolphins as Team Captains.
Not only have both achieved the ultimate success in international swimming, each has experienced the unique rivalry of a Duel in the Pool against the American team.
Dolphins Head Coach Rohan Taylor believes Jones and Hackett will prove to be invaluable additions to the team. Taylor said: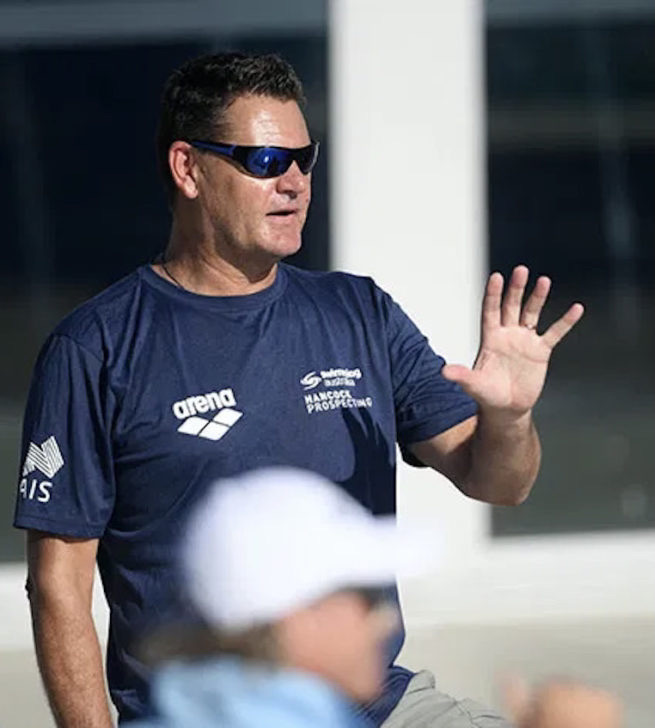 "Leisel and Hacky are two of the greatest swimmers to have ever worn our country's colours in the pool and both have the ultimate respect of our current generation of athletes. They each possess an intimate understanding of the legacy and responsibility of being a Dolphin, as well as the significance of our rivalry against the US, and I know that will be an important combination in the context of this competition.

"It's a privilege to have them back in the team environment and I have no doubt their presence and guidance will bring out the best in our team."

Rohan Taylor – image by Deli Carr, courtesy of Swimming Australia
A four-time Olympian, multiple Olympic, World Championship and Commonwealth Games Champion and dual World Record holder, Jones said she was thrilled to be involved. Said Jones: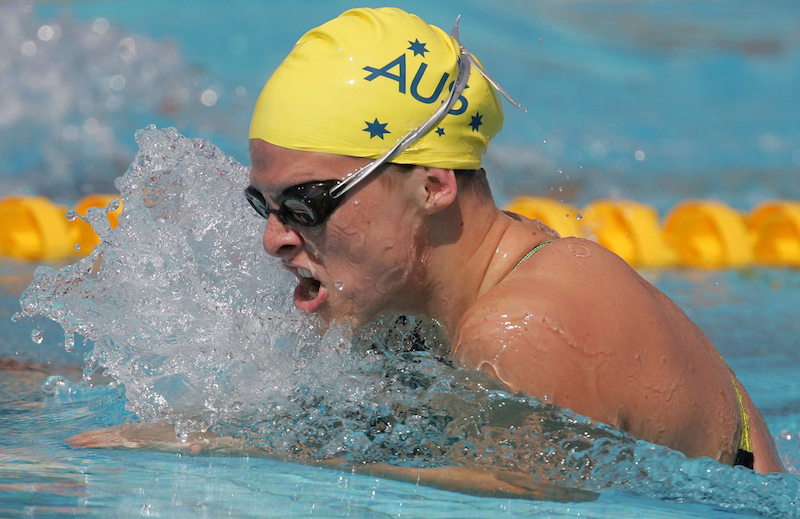 "It is such a privilege to guide our team through tough competition against our favourite rivals. Off the back of the exciting performances at the World Championships in Budapest, the rivalry is going to make it the toughest racing we have ever seen. I cannot wait to see the athletes set the pool alight and to be there when all the action happens."

Leisel Jones – image: in action at the Athens 2004 Olympic Games, where she claimed a medal of each colour in a career with three gold, five silver and 1 bronze in Olympic waters (Photo by Patrick B. Kraemer / MAGICPBK)
Hackett returns to the Dolphins environment following a near 20-year competitive career that included three Olympic campaigns, multiple Olympic, World Championship and Commonwealth Games titles and several world records – and a competitive comeback. He said: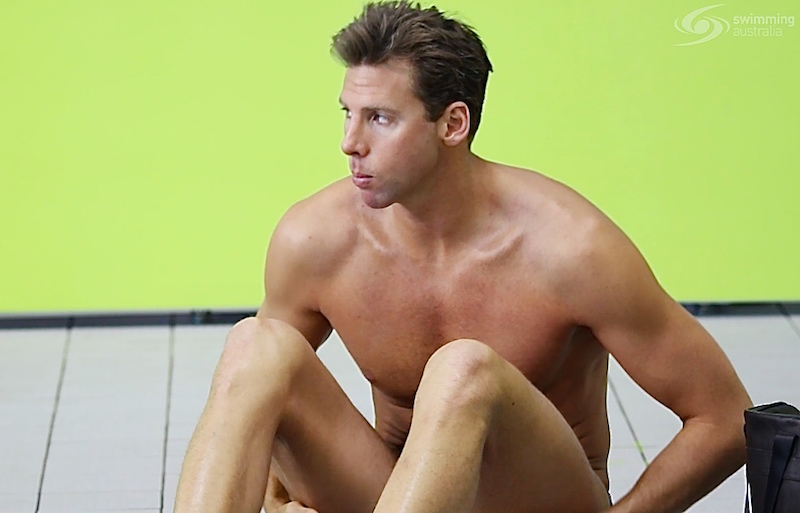 "I'm super excited to be working with the current generation of swimmers who have performed incredibly well both here and overseas in recent times. Going up against a swimming superpower such as the USA always brings a special flavour to the sport. We are equally great friends and the fiercest of rivals. Hopefully some of my experience in this domain will help support the team and their individual performances."

Grant Hackett, whose career included three gold, three silver and a bronze in Olympic waters – image courtesy of Swimming Australia
The Duel in the Pool, supported by the NSW Government's tourism and major events agency, will run from August 19-21 in Sydney, starting with an Open Water relay at Bondi Beach, followed by two days of competition in the pool at the Sydney Olympic Park Aquatic Centre (SOPAC).
To secure your seat at the 2022 swimming Duel Down Under click here, or for more event information regarding Duel in the Pool, click here.
Wednesday, July 13
Max Litchfield Out Of Commonwealth Games
In a note on Instagram, Max Litchfield has announced his withdrawal from Team England for the home Commonwealth Games in Birmingham, citing "personal issues".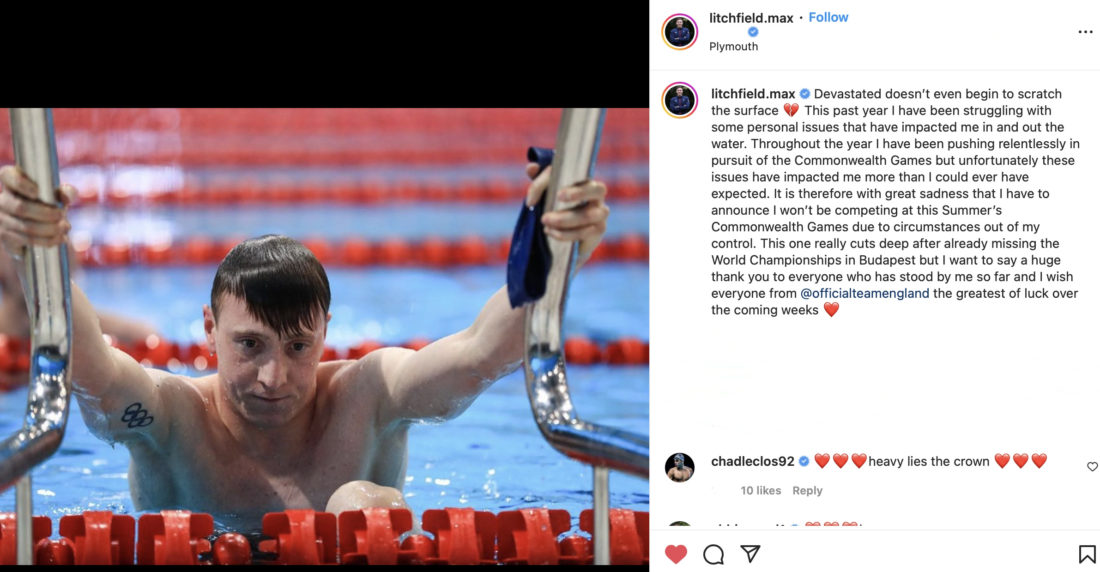 Best wishes to Max Litchfield for the journey back to best.
United States Sets Its 2023 Dates To Provide Clarity
USA Swimming has announced the dates for its domestic competitions for the 2023 calendar year, some locations yet to be determined, in order to provide more clarity for athletes, coach and planners.
"Our goal is to provide as much clarity as possible regarding next year's calendar as early as possible, enabling our members to develop training regimes that optimize performance while allowing membership to organize their year accordingly," USA Swimming President & CEO Tim Hinchey III said. "We are investing in quality competitions at a cadence that will set athletes up for success and will look to finalize locations for every event as soon as possible."
The 2023 schedule: 
| | | |
| --- | --- | --- |
| Date | Competition | Location |
| Jan 11-14 | Pro Swim Series | Knoxville, Tenn. |
| Mar 1-4 | Pro Swim Series | Ft Lauderdale, Fla. |
| Apr 12-15 | Pro Swim Series | Westmont, Ill. |
| Apr 21-23 | Open Water Nationals | Sarasota, Fla. |
| May 17-20 | Pro Swim Series | Mission Viejo, Calif. |
| Jun 27-July 1 | International Team Trials | Indianapolis, Ind. |
| Jul 25-29 | Junior National Championships | Irvine, Calif. |
| Aug 1-5 | National Championships | Irvine, Calif. |
| Nov 29-Dec 2 | U.S. Open | TBD |
| Dec 6-9 | Winter Junior Championships (East) | TBD |
| Dec 6-9 | Winter Junior Championships (West) | TBD |
Sites remain to be determined for the U.S. Open and the Speedo Winter Junior Championships (East and West). To view the upcoming calendar of national events, visit www.usaswimming.org/events.
Tuesday, July 12
Swimming Australia Creates Hall of Fame To Celebrate Its Rich History In The Water
Swimming's rich history in the Australian sporting landscape is set to be immortalised with Swimming Australia officially launching its Hall of Fame, the national federation announced today.
Both athletes and coaches are among those who will be honoured. The inaugural class of inductees will be unveiled at the 2022 Swimming Australia Awards in Sydney on Sunday 28 August.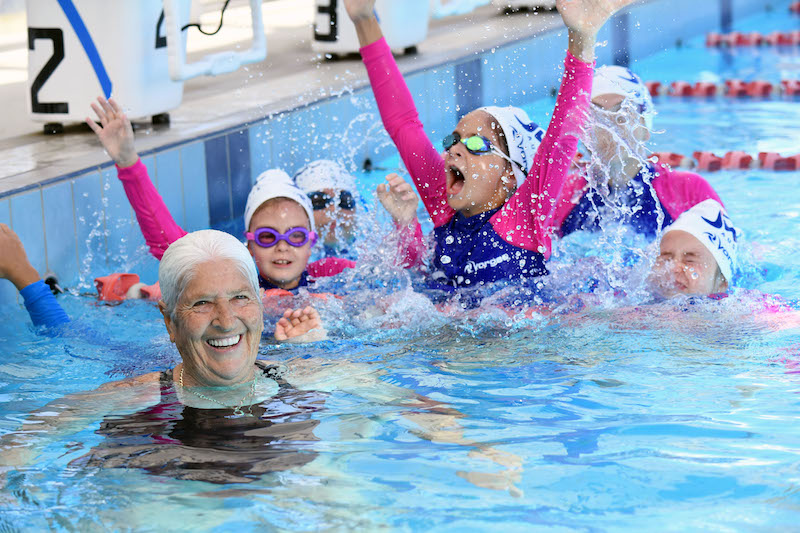 Freddie Lane, Cecil Healy, Fanny Durack, Dawn Fraser, Murray Rose, Dawn Fraser, David Thiele, John Konrads, Mike Wenden, Shane Gould, Stephen Holland, Michelle Ford, Tracey Wickham, Jon Sieben, Duncan Armstrong, Kieren Perkins, Ian Thorpe, Grant Hackett, Jodie Henry, Leisel Jones, Libby Lenton, Mack Horton, Kyle Chalmers, Emma McKeon – and all their coaches and many, many more.
All, pending the reveal, in one place and celebrated for their achievements.
In a statement, Swimming Australia noted: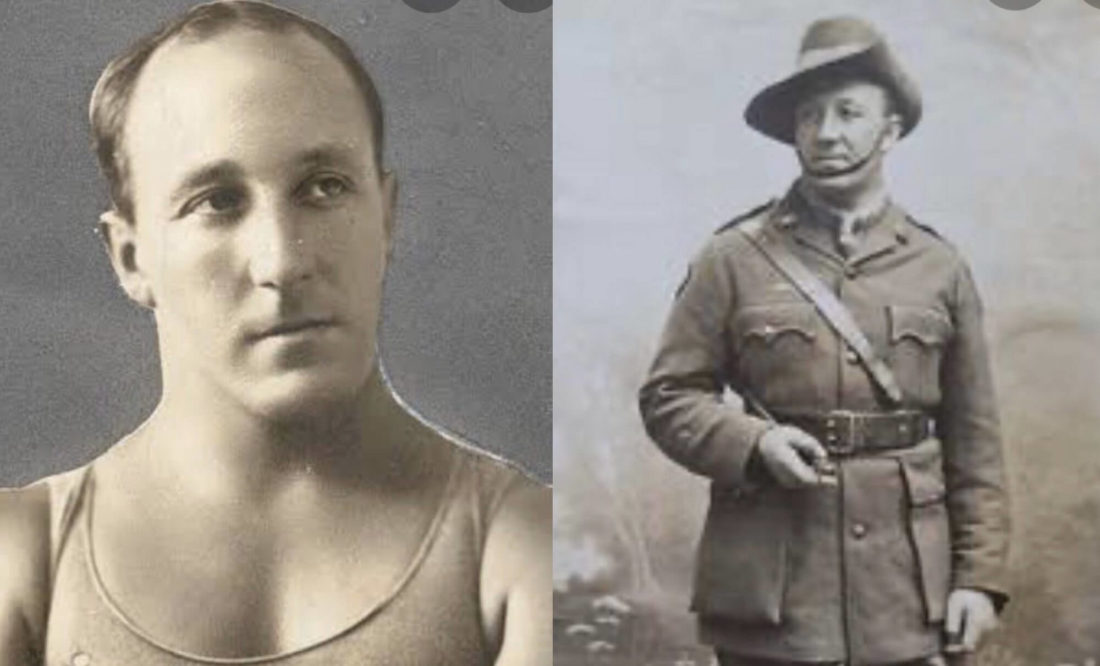 "With a legacy spanning more than a century back to Fred Lane at the Paris Olympics in 1900, the Swimming Australia Hall of Fame has been established to both recognise and celebrate those athletes and coaches who have left an indelible mark on the sport at the international level."

Swimming Australia
An inaugural class of Dolphins will be inducted this year, before the nomination process opens up to the broader swimming community from 2023 to identify those athletes and coaches they believe to be worthy of elevation to the Hall of Fame.
Swimming Australia CEO, Eugénie Buckley, welcomed the establishment of the Hall of Fame, saying it would provide just reward and recognition for some of Australia's most celebrated athletes. Said Buckley: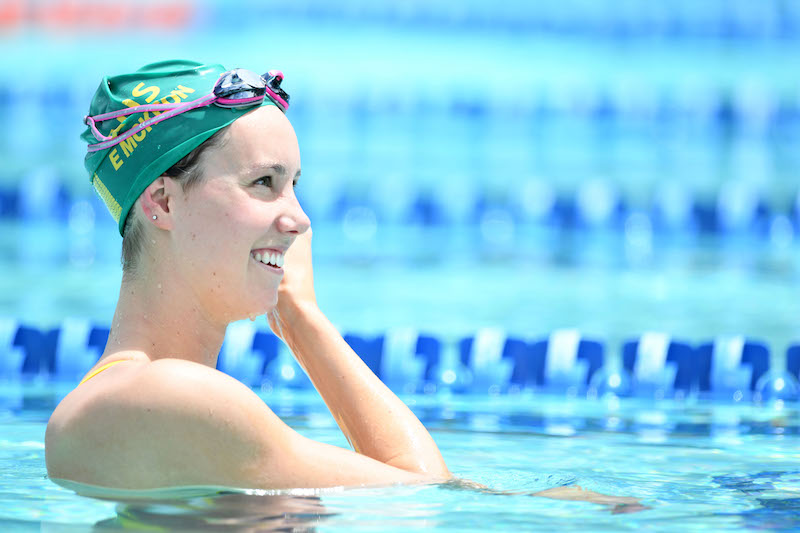 "From Freddy Lane in the River Seine through to Emma McKeon's historic feats in Tokyo, our Dolphins have continued to deliver generation defining moments and memories for more than a century.

More than 1,100 athletes and over 150 coaches have represented Australia with pride on the international stage, with many writing their own chapters in the successful legacy now synonymous with the Dolphins.

"Induction into the Hall of Fame will represent the highest honour and recognition that an individual can achieve within swimming in Australia, and it is only appropriate we establish such an avenue for celebration of those athletes and coaches whose performances have, and continue to, inspire the nation."

Swimming Australia CEO, Eugénie Buckley
To be eligible for induction, an athlete must have been retired from international competition for at least 5 years and won at least 1 individual Olympic or Paralympic Gold Medal, or multiple FINA or Para World Championships, or Commonwealth Games Gold Medals.
For coaches, elevation to the Hall of Fame can happen at anytime where a coach has provided long and dedicated service to the Dolphins team, has coached an athlete to at least 1 individual Olympic or Paralympic Gold Medal, or multiple FINA or Para World Championships, or Commonwealth Games Gold Medals, and is highly regarded amongst their peers.
Swimming Australia noted: "Both athletes and coaches must also have brought significant international standing to swimming in Australia through their achievements and service."