Justice For Jim Thorpe 110 Years On Removes Last Hope Of IOC Clinging To 'Statue Of Limitations' Argument Against Calls For Recognition & Reconciliation For GDR Doping Victims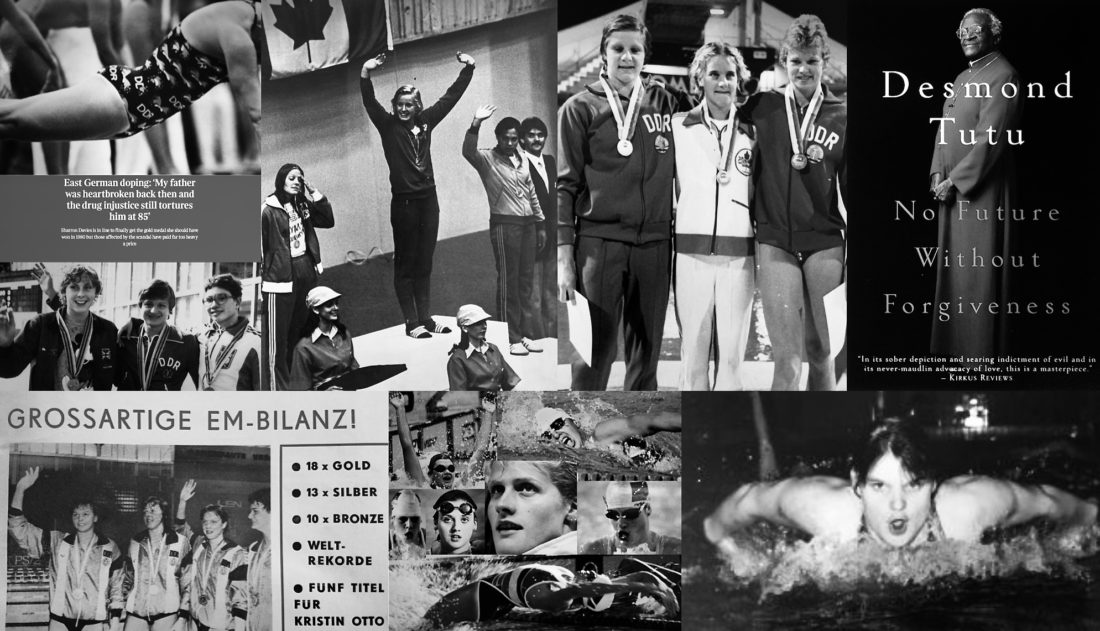 It does not take a genius to work it out: in going back in time to correct Olympic injustice and declare American Jim Thorpe as the sole gold medalist in the pentathlon and decathlon at the 1912 Olympic Games in Stockholm, the International Olympic Committee has made it impossible not to act on the GDR Doping era without being accused of discrimination against women athletes.
How now IOC does it look for that "statute of limitations" defence against acting on proven and heavily recorded GDR doping and the evidence of German trials that led to convictions of coaches, doctors and officials for abuse of minors on the watch of Olympic guardians?
If you can correct the record of 110 years ago and the record of 40 years ago for one American man because that is the right thing to do and there is evidence to show that justice was not served, then the GDR case is done and dusted. Over at Swimming World, my colleague John Lohn takes the same view – and I'm delighted to see it. Time for the world swimming community to get behind the sorority in their sport denied and abused by a great deception for which there has been overwhelming evidence for three decades now.
All that remains is for the IOC to reach for the ethical response that has been absent on the issue for half a century in some ways, for 30 years in others, 1991 being the year when strong evidence confirming the state doping program first emerged in published form, and 20 years ago, 2000-2001 marking the moment when the verdicts were in: guilty as charged, the evidence of State Police files and the records of scientists, doctors, coaches now alongside the evidence of athletes and others leaving no room for doubt.
Thomas Bach is the German at the helm of the IOC and on his watch Thorpe has finally been elevated to sole champion in two events he won after having been initially stripped of his crowns under amateur rules that disallowed making money from sporting achievement and then, in 1982, at the height of the GDR Doping era that saw generations of girls abused by East Germany's Pygmalion masters of the Sporting Crime of the 20th Century and their opponents who were robbed of rightful identity and status.
Wendy Boglioli, who was first home in the 100m butterfly among those without the taint of doping at Montreal 1976 and a member of the winning 4x100m freestyle squad that bucked the trend and broke the GDR gold-medals machine, welcomed justice for Jim Thorpe and said: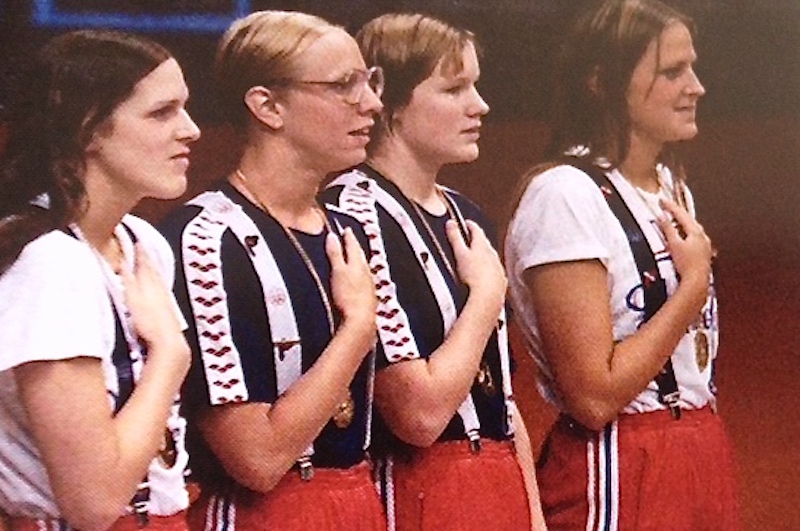 "This may open a door for reconciliation and recognition. It's the best piece of positive news I have heard, Ever on this front. They certainly put in the rear view mirror " the Statute of Limitations" that is from my perspective, done. Wouldn't it be great to see all of these women given their rightful place in history of their sport. Swimming is just one sport tarnished, track and field, rowing, that list is filled with GDR dishonesty and criminal behaviour, how awful for everyone."

Wendy Boglioli – image: Kim Peyton, Wendy Boglioli, Jill Sterkel and Shirley Babashoff – 4×100 gold in their last shot at getting to the wall ahead of the GDR during the 1976 Olympic Games in Montreal
In January next year, in part because of the patient calls for justice by the women at the heart of the biggest androgenisation experiment on women athletes in history and in part because of three decades of relentless efforts by journalists, including this one, to see that justice done, a file will be handed to the new Aquatics Integrity Unit calling for a reconciliation and recognition process for all athletes impacted by East Germany's State Research Plan 14:25.
The process to be request will inevitably lead to a formal call on the IOC to finally do the right thing and enable National Olympic Committees and International Federations to issue shadow medals to those denied their rightful place in history.
Imagine that: Enith Brigitha, the first black woman to win an Olympic gold medal, 40 years before that moment was officially celebrated with Simone Manuel's joint victory with Canadian Penny Oleksiak in the 100m freestyle at Rio 2016 (see many other examples below).
Meanwhile, there is not much than can be written here beyond what this author has already written myriad times down the years, much of it locked in the archive of The Times newspaper and SwimVortex, but some of it here, reproduced by SOS.
Please, global swimming community, call on the IOC to do for women swimmers of the 1970s and 1980s what they have done for Jim Thorpe: deliver justice. And do that in a way that does not make victims of East Germany's young (mainly underage girls back them) swimmers all over again, recognition of their efforts and what they endured secure as an immovable part of Olympic history but recognised in the context of the truth the IOC has simply failed to acknowledge for far too long.
Justice For Generations Of Women Wronged By GDR Doping
Here's a touch of the good the IOC could unlock if it were to do for generations of women what it has done for one American man – taking just a few examples over the course of the 1973 to 1989 period affected by DDR doping:
Montreal 1976: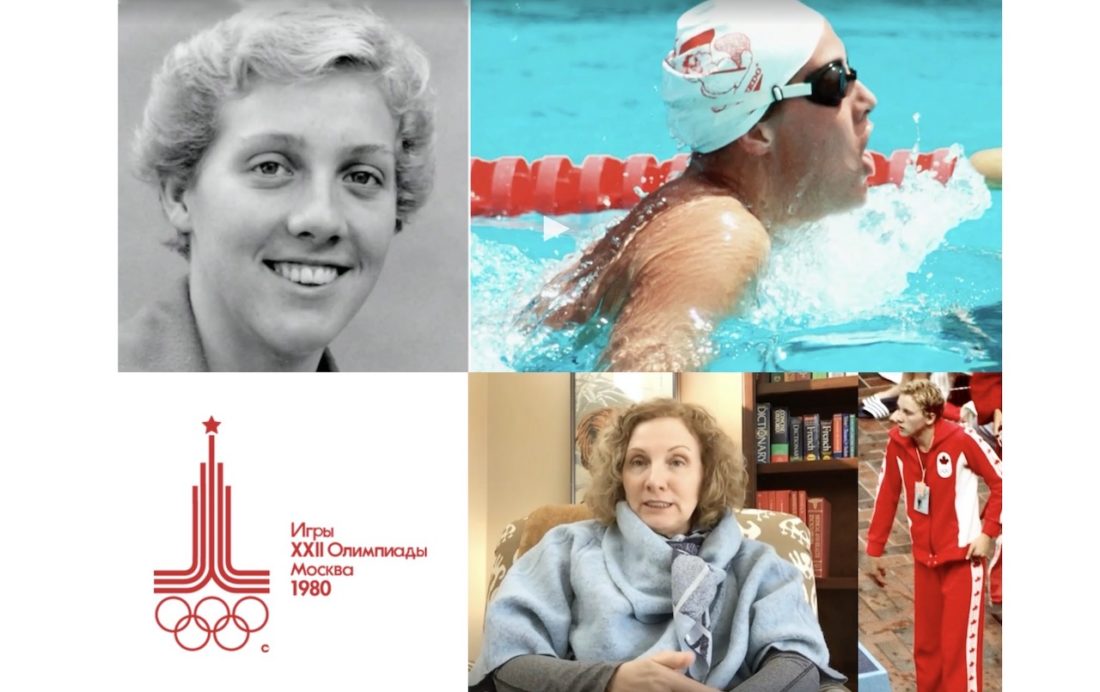 Enith Brigitha, of the Netherlands, finally recognised as the first black swimmer ever to finish at the helm of an Olympic swimming race – imagine the wave of encouragement and cultural shift released by the energies of Anthony Nesty, Anthony Ervin, Cullen Jones and Simone Manuel … but decades earlier…
Shirley Babashoff, of the USA, a five-times gold medallist (imagine that being celebrated as deserved), teammates Wendy Boglioli and Karen Moepromoted to champions and several other Americans would find themselves on the podium, including Melisse Belotte, double backstroke champion in 1972 and locked out of the medals in 5th over 200m in 1976 in a time 4sec slower than the GDR winner, Belotte's 1972 World-record win now some 7sec off the pace of the best of the GDR, where national-record standards had improved 11sec in four years, just one example of a fast-forward in women's speed like no other in history, not even during the short-lived shiny suits saga of 2008-09, when performance enhancement came in the shape of non-textile materials and compression that altered angles of buoyancy and skewed the field in radical fashion.
Nancy Garapick a double Olympic gold medal winner at her home Games
Cheryl Gibson, who just became a member of the FINA Bureau, also a champion at a home Games
Moscow 1980*: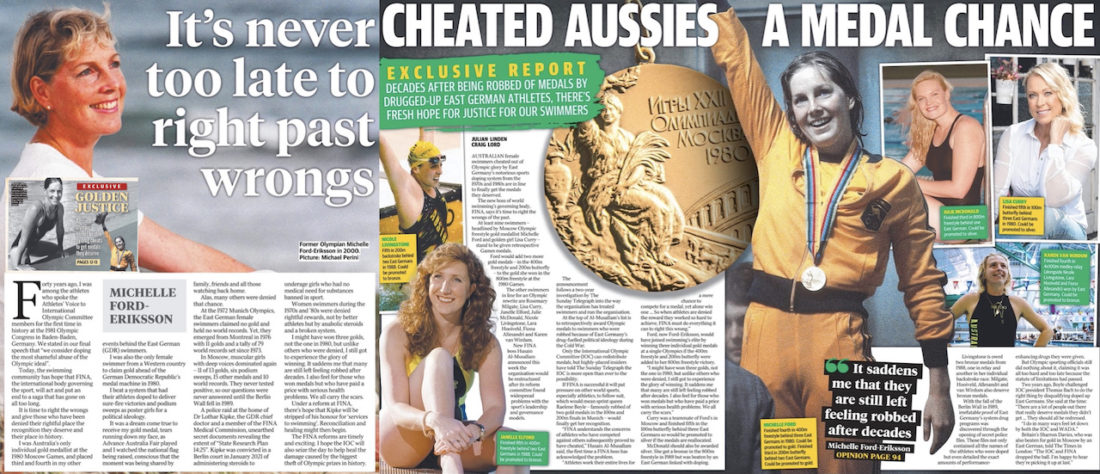 Michelle Ford, of Australia, recognised beyond the one win, as the first swimmer home untainted by proven performance enhancement in three events
Sharron Davies in the 400IM Ann Osgerby in the 100m butterfly and teammates form the medley relay Helen Jameson, Maggie Kelly and June Croft, all with Olympic victory to show for their efforts, Croft with a bronze in the 200m free in the bag too
From The Netherlands, Conny Van Bentum and teammate Reggie de Jong would join Croft, who at LA 1984 would claim a 400m freestyle medal, in the club of those with Olympic sprint free medals, too, while the narratives of careers take on a new dimension, Croft's teammate Sarah Hardcastle,silver medallist at LA1984, would also have two world titles to her name, from 1986.
Carmen Bunaciu might have swum to backstroke golds in Romanian colours
* – the Games in Moscow we're subject to an American-led boycott, which changed the shape of the swim meet but has no bearing when deciding on shadow rewards and recognition for those who did show up. The Hall of Fame, a private business in the United States, has campaigned for a place in its ranks for those Americans who lost out through boycott and while many sympathise with the plight of world-leading swimmers denied, no such campaigning has been taken up by ISHOF on behalf of swimmers who did show up and were clobbered by the East German medals machine. Time for reform in many places in the swimming world.
Seoul 1988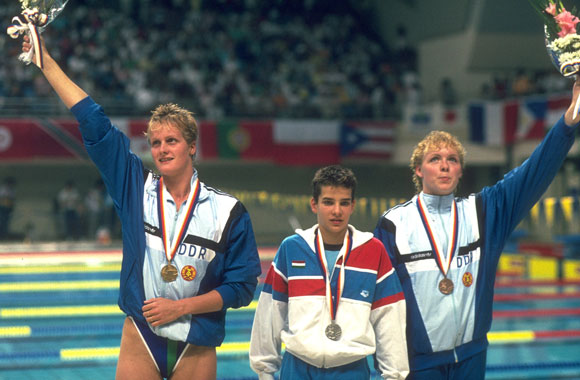 Krisztina Egerszegi a double champion for Hungary at 14 on her way to three golds in 1992 and a gold in 1996 that would have meant Katie Ledecky matching her record solo tally of Olympic golds this year not exceeding it by one: that link take you to a feature on Ledecky finding perspective and talking about mental health issues in common with many others these days who may not realise that others long before them had it worse and have been, in effect, ignored for decades (each story has its own take and tale on overcoming, among the most insightful, this from Sippy Woodhead, denied in 1980 by boycott)
Mary T Meagher and a 200 'fly title retained for the American to top a stellar career
Podium promotions for Catherine Plewinski of France in the 100 free and 'fly
And Dutch gold in the 4x100m free relay for Amsterdam twins Marianne and Mildred Muis and their mates Conny Van Bentum and Karin Brienesse. Imagine what that would have mean back home.
Coach Recognition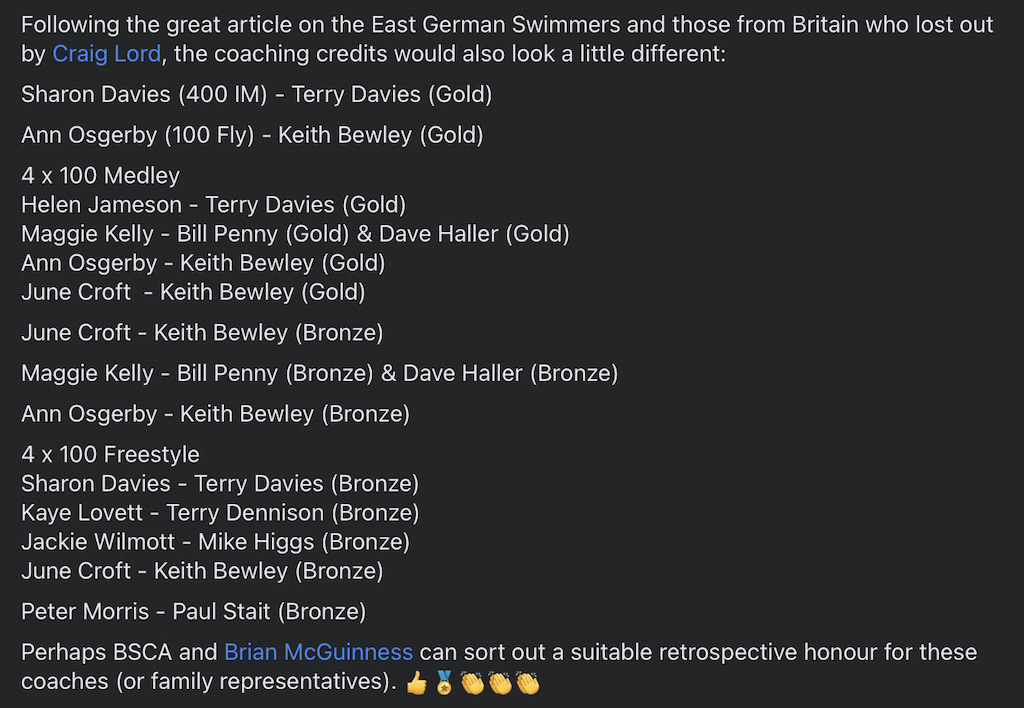 In similar fashion, of course, coaches galore went down as having done an 'ok' job or 'not writer as good as the best of 'em but not bad', as so forth. In fact, as former international and sports scientist Mike Peyrebrune noted in a social media post, the roll call of medal honours among Britain coaches after the Moscow Games might have looked like the image to the left.
Some, sadly, are no longer alive to hear the encouraging news this week. Just as we should never forget the challenging times that girls and young women, in particular, lived through in swimming in the 1970s and 1980s, we should not forget the impact on a far bigger community of people, some of whom will now be watching and waiting to see if international sports leaders live up to their reform pledges, stretching to righting the wrongs of the past so that all can move on and constitutional pledges can be kept, starting with growing and promoting swimming because it's the safe, decent, glorious sport we know it can be if leaders work their end of the Fair Play bargain.
From the SOS Archive:
Editorial – Today, State of Swimming, with the cooperation and agreement of and on behalf of some of the athletes calling yet again on Olympic sports leaders to exorcise the ghost of the GDR doping past, has launched a petition […]
To accompany a petition and this editorial on the GDR doping era, State of Swimming has compiled the following medals statistics for the GDR women's swimming team, 1973-1989, with comparisons to the GDR men, the women from the USA women […]
GDR 30 Years On Germany today celebrates the 30th anniversary of the beginning of the end of the German Democratic Republic (GDR). We'll be celebrating the moment in our family, too, it having made it possible for me to meet my […]
Olympic bosses face the prospect of a class action from victims of the GDR Doping era of the 1970s and 1980s if they do not support a proposal for a truth and reconciliation process from leading women athletes.
The ruling FINA Bureau, the top table of global swimming governance, has voted unanimously to strip Dr. Lothar Kipke of the honour bestowed on him in the 1980s when he was a member of the Medical Commission abroad but one […]
A wave of fresh hope rolled out across the swimming globe this week after The Times broke the news that Husain Al-Musallam, the new FINA president, is to raise the ghost of DDR doping and finally work out a plan […]
Editorial & Essay On Reform – Let's exchange the experience, sings Kate Bush in her Deal with God that's Running Up That Hill to the top of music charts the world over almost four decades after she first poked the […]
Simona Quadarella became the first swimmer to keep the women's European 800m freestyle crown since the last of eight-straight golds for the GDR in 1989 when she stopped the clock at 8:20.23. The podium was completed by Russians Anastasia Kirpichnikova […]
Australian Olympic flagbearer and sprinter supreme Cate Campbell followed American fellow Olympic champion Summer Sanders at the lecture to address FINA Congress as the last speaker before an historic vote to attempt to persuade delegates from around the world that […]
Transgender swimmers will be barred from competing in elite races for women if they have gone through any part of male puberty following a vote by the sport's world governing body FINA. The policy, which comes into effect Monday June […]