Léon Marchand Makes French Hearts Flutter With Record 200y Medley Win At NCAAs, Matt Sates Adding To Reasons For ISL To Dream Again
If the International Swimming League is listening and minded to change tack on the length of Season 4 to save a faltering project stacked with potential, it might look to Léon Marchand, the Frenchman who crushed Caeleb Dressel's 200y medley mark to deliver NCAA men's championship gold for self, team and the coaching staff led by Bob Bowman at Arizona State University.
Here's the vision: remember the duels in the pool and all that potential drained away, remember the FINA World Cups and all that potential drained away, then dream of what might be, like starting Season 4 in the days after the European Championships are done in Rome with a yards special in which the 'world' rankings in measures seen nowhere outside the United States for half a century would become a new and fantastic beast, unrecognisable from the U.S. college realm they've belonged to for so long.
Dressel's best and current American record over 200 yards medley is 1:38.13, a time Americans liked to describe as "the fastest in the world'. True, with a twist. The standard, which does not exist officially, now belongs to a Frenchman, Marchand having claimed victory at Georgia Tech's McAuley Aquatic Center in 1:37.69. Closest to him was Destin Lasco, California, just shy of Dressel's American standard on 1:38.21.
The official result sheet tells the truth: Léon Marchand now holds the NCAA, Meet, U. S. Open and Pool records in the 200y medley. He's the fastest there's been but there"s no such thing as a world record in yards and there hasn't been for a long time.
No ISL match would change that, global standards held in the jurisdiction of FINA, which scrapped yards as a measure of World records during the 1968 Olympics after having scrapped short-course, yards and metres, as a measure of World records on May 1, 1957. Short-course metres World records were introduced in 31 years ago this month, in 1991.
Since the 1970s, only the United States has kept up a tradition of holding annual events in yards pools, and that has largely been confined to NCAA events.
Marchand's victory in his first year in Arizona follows an Olympic debut at Tokyo2020ne, where he missed the 400m medley podium by 0.78sec and would have claimed silver had he matched his heats time of 4:10.09. The latter is a mute point given that only the champion, Chase Kalisz, former Bowman charge and for a while training partner of the most decorated medley ace in history, Michael Phelps, was the only one of the eight finalists to swim faster in the showdown than they had in the evening prelims.
Back to the men's NCAA Championships that followed a women's championships that made headlines around the world, and Marchand was one of three overseas swimmers racing to two firsts and a second in the three solo finals on day 2 of action in Atlanta.
Marchand topped a tight race that might have been even closer had Georgia's Matthew Sates, a freshman from South Africa, been in the mix but the 2021 World Cup winner who also made his Olympic debut in Tokyo, targeted the first final of the night, the 500 yards freestyle, and set got the party started for the college visitors.
Sates' 4:06.61, ahead of Jake Magahey, Georgia, on 4:07.39, set a pool record just shy of the NCAA Record established by Kieran Smith in 2020 on his way to the bronze medal in the Olympic 400m freestyle final in Tokyo for the United States.
Worth noting, as the storm about trans inclusion in swimming and where and how boys who went through puberty on the way to becoming men before transition could be included might be placed if Fair Play is to survive for women's sport: Will Thomas' best time of 4:18.72 would have placed him 35th at the NCAAs this year. Lia Thomas won the women's 500 title last week in 4:33.24 ahead of Olympic 400m medley silver medallist Emma Weyant , that representing a huge change of status that critics of biological men being allowed to race among biological women say comes down to one thing: retained male advantage.
Meanwhile, the third overseas visitor to make a podium impact on day 1 of the men's championships was Cal sophomore Bjorn Seeliger, of Sweden, 23rd in the 50m freestyle in Tokyo last year. The NCAA champion was Brooks Curry, of LSU, on 18.56, 0.03sec ahead of Seeliger.
The March Of Léon Marchand, The Sizzle Of Matt Sates
Marchand told media in Atlanta: "It is amazing. A few years ago, I was watching Dressel thinking this was insane. It is just crazy … NCAAs is like an international championships. I didn't know that before coming here … This is like the Olympics for me. The atmosphere is so great."
Sates, 14th in the 200m medley and 32nd in the 100m butterfly at Tokyo 2020ne, noted the difference in NCAA and the world of much bigger championships, telling media in Atlanta: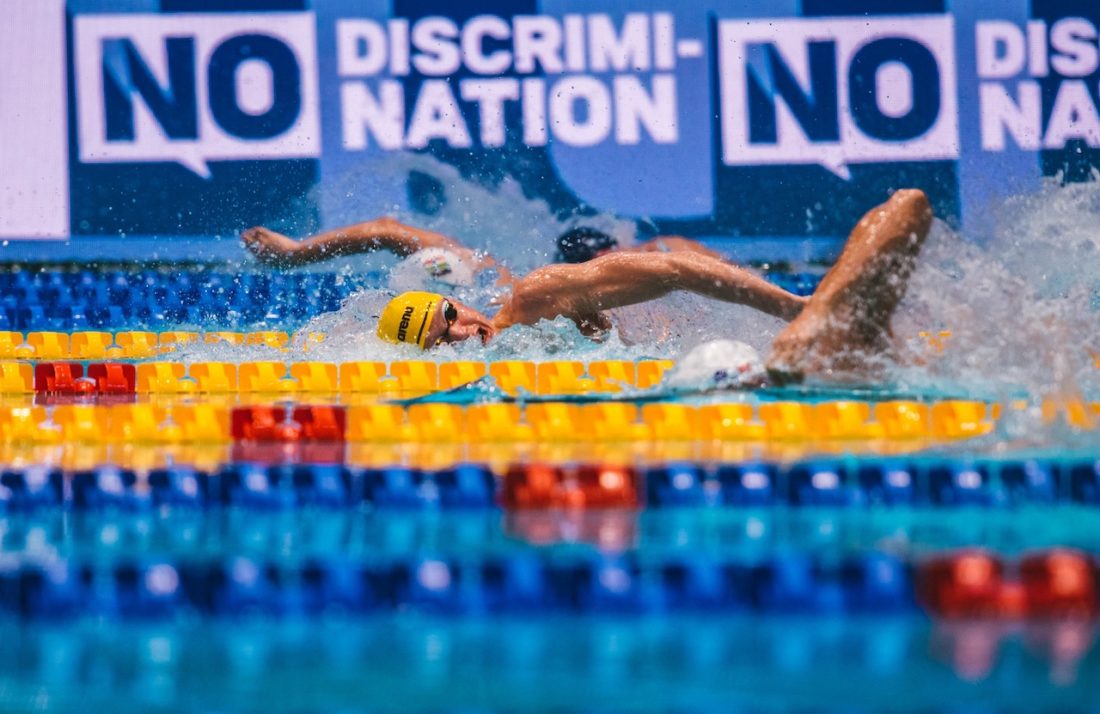 "Coming from a different country, I see it as a big advantage actually. Coming here, not having the main focus being NCAA, having that be worlds, it makes the pressure less for this meet. But that makes us a little more calm when we race. I think that shows in the finals."

Matthew Sates – photo, courtesy for FINA
Marchand finished 18th in the 200m medley in Tokyo last year, on 1:58.30. Yards to metres conversion are fairly pointless, the history of NCAA championships stacked with podium placers we never saw beyond that pool because in long-course metres they didn't make the tougher cut for national selection.
With Marchand, of course, he's already proved that he's a contender whatever the measure of the day, his junior career having included 200m medley bronze at World and European levels and a bronze, too, in the 200m breaststroke at 2019 European juniors.
His parents are French swim Olympians Xavier Marchand, Perth 1998 Worlds silver medallist over 200IM atop a career that included European silver and bronze medals and the Mediterranean Games title in the same event, and Celine Bonnet, the French 1992 Olympic swimmer and teammate of Esposito when he claimed his Olympic bronze.
Léon Marchand gave warning of his senior potential when, at 19, he took of a sledgehammer to the French 400IM record on the opening day of nationals in Chartres. The next day, he wiped 3.2sec off his best 200m 'fly time for a 1:55.40 victory and second ticket to the Tokyo Olympic Games, less than a second outside the 1:54.62 that has survived as the French record since Franck Esposito claimed the 2002 national title at Chalon-sur-Saône.
Léon caught up with dad on the clock as a 17-year-old in 2019: 1:02.3 on 100m breaststroke to 1:05 for dad; 54.28 in the 100 'fly, 55.45 for dad; 2:00.66 in the 200IM, 2:01.08 for dad … and so on.
In Chartres last year, he turned the sailboat in which he sailed by Xavier's 4:21 best 400IM in 2019 into a speedboat with a 4:09.65.
Now, Léon Marchand, his Olympic debut in the bag courtesy of the timing of a pandemic and the delay it caused, is heading to a home Games at Paris 2024 with every French hearts fluttering in time to a nation's hopes.
Marchand could hardly be in better hands on the way to Paris, Bowman and his mentorship of Phelps, ASU's fantastic set-up and facilities and French home support on top: a winning combination, though one that never comes with guarantees and never did, not even for the likes of Phelps.
Given what happened next in our main image on this file, the message for France today and every day to the end of racing at Paris 2024 is 'Stay Calm and Think of Daiya Seto'.