M400 Free – Ayoub Hafnaoui Delivers Biggest 8-Length Upset Since Boiteaux's Dad & His Beret Jumped In At Helsinki 1952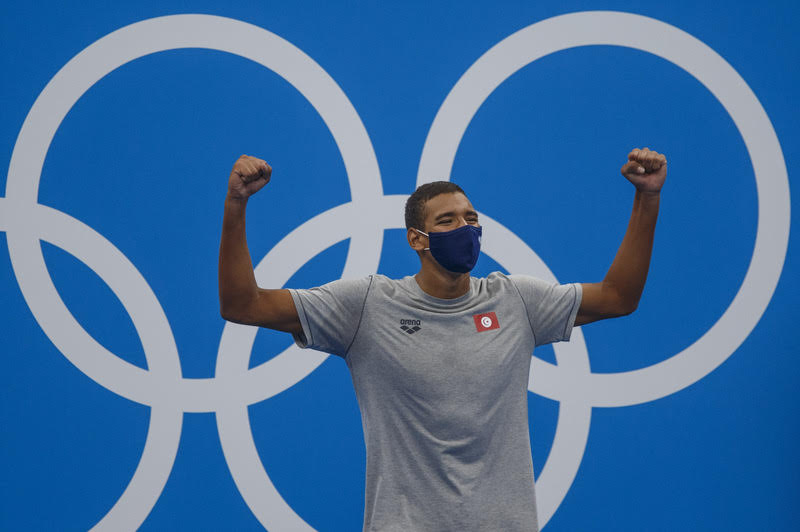 Tokyo Olympic Games – Men's 400m freestyle final – Ayoub Ahmed Hafnaoui wrote several lines in the book of Olympic swimming history when he tore the form guide to shreds with a stunning Lane-8 victory in 3mins 43.36 at the Tokyo Aquatics Centre as the first Arab and Tunisian to claim the 400m freestyle gold.
At 18, Hafnaoui, with a leap and a bound added to his career highs in the past 15 hours or so, heats and finals, is the youngest 400m champion since Ian Thorpe claimed the Sydney 2000 crown at 17.
Second at the last turn, Hafnaoui overhauled Australian Jack McLoughlin (3:43.52) with a 27.23 last length, down which he also fended off American Kieran Smith (3:43.94).
The winning time was the slowest since Atlanta 1996, though that did not dent the drama when the 18-year-old Hafanaoui celebrated in the cider of the biggest apple cart to be upset over 16 lengths since 1952, when Jean Boiteaux defeated American favourite Ford Konno and the Frenchman's dad jumped in the pool to greet his son, fully clothed, beret and all.
A beret and a plunge fully clothed in the pool would certainly have been fitting for the unexpected Olympian heights Hafnaoui assailed today. There was none of that, of course, at the social-distance Games as Hafnaoui became the first Tunisian and Arab to take not only the crown but a medal of any colour in an event dominated by the world's top two swimming nations, the USA and Australia, for 100 years and more.
Hafnaoui screamed and screamed again, shouted out in the void of a roar-free venue at a time of pandemic. He pointed up at his coach in the stands, slapped the water in an ecstatic display of delight plus.
The first question: surprised? He said:
"Of course, I surprised myself. It's unbelievable. I couldn't believe it until I touched the wall and saw I was first."

Ayoub Ahmed Hafnaoui – by Patrick B. Kraemer
Hafnaoui's gold medal is only the third ever won by Tunisia in Olympic swimming and the country's fifth Olympic gold in all sports. As he stood on the podium, an emotional Hafnaoui was unable to hold back the tears and when asked what his "message to the Tunisian people was", said: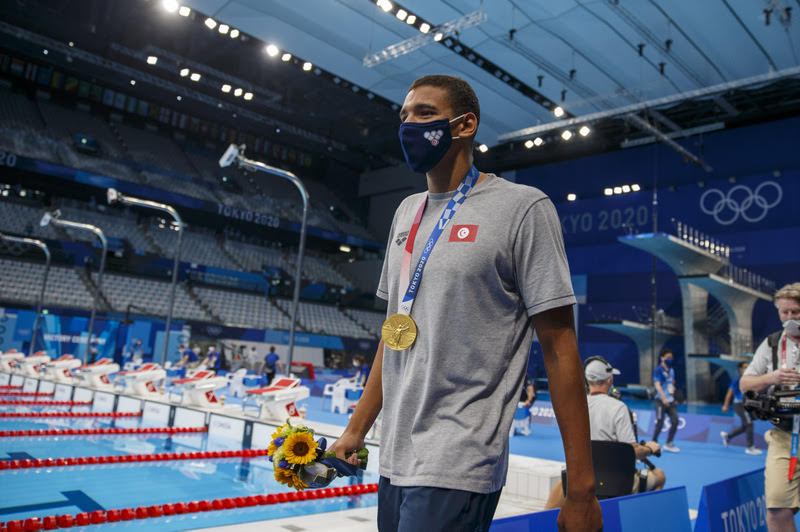 "I was in tears when I saw the flag of my country being raised and I heard the anthem. felt so proud. I dedicate this to all the Tunisian people. You have a champ now. I'm so happy to have a gold medal, just be proud of me, and that's all."

Ayoub Ahmed Hafnaoui – by Patrick B. Kraemer
Tunisians have broken Australian hearts before, Oussama Mellouli having denied Grant Hackett what would have been an historic triple in the 1500m freestyle at Beijing 2008 after wins at Sydney 2000, where he denied teammate Kieren Perkins the triple, and 2004. 
With no crowd of 20,000 screaming folk fit to terrify a teen at his debut Games and an extra year of maturity granted him by the delay in staging the Games, Hafnaoui entered the fray a man free of expectation and just wanting "to see how close I could get and have fun".
He was close from go to gold. The race was in the grasp of Australians for 15 of the 16 lengths of the 400m, title favourite Elijah Winnington giving way to teammate Jack McLoughlin after the 150m mark. At every turn from that point, Hafnaoui, out on the wing of battle in lane 8, turned second to McLoughlin, in lane 2, almost a pool apart and never more than 0.35sec away, With American Kieran Smith in the next lane pressing the Tunisian every stroke of the way.
Mack Horton, the Australian who took gold at Rio 2016, missed the cut with a third place at trials in Adelaide last month. Watching the race today, you couldn't help but wonder whether Horton was in the stands (he's in Tokyo for the 4x200m relay) with every sinew of his being wishing he'd have been in a fight he surely might have won to become the third Australian in history after Murray Riose and Ian Thorpe to back up.
The fastest qualifiers in the middle lanes, Germany's Henning Muhlleitner and Austria's Felix Aubock, looked as though they didn't know what had hit them as they turned in sixth and seventh respectively at the half-way mark 1.5sec off the lead pace.
Even at the last turn, there was an expectation that an 18-year-old who had scraped into the final with a big career best of 3:45.68 after having entered the new Olympic years with a 3:49 career high, might now feel the pressure and pace in the hunt for home and the ultimate prize in swimming.
Hafnaoui spends a fair amount of time in France on the competition circuit there with other North Africans. he was misunderstood top have named a Tunisian athlete who tested positive for doping and his hero but a Tunisian delegation later clarified that he had named another swimmer. It wasn't clear which one.
In his junior years, Hafanaoui counts an 8th place at Youth Olympics among his best results. A 3:52 swimmer at the age of 15, he is now 9sec faster – and Olympic champion.
Hafnaoui started swimming in Tunisia at age 6 when his father Mohamed, a former member of the national basketball team, enrolled him in a local club. In 2019 he set his sights on Olympic gold "Paris 2024". The prize found him sooner.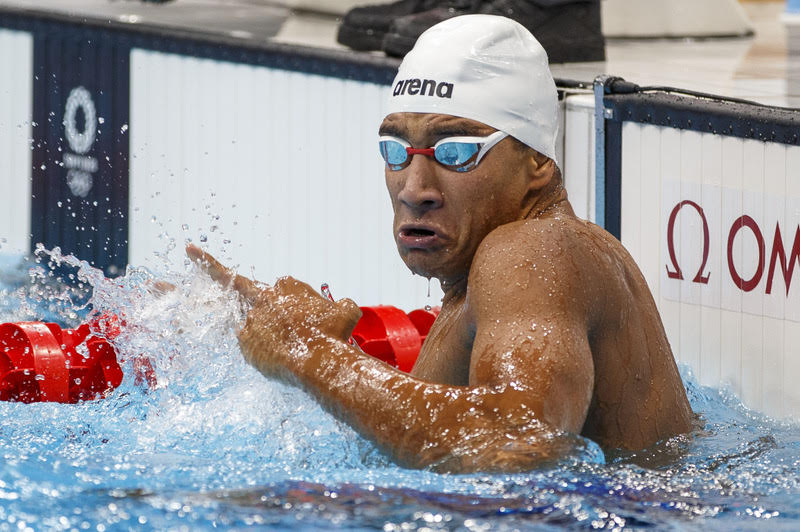 "I just can't believe it, it's amazing. I felt better in the water this morning than yesterday and that's it. I'm the Olympic champion now. I just put my head in the water and that's it. I just can't believe it. It's a dream come true."

Ayoub Hafnaoui – by Patrick B. Kraemer
Australia's Elijah Winnington led through 100 meters but McLoughlin hauled him in by the 200-meter mark and looked destined for gold until Hafnaoui's surge to the finish out in lane eight.
McLoughlin was asked if he was surprised by Hafnaoui's stunning performance. "A little bit," he said. "It's the Olympic Games. You see all these predictions but anything can happen. Ahmed coming out and doing a huge (personal best) that's amazing and credit to him.
"Anything can happen and you have these stories out there and Ahmed is one of those stories now," added McLoughlin.