Where Inclusion Kills Fair Play But Fair Play Need Never Kill Inclusion Regulators Must Draw Clear Red Lines To Save Women's Swimming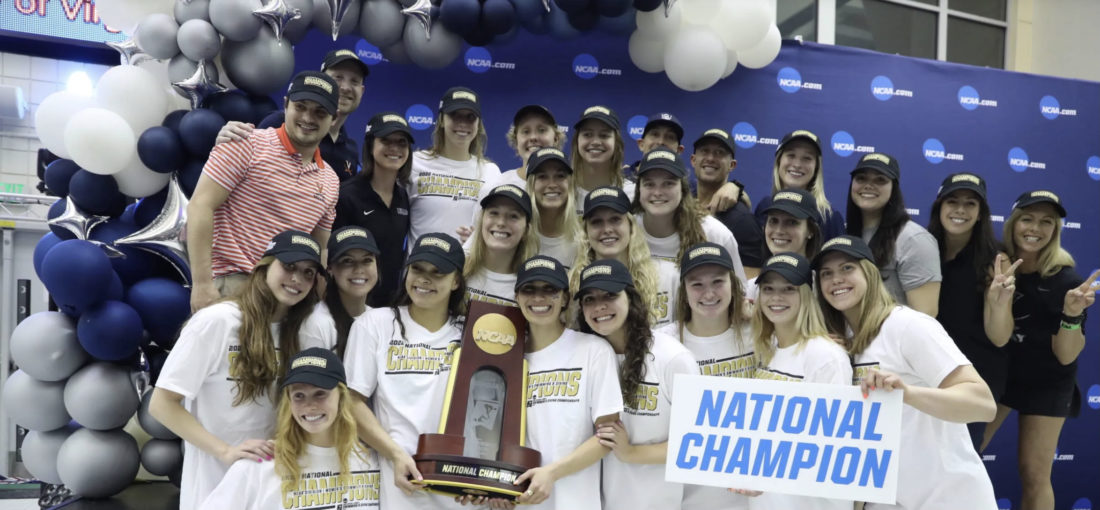 The most toxic NCAA women's swimming championship is over, Fair Play took silver to Inclusion, the college swim career of an athlete who raced as Will Thomas for three seasons and Lia Thomas for one is done and Virginia Cavaliers are back-to-back champions.
The first transgender champion (women, because there will be no such thing in the men's competition) is in the books – and it maybe the last time we ever see that outcome given rules and policies new and pending.
USA Swimming had its new policy in place before the championships in Atlanta, Georgia. The NCAA could have embraced it to avoid making Lia Thomas not only a headline around the world but one of the key examples in a media archive that will be poured over for years to come in the debate over right and wrongs of trans inclusion in women's sport (no-one talks about trans men because they will never have the full set of male features that add up to huge advantage over women for any who grow up a boy to man through puberty before transition).
The tragedy includes hate, both extremes. It has not only been directed at Lia Thomas but by those who do not agree with Thomas' presence in women's swimming. Some of it is fallacious and mendacious and spills to threats in places well beyond the confines of a swim meet. Some of it is pure, unadulterated Orwellian Newspeak, including a New Yorker article starting "Lia Thomas started to swim when she was 5….". No, she did not. She didn't exist. Will Thomas started to swim when he was 5.
"There are two ways to be fooled. One is to believe what isn't true; the other is to refuse to believe what is true." ― Søren Kierkegaard
When you hear, as we have and you will, the following, you will know them for the serpent they are: "it's the media's fault", "its the fault of transphobic women", "it's the fault of all those who opposed trans athletes grown from boy to man before transition being given a ticket to women's sport are…"], fill in from anything on a long list including "fascists, white supremacists, Nazis, haters…".
Those are among many more falsehoods and accusations from people who don't appear to have a clue what those words actually mean, what they denote and represent and how insulting it is to all victims of such things to mention the perpetrators' crimes as an insult to people and matters wholly unrelated.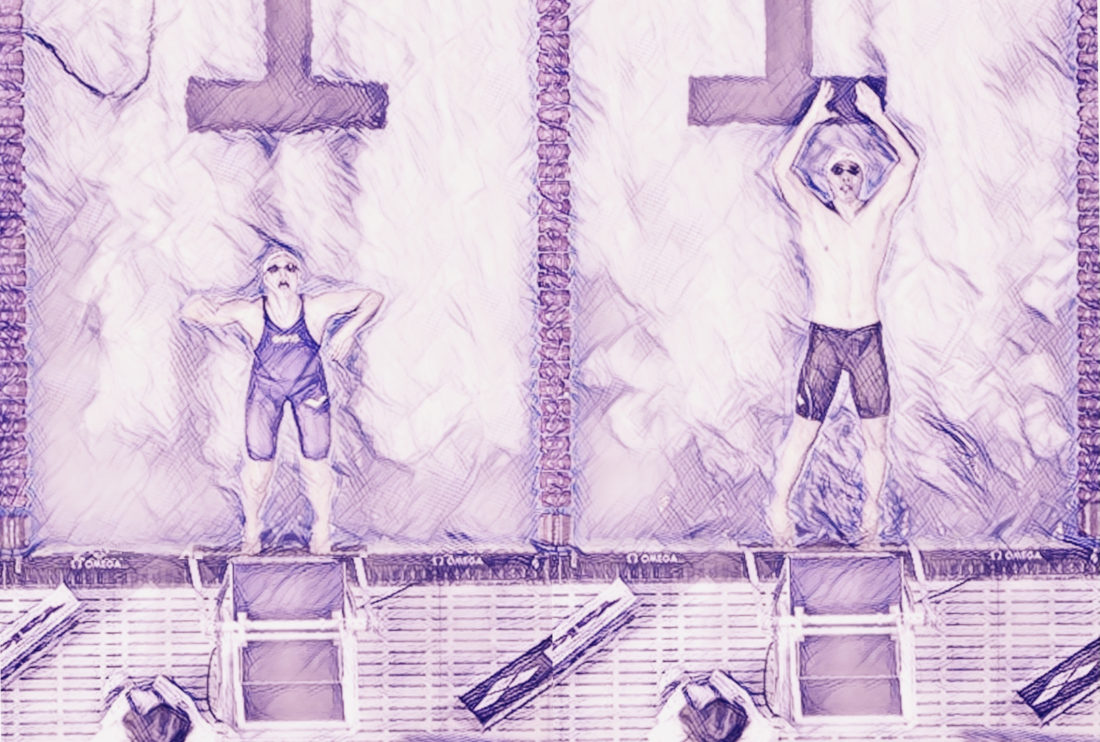 The tragedy is not "discrimination towards one athlete" but discrimination against the many, the demotion to silver on the billboard of NCAA headline-grabbing moments of Virginia's tremendous back-to-back title win. That will now be celebrated and appreciated more in the calm of days than at the moment it unfolded, a feature of women's sport that is not new: generations of women await yet the justice that would see them recognised for their true achievements in the wash of steroid-fuelled East German victims of systematic state doping abuse.
Those women will never get to celebrate their big moments in front of a live crowd at the very moment of success. At least Virginia did get the biggest applause, as did Emma Weyant for finishing second as first biological woman home in the 500 yards free.
The reason why Lia Thomas has sucked the oxygen from the room in U.S. college swimming this season is down to woeful and governance failure that poured poison into the women's pool by allowing the first season ever to scrap the notion that the women's category in swimming is not based on biological sex, science, fact and fair play. Instead, women must accept an ideology that denies male advantage in boys grown through puberty to men before transition and calls a man with a year of testosterone suppression and male genitalia a woman.
That kind of transition, a complex, emotional and tough journey of many more years than Thomas's process so far, is a human right in many countries (far shy of all) and asks us to reach for tolerance and acceptance of and even encouragement for transgender people in the boardroom, running the local library, flying into space, developing the next life-saving medicine, working at the baker, the school, the laundry, the hairdresser, the gym, the garden nursery, running their own business, advocating on the issues that affect their lives.
In performance sport, when it comes to any competition from the age of puberty onwards, there can be no place among girls and women for boys and then men who have development male features and physiology of the kind that contributes to an 11-12 per cent advantage over women in a sport like swimming. Those societal and other workplace rules and acceptances and tolerances simply do not work. Rather, they discriminate against others, namely women, or for those who feel offended by the basic, factual description, biological women.
The controversies of this Ides of Insanity March Madness coincide with the 50th anniversary of Title IX, women's sports rights hard fought for by many women, including advocates such as Nancy Hogshead-Makar, the 1984 triple Olympic swimming champion SOS spoke to at length in the past week:
As Hogshead-Makar noted through reference to such events as the Sedona Prince video of men's and women's weights rooms in NCAA land, that Title IX battle is far from won and is why the Save Women's Sport movements and related blogs such as this one, were outside the championship venue in Atlanta holding this kind of rally:
It was outside the venue, too, that we saw and heard women athletes speaking out about their feelings of frustration at having to compete against an athlete that had "capabilities beyond: those of women. Here is that courageous voice from Virginia speaking truth to the powers telling girls, women and any who support their rights to shut up:
The Virginia swimmer Reka Gyorgy, 17th in the 500 free and denied a place in evening finals, has now written to the NCAA to say that while she is supportive of Lia Thomas and her transition, she believes the NCAA to have harmed biological women by allowing Thomas to race among women: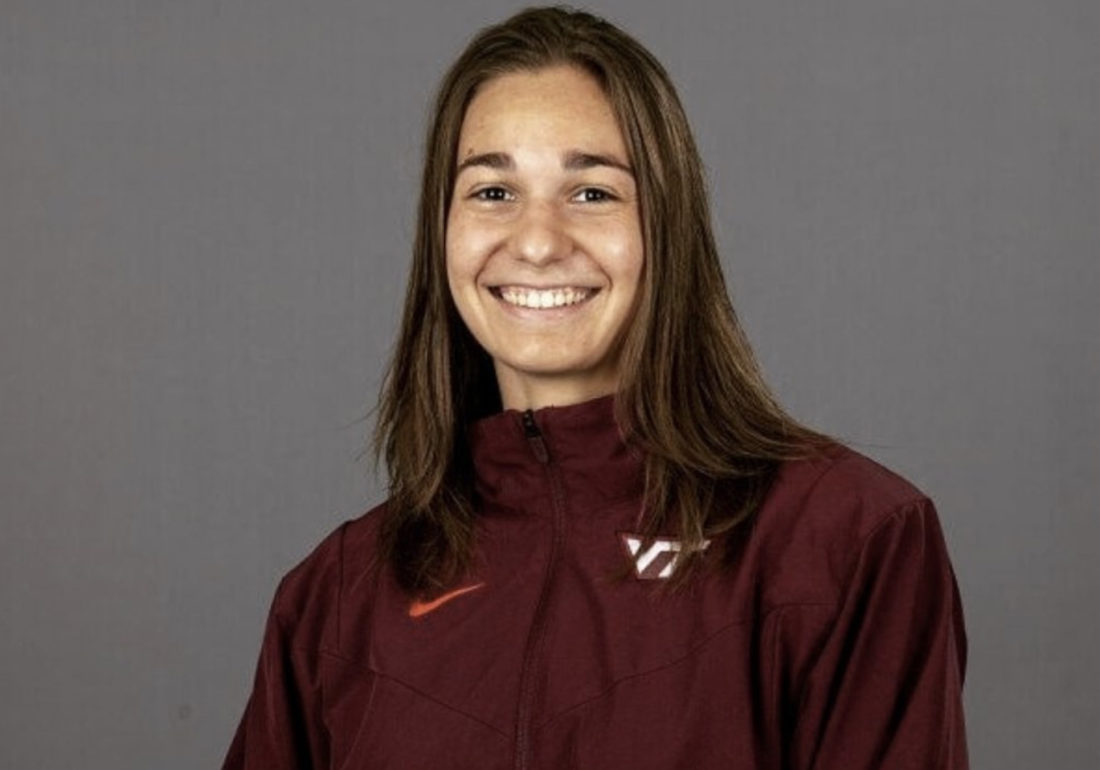 "I'm writing this letter right now in hopes that the NCAA will open their eyes and change these rules in the future. It doesn't promote our sport in a good way and I think it is disrespectful against the biologically female swimmers who are competing in the NCAA.

"I know you could say I had the opportunity to swim faster and make the top 16, but this situation makes it a bit different and I can't help but be angry or sad. It hurts me, my year and other women in the pool.

"One spot was taken away from the girl who got 9th in the 500 free and didn't make it back to the A final preventing her from being an All-American. Every event that transgender athletes competed in was one spot taken away from biological females throughout the meet."

Reka Gyorgy – Virginia Tech
As sports scientist Ross Tucker noted in the wake of Lia Thomas becoming the first transgender swimmer ever to claim an NCAA Championship title when finishing first in the 500 yards freestyle on Thursday: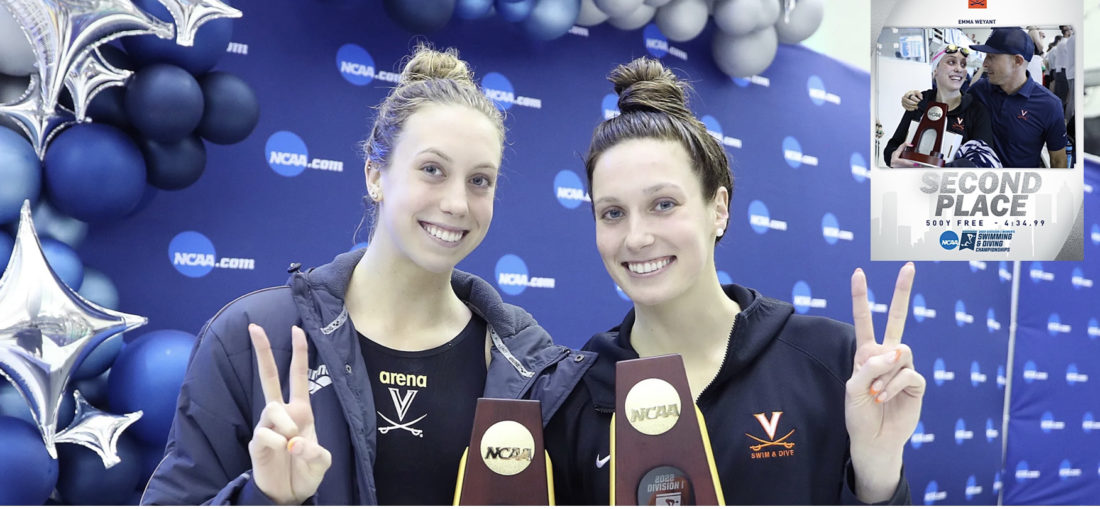 "For years, people knew that this could (and would) happen. All it would take is for a relatively decent male to be the case. Not at Hubbard level, but a little better. Someone 3% slower than the best men, rather than 10% slower. Close enough to parlay advantage into this result.

"Still, the stupid counter argument "they're not winning, so where's the advantage?" was bandied about. So if there's a good thing from this, it's that people will no longer be fooled by that sleight of hand. We now know & see, and many more people are aware of what is happening.

"And of course, "what is happening" is that women, not men, are not only being asked to step aside to allow men into a category that is necessarily and rationally closed to male physiological advantage, but to accept this, and then also to celebrate it. It's a travesty for them."

Ross Tucker – image: The Walsh sisters, Gretchen, left, and Alex, NCAA champions for Virginia, and Emma Weyant, inset, and head coach Todd Desorbo, celebrating the women's gold in the open 500 yards free
Not all sports are the same and that is why the International Olympic Committee tweaked its policy on inclusion late last year, some of its approach called out for abdicating its responsibilities to women in sport in a movement that kept "fairer sex" (as men described women) swimmers at bay for the first 16 years of Games that began in 1896.
Handing down responsibilities to international federations does, however, does have some benefits. It removes the possibility of international federations hiding behind the excuse of "we can't act without the IOC saying so". It also has the advantage of each different type of sport being able to form appropriate rules that recognise the nature of the performance sport and related athlete welfare and interest as governors draw the lines and parameters that must honour Fair Play as well as inclusion.
That includes recognition that some forms of inclusion kill Fair Play, while Fair Play need never kill inclusion.
FINA is working on "a policy that is easy to understand and sets an industry standard", FINA director Brent Nowicki told SOS this past week. It is likely to be along similar lines as the USA Swimming policy in some regards but one of the aims of those drawing up the new policy is to keep things simple.
The simplest rules tend to be the best because they draw clean and clear red lines and do not involve panels and commissions and challenges to the Court of Arbitration that set lawyer against lawyer and all too often make matters worse through decisions that leave athletes wondering what happened to Fair Play when a rogue (distinct from a genuine mistake, for example) gets away with robbery in plain sight on grounds of legal point 542, paragraph 73, clause iii. Or when an athlete is treated leniently not because that is helpful to sport and Fair Play but because Swiss civil law says it should be so, while judges ignore previous form and a whole range of other weapons in the toolkit of rogues.
At the same time, rules need boundaries that can be upheld in law. The rule book can do without a wall of complexities that can be dismantled by the removal of a badly place brick, AKA a loophole through which rogues will happily leap while flying any flag of neutrality you want them to, just as long as the prize is theirs. Swimming has seen its fair share of that down the years and has seen Russian swimmers with two sanctions for banned substances race at an Olympic Games afterwards. The same will happen with Sun Yang if the Chinese controversy makes the grade for Paris 2024.
In some ways, Lia Thomas, albeit through poison Ivy League and NCAA and University of Pennsylvania decisions and stances, has done swimming a favour, by highlighting what ought not to happen at national (selection events, trials etc) and international levels, neither junior nor senior.
The Virginia Cavaliers, Their Coaches, Celebrate Back-To-Back Titles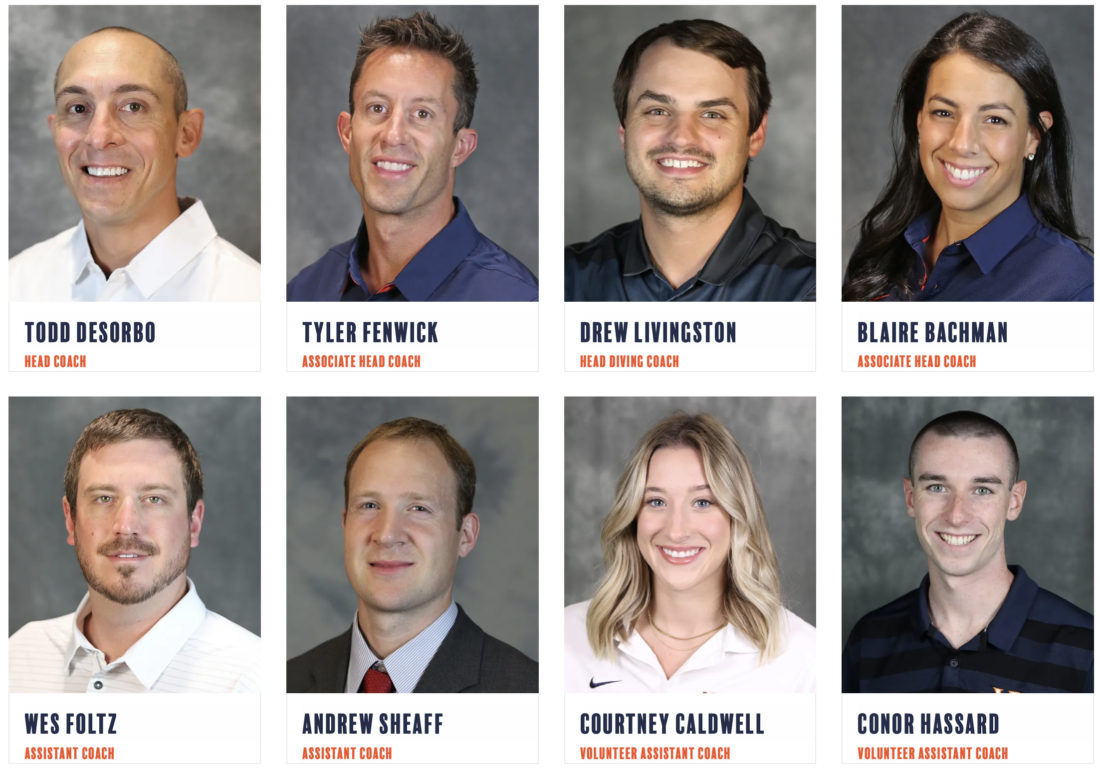 In the meantime, all was not lost, the Virginia Cavaliers and their coaches had a ball, and the 2022 Women's NCAA Swimming & Diving Championships that will be remembered for the transgender controversy and may be recalled as the first and last of its mind if the NCAA does indeed adopt USA Swimming policy as it has said it will, but also goes down as one the fastest meets with death of quality in the history of NCAA Swimming (some have said in the history of women's swimming but that stretches a point given that most on finals at the NCAA would not make Olympic finals).
The highlights included:
Virginia's dominance and back-to-back championship titles.
The sizzling speed of and versatility of Kate Douglass and Alex Walsh.
The backstroke booming of Katharine Berkoff and Regan Smith, Berkoff the first woman under 49sec over 100y backstroke, her time just ahead of Gretchen Walsh and an arm swing away from the speed of Berkoff's Olympic medallist dad, David, mustered to claimed an NCAA men's tile in back in the late 1980s.
Several American records
Thrilling moments such as Alex Walsh on 1:50.08 in the 200y medley; Kate Douglass on 49.04 in the 100 'fly; and Gretchen Walsh, Alexis Wenger, Alex Walsh, and Kate Douglass matching their own 4×100 medley NCAA Record in 3:22.24.
Fair Play Vs Inclusion Or With Inclusion?
The 500 yards free, as said, featured Thomas at the helm, booing and jeering and calls of "shame on the NCAA" from the stands and then another example of laxness at the regulator when Thomas declined to speak to the media in the post-race press conference despite guidelines noting: "Champions of each individual event and relay are required to participate in a press conference in the interview room shortly after the conclusion of their event (following awards podium and optional warm-down swim)."
Whatever the reasons Thomas decided not to talk to media, the decision added to the list of reasons why the presence of an athlete like Lia, born and raised a boy and grown through puberty to a man, delivers a whole new set of challenges that many find unacceptable.
It is common practice for athletes to speak about their development years when asked about such things in press conferences and interviews. How to do that when a simple, straight-forward question such as "tell me what your 10-year-old self was like", not to mention asking for views on the themes Erica Sullivan spoke with maturity to us about at a heartwarming press-conference in Tokyo after she claimed Olympic silver behind teammate Katie Ledecky in the 1500m freestyle.
Sullivan, third in the 500 and among the few elite athletes to openly express support for Lia Thomas' inclusion in women's racing, noted the following day that a photo widely used as an example of the division of views and feelings in the debate over trans inclusion was misinterpreted and that there had been no attempt to stage a podium protest.
At the same time, other athletes, as we heard above from the Virginia swimmer, let it be known that they were not happy at having to compete with Lia Thomas and stand on a podium a notch or two or eight below.
Some of the discourse on the saga has been vile and vicious, some of the silence in certain quarters deafening, some has focussed on the cultural rift that Lia Thomas brought to swimming, while some observations have focussed on the more 'mundane' matters of technique. Thomas had "terrible turns", a fair few tweets suggested, while I watched an overhead camera take that suggested to me poor efficiency of technique, especially when combined with underwater footage that showed an angle of buoyancy quite different (in an advantageous way) to many of the women in the lanes alongside Thomas this season.
None of it represented where focus would be better placed if women's swimming is the thing we wish to celebrate first and foremost but this season, in good conscience, could not be, a matter that gave Swimming World coverage the gold over U.S. niche-site rival SwimSwam when it came to having the courage to discuss matters that cannot be ignored if women are not to be discriminated against in swimming.
None of which would be an issue if inclusion meant the creation of space and not the invasion of space, which is what the NCAA and Ivy League has promoted this season.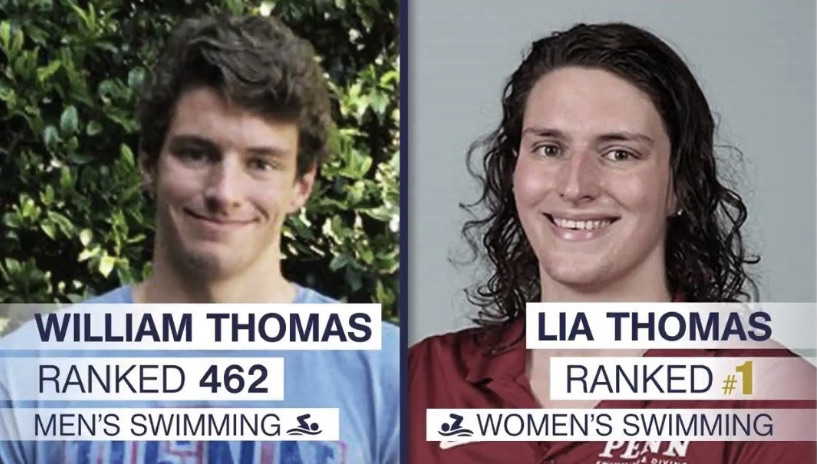 Thomas swam below best in the 100 and 200y events in the days after 500 victory and left Atlanta with the most unique college swim career to look back on.
It is unlikely we will see Thomas swim in international waters given the conditions of eligibility in the new USA Swimming policy on inclusion and Fair Play but the 2022 NCAA season will go down as the moment the trans train that had been careering down the track towards women's swimming hit the buffers.
The damage done was relatively minor compared to what will surely lie ahead if regulators get it wrong in a world in which we have known men sit round tables and agree to dope several generations of young girls to androgenise them and make them swim more like boys in order to beat women, a picture from decades ago on a canvas entirely relevant today.
As regulators reach for a model that wants Fair Play to hold hands with Inclusion, the mantra to remind them what's at stake in swimming should be 'inclusion kills Fair Play, while Fair Play need never kill inclusion'.
Related SOS coverage: