Tokyo 2020 Olympic Games: Day 1 Heats: All Defenders Defending Through But Wind Taken Out Of Daiya Seto's Sails: 9th On 4:10.5 In 400IM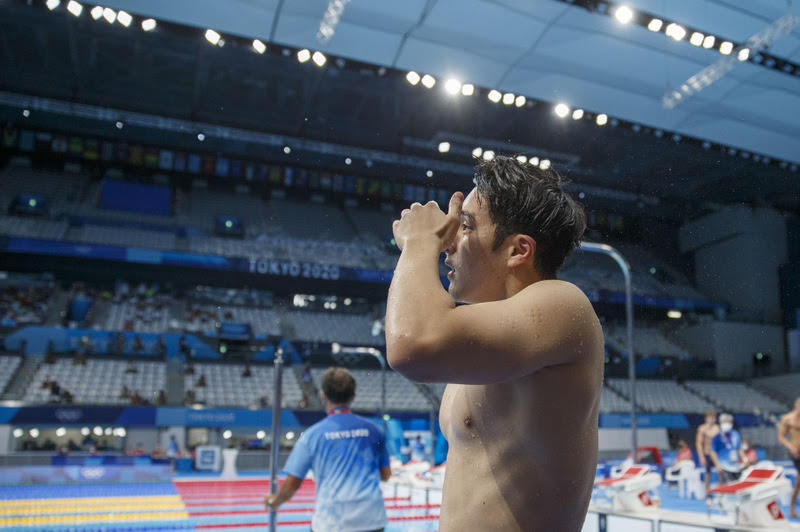 The pandemic has delayed the Olympic Games by a year but here we are in Tokyo and the Aquatics Centre, void of crowd but with First Lady Jill Biden in the house for the first session of finals, and the first upset in the pool delivered when three-times World champion Daiya Seto, on 4:10.52 in the 400m medley heats and among favourites for the crown, found himself locked out in ninth.
Asked about his 9th place and lost chance, Seto said: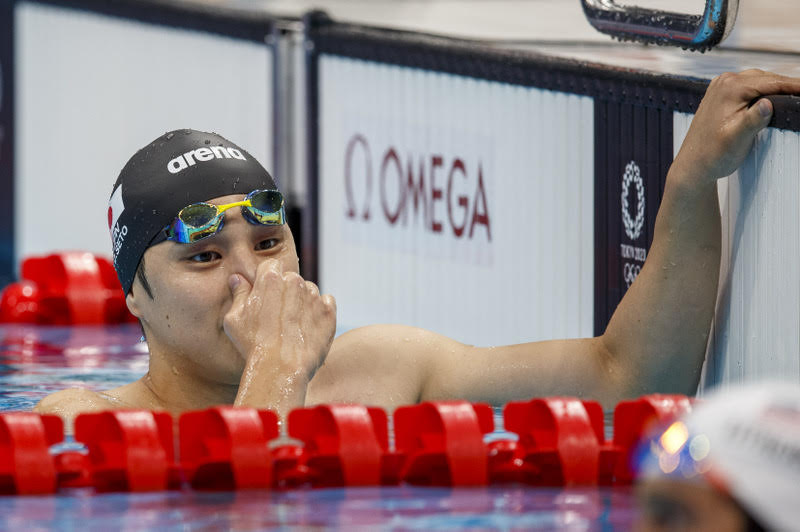 "In Rio [2016 Olympics], I went out too fast (in the prelim) and didn't recover for the final. In the last 100 I didn't give it all I had. It was a misjudgment. The pressure wasn't too much."

Daiya Seto – photo – Seto's reaction after failing to qualify for the 400IM final at a home Games in Tokyo – by Patrick B. Kraemer, MAGICPBK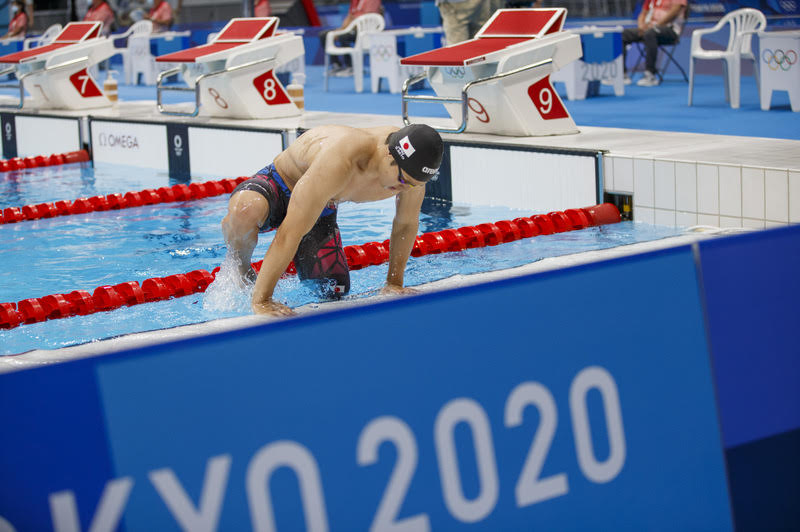 The 400IM is a cruel mistress in various ways, including the chance of mishap and miscalculation. At London 2012, when Michael Phelps scraped into the final on his way to a no-medal final for what was and remains only the second Olympic swim of his career (fifth the 200m butterfly at Sydney 2000 aged 15 was the other one), Hungarian silver medallist behind Phelps at Beijing 2008, "miscalculated" and, life Seto today, found himself locked out in 9th by a Bondesque 0.07sec.
He would now focus on the 200m butterfly and the 200m medley later in the week and said: "I'll just forget what happened and focus on my other events."
Seto missed out by calculating that a 4:11-12 might make it. It didn't. Wang Shun, of China, missed the cut, too, in 10th, while Jacob Heidtmann, in 12th, rattled his German record from 2015, with a 4:12.09 that fell just 0.01sec shy of his career high from six years ago: 0.01sec, the difference between 20 and 26 years of age in a sport in which athletes are staying longer for a variety of reasons, including opportunities to make staying financially viable.
At the helm of pace in the men's 400m medley were Brendon Smith, Australia , and Lewis Clareburt, New Zealand, after both took down the Commonwealth and Oceania records. Lewis was first with a 4:09.49 at the helm of heat 3, his time inside the 4:10.62 at which England's Max Litchfield had held the Commonwealth standard since 2017. The Oceania record had been Clareburt's at 4:09.87.
In heat 4, Smith took down both records in 4:09.27 to grab lane 4 for the showdown, Litchfield's fourth-place 4:10.20 from heat 3 making the Brit the last man in, Seto out. Chase Kalisz, third through to the final, is the favourite on paper form: Olympic silver medalist in Rio, the American sports a best of 4:05.90, the time in which he claimed the 2017 World title.
Evening heats make this the start of action spreading over nine days at these Games.
The Games Day 1 swimming schedule:

Men's 400m medley / Women's 100m butterfly /Men's 400m freestyle / Women's 400m medley / Men's 100m breaststroke / Women's 4x100m freestyle
Which meant the start of the campaigns of crown defenders Katinka Hosszu, the Hungarian triple crown winner of Rio 2016, Sarah Sjostrom (100 'fly), who at Rio 2016 was the first Swedish woman ever to win Olympic gold in the pool, Britain's Adam Peaty, who smashed the World record for a 57.13 victory over 100m breaststroke in Rio, and the Australian women's 4x100m freestyle quartet, five years after victory in World-record time.
All defenders got through to finals, Hosszu just, Sarah Sjostrom in impressive style (see below) and Adam Peaty, too, on a 57.56, with Arno Kamminga of the Netherlands showing he's on best form in 57.80. Morning semis will produce some thrillers, as will the finals, with Henning Muehlleitner, of Germany, and Felix Aubock, of Austria, setting the pace in the men's 400m free on 3:43s.
Games coverage – Day 1 Heats, Potted Reports & Qualifiers For Finals:
Women's 4x100m freestyle
Australians Mollie O'Callaghan (53.08), Meg Harris (52.73), Madison Wilson (53.10) and Bronte Campbell (52.82) set the Dolphins up for the defence of the crown in 3:31.73, a time better than the national records of every nation in the world barring the United States and the Netherlands.
The Dutch, Canadian and British heats quartets went through to the final ahead of the USA, which has some room for improvement but is weaker in the 4x100m free relay that it has been for many a long year. China, Denmark and Sweden completed the qualifiers ahead of Japan and France.
Men's 100m breaststroke
Adam Peaty 57.56. Arno Kamminga, 57.80, a Dutch record that brought him 0.1sec closer to the British ace as No2 on the all-time rankings.
Next through were Michael Andrew (USA), 58.62; Nicole Martinenghi (ITA), 58.68; Yan Zibei (CHN), 58.75 and James Wilby (GBR), completing the sub-59 club on 58.99, Andrew Wilson (USA) own 59.03.
No Australians made it through, while 200m World champion Anton Chupkov and Russian teammate Kirill Prigoda scraped through as last two into semis on 59.55 and 59.68, the latter locking out 200m Olympic champion Dmitry Balandin (KAZ), on 59.75.
Peaty's time left the defending champion 0.01sec shy of the World record he established in heats at the Rio 2016 Games five years ago on his way to gold in 57.13.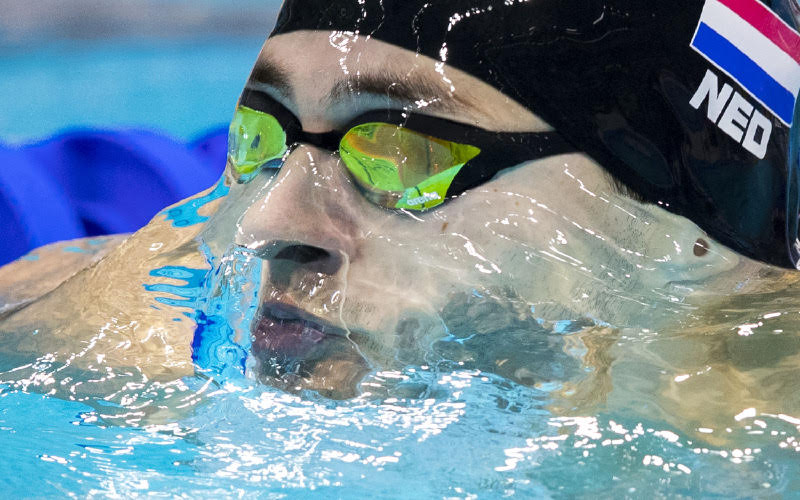 Where Kamminga, 25 and a man who has charged through the world rankings in the past two years, was at the turn in 27.14sec, Peaty, 26 and boasting an unbeaten bull run of 100m wins back to 2014 and his teens, packed a 26.81 to the turn and was chasing nothing but qualification to the semis on the way home. Both men looked buoyant, strokes flowing, Peaty the more powerful.
On his opening performance in Tokyo, Peaty said: "Heats are heats. I always have cobwebs [to shake off]. It's pretty much the exact same time I did in Rio – and I always build on that. We will just see where we go from here."
Sensitive to talk and jokes about disqualification being the only thing that could keep the red-hot favourite from becoming the first British swimmer ever to retain an Olympic crown in the pool, Peaty was keen to avoid mishap. Swimming is a sport that has witnessed the likes of Australian great Ian Thorpe falling off his blocks in 2004 and being disqualified in the domestic trial intended to qualify him for the defence of his Olympic 400m freestyle crown. Australia found a way round it and keep the title in Athens Thorpe did.
Peaty noted: "I was a bit shaky off the start. For some reason, I was gripping it [the starting block] a bit too hard. But there are a lot of variables when it comes to an Olympics. You try and control as many as you can but there are some you can't control. We were very delayed tonight. It's very hot. But that's how we adapt into the semis and hopefully adapt into the final.
He was asked if the new Tokyo venue was a "fast pool". It was, he said, before answering a question he wanted asking: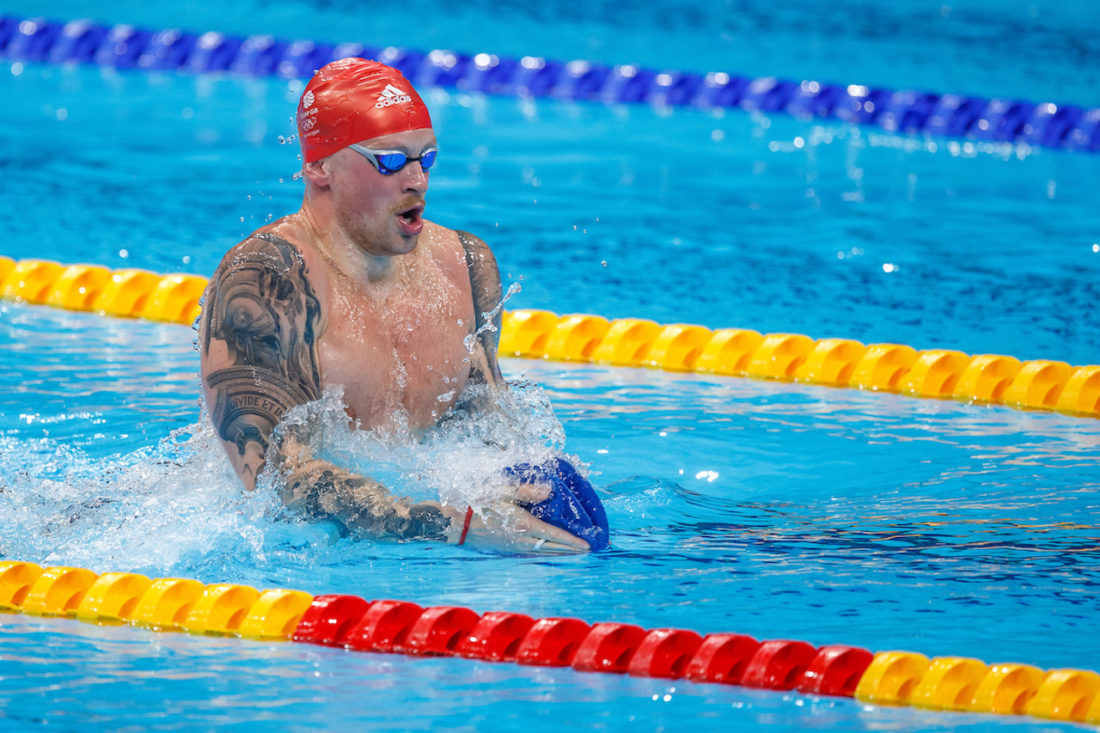 "Really weird with no crowd, really weird. But that's the psychological things we need to adapt to. I had no idea how it was going to feel out there. I'm glad the cobwebs are out now."

Adam Peaty – Wall of Fame: Adam Peaty warms ups for his heat of the 100m breaststroke at the Tokyo Aquatics Centre – Photo by Patrick B. Kraemer / MAGICPBK
Kamminga was "really happy" top have raced under 58sec for a second time since he broke the barrier three months ago. He intended in semis today (SUN) and finals on Monday to "see if I can chip away at some more."
Asked if he could get closer to Peaty on the way to the half-way turn, Kamminga said: "If you're next to Peaty, you're going to go out faster because he is faster but the second 50 is my forte." He has never swum the second half of a 100m faster than Peaty. Then again, nor has anyone else.
Women's 400m medley
Emma Weyant finds herself a gold-medal favourite on the first day of her Olympic debut for the United States. She clocked 4:33.55, while the defending champion Katinka Hosszu took an outside lane for the final, in seventh on 3:36.01 and looked more like the 2012 version of herself than the dazzling 2016 version.
Like Seto, it was a close call for Hosszu but she fell on the right side of the line when placing fourth in her heat behind Weyant, Britain's Aimee Willmott on 3:35.28, and Spain's Mireia Belmonte, 3:35.88.
There were just three heats, the second line-up producing all the other qualifiers: Japan's Yui Ohashi looking as though she might stop shy of the wall, so obviously did she take her foot off the pedal in the closing 10m of the race for a 4:35.71 finish
Hali Flickinger, the second American through, was close, on 3:35.98, with Hungarian 17-year-old Viktoria Mihalyvari-Farkas on a lifetime best of 3:35.99.
Men's 400m freestyle:
Qualifiers: MUHLLEITNER Henning GER 3:43.67; AUBOECK Felix AUT 3:43.91; DETTI Gabriele ITA 3:44.67; WINNINGTON Elijah and McLOUGHLIN Jack, both AUS, 3:45.20; SMITH Kieran USA 3:45.25; MITCHELL Jake USA 3:45.38; HAFNAOUI Ahmed TUN 3:45.68
Heat 5: Australians Elijah Winnington and Jack McLoughlin were a snap on 3:45.20, according to the scoreboard (there was a similar lane 4-5 snap in the women's 100m butterfly and questions are being asked because video appears to show that hand said not reach then wall at precisely the same moment…). Out on the wing, meanwhile, there were two other 3:45s: Kieran Smith, 3:45.25, and Jake Mitchell, 3:45.38, made it two Americans joining the two Australians in the final.
Heat 4: Germany's Henning Muhlleitner and Austria's Felix Auböck, gave warning to those more favoured that they're in title-tilting form, both under 3:44, on 3:43.67 and 3:43.91 respectively, Italian Rio 2016 bronze medallist in the 400m and 1500m freestyle, Gabriele Detti, on 3:44.67, with Tunisia's Ahmed Hafnaoui on 3:45.68, which would turn out to be good for last into the final.
Heat 3: Switzerland's Antonio Djavokic clocked 3:45.82 to lead the way ahead of Egypt's Marwan Elkamash, on 3:46.94, with Estonian Kregor Zirk home in 3:47.05.
Heat 2: Venezuelan Alfonso Mestre got the pace going with a 3:47.14 win.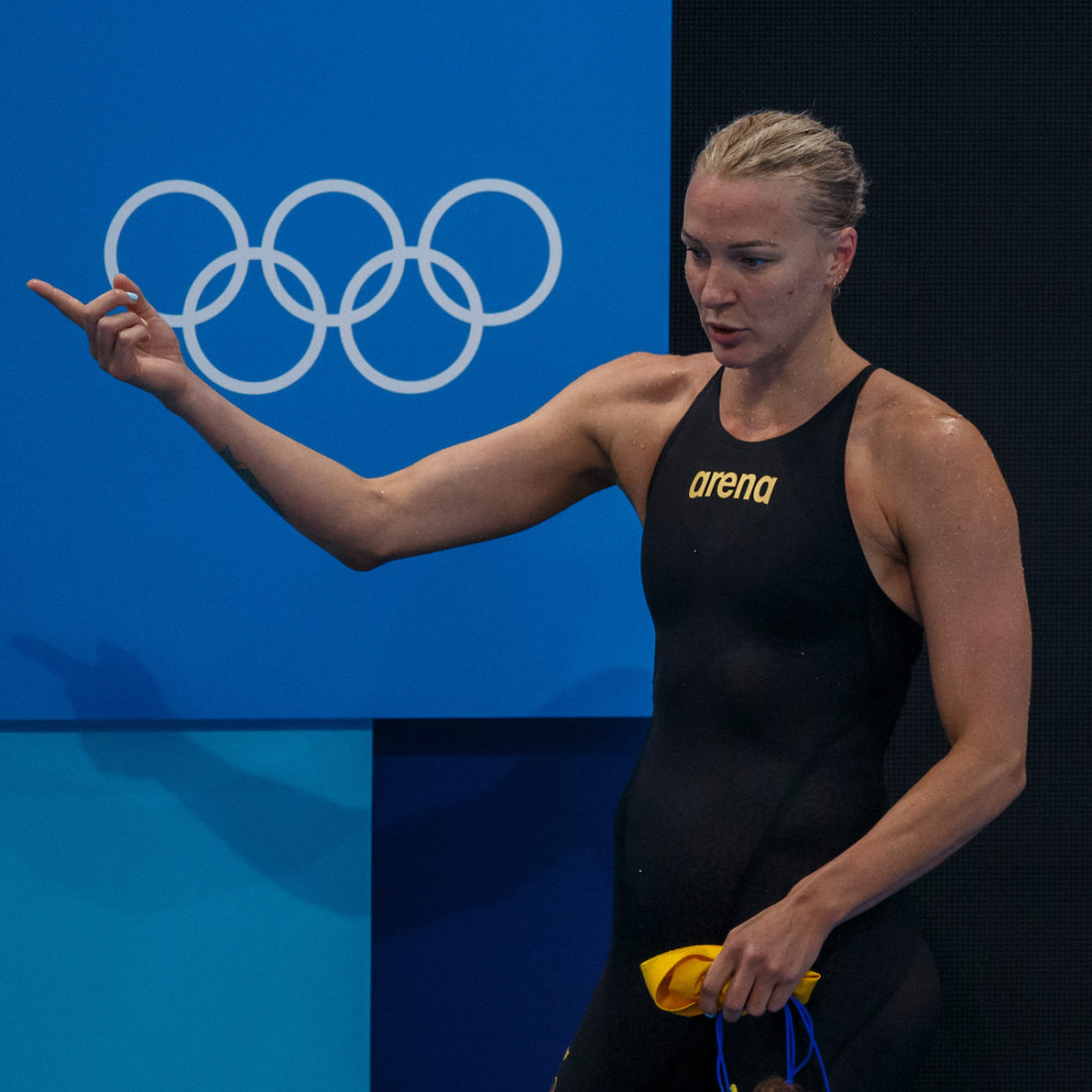 Women's 100m butterfly
All main contenders raced through to semis, including defending champion Sarah Sjostrom, of Sweden, on a solid 56.18 on her way to a 52.9 split in the 4x100m free relay later in the session.
The pace was led by Emma McKeon, of Australia, and Zhang Yufei, of China, on a snap at 55.82 in the last heat as sole sub-56ers.
One big name missing was that os Rikako Ikee, who was diagnosed with cancer but after rehabilitation managed to get back down to a 57sec swim at Japanese Olympic trials. That left her shy of the tough A-standard qualification target set by the Japanese federation for a home Games. She would have sailed through to semis with that effort today. On hand to watch the race as a member of the Japan team for the 50m freestyle and relays, Ikee, gracious as ever, said: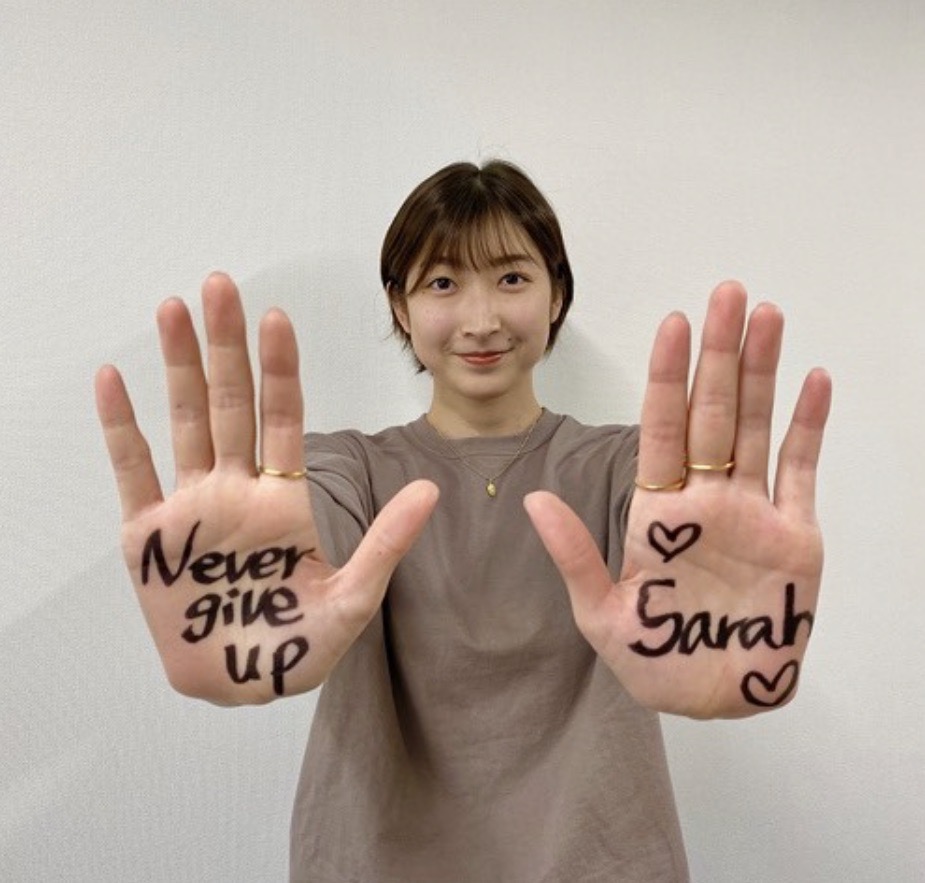 "One year ago I did start swimming but I wasn't participating in any competitions. So I didn't even think I'd be here at a world competition and as a representative of my country and as a representative who has overcome illness.

Being back here I felt again that I want to be a person who can inspire others."

Rikako Ikee
When Ikee was in rehabilitation, she was delighted to receive a message from the podium placers in the 100m butterfly at the World Championships in Gwangju, including Sjostrom. When the Olympic champion slipped on ice and broke her elbow, Ikee returned the favour, as shown in the picture above and here in the story of Sjostrom's fall.
On whether she surprised herself with her fast heats effort, which was inside the 56.26 she swam in heats at Rio 2016 on the way to gold, Sjostrom said: "Yes, that was a big surprise. I did 57.7 in the 100 butterfly in Rome four weeks ago and I barely finished the race because I was exhausted in the last 50 but today I felt extremely strong. It was actually my best time in like four years so obviously that is a big surprise after the preparation I had the last six months."
Asked how her arm feels after surgery in February: "It feels good. I don't think about it at all when I race. I feel good and I feel strong and I am also surprised how quick this rehab can go."
Had she feared she would not make it back in time for the Games, Sjostrom said: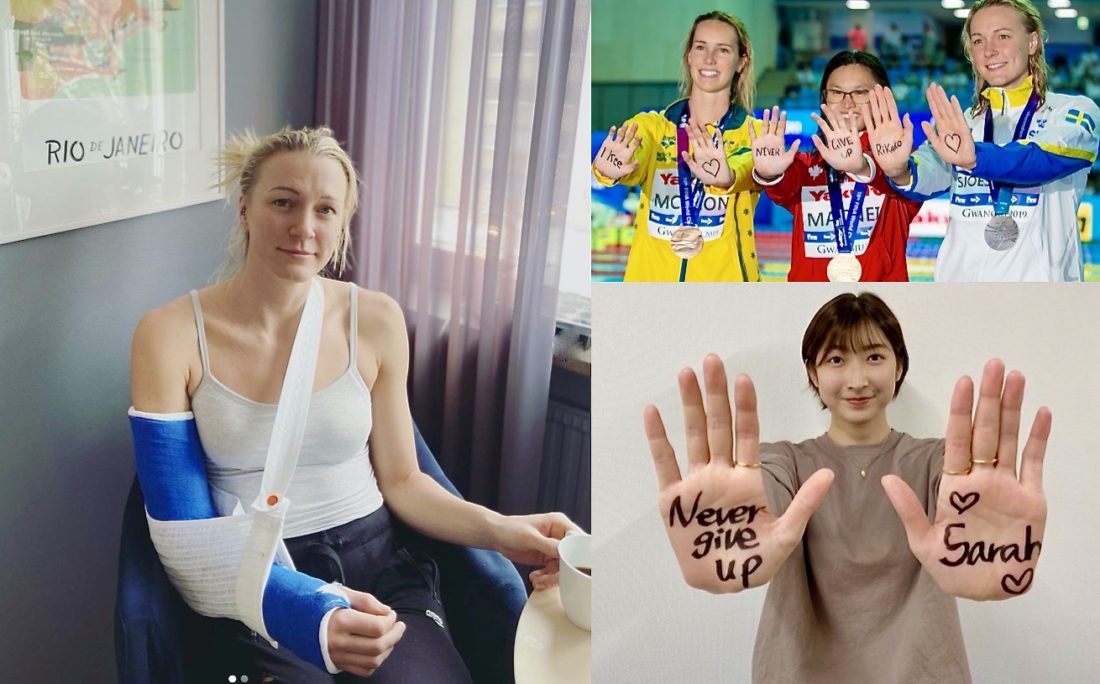 "Yes, of course. I never had a hard injury like this before so I didn't know anything about this kind of fracture, I didn't know how long it would take to come back. When I started swimming again after my surgery I was like I'm never, ever going to be able to swim again. I couldn't physically take a stroke in the water, I couldn't do anything. So I am super-proud to do this comeback."

Sarah Sjostrom
And back to best test? "Yeah, almost. Maybe I need a little bit more time. I wish I had maybe three more months to prepare but I didn't have that so I just did what I could to have the best kind of preparation."
Heat 5: China's Zhang Yufei and Australia's Emma McKeon tied to take a lane 4 apiece in semis on 55.82, with Louise Hansson of Sweden on 56.97.
Heat 4: Defending champion Sarah Sjostrom slipped on the ice back in February and broke her elbow. She wasn't sure if she would get the movement and strength back in her arm in time to be competitive in Tokyo. A 56.18 today suggests she's doing better than expected. Second home was American teen Torri Huske, inside world-record pace at the 50m (on) but tightening on the way to the wall, Sjostrom getting the touch ahead of a 56.29. Third home was Anastasia Shkurda on 56.99.
Heat 3: The swift heats get started with a 56.55 win for World champion Maggie MacNeil, of Canada, Marie Wattel, of France, on 57.08, which would turn out to be the 8th fastest among the 16 qualifiers for semis.
Heat 2: Ireland's Ellen Walshe took the pace below the minute with a national record of 59.35.
Men's 400m medley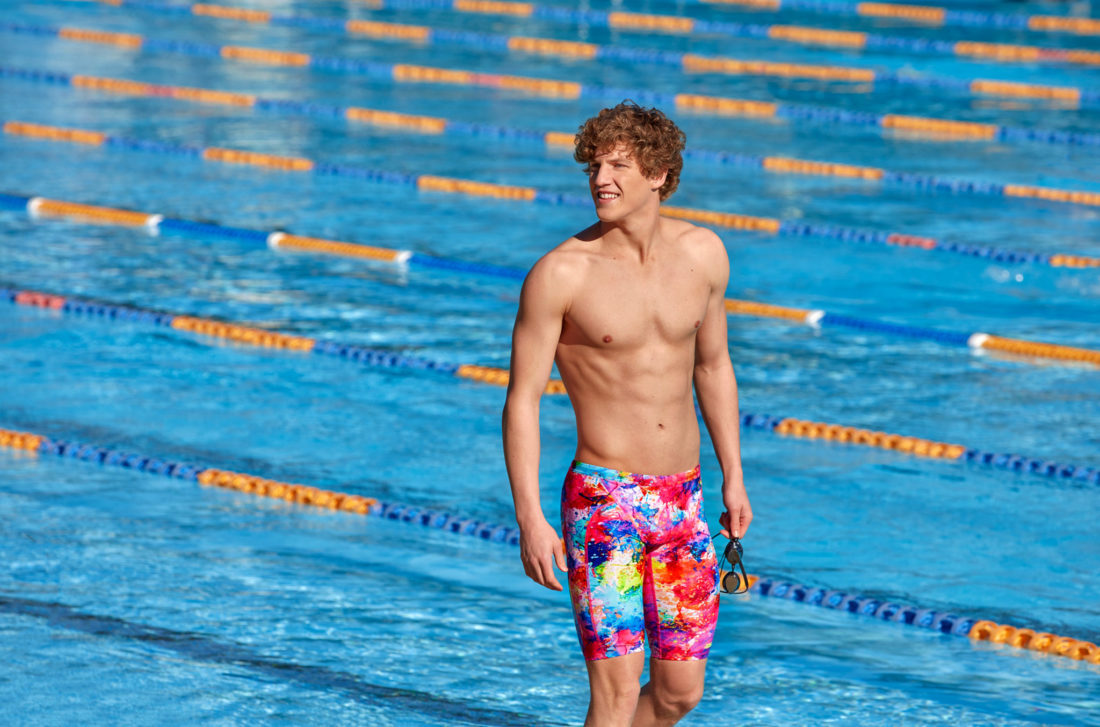 Qualifiers: SMITH Brendon AUS 4:09.27 OC; CLAREBURT Lewis 4:09.49; KALISZ Chase USA 4:09.65; VERRASZTO David HUN 4:09.80; RAZZETTI Alberto ITA and LITHERLAND Jay USA, both 4:09.91; MARCHAND Leon FRA 4:10.09; LITCHFIELD Max 4:10.20.
Heat 4: Daiya Seto stepping up to his blocks would have raised the roof at this point of any home Games in Japan before Covid hit. Not so this day and though the Japanese star looked all the way over the first 300m like a man about to book a ticket to lane 4 for the final tomorrow morning, he tightened, struggled and faded to fifth on the way home, a 4:10.52 bumping out of the final. At the helm of pace was Australian Brendon Smith, who on 4:09.27 took Clareburt's fresh Commonwealth standard from him. Then a tie for second on 4:09.91 between Italy's Alberto Razzetti and American Jay Litherland. Leon Marchand, the French teenager, was next home in 4:10.09, to book the last ticket to the showdown. Seto, the fastest man on the entry list, is out. The first upset of the Games in the pool is in the history book.
Heat 3: New Zealand's Lewis Clareburt got the edge on Rio 2016 silver medallist and 2017 World champion (4:05.9 best) Chase Kalisz 4:09.49, an Oceania and Commonwealth record, to 4:09.65, Hungary's David Verraszto third home in a tight four-way tussle, on 4:09.80, Britain's Masx Litchfield on 4:10.20, with one heat to go.
Heat 2: The first national swimming record of the Games fell to Joan Lluís Pons, of Spain, in 4:12.67, inside his own 4:13.30 from 2019 World Championships. Next home were Australia's Se-Bom Lee in 4:15.76 and Arjan Kipping, on 4:15.83.
Heat 1: Portugal's Jose Lopes sets the pace at 4:16.52