Russian And Belarusian Athletes & Officials Thrown Out Of FINA World Championships & Kazan Short-Course Showcase Scrapped As Global Regulator Condemns Invasion Of Ukraine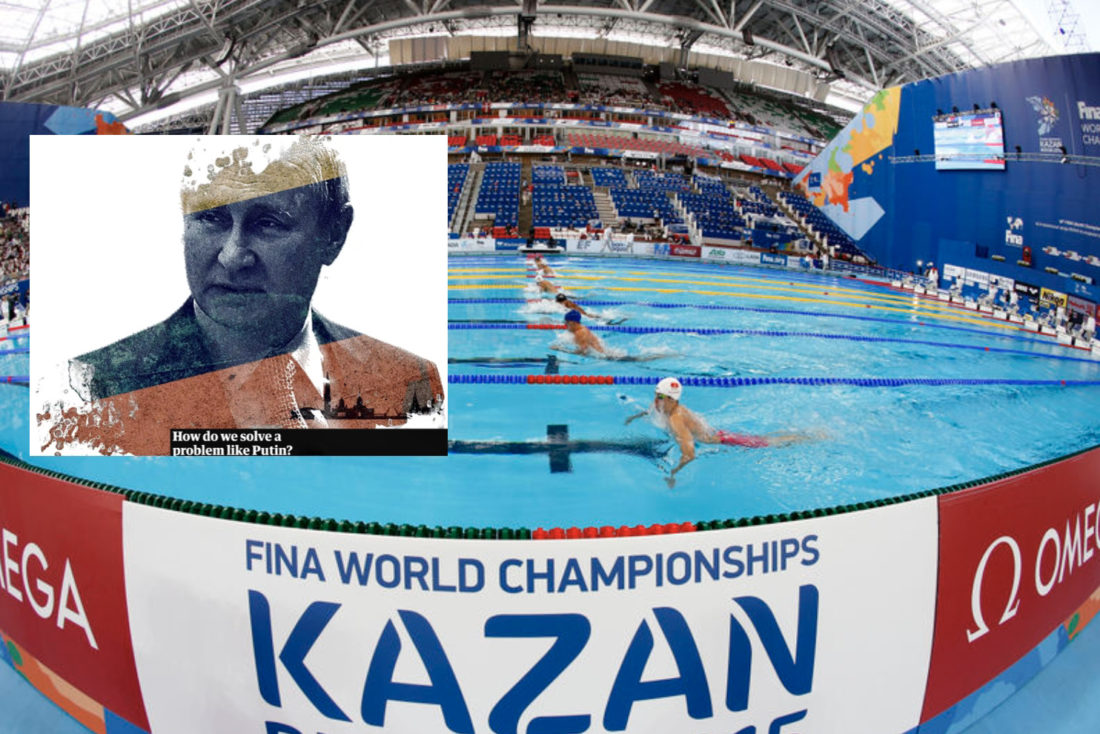 FINA has thrown Russian and Belarusian athlete and officials out of the World Championships in Budapest in June as the aggressor nations in Vladimir Putin's war on Ukraine and stripped Kazan of its hosting rights to the global short-course showcase event in December.
In addition, the global regulator confirmed the news in The Times and SOS this morning that Evgeny Rylov faces a disciplinary hearing for "a potential violation of the FINA rules" following his appearance in a pro-war rally at the Luzhniki Stadium in Moscow with the Z symbol of Putin's offensive on his jacket.
Rylov faces a sanction that might include a suspension that would have meant he could not defend the World 200m backstroke title in Budapest but that is now a mute point: he will not be there, nor will any other Russians and Belarusians.
The bigger point is whether there are reasonable grounds to believe Rylov and the other athletes involved were at the rally through no choice of their own, wearing a "Z" symbol through no choice of their own, potentially even unaware of what it has come to symbolise.
Russia, meanwhile, responded to FINA by taking a decision that the whole world will surely welcome: they will 'boycott' all other FINA events in 2022. That would extend to World Cups, while many event organisers around there world have already noted that they will not welcome Russians for the foreseeable future. Later, however, Russia did a quick u-turn to say it only meant Budapest.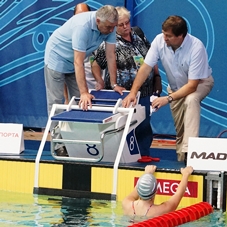 The Russian Swimming Federation led by Vladimir Salnikov, the 1980 and 1988 Olympic 1500m freestyle champion, first responded by stating that it would boycott all FINA events beyond the World Championships. When it became clear that that would give FINA grounds to sanction Salnikov, Russia u-turned and told FINA that it only meant the two World Championships.
While Russian "athletes and officials" will be barred from the FINA showcases, Salnikov will not under a directive of the International Olympic Committee (IOC) that sanctions should not extend to members of what they often refer to as "the family", such as IOC member Alexander Popov, the 1992 and 1996 Olympic sprint freestyle champion.
A FINA source told SOS that Salnikov was not suspended but "is unlikely to be in Budapest". Isolation, loneliness and the questions that would flow from other FINA members and media might be among reasons for Salnikov to respect the circumstance and stay away. There is also the risk of any Russia allowed to attend then being placed in the situation of having to report back to base, the Kremlin, on return home.
When the IOC recommended to international federations that they ban all Russian and Belarusian athletes from their competitions, it did not extend the suggestion to Russians inside the Olympic "Family".
Those included IOC current and former (now honorary) members Popov, Shamil Tarpishchev, Russian Tennis Federation President, two-time Olympic pole vault gold medallist Yelena Isinbayeva, a member of Russia's military, and Vitaly Smirnov.
The reason given was that the IOC's action was "not directed against Russian athletes, Russian sports officials or Russian sports organisations, that are not participating in the breach of the Olympic Truce by the Russian Government," insidethegames was told, that website also reporting: "The IOC recommendation was made to ensure the fairness and integrity of sports competitions and the safety of all the participants. The sanctions suggested exclusively address the Russian Government, with the prohibition of any national Russian symbols."
The trouble with that, as has become patently clear through coverage trawling back through 20 years of catastrophic cosiness between Russia, Putin and related officials in Olympic sport, is that all in Russian sport are – whether they like it or not, whether coercion is involved or not – linked to Putin's propaganda machine. Like it or not, they risk being used in ways similar to the parading of athletes at the Putin rally in Moscow last week, Z symbols on their jackets despite the fact that they are Olympic athletes. In such scenarios, there is no way to tell who is there of their own free will and who is being oppressed.
Isinbayeva fought hard to have all Russians allowed into the Rio 2016 Olympic Games despite a whole-nation ban for systematic doping and related data manipulation. Her role in the military has been highlighted as the example that makes the IOC stance unsustainable.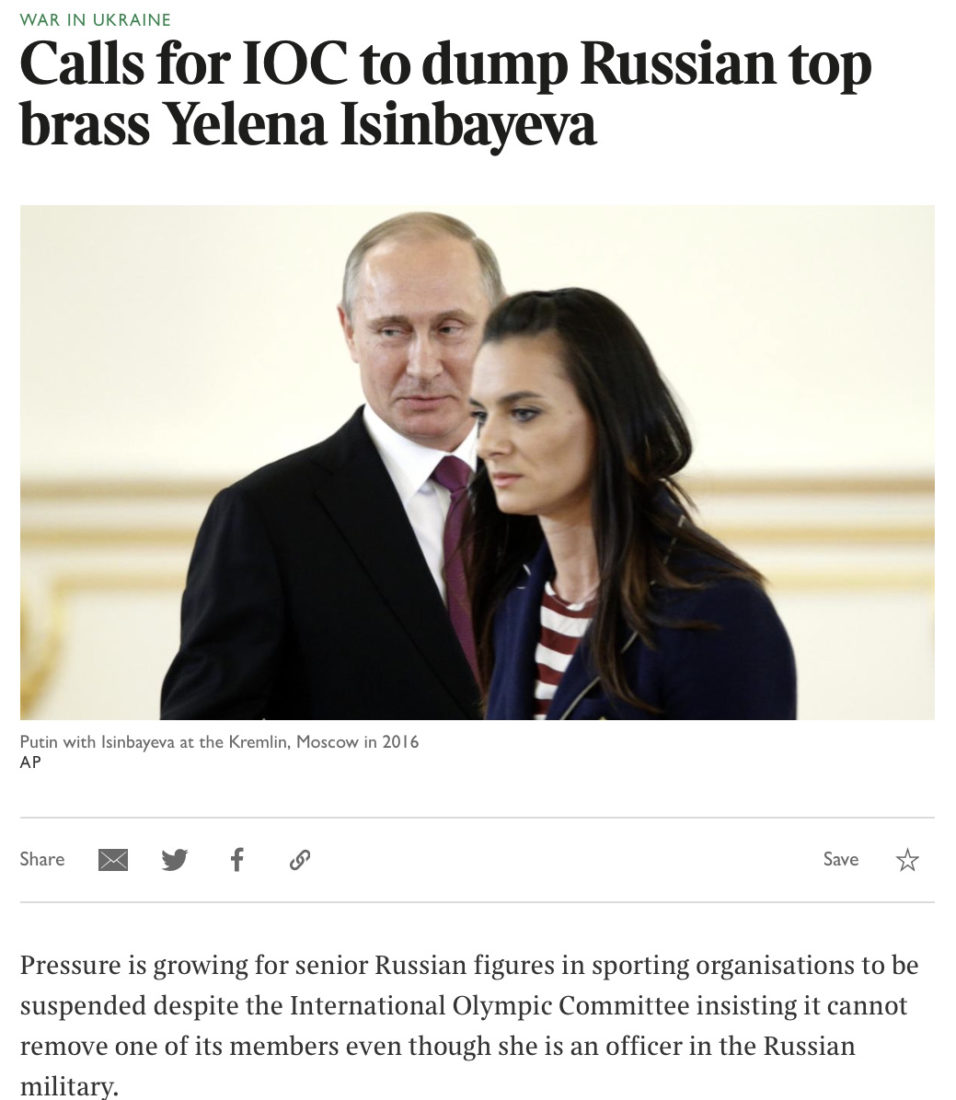 Yelena Isinbayeva, 39, a double Olympic pole vault medallist who has been an IOC member since 2016 is a close associate of Vladimir Putin – two years ago she was given a leading role by the Russian president in rewriting the country's constitution. She is also a long-serving officer in the Russian army and has been an ambassador for the country at the world military games….

Jonathan Taylor QC, of British law firm Bird and Bird, is an eminent sports lawyer who has been advising several international governing bodies to impose bans now and worry about the rulebook later.

Taylor told The Sunday Times: "You can argue that sport should remain apolitical in every case, because otherwise it will be dragged into controversies it would much prefer to avoid. But those who think that sport and politics can be kept completely separate are kidding themselves. Putin derives great political capital from Russia's participation and success in international sport.

Martyn Ziegler, The Times – image, screenshot of The Times article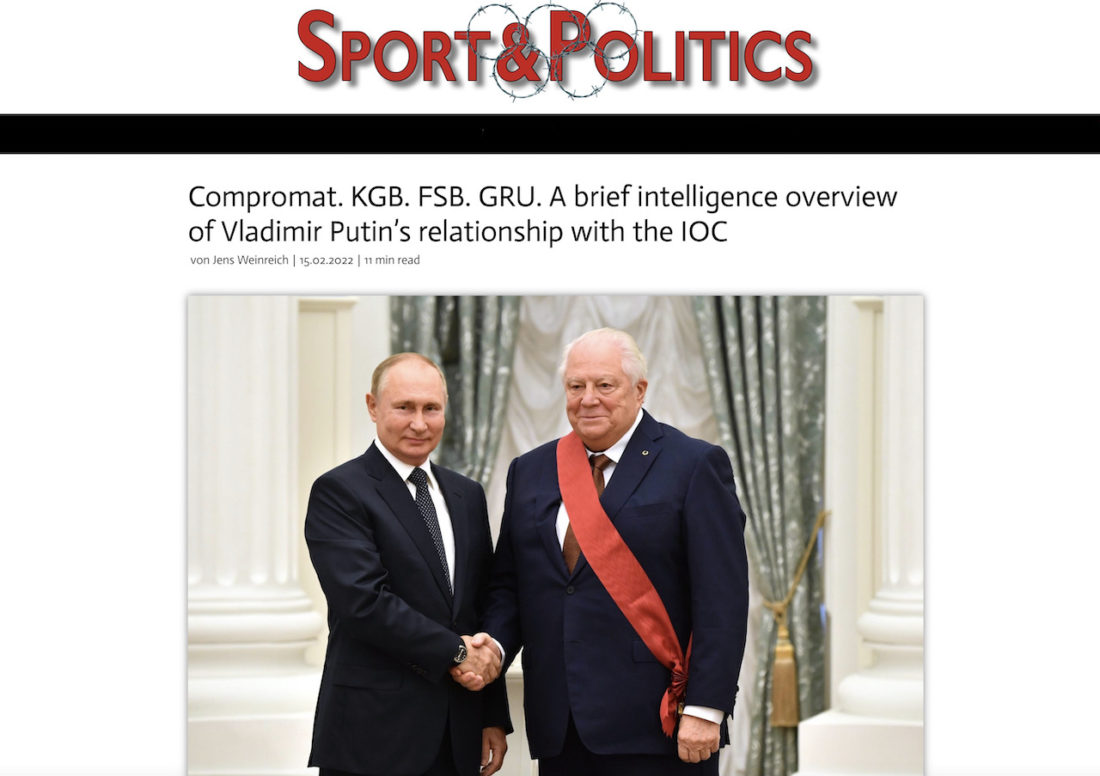 Underpinning that is what investigative journalists such as Jens Weinreich note: there is no way of separating IOC members from Russia with Putin's machinery and mission. That is the primary reason cited for whole-nation suspension that extends to all athletes and officials, including IOC members.
The FINA decisions come in the wake of a request from Ukraine for Russians and Belarusians to be barred from all events.
SOS last weekend called for Russians and Belarusians to be barred from all events and for FINA to sever all remaining ties with Russia.
FINA still faces questions over events such as the World Cups and the status of the Kazan FINA Development Centre, the status assigned in the wake of Putin receiving the FINA Order, a prize the warring Russian president was recently stripped of.
There was widespread support for the FINA decisions around the world of swimming. Jack Buckner, CEO of British Swimming, the first member federation to announce that it would boycott the winter showcase if it remained in Kazan, said: "We fully support this latest decision by FINA and are pleased this step has been taken, in line with our stance on the ongoing crisis in Ukraine and the unwarranted invasion by the Russian leadership, supported by the leadership in Belarus. British Swimming remains in solidarity with the people, athletes and aquatics family of Ukraine."
The FINA Statement On Russians and Belarusians
LAUSANNE (Switzerland) – Further to the FINA Bureau's decision on 8 March 2022 and the new measures at its disposal to exclude Russian and Belarusian athletes and officials from FINA competitions, and following the review of an independent risk assessment, the FINA Bureau met today and confirmed that athletes and officials from Russia and Belarus will not take part in the upcoming 19th FINA World Championships Budapest 2022.
Following these decisions, FINA was informed by the Russian Swimming Federation of the withdrawal of all Russian aquatics athletes from all FINA events for the rest of this year.
FINA also previously removed a number of aquatics events scheduled for Russia. Today, the FINA Bureau also decided to remove the hosting of the FINA Swimming World Championships (25M) 2022 from Kazan (RUS). The scheduled dates of 17-22 December 2022 will be maintained, and FINA is currently in discussions with potential hosts to take over the event.
Separately, the FINA Executive confirmed that the FINA Disciplinary Panel has opened a procedure against Russian swimmer Evgeny Rylov for a potential violation of the FINA rules following his alleged participation in a pro-war rally at the Luzhniki Stadium in Moscow. The FINA Executive has requested that the Panel's proceedings be expedited.
FINA maintains its strongest condemnation of the Russian invasion of Ukraine. FINA also wishes to reiterate its commitment to supporting the Ukraine Swimming, Diving and Artistic Swimming Federation as they prepare for upcoming competitions.