Why Brittney Griner Jailing Is A Duma-Slam-Dunk In Favour Of Locking Russia Out Of World Sport For Years To Come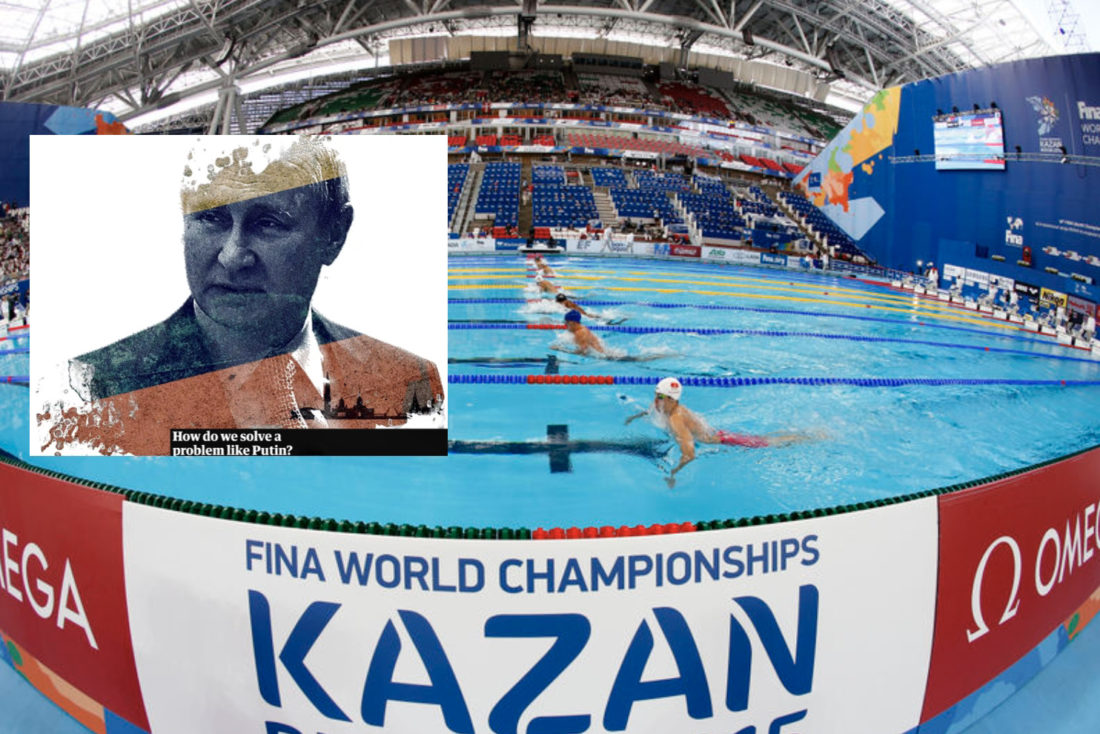 Editorial – Brittney Griner, a big name in sport, messed up – and admitted it – but in a politically charged atmosphere and a Russia in the grip of a Goebbels' mindset, the American basketball ace was found doing the wrong thing in the wrong place at the wrong time and is now in the place athletes have often unwittingly found themselves: a pawn in a game of extremely high-stakes political chess.
To any who ask 'what's that got to do with swimming', I urge you to pick up a copy of Edward de Bono's "The Use of Lateral Thinking" and do your cerebrum a favour. It's a no brainer.
Nine years in jail is the verdict of the Russian court as punishment for illegally bringing hashish-infused vape cartridges into the country. Fair? Well, in Putin's Russia, legal bigwigs think so, big kin sport or not. After all, you can go to jail for 15 years just for calling Putin's 'special operation' a war.
Hashish? Obviously a lesser crime than calling a spot of military manoeuvring to "denazify" your neighbour, the latest frenzy of a Führer, a war, the illegal invasion of a sovereign country, the murder of innocent citizens, the demolition of incalculable billions in infrastructure (several swimming pools and other sport venues in the mix), the destruction of an economy and all economies.
Winter is coming for the whole world as a result of the temper tantrum of the latest little Napoleon to pull his jack boots on. Any court would convict.
Nine years in jail for a foreign national carrying hashish-infused vape cartridges when financial penalty and deportation and a ban on reentry would surely have sent the required message on mistake and misjudgement.
Nine years. Ridiculous, as many a reaction concludes. Politically motivated, of course, by a Kremlin that has told its citizens that they have no freedom of speech, no freedom of expression, unless those expressions tick the boxes Putin and his goodfellas wedded to the bad they know they do. Sport, a place of friendship and peace. Putin: friend of sport, he is not; friend of friendship he is not; friend of peace, he is not.
How Now Russia As The An Important Player In Sport?
Griner is a player in an Olympic sport at the heart of a Movement run by an International Committee (IOC) that spent two decades schmoozing with Putin and noting at every available opportunity how "important" Russia was to world sport, even as Russian sport dragged its athletes through a swamp of systematic doping.
Schmoozing, political neutrality, autonomy of sport governance and a "politics = punishment, athlete" mantra all in one breath. It's enough to choke the fastest, highest, strongest in their beds at night.
The Griner case shows us what Russia really had in mind when it nodded sagely with the IOC time and crisis again and agreed that politics had no place in sport, that deals would be reached, arrangements made that suited both sides, RealPolitik and Sports Politik, a touch of Kompromat never too far away.
Every athlete a pawn: as we saw with Peng Shuai and China, as we saw in whole-nation boycotts that mean you Team Tchaikovsky can't fly a flag but in all other respects the show must go on.
Every athlete extends to double Olympic champion Evgeny Rylov: a public sector worker bussed into a stadium with a Z-for-war symbol on his sports kit and snapped smiling at a rally that made former friend and teammate at Energy Mykhailo Romanchuk want "to kill" him. We have no idea if Rylov wanted to be there, believes in war and murder or special operations or anything else. What we do know is that he's an athlete being used as a pawn by a man courted by Olympic sports for two decades but now, awkwardly, a murdering villain stripped of the Olympic Order and the FINA Order.
Griner's grim outlook is yet another reason why Russia under current Kremlin control has no place at Paris 2024; why FINA must cancel Kazan 2025 sooner not later and why Russian sports people must ask their politicians 'why', followed by "enough… this is not who we are".
Meanwhile, remember all those times Thomas Bach and chums at the International Olympic Committee sat with the "little rocket man" and his sister from North Korea, chinked glasses of bubbly with Putin, only took action on criminals in its ranks when the likes of Andrew Jennings and other journalists, when legal authorities in Switzerland and elsewhere joined the dots. That's sport for you.
Can't imagine these days, Herr Bach picking the phone up and saying 'Hello my dear old friend Vlad, how are you? Sorry about the Olympic Order; times must, you know how it is… now, about the basketball player… in the interests of neutrality, friendship, solidarity, peace and … Hello … Vlad, are you there…?".
All of that kind of stuff has been in pursuit of the Nobel Peace Prize (since at least 1955…), some suggest. How cynical – yet uncomfortably close to what feels like an all-too plausible explanation. The IOC, International Federations and the domestic federations that are represented and have a vote at all those bigger entities have a chance to make the future look distinctly unlike the the past.
Kazan Must Go, Putin's 'Services To Swimming' Now A Risk To Swimmers Worldwide As Pools Shut Their Doors
The FINA argument that it's too soon to make a call on Kazan 2025 World Championships, whether because of contracts, the good relationships it had with the folk of Kazan or any other reason holds no water. That is all the more the case when we consider the history of Kazan 2015 and the influence of Russia in the pool, one that led to good people being thrown under the bus in swimming for the sake of sports politicians pressing the flesh with the source of money and power in realms of sports-washing.
We recall the FINA Order given Putin by then president of FINA Julio Maglione and a couple of others bypassing the rulebook and reference to the opinions of the full ruling Bureau for the purpose of politics and self-interest. That's sport for you.
Grounds for granting the honour: "Services to swimming".
Excoriating in 2022, as Germany and other nations prepare to close the vast majority of their pools in the autumn as a result of Putin's war on Ukraine and the energy related economic woe that is inflicting on the world.
In sport, below world-class elite level, that means no club sessions, no school sessions, no learn-to-swim, a tragedy pending on the back of two years of pandemic lockdown.
As the Covid pandemic proved, swimming is a sport particularly vulnerable in times of crisis. The world has three on its hands at the same time: Covid is not over, northern winter is coming and the war on Ukraine, even if it all gets resolved by the end of this year (slim prospects), will reverberate in the lives of Ukrainians – and in other ways the citizens of Russia – for generations to come, and play out in all our lives one way or another.
And then there's the biggest crisis of all: climate change. Pick a sport, any sport, that would be more affected than others if the current trends continue in the wrong direction? Swimming. It's obvious to all but those who refuse to see.
Pools the world over are already closing on grounds of cost. They are, say their operators and the local politicians responsible for services, simply unsustainable. Some of that may be true, much of it may be a convenience. Whatever the truth, the very foundation of the sport of swimming is being shaken daily, the risk of more pool and club closures all too real.
What can swimming and swimmers do about it? Well, raise their voices, call on their leaders to acknowledge and act where they can, starting with the peak-iest peak in the pool, the next two World Championships: Doha, Qatar, looks set to go ahead in February 2022 but it should not, say waves of world-class swimmers and coaches (AKA, the stars, revenue-generators and stakeholders); Kazan, Russia, is set to go ahead in 2025 but it should not.
Both those events belong, in ways similar and specific, to the old way of doing things.
At a time of reform and under prevailing circumstances and the crisis swimming faces, integrity and the best interests of athletes, elite and all the streams they came from where the next wave awaits as long as there is water to swim in, can only be served if leadership finds a way to do the right thing, no matter how difficult it may be.
Time to cancel Kazan and Russia as a host of anything, given the damage former FINA-Order honouree Putin has done, to Ukraine, the world and in specific context, swimming; tell Doha it must move its event or be cancelled too so that a new host can be found for 2025.