Duncan Scott Vs Dean Part II – 200 Medley Gold To Scotland, Silver To England, As Sparring Partners Set Records For Biggest Medals Hauls For Their Home Nations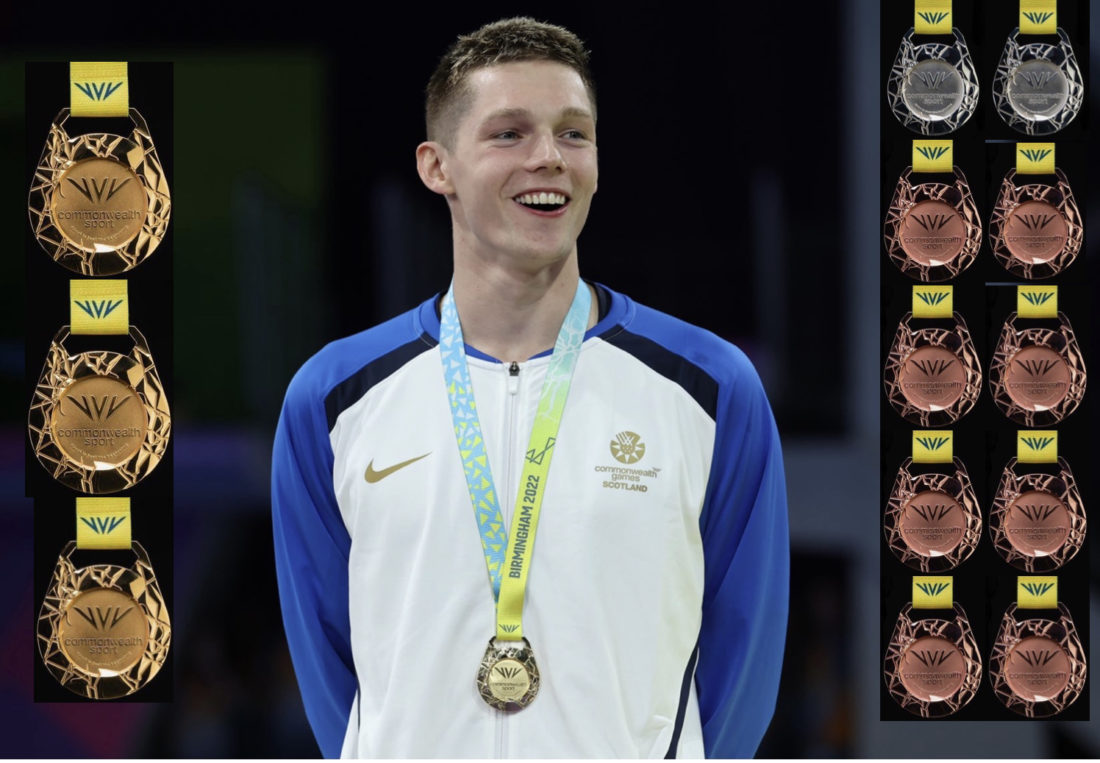 Duncan Scott Vs Tom Dean in rival home-nation camps over 200m Part II: the blue corner takes it over the red corner once more at the Birmingham Commonwealth Games, this time in a medley mash between Great Britain sparring partners and mates punching for Scotland and England.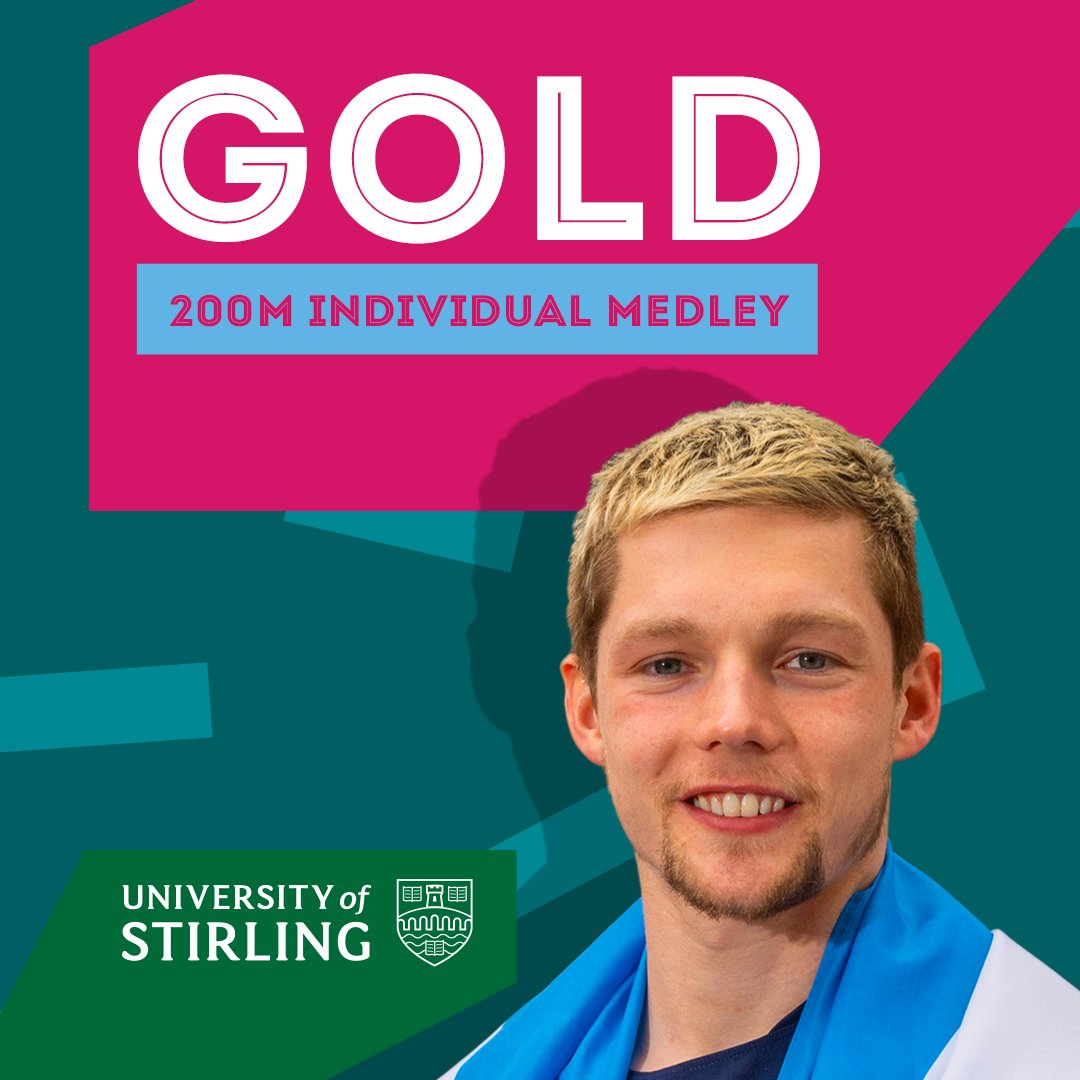 It was another blistering battle. Scott, the Olympic silver medallist in Tokyo last year, took the title in a Game record of 1:56.88, 0.13sec ahead of Dean, who in Scott's absence at World Championships last month made his major senior 200IM debut with fifth place just 0.5sec shy of the podium as the first Commonwealth swimmer home.
The bronze went to 400m medley and 200m butterfly champion in Birmingham, Lewis Clareburt, of New Zealand, on 1:57.59. As it was in Budapest last month, Dean's result reflects the relative weakness of his backstroke: if he can step that up, he's a major title contender at global level.
The Birmingham 200m medley mash:
25.52; 54.60; 1:28.90; 1:56.88 (27.98) GR – Scott SCO GR
25.44; 56.59; 1:29.56; 1:57.01 (27.45) Dean ENG
25.30; 55.12; 1:29.44; 1:57.59 (28.15) Clareburt NZL
The Commonwealth Games Federation indicated on social media that Scott now had five golds at the Commonwealth Games. It is two in Birmingham and one at the Gold Coast Games. Still, the video is the point:
The result granted both Brits a place in the Commonwealth history books of their respective nations:
Scott, with 12 podiums topped by three golds, is now the biggest hauler of Commonwealth medals all-time, all sports, for Scotland;
Dean's sixth silver in six days of finals drew him level with Brian Brinkley (1974) as the biggest hauler of medals at a single Games for England in the pool.
Assuming all goes to form guide and there are no upsets by the time the 4x100m medley relays bring the Commonwealth competition in the pool to a close this evening (update to come), Scott is likely to have a tally of 13 medals topped by three gold, while Dean is likely to have collected seven medals in all, an English swimming record.
Update: it did go well, gold for England and, the other side of Australia, bronze for Scotland.
In victory, Scott became the third Scot to claim the 200m medley crown, after David Wilkie in 1974 and Gregor Tait in 2006. James Goddard remains the only English winner of the title, from 2010, Dean becoming the fifth Englishman to take since since 1970 when the event was introduced to the Games program, among them Brian Brinkley, whose record medals haul for England Dean matched today with one race to go (see below).
The tallies are heavy on freestyle and freestyle relay successes but medley has started to creep into the senior, steely ambitions of both men in the past couple of seasons, Scott counting Olympic silver among his treasure.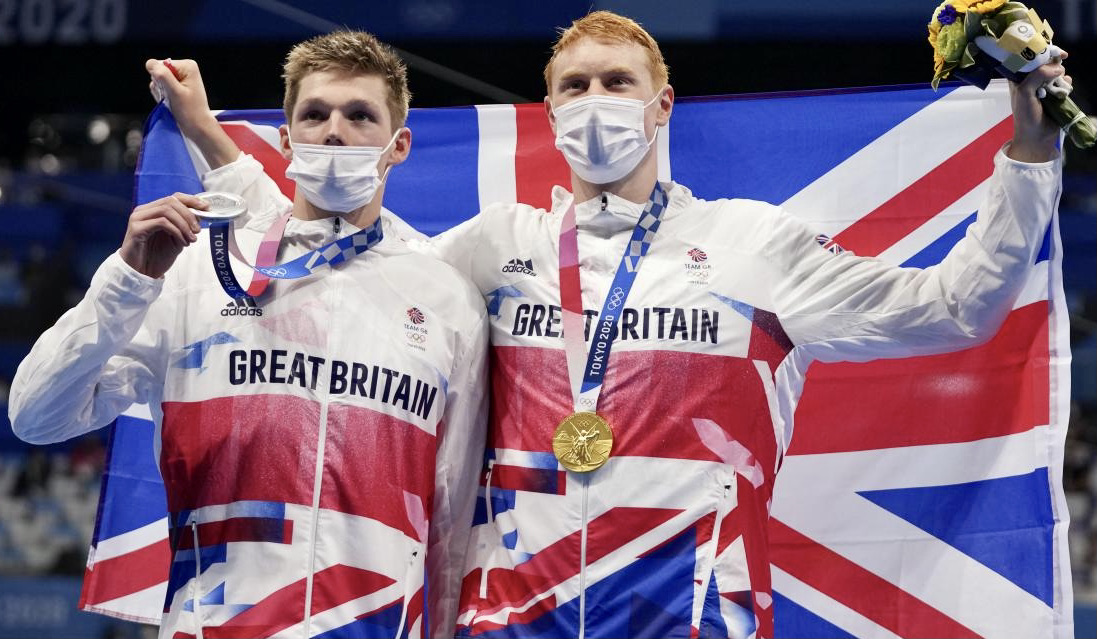 Medal-Haul Records & A Medley Mission A Long Time Coming
Both Scott, coached by Steven Tigg at Stirling after Elaine Johnston at Strathallan in development years, and Dean, coached by Dave McNulty at Bath after Paul Lloyd at Maidenhead in development years, were excellent medley and all-round swimmers across a range of distances in their youth.
Their bright prospects on strokes beyond freestyle was parked in pursuit of relay berths as a way on to their first international teams.
For Scott, that meant a first Commonwealth medal at a home Glasgow 2014 Commonwealth Games in the 4x200m freestyle, a silver with Scottish mates that opened an account that today reached the top of the ranking of all-time, all-sports Scottish medal hauls at the Commonwealth Games, on gold standard and overall.
Between 1974 and 1994, Alister Allan, a Scottish shooter, notched up 10 medals, three of them gold. Scott overtook Allan's all-time record count when he claimed bronze with mates in the 4x200m freestyle relay on Monday. Today, he matched Allan's three golds by adding victory in the 200m medley to triumph in the 200m freestyle last Friday and over 100m freestyle at the Gold Coast Games in 2018.
Dean is set to end the day with a tally of medals from his debut Games that exceeds the six medals claimed by Brian Brinkley at the 1974 Games Gold – 200m butterfly; Silvers – 200m and 400m medley, 4x200m freestyle; Bronzes – 4x100m freestyle, 4×100 m medley.
Dean clocked 1:56.77 for fifth place in Budapest last month when the World title went to Frenchman Léon Marchand in a national record of 1:55.22, just shy of Scott's Olympic silver-medal winning 1:55.16 from Tokyo.
The bronze on that occasion went to Japan's veteran medley and multiple World champion Daiya Seto in 1:56.22. Scott will not race at Rome European Championships from next week but Dean will, another test with Marchand imminent.
Backstroke is where Dean struggles to rise to golden-contender at global level. He knows it, telling SOS in reply to a question about his backstroke: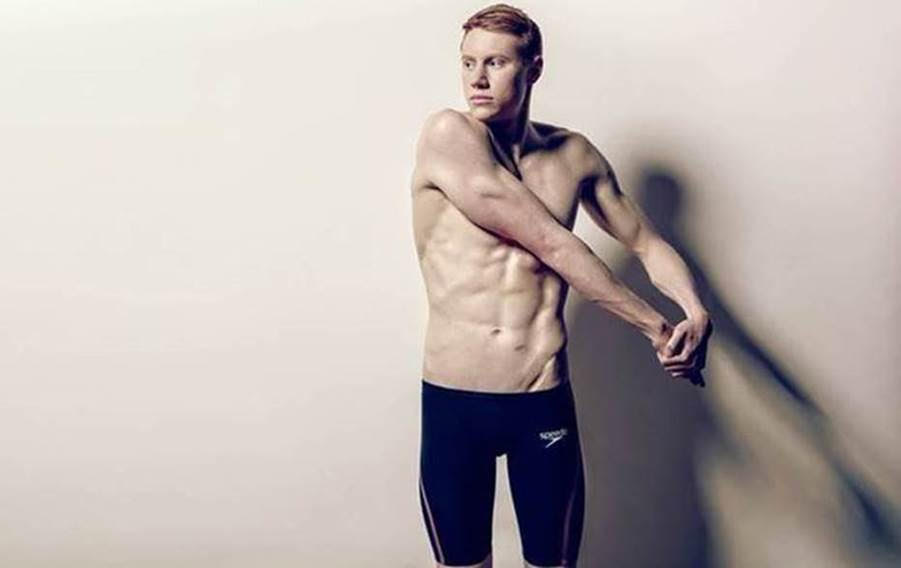 "Budapest was really exciting. Fifth in the world … just a real brilliant surprise and something I'm really excited about. You're spot on with the backstroke, it's been the bane of my life since I was 10 years old and it's something that I'm now looking to improve.

"It's something that I feel like I could work on, there are easy gains to be made there. You know, when you don't train an event, you just kind of go into it with no expectations. There are so many easy gains to be made. Technically, tactically, pushing the back through more, for example.

"In the 200 freestyle, I can gauge it to within half a second of every single split: I know how it feels and and I know how I need to execute the race. On medley there's huge gains to be made on the backstroke. Look at Duncan's progression over the last, say, three to four years. He bought into it and really kind of mastered and been able to fine-tune it.

"I feel like I'm capable of at least following in those footsteps and trying to progress and move the events and like he has and down from 1:56 territory to being a 1:55 swimmer in the years to come.

Tom Dean – Photo: Tom Dean, courtesy of his sponsor, Speedo
Might he turn to the backstroke aces on the Britain team, the likes of Luke Greenbank and Brodie Williams, for some tips? "It's funny," he replied. "My little brother in Maidenhead at the local swimming club where I came from is just the same. His backstroke's the weakest stroke as well. Same with my older sister and brother as well, I think its genetic: we're just not made for it! It's something that just needs some work, I think: it needs a base of backstroke training putting into my regime."
When Medley Got Parked In Favour Of Senior Selection For Scott & Dean
In July 2014, at the 2014 European Junior Championships, Scott claimed gold medals in the 200m medley and 4x100m freestyle and bronze in the 4×200, his place on the Scotland team for Glasgow 2014 Commonwealths assured. At a home Games, Scotland claimed silver in the 4x200m free before Scott returned to the junior ranks to claim gold in the 4x100m freestyle, with Luke Greenbank, Miles Munro, and Martyn Walton, and the 2014 Youth Olympics in Nanjing.
On a year and we find Scott scooping up three gold and three silver medals at the European Games in Baku (doubling as European Junior Championships that year), medley no longer a part of the program as he claimed golds in the 100 and 200m free, and 4x100m free, and silvers in the 4x200m, the new 4x100m mixed freestyle and the boys' 4x100m medley, with Greenbank, Charlie Attwood and Walton.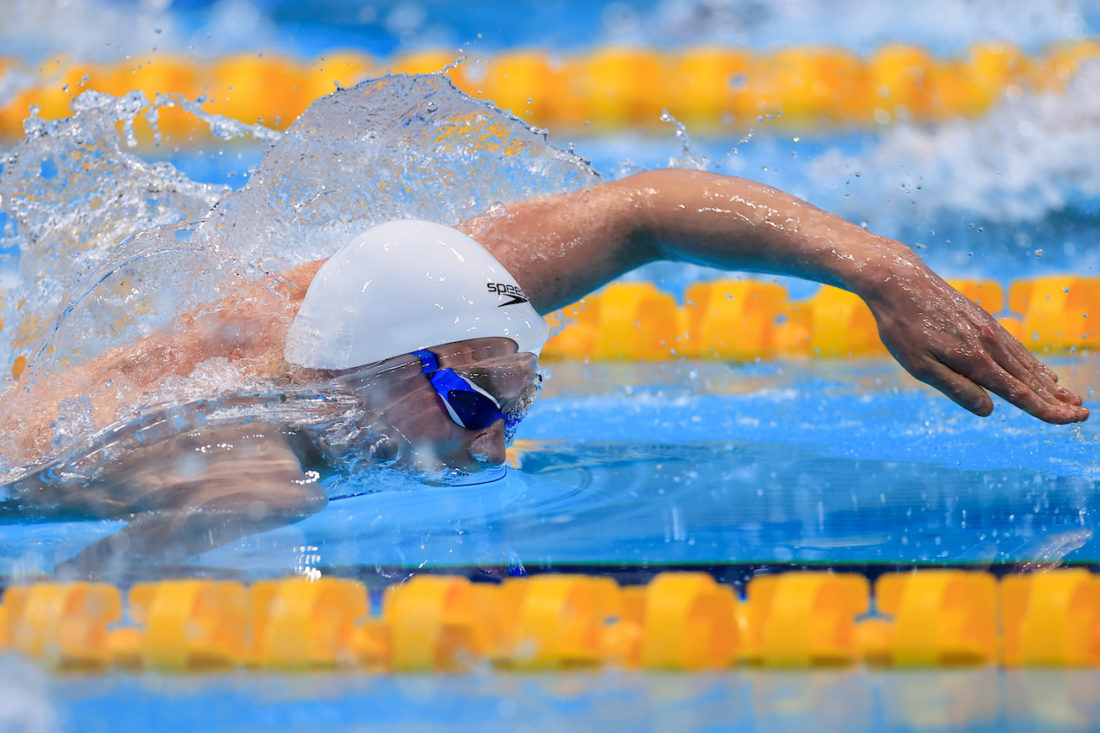 All in all, it was springtime in a career gathering momentum.
More on his development years with coach Elaine Johnston, Scott's take on what is described as his "obsessive nature", and his work with coach Steve Tigg:
The Odyssey & Excellence Of Duncan Scott & Why He's Still Revisiting Every Race Two Weeks After Awe-Of-Four Olympic Triumph
From Autumn 2021:
Medley Mission For Scott & Tigg On The Way To Paris 2024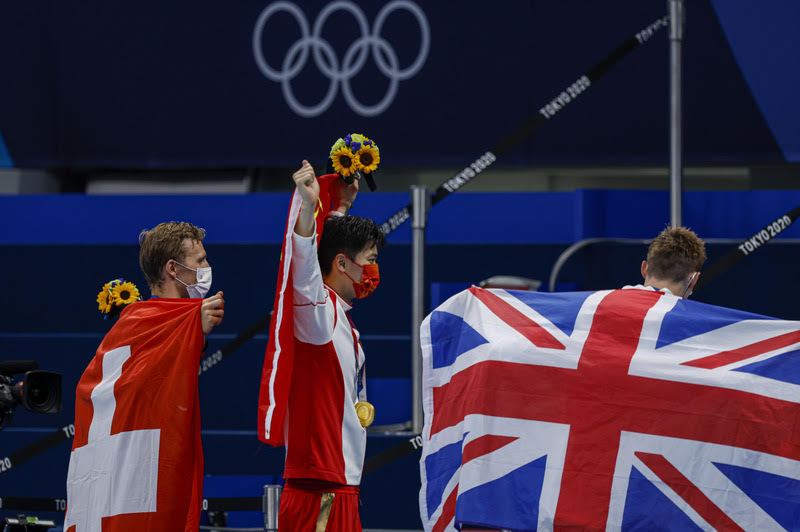 Of all Scott's outstanding performances in Tokyo, the 200m medley stood out for the promise it holds on the way to Paris 2024.
In what was only his second 200m medley final at global level racing in company that had rehearsed the moment dozens of times down the years, Scott took silver in a Commonwealth record of 1:55.28 behind the Asian Record of 1:55.00 set by China's Wang Shun, the third fastest ever adrift Americans Ryan Lochte (1:54.00) and Michael Phelps (1:54.16), who a decade ago set a standard that no-one has come close to since.
Wang brought deeper experience to the medley final than his closest rival. Where Scott was a relative novice of the event, having scraped inside 1min 58 only three years ago, Wang had raced 1:56s at the 2013, aged 19, 2015, 2017 and 2019 World Championships. The pre-final favourite was Michael Andrew, of the USA: his form deserted him on the last length and he fell from first to out of contention on freestyle.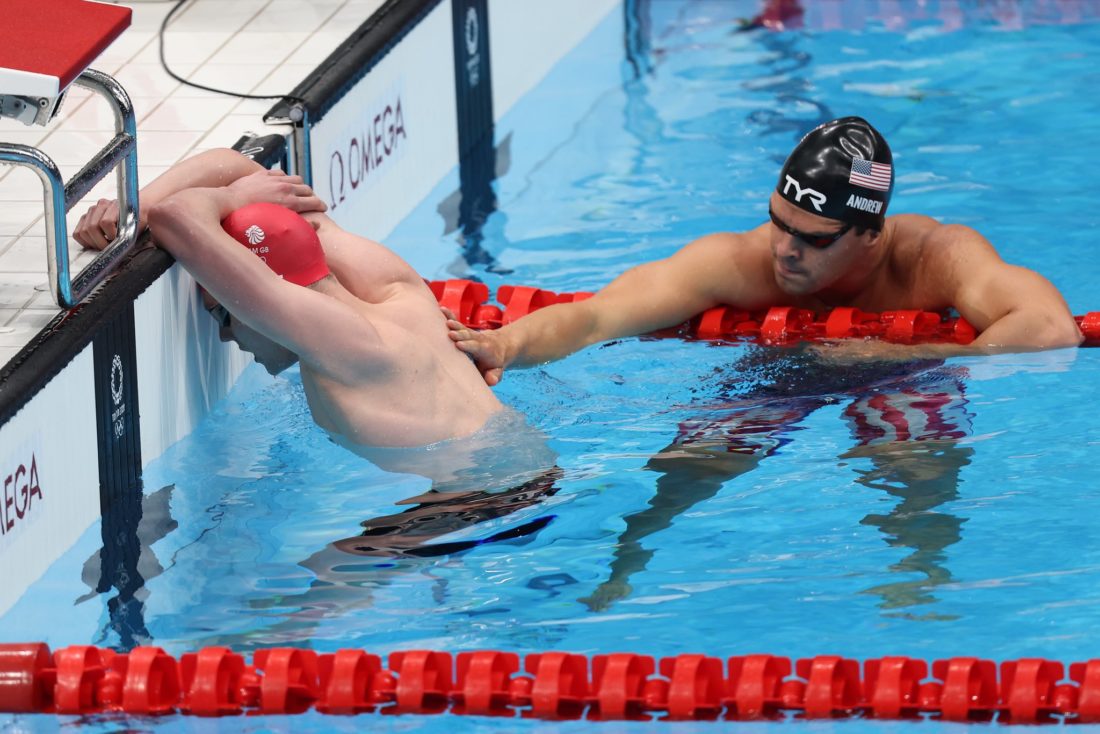 The image to the right tells a tale of two men: on the left is Scott, coming to terms with another silver in another race that produced one of the top 10 tightest battles for gold in the Tokyo pool; on the right is Andrew, who's choices in the land of the free were somehow challenging enough for vast column inches to be devoted to his "selfishness" (no Covid jab, for instance), which did not manifest itself when the athlete spoke, when he praised others and had kind words to say about teammates, when he reached out in the way shown below at the very moment you might imagine he would have been the one with head on pad, mind racing, teeth gritted. Both stances below speak volumes, not just for the men in the shot but team culture and the need for that to recognise difference and find ways of embracing it for the good of all. It was odd in Tokyo to find Americans making some classic errors more commonly seen among rivals they've long had a significant edge on.
The world is learning and the likes of Scott and Dean have been fortunate to race at a time when the right people were waiting in the rights wings at the right time: from mums and dads through to coaches and sports scientists.
Scott, for example has been fortunate to work with coaches Monica Borland, Elaine Johnston, a pivotal guide at Strathallyn, Andrew Buchanan and Olly Logan, with the long-term support of them all, Tigg, the school and the University of Stirling. That's what Team looks like.
Meanwhile, it is obvious why Scott has long been seen as a freestyle sprinter, reasons including: European 200m champion and Commonwealth 100m champion in 2018 ahead of 2016 Olympic champion Kyle Chalmers, of Australia, Scott broke American hearts at 2019 World Championships when he swept past 2012 100m Olympic champion Nathan Adrian with the fastest 100m split ever by a man in a textile suit, 46.1, to deliver an historic gold for Britain in the 4x100m medley relay.
Tokyo has cast Scott in a new light, even within the sport that understood the potential in combining his versatility with his speed. He made a big 1.4sec drop in time since 2019 to claim Olympic silver in Tokyo but notes how the lack of any peak-form competition in COVID-19 2020 masked the progress being made by many in the sport on the way to a delayed Games.
Down the last length, on freestyle, in Tokyo, Wang fended off Scott with a split of 27.37sec to 27.46. Only Phelps, with a 27.36 chasing down Lochte and his World record win in 2011 has ever been faster. It was an astonishing finish for a man who would not live with Scott in a straight freestyle race.
"It could have just been the occasion," says Scott, who understands what it means to rise to new heights when it most counts. "It was a great swim."
Snap for Scott, who seeks rest but already feels a pang of hunger because he knows there's more he can give.
"The Disciplined Pursuit of Less"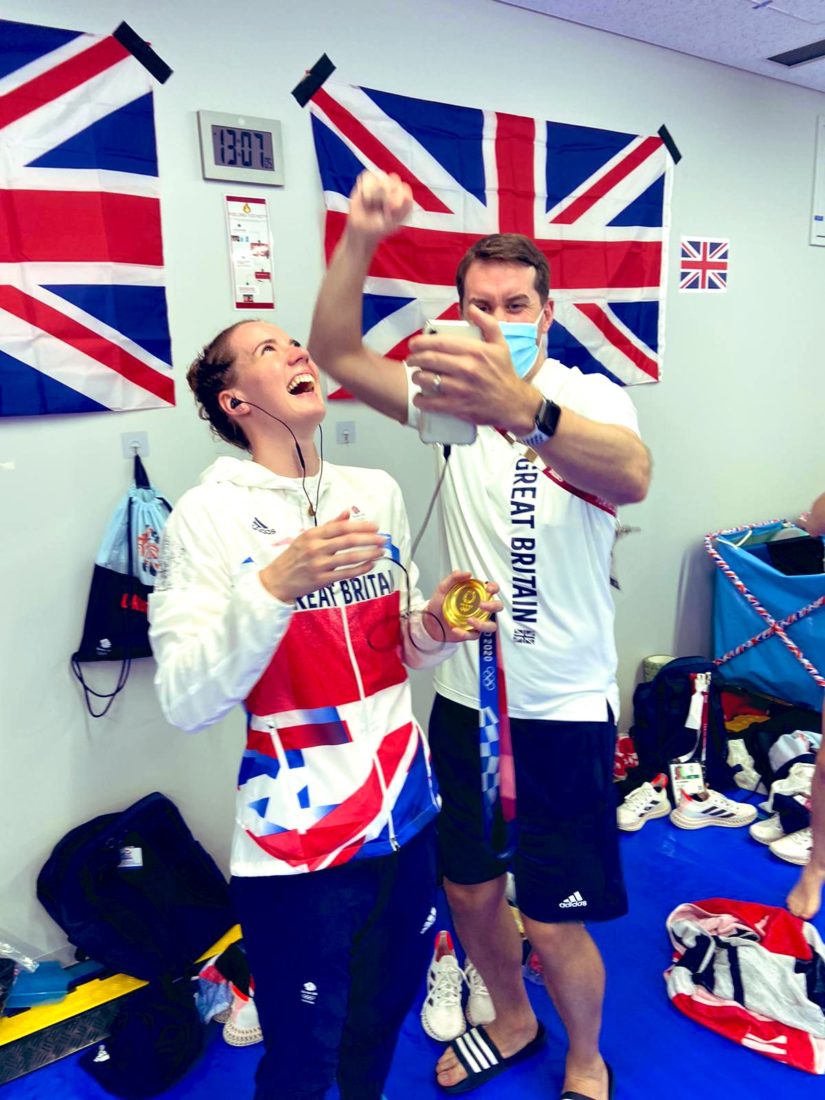 Scott loves to analyse race videos and split in search of the weak link he will then take a soldering iron to in training. Tumbling through the race time and again since Tokyo, had he seen the joints he might reinforce?
"Definitely," says Scott. "The 200 IM I'm relatively inexperienced which can sometimes play to my advantage a little bit. I don't yet understand each stroke to its entirety yet." Meaning: he sees "exciting" room for improvement that could take him into the rapids only ever reached by Lochte and Phelps.
Scott cites breaststroke as having had the "biggest impact" on the gains he's made since finishing fifth at the World Championships in his first global 200m medley final in 2019. Now, he says: "Watching it back, I can get a bit quicker on the 'fly … and on backstroke; that can be 0.5, 0.6 quicker going out [first 100m]."
Easier said than done at that blistering pace but Scott is not a man who says what he doesn't believe he can do. "If I can keep the back end [last 100m] the same, because there's not really much that needs to change. There's gains to be made on the front end of the race in skills and the intensity of it as well. Medley is definitely going to be a key element of the next cycle, which I'm really looking forward to."
You might conclude that he's singing from the same hymn sheet as Tigg, who says:
"We know the first half of the race could be slightly faster looking at historical splits: 'fly 24.9 2019, back, 29.0, 2021 Trials. So identifying how to piece those together without compromising the breaststroke and freestyle will be something to explore. We also learned working with Olly Logan (Biomechanist) that Duncan's skill elements can be tidied up some more. There was some great work done on this since 2019 Worlds, with room for further development. It's also just such a new event, at this level, that confidence can lead to new found race craft + execution!

"The biggest challenge to Paris is setting the correct 'pace'; there's no rush, we need to keep doing the simple things consistently well and whilst keeping an open mind not being drawn to some of the shiny pennies that can detract from the pursuit of improvement. The Disciplined Pursuit of Less I like to call it . He is in a great place as an athlete and a person, he's only 24 chronologically, biologically I believe and from what we can tell, a lot younger, so he's still not at his peak physically."

Steve Tigg – photo – Adam Peaty (top) and Duncan Scott of Great Britain celebrate after gold ahead of the USA in the 4x100m Medley at 2019 World titles – by Patrick B. Kraemer
Roll on Paris 2024 – but not just yet. There's two years of slog ahead before the lights go on with the flame.
Where Tigg notes that "acceptance is a hard but important factor" in moving on from any result, Scott noted in the calm after the Tokyo storm last year: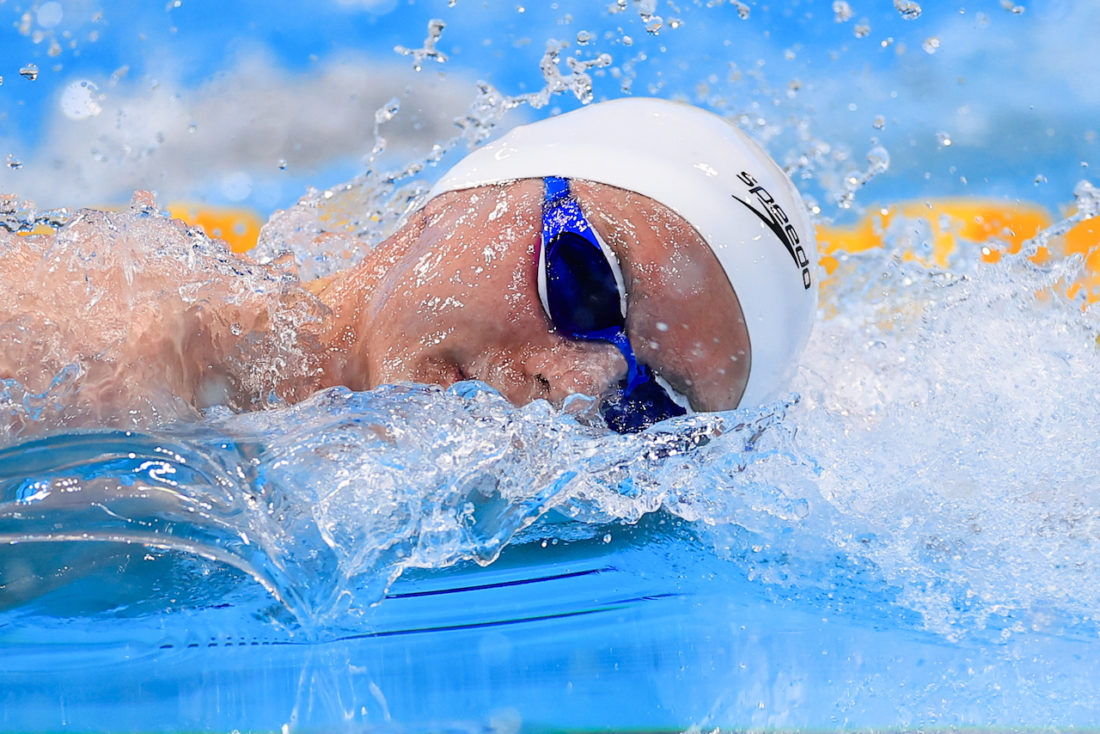 "Right now I need to find the balance of getting hungry and getting excited for the next cycle but then also chilling out and relaxing and having fully reflected on what's happened. Day by day it changes depending on which race I'm thinking about."

Duncan Scott – photo by Georgie Kerr, courtesy of British Swimming