M200IM – Wang Holds Off Scott & Desplanches With Puzzling Phelpsian Turn Of Speed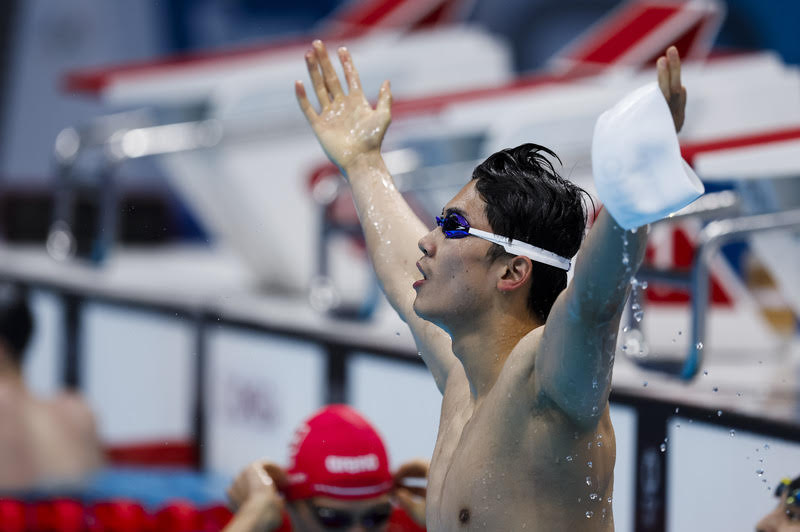 Tokyo 2020 Olympic Games, Men's 200m medley – Wang Shun claimed gold in an Asian record of 1:55.00 by putting together a 200m sum of parts that might have left those around him, as well as absent outer-orbiters, puzzled. Only the giants of the 200m medley duel, Americans Ryan Lochte and Michael Phelps, have ever swum faster.
The silver medal went to Great Britain's Duncan Scott in 1:55.28, Switzerland's Jeremy Desplanches taking an historic bronze in 1:56.17. That locked out Japan's 2019 World champion Daiya Seto (1:56.22), pre-Games favourite Michael Andrew (1:57.31), Japan's Olympic 400m champion of 2016 Kosuke Hagino (1:57.49) and Hungarian 35-year-old living legend and three-time Olympic silver medallist behind "The Alien" ( Phelps) at Beijing 2008, Laszlo Cseh (1:57.68), who edged out Kiwi Lewis Clareburt by 0.02.
Puzzled? How so? Let's start at the beginning of the meet: it may well have been a miscalculation of the same magnitude as that Seto lamented but Wang finished 10th in 400IM heats and missed the cut. He looked slightly overweight, a little bulkier than the lean swimmer we've come to know.
Those are interpretations that matter little but here are some facts that matter much:
Wang's best 200m free: 1:46.14 at 17. In the past 10 years, he has come no closer to than the 1:46.55 he clocked at China nationals this year. A decade of 1:46-1.48 swims.
Wang's fastest 100m freestyle is 49.47.
Duncan Scott's best 200m free: 1:44.28, at 24 for Olympic silver.
Scott's fastest 100m = 47.87
Down the last length of the 200m medley in Tokyo today, there were four men on mid-28s, one on 29+ and one on a 30.69, the latter reflecting the piano that fell on Michael Andrew's back after he reached the last turn a second ahead of Wang and 1.2 ahead of Scott before ending up 2.49 adrift gold and 2.77 shy of silver.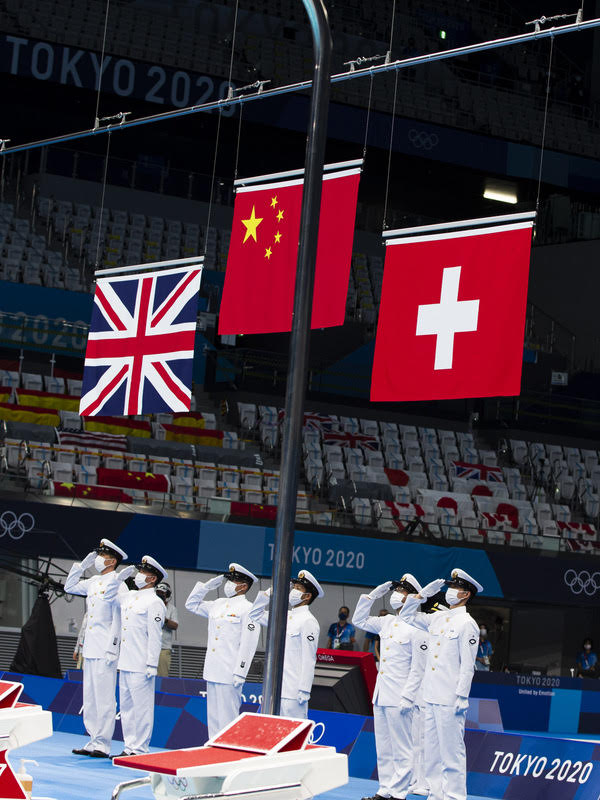 That leaves the top 2:
Wang – 27.37
Scott – 27.46
Then there are these all-time top two splits in a 200IM:
1:54.00 – 27.49 Lochte WR
1:54.16 – 27.36 Phelps, locked in battle with Lochte, World titles 2011
Tokyo 2020 in 2021
24.78 – 53.78 (29.00) 1:27.63 (33.85) 1:55.00 (27.37) Wang Gold
25.06 – 54.52 (29.46) 1:27.82 (33.30) 1:55.28 (27.46) Scott Silver
2019 World Championships
25.53 – 55.04 (29.51) 1:29.35 (34.31) 1:56.91 (27.56) Scott 5th
25.06 – 54.66 (29.60) 1:28.80 (34.14) 1:56.97 (28.17) Wang 6th
2017 World Championships
24.92 – 54.57 (29.65) 1:28.39 (33.82) 1:56.28 (27.89) Wang bronze
Improvements in stroke splits 2019-2021:
0.28; 0.60; 0.39; 0.8sec Wang – Total = 1.97
0.53; 0.05; 1.01; 0.1sec Scott – Total = 1.63
Patterns galore but I think many of you will have spotted the puzzle: how does a 1:46 200 freestyler finish a 200IM at the best pace ever of Phelps and Lochte (respective 200m free bests of 1:42.96 and 1:44.44) and, as a 49sec 100m swimmer also put in a faster split than a man capable of 47.8 and 1:44.2 over 100 and 200m free?
As the numbers show, both Wang and Scott, who was racing in only his third major international 200IM final and believes he's still learning the art, have improved some sections of their races more than others. For Scott, breaststroke draws the eye. For Wang? Backstroke and freestyle, where the splits are between 0.6 and 0.8 better than they were before the pandemic struck.
Whatever the answers, do it he did.
Andrew is learning too and we may see more from him down the line but here's what he said and a taste of what the debate is about in the U.S. He said: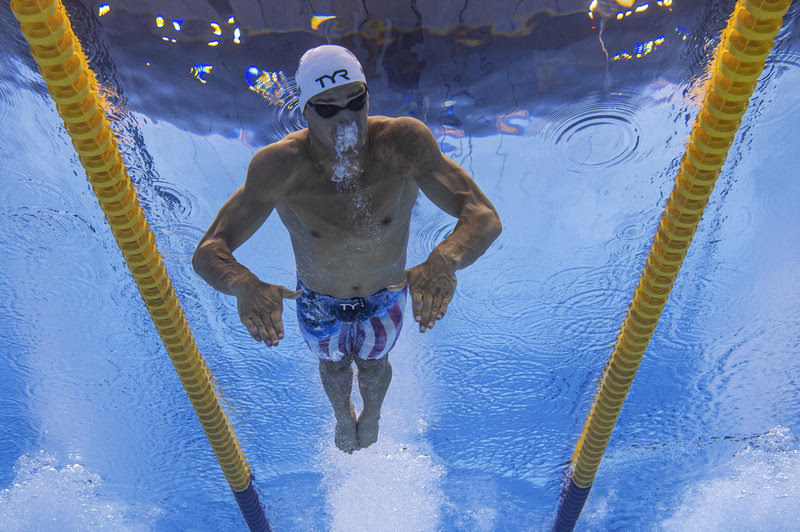 "It hurt really bad. think it hurt worse than it looked, and it looked pretty bad. It's just disappointing. Obviously we've been working really hard on that. But now we go back to the drawing board and we figure out what we can do three years from now, if I swim that event three years from now. It's one of those races where I knew I had to be fast to the 150."

Michael Andrew – by Patrick B. Kraemer
Andrew's last lap was painful, doing and watching. It has reignited the debate over the Ultra Short Race Pace Training (USRPT) conducted by Andrew approach. It certainly got him to the Olympics, among questions remaining 'but does it deliver the supreme fitness of the Phelps and Lochte kind' required to all but guarantee a win come the big hour? Or are we looking at something akin to Spitz's pathway from 1968 to 1972?
The Rio bronze medallist on 1:57.05, Wang said he had watched the women's 4x200m freestyle quartet and been inspired rio step up: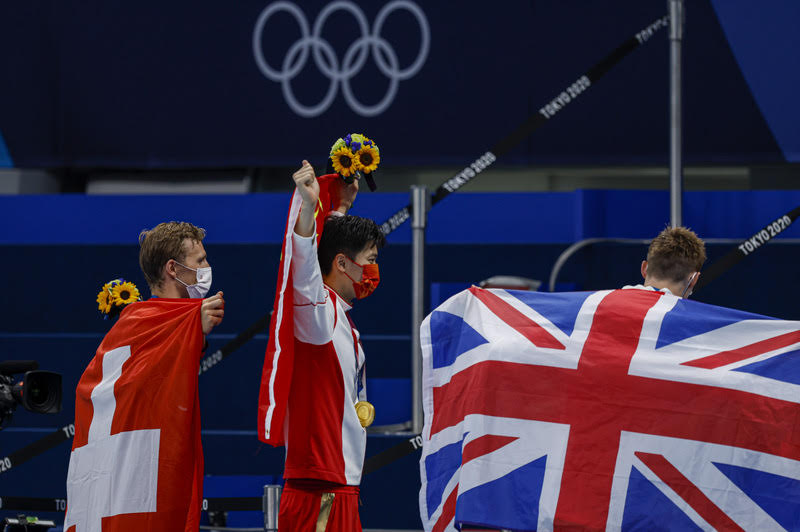 "The key lies in unity,. We have one single target and objective to achieve. Under such a structure, we have a lot of motivation to achieve this … I was only competing against myself. The opponent is me. No matter how others have performed, it shouldn't concern me. I just focus on myself."

Wang Shun, centre, Duncan Scott, right, and Jeremy Desplanches fly their flags – by Patrick B. Kraemer
That doesn't read the race quite as it once: Wang had his good breathing-side eye firmly fixed on Scott as he strove and dug for and then delivered the win.
Third after the butterfly leg, Wang moved into first on backstroke. Against Andrew and his blistering breaststroke pace, Wang dropped back to second on the third 50, only to blaze down the final length. He covered the last lap in 27.37, out-splitting the 27.46 of Scott, who is known for his finishing power. Scott's freestyle swept him from 5th top 2nd down the last length.
He wanted more than silver and mouthed at the scoreboard "F*** Off!" Three days after finishing second teammate Tom Dean in the 200m freestyle by just 0.04sec. Scott is only the second British swimmer to make the medals in any medley race, the first having been a former pupil of this author's late father (and my former training partner), Neil Cochran, who claimed bronze at Los Angeles 1984.
On silver not gold, Scott said: "Initially, I was just really gutted. The times at this meet, and in an Olympic final, almost go out the window for me. I haven't really had time to think about it a bit more and let it sink in. It's a massive personal best again. I've dropped over a second and a half in this event this year, and I'm still learning it a lot. But just not enough, again."
"I'm still learning a lot and, you know, it's my first real big final," added Scott, coached by Steven Tigg at the University of Stirling, one of Britain's three high performance swimming centres.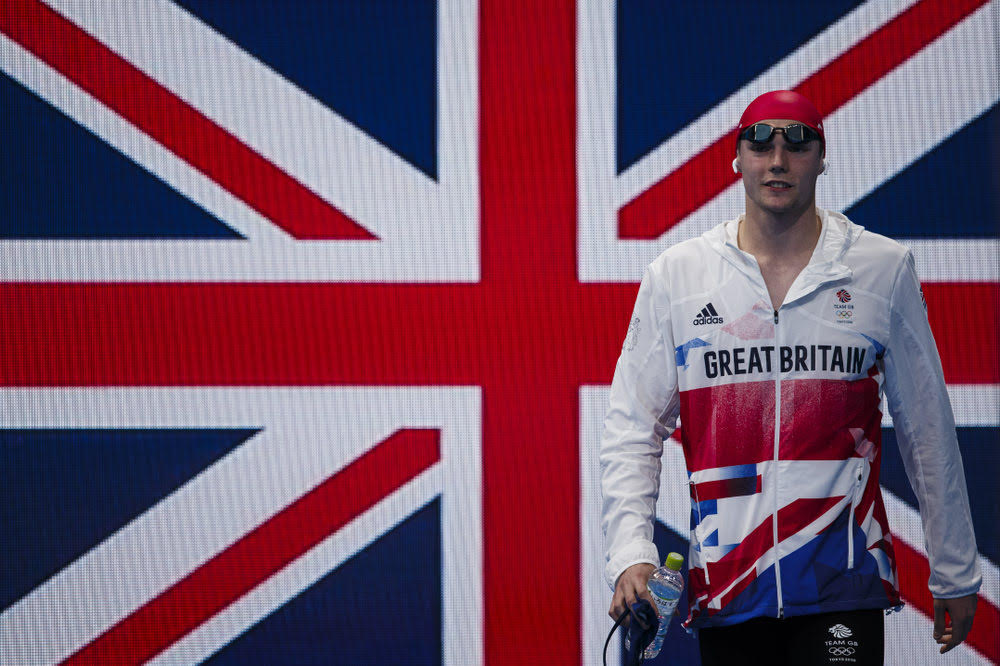 "I've done one Worlds and a Commonwealth final in this event and now this one. So, I'm still learning a lot. I'm happy. I think I can hold my head high. It was my best but just not enough, again."

Duncan Scott walks out for action – by Patrick B. Kraemer
After gold in the 4x200m freestyle and silver 0.04sec shy of his teammate Tom Dean in the 200m freestyle, Scott is on course to be a part of the best Games ever for Britain in the pool and to write new lines in TeamGB history as the biggest hauler of medals at a single Games.
If his gold and two silvers make him the first swimmer since Henry Taylor and three golds at London 1908 to claim three medals in the pool at one Games, a medal of any colour for Scott and Britain in the men's 4x100m medley relay on Sunday morning would make him the first British athlete in any sport to claim four medals at one Games.
Desplanches, meanwhile, is only the second Swiss man to earn an Olympic medal in the pool, after bronze for Étienne Dagon in the 200m breaststroke, also at LA 1984. Desplanches, who is based in Nice and is the partner of French freestyler Charlotte Bonnet, said:
"The last 50m I just gave everything I had — I gave more than I had, and I think I'm going to be sick for two weeks now. It is my first Olympic final and first Olympic medal, so I can say it's a good start."

Jeremy Desplanches – photo by Patrick B. Kraemer