The Odyssey & Excellence Of Duncan Scott & Why He's Still Revisiting Every Race Two Weeks After Awe-Of-Four Olympic Triumph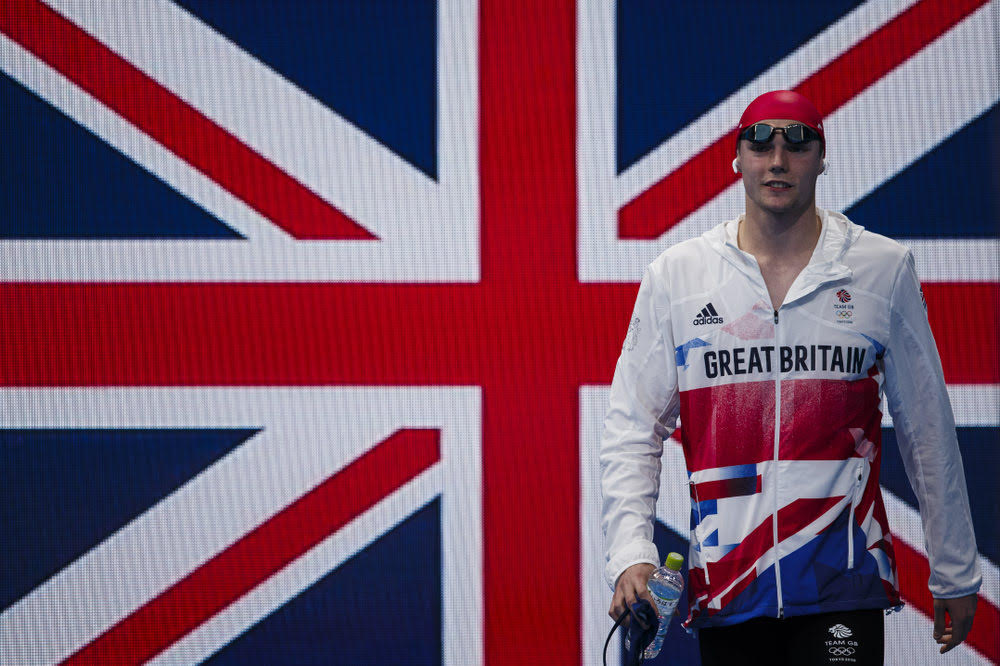 The Swim Sunday Essay – Duncan Scott is still racing, or at least his mind is. It's been two weeks since silver in the men's medley relay in Tokyo made the 24-year-old Britain's most decorated athlete ever at a single Olympics but he's re-swimming the rapids of four finals, four podiums, analysing, assessing, dissecting each in turn over and over again.
This article is part of the following editorial and glimpse into some of the unsung heroes behind the success stories of swimmers at the Tokyo 2020 Olympic Games, here through the lens of the winning Great Britain 4x200m freestyle relay
Each passing medal and milestone was "parked" during the Games, as Scott put it, so that he could focus on the next goal and test and "not get wrapped up in the highs and lows of emotion". He would reflect only when the last race was done.
Dusted the Games are not, Scott suggests as he looks in the rearview mirror in the manner of a man who's been driving through day and night, attention so keen for so long – he was eight when he wrote "to win the Olympic Games" in his first log book – that even when he rests his head on the pillow, the lights and lane lines keep streaming the playback of an unspoken "what I might have done better".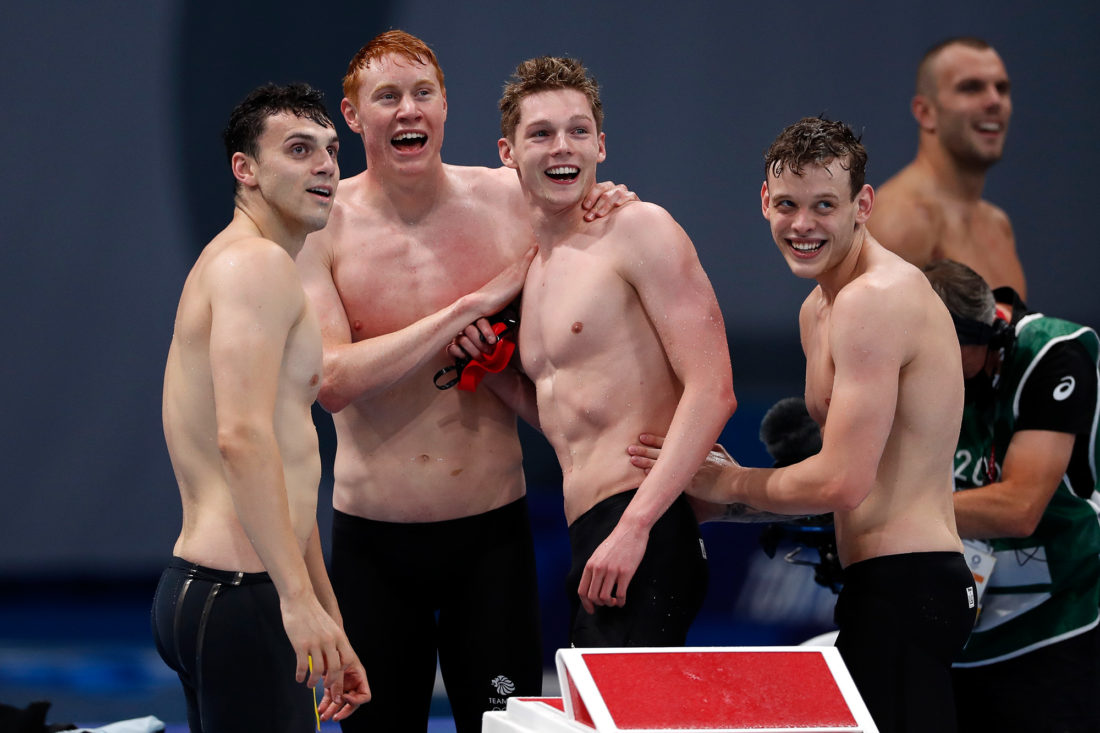 No result, not even the first 4x200m freestyle gold for Britain since 1908, escaping the sun and shade of Scott's self-critique, analysis, coming to terms and, ultimately, celebration of a monumental nine days of stepping up and delivering on the biggest occasion in the sport. Speaking to me for a Sunday Times feature, Scott says: "It's still been a little bit strange. Throughout the week [in Tokyo] there were mixed emotions with the way things went. The 200 free, for example…".
No mention, for none is required, of the excruciating 0.04sec deficit to teammate Tom Dean in the closest Olympic final over four lengths freestyle in history. Scott races on through a week he won't "park" in a hurry, perhaps never: " … being delighted for Deano and then also the 200 IM [medley] as well…".
It was silver again, the first of his Olympic career, this time, by 0.28sec. The second smallest margin of victory in the history of the 200m medley leads to imperfect gold: "The 4×2, buzzing with that but at the same time being so close to a world record …". In fact, it was the best unaided 4x200m ever seen, a "World Textile Best" with mates Dean, James Guy and Matt Richards, their time topped only by an American mark set back in 2009 in performance-enhancing bodysuits banned since January 1, 2010.
Scott's campaign ended with a fifth career silver, with Luke Greenbank, Adam Peaty and James Guy in the 4x100m medley in European-record time behind an American quartet setting a World record in the heat of hunger with an edge after the USA men had felt the pain of being the generation on whose watch a great tradition of having made every Olympic relay podium in history finally came to an end: there was no medal for TeamUSA in the 4x200m freestyle, while the inaugural 4x100m mixed medley podium included stars but no stripes.
"So, mixed emotions but I'm holding my head high," says Scott. "I swam a personal best in every final … I come away being really happy with my nine days of work."
Atop 16 years of toil and what others may see as obsession and sacrifice but not Scott the seasoned professional who understands just how far he's come and how well he's done but will always listen to the boy who had "a competitive instinct and an ability to be comfortable being head-to-head with another kid," and was "born to race with an in-built clock that ticked with immense talent", as Steven Tigg, head coach at the University of Stirling high-performance centre and academy, describes the early years that started when tadpole was 7 and teacher 21.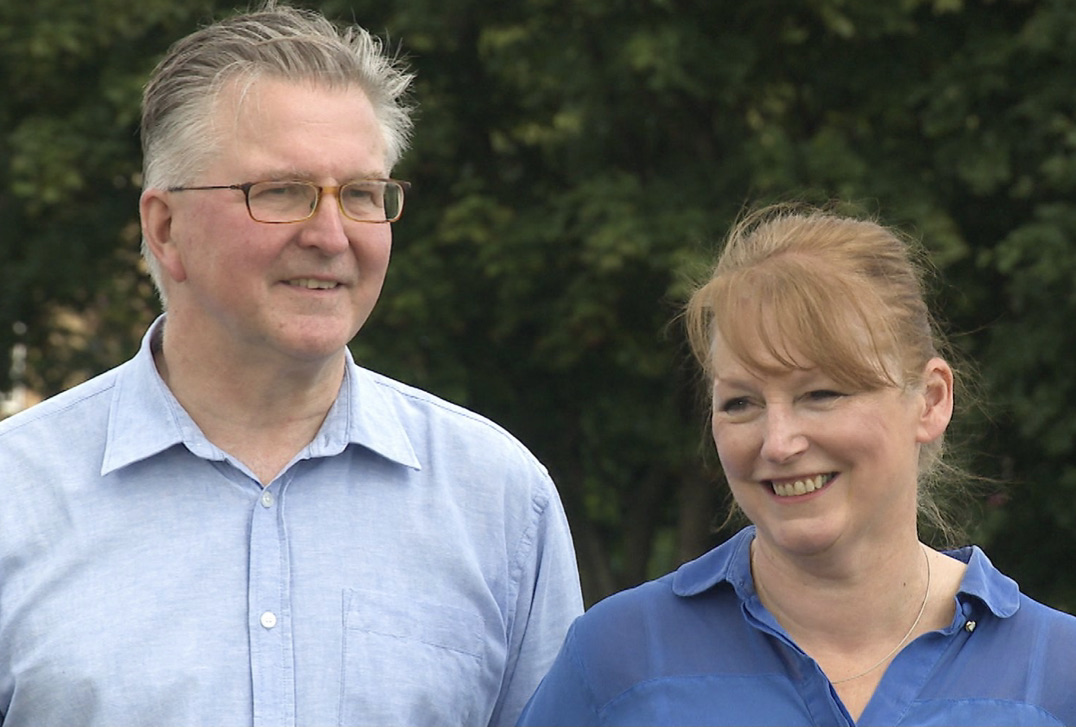 Tigg recommended to Scott's parents Nigel Scott and Joy McNaughton that their 8-year-old attend training twice a week not once.
"He was showing signs of special talent, always that little bit better than his peers and wanting to be better still. My job was trying to protect and nurture that," says Tigg, who would play Scott endless videos of Michael Phelps' "technical brilliance" to show the Scottish youngster how he might catch his own wave.
When Tigg took a job as regional coach and Scott needed a new swim home, the coach helped secure a scholarship to Strathallan School in Perth. They had a "good culture and a pretty ropey 25-yard pool", says Tigg, who set some test-set programs for Scott to follow under the supervision of coach Elaine Johnston, who guided Scott for seven of his formative, development years.
Tigg, at weekend camps and in holidays, and Johnston went out of their way to "create ways for me to race others in training", including Scott versus a whole relay of people, each bringing a fresh speed challenge as he turned and tired lap after lap. In his later years at the school, when he was a league beyond the rest but still found challenge and camaraderie in those around him in Johnston's program, Scott's serious pace partner was the clock. 
"He was often working alone for 10-12 hours a week in the pool and was a little bit within himself," Tigg recalls. "He often trained against the clock. I would give him a time to hit in sets and he'd do it. So I gave him another time 2sec faster on a 200 and he'd hit that, too."
Scott remembers those times but reaches first for a different perspective when I include the word "lonely" and in my question and refer to the fact that the bulk of a swimmer's life is spent in the hidden depths of dedication well beyond Olympic super troupers. Says Scott: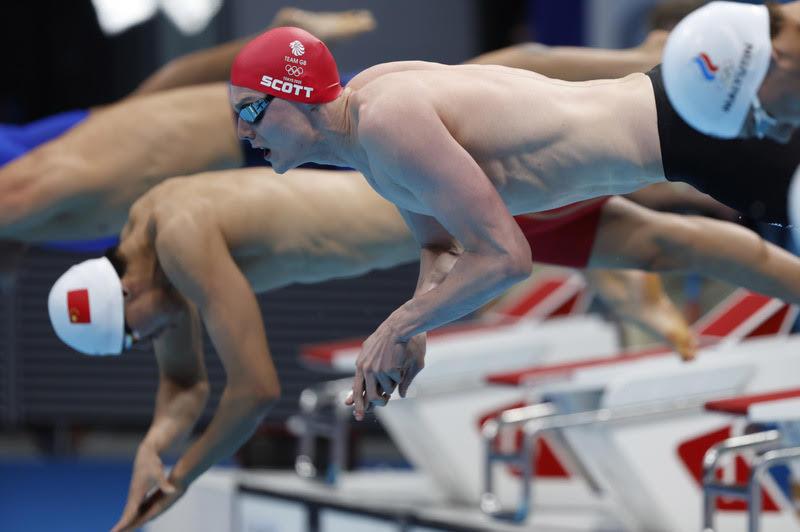 "I kind of like that. I was chatting to Benny P [Ben Proud] about that and we kinda like working in the shadows. The thing that was good about it at Strathallan was that it changed quite a lot during my time there. When I first went there, there were other good age groupers to look up to, they were nice people who kept me honest at a young age and Elaine Johnston did that, too. I had plenty of challenge. As I got older, we had some Gap Year people come in, a swimmer from Australia to keep me company but then at some point it just flipped to being a little bit like it's been at University …  I've gone from being the slightly younger athlete looking up to trying to be the role model and trying to do those professional behaviours day in and day out."

Duncan Scott – photo by Patrick B. Kraemer
During his Strathallan years with Johnston, Scott won eight gold medals at the 2013 Scottish Age Group Championships in Edinburgh and the same year followed up with gold in the 200m medley, silvers in the (400m medley, 4x100m mixed freestyle) and bronze in the 4x100m freestyle 2013 European Youth Summer Olympic Festival.
Medley Got Parked For A While As Senior Selection Beckoned For Scott
It was around that time that the prospect of senior international selection came into focus and Tigg notes that Scott's potential on medley was set aside in favour of a focus on freestyle because that's how he was most likely to make the senior grade.
Even so, in July 2014, at the 2014 European Junior Championships, Scott claimed gold medals in the 200m medley and 4x100m freestyle and bronze in the 4×200, his place on the Scotland team for Glasgow 2014 Commonwealths assured. At a home Games, Scotland claimed silver in the 4x200m free before Scott returned to the junior ranks to claim gold in the 4x100m freestyle, with Luke Greenbank, Miles Munro, and Martyn Walton, and the 2014 Youth Olympics in Nanjing.
On a year and we find Scott scooping up three gold and three silver medals at the European Games in Baku (doubling as European Junior Championships that year), medley no longer a part of the program as he claimed golds in the 100 and 200m free, and 4x100m free, and silvers in the 4x200m, the new 4x100m mixed freestyle and the boys' 4x100m medley, with Greenbank, Charlie Attwood and Walton.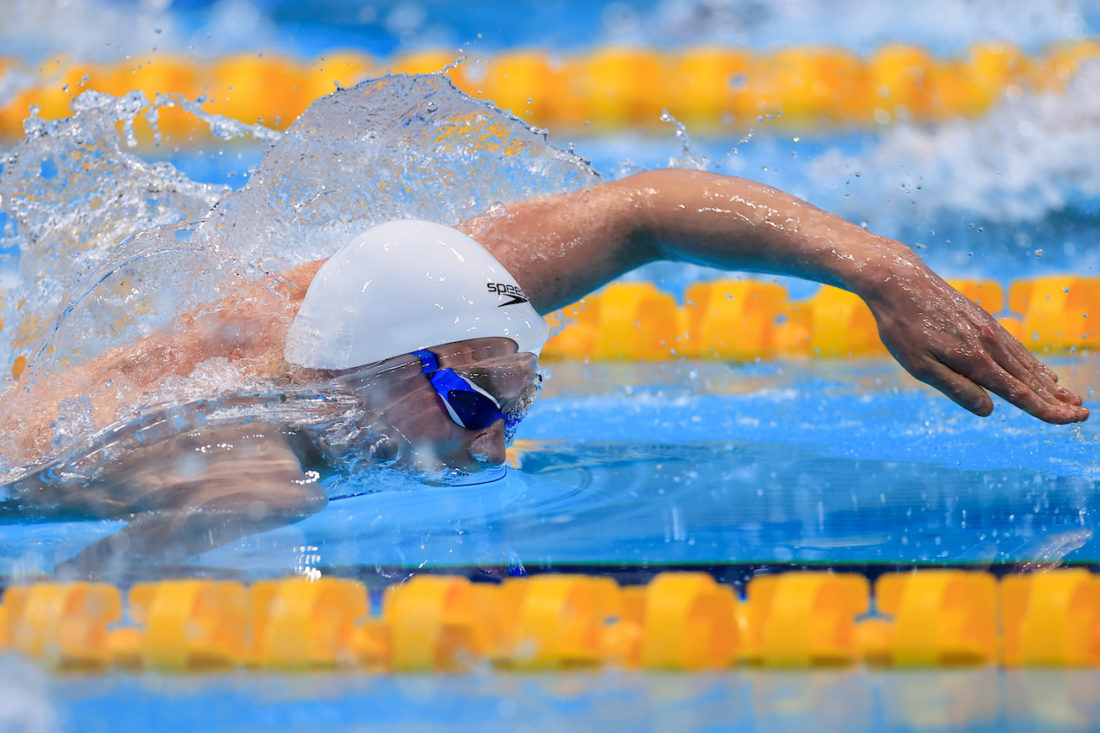 All in all, it was springtime in a career gathering momentum. Says Scott: "I think that being a part of Strathallan and having to swim against all age groups from bottom to top right from the start helped instil those behaviours from quite a young age. The unconscious lessons I learned at Strathallan have been really positive in my career."
Then he acknowledges the key change and the environment described by Tigg: "There were a lot of times when it was just me against the clock, which was quite difficult sometimes and it probably made me almost obsessed with time, which was in some ways a bad thing and I think I've grown out of that now."
I raise obsession, a term used liberally but not always usefully or acutely when it comes to high achievers in many realms, sport included. Scott is untroubled by the word but is keen to define what that means in context and in so doing shines light on the unsung heroes working in the lanes beside him, unknown beyond the domestic pool but whose contribution will always be understood and appreciated by the man they've buoyed along the way. Says Scott: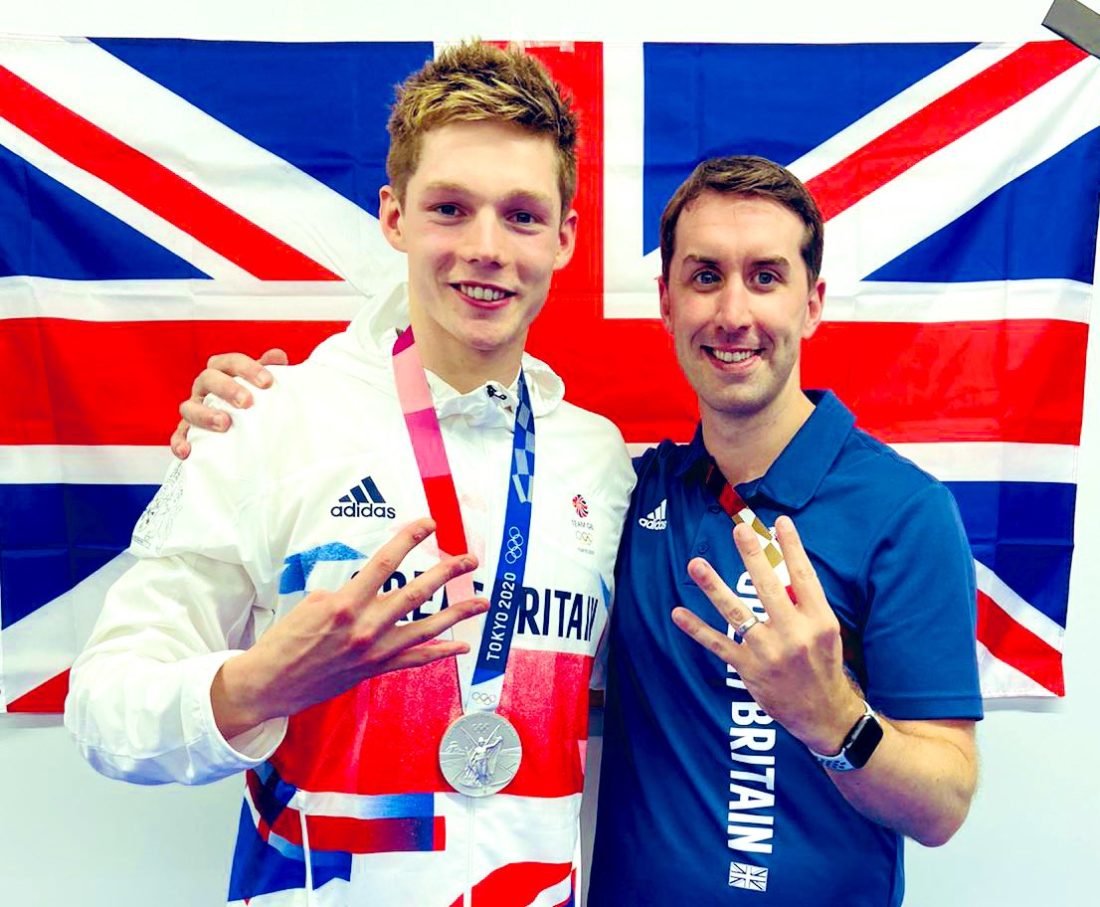 "I don't see myself as being obsessive but when outsiders are looking in its probably like that. In the last 18 months to two years it was about obsessing on the 200 IM and the 200 free and how can I get down to medal-winning times – or winning. I love doing that. I love that pursuit of trying to be continually better and trying to find different areas I can improve on … because it's something I'm good at. You enjoy things you're good at. I enjoy turning up. The University of Stirling, the environment and culture there is something I really enjoy and I think some of the people that I train with there, some who haven't quite achieved what they wanted to, they still do the work, the 10 sessions a week, and the way they're able to train and push us on is phenomenal." 

Duncan Scott – photo, with coach Steve Tigg, courtesy of Tigg Twitter
He cites fighter Conor McGregor and his references to "unhealthy obsession" and says: "I think a lot of people who reach the heights of their sport have some of that."
It can manifest itself in a number of ways, including what Scott himself describes as "selfishness" but might also be seen as "self-supportive" when framed in the context of the demands of world-class performance sport that requires the best to leave no stone unturned and make no compromises, not just when honing their skills and building the body and mind fit to take on the kind of challenge Scott faced in Tokyo but paying daily attention to nutrition, rest, sleep and much else that's required if "optimal performance" is going to be achieved.
In chasing down the best version of himself in Tokyo, Scott cut out social media, contact with home and with each passing race and medal and 'meet-the-media' moment refused to get too deeply into analysis and reflection until the meet was over.
He'd long practiced such behaviours at big but lesser meets on the trail of multi-eventing. The point is to avoid the emotional roller-coaster than can take any campaign on twists and turns unhelpful to sustaining and controlling energy over the course of nine days of competition in trying conditions, including the heavy and humid east of Tokyo and, as it often is with big international tests, the infrastructure and geography of the meet and its venue: an Australian colleague noted that in an average session a podium placer would have to get up and down 400 steps between pool, team, warm-up and down, to blocks, through mixed zone, to doping control, medals ceremony and so on.
Best keep the focus and energy on that and not get taken by the distraction and emotion of a heart-rending message from home. It was only on August 2, the day after racing was done and the Great Britain team was homeward bound that Scott was able to appreciate the level of support for Team GB swimmers from home:
At that point, however, he hadn't actually appreciated the size of the wave. Scott told me on Friday, almost two weeks since his last race in Tokyo, that he had only got round to "attacking the number of WhatsApp messages yesterday". He adds: "I've started to reply with apologising for it being so long before I reply. Some of the notes are really touching." Which is why he kept that at bay until now, until the moment he can let emotion play its part.
When the BBC asked whether they had heard from their son in Tokyo in the heat of the moment, his proud parents said they had not heard a "squeak" from him.
"I've had great support from back home but not replied to anyone, even my parents. I like to stay in the bubble of the competitive environment," Scott told us in the mixed zone in Tokyo.
"That's quite normal for Duncan. We've got quite used to that over the years. He doesn't communicate with the outside world at all. We're quite happy with that," says Scott's mum, dad in agreement.
If that forms a part of "obsession" for some, "the behaviours I need to get the job done" for Scott, then "sacrifice" is another word that sits uneasily with him when used out of context. He uses it himself but sparingly and only in the context of his own experience. Investment is a much more useful word than sacrifice and Scott, who in June graduated in Sports and Business studies at the University of Stirling, applies is to himself, his family and the professional entourage around him, including his sponsor Speedo and his agent, former Australian international and Olympic medal winner in the pool Rob Woodhouse and team at the TLA sports marketing agency. That includes Lucy Oldham and Alice Reeves, TLA also overseeing the 'extracurricular' activities of fellow GB medal winners Adam Peaty and Tom Dean, among others.
"The investment for me, I would say, has been a majority of my life," says Scott.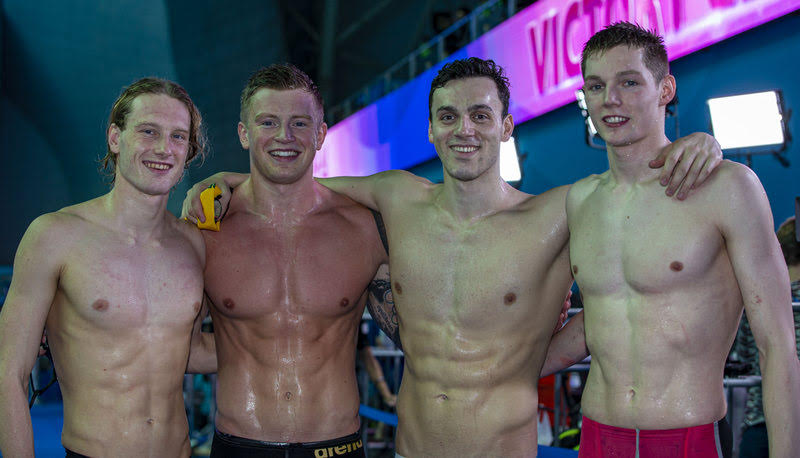 "Probably from my last couple of years of school is when I was like 'this is a serious option. I'd say that was from 2014, when I somehow made my first Commonwealth Games team and just that full competitive environment at that level, I just absolutely loved the experience and I think I was like, 'now, I'm going to fully commit to this now. I've loved doing that, I thoroughly enjoyed it. So, yeah, I'd say the majority of my life and especially since coming to the University of Stirling; it's been a full commitment, everyday life.

"As you say, around nutrition … and as you also say, I don't really see any of that as sacrifice because it's almost like what I've almost always done and my family don't see it as a sacrifice. That's just the way my lifestyle is and has been for the majority of my life. My biggest sacrifice is being quite selfish and not wanting to go to my sister's graduation, for example, if I'm away [training or competing], which is a little bit upsetting when you can't go to those occasions but at the same time you're channelling your whole life towards certain goals and ambitions, which is kind of what I love, to be honest."

Duncan Scott – photo – (L-R) Luke Greenbank, Adam Peaty, James Guy and Duncan Scott of Great Britain – the 4x100m medley quartet that took down the USA for gold at 2019 World titles – photo by Patrick B. Kraemer
Thanks For The Investment Of Others
Scott trawls through the many people who have helped him and contributed to his development and success along the way and even when it comes to the professional team of Tigg and team at Stirling notes: "I don't think I'm aware of their full investment. I'm only aware of a small percentage and am grateful for everything they've done, including the "conversations they have behind my back, things that go over my head and I don't even know are happening" to deliver the environment he needs to make him the best he can be.
On his parents' decision to send him to Strathallan, Scott says: "The financial sacrifices they had to make for that too happen … everyone around me, in some way, their investment has been huge and in some ways it's quite sad because I can't really repay the favour a lot of the time: all the junior coaches and small competitions I went to."
He notes the 'flexible university' program at Stirling that allowed him to focus on swimming while working towards his graduation in June a month out from the Olympic Games. That flexibility had "allowed me to train and compete on the highest stage and all of that has been really important." He adds:
"The number of people who have helped me on my journey is quite special. It might be me collecting the medal but it's not just me, it's a full team behind me that has won the medals I have."

Duncan Scott – Photo – with his father Nigel on a night out in Tartan Troosers
And most of those folk are never there to see the success unfold in the live environment. Instead, they're mostly back home watching it all on the telly. The high costs of sports globetrotting to watch high-achieving aquatic globetrotters is prohibitive.
Had overseas visitors been able to travel to Japan for the Games, it's unlikely that Scott's family, along with many others, would have been able to make the trip. The cost of tickets just for the sessions in which Scott raced would have topped £4,000 for his parents and sister Alex, for example.

Since he made his first international team in 2014, Scott has amassed 33 medals for Britain and seven medals for Scotland at the Commonwealth Games, a record six of them earned in 2018 at the one overseas event his parents Joy McNaughton and Nigel Scott, did manage to attend after a crowd-funding exercise helped them to raise the money required.
The issue of ticket allocations for parents has long been a thorny one and FINA, the global regulator for swimming, has long been urged to seek ways of creating a "Parents Pit" in the VIP area at the pool. Nothing has come of the debate, which was highlighted in 2008 when Kay and Steve Adlington bought tickets to the 800m freestyle final they hoped their daughter Rebecca would make (she did, and added a second gold to her 400m victory). Adlington's parents were duped along with many others by conman Terence Shepherd, who made £1.25 million as one of the ringleaders of a £5 million fraud in which more than 10,000 people were sold tickets for the Beijing 2008 Olympics that never arrived. He was still serving an eight-year sentence in 2014 when he was granted legal aid to fight his conviction despite failing to repay a penny back to those who were duped.
The Adlington's managed to get replacement tickets in the Gods when out in Beijing but when I asked FINA if it could help, the federation found two tickets in the front rows and Becky's parents had some of the best seats in the house to watch their daughter's dominant and outstanding victory.
Scott appreciates the difficulty of organising tickets for parents based on who might make a final but would like to see some form of support for families forking out massive budgets just to make the trip to a Games in the hope of seeing years, often more than a decade, of sheer dedication come to fruition, as they did for Scott, who now finds himself three medals shy of the biggest haul of nine medals for any British Olympian. Cyclist Jason Kenny's vault includes seven golds and two silvers, a balance of alchemy that Scott will have in the back of his mind heading to Paris 2024.
Medley Mission For Scott & Tigg On The Way Top Paris 2024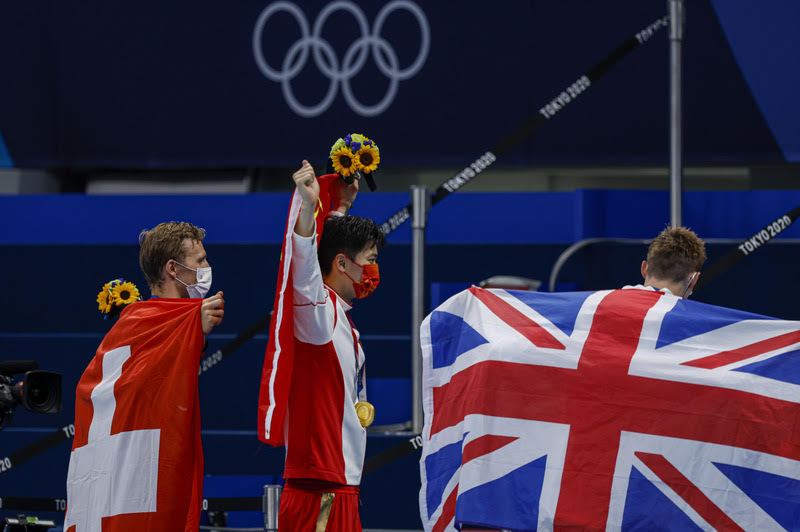 Of all Scott's outstanding performances in Tokyo, the 200m medley stood out for the promise it holds on the way to Paris 2024.
In what was only his second 200m medley final at global level racing in company that had rehearsed the moment dozens of times down the years, Scott took silver in a Commonwealth record of 1:55.28 behind the Asian Record of 1:55.00 set by China's Wang Shun, the third fastest ever adrift Americans Ryan Lochte (1:54.00) and Michael Phelps 1:54.16), who a decade ago set a standard that no-one has come close to since.
Wang brought deeper experience to the medley final than his closest rival. Where Scott was a relative novice of the event, having scraped inside 1min 58 only three years ago, Wang had raced 1:56s at the 2013, aged 19, 2015, 2017 and 2019 World Championships. The pre-final favourite was Michael Andrew, the American pictured below: his form deserted him on the last length and he fell from first to out of contention on freestyle.
The image below tells a tale of two men: on the left is Scott, coming to terms with another silver in another race that produced one of the top 10 tightest battles for gold in the Tokyo pool; on the right is Andrew, who's choices in the land of the free were somehow challenging enough for vast column inches to be devoted to his "selfishness" (no Covid jab, for instance), which did not manifest itself when the athlete spoke, when he praised others and had kind words to say about teammates, when he reached out in the way shown below at the very moment you might imagine he would have been the one with head on pad, mind racing, teeth gritted. Both stances below speak volumes, not just for the men in the shot but team culture and the need for that to recognise difference and find ways of embracing it for the good of all. It was odd in Tokyo to find Americans making some classic errors more commonly seen among rivals they've long had a significant edge on.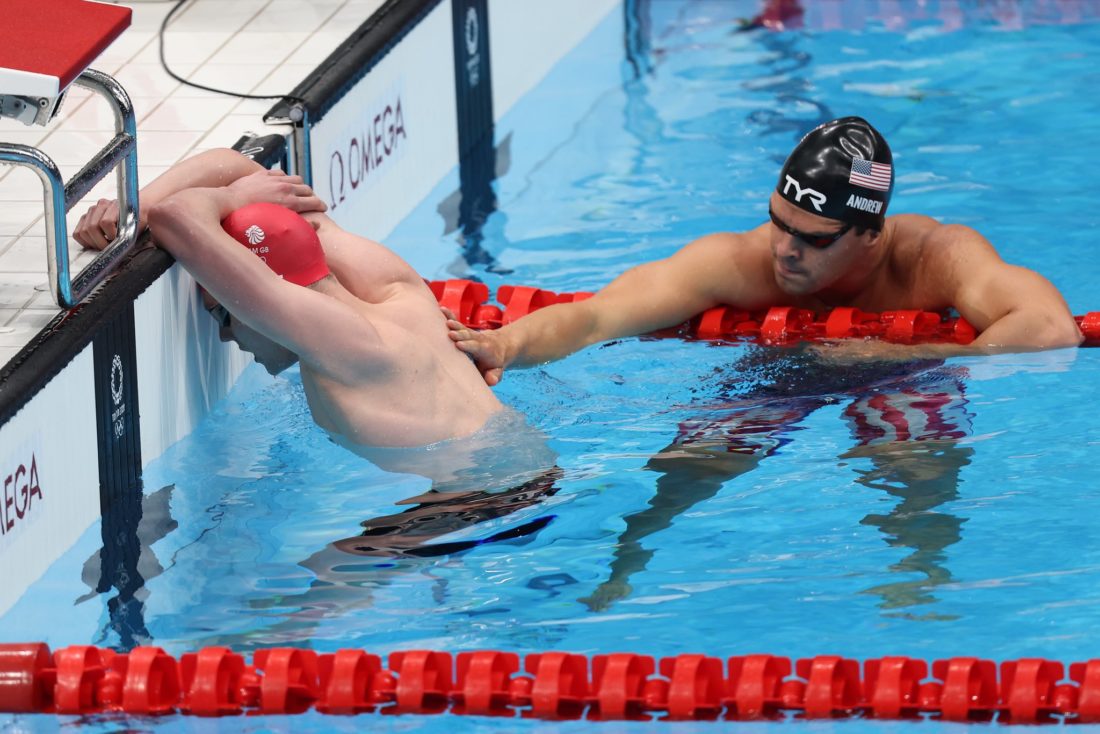 Meanwhile, it is obvious why Scott has long been seen as a freestyle sprinter, reasons including: European 200m champion and Commonwealth 100m champion in 2018 ahead of 2016 Olympic champion Kyle Chalmers, of Australia, Scott broke American hearts at 2019 World Championships when he swept past 2012 100m Olympic champion Nathan Adrian with the fastest 100m split ever by a man in a textile suit, 46.1, to deliver an historic gold for Britain in the 4x100m medley relay.
Tokyo has cast Scott in a new light, even within the sport that understood the potential in combining his versatility with his speed. He made a big 1.4sec drop in time since 2019 to claim Olympic silver in Tokyo but notes how the lack of any peak-form competition in COVID-19 2020 masked the progress being made by many in the sport on the way to a delayed Games.
Down the last length, on freestyle, in Tokyo, Wang fended off Scott with a split of 27.37sec to 27.46. Only Phelps, with a 27.36 chasing down Lochte and his World record win in 2011 has ever been faster. It was an astonishing finish for a man who would not live with Scott in a straight freestyle race.
"It could have just been the occasion," says Scott, who understands what it means to rise to new heights when it most counts. "It was a great swim."
Snap for Scott, who seeks rest but already feels a pang of hunger because he knows there's more he can give.
"The Disciplined Pursuit of Less"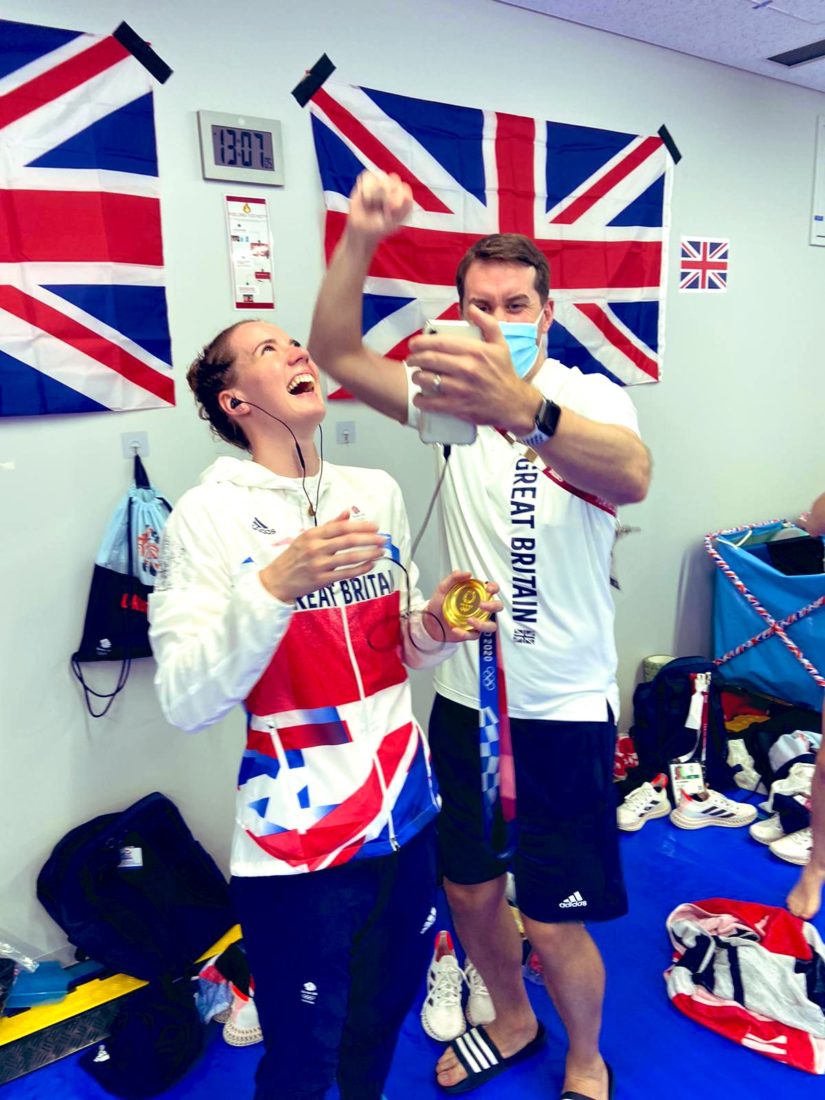 Scott loves to analyse race videos and split in search of the weak link he will then take a soldering iron to in training. Tumbling through the race time and again since Tokyo, had he seen the joints he might reinforce?
"Definitely," says Scott. "The 200 IM I'm relatively inexperienced which can sometimes play to my advantage a little bit. I don't yet understand each stroke to its entirety yet." Meaning: he sees "exciting" room for improvement that could take him into the rapids only ever reached by Lochte and Phelps.
Scott cites breaststroke as having had the "biggest impact" on the gains he's made since finishing fifth at the World Championships in his first global 200m medley final in 2019. Now, he says: "Watching it back, I can get a bit quicker on the 'fly … and on backstroke; that can be 0.5, 0.6 quicker going out [first 100m]."
Easier said than done at that blistering pace but Scott is not a man who says what he doesn't believe he can do. "If I can keep the back end [last 100m] the same, because there's not really much that needs to change. There's gains to be made on the front end of the race in skills and the intensity of it as well. Medley is definitely going to be a key element of the next cycle, which I'm really looking forward to."
You might conclude that he's singing from the same hymn sheet as Tigg, who says: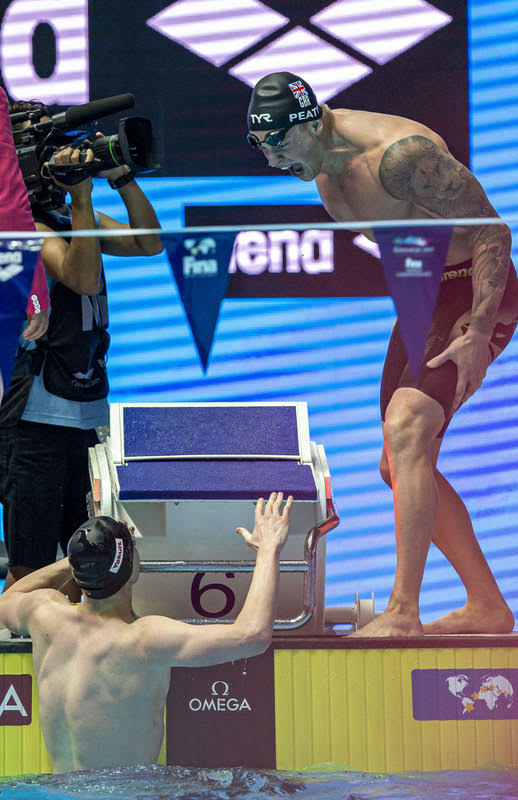 "We know the first half of the race could be slightly faster looking at historical splits: 'fly 24.9 2019, back, 29.0, 2021 Trials. So identifying how to piece those together without compromising the breaststroke and freestyle will be something to explore. We also learned working with Olly Logan (Biomechanist) that Duncan's skill elements can be tidied up some more. There was some great work done on this since 2019 Worlds, with room for further development. It's also just such a new event, at this level, that confidence can lead to new found race craft + execution!

"The biggest challenge to Paris is setting the correct 'pace'; there's no rush, we need to keep doing the simple things consistently well and whilst keeping an open mind not being drawn to some of the shiny pennies that can detract from the pursuit of improvement. The Disciplined Pursuit of Less I like to call it . He is in a great place as an athlete and a person, he's only 24 chronologically, biologically I believe and from what we can tell, a lot younger, so he's still not at his peak physically."

Steve Tigg – photo – Adam Peaty (top) and Duncan Scott of Great Britain celebrate after gold ahead of the USA in the 4x100m Medley at 2019 World titles – by Patrick B. Kraemer
Roll on Paris 2024 – but not just yet.
Where Tigg notes that "acceptance is a hard but important factor" in moving on from any result, Scott says Scott: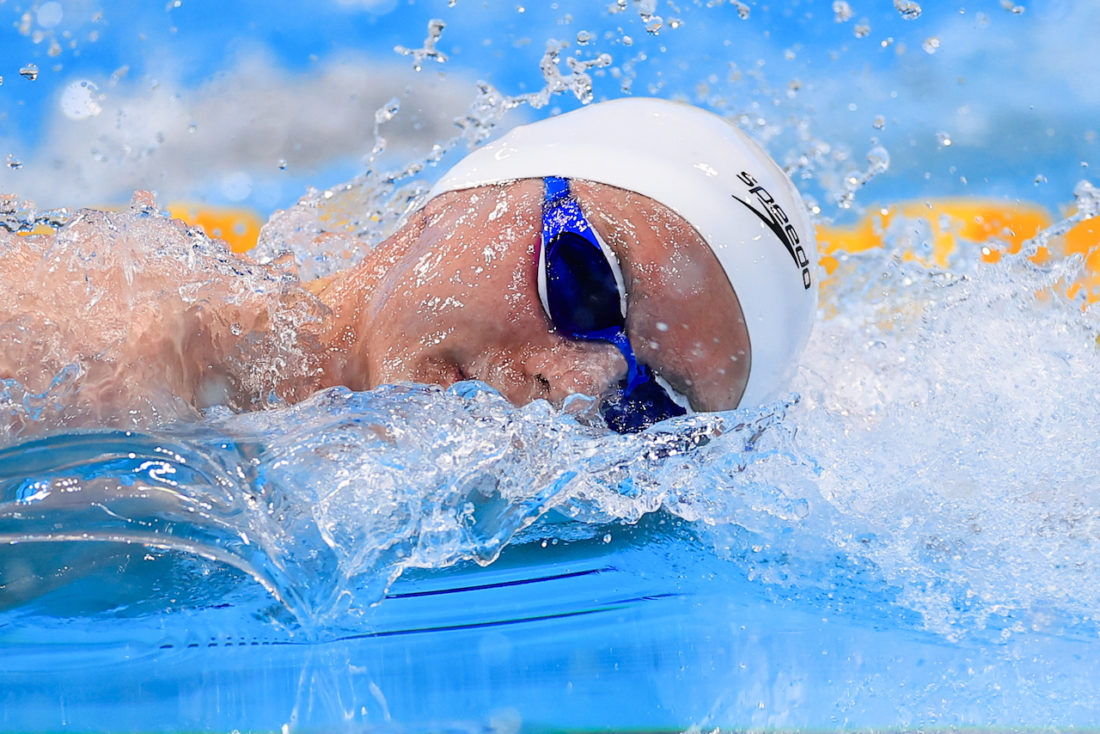 "Right now I need to find the balance of getting hungry and getting excited for the next cycle but then also chilling out and relaxing and having fully reflected on what's happened. Day by day it changes depending on which race I'm thinking about."

Duncan Scott –
Chilling, definitions new and old, is yet to come.