Bypassed Or Boycotted, 2024 FINA Showcase In Doha Is Destined To Become 'Intercalated' Worlds Time Forgot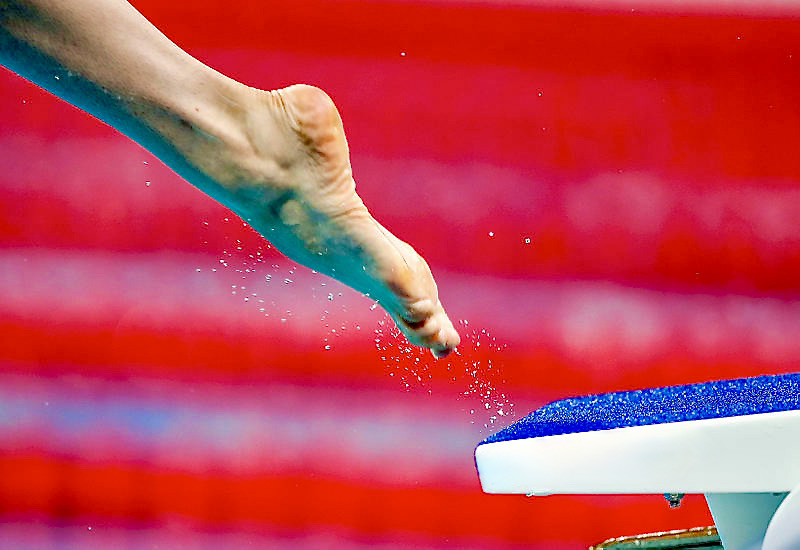 Editorial – How do you solve a problem like Doha 2024, the FINA World Championships destined to be the biggest damp squib in the history of the global showcase dating back to 1973?
Key stakeholders have made their view clear on FINA staging a World titles on the eve of Olympic trials season and, for the first time ever, in Olympic year: many of the world's fastest fish and their coaches will either bypass, boycott (call it what you will) or bounce in for a relay to be swum with their arm up their backs before bouncing back to the thing they've been preparing and planning for over many years: trials and the biggest competition of their careers, the one with the five rings on the invitation, medals and tattoos.
Leading athletes, coaches and planners in Australia, Britain, Canada, Germany, France and several other leading swimming nations have expressed their concerns and even gone as far as to say they will not be in Doha.
Rohan Taylor, head coach to the Dolphins, has confirmed that Australia will hold no trials for Doha and swimmers will be able to opt in or out as they like, with relays only travelling there if they need to for selection to the Paris Olympics.
In Britain, James Guy, Duncan Scott and Adam Peaty are among those who have called on FINA to think again, while Britain head coach Bill Furniss told SOS as Budapest Worlds wrapped up last month: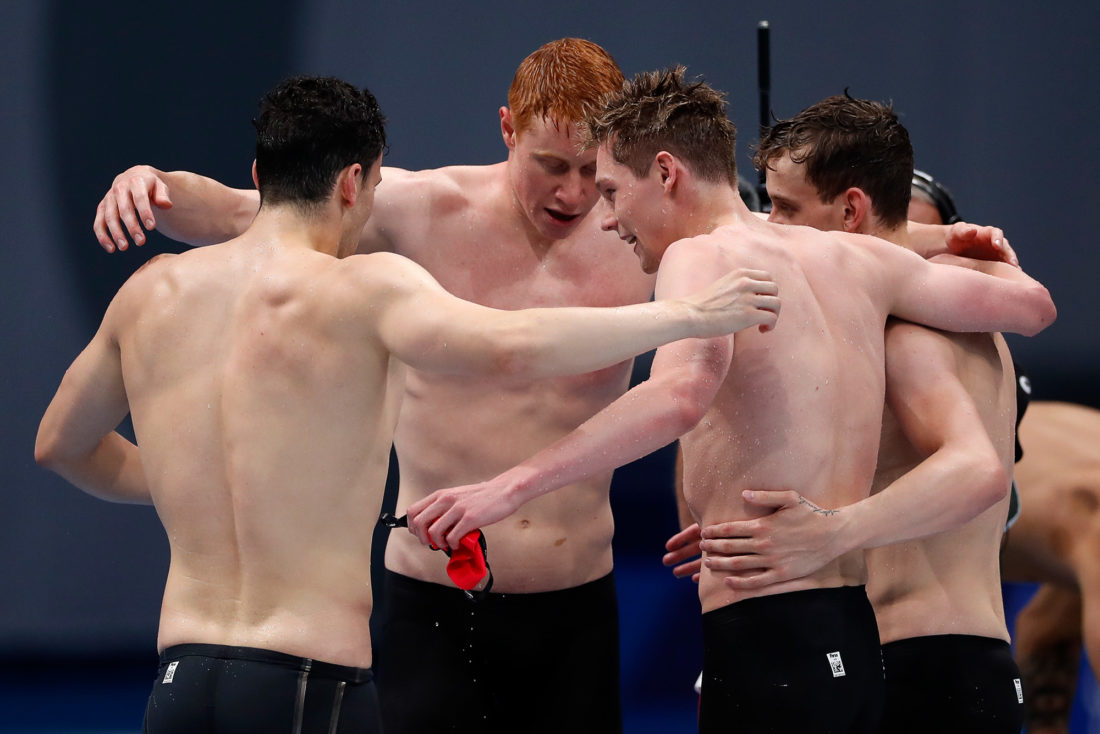 "I think we have to be fair in Sport and I think, you know, I think if that was to happen, then it would be very unfair on all the swimmers in relays who are not qualified in the top three. We'll see what happens. To me, it would be a question of fairness. I think if you qualify top three, it's obvious to me that if that did happen, those teams would be at an advantage to everybody else.

"So hopefully we'll see how that plays out but fairness is fundamental in sport. I'm hoping that federations sit down and some sensible talks take place."

Swim shoal and family – (l-r) James Guy, Tom Dean, Duncan Scott and Matt Richards soak in their 4x200m Olympic gold gold – by Simone Castrovillari, courtesy of Speedo
This week, Taylor, Mel Marshall, Peaty's mentor and head coach at the Loughborough Performance Centre in Britain, and head of Canadian performance John Atkinson have all expressed their concerns about the impact of the Doha decision (see quotes further down). Coaches in Germany, France and a range of members of the World Swimming Coaches Association have expressed similar sentiments.
Others are unhappy, too. Last week, Rob Woodhouse, former Olympic-medal-winning Aussie international, uncle of Emma McKeon and manager to an array of Olympic champions and podium placers, took to social media to note that the decision on relay qualification for Paris 2024 granted an unfair advantage to the USA and Australia heading into the Games.
And all of that is the tip of an iceberg of views that arrive at the same place: FINA, you've got this wrong, think again.
Caught between the devil of a Covid pandemic that shunted contractual arrangements into the long grasses and weeds of a dilemma and the deep blue sea of Putin's murderous war on the sovereign country of Ukraine, the aquatics hierarchy opted, without consultation with athletes, coaches and planners, for a groundhog-day solution 2022-2025: squeeze four World Long-Course showcases in as many years on the trot.
Except, of course, they won't be showcases. Doha, now scheduled for February 2024, is destined to become the aquatics equivalent of the intercalated 1906 Olympic Games: poorly attended, poorly covered by media, pointless, costly and discounted by history in the long run, by the "Movement". And certainly by those who value the thread of history now at risk of being severed by a ridiculous set of circumstances leading athletes, coaches and planners have asked FINA to change course on.
Beyond the historic thread there's the prevailing damage to consider: every championship out of place and season and regular slot damages the prospects and quality of other events on the regular swimming circuit. The chain reaction is real: quality suffers, sponsors and media lose interest and the sport suffers at every level. The issue is not one that only affects the cream of the crop.
With each passing decision in the face of common sense and the views of stakeholders, FINA ensures that its history book is a Planet Asterisk, populated by a forest of explanations that tell us why, for example, record medal counts reflect not the greater greatness of the athlete but the greater number of events and chances, to the point of saturation.
Boycott is the word raised by a report written by Julian Linden in the Australian Daily Telegraph today under a headline "Swimming boycott: Bully tactics exposed by 'insane schedule'."
FINA stands accused of overloading athletes "with major events in countries accused of human rights abuses and war crimes". Fair comment. As is this from Linden, picking up a point that Britain raised when the whole four-champs-in-four-years-madness was confirmed: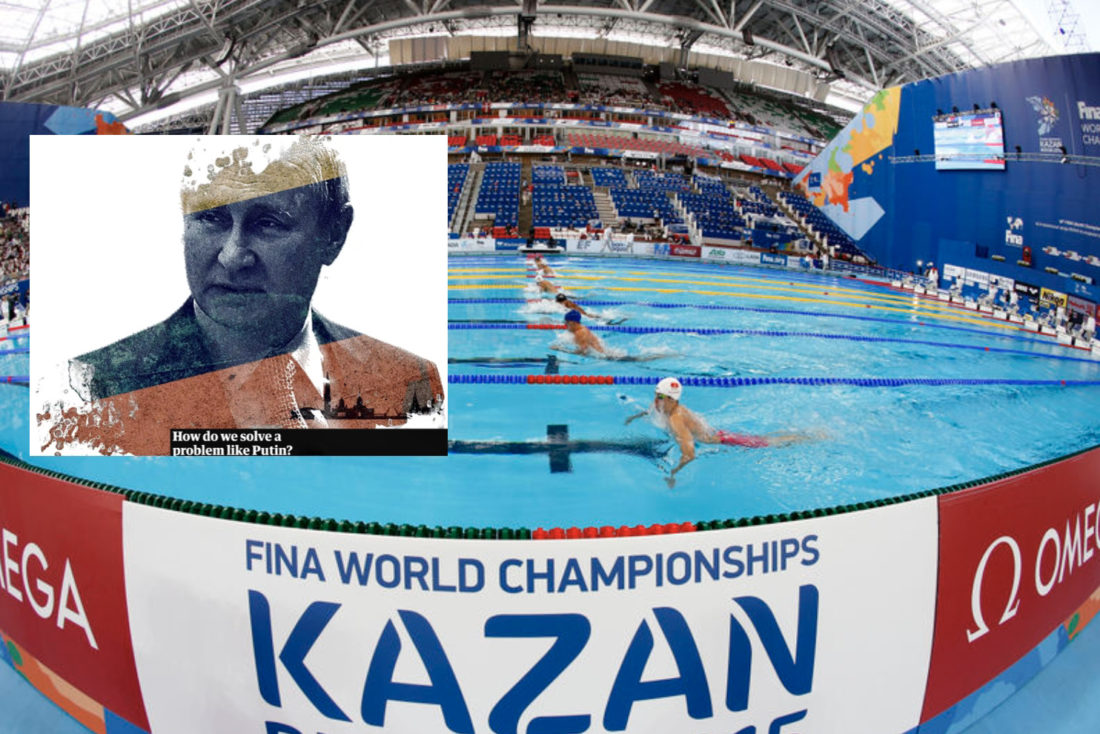 "At the same time as health experts are warning about the undue pressures being placed on elite athletes following a spike in suicides since the start of the global pandemic, swimming's world governing body FINA is bullishly ploughing ahead with plans to stage four world championships in four successive years. This includes squeezing one into Qatar in early 2024 – just five months before the Paris Olympics – then proceeding with another in Russia in 2025, despite the outrage at Vladimir Putin's invasion of Ukraine."

Kazan and the Kremlin – where sports and politics have mixed in FINA company. Main image: Kazan 2015 World Championship pool, by Patrick B. Kraemer; and inset, a screenshot of part of an image of Vladimir Putin by Observer Design
Kazan 2025. We've said it before and will keep saying it: cancel it and do it sooner not later. Can anyone really see national teams from Ukraine showing up for a spot of swimming, diving, synchronising, polo-playing fun in the Russian sun three years after its citizens were murdered, its buildings and infrastructure flattened, its economy brought to its knees, millions of its children and other citizens displaced and dispatched to neighbouring countries for their safety?
I can't. I won't be going to Kazan in 2025 either (nor Doha in early 2024), just as I did not attend Kazan 2015, the only World Championships I did not report from live over the course of 33 years covering swimming for The Times and Sunday Times. The reason: because the global regulator thought it wise to pay 150,000 big ones to a British PR outfit, JTA Associates, for a four-month promotion plan that included an intention to "discredit" my work, among that of others.
Here are the three lines that so upset the then FINA leadership, some still there to this day at the top table with a "reform" pin on their blazers but not an apology in sight:
I wrote that Russia had a filthy doping record (it did: 23 positives in play running up to the event)
I wrote that Putin should never have been awarded the highest FINA honour, the FINA Order. The issue was not just about doping, on the eve of revelations about the biggest doping scandal in world sport since the days of East German fraud and the abuse of an estimated 10,000 athletes in the 1970s and 1980s, but politics. "No politics", "Neutrality", these were and remain the buzzwords used by Olympic and International Federations to explain why sport deserves to be governed autonomously, void of political interference. Yet here was FINA following the stench of money and power rising from the Augean stables of Putin's Kremlin. The inappropriate, cosy relationship with Putin, was highlighted by evidence fed into the legal battle of FINA Vs the International Swimming League founded and funded by Ukrainian energy billionaire Konstantin Grigorishin and can be read in this Alex Perry investigative feature.
I wrote that one of Putin's "friends" (as the Perry feature suggests in stark terms), Julio Maglione, then FINA president (now an honorary without honour in my opinion, for there is no honour in failing to apologise when you know you did wrong, when you know you deliberately set out to harm others) was backtracking on his promise of staying for two terms only. His election ticket in 2009 had carried that two-term pledge, yet here they were, he and his U.S. and other backers, suggesting it would "for the best" if he stayed for another term, what with all the good work he'd done building business with Russia and Putin.
I was right on all counts, as events have proven. A reform process has ensued but not all business from the past has been settled. Some of that involves contracts and commitments in place before Covid, before Reform kicked in, long before the current Director, Brent Nowicki, arrived to replace Cornel Marculescu and trigger the departure of others.
FINA told News Corp newspapers that it was aware that many athletes were opposed to the decision on Doha, but it was standing firm because it was a contractual issue. It had already said on a previous occasion that a decision on Kazan will be taken in due course, depending on events beyond its control. In the statement given to Linden, it noted: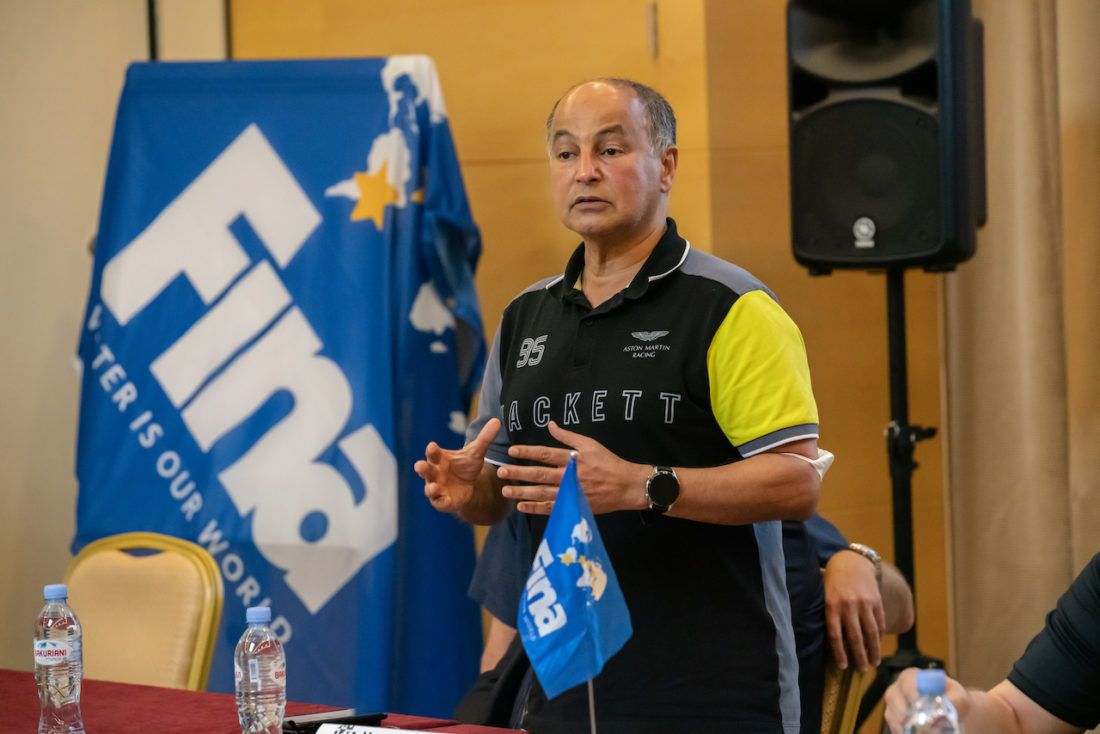 "The Covid-19 pandemic has caused significant disruption to the sporting calendar. The 21st FINA World Championships Doha 2024 were originally scheduled for the summer of 2023, but the rescheduling of the 20th FINA World Championships Fukuoka necessitated a change to the Doha event dates.

"We appreciate the flexibility of the organising committee in Doha to delay until 2024, but it would not have been possible under the terms of the contract to host the Doha event after early 2024."

FINA – Husain Al-Musallam, FINA President, image courtesy of FINA
Spot the problem? No mention of the impact on athletes, athlete welfare, coaches (all mentioned in reform pledges), planners and the way swimming is perceived out there in a wider world that includes an audience making choices that influence the pecking order of sports and their ability to attract the funds required to grow, develop and make their realm a better place.
That process of getting to a better place involves media and exposure of the sport. For Doha 2024, expect far less of it. All eyes and budgets will be on Paris.
Even so, FINA's response appears unequivocal: nothing to be done. Consequence will flow.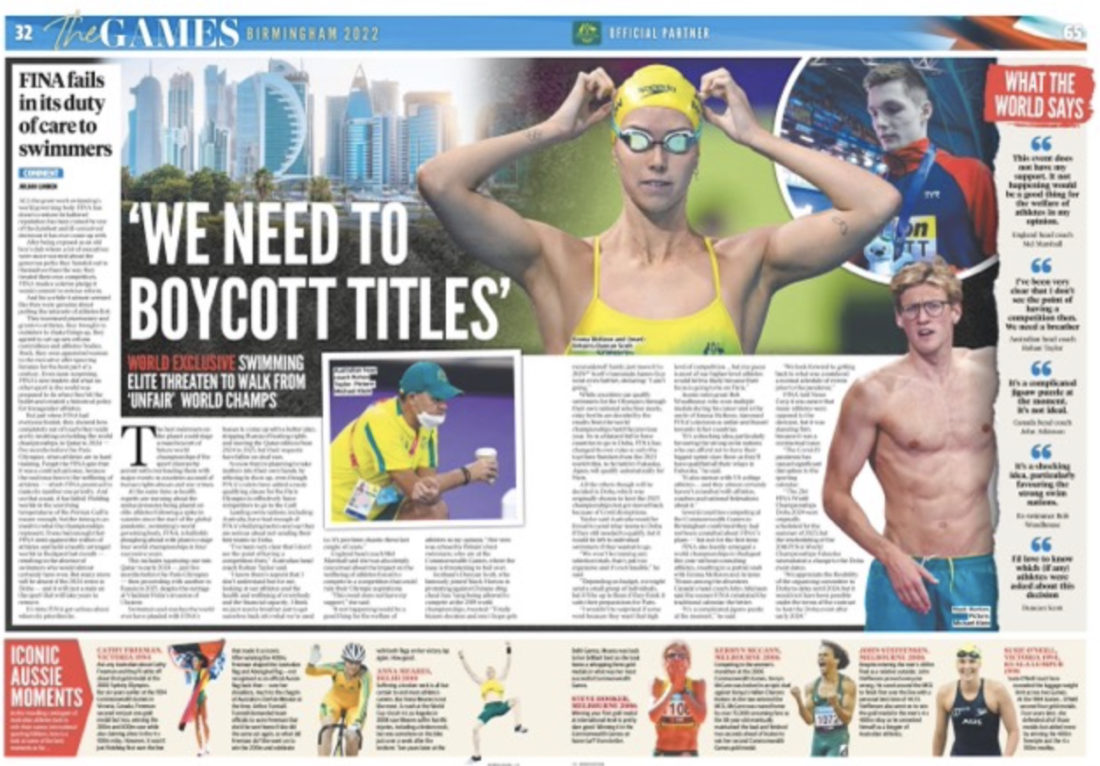 The regulator knew there would be a price to pay and has attempted to mitigate for poor attendance by insisting that only the top three, podium-placing, relay teams at Fukuoka 2023 Worlds can qualify for the Paris 2024 Olympic Games. Normal practice these past two decades has been for the best 12 teams at the global gathering to qualify for the Olympics a year out from the Games.
This time round, all other teams, including the Olympic hosts, France, must attend Doha to get their place in Paris. That means that many star names and Paris medal shots in solo events from a wide range of countries will be obliged to prepared for a specific task at a February 2024 World titles between 6 and 10 weeks out from their domestic Olympic trials.
And they will have to schedule that into their program knowing that rivals from the United States and Australia, the top two nations and relay forces in the world, will not have to do so and can focus purely on their traditional Olympic preparation pathways of trials into the biggest competition. Unfair, which may make FINA leaders feel uncomfortable as they are asked: which is more important to you, the Doha dough or the Fair Play principle underpinning the integrity of sport and athlete welfare?
There can be no question that circumstance has put FINA on the back foot and facing unexpected and unusual challenges. FINA leaders, however, are there for that purpose: to lead when the going gets tough, as in (from Linden's News Corp article):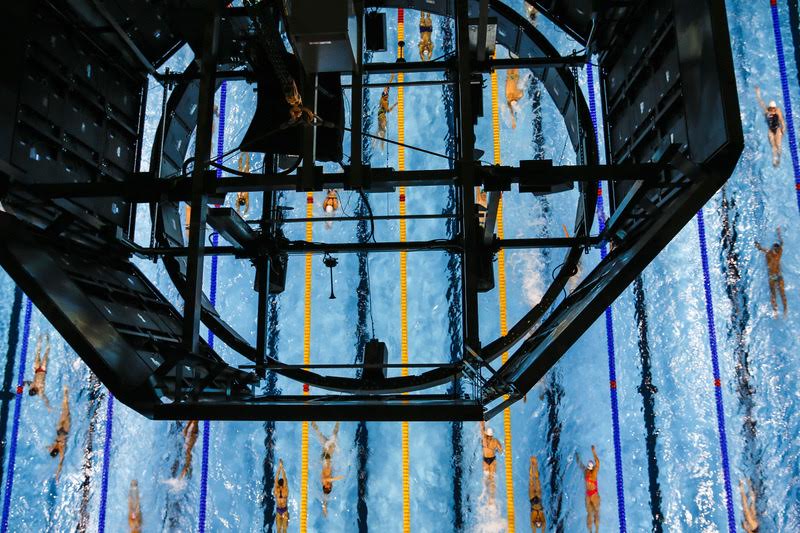 Swimmers and coaches the world over have pleaded with FINA's bosses to come up with a better plan, stripping Russia of hosting rights and moving the Qatar edition from 2024 to 2025, but their requests have fallen on deaf ears So now they're planning to take matters into their own hands, by refusing to show up even though FINA's rulers have added a nasty qualifying clause for the Paris Olympics to effectively force competitors to go to the Gulf. Leading swim nations, including Australia, have had enough of FINA's bullying tactics and say they are serious about not sending their best teams to Doha.

The DT, Australia – image, courtesy of Patrick B. Kraemer
"I've been very clear that I don't see the point of having a competition then," Australian head coach Rohan Taylor told News Corp. "I know there's aspects that I don't understand but for me, looking at our athletes and the health and wellbeing of everybody and the financial capacity, I think we just need a breather just to get ourselves back into what we're used to. It's just been chaotic these last couple of years."
England head coach at the Commonwealth Games in Birmingham this week, Mel Marshall said she was also deeply concerned about the impact on the wellbeing of athletes: "This event does not have my support. It not happening would be a good thing for the welfare of athletes in my opinion."
On relays, Taylor said Australia would be forced to send relay teams to Doha if they still needed to qualify, but it would be left to individual swimmers if they wanted to go. In a DT exclusive, he tells Linden: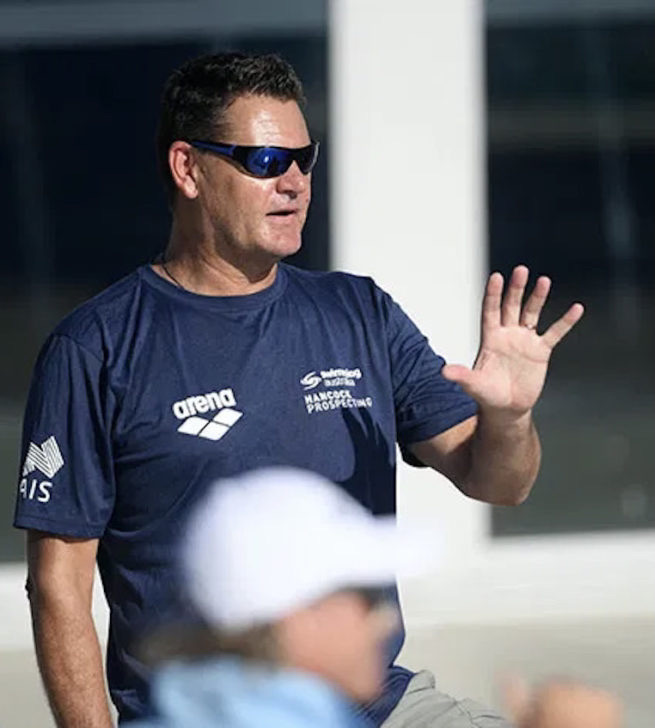 "We won't be running any selection trials, that's just too expensive and it's not feasible. Depending on budget, we might send a small group of individuals, but it'll be up to them if they think it suits their preparations for Paris. I wouldn't be surprised if some went because they want that high level of competition … but my guess is most of our higher-level athletes would be less likely because their focus is going to be on Paris."

Rohan Taylor – image by Deli Carr, courtesy of Swimming Australia
FINA Favours for the rich and privileged in Doha decision debacle?
Woodhouse added to his response to an SOS article last week when he told News Corp: "It's a shocking idea, particularly favouring the strong swim nations who can afford not to have their biggest sprint stars there as they'll have qualified all their relays in Fukuoka. It also messes with US college athletes … and they almost certainly haven't consulted with athletes, coaches and national federations about it."
John Atkinson, Head coach to Canada, gave a more diplomatic response, stating: "It's a complicated jigsaw puzzle at the moment. We look forward to getting back to what was considered a normal schedule of events prior to the pandemic."
That is also where we find Nowicki, who is having to clean up after a party he wasn't at before a new era in swimming can truly begin. Asked by SOS in Budapest when he though that might begin, the American lawyer, said: "After Paris, 2024."
Meanwhile, swimming is caught in a contractual trap, an intercalated period of transition in which the ghosts of woeful, self-serving and careless governance are still very much alive and kicking.
Politics, not only contracts, are perceived to be in play. Without knowing the detail of the Doha contracts (No Act of God and War clause? No provision for exit worth the penalty fee?) that apparently means FINA cannot wave goodbye to Kazan and ask Doha to shift its event to 2025, it is hard to explain why a regulator committed to reform and responsible for some heartening moves in recent times, not least of all the stripping of honour from Kipke and Putin and a transgender inclusion policy that has helped change the game on a hugely divisive issue, finds itself unable to act with athlete interest squarely in pole position heading into the brighter future promised.