Mykhailo Romanchuk Urges Sports Politicians To Stick To Ban On Russians After Being "Ready To Kill" Rylov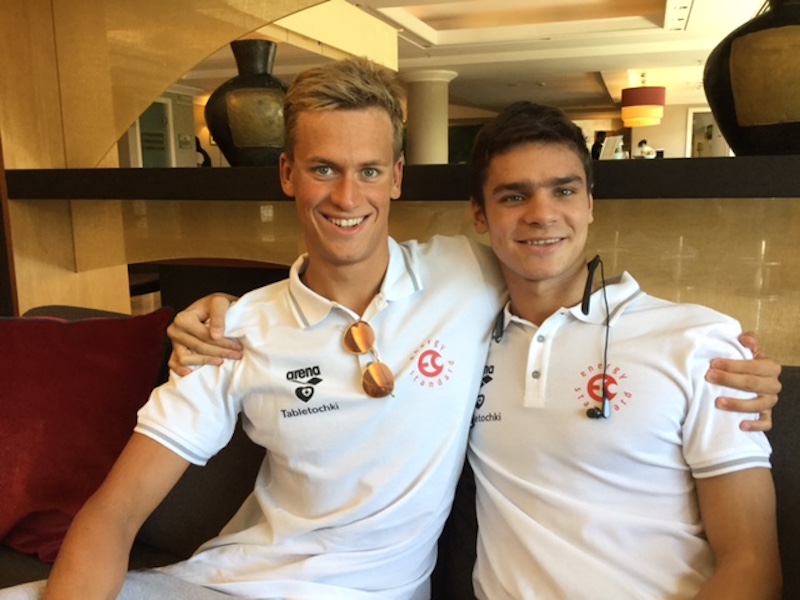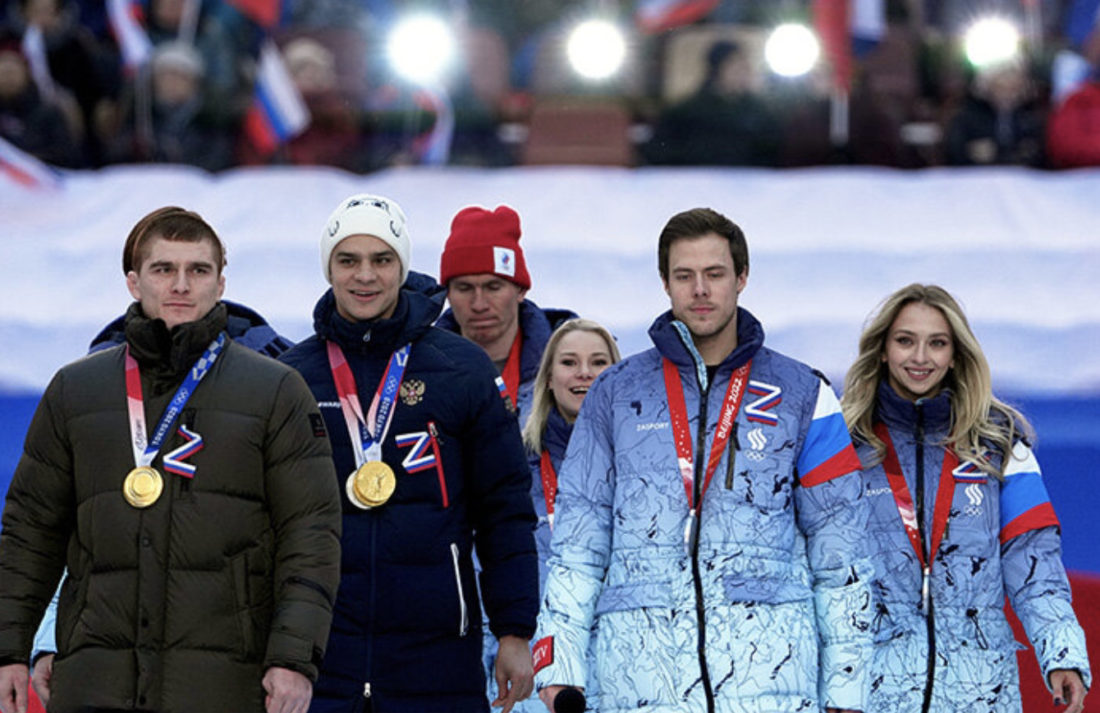 Ukraine distance-freestyle ace Mykhailo Romanchuk urged sports organisations around the world to stick to their ban on Russians because he had been "ready to go and kill" his former friend Evgeny Rylov, the double Olympic backstroke champion, after seeing photographs of the double Olympic backstroke champion with the pro-war Z symbol stitched on his sports kit.
Russians and Belarusian, as the aggressors in the war on Ukraine, are banned from the World Swimming Championships here in Budapest where Romanchuk became the first Ukraine swimmer to win a medal, bronze in the 800m freestyle behind American Olympic champion Bobby Finke and Florian Wellbrock, the German Olympic marathon champion who provided shelter for Romanchuk when Ukraine president Volodymyr Zelenskyy gave permission for top sports stars to leave the country about 10 weeks ago.
Romanchuk, 25, welled up when he was asked about his father, who had to take up arms and is part of the home-defence force in Ukraine in a flash-point area in Eastern Ukraine. Asked what his thoughts were on the war, Romanchuk, Olympic 1500m silver medallist, paid homage to the dead and said: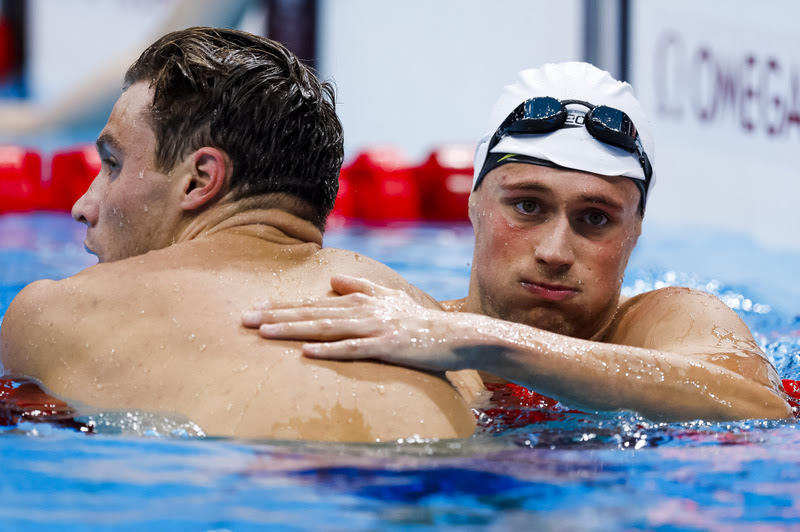 "The war is not over and it's getting harder and harder. They have destroyed a lot of our cities, a lot of infrastructure and [in sport] hey destroyed more than seven [swimming] pools in Ukraine, they destroyed 50 stadiums of track and field, a lot other sports facilities. More than 10 top sportsmen died during the war and I don't know how many coaches will die."

Mykhailo Romanchuk, right, and Bobby Finke – by Patrick B. Kraemer
Addressing sports organisations, many of which enjoyed cosy relationships with Vladimir Putin and Russia before the war on Ukraine, he said: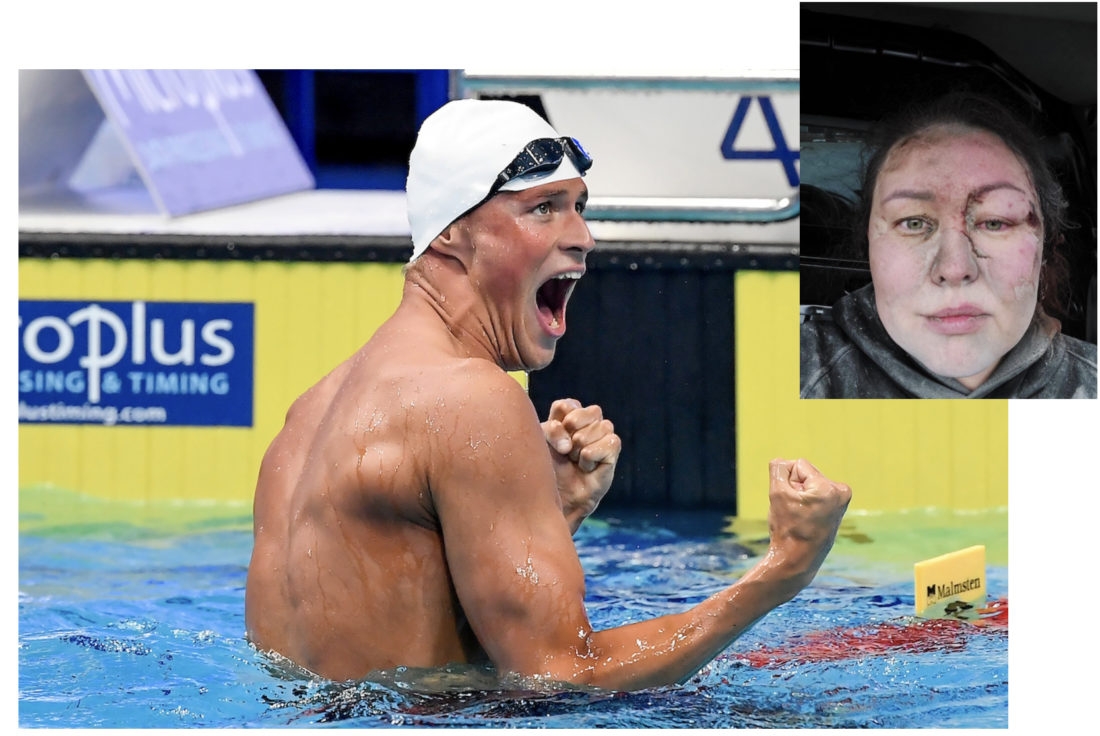 "If someone tells me that sports is not politics, I will tell them that sport is the biggest [realm of] politics. Unfortunately, its true and it is the right decision that the Russians are not here because if I saw some of the Russian guys I don't know how I would react towards them. Maybe I would be aggressive. I don't know. Especially when the backstroke guy [Rylov] joined the… " Putin rally at the Luzhniki Stadium in Moscow in March.

Mykhailo Romanchuk – Image Mykhailo Romanchuk, Ukraine's European 1500m freestyle -champion in Budapest in 2021 – Photo Andrea Staccioli / Deepbluemedia / Insidefoto, courtesy of LEN – inset coach Aiyna Morozova, who was pulled from the rubble after a missile hit the building where she was volunteering by serving food to soldiers
Romanchuk said that when he saw the pictures of Rylov at the rally "Inside of me, I was ready to go and kill him. We were friends before but everything changed."
The two swimmers had been good friends and team-mates on the International Energy Standard Professional Swim Team as part of the International Swimming League run by Ukraine billionaire Konstantin Grigorishin, who has had more than $300,000 of artwork assets frozen by Putin in Moscow.
In Rome four years ago, Romanchuk and Rylov sat side by side in an interview in which they spoke of their friendship and support for each other, Rylov even talking of them being "brothers in sport"
When images of Rylov's appearance at the Moscow rally first appeared, the swimmer was stripped of his Speedo sponsorship with immediate effect. Then he was slapped with a nine-month suspension by FINA, the global regulator for swimming.
Rylov, 25, had already been barred from defending the World 200m backstroke title here in Budapest this week because because all Russian and Belarusian athletes and officials were banned as part of sports sanctions against Russia on the grounds that organisers could not vouch for the safety of participants in the war aggressors were present.
Mum (& Maybe Dad) Heading To Budapest To See Their Son For First Time In 4 Months
Romanchuk will see his mother, and possibly both parents, for the first time in four months when they visit the championships in Budapest over the coming days. Romanchuk thanked FINA president Husain Al Musallam for arranging what will surely be an emotional reunion as the swimmer prepares trop race the 1500m on the last day of action in the pool on Saturday ahead of the open water 5 and 10km events next week.
For Romanchuk senior, the trip would be a welcome relief from the strains of the home front in the hard-hit east of the country. It is far from certain that Romanchuk senior will be able to travel.
Says his son the swimmer: "He is at a hot point and it is a hard time. I have a connection with him maybe once a day; in the morning he writes me that everything is good because I cannot talk with him because it is not possible for them to join the network because you understand the Russians can search everything."
Mykhaylo had also considered joining up but noted: "In the beginning when everything started, since 24 February, I was at a training camp and then I go back to my home. My mind was to go to the war to defend my home and then in 10 days I had a lot of discussions with my family, with my wife, we decide that. I could do nothing with a gun so for me it's better to continue training so to do everything what I am doing the best.
"So it's swimming, to swim fast, and to show what I can do, and with my swimming I can tell all the world what is the situation in Ukraine, " he added. "I will tell more and more but now all the work is forget a little bit about the war but the war is not finished, it continues and it is getting harder and harder because it is all the time.
Haven From Home With Wellbrock & Kohler
Olympic 10k champion Florian Wellbrock and his Olympic 1500m bronze-medal wife Sarah Kohler contacted Romanchuk to invited him to join their training group with coach Brendt Berkhahn in Magdeburg.
He accepted and moved to Germany. It was not easy to deal with the upheaval of leaving his own wife and family behind. He said: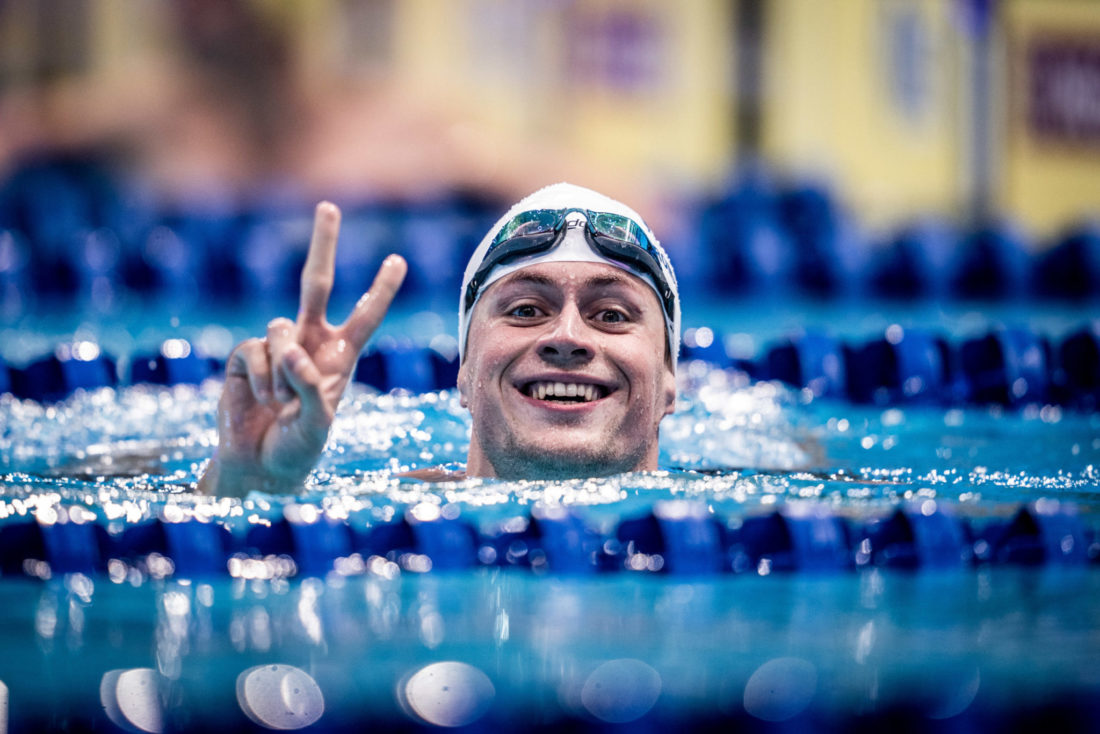 "It is hard especially at the beginning when I moved to Germany to join the group. It was hard because mentally you are in the war and you are sleeping just three or four hours because you are always reading the news. But then you understand that everything you can do is to swim, to train, to represent your country and it's still hard because everything – all the time you are reading the news."

Mykhailo Romanchuk – courtesy of the ISL
A bronze in the bag, Romanchuk said his prize signified the strength of his countrymen and women fighting for their sovereign country.
"I hope this medal means a lot for Ukrainians because of the hard times and I show to all Ukrainians, to all people, that Ukrainians will fight to the end," said Romanchuk. "It doesn't matter what the situation we will fight to the end and it doesn't matter what will happen next.
"I am so proud of all the people in Ukraine. I am proud of the people, the government, the president – I am so proud of them. I am really happy to be Ukrainian."