Vladimir Putin Stripped Of FINA Order But Russia / Belarus Athletes Only Barred From Flying Flag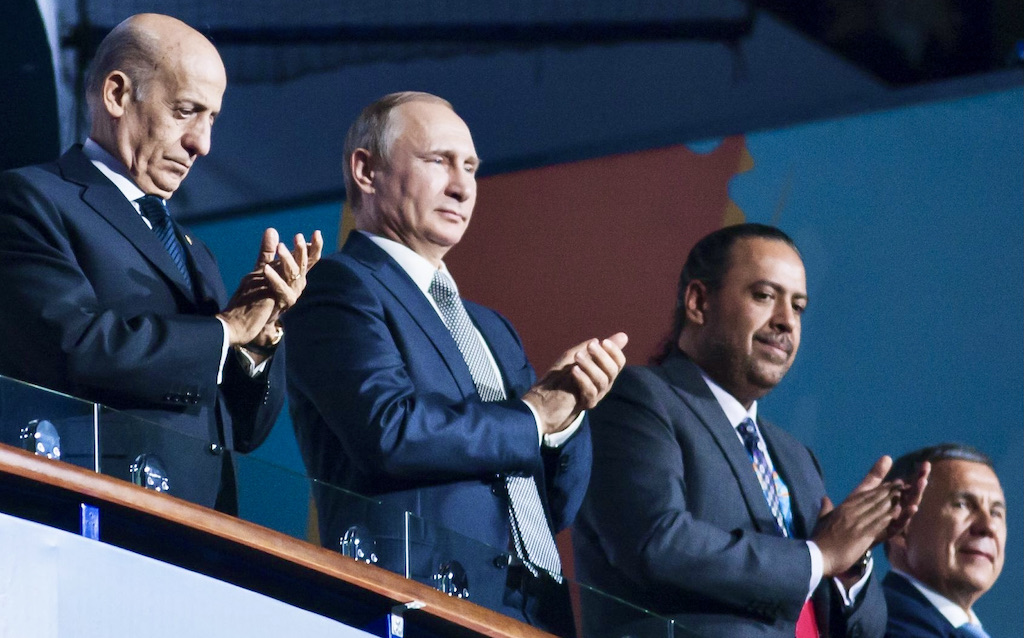 FINA has stripped Vladimir Putin, the president of Russia and aggressor in the invasion of Ukraine, of the highest honour of the global regulator, the FINA Order, granted in 2014.
At the same time, athletes and officials from Russia and its assistant aggressor Belarus are also barred from using national flags at all aquatics events but FINA has fallen shy of imposing a genuine whole-nation ban.
That position could change, depending on challenges to bans in other sports and the direction of Russia's acts of war on Ukraine. There is no major swimming event run by FINA until June, by which time, a fast-moving catastrophe may well have moved on, for better or for worse.
The issue of banning athletes remains one to be resolved: how to allow Russians at the World Championships when Ukrainians cannot attend because they've been bombed out of their homes? It is a question that FINA hopes never to have to answer. That will depend on whether Russia withdraws from Ukraine with the democratically elected government intact and a sovereign nation free to exercise its right to self-determination.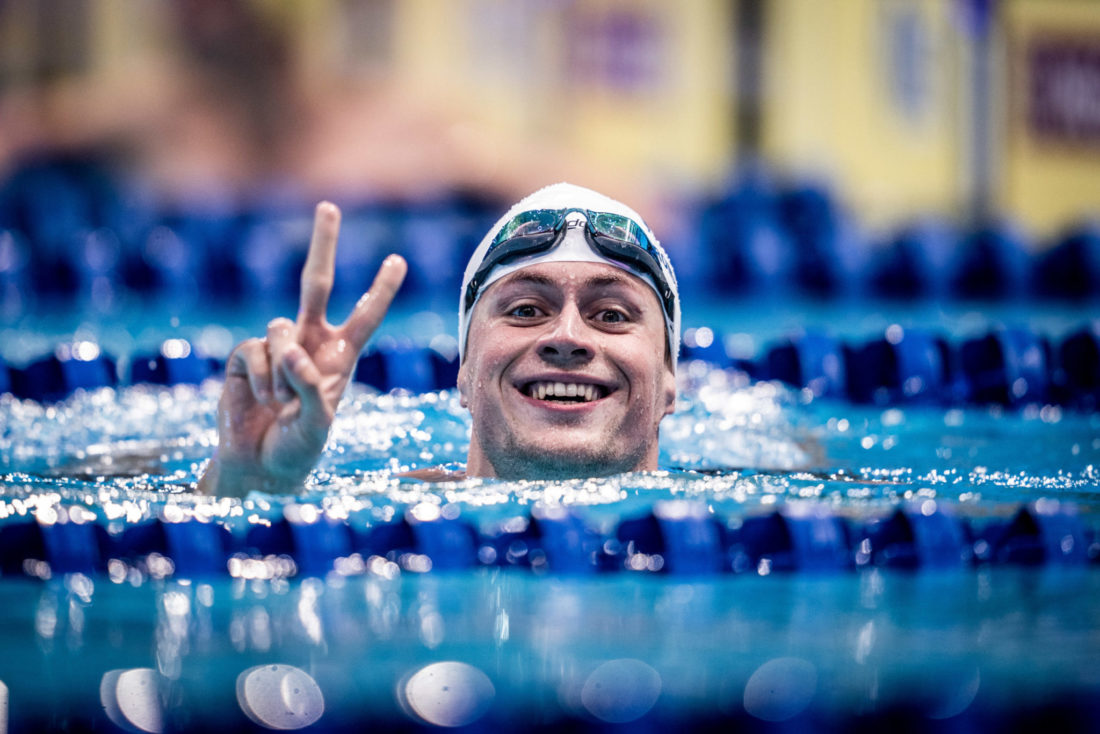 Among Ukraine athletes calling for a full bar on Russians and Belarussians, including suspension of the National Olympic Committees of those counties and a block on competing at the Paralympic Winter Games that get underway in Beijing this Friday, are Andriy Govorov and Mykhailo Romanchuk.
After Ukraine athletes, via Global Athlete, specifically requested that the IOC suspend the NOCs of Russia and Belarus, diplomats pointed out that any rollout of sanctions should leave scope for potential defectors to put pressure on Putin and those waging war on Ukraine.
Some federations are imposing full bans, other are waiting to see what comes of hearings at the Court of Arbitration fort Sport (CAS) and whether that watchdog will deal with acts of war and consequence like it has sometimes dealt with doping and consequence: a watering down, rarely a heating up on the sanctions front.
Here are two examples of federations that opted to ban Russians and Belarussians altogether -World Athletics and World Rowing:
World Athletics
The World Athletics Council has today agreed to impose sanctions against the Member Federations of Russia and Belarus as a consequence of the invasion of Ukraine.
All athletes, support personnel and officials from Russia and Belarus will be excluded from all World Athletics Series events for the foreseeable future, with immediate effect.
World Rowing
World Rowing strongly condemns the Russian military invasion of Ukraine and the ensuing violation of the Olympic Truce. Our organisation stands in absolute solidarity with the Ukrainian people, including our friends at the Ukrainian rowing family, at this time of grave international crisis.
The World Rowing Executive Committee strongly supports the recommendations issued by the IOC on February 28. These include recognition that many Ukrainian athletes will be prevented from participating in international competitions as a result of the attack on their country. Accordingly, World Rowing confirms that it will not allow the participation of Russian and Belarusian athletes and officials in any of its international competitions, with immediate effect and until further notice.
World Rowing also clarifies that no events are scheduled to take place in Russia or Belarus in 2022.
World Rowing remains in regular contact with the Ukrainian Rowing Federation and would like to thank many of our Member Federations that have already offered to help those of the Ukrainian rowing team impacted by this situation. We call on the entire rowing community to join in support wherever may be required.
World Rowing will continue to monitor the situation closely and may further adapt its measures according to future developments.
The FINA and World Rowing moves follow the decision of the International Olympic Committee (IOC) to strip Vladimir Putin of the Olympic Order yesterday. That move also came with a recommendation for all international sports federations to bar athletes and officials from Russia and Belarus.
Neither the IOC nor FINA have specified one of the sanctions that they have power to impose: suspension of the National Olympic Committees of nations and suspension of aquatics federations are both options that the regulators have at their disposal.
Hesitancy is also a part of the FINA statement when it comes to what a whole-nation sanction actually means in practice. Challenges to any FINA bar on athletes from Russia and Belarus could trigger appeals to the Court of Arbitration for Sport (CAS), as they did in 2016 ahead of the Rio Olympic Games, albeit in wholly different circumstances.
The move to strip Putin of the Order is entirely in FINA's control. In the midst of a reform process, FINA stripped a Silver Pin award from Lothar Kipke, the GDR doctor who was one of the chief ministers in the systematic doping of an estimated 10,000 athletes through East Germany's State Research Plan 14:25.
FINA's decision not to impose a no-compromise bar on Russian and Belarussian athletes and officials is likely to court criticism, while its action on the award today is expected to be widely welcomed by an aquatics community that was highly critical of the granting of the Order to Vladimir Putin in 2014.
That and other events prompted calls for FINA to submit to review and reform. Those calls were ignored until Husain Al-Musallam took office as president in June last year and launched a reform process that will see the establishment of an Aquatics Integrity Unit by June.
The Background On The FINA Order
FINA granted the Order to Vladimir Putin in 2014 on the cusp of the biggest doping crisis in Olympic sport since the end of the GDR in 1989 gave way to the beginning of the China Crisis of the 1990s.
The honour was granted on the basis that Putin and Russia were bank-rolling the FINA showcase event and the finance and hosting of it all, along with the building of aquatics facilities in Russia.
FINA's then executive did not, however, consult the ruling Bureau before granting Putin the Order, even though the FINA constitution obliged consultation and agreement at Bureau level. As such, the award to Putin had no merit in FINA rules.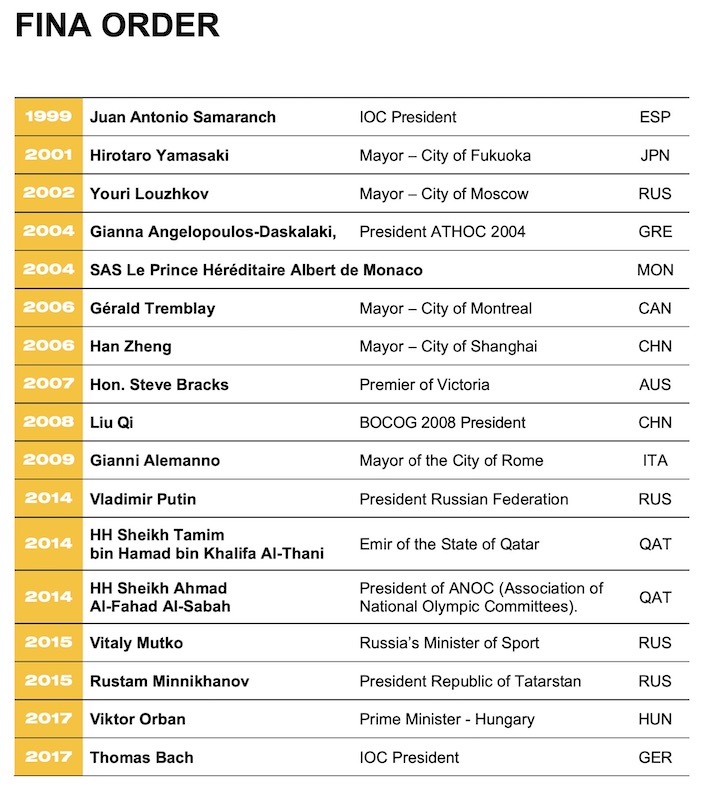 Since then, in the fallout from the legal dispute between FINA and the International Swimming League, depositions suggest an unhealthy friendship had developed between Putin, Russia and Maglione and the leadership of FINA. That dispute is still ongoing.
The FINA Order was first given in 1999, to then president of the IOC, Juan Samaranch, despite the fact that the Spanish sports bureaucrat in 1991 refused to accept the medals two GDR swimmers attempted to return to the IOC so that they might be given to "those who deserve them", in recognition of the fact that both women had been doped by Kipke and Co as young teenagers.
Meanwhile, the list of recipients of the FINA Order remains contentious and includes Sheikh Ahman Al-Sabah, despite the fact that he has been handed a jail sentence by Swiss authorities, and Vitaly Mutko, the former Russian sports minister in power during the Russian doping scandal. He and Putin were one of four Russians on the roll call of Order honour.
The FINA Statement on Vladimir Putin & Consequences Of Russian Invasion Of Ukraine
The FINA Order awarded to Russian President Vladimir Putin in 2014 has been withdrawn.
Until further notice, no athlete or Aquatics official from Russia or Belarus be allowed to take part under the name of Russia or Belarus. Russian or Belarusian nationals, be it as individuals or teams, should be accepted only as neutral athletes or neutral teams. No national symbols, colours, flags should be displayed or anthems should be played, in international Aquatics events which are not already part of the respective World Anti-Doping Agency (WADA) sanctions for Russia.
FINA remains deeply concerned about the impact of the war on the aquatics community and the wider population of Ukraine. FINA will continue to carefully monitor the grave situation and make further decisions as appropriate.
Related SOS Coverage
No More Bubbly – Putin Stripped Of Olympic Order As IOC Bosses Tell Feds To 'Ban All Russian Athletes & Officials'
Ukraine Athletes Call On IOC To Ban All Athletes & Olympic/Paralympic Committees Of Russia/Belarus
Kazan Stripped Of World Championships As FINA Responds To Ukraine Invasion & Pressure From Swim Feds
Ukraine Swimming Federation Calls On FINA To Suspend Russia / Belarus & Cancel All Events
Nordic Swimming Feds Call On FINA To 'Immediately Suspend Russia & Belarus' Pending Peace In Ukraine
Red Card For Russia Is The Only Moral & Ethical Response From Sport To Putin Power
IOC Urges FINA & Other International Federations To Cancel All Events In Russia Or Belarus; LEN Scraps Russian Competitions
FINA Cancels Two Events But Leaves World Championships, Junior & Senior, "Under Close Review" As Putin's Murderous Attack On Ukraine & Its Sovereignty Continues
Blood In The Water & Why Sports Leaders Cannot Allow Warmongers To Use Sport As A Bargaining Chip In Their Olympic Power Games
Putin Putsch: FINA Must Cancel All Events In Russia To Guarantee Athlete Safety As No1 On 4-Point Priority Plan To Honour Olympic Charter "Neutrality" Key To Autonomy
The Red Lines Between Beijing 2008, 2022, Olympic Governance, Games Investors & Athletes Demanding Cultural Revolution