China & IOC Under Pressure On Peng As Global Athlete & United Nations Add To Chorus Of Criticism Around The World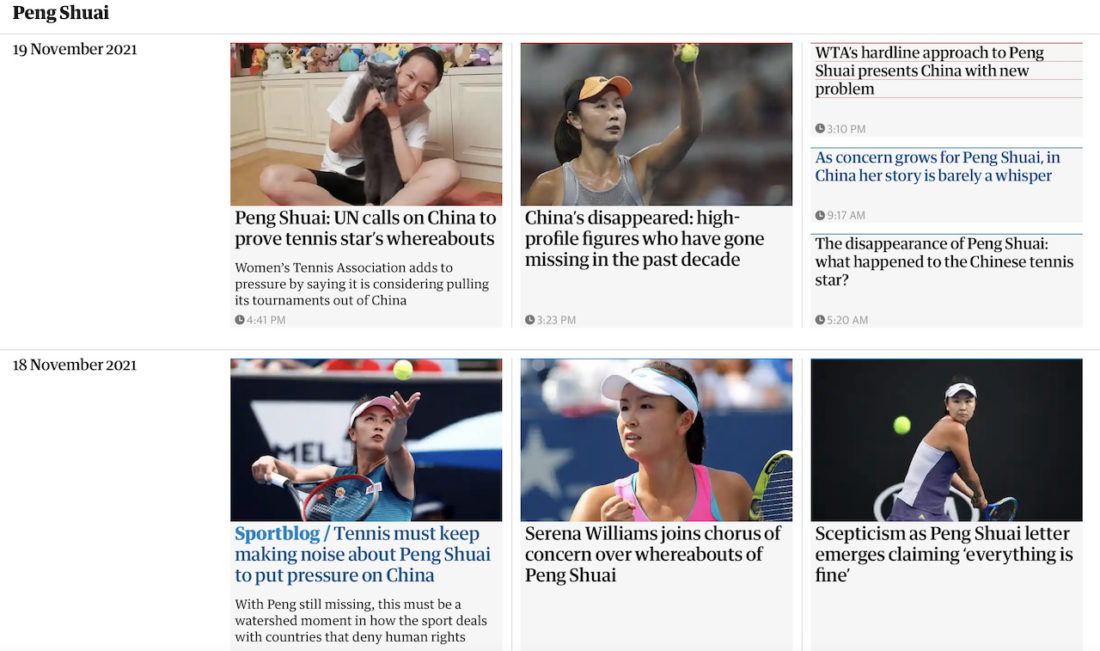 Editorial: The disappearance of the Chinese tennis star Peng Shuai has dominated international news in recent days, but inside China there is barely a whisper – and, more disturbingly, the same might be said of the International Olympic Committee (IOC).
This evening, representative body Global Athlete has joined the chorus of those asking #whereisPengShuai?
The IOC's position so far has been to say it is comforted by news that Peng is safe, even though that relies heavily on faith in what is largely regarded to have been a fake statement from the tennis player emerging from authorities in a country that suppressed the root of what is now unfolding and the accompanying silence where we ought to hear screams, some believe.
In swimming terms, it all evokes memories of the tragic death of national junior swimming champion Qing Wenyi in 2015 (see below).
The statement today. from Global Athlete (in full below) follows statements from the Women's Tennis Association (WTA), which insists on hearing directly from Peng Shuai and if it does not it may cancel all contracts and events with and in China – it's call backed by Serena Williams and other tennis players – and the United Nations, which has called for China to prove the whereabouts of Peng Shuai.
Meanwhile, the IOC is under pressure to explain why it is not speaking out on behalf of the athlete rather than simply accepting the word of the state that suppresses information and truth and is widely mistrusted. Seeking explanation from the IOC is tautological: Beijing is set to host the Winter Olympics next February and the Peng controversy including an allegation that she was forced to have sex with a senior Communist Party official, coincides with talk of boycott over China's treatment of the Uighars.
One of those articles prompted SOS to retweet with the questions being asked far and wide:
The Statement On Peng & China From Global Athlete
Global Athlete Calls on the International Olympic Committee (IOC) to Suspend the Chinese Olympic Committee Until Peng Shuai is Proven Safe
19 November 2021: Tennis player Peng Shuai has been missing since she accused a former top Communist Party official of sexual assault more than two weeks ago. We commend the WTA and its CEO Steve Simon for forcefully intervening in the situation and threatening to pull its business from China if Peng is not fully accounted for and her allegations are not properly investigated. We condemn the IOC for staying silent on the three-time Olympian's disappearance. The IOC has a duty to care for its athletes. Silence is unacceptable.
With the 2022 Beijing Winter Olympic Games two months away, the IOC must use its substantial leverage to ensure that the international community is provided proof of Peng's whereabouts, that Peng is immediately given safe passage out of China, and that a full and transparent investigation is conducted into her allegations of sexual assault.
The IOC can no longer hide behind the veil of "quiet diplomacy"; they must immediately and publicly threaten sanctions on the Chinese Olympic Committee should any harm come to Peng Shuai. As China prepares to host the Olympic Games, every athlete is watching to see what action the IOC will take to protect athletes and their fundamental human rights.
The IOC tried "quiet diplomacy" in Iran and failed. The result was the execution of wrestler Navid Afkari. China is using Peng's sport popularity to silence athletes and the people of China. Retribution towards athletes for using their voice must never be tolerated.
Actions speak louder than words; it is time for the IOC to show that it values athlete safety above its financial and political interests.
Disturbing Lack Of Intervention On Peng From Olympic Leaders Is A New Story From China With Old Parallels
The IOC and Olympic sports federations are well known for rubbing shoulders with and granting awards to some of the most controversial leaders in the world, including, of late, the likes of Vladimir Putin and Vitaly Mutko, despite the parts they played in the Russian doping crisis, and the Qatari regime, despite the atrocious human rights issues that Amnesty and others have highlighted.
The message, all the way back to at least Berlin 1936 and stadia stacked with Nazi salutes long since forbidden for reasons we all know well, has been "politics, money and influence always make the podium ahead of athlete welfare, integrity and morality".
In swimming, the China doping crisis of the 1990s rocked the sport and, just as it was with the GDR's systematic doping, there was much denial and wilful blindness from governors, the victims of it all awaiting justice yet. After decades and much campaigning and the ostracising of those who called for integrity in governance down the years, FINA this week finally stripped Dr. Lothar Kipke of the honour it bestowed on him in 1985 at a time when his Job involved ramming needles full of steroids into the backsides of underage girls so that the GDR could pulverise its opponents.
FINA's action this week was part of a much welcome if long overdue reform process.
When it comes to China, Olympic sports authorities have often struggled – and failed – to make athlete welfare and Fair Play the winners in a race with money and power. In swimming of late, the Sun Yang saga exposed by this author in The Sunday Times highlighted precisely what can – and did – happen as a result of the abdication of duty of care by guardians and stewards of international sport. Sun is now serving a long suspension but the senior figures around him urging him to act in ways now judged to have broken the WADA Code? The system has not dealt with them – only the athlete.
If Peng is the latest in a line of high-profile figures in China to 'disappear', her story reminds the swimming community of the disturbing case and death of Qing Wenyi in 2015 – and the silence of sports authorities under circumstances that demanded the inquiry there never was. A reminder:
Editorials From The SwimVortex Archive –
From the archive – November 13 – 2015
Qing Wenyi Gone With No Autopsy: Whither Child Protection In International Sport?
Editorial
This week we have come to understand more about events in the shadows of Russian sport courtesy of a WADA Independent Commission report that has confirmed its belief that the systematic doping of athletes reported in allegations made by Russians on an ARD TV documentary has indeed been part of a gross deception.
We have heard words, words, words and seen little action in response – and we will hear how the IAAF intends to respond today as the athletics federation votes on whether to suspend the country at the heart of controversy. (Update: It did)
What could top all of that? Death, perhaps.
What might have been at work in the shadow of Qing Wenyi's short life we will never know. Let's be clear: we cannot say that doping was a cause of her death. Sadly, we can't say it wasn't either. And the fault rests with China and a sports system lacking the checks and balances of child-protection measures.
The 17-year-old will not be coming back to tell us about the environment she was working and living in, nor have the appropriate legal and medical authorities been given a chance to reveal the truth about her sudden death in the early hours of Monday morning in a dormitory on a training camp in Beijing a couple of weeks after she emerged from the China Youth Games a double swimming champion.
Her funeral was held on Wednesday and Qing was cremated, according to Chinese media reports. The work of journalists suggest that the funeral and burning of any evidence – that might have helped promote understanding and even prevent a repeat of whatever it was that caused the young swimmer's death – was arranged within 24 hours of Qing's passing.
Her parents are said to have immediately asked that no autopsy be performed to allow their daughter to "rest in peace". Sources inside China suggest to SwimVortex that the parents had no choice in the matter.
We assume the Chinese news reports are correct. And if they are – think about it. Apply the same scenario to an official training camp of the some of the nation's fastest teens in water in the United States, in Australia, in Britain, in Germany, in France, in Sweden, Denmark, Spain, Italy … and on through the list of all nations in the world top 30 of swim nations. What would happen within a day of the death being announced?
We have an example to turn to, of course: Alexander Dale Oen, the Norwegian 2011 World 100m breaststroke champion who died on training camp in the United States while preparing for the London 2012 Olympic Games.
Here is what we were able to report at the time:
June 12, 2012: Doctors at a press conference in Oslo today revealed that Alexander dale One, the world 100m breaststroke champion who died on the last day of April, suffered a heart attack caused by a blood clot in one of his coronary arteries.
The results of a full autopsy into the Norwegian swimmer's death during a high-altitude training camp in Flagstaff, Arizona, led Dr. Eivind Berge, a cardiologist specialising in the field, to say that coronary artery disease of this kind is highly unusual in young athletes and the young in general.
High cholesterol, smoking, obesity or inactivity are associated with the condition, as are factors that may cause thickening of the blood. The doctor noted that Dale Oen had slightly increased cholesterol levels, but no other known risk factors.
The doctor was apologetic, saying that the problem might have been related to a shoulder injury Dale Oen was treated for in January. Earlier understanding of that and intervention might have prevented his death.
The autopsy revealed that, up to two months before his death, Dale Oen experienced changes to heart muscle consistent with small infarctions.
The full autopsy report is, in a sporting context, likely to draw more questions on how Alex Dale Oen died, if only in the interests of prevention.
June 14, 2012: After further detail emerged about the cause of death following an autopsy on Norwegian world swim champion Alex Dale Oen, a second medical officer has recommended that the athlete's family have heart checks because of a condition that is often hidden in under-50s and may have been hereditary.
Dale Oen, among favourites for Olympic gold over 100m breaststroke this summer until his death on the last day of April during a training camp in Arizona, had an enlarged heart and at least one previous 'heart attack' that went undetected, a medical examiner states in the investigation report that followed an autopsy.
All three major arteries in Dale Oen's heart were extremely narrowed, up to 90 per cent, because of the buildup of plaque, said Shannon Mackey-Bojack, medical director of the Jesse Edwards Registry of Cardio Vascular Disease in St. Paul, Minnesota.
Further, she reported, the heart had prior damage from smaller heart attacks that had apparently gone undiagnosed despite Dale One having had heart checks during standard medical tests. "If you're having chest pain and you're 26, you probably are not thinking you're having a heart attack," Mackey-Bojack noted. "You're just thinking that you worked out too hard."
Plaque buildup is detected through an angiogram but few under-50s are checked, the examiner noted. "This isn't something you routinely look for who is 26 years old," she said.
The common risk factors for heart disease are obesity (poor diet, lack of exercise), smoking and family history. The latter is the only one that might apply to Dale Oen, Kimbal Babcock, clinical services manager for the Coconino County Public Health Services District, suggested.
The swimmer's grandfather died suddenly at 42, the cause unknown, according to Mackey-Bojack. Her work recommends that the One family, including the swimmer's older brother Robin Dale Oen, have heart checks targeted at the problem detected in the autopsy of the late athlete.
The results of a second set of tests on Dale Oen was released on Tuesday this week by the Coconino unit. The verdict: the swimmer died of atherosclerotic coronary artery disease (hardening of the arteries caused by plaque buildup).
"Based on the autopsy findings and the investigative history that is available to me, it is my opinion that Alexander Dale-Oen died of atherosclerotic coronary artery disease," Coconino County medical examiner Lawrence Czarnecki wrote. "Given the decedent's young age and significant atherosclerotic disease, a follow-up and evaluation of family members is recommended," he added.
In his sibling's memory, Robin Dale Oen is continuing the work he started with his brother to launch a foundation, The Dale Oen Experience, to help children achieve their dreams.
The Coconino County Medical Examiner found no anatomic cause of death in an initial examination on May 1. An autopsy at the Jesse Edwards Registry of Cardiovascular Disease, which specializes in diagnosing heart disease, followed, as did additional toxicology inquiries. No illegal substances were detected.
The autopsy reports and much else were laid out in great detail, the process not only essential for Alex Dale Oen but his family, fans and fellow swimmers and a community that might learn from his experience.
Contrast the above with the absolute lack of determination to get to the truth in China in the case of Qing Wenyi's death. Different nations, different autonomy, culture and so on; so what, some ask, has that got to do with any of us, with the worldwide swim community beyond the views that any of us may hold?
Child Protection In Sport
In search of simple answer and understanding, I turn to a tweet response to the link to our story of Qing's death:
Such a tragic death. When will current attention focus on the well-being of young talented and elite athletes?
That came from the Head of Child Protection in Sport Unit at the NSPCC in Britain. Her views, Anne Tilvas makes clear, are her own.
Even so, her view and status is important in that here we have a child-protection expert looking in from afar and being alarmed at what can quite easily be described as a gaping hole in the world of international sports governance that is now, quite rightly, coming under fire for failings of woeful dimensions, the criminal in the mix of allegations that turn the stomach, even if they come as no surprise.
Good question from Tilvas. Clearly, no child-protection agency or equivalent in China stood any chance of getting to ask questions on Qing and her circumstance before those who last served as her guardians placed her body in an oven.
Look up international child protection and you will find, understandably, issues such as sexual abuse of minors, making the headlines and topping campaigns. Doping in sport is virtually absent from the debate in some sports governance circles. And yet, an act of violence doping minors certainly is – and that is why supplying and administering doping to minors is illegal in some countries, Germany included in the wake of the woe at the heart of the GDR medals factory and the criminals at play who are still among those on the list of folk honoured by FINA down the years.
Important to note that the subject is taken seriously in some places, here some examples:
None of which appears to have made any difference when it came to making sure Qing did not leave this world with the truth being known through scientific inquiry of autopsy.
Given the WADA and FINA lists of positives among scores and scores of teenagers in aquatic sports down the years, what measures have the international swimming federation taken on child welfare issues? What questions is it asking about Qing? My guess is 'none'. I would be very happy to be proved wrong. I would be very happy to hear that FINA has asked CSA to explain and to hear that an inquiry is to be launched.
What point, now the girl is dead and cremated? Well, many a point, topped by :how to make sure this can never happen again; how to make sure that every sudden death in sport triggers an immediate autopsy and, if the results demand, an inquiry.
The tragic case of Qing Wenyi (with friends a couple of weeks ago, third left, China TV still) should not go ignored by sports leaders in swimming. If the sudden death of a 17-year-old national champion on a training camp that is followed by a hasty cremation is of no concern to FINA, the CSA, the IOC and others of that ilk then the need for independent observers, complete with child-protection experts is as obvious as it is urgent.
We may never know what happened in the last 48 hours, the last week, the last month, the lifetime of Qing's time on earth that may have contributed to her death near the Temple of Heaven in Beijing this week.
However, it is not too late for those who claim to be the guardians of swimming, a sport stocked with oceans full of minors in the care of coaches, doctors and others beyond their family home, to ask the questions that could lead to a better day for all and ensure the safety of those teammates Qing leaves behind in the environment she spent her final days.
Qing and her memory deserve no less.
And – From the Archive – November 17 – 2015
Qing Wenyi's Death Will 'Remain A Mystery' In The Shadow of Olympian Heights
The day after she died and the night before Qing Wenyi was cremated, teammates who had shared a life with her from 13 to 17 years of age and considered themselves as "sisters" joined the deceased swimmer's mother on a shopping trip to buy the dress that the swimmer had dearly wanted but had never had the time to go and try on.
The line is among several insights in a report at qq.com, the Chinese-language website, filed on the day of 17-year-old Qing's funeral less than 36 hours after a sudden death that the Chinese media describe as an incident "that will remain a mystery".
The reason given for a lack of autopsy in a death and circumstances that would almost certainly have triggered inquiry and a call to the coroner in many parts of the world was a parental request for no investigation to take place. What they wanted was a swift farewell to allow their daughter to rest in peace. Both parents work in the police service and are described by Chinese media as "bright" metropolitan citizens.
Sources close to Chinese swimming have not only questioned whether the parents had any choice in the matter but questioned the role of those playing a guardianship role in Qing's life on an official national-team training camp in Beijing. Among those in the frame is the Chinese Swimming Association: not a single official word.
Swimming has come to expect the kind of silence we are treated to from the CSA and the international federation, FINA, when faced with controversy. But none of that will make the questions go away. Sources inside China are perplexed when it comes to why city and state legal authorities appear not to have insisted on proper inquiry of the kind they would expect when a supposedly fit and healthy newly crowned double China Youth champion drops dead suddenly in the early hours of the morning after crying out in the dark in a dormitory on camp.
Qing was taken to the Tiantan Hospital round the corner from the world-renowned Temple of Heaven. It is while doctors attempted to resuscitate her that the young swimmer is reported to have died at around 5am on Monday 9th. By the evening of the 11th, Qing's body had been cremated.
The lack of forensic inquiry has raised concerns in the wider world swimming community and among experts working in child welfare, particularly against a troubling backdrop of high numbers of doping positives among young Chinese athletes training in controlled environments.
Many Questions; Few Answers
Culturally, it is not unusual for those who die young and without children of their own to be buried without ceremony by their parents, while those who die old are mourned, officially and by custom, for 100 days in some communities, while ceremonies that stretch to 49 days among Chinese Buddhists. Reports into Qing's death make no mention of religion, while a local journalist speaking to the Independent in Britain nods to just how hard it is to find hard facts on the case:
"There's no chance. Even as a local Chinese journalist I can't locate any hard facts. The parents' decision may not be so strange. In China people do respect the parents' wishes."
What we can say for certain is that autopsy and the coroner's inquiry have been a part of Chinese life for many hundreds of years and continue to be a part of the Chinese legal system, as Qing's police parents will know well.
The Collected Cases of Injustice Rectified (or the alternative title of Washing Away of Wrongs) is a Chinese book written by Song Ci in 1235 during the Song Dynasty (960-1276). It is one of the earliest references and handbooks for coroners and has been translated down the years into English, German, Japanese, French and other languages.
In the book, Song Ci writes:
"Should there be any inaccuracy in an autopsy report, injustice would remain with the deceased as well as the living. A wrongful death sentence without justice may claim one or more additional lives, which would in turn result in feuds and revenges, prolonging the tragedy. In order to avoid any miscarriage of justice, the coroner must immediately examine the case personally."
If the sudden death of a 17-year-old national youth champion in the prime of life does not trigger the process described almost 800 years ago, the question is: what would?
The Olympic Dreams Of Qing Wenyi
Meanwhile, Qing Wenyi is described by qq.com as a "tomboy" with a wild streak, a swimmer with a burning ambition to succeed and a strong work ethic to match. It was those qualities that drew the attention of recruiters from the national team when Qing Wenyi was 13.
After more than three years in her local and provincial teams, Qing raced at the Beijing round of the world cup last year and clocked short-course times of 1:08 (11th) and 2:25.7 (6th in the final and ahead of two national senior team swimmers) over 100 and 200m breaststroke. She was then a finalist at national championships in Baoji last April, her performances triggering selection to the national team, complete with the things that come with that status, including official training camps such as the one on which she died last week.
Qing Wenyi applied for the Muxiyuan sports school when she was 10 in the fifth grade. She stated at the time that her ambition was to swim at the Olympics, according to qq.com. That would lead to six-days-a-week preparations including swim sessions of 1.5 hours every morning and 2.5 hours every afternoon, each day covering 8 to 10km in water.
Qing's potential led her to be selected for a six-week training spell in Australia, where China sends many of its national and provincial teams for overseas training.
It was while in Australia that team insiders, according to qq.com, first heard her state that she believed she could take double gold at the Olympic Games. That was six months before her national team selection on the strength of strong progress in the pool that coincided with what qq.com describes as "the transformation of a beautiful girl into a tomboy".
Qing passed ant-doping tests, including those taken at the China Youth Games in Fuzhou last month when she claimed gold in the 100 and 200m breaststroke.
When reporters arrived at the Tiantian Hospital on November 9, the Chinese website states, authorities "refused to disclose the cause of death, and no official came forward to clarify the reasons why Qing had died".
That set in chain a wave of speculation that "the cause of death was a heart condition associated with stimulants", says qq.com.
Last year, Sun Yang, the double Olympic freestyle champion from London 2012, served in secret a backdated three-month suspension after testing positive for a banned heart stimulant. The cause of the 'mistake' was said to have been a CHINADA banned substances list that had not been updated with the requirements of the 2015 WADA Code. Dr Ba Zhen, was served a belated 1-year suspension and – after constant questions from this website – was served a second suspension because he broke the terms of the first ban by working on the deck with Sun yang at the Asian Games in Incheon, Korea, in September last year.
Chinese sources state that Dr Ba was simply a cog in a wheel and that Sun's medication was prescribed by a "team of doctors" that work with the China elite swim team. None of those or any other doctors on training camp or in the hospital are cited in any official statement as having called for an autopsy or even having had a view on what the cause of death might have been and how it could be that a 17-year-old was taken away for cremation without an official version of why she died.
China Conundrum Forever A Mystery In The Shadow Of Olympic Heights
A source speaking to qq.com estimates that the probability of a death such as Qing's in a controlled environment is one in 10,000. The journalists working on the story could find no coaches from her past who were able to speak of any ailments associated with Qing, a stomach ache the worst of it.
Qing was given a medical all-clear on arrival at the camp after a comprehensive check-up on October 28.
Discussion in China ranges from heart problems to banned substances and in the middle of that the effects of "heavy training where the heart is regularly tested between 200 and 240 beats a minute", qq.com states, adding: "In a sense, athletes bear the brunt of mankind's 'higher, faster and stronger' challenge and the spirit of that mission … [including] the risks they face."
There is, of course, no mention of sudden death and a failure to perform an autopsy in the universal values of the Olympic Charter.