How A Great Britain Brotherhood (& Sisters) Beat 1908 At The Tokyo Tough-Love Games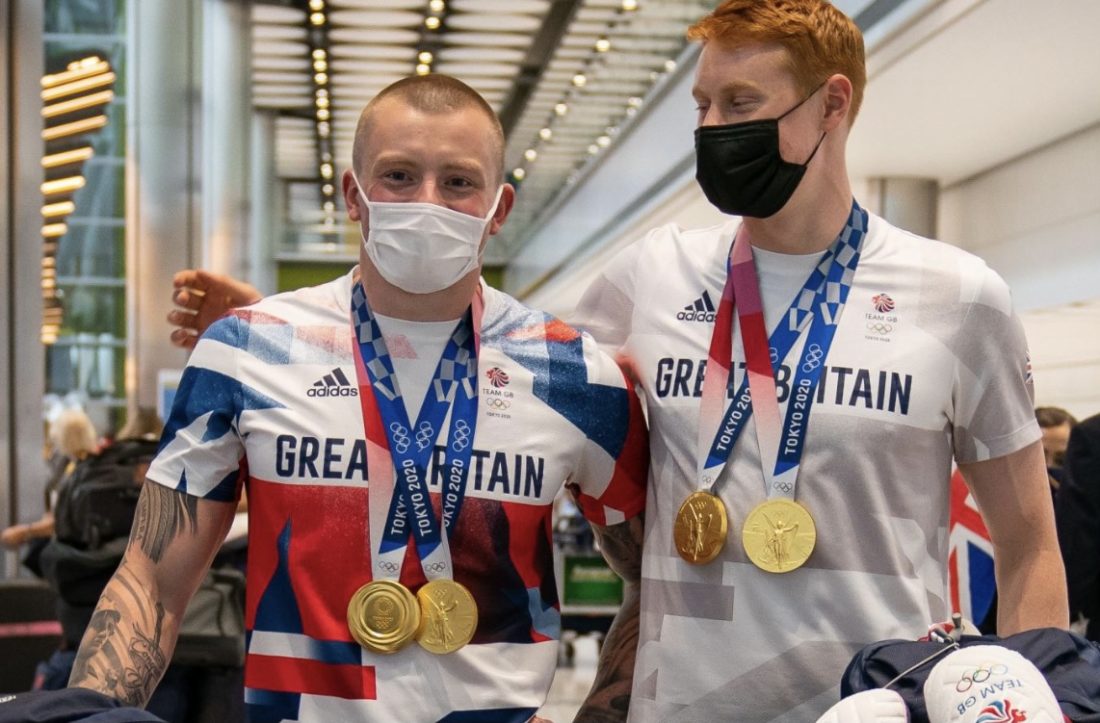 Adam Peaty and the Aslan tattoo draped over his left shoulder reveal much about a Britain swim team, deserving of its Great: an army needs a leader to show the way if you want to beat back the ghosts of a bygone world inn which Blighty had an Empire and more fingers in pies than it needed to count its rivals in the infancy of Olympic sport.
There's the athlete leader and the coach leader, and this is what Bill Furniss, mentor to double Olympic champion Rebecca Adlington and head GB coach post-London 2012, had to say about the other leader: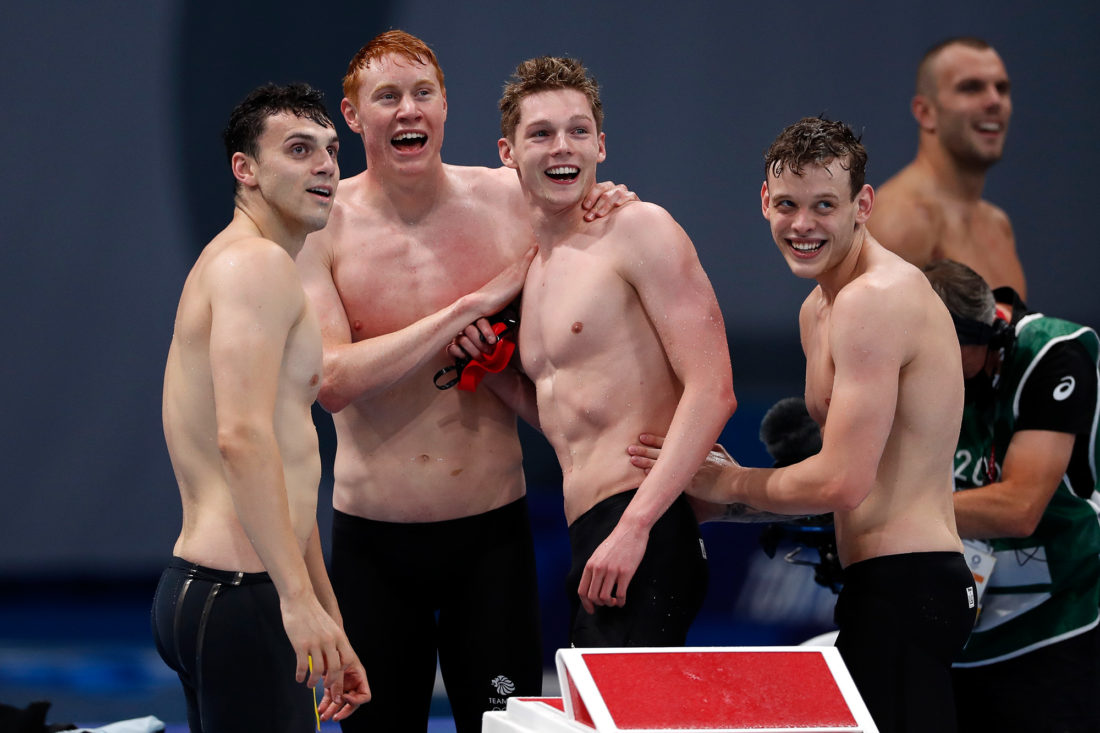 "Adam is a trailblazer, his attitude is world class every day. The public see him swim here, but they don't see the other 365 days a year, of total commitment, but all the other swimmers on the team do."

Adam Peaty – Photo – Great Britain – (l-r) James Guy, Tom Dean, Duncan Scott, Matt Richards – the nation's first 4x200m freestyle Olympic champions since the only other time it happened, at the very beginning, in 1908 – by Simone Castrovillari, courtesy of Speedo
One who did and matched the standard of Peaty's press and his two golds, solo and relay, in Tokyo: Tom Dean, who nearly quit the sport at 14 when a knockabout with mates after school seemed somewhat more appealing to a young teen than another 6km-plus session in the pool day after day, week after week.
In the year Peaty claimed his first Olympic gold, at Rio 2016, British Swimming heard that Dean, then 16 and one off its great rising talents was minded to follow his sisters to the USA on a college scholarship.
One leader sent the other, Peaty along to have a word: stay home, be a part of our Britain brotherhood building, go to Bath, train with Dave McNulty, the coach Furniss calls his "best polisher", be one of us and let's make the Great earn its place before the Britain.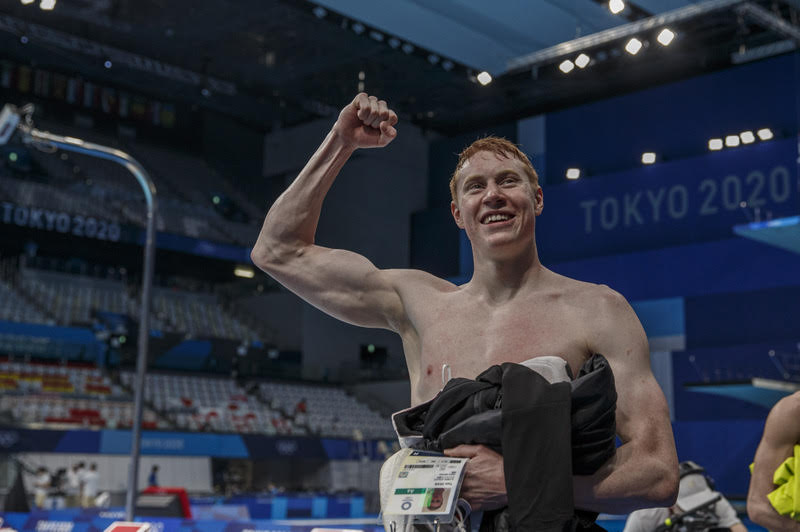 Dean was in. At 18, after European junior titles, in 200m medley not freestyle, he joined three of the very brotherhood that has just claimed Olympic gold in the 4x200m freestyle, at his Britain senior debut. Gold: in the 4x200m freestyle at the 2018 European Championships with Calum Jarvis (1:47.17), Duncan Scott (1:45.48), Dean on 1:47.07, and James Guy (1:45.60). Dean earned his spot in the final quartet by racing faster than heats swimmers Stephen Milne and Cameron Kurle.
All of that was achieved while Dean was still working at Maidenhead Marlins under the guidance of coach Paul Lloyd (more own them soon). And then it was off to McNulty at Bath and Peaty and the brotherhood gained confidence as a growing force that just got packed on a bit more muscle in the shape of a 6ft 3 teenager with all-round athletic skills and great prospects.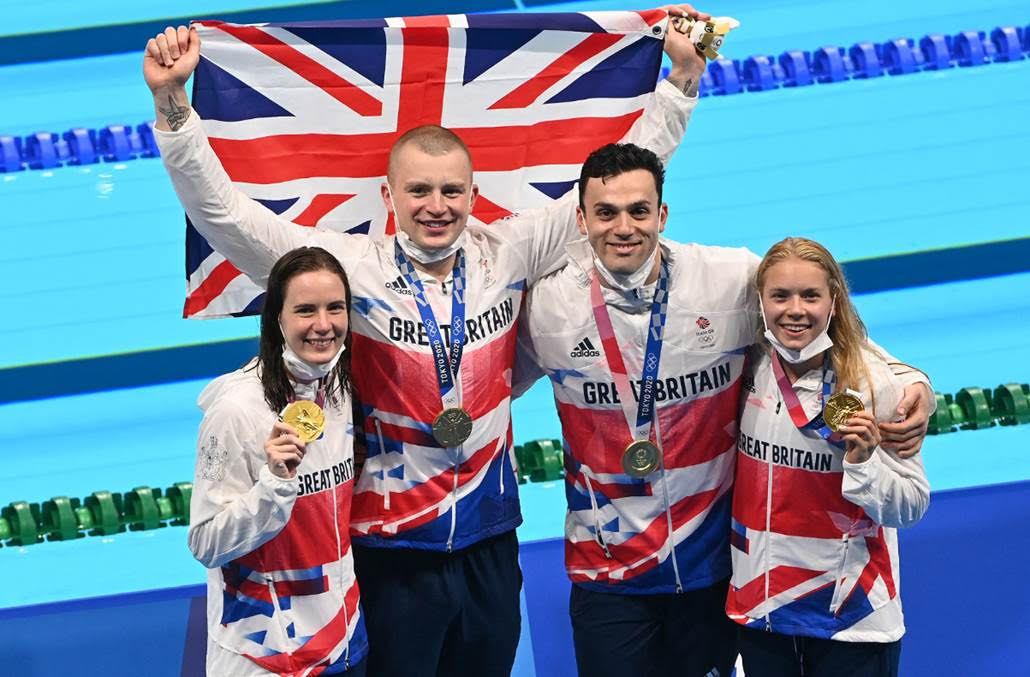 The 'stay home and do it the British way' message of Furniss extends beyond the brotherhood, to a sorority that counts among its number world-class coach Mel Marshall, Peaty's mentor, and one of her charges Anna Hopkin, who delivered one of Britain's four golds with Kathleen Dawson, Peaty and Guy in World-record time no less. Hopkin, who replaced heats swimmer Freya Anderson on freestyle, punched above her height: at 5ft 4, she was the shortest in the solo 100m final in Tokyo by a hand and more. What mattered more was the will, the drive, the fight and a focus not on 'why I can't" but "why I can", in the words of Marshall.
Hopkin has been at college in the USA and, when COVID hit and the colleges had to be cleared was given no time at all to pack her bags and go home. She approached Marshall and has been at Loughborough with Peaty, Luke Greenbank and Co ever since. A 52.00 split in the winning mixed relay in Tokyo and a new career high of 52.75 in the solo would suggest it's gone rather well. Like Dean, she, too, will be staying in Britain.
The pandemic contributed to Britain's success in Tokyo in this regard: it played into the plan put in place buy Furniss and performance head Chris Spice to reduce the number of performance centres and concentrate limited resources on those good enough to be placed at Loughborough and Bath, as well as centres linked to the Britain program in Scotland – at the University of Stirling – and Wales – at Swansea.
In Australia, the great centres experiment did well and then fell into mediocrity on some levels, while clubs and home programs lost the will to work hard to feed others with success they never felt the benefits of when connection was cut off.
Lessons can be learned from everywhere, Furniss insists, but he believes that the application of whatever knowledge comes in has to have a British bent and way of doing things to work in the home context.
When Spice is asked how Australia, with a smaller population than Britain, manages to finish second ion the table with nine golds (8 of those to women), he says: "They've got a lot more numbers than us and in terms of what we have to do, we have to maximise the talent we've got. So we have to get them early. Our talent ID through Tim Jones has just gone off the charts. We are so much better now at knowing exactly who is going to make it."
Furniss notes: "If I take Tom Dean as an example, we fought like crazy. He already had two sisters in the States on scholarships and we thought there's a natural progression, he's going to go to the States. But we fought like crazy to make sure that didn't happen because we didn't want him to become a short-course swimmer. And through Tim and Bill, we got Adam to talk to him, we told him you need to stay in Britain. That took place four or five years ago … We only have five or six really good ones a year probably. We've got to make sure when we get them, they get in the right place, with the right coach and the right programme."
Sweetenham once wondered why Britain has not "repeated the Smart Track Squad every single year". He was referring to the program he instigated that generated more than 30 international podiums from six girls chosen from one ID talent spotting program alone when he was in charge. The count included Jazz Carlin, who went onto claim two silvers in distance freestyle behind Katie Ledecky at Rio 2016, Fran Halsall, Lizzie Simmonds, now working with the Team GB for 2024 Ambition Programme, and Jemma Lowe, along with a few others.
The fruits of Tim Jones's work have also been showing through and Furniss noted: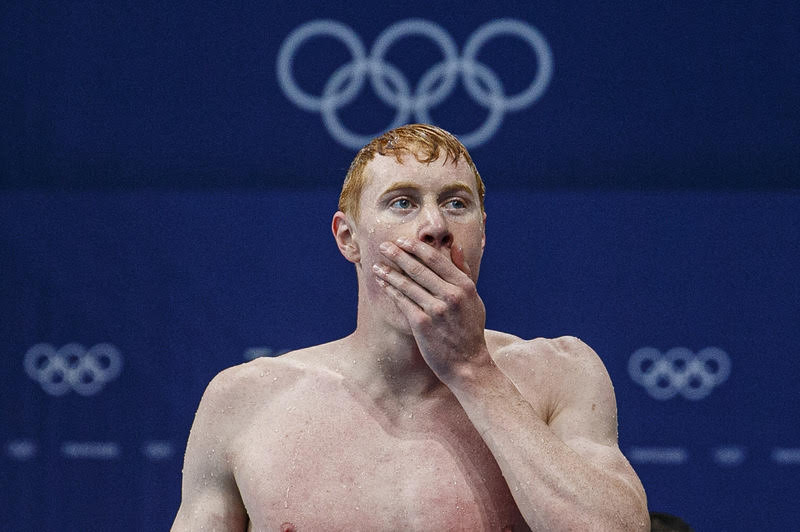 Tom [Dean] is a great example because we put him with Dave McNulty. I always call Dave my best polisher because if you give him an athlete, he will finish the job. Over four Olympics, he has won medals in different events, in different sports. Just great coaching. Him and Tom hit it off straight away. He has had Covid twice and the second time he was pretty ill. It just shows you the fight in these people.

Bill Furniss – Photo, Tom Dean

– The alchemy of goal to gold is a life's game-changer – photo by Patrick B. Kraemer
There are long-term trends in play and experience counts but talk of any success in Tokyo being part of a "20-year" or "10-year " plan is mostly nonsense or, at very best, needs deeper understanding and contextualising well below the surface of success being down to a "system".
The success came down to the development years and the polishing here:
6 Coaches With Medallists in Tokyo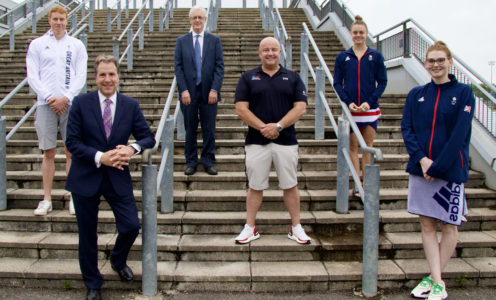 Mel Marshall – Loughborough
Dave Hemmings – Loughborough
Dave McNulty – Bath
Jol Finck – Bath
Steven Tigg – Stirling
Bradley Hay – Stirling
Marshall, McNulty and Tigg accounted for swimmers who claimed five solo medals in Tokyo, namely Peaty and Dean with golds in the 100m breaststroke and 200m freestyle respectively, Duncan Scott, with silvers in the 200m Freestyle 0.04sec behind Dean in the closest race of the eight days off finals in Tokyo, and the 200m medley, and Luke Greenbank, with bronze in the 200m backstroke. All four swimmers also claimed gold and/or silver in relays, while Scott, with his 1 gold and 3 silver medals became the first British athlete, all sports, in Olympic history to claim four medals at one Games.
All those efforts finally confined to history what had remained the best Britain showing in the pool at an Olympic Games since 1908, when Henry Taylor and his three golds contributed to a seven-medal haul topped by four titles. It took 113 years. Dear Henry Taylor: RIP.
11 Britain Swimmers With13 Gold, 5 Silver, 1 Bronze In The Bag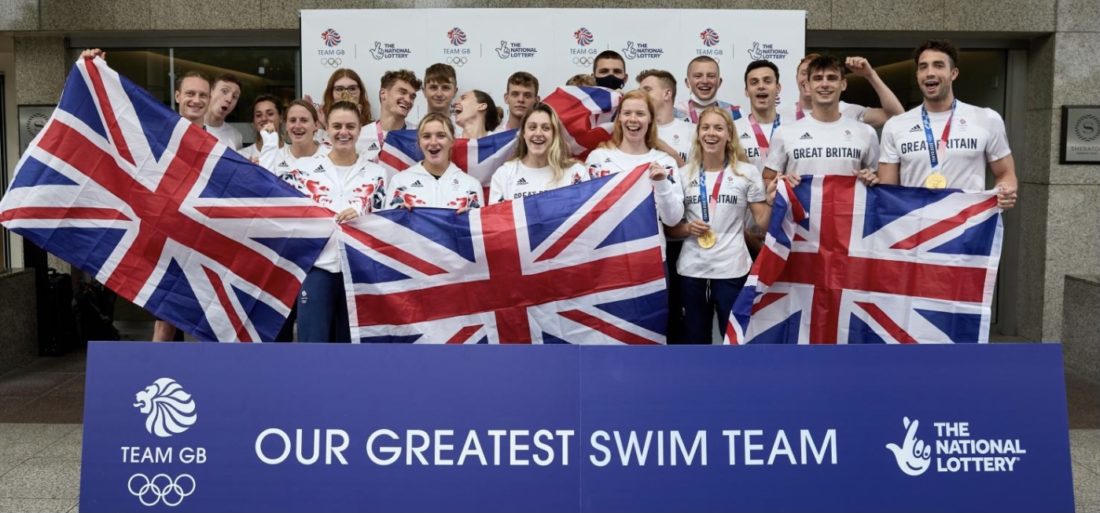 Bath – 7 gold
James Guy (McNulty) – 2 gold (4x200m freestyle, 4x100m mixed medley) 1 silver (4x100m men's medley)
Tom Dean (McNulty) – 2 gold (200m freestyle, 4x200m freestyle)
Matt Richards (Finck) – 1 gold (4x200m freestyle)
Calum Jarvis (McNulty) – 1 gold (4x200m freestyle)
Freya Anderson (McNulty) – 1 gold (4x100m mixed medley)
Loughborough – 4 gold, 2 silver, 1 bronze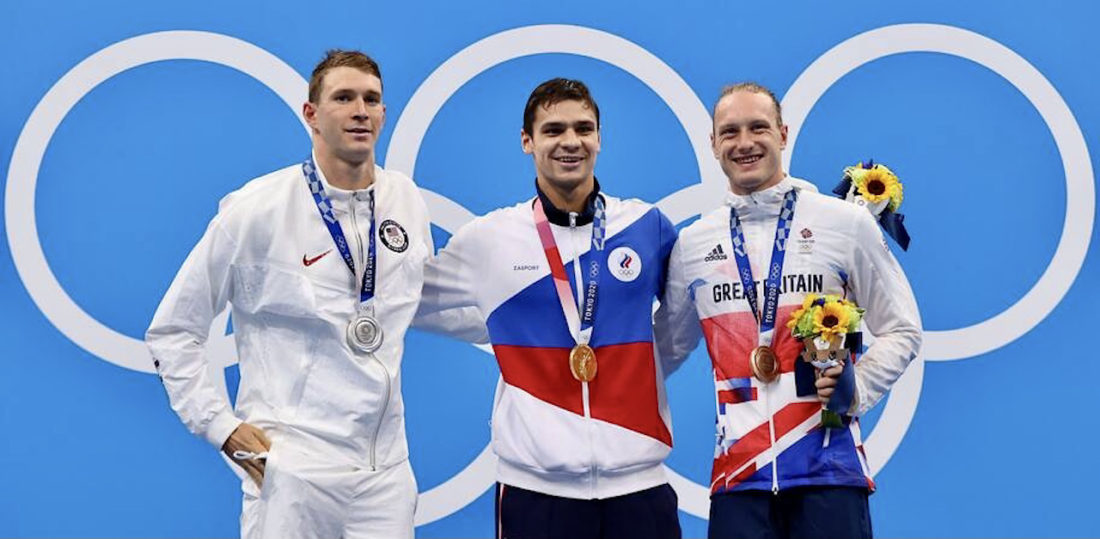 Adam Peaty (Marshall) – 2 gold (100m breaststroke, 4x100m mixed medley relay), 1 silver (4x100m men's medley relay)
Luke Greenbank (Marshall) – 1 silver (4x100m mixed medley), 1 bronze (200m backstroke)
Anna Hopkin (Marshall) – 1 gold (4x100m mixed medley)
James Wilby (Hemmings) – 1 gold (4x100m men's medley)
Stirling – 2 gold, 3 silvers
Duncan Scott – (Tigg) 1 gold (4x200m freestyle), 3 silvers (200m Freestyle, 200m medley, 4x100m men's medley)
Kathleen Dawson – (Hay) 1 gold (4x100m mixed medley)
Britain Swimmers Back Home – What It Means:
Up and down Britain today, swimmers and their families are getting to repeat and retell and start to tell the stories of their journeys, team success, their success, the beginning of lore. Here's a take from Duncan Scott's parents.
All For One & One For All
One thing all the above had in common with all those who did not get a medal, some falling shy of the best versions of themselves, was a genuine sense of disappointment, even to the depth of "bitter" and "gutted" and a second goal just as clear to them as their own personal ambitions: whatever they emerged with, they would stand together in support off each other, come what may.
That manifested itself in a variety of ways, including these notable moments:
the passion put on display by James Wilby when he broke down after the 200m breaststroke final when he was asked about his mother's efforts as a nurse helping to roll out vaccinations in the pandemic;
the tears shed and passion shown by James Guy after he'd stood screaming in the stands while racing every stroke of the 200m final with mates Dean and Scott four years after finishing fourth in an Olympic final won by Sun Yang*, the Chinese controversy now serving a four-year plus suspension for what he did what his entourage did and what this author reported and made the World Anti-Doping Agency aware of when FINA had sought to keep it all a secret. Since 2018, Guy, the 2015 World champion, had set the daily challenge and pace that would help draw the best out of Dean in training at Bath with Jarvis, teenager Matt Richards across the lanes at the same TeamBath pool in another training group but watching, waiting, emulating, rising to the standard day after day on his way to Olympic gold with Dean and Guy – and Stirling's Scott
in the "f**k off!" Scott shouted (the words were uttered by Peaty, Dressel and a fair few others in Tokyo, openly in press conferences and the mixed zone after races) at the scoreboard after a soaring best time in the 200m medley but not where he wanted to be. The expletive reflects the depth of raw emotion of being 0.2sec behind a Chinese puzzle of a last-lap split in line with Phelps and way ahead of where Wang Shun had ever been before and out of synch with what logic and multi-event form would indicate as a range of possibility.
in the trench of disappointment reflected on the faces of the four men, fatigue draining the colour from their cheeks, who emerged from silver in the men's 4x100m medley in European record time behind the World record of the American quartet defending a massive tradition of never having lost the race since it got going in 1960.
and the smile Peaty managed as he looked at his mates and said "it's a bit boring if you always win – this'll make us hungry al the way to Paris"
Guy made a valid observation when he noted: "Eight years ago I made the senior team for the first time and I remember at my first world championships, every day we'd have a team meeting, and in it we'd all clap for whoever had made a final that day. [at which point he laughs] … and here we are, we've got second, and we're upset with that, and that shows you the way things have moved on."
They have – but the message is hardly new.
Thanks Paul Palmer, Ian Turner & Those Whose Demands Underpin The Tokyo Success
It was one Paul Palmer and his coach Ian Turner championed in 1996: Palmer emerged from the 400m free final with silver behind Kiwi Danyon Loader and made a impassioned plea for funding of Olympic athletes. He had trained largely in an old 25-yard pool and had excelled for self and Britain against the odds. Palmer's plea was heard by the British press and they splashed his words on front and back pages. Then Prime Minister John Major heard the noise and pledged ring-fenced support. So began the UK lottery and its link to UK Sport that has funded a big surge in British fortunes and outcomes across many sports at the past five Games.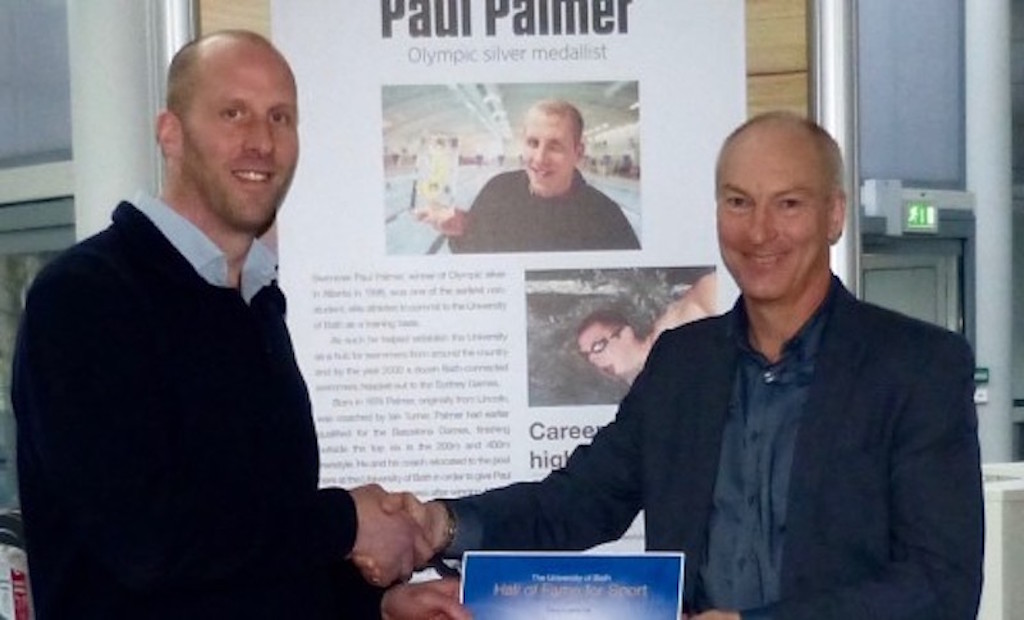 TeamBath was born and Turner led a program with Palmer in a pathfinding role, one recognised when Palmer was inducted into the University of Bath's Sporting Hall of Fame in January 2016. Said Turner on that occasion:
"Medals were hard to come by then. Lottery funding wasn't on tap and some of the things that are now taken for granted, like sports science and nutrition, were in their infancy".

Paul Palmer with Stephen Baddeley, the Director of Sport at the University of Bath isn 2016 – courtesy, University of Bath
In the lead up to the Atlanta Olympic Games, Turner took six months unpaid leave from his job as a PE Teacher to support his charge. Turner, whose marriage did not survive his coaching, recalled: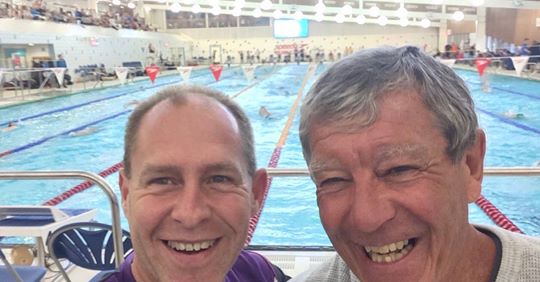 "My wife and I had to dip into our savings. When he [Paul] later said he had heard about the set-up in Bath and wanted to make the move there, he wanted the partnership to continue so I just gave everything up and moved to coach him there. I still have incredibly fond memories of my time at Bath with Paul. I have coached all around the world since and I still say that my favourite place was Bath".

Ian Turner

– Photo – Michael Peyrebrune, left, with Ian Turner, courtesy of Michael Peyrebrune British Swimming sports science lead Michael Peyrebrune, left, with Ian Turner – courtesy of Michael Peyrebrune
Post-Atlanta, Palmer and Turner relocated to Bath, from his home town of Lincoln, where he swam for Lincoln Pentaqua club, to give himself the best possible chance of success and went on to claim two European golds, in 1997 and 1999. Said Palmer at his 2016 induction ceremony: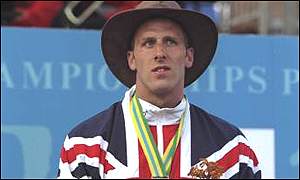 "I don't think people realise just how revolutionary the set-up was in Bath in those days. It was fantastic to train with Olympic hopefuls from other sports. We had access to sports science and medicine support as well as food, fitness and training facilities."

Paul Palmer – 1998 World titles on the podium, in his akubra with Ian Thorpe and Grant Hackett
And all of that helped with the education required to know that nutrition counted and things like drunken parties were not conducive to elite performance. Asked why Palmer stood out, Turner once said:
"He was a late maturer and didn't win his first national age group title until he was 15. Paul had an incredible ability to swim hard but then recover well overnight and do the same again the next day. Swimming is a tough sport and he was doing 10 two and a half hour sessions every week".

Ian Turner on Paul Palmer
Palmer's post-medal speech at Atlanta 1996 dovetailed, unbeknown to the swimmer, with research by University of Bath graduate David Carpenter on lottery-funded sport around the globe.
When lottery, through Sport England, was born, it led to £21 million being invested towards the overall investment needed to build the Sports Training Village at Bath.
After Palmer's silver and a bronze for Graeme Smith over 1500m in 1996, Sydney 2000 was the first Games since post-War London 1948 to produce no medals at all in the pool. Some were indeed happy to make the team and knew they stood little chance of getting beyond heats; but not all and it was Palmer again who spoke up.
Please, he said, could Britain NOT select those who did not attain a high world-class standard in the pool just to be selected. His point was backed by this, from his mouth and my contemporary notes:
"It is so draining to be on a team with people who swim a heat and are then on holiday for the rest of the Games. They aren't serious and their presence is a distraction from the job some of us came to do. A few of us came for gold and feel utterly disappointed if we get anything less that a medal. Fourth is devastating."

Paul Palmer, 2000
So, home they went, out went to the first performance director Deryk Snelling and in came Bill Sweetenham from Australia with a warning that "not everyone will be able to travel this journey with us… some will hurt and it will be too much of a change for them". So it proved.
Sweetenham changed the game. The big gains included topping European Championships medals tables for the first time in decades; hauling record numbers of medals at World Championships, including gold in the women's 4x200m free in 2001 in dramatic circumstances, including Katy Sexton's World title in the 200m backstroke in 2003, the year James Gibson lifted the global 50m breaststroke crown and was congratulated by Sweetenham with a reminder that the 100m was the Olympic standard and he believed James had what it took to be great; he brought in expert talent spotters and world-leading coaches, such as Don Talbot, to help coach the coaches and tell him where they thought he was going wrong.
Sweetenham was loved by some, respected and acknowledged by the vast majority, almost hated by the few who said he was a bully. An inquiry found that to be untrue and The Times received a letter signed by more than 20 members of the national team backing Sweetenham.
Cultural shift was underway. A touch of what was described back then as bullying was reflected in questions from media in Tokyo to Furniss. He was clear about it: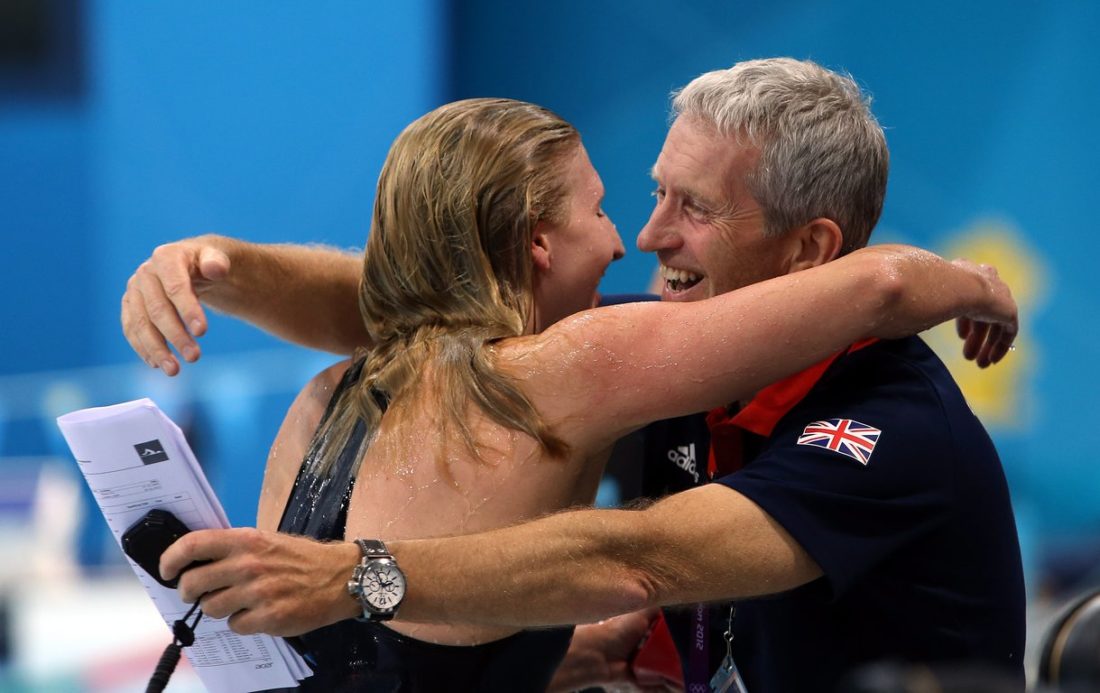 "This is a high-performance environment and you have to challenge people. you are trying to push people to their absolute limit, but it is possible to do that in the right way. We have done a lot of work with our coaches and athletes. It is tough love. We are very hard on them, we set very high standards but we are also very caring.

There are 27 swimmers on this team and not all are going to fire at once. You will have a great meet if 80 or 85 per cent fire. That doesn't mean the other 15 per cent are bad swimmers all of a sudden. We look after the ones that don't fire. We try and help them get back up and we have got a great team around them. We believe in them, we encourage them but at the same time we set very high standards and we challenge them."

Photo – Beijing 2008 double Olympic champion Rebecca Adlington and coach Bill Furniss – courtesy of British Swimming
Spice noted that only 20 per cent of the London 2012 team had been at their best during the Games, with 80% falling shy. Correct – but also fair to note what he did not: that that very same thing had been identified from day 1 of Sweetenham's shift – and worked on at every passing meet 2001 to 2008 under Sweetenham's regime (he left Britain in late 2007).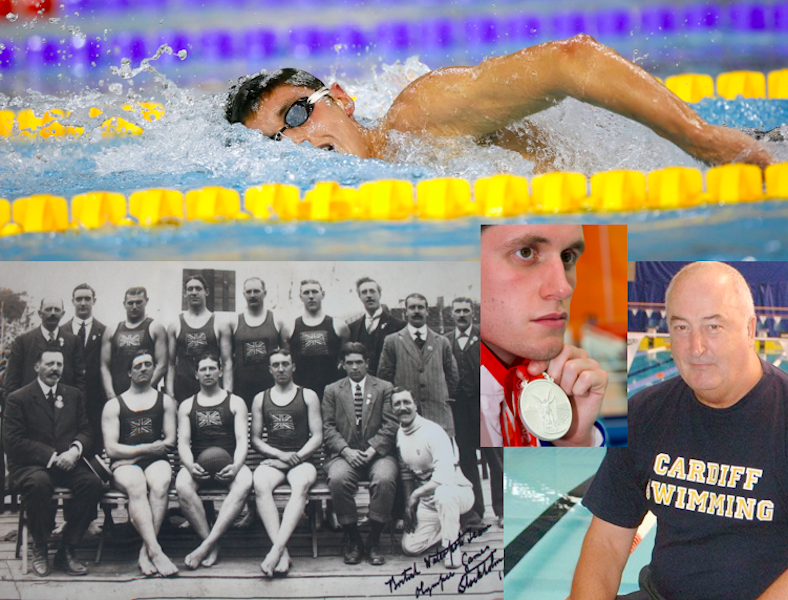 The 2004 Games, written up too far and wide as a failure because two bronzes did not reflect the progress seen in a result at 2003 World Championships along the same lines as the count in Tokyo – 2 gold, 3 silver and 3 bronze for 8 in total – placed David Davies on the podium in the 1500m freestyle and Stephen Parry in the 200m butterfly adrift the first big-haul campaign of a certain Michael Phelps.
Come 2008, there were three medals in the pool, Adlington's two golds, over 400 and 800m freestyle, and bronze for Joanne Jackson behind her over 400m. That is the direct comparison with events in the pool in Tokyo but it would also be somewhat unfair not to reflect the successes of three of Britain's top pool swimmers when they took on the inaugural 10km marathon: Davies, silver; Kerri-Anne Payne, silver; Cassie Patten, bronze.
None of which (nor David Wilkie, nor the women at Moscow 1980 denied by the GDR, and robbed along with their coaches and parents and the folk closest to the – and so on and so forth], it should be noted, adds up to what might easily be interpreted in this from Chris Spice: "So when I started I could see that we could swim fast, but we couldn't swim fast when it matters."
True for some, true even for the majority at London 2012 but a touch too unrecognising of all the significant cultural shift, success and progress – including key advances in coach education – of the first decade of this century.
Results such as Mel Marshall's record six medals at Commonwealth Games and her own Olympic experience hold hands with the story of Adam Peaty and to skim over or be blind to what happened in Britain before 2013 misses a rich thread of development that makes the Tokyo success all the more joyous to behold in this sense: breakthroughs in performance sport of the kind we've seen do not come easily; and they can be wiped out by the next result falling shy.
The men's 4x200m gold in Tokyo is down to the work of the prevailing swimmers and those they work with. That doesn't mean the past and the dedication of those seeking to move through the ranks is irrelevant. Palmer was something of a Peaty in his day, helping ton raise the bar in domestic racing and calling own mates to step up and take pride. Snap Robbie Renwick, one of those Scott looks up to and learned from. In the brotherhoods below, hard to think of a single one of these swimmers who was not disappointed with what they got: none were satisfied with less that the podium and all wanted gold – and a fair few had reason to wonder whether some of those finishing ahead of them were as clean as they ought to be:
1996: Paul Palmer; Andrew Clayton; Mark Stevens; James Salter – 5th, 1.03 off the podium
2000: Edward Sinclair; Paul Palmer; Marc Spackman; James Salter – 5th 0.28sec off the podium.
2004: Simon Burnett; Gavin Meadows; David O'Brien Ross Davenport – 4th 0.77sec off the podium
2008: David Carry Andrew Hunter; Robbie Renwick; Ross Davenport – 6th 0.94sec off the podium
2012: Robbie Renwick; Ieuan Lloyd; Rob Bale; Ross Davenport – 6th, 3.03sec off the podium
2016: Stephen Milne; Duncan Scott; Dan Wallace; James Guy; Robbie Renwick
It would simply be unfair to these men and many other swimmers down the years to suggest they were simply happy to make the trip. There were those who were but by no means can that be applied as a blanket. The current gen and those in charge have a responsibility to take care that their choice of words reflects not generalities and caricatures but the truth in the experience of those who went before them.
The Evolution Of TeamGB
Taken in the context of the immediate result he inherited after London 2012, Spice's recollection of what happened since is on point and tells the story of the parts that have gone into an overall sum of big gains. He brought in people from outside swimming, sport scientists, data analysts, and leadership coaches, to help him to create what he describes as "a culture that builds belief and self-confidence in the arena".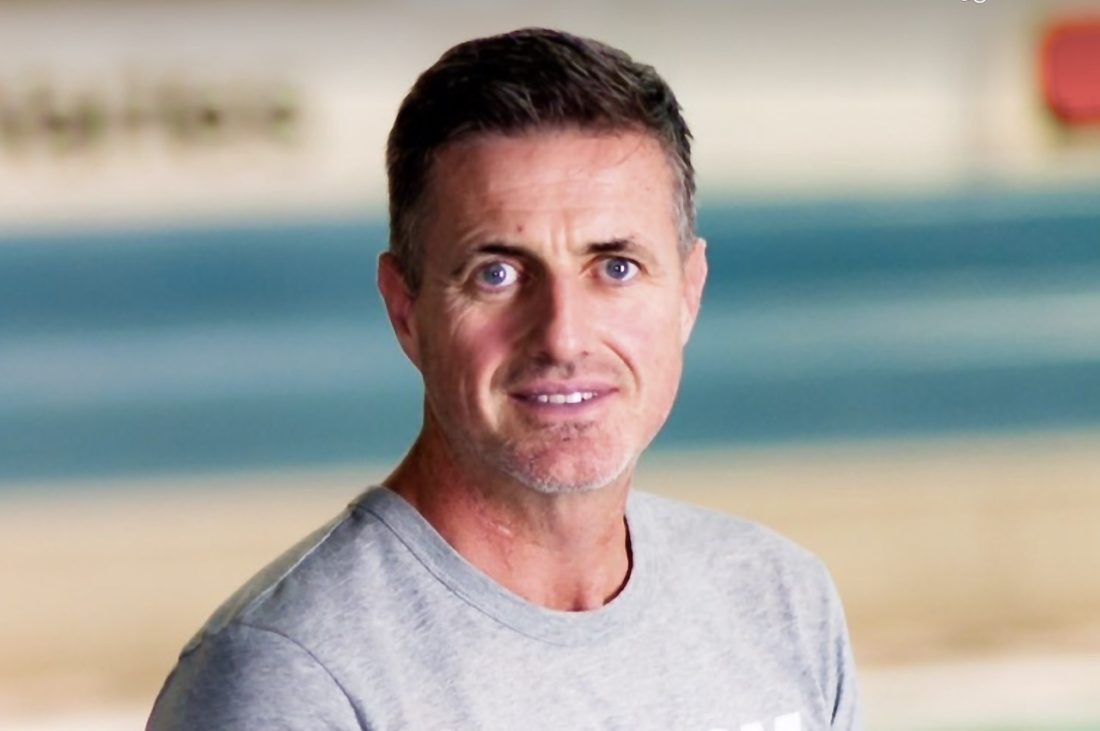 Spice also cut the size of the national squad in half, so they could concentrate their limited resources on the swimmers the performance team believed would deliver medals come the big occasion. Five national training centres were cut down to two, at Bath and Loughborough, Scotland, at Stirling, and Wales, at Swansea, contributing to the effort. Stockport was axed. Spice noted the criticism made of that move at the time but made no mention of Sean Kelly being one of the top coach contributor's to British success in the Olympic pool (Smith, Parry, Payne, Patten … etc). Kelly is in his first year as head coach to Spain.
Spice explained the thinning down process: "We had a lot of good swimmers but they were scattered across the country. And if we were going to target resources, that set-up wasn't going to work." Around 30% of the national team were working at centres when Spice took over. Plan and pandemic contributing, the figure is now 80% and all the medals came from three centres, as shown above.
"… and they get the absolute best support we've got," adds Spice, emphasising one of the critical ingredients in the progress made by Britain and the achievement in Tokyo, while also highlighting the very reason why Furniss and Spice will also ask hard questions of some of the athletes and coaches at the centres in the calm of days beyond post-Games rest.
Beyond those who raced in Tokyo are the pockets of weakness in the Britain program. One of those at the moment is women's distance freestyle, in which Britain is experiencing a trough after the height of Adlington and Jackson, and then Carlin. Furniss notes that you can only work with what comes through the door and that Britain just does not have the luxury of numbers nor the resources for programs that spread the money too thinly.
He tells me: "We do a lot of work in talent ID. People think we are weak in this so we will throw a lot of money in this. The problem is you take resource away from your best. We haven't got endless cash and endless resource. We have to pick the ones coming through. It's not ignoring the event because it's been a great factory for us in the past, we've won a lot of medals in women's distance freestyle and we are working on it.
"But for a country of our size and with our swimming numbers, we have 60m in Britain but only 40,000 swimmers, adds Furniss. "You go to the States, they have 450,000 swimmers. So it is a numbers game and what we have to do, we have to pick the ones and then put the resources to them. Because otherwise, you can quickly put a lot of money and resource down a blackhole and it never comes back and you don't achieve a lot."
In comments that touch on Sweetenham's view that talk of 20-year plans can be thrown in the bin where it belongs and that what matters is the constant daily work of individuals, athletes and coaches, in the right, supportive and smart environment, Furniss says: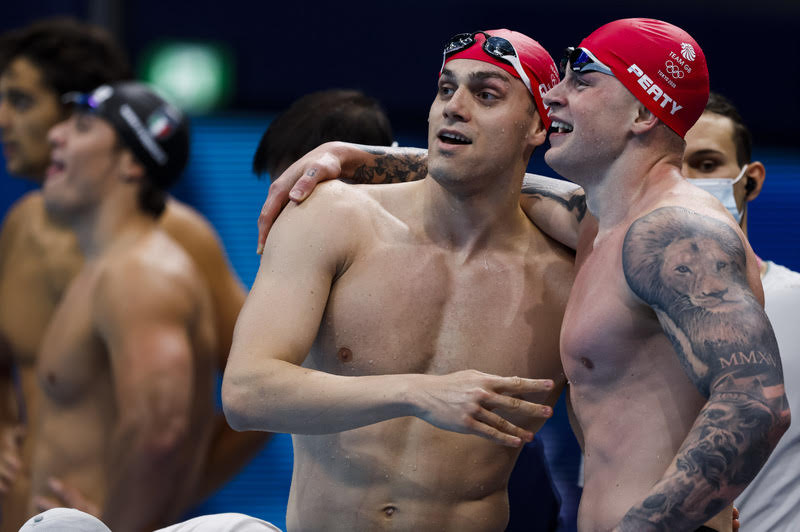 "If you are an athlete and you are walking into an environment that is high performance, you have got a great coach, you've got your strength and conditioning, you've got your psychology support, your physio, and you have everything you need to hand. What we are is athlete centred. What we do very well is the team around the athlete, we are in constant conversation about these are the goals for the athlete and then how we do that. What is the best way and then the team bounce off each other with the coach.

"The coach is like the conductor of the orchestra. You have these resources and this athlete and how do we do it. This is where we want them to go and then we check they are getting there. It's not just swim up and down every day and there is no check. You need to see the progress. If I cant see that progress, I am the first guy saying what is going on here. There is a constant check and challenge."

Bill Furniss – photo – The Britain brotherhood Adam Peaty (R) of Great Britain hugs his teammate James Guy after gold in the Mixed medley relay – by Patrick B. Kraemer
Spice notes: "We have a programme that is high challenge, high support. When it does get hard, we've got to make sure we are there at the same time but it is going to be hard. We make no bones about that. When we started to do this thing, I couldn't get my head around why we have so many people who are nowhere near medal range. So the first thing we did was chop the team in half because we need to focus the resources on the people that can get there and we took a lot of flak in the first couple of years around that.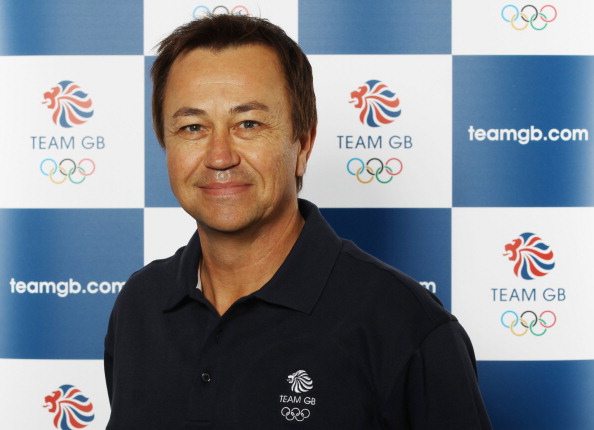 "The other thing I wanted to bring in was discretionary selections, because if Adam Peaty bruises his finger at the British Champs, I am going to pick him. It isn't about which two make it. We needed to change how we selected the team but make it lean and challenging, but [also] have a very high level of support for people just on the edge. We built the programme on high challenge, high support, and our athletes are just a pleasure to be around."

Chris Spice, from British basketball staff at London 2012, he moved to the swimming role in 2013 – photo courtesy of TeamGB
Attention to the minutiae of things paid off big time after puzzle crackers were asked to fathom the new mixed medley. Britain knew it had a fast team … but how to work out how they might fare against rivals with similarly string teams and which Britain combination would be the best to field given all that home and overseas knowledge to be had. Says Furniss, with a nod to an emphasis on relays that has sparked a flame in the Britain swimmers: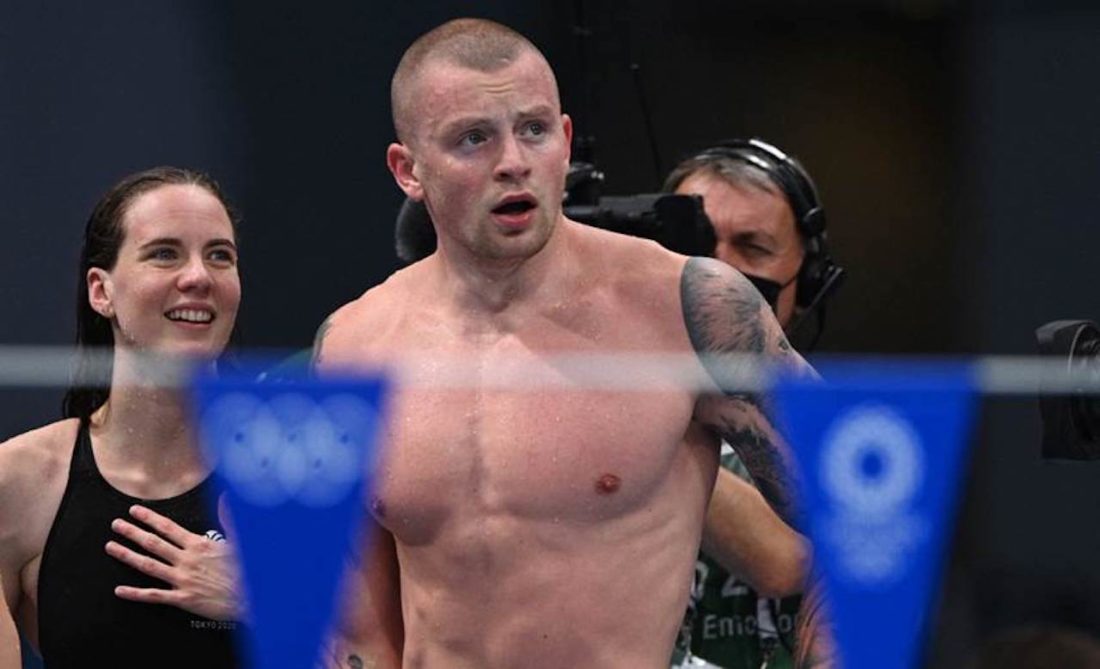 "We look at the potential and have a strategy around it. We have three swimmers here – Matt Richards, Anna Hopkin, Jimmy Guy, tremendous from them because we effectively pulled them from individual events. They wanted to do that, it shows how far we have come as a team to prioritise relays because we knew mixed relay winning it, the men's 4×2 and also the medley relay that we had real good chances. I think it shows how far we have come as a team when you have athletes who will do that and want to do that for the betterment of that relay and team overall.

We have a strategy, I love the mixed medley relay, its a great event but you have to have a clear strategy. You have to do the maths – and from everybody in the meet – not just your own swimmers on current form. So we did a lot of work, long hours on that, getting exactly the your right quarter and it pays off.

Bill Furniss – photo, Adam Peaty and Kathleen Dawson contemplate the clock as a European record goes down just shy of the World record – courtesy of British Swimming
There are no results that can be held up and said "all down to the 20-year plan"; each cycle brings a need for athletes and coaches to keep the thread of the best lessons and practices connected to success in the sport, while innovating, finding ways to keep up and get ahead of others with new goals moving fast on a conveyor belt, but success comes down to this: was the right environment in place, was the dedication singular and was the smart and hard work done…
Where long-term goals do play an important tune is in areas such as that accounting for a great deal of the Britain success in Tokyo: relays. Sweetenham was keen on placing emphasis on relays but the early work fizzled out on the way to London 2012. The current crew of coaches and managers and outside experts brought in to serve as human calculators have worked hard own relays, specialised camps in the mix. That work, all round, has been one of the most impressive pillars of Britain's success built in the past 6-8 years, and has a strong link to the success of individuals, too:
Asked to list his highlight of Britain's week in the Tokyo pool, Furniss said: "It's not an individual, its how we have swum the races tactically. Look at the boys in the 200 free, their race strategy was perfect, I always say to a swimmer, the lat stroke you do is the last stroke you can swim well. If you do that you have swum the perfect race. If you look at a lot of our swims we have paced the races excellently and controlled our performance and managed to swim tactically good races."
Prospects For Paris 2024
Onwards to Paris 2024. Great Expectations? Says Furniss: "One of the great things is that 75% is in the first Olympics – if you look at our mens 4×1 for example, 18, 16, 21 and 23. That is a team which will be a significant player in Paris. The extra year has helped us. No doubt about it. Our team looks totally different than it would have looked last year. The experience now that the group have got from coming here, the experience those youngsters have got, we want to get better each Olympics.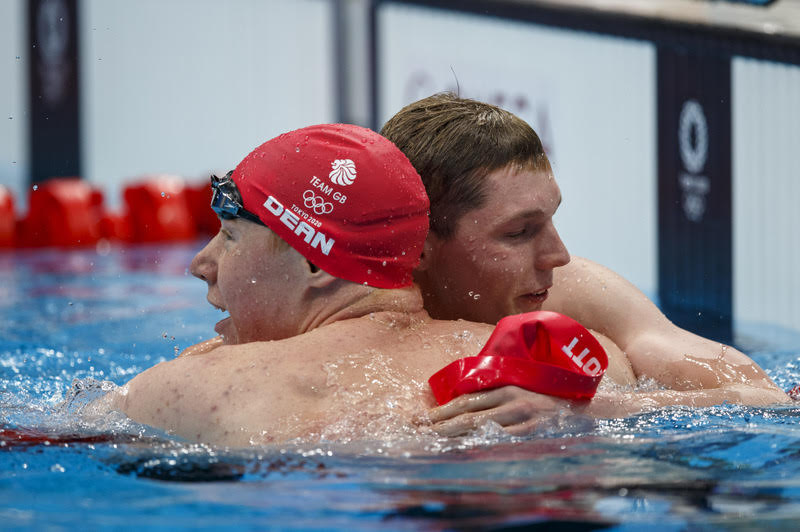 "Our plan is not to stand still. The minute you stand still you get overtaken. Our plan is to keep pushing in every single aspect of performance, science and medicine and the innovation projects that we have got going. There is a whole range of stuff we haven't hit yet. We have got a bit up our sleeve and a great cohort of young athletes. Equally we are never going to be as deep as China, Russia and America, we have to maximise our potential, Australia too of course. They have got a lot more numbers than us. We have to maximise the talent we have got – we have to get a gem early."

Bill Furniss – Photo – Tom Dean (L) of Great Britain is congratulated by teammate and silver medallist Duncan Scott – by Patrick B. Kraemer
Spice talks percentages when projecting where Britain might get to by Paris 2024: "I think there is another 10 to 15 in the short term, but probably in the long term another 25 per cent. In our world, that is a lot. There is still investment going in to different areas that we haven't got outputs yet. That coupled with the talent we have in this group and the fact that they are young and moving forward is significant. Our goal will be to be better in Paris. We are not going to standstill, we are still going to push. That doesn't mean it is going to happen because we've got to work hard to make it happen."
---
In a series of reflections on the Tokyo Games in the coming week, we'll be looking at some of the individuals at the helm of pace and pioneering as well and the team campaigns of the top three on the medals table, Britain above, Australia and the United States to come.