M200br – Roo Zac Stubblety-Cook Boxes Clever On Way To 1st Aussie Title Since 1964 As Kamminga Takes 2nd Silver
Tokyo 2020 Olympic Games – Men's 200m breaststroke – Zac Stubblety-Cook became the first champion from Australia since 1964, boxed clever as a racing roo on his way to an Olympic record of 2mins 06.38.
Coached by Vince Raleigh, Stubblety-Cook is only the third Australian claim the 200m crown, after the late John Davies at Helsinki 1952 and Ian O'Brien here in Tokyo back at 1964.
Arno Kamminga, the Dutchman who was closest to Adam Peaty in the 100m, collected his second silver of the week in 2:07.01 got become only the second from his country to earn a medal in the 200m backstroke after Wieger Mensonides took bronze at Rome 1960.
The bronze went to a nation that had waited even longer for a podium return: Matti Mattsson picked up the first medal in the event for Finland since 1920 in 2:07.13, Arvo Aaltonen the bronze medallist 101 years ago.
All of which locked out the Russian World champion and record holder Anton Chupkov, on 2:07.24.
James Wilby, of Britain, had shadowed Kamminga as the Dutchman set a blistering pace more than two seconds inside the World-record split. 
Close to registering the first sub-minute split in an Olympic 200m race, Kamminga, in lane 3, and his 1:00.09 left Mattsson, in lane 2, 0.76sec behind, Wilby, in 5 on the other side of Stubblety-Cook in 4, was through the 100m turn on 1:01.34.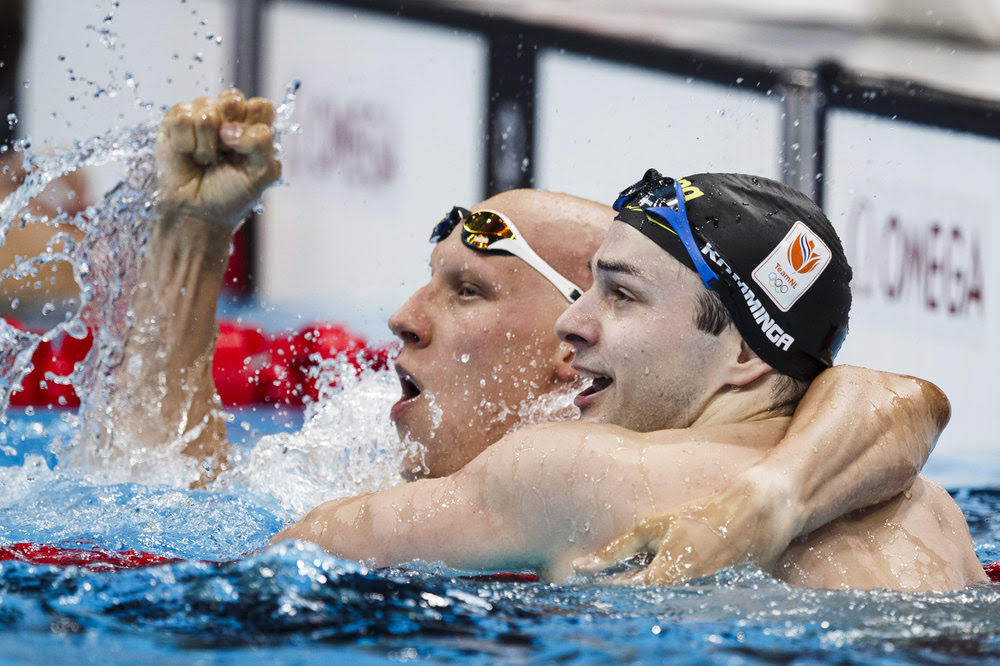 At that point, the un-panicked Stubblety-Cook was 1.63sec behind Kamminga but on the way to the last turn he passed Wilby and reduced the deficit to his Dutch quarry to 1.19sec. 
As the contenders broke into stroke off the last wall, the balance of power started to shift, the top three at the 100m mark now struggling, Stubblety-Cook on a roll and heading to gold with a metronomic 32.21sec split closely aligned with the speed of his second and third lengths.
If Stubblety-Cook was swiftest down the last length, the top three at the 100m mark produced the three slowest home lengths, Kamminga, on 34.03, Mattsson, on 33.78, Wilby, on 33.70 after falling too far off the pace down the third length. 
Stubblety-Cook and the Art Of 200 Pace
The ebb and flow on the way to an Olympic record that wiped 0.84 off the standards set in the rounds by Japan's Ippei Watanabe at Rio 2016:
29.35; 1:01.72 (32.37) 1:34.17 (32.45) 2:06.38 (32.21) OR Stubblety-Cook
28.14; 1:00.09 (31.95) 1:32.98 (32.89) 2:07.01 (34.03) Kamminga
28.96; 1:00.85 (31.89) 1:33.35 (32.50) 2:07.13 (33.78) Mattsson
29.66; 1:02.38 (32.72) 1:34.26 (31.88) 2:07.24 (32.98) Chupkov
The Other Side Of The Olympic Coin
In the depth of an Olympic experience, James Wilby finished 6th in 2:08.19, 0,.7sec shy of his best. Swimmers pass through the mixed zone and speak to journalists after their races. Wilby never shies from the moment, rain or shine. Here;'s a little insight into experience at the cutting edge of performance sport.
Today, he kept his mask over the place it hurt the most until he was asked about his mother's efforts in the mass roll out COVID-19 vaccinations in Britain during the pandemic.
Second-fastest into the final, the 27-year-old based at Loughborough had been looking for redemption after he finished seventh in the 100m won by teammate Adam Peaty last Monday. It was not to be.
Talking after the race, Wilby said: "I'm not going to debrief too much, adrenaline is running. I'm sure it will hit me eventually. Sometimes you can't dwell on it too much, especially in a sport like swimming. I am a big believer in it being a team sport and that means my attitude and mannerisms affect other people – staff and swimmers."
His swimming family was a key part of his job in Tokyo:
"We are past halfway but we are not at the end. There is more work to do. There are people I am really close to and they have amazing opportunities coming up. I don't want to be the 0.01% that drains them. I take as much pride in my own swimming as I do in contributing that 0.01% to anyone else's journey. If I can be there in any way that supports someone else, that's just as meaningful for me.

"I am gutted to individually leave the Olympics with 'nothing to show for it', as they might say, no medal, but there are still more medals to be won in the team. I can't switch off and no one else is going to switch off. That's the way we keep pushing in this family that we've got going."

James Wilby – by Georgie Kerr, courtesy of British Swimming
It was then that he was asked about his family back home, specifically his mum, Fiona Wilby, and her efforts as a nurse helping Britain's fight against COVID-19 doing long shifts administering vaccinations.
"Oh God, now you're going to get me emotional," he told a huddle of reporters there to witness Wilby's eyes well, then flood with tears. "My mum's been … damn you! There was always someone that was going to get it, it was either going to be one of my team-mates or one of you guys."
Struggling to get words past the lump in his throat, Wilby said: "My mum's been putting in such a shift for me over the last 27 years and that's probably been the main disappointment which is I know I've made her proud but I haven't quite won the medal I would liked to have won for her and yeah …"
Wilby broke off, unable to speak. He had said that he would hold it together for his teammates because they needed his support but the mask on his true feelings and the passion underpinning performances here at a Games that barred spectators, families and friends from around the world to mote the spread of COVID-19, was off.
He banged his water bottle on rail several times and took several deep breaths before saying: "She's been working as a nurse, giving out vaccines recently, to an extent which makes me – if you can bleep this out – so f*g proud of her and for what's she done for me and my brother over the last quite a few years. I'm really, really happy with what she's done. She's the role model in all this, I hope she enjoyed watching that."
Sent a text by a colleague from the British media to tell her how her son has expressed his pride in her, Fiona Wilby replied: "And I'm very, very proud of him too."
Pride is all about on a team that takes its performance well beyond the water. Without wishing to take anything away from the swimmers actually delivering the golden performances, Wilby explained the significant role that all members of the team and staff and support network beyond have contributed: "At the core … it is a team and [while] I am the one in the water, there are countless people behind the scenes who all contribute to that.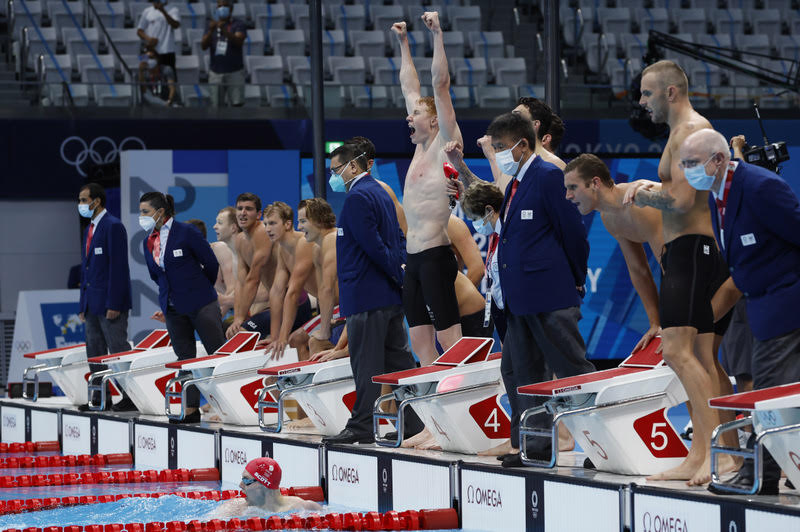 "Yesterday morning we had the 4x200m [freestyle, men, relay]. There were four people in that … but there are not four people in that team. Relays are not won by four people, they are won by more than that, as our performance director Chris Spice says. That is really important across all swims, absolutely everything we do. I think that will continue."

James Wilby – Photo – Tom Dean celebrates as Duncan Scott brings the TeamGB 4x200m free relay home to victory – by Patrick B. Kraemer
Wilby believed the momentum being built in Tokyo would carry Britain to even greater heights at Paris 2024: "We've got a bit of a buzz going from this Olympics. We've got more to do but then going forward three years to the next Olympics, we are only going to keep building momentum and it's going to be on other countries to start catching up with how we operate."