M200Fr – Tom Dean & Duncan Scott Deliver First Britain 1-2 Punch, Gold & Silver Split By 0.04sec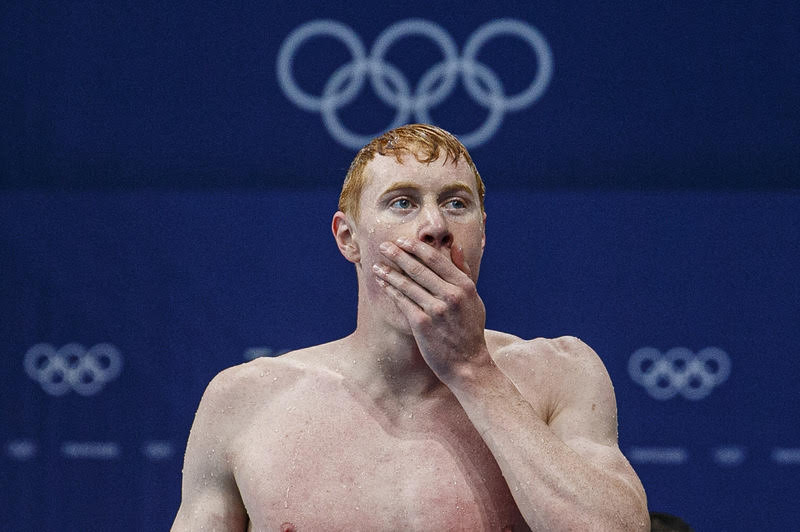 Tom Dean and Duncan Scott punched the first 1-2 gold and silver finish for Great Britain in the Olympic pool since London 1908 with a pugilistic and tactically brilliant pincer in the 200m freestyle in Tokyo this morning.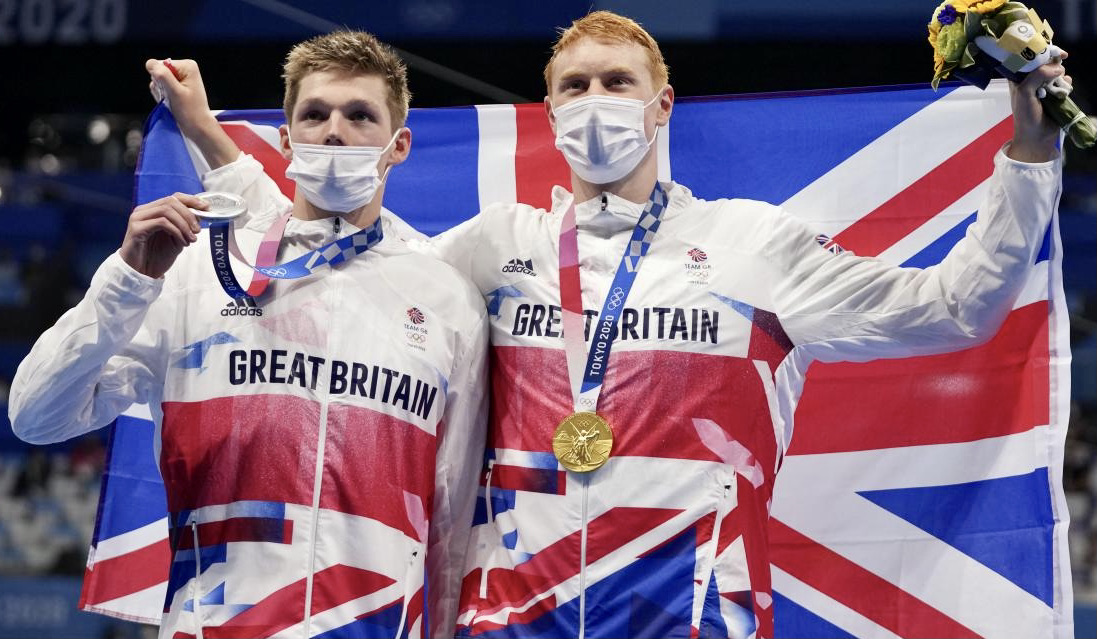 Only a victory snap could have topped Dean's gold in a 1min 44.22sec British record at the end of a year in which he has fought off two bouts of COVID-19 and Scott's silver just 0.04sec away and also inside his own now-felled national standard.
The dream of shared gold is not over for the TeamGB roommates: Scott and Dean will also be in that same 4x200m relay 113 years on battling for honours and hoping for history to repeat once more. As they left the pool and waved up to their teammates in the crowd-less venue, there was James Guy, the 2015 World 200m freestyle champion and their relay mate awaiting his moment with teenager Matt Richards, in floods of joyful tears. The top four in the 200m at British trials topped the fastest domestic 200m line-up ever seen without the aid of shiny suits.
Henry Taylor at London 1908 was the last British man to claim Olympic freestyle gold, over 400m and 1500m and the 4x200m freestyle relay, the last two of those events also granting his teammate Thomas Battersby silver and gold respectively.
Dean and Scott took the first stroke down a similar Olympic lane this morning in a final that saw World junior record holder Sunwoo Hwang, of Korea, take off at break-neck speed: under World-record pace at 100m no less, and not far shy by the last turn.
Post-battle, both Brits noted that they'd noted Hwang's before settling on the race plans they would each follow, with awareness but without being drawn by false dawns, steady nerves and confidence in their own chart to be where they needed to for the final countdown.
Dean raced next to the Korean in 6, Scott two lanes further over in lane 4 as the fastest qualifier for the fight.
At the 100m mark, Dean turned in 50.46sec, Hwang 49.78 at the helm and Scott back in sixth on 51.38 and looking like a man with a lot to do. Down the third length Dean maintained his third place as Hwang turned in 1:16.56 but already looked like superboy about to learn a hard lesson in pacing.
Brazil's Fernando Scheffer, out in lane 8 beyond Hwang, drove off the last wall 0.1sec ahead of Dean, with Scott now motoring, the deficit to the leaders halved top 0.42sec.
The Korean teen was soon overhauled as he faded to seventh by the close business but Scheffer kept the pressure on until the race dynamic shifted about 15 metres from the end: from 10m out, the British 1-2 looked set to roll in.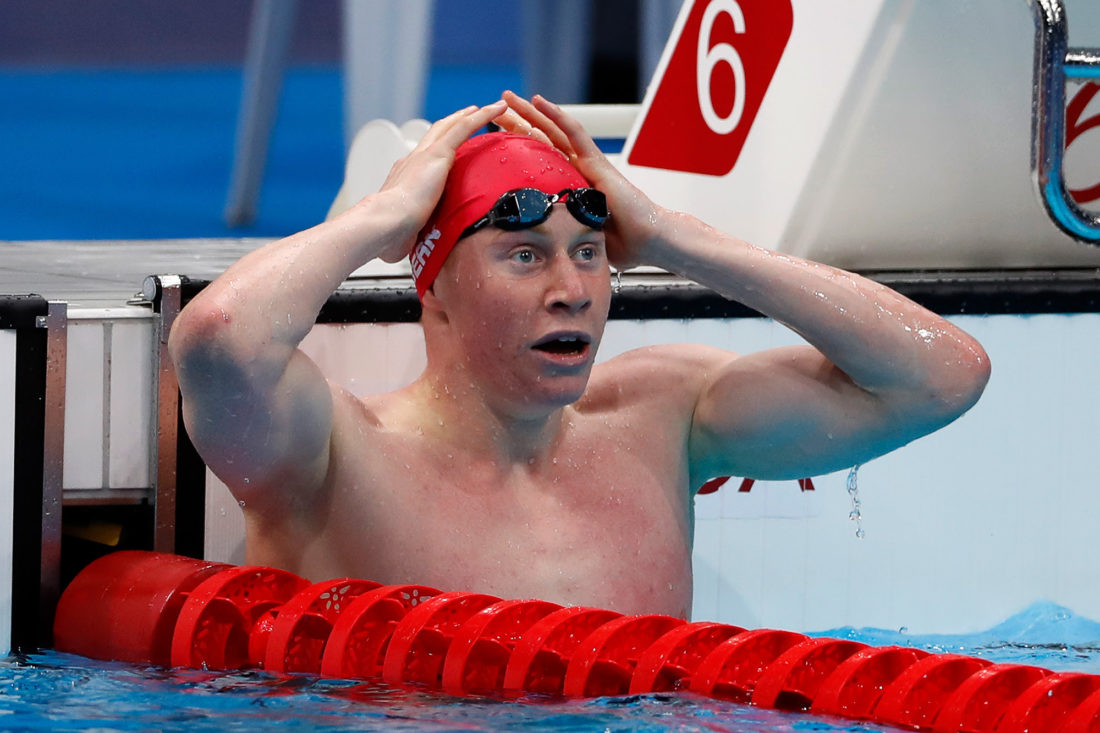 Scott, with a pantheon of Olympic, World, European and Commonwealth (for Scotland) medals to his name, was favoured but it had been game on for the Games ever since Dean had blasted into the 1:44 realm at trials back in April.
As Dean was toiling to maintain pace ahead of curve in a field of fading fortunes, Scott was rolling home faster than anyone in the field.
The British teammates lunged for the wall together. Dean, 6ft 3 with a slight edge on span-of-wing and reach over Scott, stopped the clock a fraction ahead before turning to take in a result he could barely fathom at first. The alchemy of goal to gold is a life's game-changer.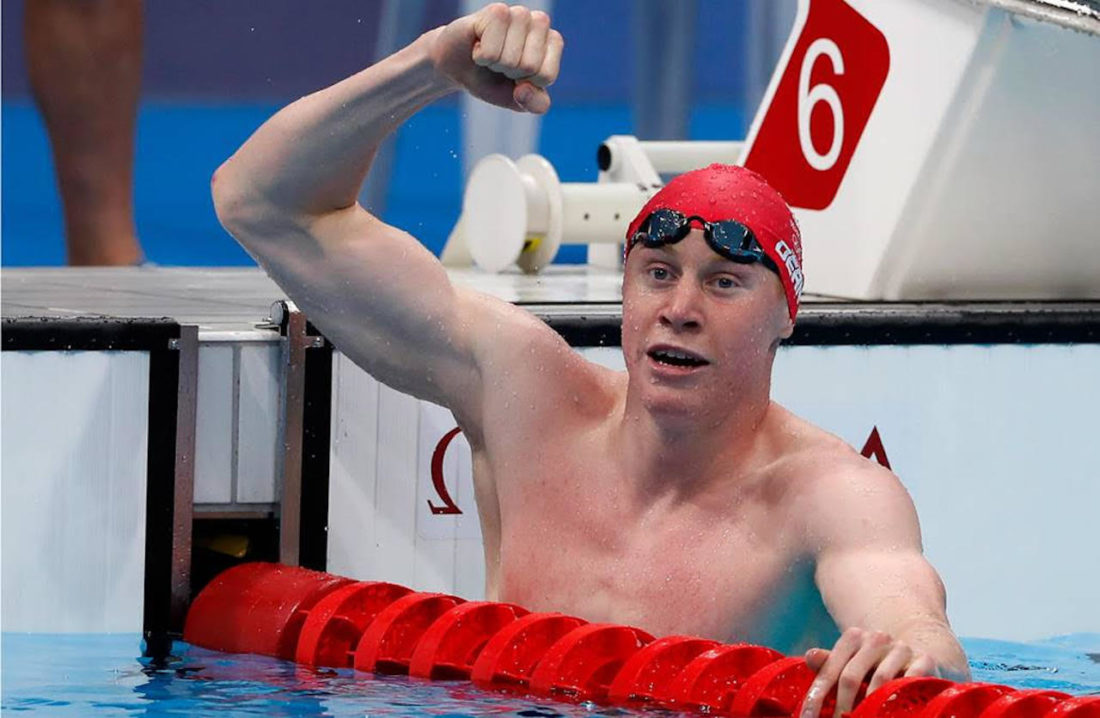 "It's a dream come true to have an Olympic gold around my neck, to go one-two with another Brit on the podium, what more could you ask for."

Tom Dean – by Simone Castrovillari, courtesy of Speedo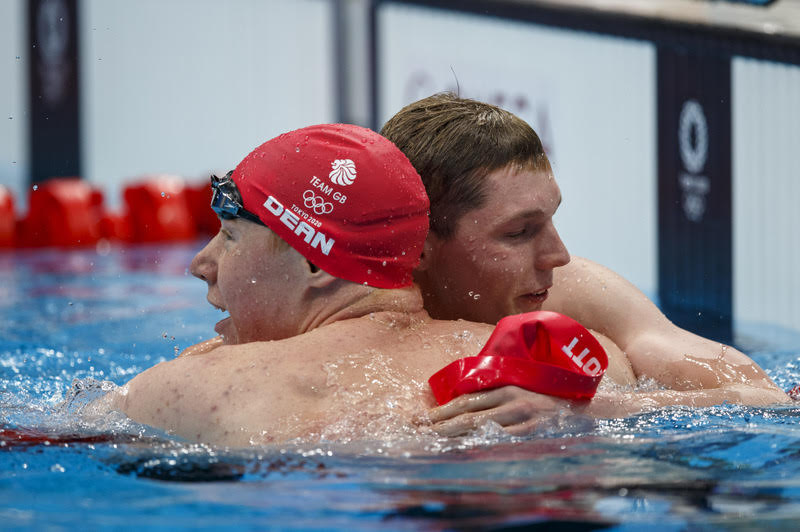 The battle for bronze went to Brazilian Fernando Scheffer in 1:44.66, just 0.02sec ahead of 16-year-old Romanian David Popovici, on 1:44.68 and already being tipped for Paris 2024 glory. Looking back one Games, we find the man missing because he's been suspended for more than four years, Sun Yang*: he clocked 1:44.65 for victory as the sole sub-1:45 swimmer five years ago. Today there were four in that zone, the Brits faster than the Rio win:
24.21 50.46 (3) 1:17.38 (3) 1:44.22 Dean GB record
24.81 51.38 (6) 1:17.80 (4) 1:44.26 Scott
24.24 50.25 (2) 1:17.28 (2) 1:44.66 Scheffer
24.23 50.73 (4) 1:17.97 (6) 1:44.68 Popovici
25.03 51.65 (7) 1:18.43 (7) 1:45.01 Malyutin
24.58 50.94 (5) 1:17.81 (5) 1:45.12 Kieren Smith (USA)
23.95 49.78 (1) 1:16.56 (1) 1:45.26 Hwang
24.96 51.96 (8) 1:18.83 (8) 1:45.78 Danas Rapsys (LTU)
Before the pandemic got going, Dean raced last the Edinburgh International in early 2020 and clocked 1:46.03. It was April this year when he leap-frogged the 1:45s altogether for a 1:44.58 career high just 0.11sec shy of Scott's win in British-record time. Both topped the standard today.
Dean, a 21-year-old Mechanical Engineering student at the University of Bath where he is coached in the pool by Dave McNulty, joins a long list of swimming greats who claimed the 200m freestyle title, Mark Spitz, Michael "The Albatross" Gross, Ian Thorpe and Michael Phelps among them, along with Yannick Agnel, the Frenchman who claimed gold at London 2012 in what remains the world textile best, 1:43.14.
Acknowledging the list of legends his name now sits alongside in the history book, he said: "It's an honour, the stuff of dreams. I've been thinking about this since I started swimming at eight years old and today is the day. It's amazing."
All the more so because in September last year he contracted COVID, spent time insolation only for lightning to strike twice when he got a more serious bout of the bug at New Year.
"I contracted COVID twice in the last 12 months and had to take six or seven weeks out during an Olympic year, which is essentially unheard of," said Dean. "The first time was not too bad [COVID], second time I was really ill. It was quite severe. I did the full isolation period and I wasn't able to train." He added: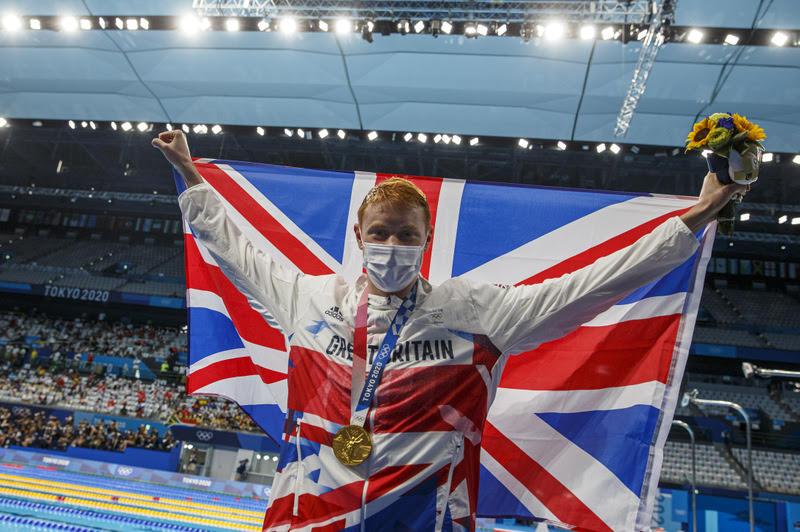 "When I was sitting in my flat during Olympic year, an Olympic gold seemed a million miles off. He said we're writing an amazing story this year with the COVID cases. I had 6-7 weeks out of the pool, which in an Olympic year is unheard of. He brought me through it and I can't thank him enough for it. Here we are, I couldn't ask for a better ending to the story."

Tom Dean – by Patrick B. Kraemer
McNulty refused to think that Olympic dreams would have to be put off until Paris because he knew that "the base work has been done". The coach plotted a slow build up back into full training some 10 weeks out from Olympic trials in April.
Scott and Dean set the fastest times in the world at those trials to qualify for Tokyo. Both were slower at European Championships in May when Russian Martin Malyutin, fifth today, defeated them for the 200m title. Both Brits were at their fastest ever when it most counted today.
Like Scott, Dean was eight when he first started scribbling "Olympic champion" in his book of dreams and goals. He had been on holiday with his family at that age and had watched Phelps "clean up" at Beijing 2008. "I had just started swimming at my local club in Maidenhead, started training with my coach Paul Lloyd … then in 2012 I was lucky enough to be there watch a race at a home Olympics."
Britain has its own living legend these days and with a note to the buoy that Adam Peaty brings to TeamGB, Dean noted: "Peaty is a class act, it's almost a given he will dominate and you almost forget the scale of the achievement; to be double Olympic champion in five years. It just lifts us up, we are a force to be reckoned with – Team GB."
There were no hard feelings between the teammates. Dean, who shares a flat in the Olympic Village with Scott and noted how that had helped both "have a good laugh, relax and enjoy it", said: "Duncan and I are great mates – he's a class act. I have looked up to him for a long time – he has been at the forefront of 200m freestyle and plenty of other events for so long, to share a podium with him is amazing."
He thanked "everyone back home – my mom, family, girlfriend and everybody for staying up. I'm lost for words. It's amazing. To have two Brits on the podium and going 1-2 shows our dominance in this event and shows how far British Swimming and Team GB has come. I couldn't ask for anything more."
Back home, the cheering and celebrations reflected the investment that goes into long years of commitment:
Scott, coached by Steven Tigg at the University of Stirling, paid tribute to Dean, saying: "Massive credit to Tom, he was incredible. It's great to be able to say he's a great mate out of the pool and it was great to compete with him.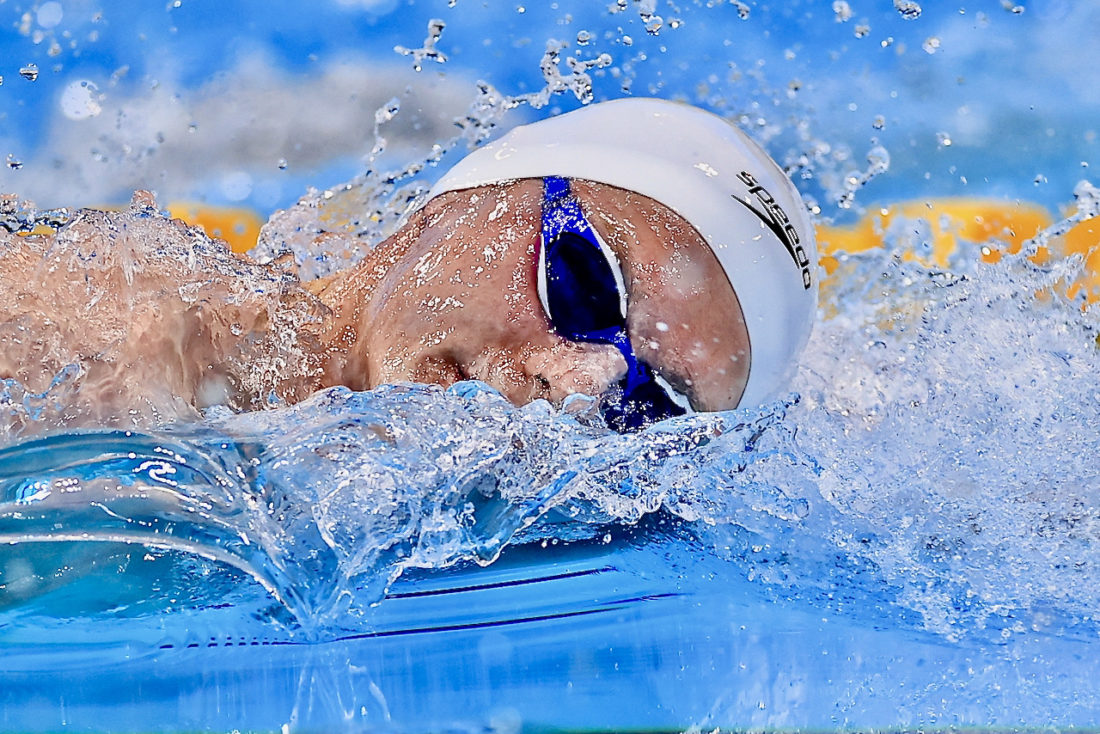 "I'm buzzing for Deano. He's had a really strange 18 months with Covid twice. He had a PB (personal best) at the trials but to see him move it on again and win gold is phenomenal. Our best possible outcome was a one-two and we delivered on that. I'm really happy with that. A PB in the final so I can't complain at all.

Duncan Scott riding the 200m freestyle wave of excellence – by Georgie Kerr, courtesy of British Swimming
All energy and emphasis, said Scott and then Dean would now be piled into the relay with Guy and mates.
Scott's silver makes him the first Scot to claim a medal for Britain in Tokyo. He said: "It's a proud moment. I guess that's the way swimming works, with it being one of the first sports up. I'm here representing Great Britain, there's a few Scots on the team but it's not something that crossed my mind at all or I thought about. It's just a nice, wee thing, I think."
Team Bath – Where It Got Built
Dean Recalls His Covid Cough
Tom Dean talked further about his experience of COVID-19 Infection ion the wider press conference on the way to getting prepped for heats action later in the day: "The nature of the sport we do and the nature of the disease meant i couldn't go back into full-on training, so it required a few weeks to build it back up. So in January, February time, just two or three months from the Olympic trials, I was stuck inside unable to exercise, inside my own flat It was tough. The coach managed to keep me going and build me back up and i had a really solid block of training after that and it paid off.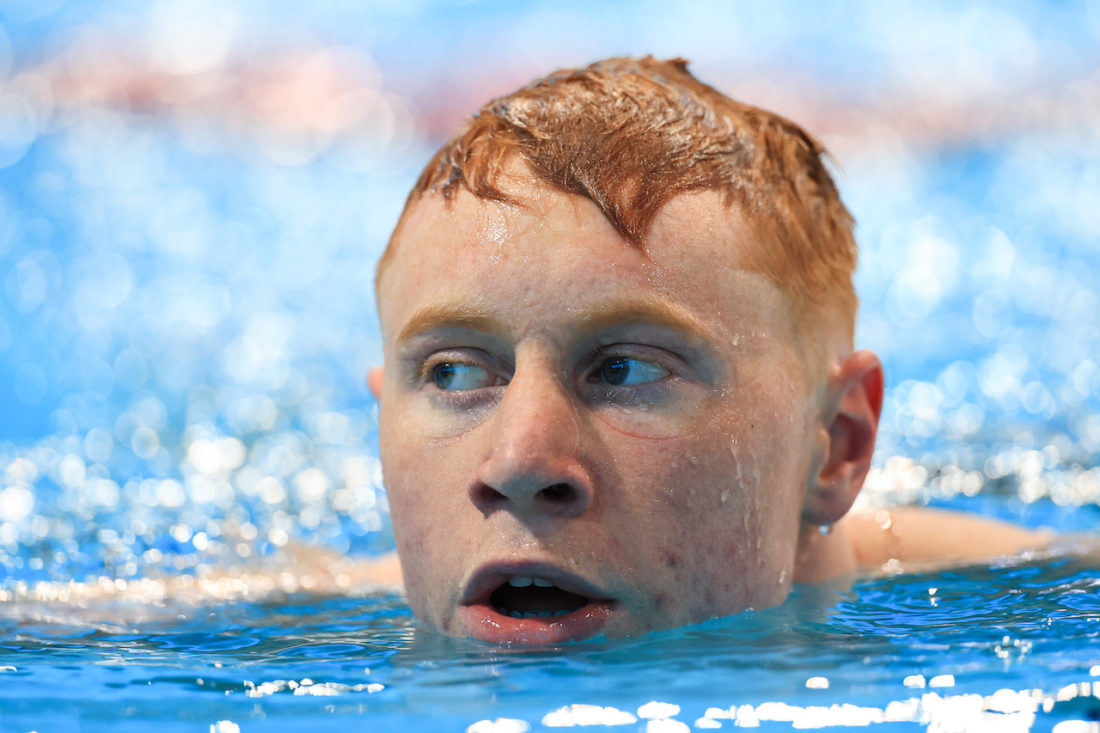 "It wasn't life threatening. I'm quite young, fit and healthy. So I was never super worried. But this is a sport that makes has certain requirements of your cardio-vascular system and this disease affects your lungs, so you are coughing a lot. You're a little worried about how you build back in. When we are pushing ourselves for nine or 10 sessions a week, really working hard and pushing your heart rate up, you doi start to wonder how you are going to recover from that."

Tom Dean – by Georgie Kerr, courtesy of British Swimming
The Phelps Factor
On the list of 200m Olympic champions Dean watched as a young boy is Phelps, 2008 champion when he claimed those record eight golds. Said Dean: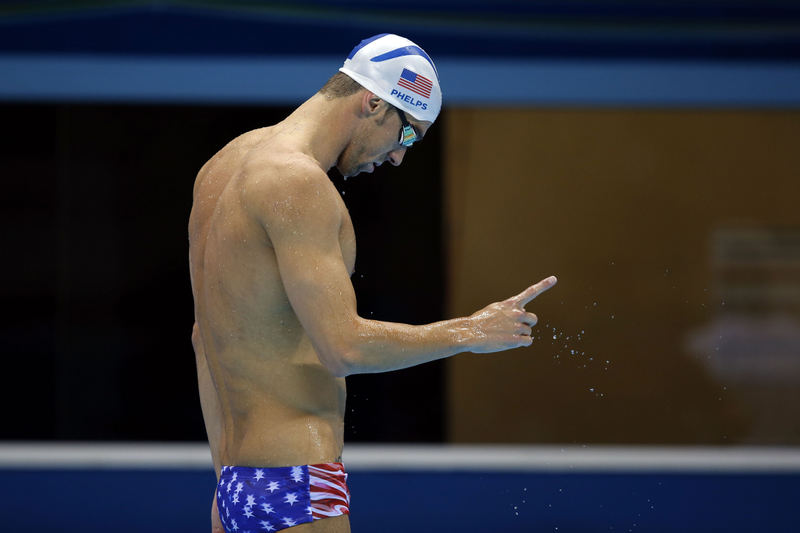 "As every young swimmer watches Michael Phelps they feel a degree of inspiration. I remember watching him for the first time, when I was eight years old, in Beijing and then London for my home Games I was able to watch him. In Rio, a few of the boys were racing him. Watching his final relay was a real inspiration. When you get to the Games, you understand what a feat it was to secure as many Olympic medals as he did. If you look at his schedule, he was swimming so many times to reach those finals. It really puts in perspective what he did."

Tom Dean – Photo: Michael Phelps in Rio – by Patrick B. Kraemer
Scott – "We're A Team With High Expectations"
Scott emerged from the race today full of plaudits for Dean but doing what folk who seek improvement through every experience do well: he took the reward in the result, then reached straight away for the place where gains might yet be found: "Coming out [of the race], there's plenty of things I think I could've done better, which I'll be able to look at and go over. But yes, I'm really happy with that."
He extended the thought later when he noted: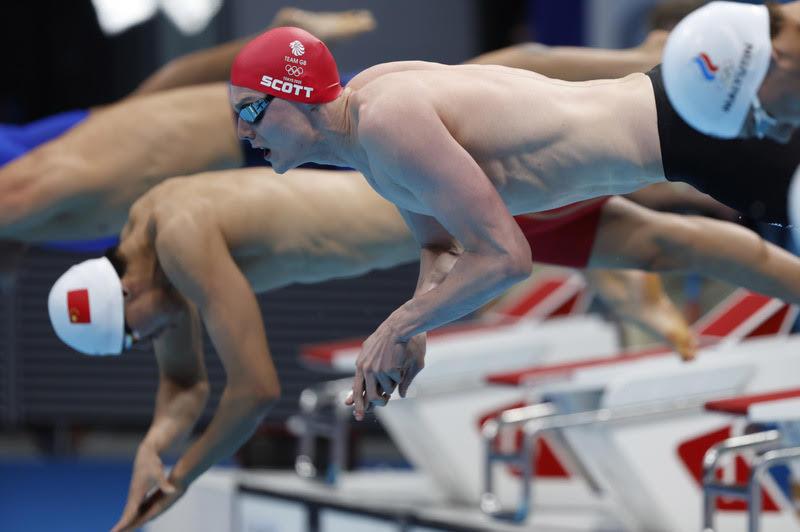 "I'd say it sums up it's strength really well, getting a one-two off the back of what Peaty was able to do. Peaty winning a gold, that event is still a disappointment because of we were all pretty gutted for [James] Wilby as well. That's a good thing that we're always asking for more and with that we have high expectations because of how good the team is. I think that's a really good thing. There's plenty more opportunities for the team later on in the week if that's mixed relays, the guys' relays coming up that myself and Deano are going to be a part of that are looking good. It's really exciting, there's plenty of more individual opportunities as well for some of the guys."

Duncan Scott – Photo: Duncan Scott of Great Britain flies off his blocks – by Patrick B. Kraemer
When Dean & Scott Were Eight Years Old …
When Tom Dean and Duncan Scott were eight years old, they knew — and even wrote down — what their dream was: "Olympic champion."
Dean, now 21, made it, while Scott, 25 only 0.04sec for silver over 200m, will seek membership of the Olympic champions' club with Dean, Guy, Matt Richards and Calum Jarvis in the 4x200m tomorrow.
The investment between an eight-year-old dreaming of the Olympics and then finally standing on a podium is substantial. Athlete, parents, siblings, coaches and friends all play a part, in the form of energy, money and emotion.
As Adam Peaty put it after his gold-medal performance in the 100m breaststroke on Monday: "I don't think people back home or people reading this would understand the amount of investment which has been put into this swim. For a lot of people they could lose it just in that last moment.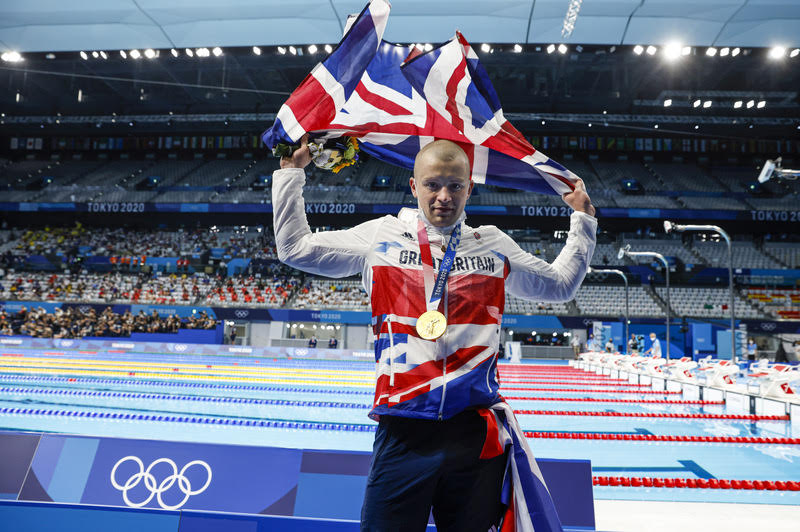 "For me that amount of investment has paid off. It's like going for a promotion and trying to prove yourself every five years in 56-57 seconds."

Adam Peaty – Photo by Patrick B. Kraemer
In the early hours of yesterday, in a garden in Maidenhead, all that energy, money and emotion invested by those who have been part of Dean's journey came together in a moment of unfettered joy. His mother, Jacquie Hughes, and about 70 friends and family members gathered around a television screen in the garden as he touched the pad at the end of the pool first. Tension segued into cavorting as they celebrated "like lunatics".
Jacquie told Radio 4's Today programme: "I looked around at my other children and people in my garden and they were all crying and I was just in shock.
"We were jumping up and down like whirling dervishes. Tom said he feels like he's in a dream and I think I'm with him in the same dream. I had a very quick FaceTime call with him and he's on a high."
Her part in her son's development, beyond the obvious motherly role, was a key one — encouraging him into the pool at an early stage.
"I've always swam every day of my life and when I had the kids I wanted them to get into the water as soon as possible," Jacquie said. "Tom's the second of five children and they were all in the water as soon as they were ten weeks old and doing baby swimming classes. Then I just kept it up. It wasn't with any plan in mind, it wasn't with the idea this would be his sport, it was just a great thing to get them to do.
"We moved out of London to Maidenhead, we joined the local swimming club and we were lucky that Paul Lloyd, the head coach, was just coming over to that club at the same time and they went on the journey together."
Dean began training seriously at Maidenhead Swimming Club, where Adrian Moorhouse, the 100m breaststroke champion at the 1988 Olympics, is president.
Dean watched Michael Phelps "clean up" at the 2008 Beijing Games and went with his family to the London Games four years later.
"I've been thinking about this since I started swimming at eight years old and today is the day — it's amazing," Dean said after stepping from the Tokyo pool. "It's the single greatest achievement in my life and it happened in the last hour and a half. I'm lost for words.
"In London, for my home Games, I was able to watch Phelps but, when you get to the Games, you understand what a feat it was to secure as many Olympic medals [28] as he did."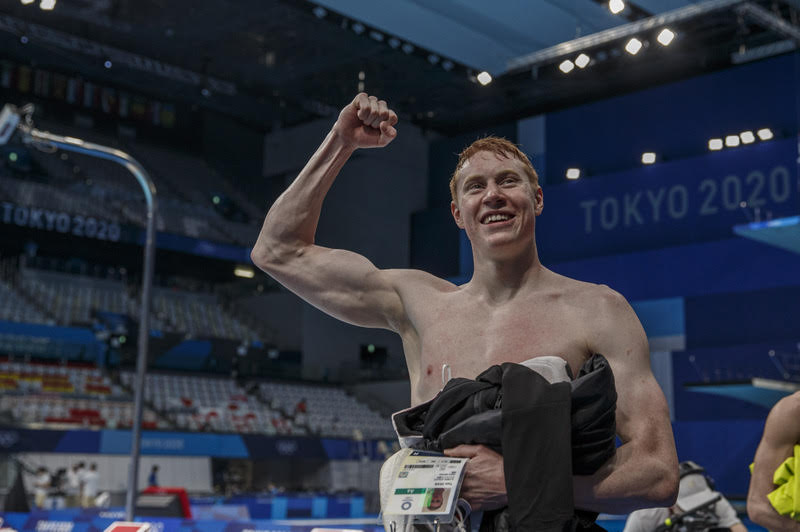 Lloyd, who remains Dean's coach, said: "He joined the club with me when he was around eight years old but moved into my squad when he was about 11. He was a very focused, very determined young man with lots of natural talent. There were ebbs and flows through his early teens but we've managed to support him and keep him focused, and a big shout to his older sister, Connie, for keeping him going.
"The rivalry between Duncan and Tom certainly helped. Ultimately Tom's talent shone through and his ability to race when it matters has always been one of his key strengths."
Connie played her part too, as a nutritionist — of sorts. "He's my baby brother. I've had to wake him up every morning for about a decade and make him a pain au chocolat," she told Good Morning Britain.
"I just can't put it into words, I could not be prouder of him. I couldn't miss being there more. I've slept a couple of hours and it still feels really surreal."
Big decisions await Dean when he gets back to Britain: when he was asked whether he would be returning to his mechanical engineering studies at Bath University in September, he toyed with the large gold medal he had placed around his own neck during the Covid-cautious ceremony and said with a smile: "This kind of changes my plans slightly but we'll see."
Dean may want to dip into some swimming history books for pertinent tips on what to do next before he returns to engineering.
He could start with Mike Wenden, the Australian who in 1968 became the first winner of the Olympic 200m freestyle after the event had been dropped from the programme for 64 years.
Having become an overnight sensation, Wenden offered the following guidance to future champions: "Seek advice about an appropriate business manager and maintain close contact with a psychologist."
1908 – Britain's last Olympic 1-2 In The Pool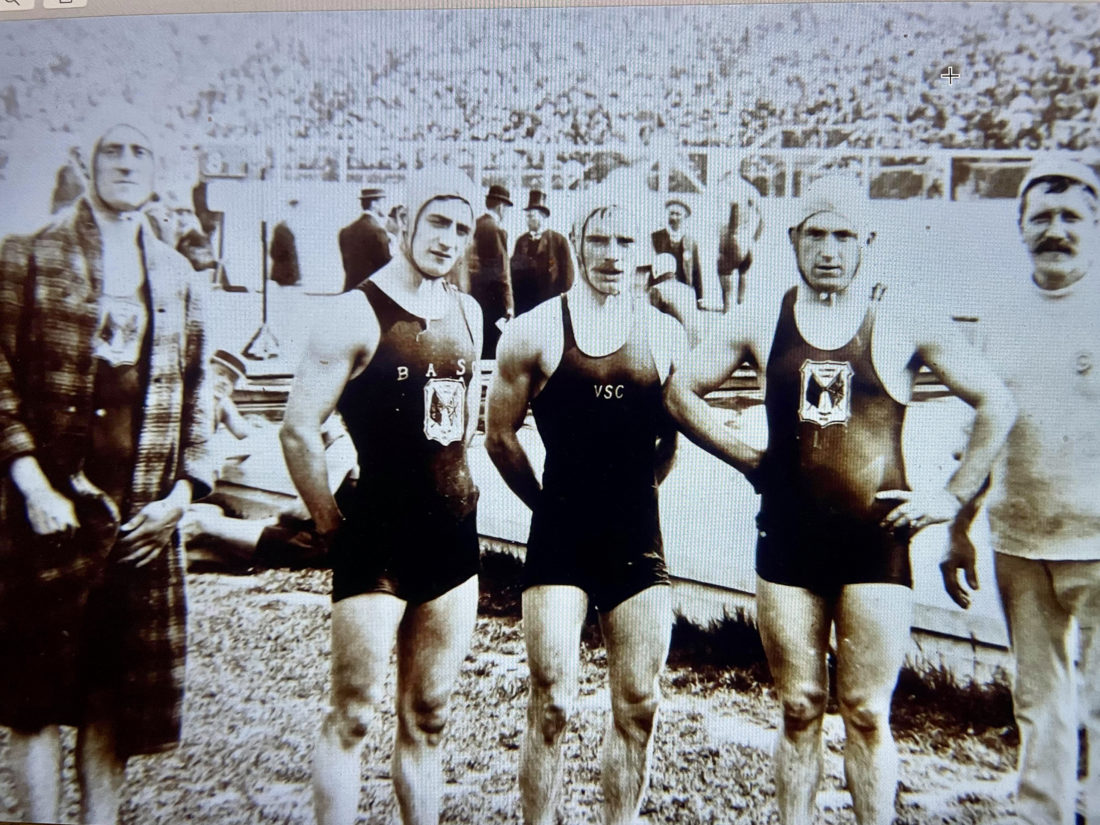 I write swimming for The Times, a paper that devoted a single paragraph to Britain's previous Olympic swimming "one-two", when Henry Taylor and Thomas Battersby came first and second in the 1,500m freestyle at the 1908 Games in London. The one paragraph was no insult, just a reflection of where sport fit back then. It wasn't much different when England won the World Cup in 1966: a few paragraphs was the extent of it. Nowadays, such a result would require a cross reference from the lead story in the paper top pages 30-46, and so on. Dean's story will also make the front pages of the British media tomorrow, with many a feature to follow in the days and weeks ahead.
Taylor set a world record in the 1500m, Battersby 2.8 seconds behind. It was different world back then and Battersby took it upon himself to seize the day and get a record of his own: having spotted that Taylor was done, Battersby raced on to claim a mile World record, only the second official mark in the event, after Austrian Otto Scheff's 25mins 24.4sec was registered by FINA, the international federation founded the same year, as the inaugural mile "worlds record".
Taylor's three gold medals at one Games remains a British Olympic record, all sports: It has since been matched by cyclist Chris Hoy, who won three events at Beijing 2008, a century later.