What We Won't Miss: Sun Yang & An Entourage That Still Has Questions To Answer Over 2014 Doping Positive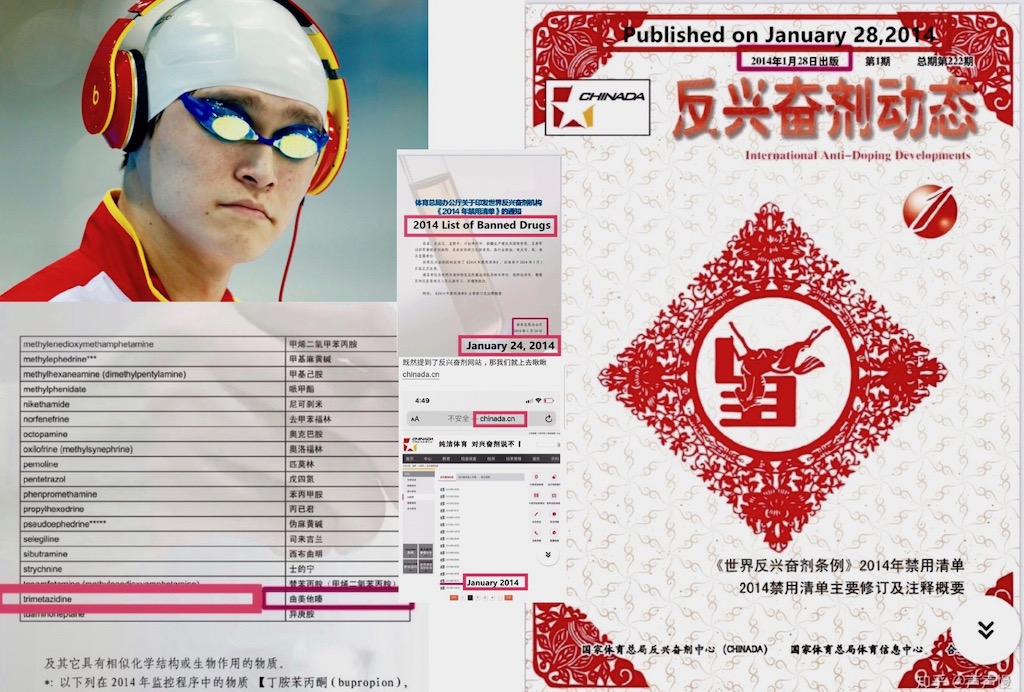 When the Court of Arbitration for Sport imposed a suspension of four years and three months on Sun Yang* last month after three judicial processes that came to an end not much shy of three years since an offence of manipulation was committed, it bypassed two fundamental truths about the anti-doping system and its right to be taken seriously by clean athletes:
the three months was a token and unsatisfactory recognition of a previous offence and a stark reduction in the eight-year suspension imposed when the first of two CAS processes backed the World Anti-Doping Agency's call for an eight-year ban.
the anti-doping system relies yet on the evidence presented to it by the parties involved but often overlooks evidence of manipulation and conflicts of interest among rogues playing the system (some of that of the 'lost in translation' style but if this reporter with the help of others committed to exposing bad practices and harm to teenage athletes can unearth evidence, so should anti-doping and judicial authorities with budgets that far and away exceed anything available for investigative work in the media.
Ahead of out Tokyo previews tomorrow …
Below is a case in point that highlights the weaknesses that persist in investigative work within an anti-doping system that has punished Sun Yang but left an entourage of Chinese officials, including two doctors, one of them an anti-doping official, untouched by events that they, the adults in the room, were intrinsically a part of.
In 2020, SOS reported the following to WADA. The significant information below appears not to have fed through to the CAS in its latest judgment, which includes a derisory three months 'extra' penalty to take account of a previous suspension.
Sun Yang tested positive for a banned substance in 2014 four months after the drug in question had been listed and published in a Chinese version of the WADA Code, documents being circulated in China appear to show.
That suspension handed to Sun was for three months, on the grounds that Chinada had failed to translate the updated WADA Code into Chinese by the time the swimmer tested positive in May 2014. The three-month penalty was served as a retrospective punishment because Chines authorities failed to impose any penalty and missed several reporting deadlines along the way. And, as such … the three months suspension was never actually served.
In more detail: When Sun tested positive for the heart booster trimetazidine during national championships in May 2014, the reason subsequently given by the Chinese Swimming Association (CSA) for a lenient backdated three-month suspension that was never actually served was a mistake made by CHINADA, the Chinese anti-doping agency.
Sun's doctor, Ba Zhen, could not have known that the medicine he had long prescribed for Sun had been added to the World Anti-Doping Agency's list of banned substances because of a delay in the translation of the Chinese version of the WADA Code, the CSA argued.
CHINADA backed that line of defence when it issued an apology for late translation of the 2014 WADA Code. The explanation was accepted by FINA, the international federation, and WADA as reason to let China's ruling of a retrospective three-month suspension stand.
The penalty was widely criticised by swimmers and coaches around the world as representing another "lenient" punishment of the kind applied to "stars" but never to lesser-known swimmers who might have been looking at a minimum suspension of two years for the same offence under WADA rules.
In the storm of Sun racing to World titles at the Kazan 2015 global showcase for swimming, Cornel Marculescu, the then director of WADA-Code signatory FINA, told reporters at German TV station ZDF:
"You can't condemn the stars for a minor doping offence."
However, documents now circulating in China raise new questions about whether the 2014 case can still be regarded by officials as being as "minor" as the CSA originally claimed.
In February 2020, Sun was been handed an eight-year suspension in the first CAS process following the WADA appeal against a FINA Doping Panel decision to issue the swimmer with a series of stark warnings and rebukes while falling shy of imposing an actual penalty for events related to a clash with out-of-competition testers in September 2018.
The eight-year suspension recognised two things: Sun's previous form and a lack of faith in the excuse he gave for falling foul of anti-doping rules, namely Chinada's "error".
The FINA panel had sought to keep the entire episode a secret but WADA made its appeal to CAS after my report in The Sunday Times exposed the details of a dispute between Sun, his entourage and testers through the night until Sun's mother Ming Yang told a security guard to fetch a hammer. That was then used to smash the outer casing of a blood sample Sun had signed into the anti-doping chain of commands before removing it when persuaded to do so by two doctors and a top official at the Chinese Swimming Association who in the CAS process admitted to issuing threats against the chief anti-doping officer on the night in question.
The eight-year suspension was set aside pending a second CAS process after one of the judging panel in the original ruling was found to have made racist remarks in a series of tweets highlighting animal cruelty in China. At the time of the eight-year ruling, documents in circulation in China appeared to show that Chinada had its translated version of the code ready on January 24, 2014, complete with clear reference to trimetazidine. The documents carry a publication date of January 28, 2014.
In September of 2014, Sun raced to three titles at the Asian Games in Incheon, South Korea. Ming Yang, Sun's mother, has since revealed in a social chat post widely saved and distributed in China before it was deleted that the three-month suspension period was arrived at by Chinese officials so that her son's results in Incheon would stand.
It was October 2014 when CSA officials told Sun, according to Ming, that the case would be kept secret and the penalty required to satisfy international authorities would be framed to safeguard Sun's medals. Ming wrote (her words translated by two translation services – in full at the foot of this article) that officials told Sun:
"If we report this offence in the way we left it, it will not be approved. Now the Asian Games are over, your result will not be affected and the final outcome in this case will not be announced to the public either."
Any penalty opposed from the May 24 date of the offence would leave Sun free to race on from late August, three weeks before the start of action in Incheon in 2014.
Dr Ba was subsequently handed two concurrent one-year suspensions, the first for prescribing a banned substance (reported by the CSA to and accepted by WADA), the second after this author asked WADA what it thought of the fact that Ba had been photographed working with Sun at the Asian Games at a time when the doctor should have been serving a suspension.
At the time, FINA told The Times that Dr Ba was not accredited by China in Incheon so there was no action it could take. Photographs show that Dr Ba appeared on the deck in Incheon in full Team China kit, however, and the likelihood of him being accredited as a freelance doctor at a major international event "stretches credulity to breaking point", according to one member of the FINA Medical Commission.
This author handed the references that raise new questions about the 2014 case to WADA, yet that evidence appears not to have been considered by the second CAS hearing.
The evidence that Sun and team did indeed know as early as January 2014 that a change had been made to the WADA Code for 2014 and that the changes had been translated and published in Chinese should have been considered by the arbitrators who handed down a cursory three months suspension (on top of the four years for manipulation in 2018) as token recognition that Sun was a two-times offender, observers of the process believe.
That precise three-month period was the suspension term handed to Sun retrospectively in 2014 on the grounds that Chinada had not translated the updated 2014 WADA Code and by May, 2014, Sun and his soon-to-be twice-barred doctor, Ba Zhen, were, apparently, clueless about the addition of a heart booster Sun had been taking "for several years" in his own words, to the list of banned substances.
Beyond that, what the CAS process did not stretch to was the roles played by Sun's entourage. Among questions:
What penalty would be appropriate for those who persuaded Sun to take back a blood sample from the chain of command?
What rules would cover such a process of further investigation?
How can men who acknowledged they had issued threats against anti-doping officials remain in positions of authority in sport?
The Men Closest To Sun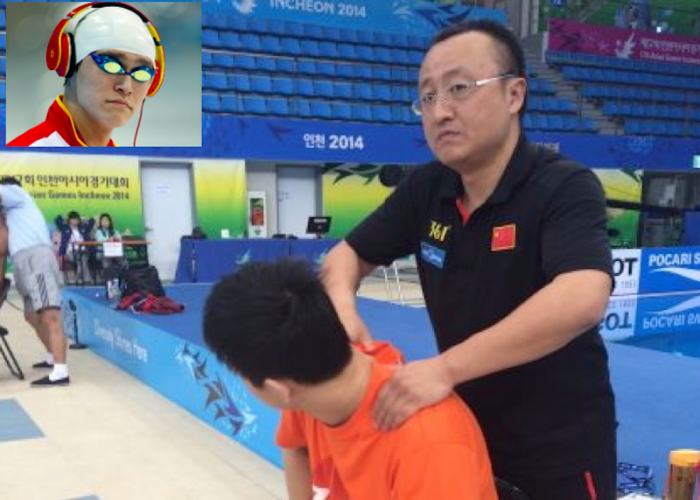 Three of the men closest to Sun in a professional sports capacity – Dr Ba, Hao Cheng, the national team leader and a boss at the CSA, and Dr Han Zhaoqi, Chief Doctor of the School where Dr Ba works, and Chief Doctor in Affiliated Sports Hospital of Zhejiang College of Sport and deputy head of the Zhejiang Anti-Doping Agency – all have questions to answer if the verdict against Sun stands.
In explaining how Sun, who in 2012 became the first Chinese man ever to claim Olympic gold when he won the 400m freestyle at London 2012, came to have tested positive for trimetazidine in May 2014, Dr Ba and Hao Cheng lent on ignorance to defend the swimmer.
The drug had only been added to the WADA banned substances list from January that year but the Chinese translation of the updated code was "not available until months into the year", they claimed.
Sun's ban in the 2018 tampering case last month turns a super trouper on Ba, Hao and Han. All three, the CAS agreed with WADA after a November 2019 hearing, had persuaded Sun to take back the blood sample he had signed off into the anti-doping chain of command in September 2018. That and their "intimidation" of testing officers, as Richard Young, the world body's legal counsel described it, tests the WADA Code.
Ming Yang Turns Inadvertent Whistleblower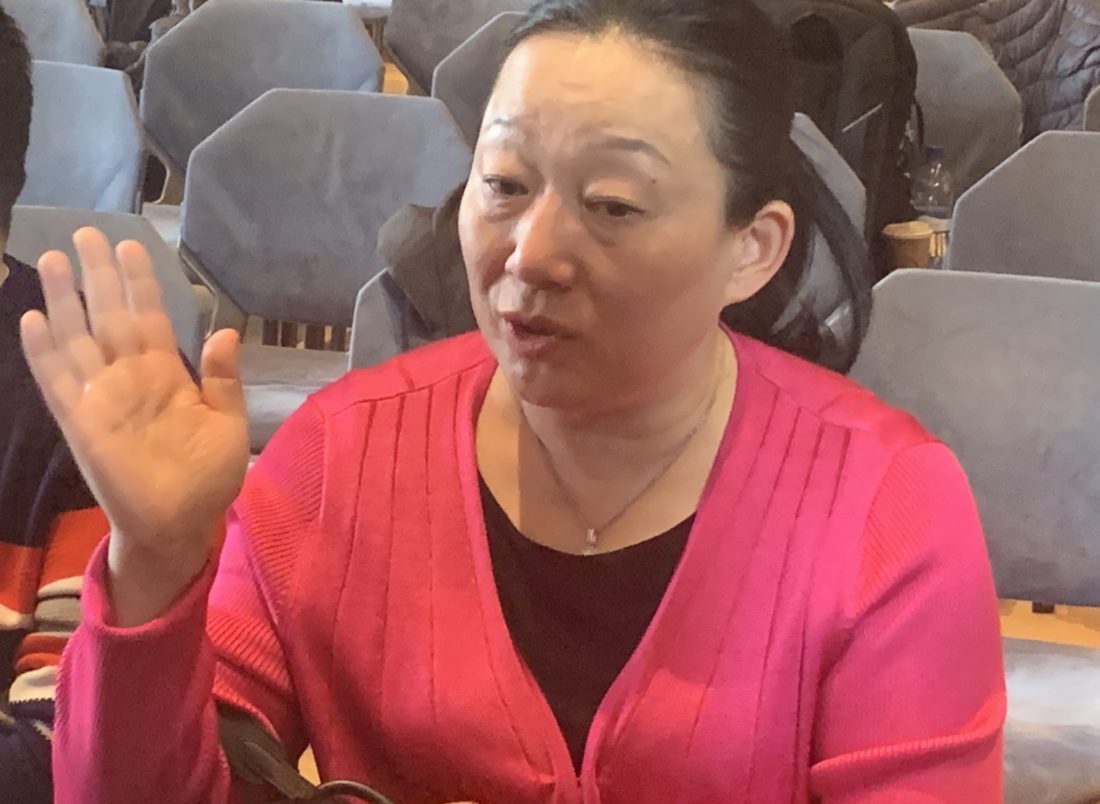 Some Chinese fans have turned on Sun since the CAS published its full report on March 4, while calls have been growing for CSA heads to roll, particularly since Ming Yang posted the following note, replicated in full for the first time in English, courtesy of two independent translations used to verify authenticity and accuracy:
I feel extremely helpless, I was sleepless and sad that my son's 20 years of efforts in competitive swimming could possibly end due to the power of lies.
My son has overcome so many difficulties and faced unfair treatment in the pool. Thinking carefully about the past years, I did a few things inappropriately so that I have to apologise to, but feel no regret towards, the Chinese National Sports Administration but I apologise to and feel very sorry for my son.
In 2008 Nov, Sun Yang experienced chest pained and suffered from arrhythmia following the flu. After going to 5 different hospitals, a panel of cardiac specialized doctors diagnosed Sun Yang with myocardial ischemia, and suggested Sun Yang to take VASOREL, Trimetazidine to treat myocardial ischemia. Trimetazidine is one of commonly used medicines in clinic to cure myocardial ischemia. Sun Yang occasionally took VASOREL, Trimetazidine under the doctor's advice when Sun Yang did not feel chest comfortable, which was totally legal as this substance was not banned at that time.
VASOREL, Trimetazidine appeared on the list of banned substances on 2014, 01 Jan. However, China Anti-Doping Agency did not update National team and other local teams so no any swimmer was aware of it.
In May 2014, after one month recovery training following a surgery on paronychia, Sun Yang participated in National Championships. Since busy competition schedule and high intensity competition, Sun Yang experienced cardiac pain again. Then Sun Yang took VASOREL, Trimetazidine. Unexpectedly, Sun Yang tested positive for trimetazidine, a heart booster that joined the banned substances list at the start of that year. The National hearing was held in July, 2014.
One month later the CSA had imposed a fine of RMB5,000 (about pounds sterling 550) and issued Sun with a warning for his May 2014 positive test for trimetazidine, a heart booster that joined the banned substances list at the start of that year. Sun was then approached in October 2014 by CSA officials after Asian Games, told Sun:
"If we report this offence in the way we left it, it will not be approved. Now the Asian Games are over, your result will not be affected and the final outcome in this case will not be announced to the public either. We can say that the penalty was for three months sometime between May and August 2015 [sic, but 2015 is likely to be a typo, the discussion all about a three-month penalty in 2014]."
Sun's first reaction was to strongly disagree. But I think that since the leaders tried to persuade us on behalf of the CSA, they must have thought about the consequences. So there should be no problem and we should also respect their authority and save their face. I tried hard to persuade Sun Yang but he still disagreed. Then I exceeded my authority to agree on his behalf. As a result, the face of leaders and the CSA was saved, but it has become the biggest shame of Sun Yang's swimming career.
The China Swimming Association assigned an inexperienced and irresponsible lawyer for the international (CAS) hearing later 2019.
This lawyer failed to present much important evidence for Sun Yang. The interpreter in this hearing was not able to translate properly. I made requests, many times, to the China Swimming Association to replace this lawyer and interpreter with more experienced ones, but I was rejected and [the CSA] threatened Sun Yang that he would lose the support from the authority in his legal case against WADA this past year if he did not accept the lawyers and translators they allocated to him even though both Sun and [his mother] were unhappy with the choices.
I understand that not everything is under Sun Yang and my control, but if there is one more chance, I would insist on changing the lawyer and translator due to their lack of professionalism, experience, and capability, then I would believe that the outcome might be different.
And all of that belongs to the kinds of things that the sport of swimming and the Olympic Games won't miss at all in Tokyo.