Paris 2024 Ambition Programme – Team GB Veterans & Hopefuls Ramp Up For Next Olympics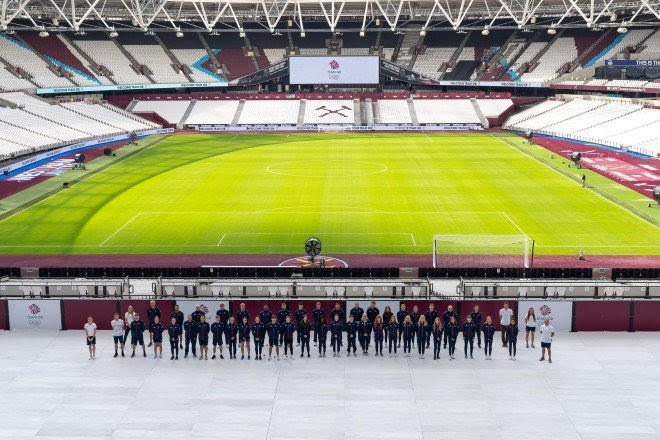 The Tokyo Games are not yet done but Team GB are hard at work on a Paris 2024 Ambition Programme, with former Britain swimming Olympians at the heart of a project that brings veterans of the Games together with hopefuls. A teamGB release:
London – 34 athletes and 12 coaches meet at London Stadium this week for the Team GB for 2024 Ambition Programme – a two-day event designed to prepare athletes with the potential to reach their first Olympics in 2024 for the realities of the Olympic environment.
Hosted by Olympians Lizzie Simmonds, Chris Cook, Hannah England and Goldie Sayers, and backed by Official Partner of the Ambition Programme, Toyota, Team GB for Ambition 2024 will be the fifth time the programme has run for aspiring British Olympians. This year, 24 programme alumni are competing for Team GB in Tokyo, including Jonny Brownlee, Zoe Smith, Charlotte Dujardin (2008 cohort), Bryony Page, Grace Reid, Daniel Goodfellow, Maddie Hinch (2012 cohort), Alice Kinsella, Joe Fraser and Bradley Forbes-Cryans (2016 cohort).
The programme, which has been designed by Team GB Olympians and supported by the British Olympic Association and UK Sport, will provide athletes with 2024 potential from 11 different sports with access to workshops, mentoring, behind-the-scenes insights, and first-hand testimony from British Olympians designed to prepare and inspire them for a future at the Olympic Games.
Giarnni Regini-Moran, who attended the Rio 2016 Ambition Programme at a time where injury had almost caused him to cease competing, explained last week how his experiences in the Rio programme gave him the inspiration to carry on and refocus for the Tokyo cycle, where he formed a part of the Men's Artistic Gymnastics team which came fourth in the all-around competition. He said: "If I wasn't part of the Ambition Programme, I don't think I'd be sitting here today. Being here as part of Team GB has been incredible, and the experiences I had in 2016 were so important in getting me to this place."
Lizzie Simmonds, Team GB Swimming Olympian in 2008 and 2012 and the incoming chair of the BOA Athletes' Commission, said: "Until you've been part of an Olympic Games, it's very difficult to understand the unique Olympic environment and prepare for the pressures you're put under as an athlete. By running this programme, we hope to give a new generation of athletes valuable insight into the Olympic Games experience, helping prepare them for their own journey with Team GB and enabling them to perform at their best at Paris 2024 and beyond."
The Team GB for 2024 Ambition Programme takes place on 3-4 August 2021 at London Stadium, Queen Elizabeth Olympic Park.