After Li Bingjie's Lonely 3:51 S/C WR In China, Summer McIntosh Edges Katie Ledecky On 3:52 As Pace Gets Pugilistic On Way To Paris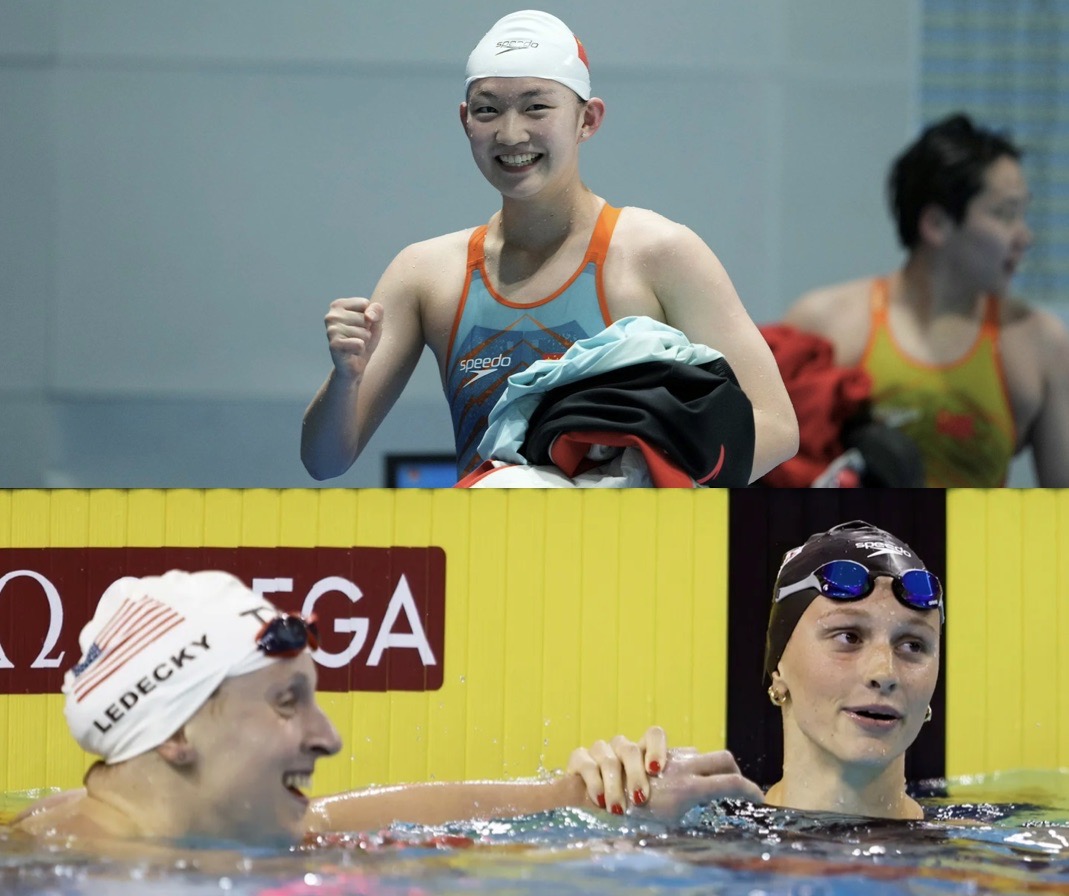 Li Bingjie stunned the world of swimming this week with a 3:51.30 Word short-course record in the 400m freestyle at Chinese nationals, a day before two others, Summer McIntosh and Katie Ledecky, went stroke-for-stroke into the 3:52s at the FINA World Cup, their times also inside previous Word-record pace.
Li blasted here 3:51.30 in the 400m at Chinese Championships in Beijing, where the action was behind locked doors due to tight Covid restrictions still in place in China. Her effort took down the global short-course standard that had stood at 3:53.92 to Australian Olympic champion and World Record holder Ariarne Titmus.
Li emerged from racing to say: "All the downs, doubts, tears and injuries have finally turned into a historical time … 3:51.30! From my Olympic relay title in Tokyo, to my first individual SC world title in Abu Dhabi, then to my first SC world record in Beijing, I couldn't have made progress without the support of my coaches, my parents, my club and national team, and my fans. They have always been there for me I would like to say that I will definitely treat you all with a better performance at the Short Course World Championships in Melbourne in December."
Gauntlet chucked, though, yet again, the stuffed competition calendar in need of undertaking a fitness regime means that not all the top contenders will be at thee same meet at the same time, even when the event is a "World Championship".
The next time they are likely to be there together once more at the bigger moment: the World long-course championships in Fukuoka next summer.
At China nationals, Li also set an Asian record of 15:41.80 in the 1500m and a national record of 1:51.25 in the 200m ahead of Yang Junxuan, on 1:51.61.
The Chinese Championships were flushed with fast swims from newcomers, including a World junior record for Chen Juner, 18, on 1:49.61 in the 200m butterfly. There was also an Asian record in the women's 100m breaststroke, Tang Qianting, on 1:03.15.
McIntosh & Ledecky Split By Just 0.08 In 400 Thriller in Toronto
If Li raced to pioneering pace in relatively lonely waters, Summer McIntosh and Katie Ledecky [rovided each other with stroike-for-stroke competition at the Toronto leg of the short-course World Cup. Battle ended 3:52.80 to 3:52.88 in favour of the local charge and teenager double World champion (200m butterfly and 400m medley) over the double distance freestyle Olympic and World champion of 2021 and 2022 (800m and 1500m freestyle).
McIntosh's time set a World Junior record and a World Cup standard.
Related:
McIntosh and Ledecky now boast the No2 and 3 best efforts all-time. There's likely to be a shuffling of the order before the year is out, as Titmus steps up for battle at home. The fact is, none of the top players in the 400m race the 400m short-course in peak form very often at all. Indeed, it might be argued that the swimmer who showed the rest the way to current capabilities in distance freestyle, Ledecky, never has.
"I'm a little bit in shock right now," McIntosh said of her swim, through FINA. "I wasn't sure how I was going to do tonight. I was really happy with my morning swim. I'm really happy with that and would never imagine I'd get that time."
"I didn't really have any time in mind that I thought I could go, but that's definitely not what I would've thought if you had asked me. I've never had a meet like this in my hometown. I live like 30 minutes away from here and all my friends and family are in the stands," said the young Canadian.
Ledecky, with a nod to the rarity of her s/c metres appearances, said: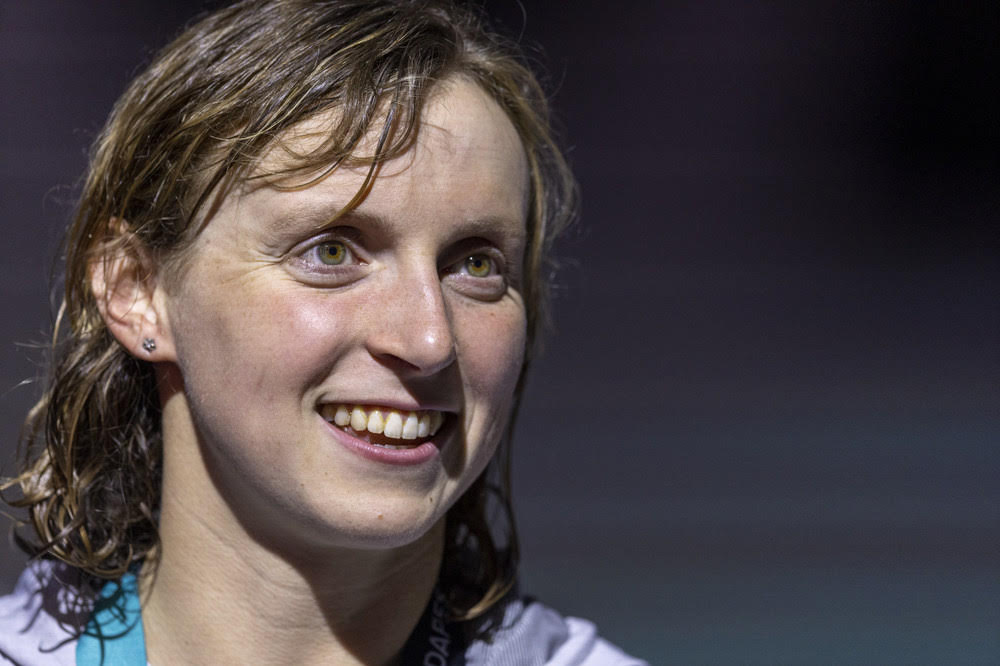 "I didn't know what to expect from this meet. I don't really have a good sense of what good short course times are for me right now. So, I'm just trying to not put limits on myself and just go for it. I wanted to just get some racing in. I really feel like I'm just trying to hit my rhythm in training so It's nice to just break up training right now and get a couple of races in."

Katie Ledecky – photo by Patrick B. Kraemer / MAGICPBK