Summer Sizzler For McIntosh, Masse & Liendo As Maple Might Takes Flight: 2 Gold, 2 Bronze On Day 5 In Budapest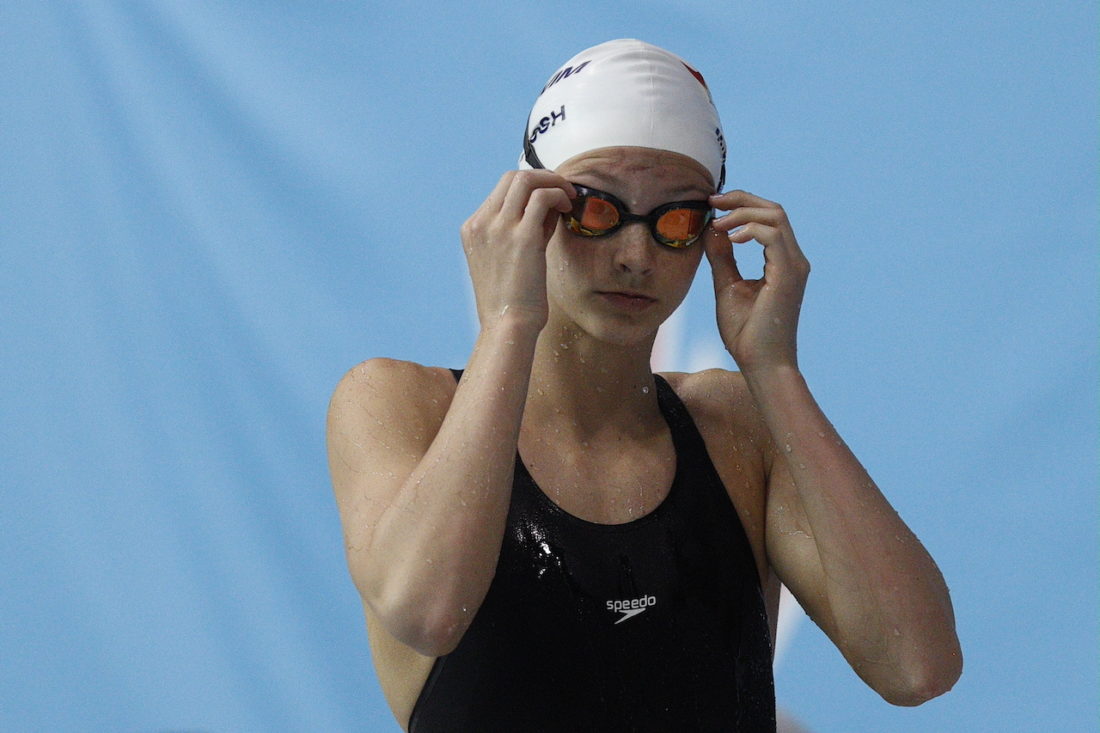 Summer McIntosh and Kylie Masse each won gold for Canada at the Duna Arena today while Joshua Liendo and the women's 4x200m freestyle relay, McIntosh playing a pivotal role, snared bronzes on day 5 of the World Swimming Championships.
Swimming Canada noted: It is the first time Canada has won two gold on the same day at worlds. The Canadian swimming team more than doubled its medal count moving from three to seven (two gold, three silver and two bronze.)
McIntosh, still 15, produced a pair of thunderous performances. First up, she set her second World Junior record in 24 hours with a 2:05.20 victory in the 200m butterfly, making her Canada's youngest world champion.
The age standard had been held by the late Victor Davis, who at 18 in 1982 took the 200m breaststroke crown in Guayaquil.
McIntosh was a followed home by Hali Flickinger, USA, on 2:06.08, and Olympic champion Zhang Yufei, China, on 2:06.32.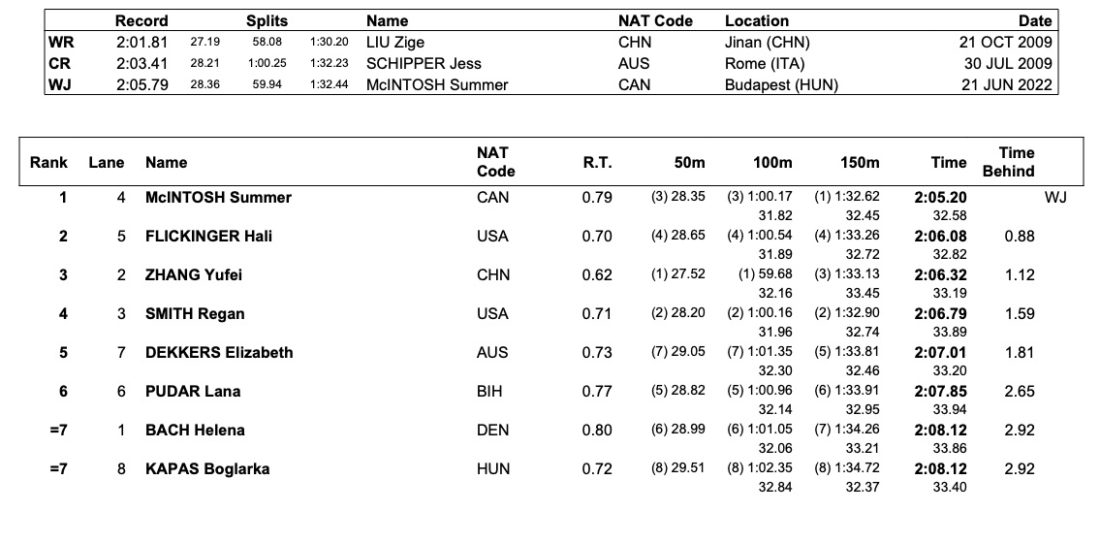 The new champion, based at Swimming Canada's High Performance Centre – Ontario, said: ''The first 50 and second 100, I definitely pushed it a little bit. I didn't really think much until the last 50. I just gave it my all to put all my energy and all my focus to get my hands on the wall as fast as I possibly could.''
McIntosh is Canada's first winner off the 200m butterfly title since it all began in 1973. She said:
is the first Canadian to reach the podium in the 200-m butterfly at worlds.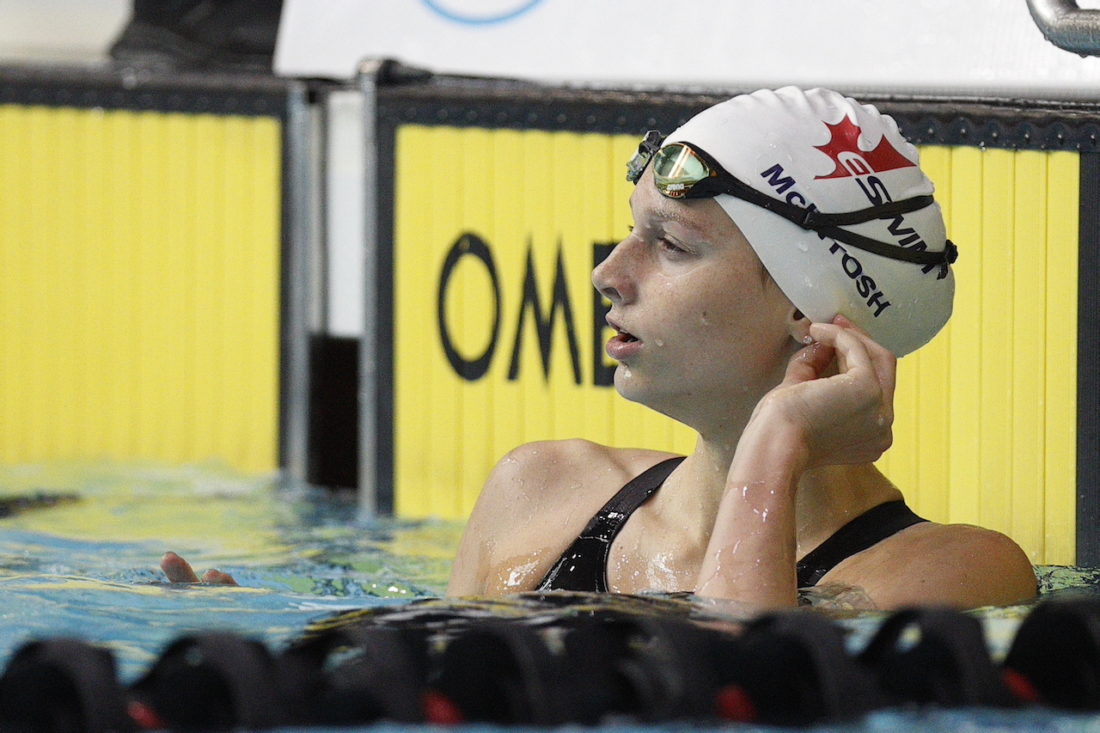 ''It's one of my biggest dreams to be world champion. And especially in the 200 fly is something I always wanted to do because it is one of my favorite events.''

Summer McIntosh – photo by Kevin Light, courtesy of Swimming Canada
Plaudits From Atkinson For McIntosh & Coach Mallette
''Summer, working with her coach Ryan Mallette, has done a fantastic job to prepare for these world championships,'' said John Atkinson, Swimming Canada's Director, High Performance and National Coach. ''She's a very driven, organized young woman who swims a wide range of events. I think this is the start of people getting to know who she is and she's got some more races this week.''
Kylie Masse Cuts A Winning Dash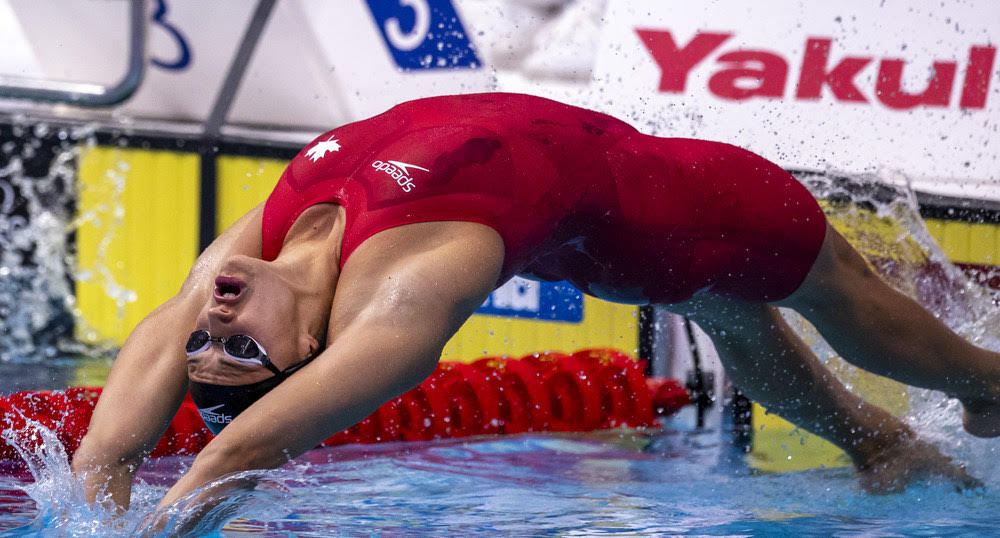 Kylie Masse took Canada's second gold of the day in the 50m backstroke, her 27.31 fending off Katharine Berkoff, USA and the daughter of Olympic backstroke medallist ofd 1988 David Berkoff, on 27.39, and Analia Pigree, of France, on 27.40 and building into a contender for a home Olympics come Paris 2024.

Masse, based at the HPC-Ontario program, is Canada's first three-time world champion. She took the 100m back title in in 2017 and 2019. AS gold to add to the silver she won in the 100 last Monday, Masse has seven World-Championship medals in her pantheon.
She said: ''It's pretty surreal. I've watched my 50 progress over the last couple of years. I've gained a lot of strength and worked a lot on my speed. I couldn't ask for anything more to get on the podium. I'm really stoked.''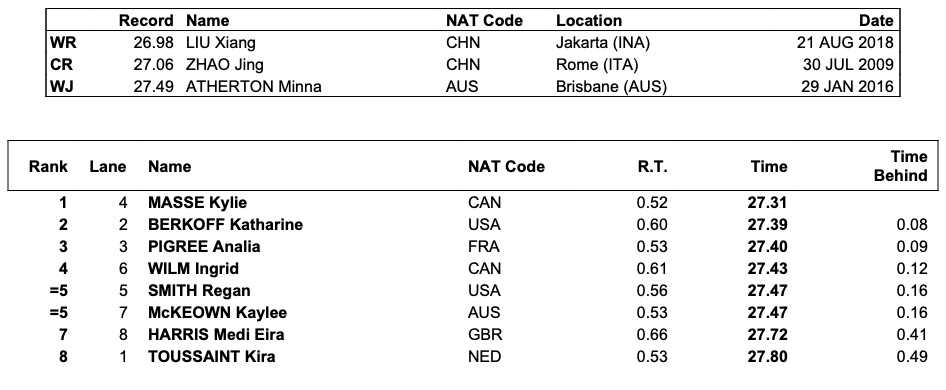 There was also bronzes for Josh Liendo in the 100m freestyle and the 4x200m quartet of McIntosh, Kayla Sanchez, Taylor Ruck and Penny Oleksiak.
The title went to the United States in 7:41.45, a championship record courtesy of Claire Weinstein (1:56.71), Leah Smith (1:56.47), Katie Ledecky (1:53.67) and Bella Sims (1:54.60). Australia took silver in 7:43.86, Canada bronze in 7:44.76, Olympic champions China out of the loop this time round.