W800Fr – Katie Ledecky Defeats Her Inner Balrog To Become Fourth Member Of Triple-Crown Club 8:12 To 8:13 Over Titmus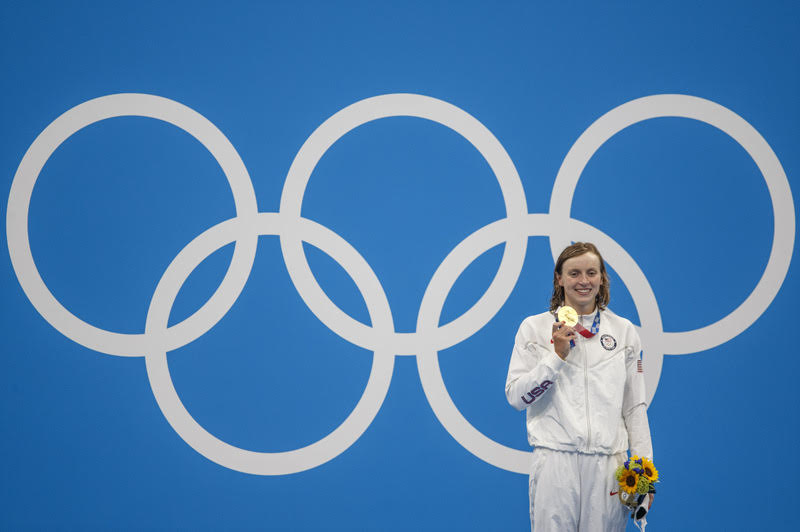 Tokyo 2020 Olympic Games, Women's 800m freestyle – It wasn't as though we hadn't seen it before but when Katie Ledecky took to the waters of the 800m freestyle final today in Tokyo she battened down the hatches, rolled up sleeves of resilience and monumental mental strength and delivered on promise as the third woman and fourth member into the Triple Crown club founded by Dawn Fraser at Tokyo 1964.
Tokyo 2020 in 2021. Strange times. Defeated in the 400m freestyle by Ariarne Titmus and then a second title lost to the same opponent in a 200m freestyle final that placed her beyond the podium, Ledecky got up, dusted herself down and fought back to write yet another new line in history books as the pioneering Olympic 1500m freestyle champion.
Today, she became the first woman to claim the 800m freestyle title for a third time, a go-to-gold pace-setter of a Swimmer ending in an 8:12.57 triumph. For those tempted to look at her 8:04 World record and shrug, I recommend looking the other way: only Ledecky has ever swum under 8:13 – and now 18 times.
No16 on her personal ranking list, the time is part of an all-time top 24 entirely owned by Ledecky. For just over a second, the American owned the best 25 ever, then Titmus stopped the clock in a Commonwealth record of 8:13.83 to add silver to her 200 and 400m golds in an effort that ended the 13-year reign of Rebecca Adlington's 8:14.10 at the top of the regional ranks.
It was Ledecky who took down Adlington's World record with the 8:13.86 in which she claimed the 2013 World title a year after lifting Olympic gold at London 2012 as the 15-year-old who finally took down Janet Evans' legendary 8:16.22 American record, which had stood as the global standard between 1989 and the second of Adlington's Beijing 2008 victories (the British ace also won the 400m).
That count of one Olympic title for Ledecky in 2012 sits at seven today, six of the crowns in solo freestyle events, one in the 4x200m at Rio and all of that atop a count of 10 Olympic medals, three of them silver, the 200m free final in Tokyo her only missed podium.
The 800m bronze today went to Italy's Simona Quadarella in 8:18.35, another American 15-year-old Katie, Grimes, close, on 8:19.38.
In the 125-year history of Olympic swimming, 109 of those including women, the Triple Crown – three titles in the same event – has only been achieved by three others: Aussie sprint legend Dawn Fraser in the 100 freestyle (1956-1964); the Hungarian 'mouse' that roared, Krisztina Egerszegi, in the 200 backstroke (1988-1996); and Michael Phelps in the 100 butterfly (2004-2012) and 200 individual medley (the founder member of the Quadruple Crown Club, 2004-2016).
Several others have come close, among the closest a thread of Aussie 1500m tradition, 1992 and 1996 champion Kieren Perkins falling 5.26sec shy when beaten by teammate Grant Hackett at Sydney 2000; and then, in the smallest margin of missed membership, Hackett, after retaining the crown at Athens 2004, falling 0.69sec shy when beaten by Tunisia's Ous Mellouli at Beijing 2008. Alexander Popov, Gary Hall Jnr, Pieter van den Hoogenband, Janet Evans and Kirsty Coventry were among others who got close, Hall Jnr in reverse order, silver in the 50m free in 1996 followed by gold in the same event in 2000 (jointly with teammate Anthony Ervin) and 2004. Ervin made the 2012 final after a comeback and then, in 2016, claimed the crown again, at 35 the oldest Olympic swim champion in history.
Ledecky's plans are unknown at this stage but don't rule out a Paris 2024 campaign. What else to say of her? Too much for the here and now. That's 4,700m of gold-medal racing on freestyle over three Games spread over nine, not eight, years. If that and the pioneering pace of it all is impressive enough, consider the challenges of 2019-2021.
Ledecky was coached by Yuri Suguiyama to London; then also at Nation's Capital Swim Club, Bruce Gemmell, to a soaring four golds and a silver, including the first 200-400-800 triple triumph since fellow American Debbie Meyer set the standard in 1968 when the 200m and 800m were added to the women's program in the Olympic pool; and, the hard bake of the toughest cookie in the crumble of world-class women's swimming firmly in place, by Greg Meehan during her days at Stanford.
Beyond London 2012, we got the first glimpse of Ledecky as a "you-shall-not-pass!" protagonist of the pool in the 1500m fight with Denmark's Lotte Friis back at 2013 World titles in Barcelona. Six years on, at Gwangju 2019, past 400m defeat at the hand of Titmus, withdraws from the 200m and the 1500m and some days of recovery from the illness that had taken the edge off her, we witnessed an epic 800m freestyle victory in which there was "reaching, digging, lifting, wielding every tool in her armoury" in Gandalfian scream of a performance in which the Balrog was herself. And she won.
Today in Tokyo, she might have lost it; she could have been overhauled by the Australian who forced a change of guard with smart and sensational wins in the 200 and 400m. Not this time.
"I think I saw a statistic two years ago that said no one's ever three-peated in that event, and that's been in the back of my mind," Ledecky said.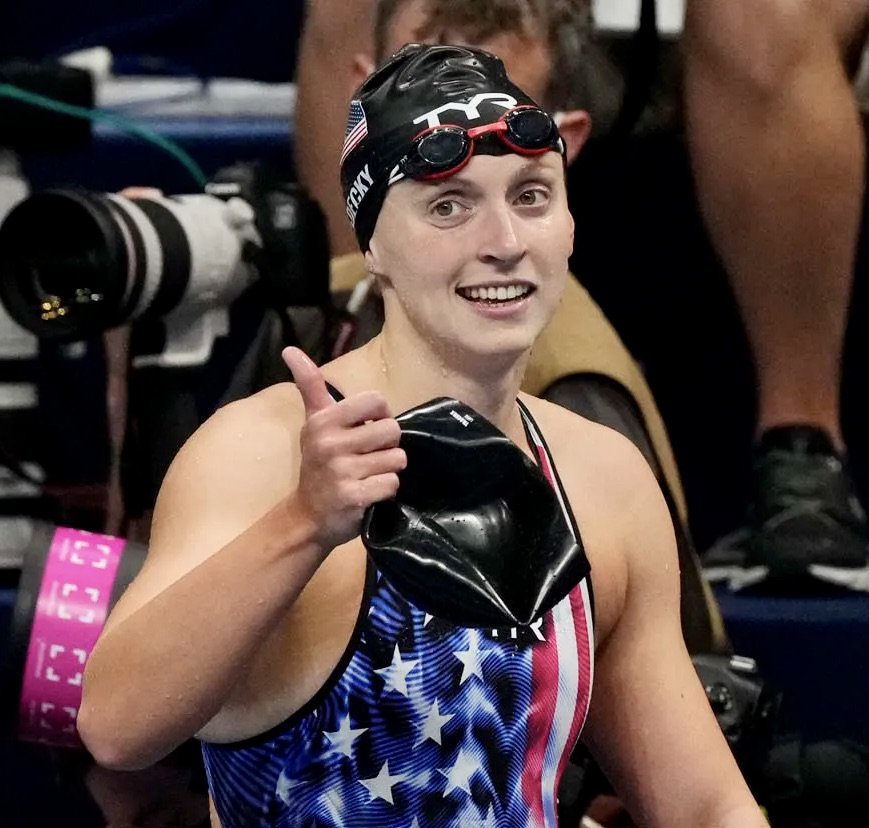 "It's both in a good way and in a sometimes that thought gets to you a little bit. You're like, 'Huh, I wonder if there's a reason why no one has ever three-peated.' It's tough. It's tough to win one gold and to do it three times in a row in that event is really amazing. That's a really fast field, and I knew I had to bring it. I'm really happy. I just really wanted to end on a good note. I knew it would linger with me if I ended on a bad note, so I tried to use that as motivation to end on as good a note as possible."

Katie Ledecky – photo by Patrick B. Kraemer
Ledecky started out as the upstart at London 2012; was utterly dominant on a world record of 8:04.79 in 2016, when the silver went to Britain's Jazz Carlin, almost 12 seconds adrift as the third fastest performer over 800m ever and second in a textile suit at that point; the third today a case of setting the pace and holding the front until the last – and victory.
Titmus put in the 800m race of her life, where Ledecky had a relative comfort zone that included 15 swims under 8:12, five of them under 8:10, in what is among the most impressive ownership of an event in the history of swimming. Historic comparison makes for a weak exercise in that previous generations had far fewer peak events to aim for. Of late, Adam Peaty's list of the best 100m breaststroke times ever (now 17) has been the closest to Ledecky's dominance of the all-time tally in a single event.
Today, Ledecky piled on the pressure from go: a 0.41 lead at 100m turned to 0.95 at 200m, 1.01sec at 300m, 1.22 at the half-way, on 4:04.70 (fewer than 50 women have ever swim faster in a straight 400), Titmus on 4:05.92, Grimes, then Quadarella on 4:08s.
It was after the 500m mark, the gap between the top two at 1.32, that Ledecky double down: 1.72sec at 600m and motoring, Titmus unable to respond, 2.43 her deficit with 100m to go. Titmus, that 1:53.09 World textile best in the bank from Aussie trials the proof that she has the bigger sprint in her than the American these days, clawed back a second on the way home with splits of 30.98 and a last-length blast of 29.34, to Ledecky's 31.14 and 30.35.
Great race, terrific victory – and fun, too, despite the sweat and toil, as far as Ledecky was concerned. She said: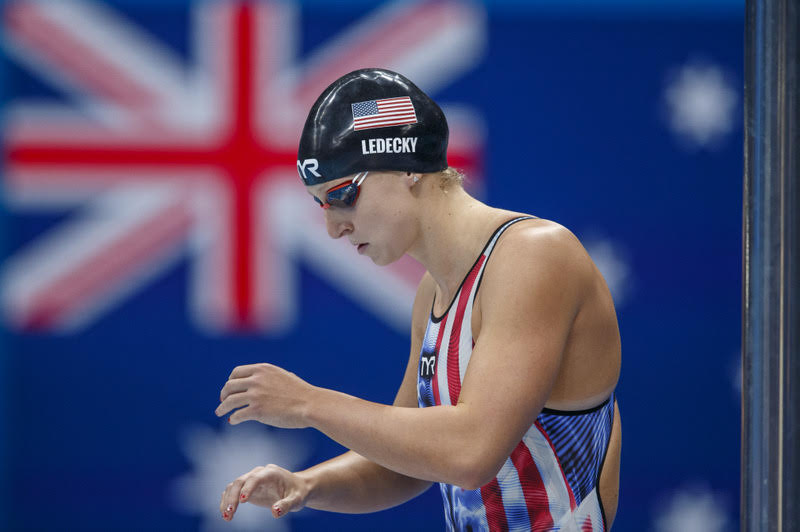 "It was a lot of fun to race, and I just trusted myself. I trusted that I could pull it out and swim it whatever way I needed to. I could see her (Titmus) the whole way and tried to keep tabs on her and tried to just inch my way out a little bit each 50. I knew she was going to be lurking there the whole time and I knew I needed to have a little gap because if we were neck and neck the last hundred, I know she has that finish. I just tried to swim a smart race, swim it like I know how to and I know that I'm able to swim the 800 a few different ways so I just trusted my training and fought till the end."

Katie Ledecky – photo by Patrick B. Kraemer
Australians have made much of the fact that it's hard to find a reference in which Ledecky refers to Titmus by name, let alone 'Ariarne', where rivals galore refer to "Katie". Too much may have been made of it; on the other hand, it may also be a hint of the red line Ledecky draws in her competitive mind when it comes to the place swimmers often talk about: rivals only from call room to end of race, mates on a shared journey at the peak end of excellence at other times.
Of her rivalry with Titmus, Ledecky said: "It's awesome. We're really friendly and it's amazing what she's accomplished this week as well. I'm really thrilled to have that kind of competition as something that fuels me, and I know it fuels her as well. So I hope that I can keep up and stay competitive moving forward."
One day, we may heae Ledecky speak the Australian's name, loud and clear. For now, it seems, it will be used sparingly.
Katie Ledecky USA 8:12.57
Ariarne Titmus AUS 8:13.83
Simona Quadarella ITA 8:18.35
Katie Grimes USA 8:19.38
Wang Jianjiahe CHN 8:21.93
Kiah Melverton AUS 8:22.25
Sarah Kohler GER 8:24.56
Anastasiia Kirpichnikova Team Tchaikovsky 8:26.30