Katie Ledecky 15:08 World Short-Course Record In Cup 1500m Confirms What We've Known For A Pioneering Decade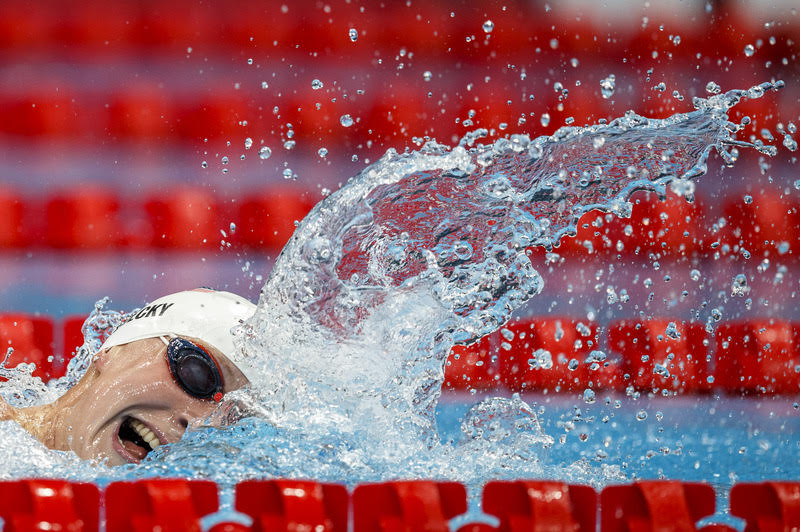 A decade after her international breakthrough at the start of a stellar career as one off there all-time swimming greats, Katie Ledecky added a different kind of first to her pantheon at the World Cup in Toronto: with 15 World long-course records to her name over 400 (3), 800 (5) and 1500m (6) freestyle, the American now owns a global short-course standard.
Headlines instantly noted the fact that Ledecky smash the 1500m s/c mark by 10 seconds. Sensation, yes. Unexpected, no. The time: 15:08.24, inside the 15:18.01 set in 2019 by Germany's Sarah Köhler, now Wellbrock since marrying Olympic marathon champion and training partner Florian Wellbrock.
Ledecky, the Olympic and World champion over 800 and 1500m freestyle now training at the Gators in Florida, very rarely swims short-course metres. For as long as we've know of her supreme aquatic abilities, it's been obvious that if she ever swam a serious distance freestyle race in short-course metres, the high bar would be rattled upwards to the next peg.
Given that the sixth of her 1500m World records has stood at 15:20.48 since 2018; given that the gap between s/c and l/c bests of, for example, Gregorio Paltrinieri, the Italian 1500m Olympic champion of 2016, is 14:08.06 to 14:32.80 … Ledecky, in full taper mode (which she's not) might well rattle the 15-minute mark in the little pool.
"I didn't have it as a set goal (to break the World Record)," Ledecky said the day after a 3:52.88, 0.08sec behind Canada's Summer McIntosh, their times the No2 and 3 all-time s/c performances.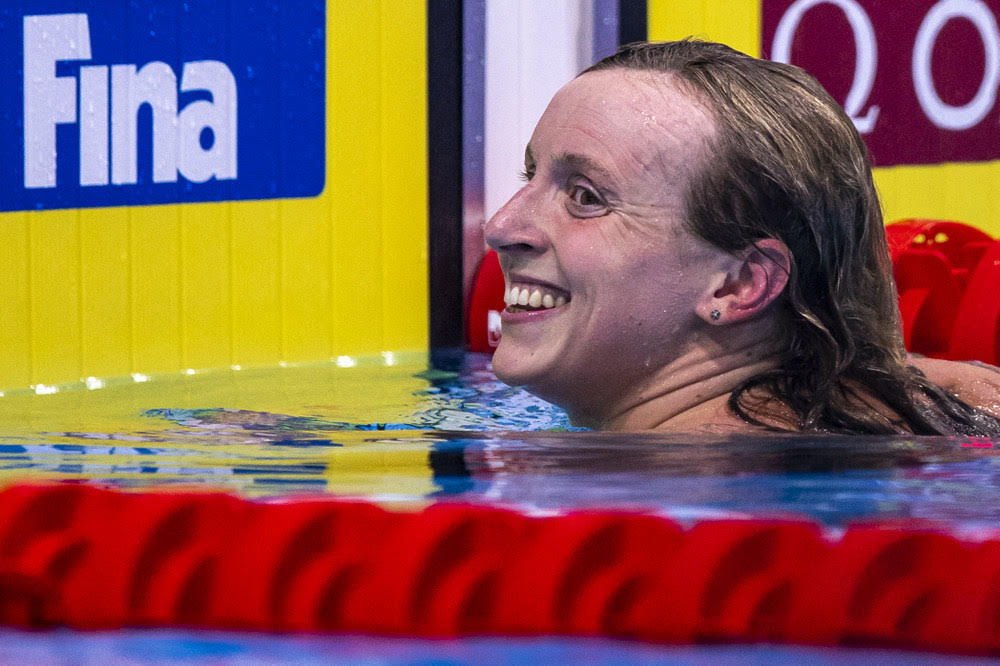 "I really didn't know what to expect coming out of this meet, being my first meet of the season, taking most of August off, getting back into training rhythm, didn't have any type of super preparation for this meet, just wanted to come in and race international swimmers being a meet in North American soil."

Katie Ledecky – Photo by Patrick B. Kraemer
We hope she meant waters but that would be splitting hairs, which is what Ledecky did on the way to the 800m mark as she shadowed the 32-lap World-record pace of Spain's Mireia Belmonte. The target was at 7:59.34, feet on the wall. Not quite there, though Ledecky did celebrated an American record of 8:00.58 and next weekend at the next round of the Cup will seek to become the third woman ever to race inside 8mins. The World record is on notice.
Katie Ledecky – 1500m Freestyle World S/C Record
Ledecky was not the only challenger chasing a Belmonte World record in Toronto. McIntosh set a World junior record of 4:21.49, having kept pace with the Spaniard's pioneering effort to the 200m mark. The Canadian teenager fell off the pace on breaststroke and Belmonte's 4:18.94 was in the safe zone by a comfortable margin.
Said McIntosh: "I knew that record was in reach just based on some things I've done in training especially my distance stuff has felt really good this fall. Walked into a pace and fell off a little bit towards the end probably. My stroke count was 16, pretty steady through maybe the 900, 1000, and jumped up to 17, 18 and I got a little worried, but I held it together to get the job done."