Titmus Takes Down Ledecky's 400 Free World Record in 3:56.40 As First Among 'Fearless' Aussies To Hold Standard Since Wickham In 1978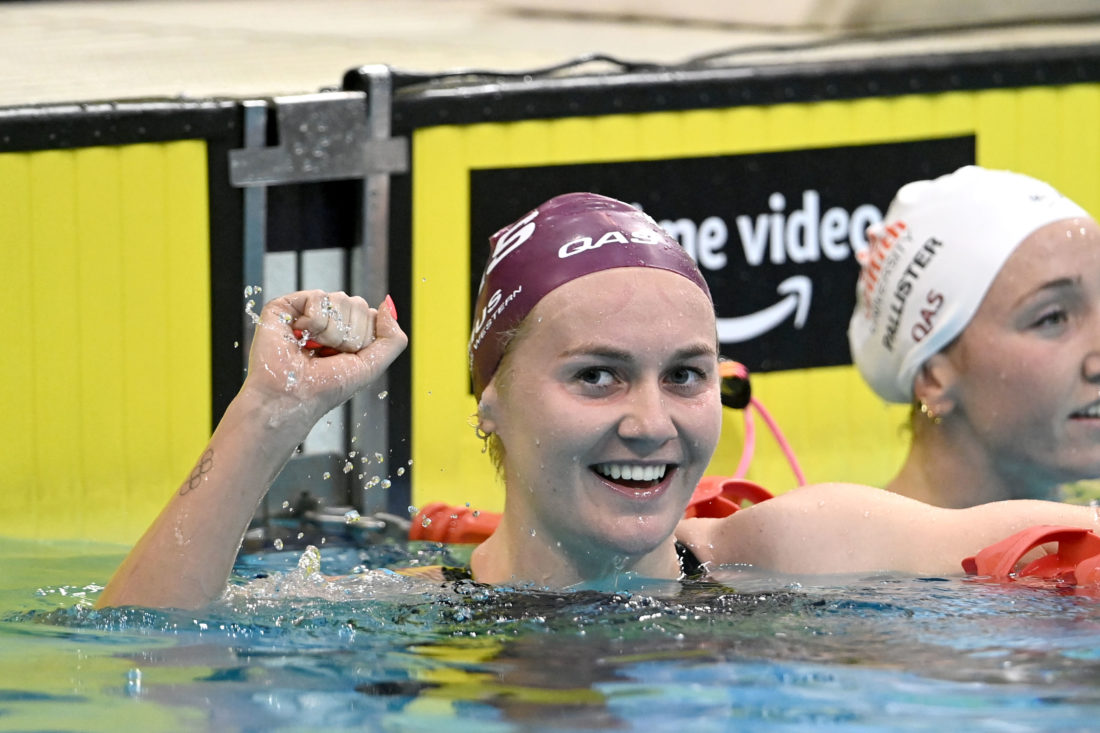 Olympic champion Ariarne Titmus added World-Record treasure to her pantheon of middle-distance honours with a 3:56.40 storm that shaved 0.06sec off American Katie Ledecky's six-year-old global standard over 400m freestyle to provide the perfect ending to the Australian Swimming Championships in Adelaide.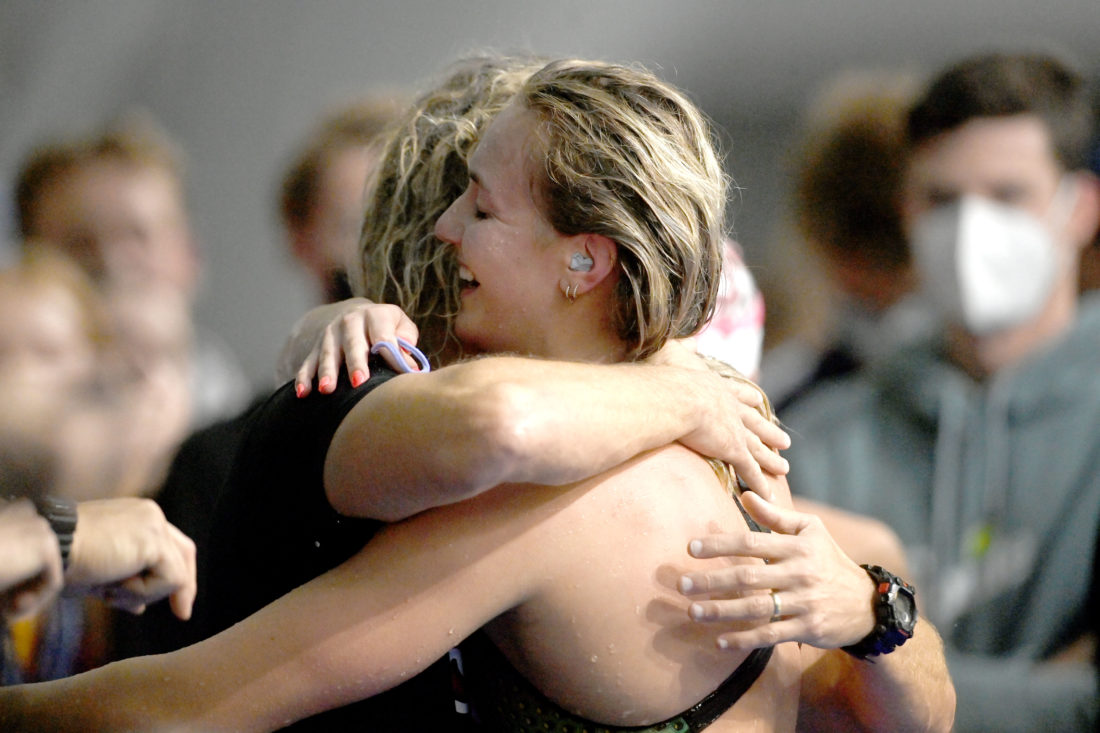 Titmus' 3:56.40 WR

The moment marked Titmus' first World record and the first time any swimmer has taken a World record away from Ledecky since she started out on a pathway of standard setting in 2013. The new standard bearer told reporters in Adelaide: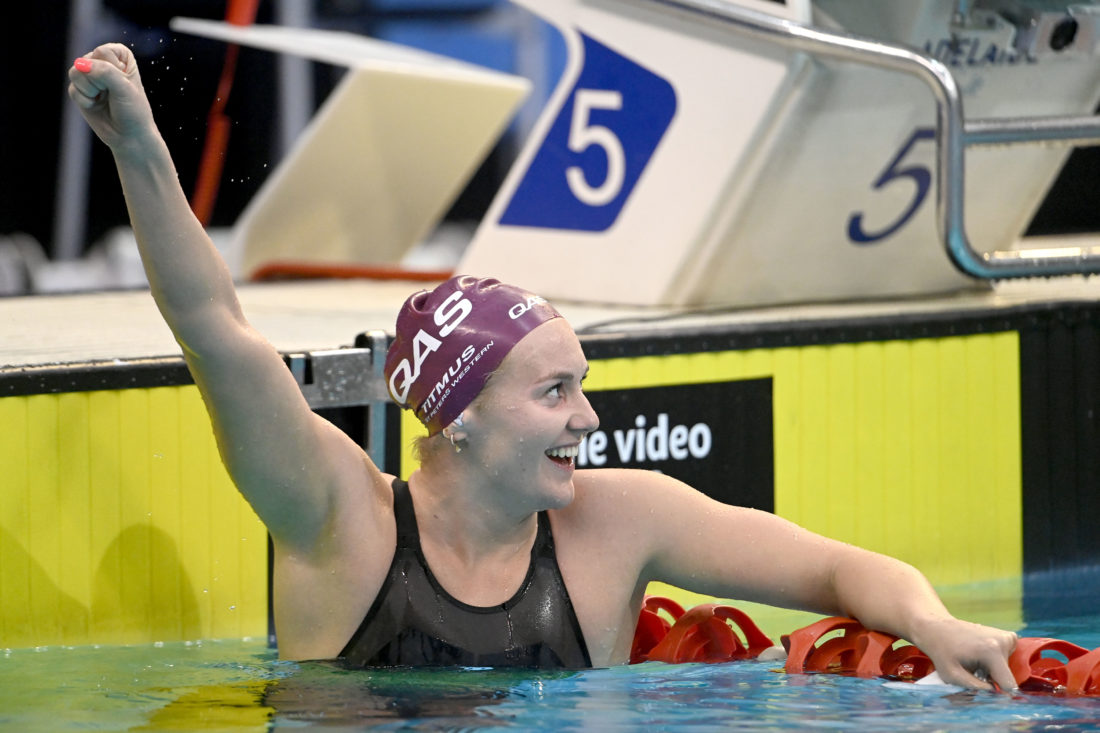 "It's nice now everyone can stop asking when I'm going to break a world record. I'm the happiest I've ever been in my life. It's definitely showing in the pool. I'm definitely not putting the pressure on myself like I used to, it's definitely a healthy amount. That's been the trick to me swimming well, being completely fearless, swimming how I used swim when I was 16 and first cracked onto the national team."

Ariarne Titmus, by Delly Carr, courtesy of Swimming Australia
Titmus Pays Plaudits To Ledecky
Titmus, with Olympic, World, Commonwealth titles in her pantheon and now a World record to boot, said she still regarded Ledecky, a swimmer with 14 World freestyle records to her name alongside seven Olympic golds and three silvers since 2012 and 15 golds and three silvers at World Championships since 2013, as the greatest female swimmer of all time. Said Titmus: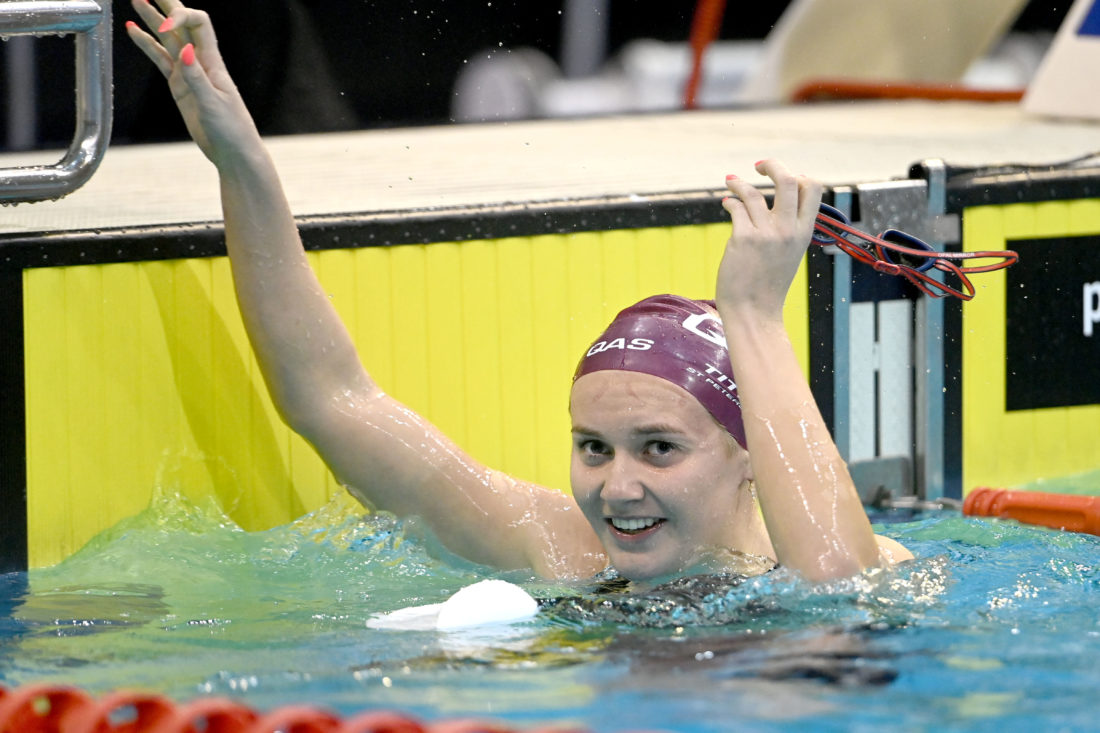 "I believe that Katie is the greatest female swimmer of all time. I can't put myself up next to her with what she has done in swimming, it has been insane. She has been at this level for 10 years. To even be in the conversation, I feel completely honoured."

Ariarne Titmus celebrates her 3:56.40 World 400m free record, the first solo global standard of her career, in Adelaide – by Delly Carr, courtesy of Swimming
The Olympic 200 and 400m champion who inflicted the first defeat on Ledecky over 400m freestyle at World titles in 2019, will not defend the global crown in Budapest next month. Nor is there any confirmation as yet that the two will meet in August at the AUS Vs USA Duel in the Pool in Sydney.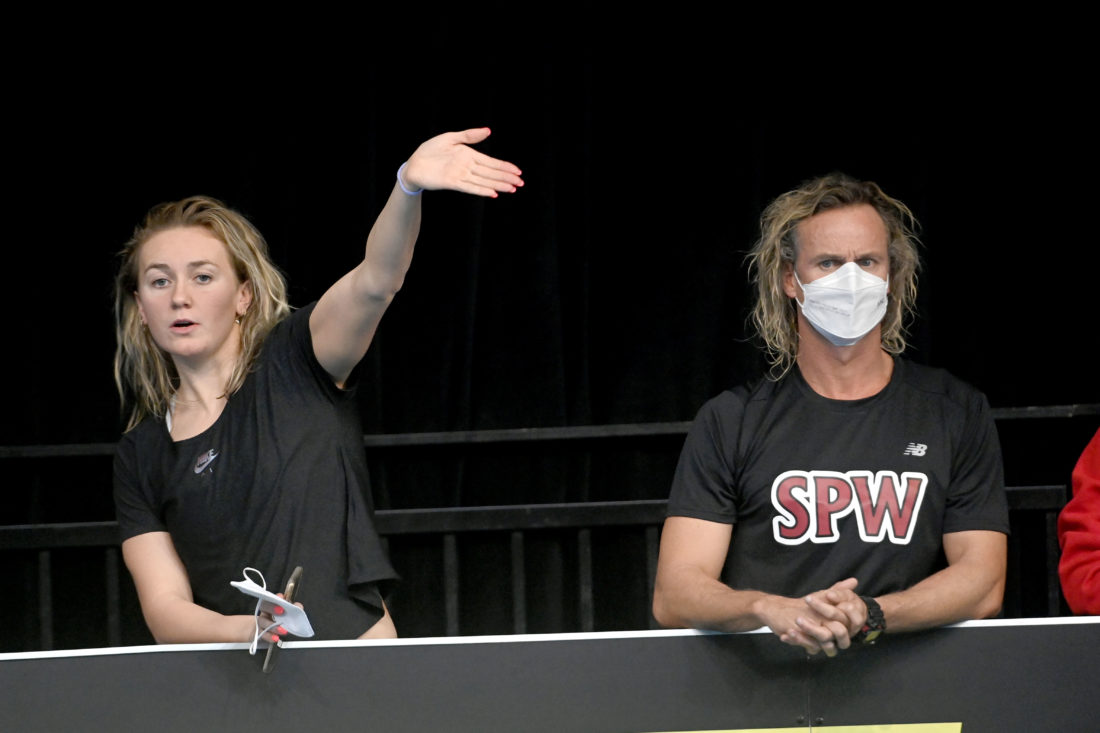 Nonetheless, the gauntlet has been well and truly chucked once more by a swimmer and her coach at St Peters Western, Dean Boxall, as they stick to their Olympic plans for Paris 2024 and make the Commonwealth Games in Birmingham a season priority that bypasses the distraction of a FINA showcase they and others felt was in the wrong place at the wrong time, in part because of the calendar shuffles caused by the Covid pandemic.
The glory in Titmus' sensational swim spoke for itself, the pity in the moment was that the closeness of the clash in splits did not unfold in the same race – and may never do so, if the recent course of the careers of both swimmers is anything to go by. Imagine the stroke for stroke:
World Records – Titmus & Ledecky Compared:
57.13; 1:56.99; 2:57.37; – 3:56.40 WR – Titmus, Adelaide 2022
57.05; 1:57.11; 3:27.54 – 3:56.46 WR 2016 – Ledecky, Rio Olympic Gold
Tokyo2020ne:
57.74; 1:58.10; 2:58.27; 3:28.02 – 3:56.69 Titmus – Tokyo Olympic Gold, Commonwealth and Oceania record
57.67; 1:57.44; 2:58.11; 3:28.24 – 3:57.36 Ledecky – Tokyo Olympic silver
Titmus had no rival in the race but 800 and 1500m winner Lani Pallister added another race to her Budapest campaign with a lifetime best of 4:02.21, third to Kiah Melverton, 4:04.49, with Leah Neale just locked out in 4:04.97.
Titmus, the first Australian to set the 400m standard since Tracey Wickham in 1978, established the 58th high bar over the distance in an official history that began with a 6:30.2 by American Ethelda Bleibtrey in 1919 on the way to Olympic gold the following year.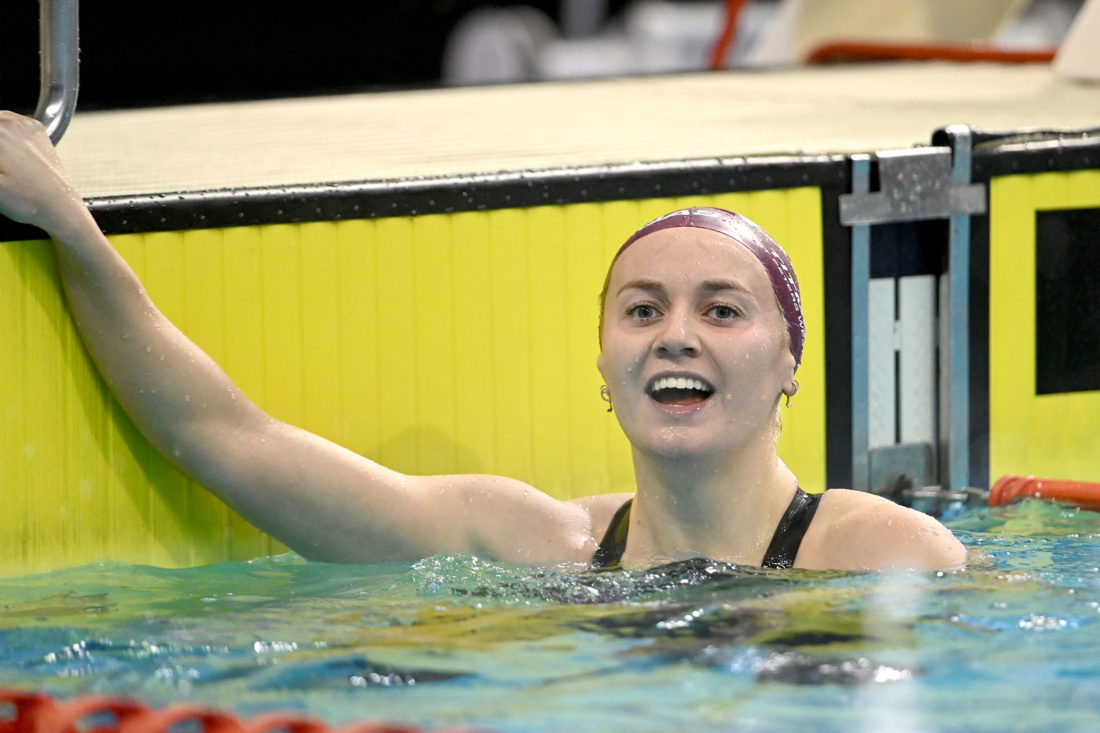 Since then five Australians had set the 400m record seven times:
4:50.8 Lorraine Crapp 25 Aug 1956 Townsville, Australia
4:47.2 Lorraine Crapp 20 Oct 1956 Olympic Gold, Sydney 1956
4:45.4 Ilsa Konrads 9 Jan 1960 Sydney, Australia
4:22.6 Karen Moras 30 Apr 1971 London, United Kingdom
4:21.2 Shane Gould 9 Jul 1971 Santa Clara, USA
4:19.04 Shane Gould 30 Aug 19 Olympic Gold, Munich 1972
4:06.28 Tracey Wickham 24 Aug 1978 World title, West Berlin 1978
Here's the record run Since Wickham, with Gould's 1972 standard as the previous Aussie marker for 400m and the last Australian to hold the 200 and 400m World records, a part of a phenomenal bull run of global standards held simultaneously over 100, 200, 400, 800 and 1500m freestyle (never again!) between 1971 and 1973:
| AUS | TIME | SWIMMER | DATE | EVENT | PLACE |
| --- | --- | --- | --- | --- | --- |
| AUS | 4:19.04 | Shane Gould | 30 Aug 1972 | Olympic Games | Munich, West Germany …. |
| AUS | 4:06.28 | Tracey Wickham | 24 Aug 1978 | World Championships | West Berlin |
| | 4:05.45 | Janet Evans | 20 Dec 1987 | US Open | Orlando, USA |
| | 4:03.85 | Janet Evans | 22 Sep 1988 | Olympic Games | Seoul, South Korea |
| | 4:03.03 | Laure Manaudou | 12 May 2006 | French Championships | Tours, France |
| | 4:02.13 | Laure Manaudou | 6 Aug 2006 | European Championships | Budapest, Hungary |
| | 4:01.53 | Federica Pellegrini | 24 Mar 2008 | European Championships | Eindhoven, Netherlands |
| | 4:00.66 | Joanne Jackson | 16 Mar 2009 | British Championships | Sheffield, United Kingdom |
| | 4:00.41 | Federica Pellegrini | 27 Jun 2009 | Mediterranean Games | Pescara, Italy |
| | 3:59.15 | Federica Pellegrini | 26 Jul 2009 | World Championships | Rome, Italy |
| | 3:58.86 | Katie Ledecky | 9 Aug 2014 | USA Championships | Irvine, United States |
| | 3:58.37 | Katie Ledecky | 23 Aug 2014 | Pan Pacific Championships | Gold Coast, Australia |
| | 3:56.46 | Katie Ledecky | 7 Aug 2016 | Olympic Games | Rio de Janeiro, Brazil |
| | 3:56.40 | Ariarne Titmus | 22 May 2022 | Australian Championships | Adelaide, Australia |
Beyond the magnificence of a World-record moment, there's the 'what it all means'. The summary first: records are there to be broken and however great a swimmer is in their era and beyond, there will be another member of the club of legends somewhere in the pipeline working on what it takes – and no two stories are ever quite the same, regardless of the similarities that are to be found in stories of phenomenal success.
Ledecky has not been inside 3:57 since the World record she set for gold at the Rio 2016 Olympic Games.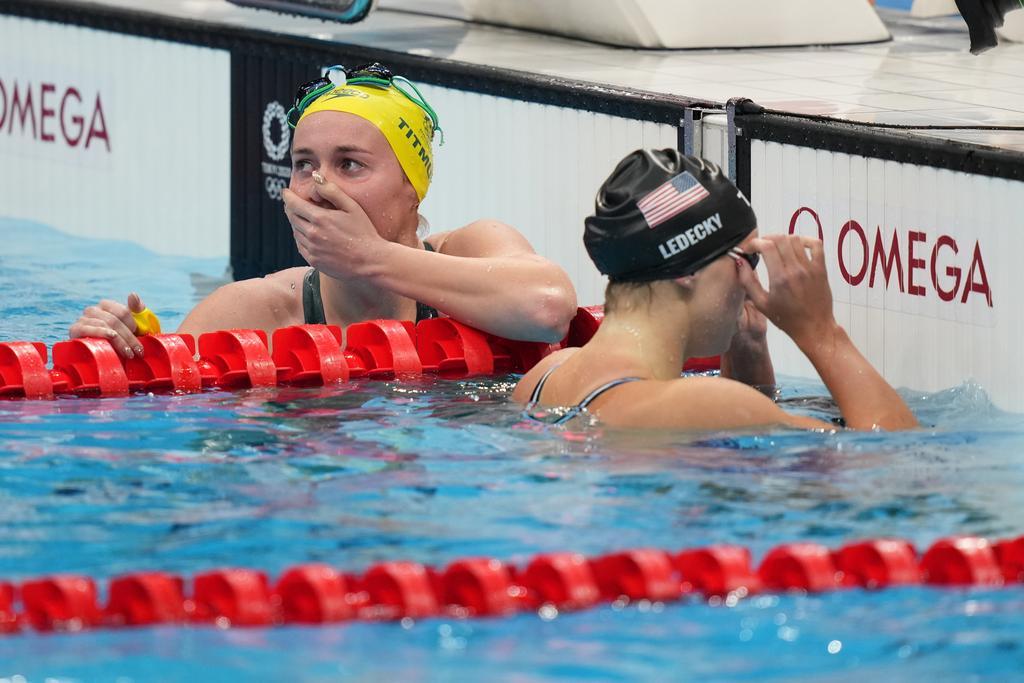 The trend over 400m looks to be in Titmus' favour on the way to Paris 2024: Ledecky's sole 3:56 is now all-time No2 on a top 10 performances list that includes three 3:56s from Titmus, including No1, 3 and 4. Ledecky then fills the seven sports in the top 20 before we get to Titmus' 3:58.76 win at Gwangju 2019 on a day when Ledecky was under the weather and was advised by the team doctors to sit out the 200 and 1500m events. She made her return for the 800m and put in one of her finest, not fastest but finest, career efforts for victory. An 8:09 at trials for Budapest this year set Ledecky up for a record high five of 800m global crowns.
In Tokyo last year, Titmus took the 200 and 400m crowns, Ledecky the 800 and 1500 titles. They were all among the most thrilling of races, the meeting in the middle providing the highlights, Titmus with the edge over 400m, Ledecky with the edge over 800m.
The Tale of Titmus and Ledecky 200-1500 free in Tokyo:
Since 2013, Ledecky has been inside 4mins 23 times, while Titmus has been that way 7 times since 2018. No other woman has ever swum inside 4 minutes in a textile suit, Italian ace Federica Pellegrini the only other to have done so in any suit, with a then 3:59.15 World record – and first su-4mins – for the World title at home in Rome, 2009.
Ledecky shot to prominence on her Olympic debut with victory in the 800m freestyle. Since then, she has notched up 14 World freestyle records, her pace over 800 and 1500m far ahead of the capabilities of her contemporaries. The 400m looked like that for a while, too, but Titmus has spent the past three years proving that she's the athlete capable of changing that narrative.
Ledecky's 14:
| No. | Event | Time | Meet | Location | Date | Age |
| --- | --- | --- | --- | --- | --- | --- |
| 1 | 1500 m freestyle | 15:36.53 | 2013 World Championships | Barcelona, Spain | July 30, 2013 | 16 |
| 2 | 800 m freestyle | 8:13.00 | 2013 World Championships | Barcelona, Spain | August 3, 2013 | 16 |
| 3 | 1500 m freestyle (2) | 15:34.23 | 2014 TWST Senior Invitational | Shenandoah, Texas | June 19, 2014 | 17 |
| 4 | 800 m freestyle (2) | 8:11.00 | 2014 TWST Senior Invitational | Shenandoah, Texas | June 22, 2014 | 17 |
| 5 | 400 m freestyle | 3:58.86 | 2014 National Championships | Irvine, California | August 9, 2014 | 17 |
| 6 | 400 m freestyle (2) | 3:58.37 | 2014 Pan Pacific Swimming Championships | Gold Coast, Australia | August 23, 2014 | 17 |
| 7 | 1500 m freestyle (3) | 15:28.36 | 2014 Pan Pacific Swimming Championships | Gold Coast, Australia | August 24, 2014 | 17 |
| 8 | 1500 m freestyle (4) | 15:27.71 | 2015 World Championships | Kazan, Russia | August 3, 2015 | 18 |
| 9 | 1500 m freestyle (5) | 15:25.48 | 2015 World Championships | Kazan, Russia | August 4, 2015 | 18 |
| 10 | 800 m freestyle (3) | 8:07.39 | 2015 World Championships | Kazan, Russia | August 8, 2015 | 18 |
| 11 | 800 m freestyle (4) | 8:06.68 | 2016 Arena Pro Swim Series | Austin, Texas | January 17, 2016 | 18 |
| 12 | 400 m freestyle (3) | 3:56.46 | 2016 Summer Olympics | Rio de Janeiro, Brazil | August 7, 2016 | 19 |
| 13 | 800 m freestyle (5) | 8:04.79 | 2016 Summer Olympics | Rio de Janeiro, Brazil | August 12, 2016 | 19 |
| 14 | 1500 m freestyle (6) | 15:20.48 | 2018 TYR Pro Swim Series | Indianapolis, Indiana | May 16, 2018 | 21 |
Shayna Jack Leaps Into Dash Contention With 24.14 Victory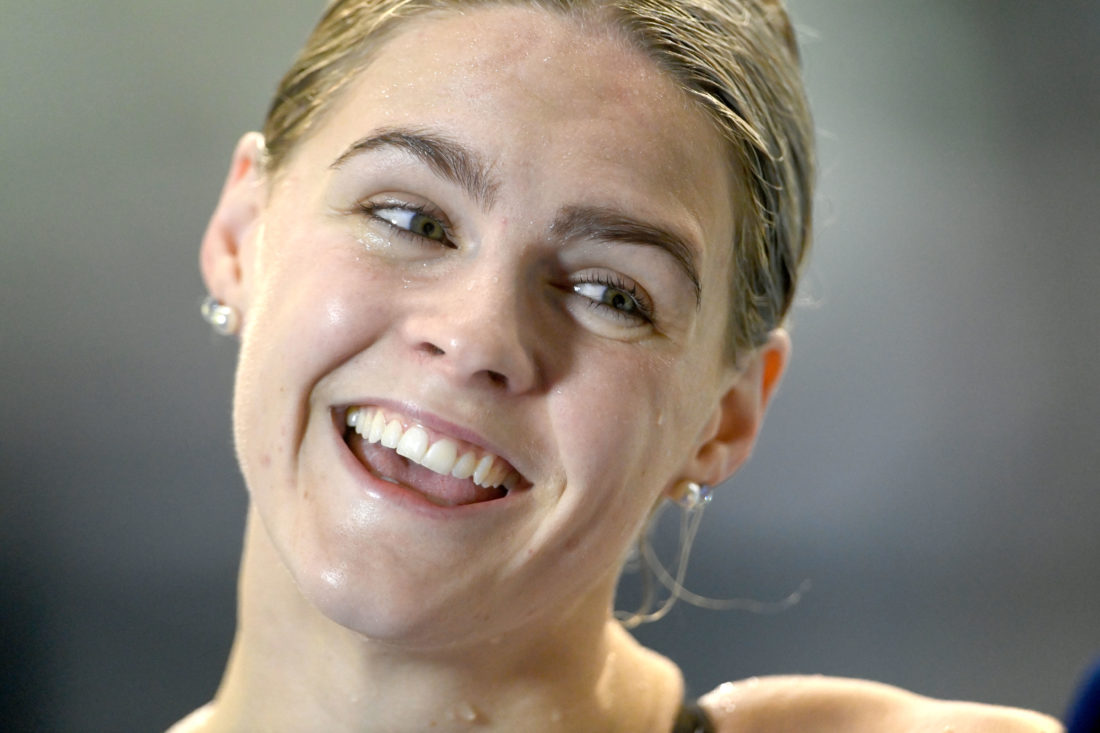 The championships have seen several stellar performances, topped by World records for Titmus in the 400m freestyle and Zac Stubblety-Cook in the 200m breaststroke.
Among other top times was a 24.14 blast in the 50m freestyle today from Shayna Jack, her new career high speedy enough to have won bronze at the Tokyo Olympics last year.
Jack's progress from 24.38 in 2019 before a doping positive put her out of action to the 2022 Australian title in 24.14 did not move her up the all-time Dolphin ranks – she was 5th fastest and remains so, behind Cate Campbell, Emma McKeon, Libby Lenton and Bronte Campbell, but the new high bar did take her much closer to the top of the sprint canopy among big International medal winners: 82nd on the all-time performances list going into the final, Jack emerged as equal 31st alongside the 25th best time of Cate Campbell, owner of the greatest bull run of dash speed ever seen in women's swimming, her tree topped by 23.78 Oceania record 0.07sec shy of Swedish ace Sarah Sostrom's World record.
Jack was followed home by Meg Harris, who took the second Budapest berth for Worlds in 24.50, 0.02sec ahead of 100m champion Mollie O'Callaghan. That third place would normally secure a Commonwealth Games spot but that will only be confirmed, one way or the other, when the choices of the likes of McKeon are confirmed as the Aussie Games committee names its team for Birmingham 2022.
In the 200m medley, GUSC's Kaylee McKeown, Olympic 100 and 200m backstroke champion, claimed her fourth title of the week with a 2:09.15 win over 200m medley ahead of Ella Ramsay, 17, on 2:12.12, and St Peters teammate Abbey Harkin, on 2:12.74.
It says much for the strength of Australian swimming that the Dolphins can approach a World Championships without the rocket force of Emma McKeon, Ariarne Titmus, Cate and Bronte Campbell, Emily Seebohm, Kyle Chalmers (at least in his signature event) – all of them with Olympic gold in their pantheons – and still reckon on being a force to reckon with.
What Happens When The Fight Spills Beyond The Lanes
There was a a lot of quality swimming in Adelaide these past five days but Down Under the story that soaked up the oxygen in the room was not that. Rather, the peacockery over which of two swimmers, neither of them the winner of the 100m butterfly and both racing at a pace far shy of what it will take for a tilt at the World (and Commonwealth) title, might make it to Budapest for the global gathering next month.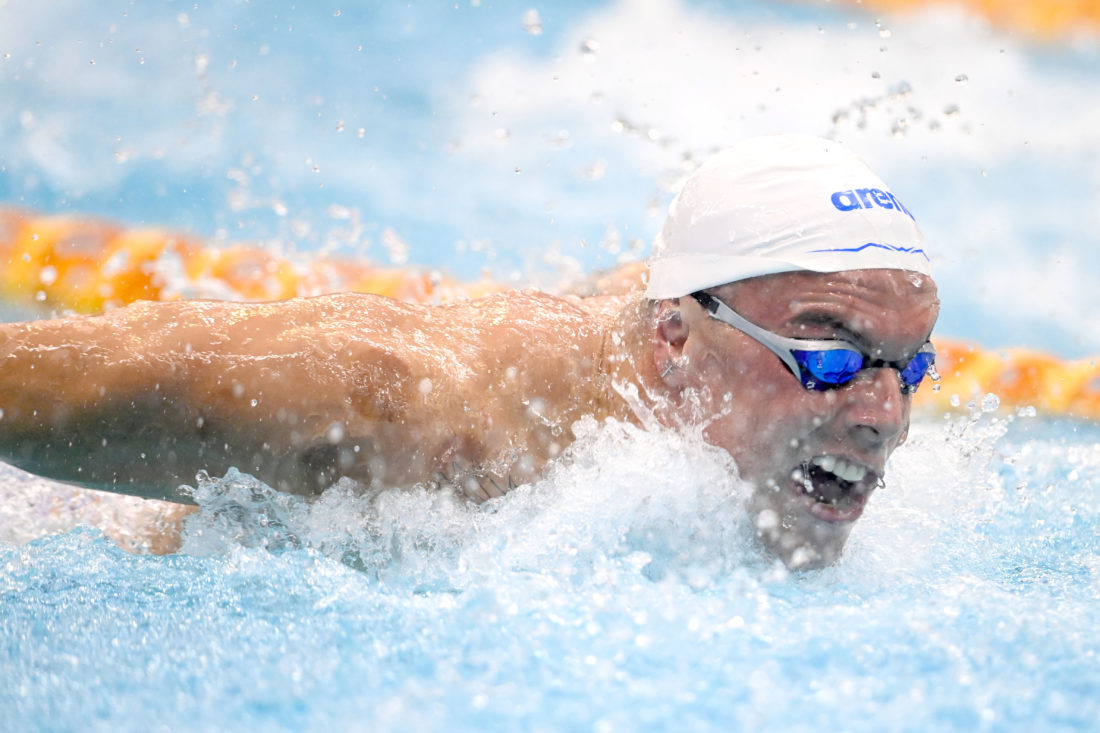 Kyle Chalmers clocked 51.6, Cody Simpson 51.9 after 51.79 in heats, while Matt Temple, the actual race winner and Oceania record holder on 50.4 (50.9 for equal 5th in the Tokyo Olympic final last year), got the passing mention as headlines focused on whether Chalmers' u-turn on a decision not to be available for World titles to "I want in" after a 51.6 in the 100 'fly was not so much down to a realistic chance of success in Hungary but a hunger to keep Simpson off what would be (have been) his first Australian team.
The swimming facts: you have to go back to 2011 World titles before the best times of Chalmers and Simpson would have been good enough to make a final. Neither would have made the final at Tokyo 2020ne, while Chalmers' best would have finished 8th had he made the final.
Of course, there is progress to be had and Chalmers has spoke of his ambitions on butterfly but as things stand, his best is 1.9sec behind Caeleb Dressel's Tokyo gold and 1.7sec behind Kristof Milak's silver in Tokyo. Mind the Gap! Olympic thrills are a bit tighter, like the 0.06sec that split Dressel and Chalmers for gold and silver over 100m freestyle in Tokyo. Or the gap between Titmus and Ledecky World records over 400m free. Chalmers will not race freestyle in Budapest, so why would he wish to take a 51.6 just 8 weeks into his return to training and 12 weeks out from the moment we see what Dressel and Milak have to offer this year?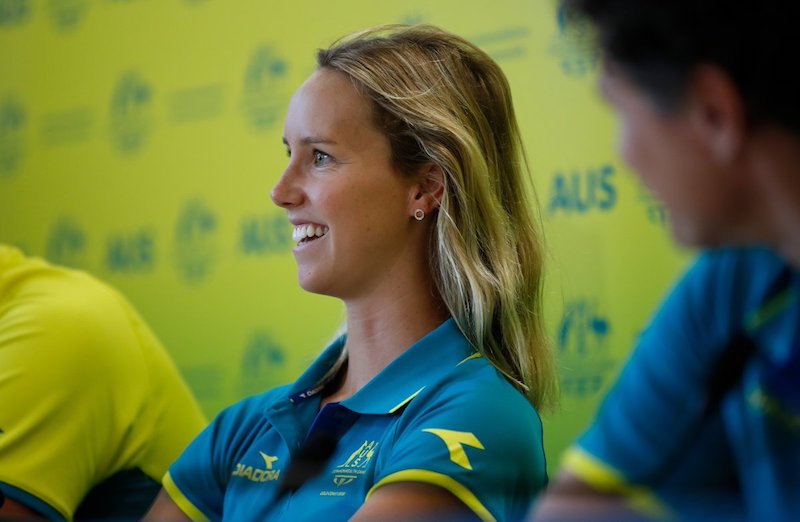 The answer the Aussie media had was this: much thunder Down Under about whether a "love triangle" was the source of the silver-back show. Who knows (and some of you might even say 'who cares'). The story goes that Simpson is said to have moved in with Emma McKeon, Australia's Olympic queen of Tokyo, and that, apparently, was the source of the 'trouble' between Chalmers, who we're left to assume had a crush on McKeon, and pop singer Simpson, who was a swimmer in his youth, took off on tour with a guitar in his hand and then in 2019-20 got back into serious swimming for a shot at his dream of Dolphin status.
The swimmers stated that their focus is elsewhere, that they'd rather leave their private lives private and "the media" is at fault. While some of that is a fair view, there's another side to the story, including a degree of naivety that reflects an imbalance between the professionalism and maturity of the athlete in the process of being the best they can in what they do in sport and the lack of maturity and awareness of how things might play out in the media because of the things they say and do beyond their lane.
For example, the story blew up after American niche websites had quoted Chalmers saying that he was of a mind to change his mind on world titles in Budapest. The logic of doing so on the back of a 51.6 100 'fly and Kyle's ambitions on butterfly was then picked up in supportive tones by some Aussie media. It wasn't long, of course, before the logic looked pretty flakey, at least in the short-term of the next four weeks.
So, 'let the speculation begin' as to what else might be in play. There are substantial parts of the private story that appear to be true so denials and the ill-feeling that flowed just became part of a game that apt to be unhelpful to team bonding and the stuff of one for all-all for one. Who wins in such a scenario? Well, perhaps the folk who have a key mission in life to be the promoters and cheerleaders of American success in the pool; the folk Chalmers spoke to about his plans and unwittingly set in chain a sequence of speculation and focus on the private lives of three young people.
And now the whole world knows about a 'love triangle' whether it's true or not and one of Australia's big beasts of the pool misses team announcements and talks of the toll on his mental health.
Anyhow, the boy who swam then sang then swam again done good but not, of course, in water to the extent that applies to Chalmers, Olympic 100m free champion in his teens. Nor is Simpson's fine comeback to swimming comparable to other comebacks in the sport, nor even on butterfly among men: you don't have to top far Down Under to find the terrific story of Geoff Huegill, of whom Ian Thorpe once said, when noting his former teammate's big weight loss on the road back to fitness "he's lost a Hannah". The reference went back to the pacemaker in Thorpe's preparation: Hannah Miley, with World, European and Commonwealth medley titles to her name, weighed in around the 55kg mark, while her father and coach Patrick Miley, long a helicopter pilot, invented the Aquapacer that Thorpe used to plug in his ear and follow the beeps timed to the tune of 3:40 400s and the like.
Related:
Back in Adelaide 2022, the decisions were made: Chalmers has opted into the 'fly events at Budapest and may also be available for freestyle in relays; Simpson is out of Budapest but gets the call for Birmingham:
And McKeon isn't going to Budapest but will be with both blokes and the rest of the team in Birmingham.
Chalmers, who did not stay for team announcements (Don Talbot would have kicked someone's ass over that!) because he was too upset and needed "to look after my mental health" and Simpson appear to have sort of made up, the singer saying they'd had a chat and 'sort of cleared the air'. Simpson said: "He changed his mind and that's something he has every right to do. He earned the second spot. I didn't come second I came third. We had a chat last night. He [Chalmers] was cool, he sort of reached out and we sort of cleared the air about it. So it's all good in that sense. I would sort of respect his decision either way."
Meanwhile, In Calmer Waters…
Meanwhile, in other action on the last day in Adelaide, teenager Isaac Cooper scraped inside the qualifying time for the 100m backstroke at World titles by 0.01sec with a 54.02 win over former World champion Mitch Larkin, on 54.30, good for a berth at Commonwealths but outside the Budapest cut. Third place went to 200m winner Joshua Edwards-Smith, on 54.33.
There was a changing of the guard in the 200m butterfly as Elizabeth Dekkers took the national title in 2:07.62 to book her places in Budapest and Birmingham. Abbey Connor was also under the QT for both events, on 2:08.58, while Brianna Throssell finished third in 2:08.71 and is in line for Commonwealth selection.
In the men's 50m breaststroke Samuel Williamson took the title in 27.05 ahead of Jake Packard, 27.67, and Nash Wilkes, 27.75.
The last solo event of the meet reminded the world of swimming that Australia will have a fine team in Budapest next month but will be shy of the exceptional force of the team that delivered the biggest ever haul by the Dolphins in Olympic waters in Tokyo last year.
There'll be no Jack McLoughlin, for example – and over 1500m that will tell. Today, the 1500m crown went to Sam Short, 18, who stamped his ticket to Birmingham in 15:05.55, almost a second shy of the qualifying time for Budapest Worlds. No sub-15 at an Aussie nationals was surely upsetting to watch for the likes of Grant Hackett, on Prime TV commentary, and ones of the big bosses of Australian sport, Kieren Perkins. Alec Mander took second in 15:15.02, bronze to Kieren Pollard in 15:16.39.
SOS coverage of the championships in Adelaide: