The Vortex (May 3-9): Matthew Sates Backs 200IM Olympic Ticket To Tokyo With 52.3 Win Over Chad Le Clos In 100 'Fly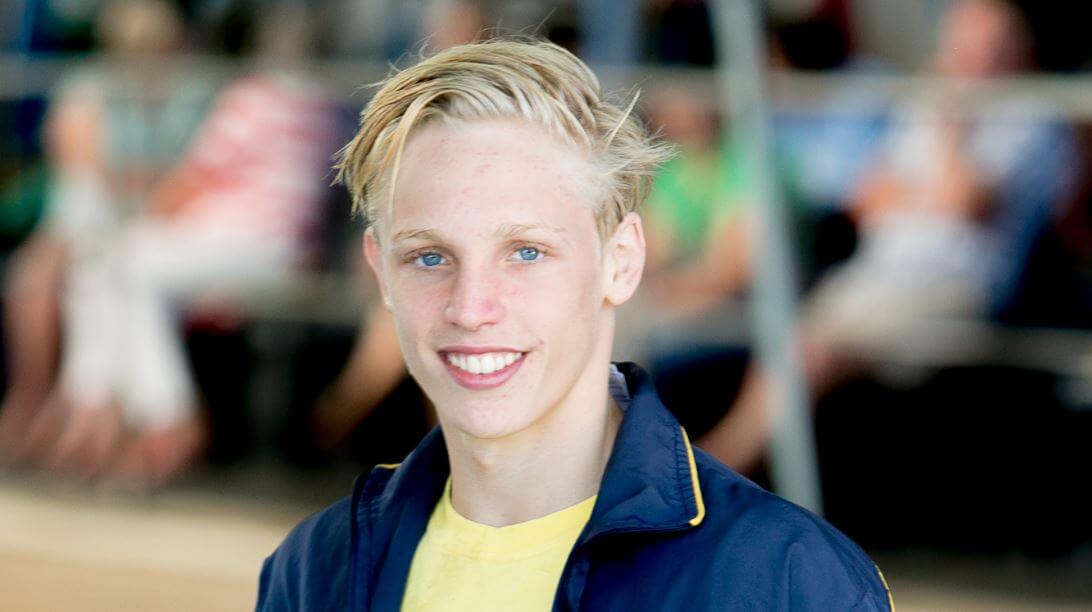 A weekly day-by-day pool, digest and SOS Vortex of swimming news, views, top picks, Olympic snippets and links to coverage of the sport and related issues around the swim world. Please send any suggestions, links and items of news for inclusion to craig.lord@stateofswimming.com
Saturday May 8
Matthew Sates is just getting going and Chad Le Clos, almost a decade beyond his first Olympic triumph, has no reason to be racing sharp at the CANA Grand Prix Swimming Meet that wrapped up today in Stellenbosch and every reason to be working through right now. Even so, for the 17-year-old who made the 200IM cut for the Tokyo Olympic Games yesterday (see below in this Vortex compilation), a 52.30 victory over the 2016 Olympic (historic three-way) silver medallist, on 53.37, is one for the memory bank of personal progress.
Le Clos didn't leave the pool without a win: the first man home with a clean record in the 2016 Olympic 200m freestyle final, he was a class apart in that event today, on 1:48.83.
Yannick Käser
Diagnosed With Testicular Cancer
Yannick Käser, the Swiss breaststroke international, has announced on his Instagram account that he has been diagnosed with testicular cancer. Kaeser, Swiss record holder over 100 and 200m breaststroke, tells followers that the cancer was detected by default in a recent urine sample provided for doping control.
WADA
Back To More Regular Tests Rate After Covid Challenges
With the Tokyo 2021 Olympic Games a little over two months away, the World Anti-Doping Agency (WADA) has reported a return to more standard rates of anti-doping testing around the world. In a statement, WADA notes: that "in March 2021, 22,649 samples were collected by 145 ADOs, the highest number of samples recorded since the pandemic started in March 2020."
The full story and statement at WADA
Friday, May 7
Matthew Sates
Takes 1:59.02 Ticket To Tokyo Olympic Games In Grand Prix Heats
Matthew Sates clocked 1:59.02 in the heats of the 200m medley at the first 2021 CANA Grand Prix to book a ticket to the Tokyo Olympics at the Stellenbosch University Swimming Pool.
Sates, who is committed to a college career at the Georgia Bulldogs in the U.S., needed to get inside the Olympic qualification target of 1:59.67. He later won the final in 2:01.77 and made it a brace of triumphs with a 23.94 in the 50m butterfly ahead of Chad le Clos, on 24.31.
The 2012 200m butterfly champion and first man home with a clean record in the 200m freestyle at Rio 2016, Le Clos took the 100m free in 49.41 and the 200m butterfly in 1:57.52 in the same session.
In the 100m breaststroke, Lara van Niekerk clocked 1:08.30 at a meet that is more like a time trial, so dominant are the top few over the rest. Dune Coetzee took the 100 'fly in 1:02.03, while Michael Houlie clocked 27.98 in the breaststroke dash.
Thursday May 6
Yu Hexin & Zhang Yufei
Inside Freestyle Dash 'A' Cut In Last Day Of Heats At China Olympic Trials
The last session of finals at the Chinese Olympic trials is done, Yu Hexin and Zhang Yufei inside the A cut for the Tokyo 2020 Games with respective times of 21.83 and 22.41.
Those efforts won't count unless backed up in the final on the last morning of action at Trials on Saturday.
Yu was 0.8sec swifter that the next man through to semis, Huang Yunyi, while Zhang, wins in the 100 and 200m butterfly and times in the 100 and 200m freestyle that guarantee her relay berths, will have Wu Qingfeng, 24.70, and national record holder Liu Xiang, 24.71, as her closest rivals in semis and, in all likelihood, the final, too. Last year at the Champions Series in China, Liu clocked 24.03 to establish an Asian dash record.
The last heats of the trials unfolded over 1500m. The top three through to the final are Wang Haohan, 15:25.95, 800m winner Cheng Long, 15:26.32, and Fei Liwei, 15:26.71.
Tokyo Government
Ponders Month-Long Extension To Olympic City State of Emergency Into June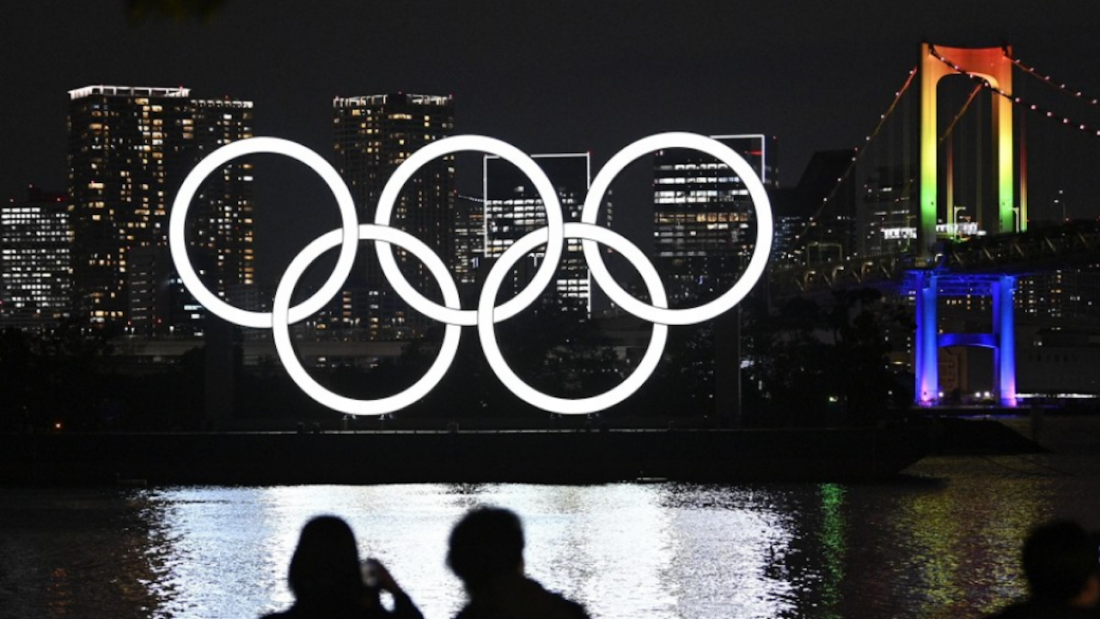 The Tokyo metropolitan government is considering a request to central government for the ongoing state of emergency in the Japanese capital and Olympic host city in July to be extended by up to a month to Mid-June, just five weeks before the Games are scheduled to get underway and less than a month before teams are due to start arriving en masse for preparation camps in the country.
Tokyo authorities are concerned about surging coronavirus infections, an official told Kyodo before a decision at a meeting scheduled for today at which health experts were due to give an update and appraisal of the risks in the latest Covid-19 spread.
Tokyo's thoughts are mirrored in Osaka, Kyoto and Hyogo, all discussing an extension of emergency for between two to four weeks when the current order runs out next Tuesday.
The Olympic city's government wants an extension to at least the end of May, the official told Kyodo, because of concern over "infections involving highly contagious variants of the virus".
Tokyo Gov. Yuriko Koike has described the situation in the capital as "still quite serious". Kyodo reports that the number of daily consultations regarding fever rose to 2,500 on Tuesday, matching the height of the third wave of infections that hit Japan at the turn of the year. On an encouraging note, Koike noted that the number of novel coronavirus cases reported during the Golden Week holiday was relatively low compared with the week before, but she urged people to continue to avoid contact with others by working from home.
Giant Step For Trans Athletes
Or Unfair Advantage?
In a development that all sports and rule makers will be watching in the years ahead, The Guardian reports:
History and controversy is expected to be made at the Tokyo Olympic Games this summer after the transgender weightlifter Laurel Hubbard was effectively guaranteed a place in the women's super heavyweight category.
While the 43-year-old has not yet been named in the New Zealand team, an International Weightlifting Federation insider confirmed to the Guardian that she would automatically qualify because of amended rules approved by the International Olympic Committee.
Under IOC guidelines, issued in November 2015, athletes who transition from male to female can compete in the women's category without requiring surgery to remove their testes provided their total testosterone level in serum is kept below 10 nanomoles per litre for at least 12 months – a rule followed by the IWF.
However, a number of scientific papers have recently shown people who have undergone male puberty retain significant advantages in power and strength even after taking medication to suppress their testosterone levels. Hubbard lived as a male for 35 years, and did not compete in international weightlifting. But since transitioning in 2012 she has won several elite titles.
The Guardian article notes how Laurel Hubbard may land a place in the Olympics while several athletes ranked above her will not get to compete as a result of the way the numbers entering the competition are controlled by the International Olympic Committee. What critics have already noted is that an athlete born and raised a woman may now not get to go to the Olympics because the place they would have had could be occupied by an athlete who lived the first 35 years of her life as a man, including all the growth 'advantages' displayed by men over women in the field of sport.
Wednesday May 5
Ryan's Redemption
– SI's Take On The Last Olympic Stand Of All-Round American Ace Lochte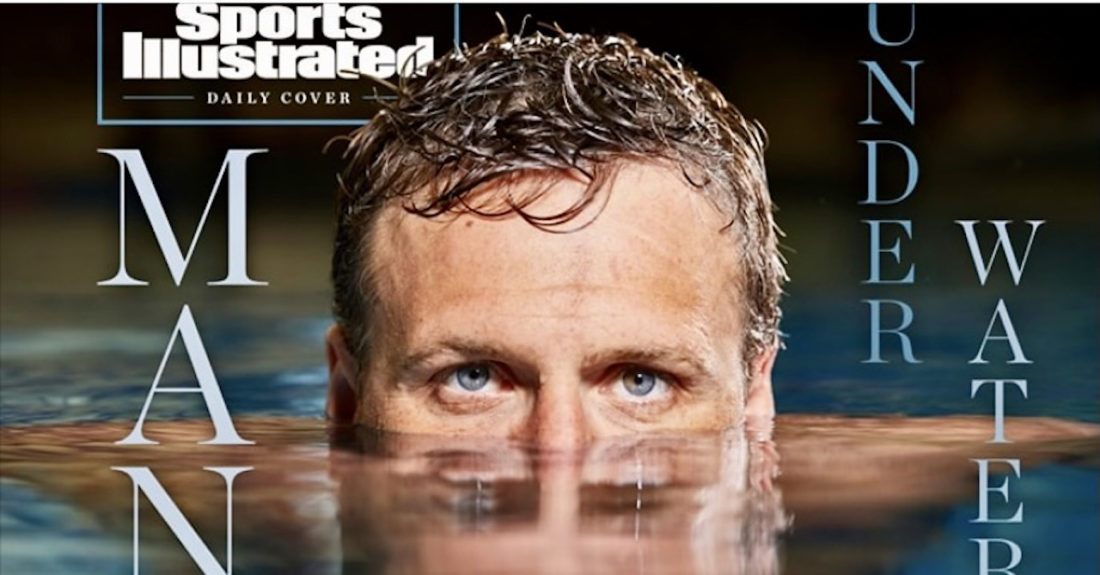 Ryan Lochte's Last Try is the headline on a Sports Illustrated cover feature penned by Brian Burnsed and illustrated with eye-catching shots taken by Simon Bruty. SI sums it all up in a stand first that reads:
"The 36-year-old Olympic star knows what you think of him, and he's desperate to change it. He addresses his rise, his fall and his belief that glory in Tokyo—where he would be the U.S.'s oldest-ever men's swimmer, if he even makes the team—will change everything."
Burnsed writes: He is fixated on redemption: both the shallow sort that brands and broadcasters could sell this summer, enriching him and his family, and a more substantive kind. He is certain that if he rebounds and becomes the U.S.'s oldest-ever men's Olympic swimmer—or even perhaps the oldest individual gold medalist—in Olympic swimming history, he will finally salvage his legacy, among both loved ones and the masses.
"Really, though? At 36?
"Both Lochte's father and his coach insist this isn't some quixotic quest. Steve declines to share specifics, but talks of practice times on par with those logged a decade ago, when Lochte was breaking world records and piling up medals. Like the rest of the family, Steve desperately wants his son to find peace.
Ryan Lochte's answers suggest that his last Olympic shot will be just as much about mind over matter as body over his 36 years. Says Ryan: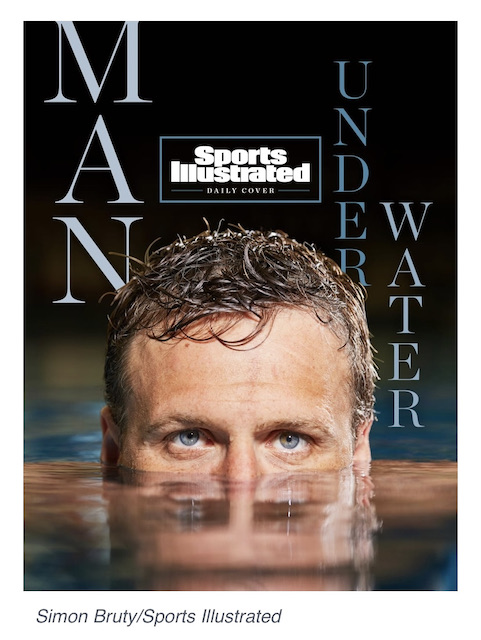 "Everyone around me is putting a lot of pressure on me—more than I've ever had in my entire life. I feel it from everyone. Like my family. The people that live in this house. My agent. It's just everyone. I feel like, if I don't [make it], I'll become a failure."

Ryan Lochte – Ryan Lochte – on the cover of Sports Illustrated, on video and in pictures crafted by Simon Bruty of SI
Ryan Lochte's Long & Winding Road
The road has been a long and tough one, some of the wounds self-inflicted, as events at the end of play in Rio at the 2016 Olympic Games showed. If Lochte was drunk that fateful night in Rio, out partying to wash away the confines of singular focus in performance sport, the seeds of a long-term turning to drink, be it to toast good times or drown out bad times, celebration or solace.
Burned writes:
"When Steve (Lochte, Ryan's dad) dropped off Lochte at Florida in 2002, then assistant coach Anthony Nesty could sense apprehension in the teenager's father, who had long doubled as Ryan's swim coach. As he led Lochte away, Nesty turned to Steve and assured him: "Coach, we'll take care of him."
"Three weeks later, the Gators' head coach (and Steve's close friend), Gregg Troy, called to report that Lochte had stumbled out of a Florida football game and sliced his hand open on a shard of beer bottle. Lochte had been drunk before—he says the first time came in high school, after he and friends tossed back some Mike's Hard Lemonade—but now he lived in a town laden with dollar beers and cheap shots, and where his propensity to run through life at full bore could easily translate to dangerous excesses. From then on, Lochte would be watched over by a cadre of caretakers.
"When Lochte arrived at the pool reeking of alcohol, coaches tended to go easy on him, because he'd still dominate every single practice rep. Steve and Troy shared a mantra: If you're going to be a man at night, you have to be a man in the morning. So Lochte lived by it, outdrinking anyone who tried to keep pace under the neon lights, and then outracing them at sunrise, along the way accumulating seven NCAA championships. No matter how he treated it, Lochte's body was always able to do what he demanded of it in the pool—and more. "I've worked with a lot of Olympians, a lot of gold medalists, and I don't think I've ever seen anybody who can endure the way he does," says Matt DeLancey, his strength coach at Florida."
U.S. Olympic trials will take place in two waves this year, the first wave due on June 4-7 in Omaha
Wang & Li
To Meet In The Middle In 800 Battle With Hou After Calm Heats At China Olympic Trials
Li Bingjie, the 400m winner, and Wang Jianjiahe, the 1500m winner, will meet in the middle in the 800m freestyle after causing to respective efforts of 8:30.56 and 8:32.83 in day 6 heats the Chinese Olympic Trials in Qingdao.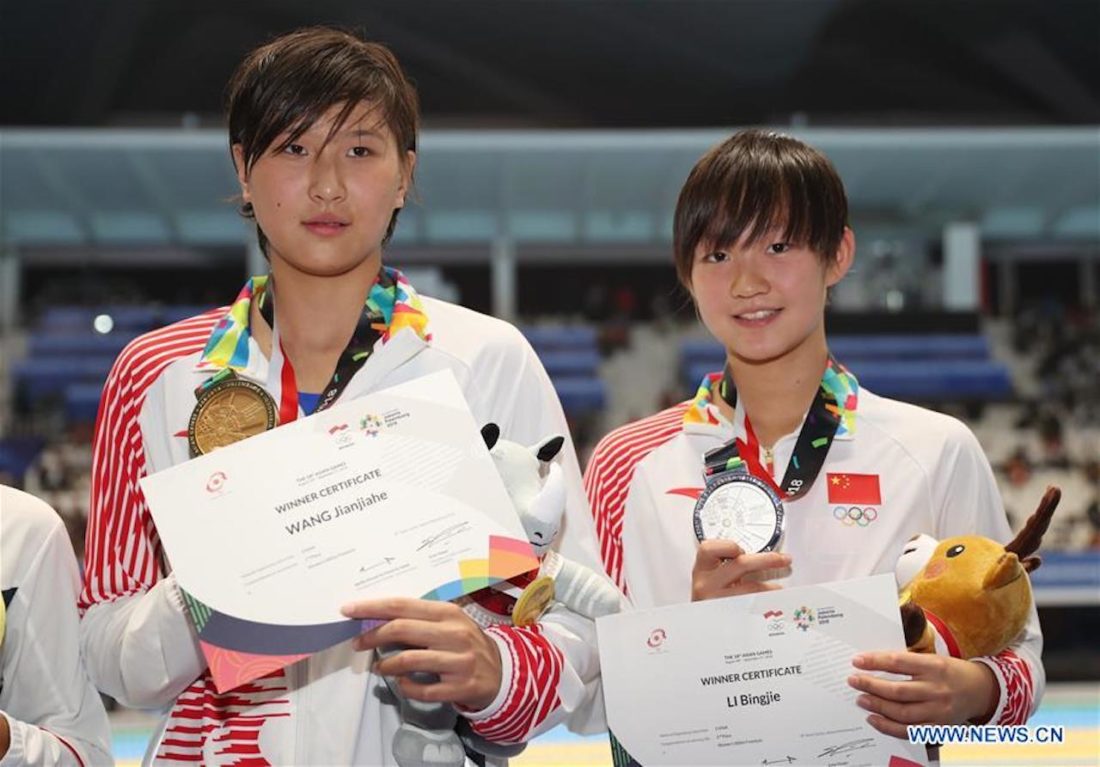 In the middle of them was Hou Yawen, on 8:30.92. Li, with a best of 8:15, and Wang, the Asian record holder and third-fastest all-time on 8:14.64 at Chinese nationals in 2018 on her way to an 8:18.55 victory over Li Bingjie at the Asian Games that year, have a few years of junior battles behind them.
In other heats, Wang Jiayin, who at 12 back in 2019 clocked 2:10.79 over 200m backstroke, booked lane 4 for the final of that event tomorrow in 2:10.65 ahead of Liu Yaxin, on 2:11.60, and Peng Xuwei, on 2:12.37. Wang, now 14, established a career best of 2:09.22 in heats at the China Swim Series earlier this year before Peng pipped her in the final.
Now they will meet Liu in a clash-of-generations final that Wang enters knowing she may need to raise her career bar once morePeng the seconds-fastest all-time in China with a 2018 best of 2:07.27 and Liu fourth best with a 2:07.56 from 2016.
The men's 100m butterfly heats featured Chen Juner at the helm on 52.62 ahead of Shen Jiahao, 52.80, and Sun Jiajun, 53.06.
Tuesday, May 4
Zhang Yufei
Matches Her 52.90 China 100 Free Mark In Heats At Olympic Trials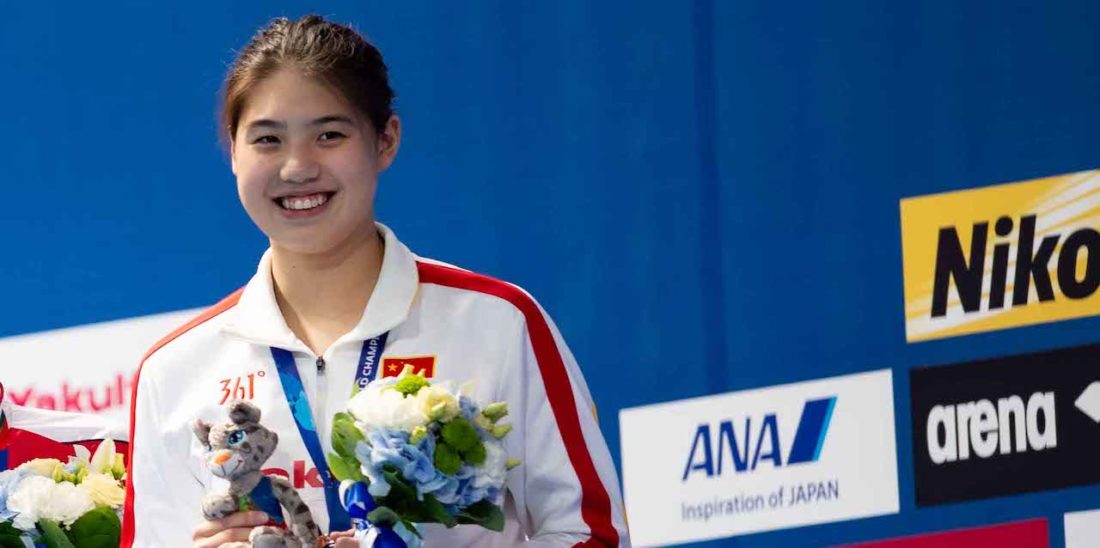 Zhang Yufei matched her national record of 52.90 in heats on the 100m freestyle on the fifth day of heats at China Olympic Trials in Qingdao.
The first Chinese woman ever to race inside 53sec when she clocked 52.90 at national championships last October, Zhang Yufei was almost a second clear of the next through to semis, Zhu Menghui, on 53.84, and Cheng Yujie, 15 and on a career best of 54.44.
World 100m backstroke champion and pre-selected for the Covid-delayed Tokyo 2020 Olympic Games, Xu Jiayu was a league apart in heats of the 200m backstroke, on 1:57.17. Closest to him were the two he shared the 100m podium with earlier in the meet, Li Guangyuan, 2:01.64, and Wang Gukailai, 2:01.87.
In the men's 200m medley heats, Wang Shun, with wins and Tokyo tickets in the bag for the 400m medley and the 200m freestyle, led the way to semis in 2:00.15 ahead of Wu Junjie, on 2:02.79, and Deng Ziqi, on 2:02.96.
Tang Qianting was another in search of more swims in Tokyo after her 100m breaststroke victory. In the 200m heats the 16-year-old set the pace at 2:27.24, Zheng Muyan on 2:28.59, Yu Jingyao third through to semis in 2:29.93.
Monday, May 3
When Katie Ledecky & Simone Manuel
Needed A Pool In Olympic Season…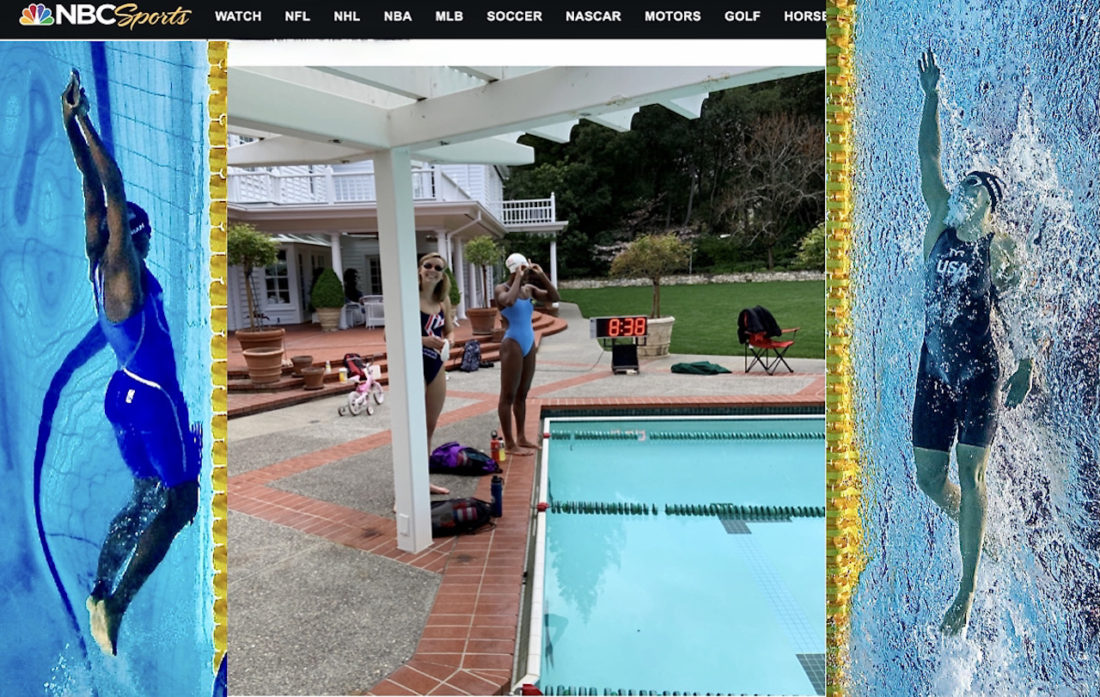 When the Covid-19 pandemic shut the pool doors on Olympic champions and Stanford teammates Katie Ledecky and Simone Manuel of late and uncertainty reigned over when they might get back in the water as a third-wave of the coronavirus threatened new lockdowns just three months out from Olympic trials, a 71-year-old masters swimmer who raced at the 1968 U.S. Olympic trials came to the rescue.
Nick Zaccardi tells the story over at NBC: it was March when Ledecky, aiming to capitalise on her 800m gold of 2012 and her 200, 400 and 800m and 4x200m golds of 2016, and Manuel, gunning for the defence of the 100m freestyle title she claimed in a tie with Canada's Penny Oleksiak at Rio 2016, heard the doors to "their state-of-the-art training facilities at Stanford" slam with the Covid keys inside.
What to do, with June Trials and then the Olympic Games in Tokyo less than a cycle of work rest and play ahead of them?
Enter Tod Speiker, medal-winning masters swimmer who raced backstroke at the 1968 U.S. Olympic trials, and his wife Cathy, after whom UCLA's aquatics center is named. They live about two miles from Stanford campus – and have a two-lane 25-yard pool in their garden just crying out for two of the best racers the world of swimming has ever known.
"I called Tod," coach Greg Meehan tells Zacardi. "I don't think at the time I envisioned us being there for the better part of three months."
Ledecky and Manuel, who were Olympic roommates in Rio, "developed bonds with the Spiekers' grandchildren who sometimes visited. They brought them swim caps," writes Zacardi before quoting Meehan hitting the nail on the head beyond the need for water and a pool to swim in: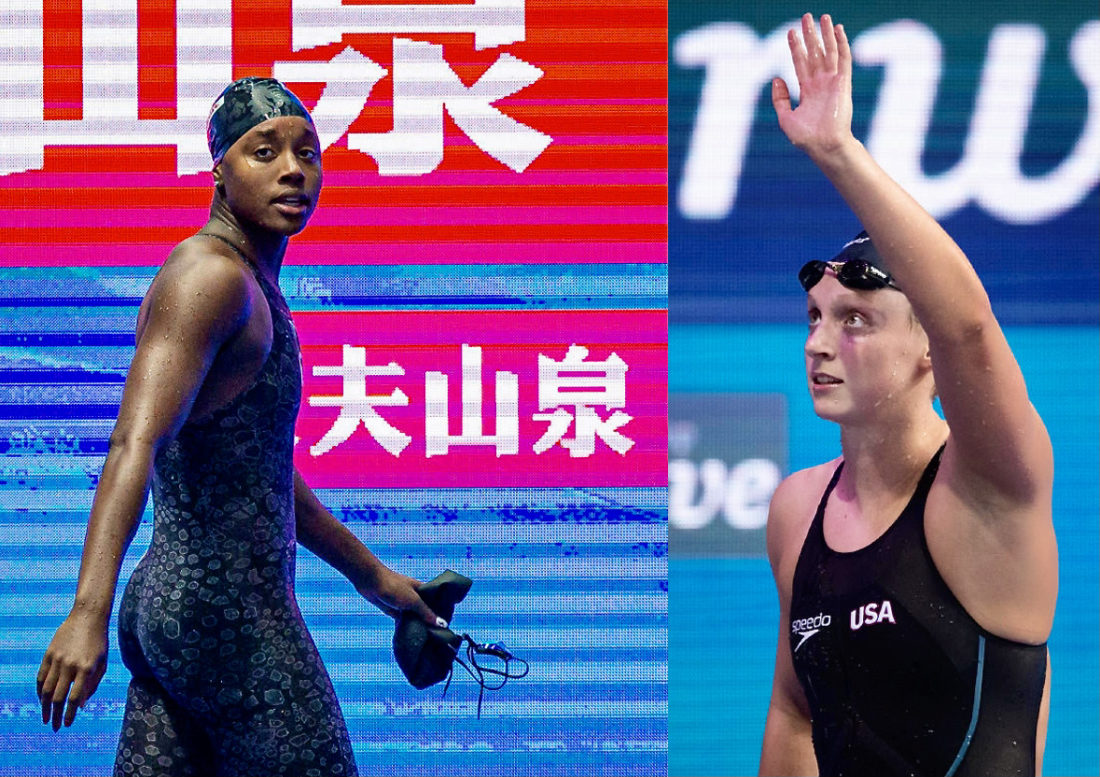 "It was more than just a pool for them at that point. It was an opportunity for normalcy amid all the chaos that was going on in the world."

Greg Meehan – coach to Simone Manuel and Katie Ledecky, two of the greatest racers in history – images by Patrick B. Kraemer
Toronto Pool
To Stage Canadian Time Trials This Week
Canada will stage a new competition at the end of this week to replace its cancelled High Performance Test Racing Event at the Toronto Pan American Sports Center pool.
On Friday and Saturday, a High Performance Time Trial for the cream of the crop of Canadian swimmers will be hosted by Swim Ontario after local decisions blocked plans to have swimmers travel to the previously scheduled meet from across the breadth of Canada at a time when Covid-19 restrictions continue to be strenuous.
Canada has faced some serious challenges to its swimming program during the Pandemic, even at elite level.
Those invited to the new meet all train regularly at the Toronto Performance Centre led by coach Ben Titley and used by several clubs on Ontario.
The line-up – start lists here – for a fine racing opportunity ahead of Olympic Trials delayed until June include Olympic 100m freestyle champion Penny Oleksiak, who will face Commonwealth champion Taylor Ruck and Kayla Sanchez in the 200m freestyle over 200m freestyle.
Also in action will be World champions Maggie MacNeil and Kylie Masse as well as medley and breaststroke ace Sydney Pickrem, those three completing the list of five women pre-selected for Tokyo 2020 back in January.
Performances Of The Past Week