Finlay Knox Steals The Show At Canadian Speed Test With 1:58.88 200IM To Take Down 13-Year-Old Shiny Suit Mark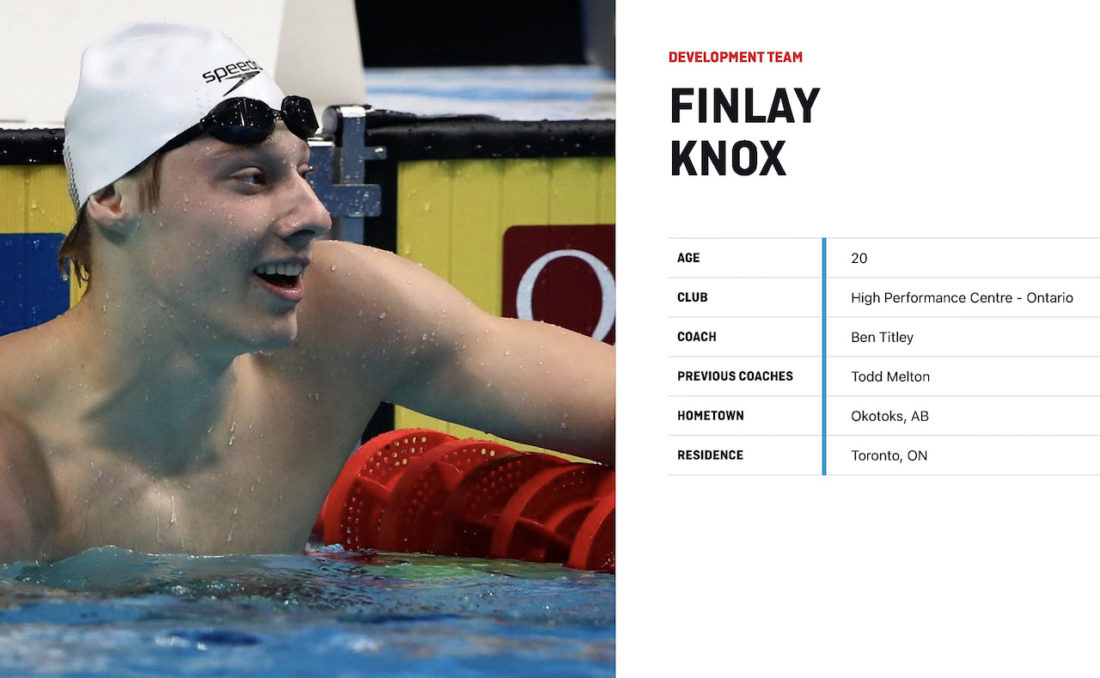 Since Ryan Cochrane retired, almost all headlines on Canadian swimming success have been reserved for the women's team but Finlay Knox broke the mould at the High Performance Time Trials in the Toronto Pan Am Sports Centre Pool this weekend when he set a national 200m medley record of 1:58.88 to race inside the A cut for the Tokyo Olympic Games.
Among highlights there was also this: Summer McIntosh, 14 years old, raced inside the A cut for the inaugural Olympic 1500m freestyle in 16:15.19, off a 4:15.43 at 400m and 8:35.30 at 800m. She also clocked 1:57.65 for third in the 200m free (see foot of the file).
Covid-pandemic delays have shunted Canadian Olympic trials a few times in the past year of serious challenge and now they will take place in June, when Finlay Knox will have to repeat a sub-1:59.67 cut time. Snap for the rest in their respective events, barring those already pre-selected for the Games.
On Saturday, Finlay Knox confined to history one of Canada's oldest standards in the pool when he took down the 1:59.19 that Keith Beavers clocked in heats at the 2008 Olympic Games in Beijing on his way to seventh in the final on 1:59.43. The first Canadian inside 1:59, Knock shaved 0.56sec off his personal best.
Out in 24.77, Finlay Knock turned at the 100m mark on 55.29 (30.52), completed breaststroke on 1:30.54 (35.25) and then put in a 28.34 last length for his new national 1:58.88 high bar in a time trial that included Mack Darragh, on 2:03.32. Knox has split a 34.88 in a previous 200IM own breaststroke, so doubtless more progress to come from Knock, coached at the Ontario Performance Centre by Ben Titley.
On the first day of action, eight performances were inside the A cut for the Tokyo Olympic Games, topped by a 58.48 from World champion Kylie Masse in the 100m backstroke. Masse laid down a 2:07.60 in the 200m on the second day of tests, which produced four more A cuts, topped by Masse and fellow Canadian World champion Maggie MacNeil, on 57.55 in the 100m butterfly, as well as Finlay Knox.
MacNeil also produced a 59sec 100 back and a 54sec 100 free at the speed test, while Sydney Pickrem rattled the 2:10 mark in the 200IM on Sydney Pickrem 2:10.29.
Finlay Knox & The Women Who Delivered The Highlights & A Cuts:
Day 1
100m freestyle – Kayla Sanchez, 53.57; Penny Oleksiak, 53.89; Maggie MacNeil, 54.27 (outside cut: Rebecca Smith, 54.44; Taylor Ruck, 54.72)
1500m freestyle – Summer McIntosh, 16:15.19
100m Backstroke – Kylie Masse, 58.48; Maggie MacNeil, 59.45, Taylor Ruck, 1:00.19
200IM – Sydney Pickrem 2:10.29 (Pickrem also clocked a 1:07.43 in the 100m breaststroke)
Day 2
200m backstroke – Kylie Masse, 2:07.60; Taylor Ruck, 2:09.78
100m butterfly – Maggie MacNeil 57.55 (26.98; 30.57)
200m IM – Finlay Knox – 1:58.88 – Canadian record
The most interesting event to produce no A cut was the women's 200m freestyle, which, with a nod to the 4x200m, went like this: Oleksiak – 1:57.37; Smith – 1:57.43; McIntosh, 1:57.65; Sanchez 1:58.07; Pickrem 1:59.15.