Zhang Yufei Checks In To Seven-Event Program At Tokyo Olympic Games
Whether Zhang Yufei swims all the events she has qualified for come the Tokyo Olympics remains a question for the hour, the day, the week in late July but a 24.32 win in the 50m freestyle as Chinese Trials came to a close in Qingdao may mean a seven-event program in which she'll be in the hunt from start to finish in the pool in Japan.
Covid-19 protocols and the athlete playbook dictate that swimmers must leave the Games within 48 hours of their last race. Just ahead of Wu Qingfeng, on 24.37, also an A cut for Tokyo, Zhang Yufei would be able to be in the racing pool in Tokyo from day 1 evening heats to day 9 morning finals.
Over the course of nine days in Qingdao, 14 women clocked A cuts for the Tokyo Games, compared to six men. Other events will also be considered before China names its Olympic squad.
The dash final in Qingdao also highlighted the 'winners and losers' aspect of the one-year delay in staging the Olympics caused by the coronavirus believed to have emerged from a market in China in late 2019: in third place, Liu Xiang, on 24.03 for an Asian record in early 2020 at the Champions Series, clocked 24.61 and will not be in Tokyo.
The Seven Events Zhang Yufei Could Target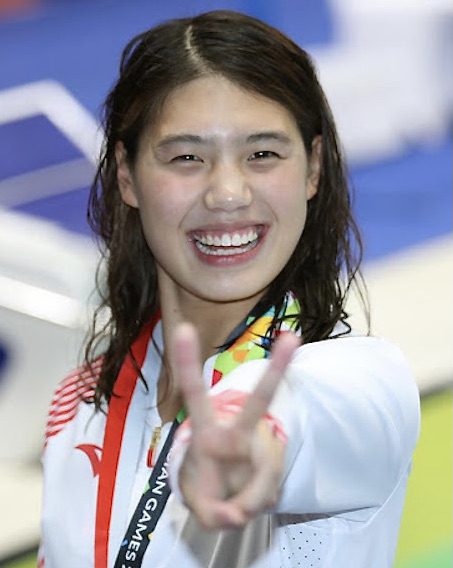 At trials in Qingdao, Zhang Yufei won the 100m butterfly, the 200m butterfly, in heats raced the fastest 100m free at the meet and the third-fastest 200m free, and closed her program atop the 50m free final. Whether she races them all remains to be seen but Zhang Yufei qualifies for action in:
50 free, 100 & 200m 'fly, 4×100 and 4x200m free, 4x100m medley, 4x100m medley Mixed.
Comparisons with historic counts are no longer relevant without a footnote, the mixed medley a new event that adds, together with the 1500m freestyle, two more targets for women swimmers. Men have two more targets, too, in Tokyo, the arrival of the 1500m for women matched by the introduction of a men's 800m to deliver two outcomes: gender parity in events for the first time since the modern Games got underway in 1896; and another golden card for freestyle specialists.
Zhang Yufei will target the butterfly events that deliver her strongest podium potential in Tokyo, while the Mixed medley relay offers China a shot at the podium and, too, Zhang Yufei teammate and 200m free winner in Asian-record time Yang Junxuan combined with Yan Zibei and Xu Jiayu to set a World record of 3:38.41 last year.
Whatever Zhang Yufei ends up racing in relay action, her program highlights the large number of possibilities now open to freestylers: 50, 100, 200, 400, 800, 1500, two freestyle relays, two medley relays. No freestyle swimmer will cover all that lot, of course, but Katie Ledecky, of the United States, will defend the 200, 400 and 800m titles, trials results pending in June, and is likely to be in the 1500m as favourite for gold, as well as a member of the 4x200m freestyle quartet. She also has the potential to return to the 4x100m freestyle quartet, at least as a heats swimmer.
For some such things speak to what Usain Bolt jested about when he said in Beijing 2008 that he could have won as many medals as Michael Phelps had he been allowed to run sideways, backwards and … (etc) but they also to those who understand what it means to cover a full distance range in swimming, not to mention a spectrum of strokes, fair to note, too, Ledecky's status as the greatest ranger in women's freestyle swimming since Shane Gould held all the World records from 100 to 1500m simultaneously in the early 1970s.
The new Olympic swim program offers eight and half events for freestylers, where the stroke specialist has two solos and one and a half relays to go at. The half is because the mixed relay is a fixed quota of two men and two women that has developed into a pattern of having the women go in first, on backstroke and 'fly, before the men take on breaststroke and freestyle.
The key point of that is to avoid women swimmers being mowed down by the wave of men travelling 6-7 seconds faster on breaststroke and 5-6 seconds faster on freestyle. The Chinese world-record holding quartet went man, man, woman, woman woman for its standard setter last year, Xu Jiayu followed by Yan Zibei, then Zhang Yufei before Yang Junxuan brought it home.
Back to Qingdao and the men's 50m freestyle showdown produced one ticket taker: You Hexin, on 21.89 and a speed class apart from those following him home, Wang Changhao, 22.43, and Yang Jintong, 22.47.
The trials in Qingdao, over nine days to reflect the Tokyo program, showed both why it might not have been necessary to practice what many may never have to do at any other meet in their career and why swimmers will who are headed to Tokyo as qualifiers for the last weekend of action will need a hefty dollop of staying power and energy maintenance skills.
None of that may matter to the 1500m boys of China: none came close to the FINA A cut. The reason we have to say may is because China will stage a last-chance saloon meet in the closing days of this month and the first days of June. Any swimmers with a B cut in an event without a qualifier may yet get the ticket to Tokyo.
Winner of the 800m just shy of the cut after making it in the heats, Cheng Long topped the 30-length final in 15:19.85 ahead of Ji Xinjie, 15:23.20, and Fei Liwei, 15:25.83. That last China meet may also feature the 1500m World record holder, Sun Yang*, depending on the outcome of his second hearing at the Court of Arbitration (CAS) from May 24-28.
The Sun Yang Decision To Come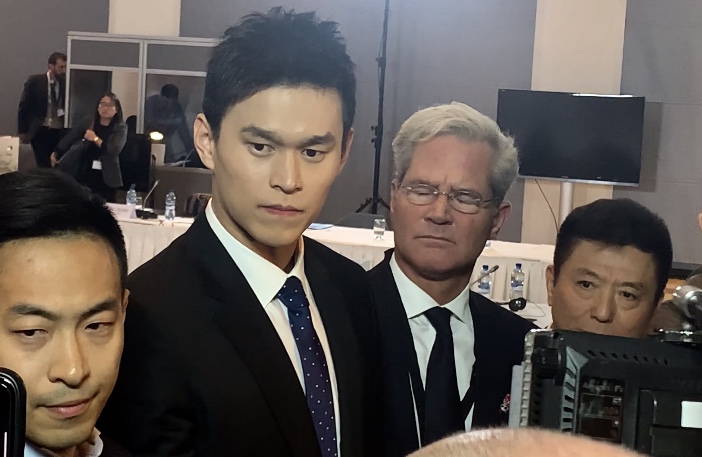 The first hearing, in November 2019, and an eight-year suspension imposed by the World Anti-Doping Agency (WADA) as a result of the unanimous three-judges panel at the CAS in February 2020, was set aside because one of the three judges, in matters unconnected to sport, had tweeted about horrid practices involving animal cruelty in China but in using a word widely regarded to be a racial slur against Chinese people in general was deemed to have crossed the line of impartiality.
As such, three other judges must now hear all the evidence again. The first hearing was followed by more than three months of deliberations and reporting before a verdict was announced. In theory, if that happens again, then Sun Yang* could race at the Tokyo Olympics: there are berths up for grabs in all freestyle events 200 to 1500m, for example.
The theory hangs on some key factors, however, including:
Would Sun Yang be in shape to be competitive at the Games? After all, he would have spent most of 2020 unable to train with anyone linked to the Chinese national program (that includes teammates and all of his coaches, his doctor and other support personnel), under the terms of the WADA suspension that was in place until the decision to set the first ruling aside pending a second hearing.
The new panel will not be unaware of the evidence and ruling the first time around. WADA has said that it will repeat all of the evidence of November 2019, collated before and after its March 2019 decision to challenge a FINA ruling in January 2019 that handed Sun Yang a series of severe warnings, but no suspension, after the swimmer had engaged in an acrimonious dispute with three Chinese out-of-competition testers near his home over four hours through the night in September 2018. The new panel will by now have read all that evidence and the FINA report of 2019 and its eye-popping detail, revealed by this author in The Sunday Times in January 2019 after FINA had sought to keep the matter one known only to the parties involved.
There may well be new evidence presented by lawyers representing Sun Yang but judges this time round are unlikely to require three months to come to a view. The entries for the Tokyo Games close about four weeks after the end of the second hearing.
That is the timeframe in which the judges must judge the merits of any arguments against returning the same decision in 2021 as that announced in 2020 if the issues of Gwangju are not to become the issues of Tokyo 2020ne – and Rio 2016, when for the first time in Games history, teams booed and jeered every time a swimmer towing a doping record walked out to their blocks, Sun Yang* (2014 positive) and Yulia Efimova* (2013 positive) in headlines around the world as the two podium placers who felt the wave of disdain most keenly.
Meanwhile, the trials in Qingdao produced a team list of instant qualifiers inside A cut, as listed below. Selectors will also take into account other events.
The trials confirmed the strength of the Chinese women's program over the men's program across the full range of events: 14 women clocked A cuts at trials, compared to six men.
The strongest podium contenders on the back of trials are, among women, Zhang Yufei on butterfly and Lin Bingjie and Wang Jianjiahe on freestyle events 400 to 1500m, while Yu Yiting's progress on medley places her on the chronological heels of the contenders for medals in Tokyo; and among men, World 100m backstroke champion Xu Jiayu and Wang Shun on medley.
Solo-event qualifiers at Qingdao Trials: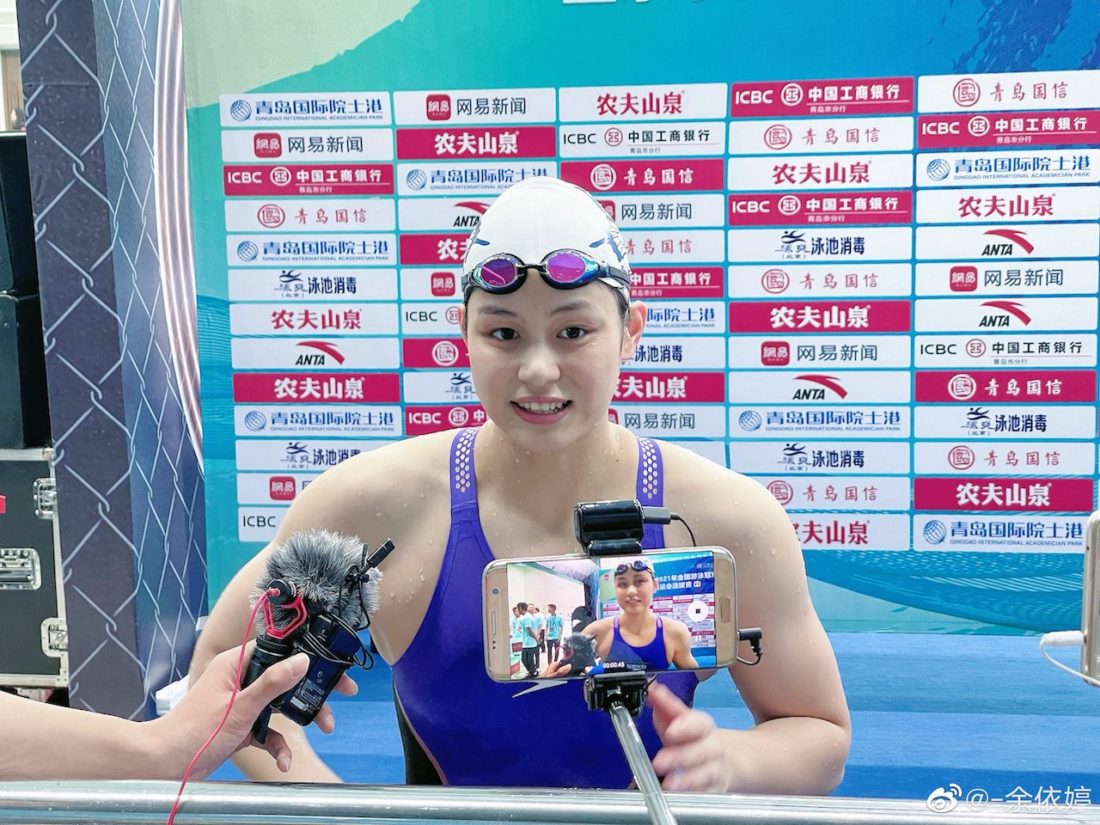 Women:
50m free: Zhang Yufei, Wu Qingfeng
100m free: Yang Junxuan (Zhang Yufei, heats, for relay)
200m free: Yang Junxuan, Li Bingjie
400m free: Li Bingjie, Tang Muhan
800m free: Wang Jianjiahe, Li Bingjie
1500m free: Wang Jianjiahe, Li Bingjie
100m back: Peng Xuwei, Chen Jie
200m back: Liu Yaxin, Peng Xuwei
100m breast: Tang Qiating (Yu Jingyao, semis)
200m breast: Yu Jingyao
100 'fly: Zhang Yufei
200 'fly: Zhang Yufei, Yu Liyan
200IM: Yu Yiting, Chen Xinyi*
400IM: Yu Yiting,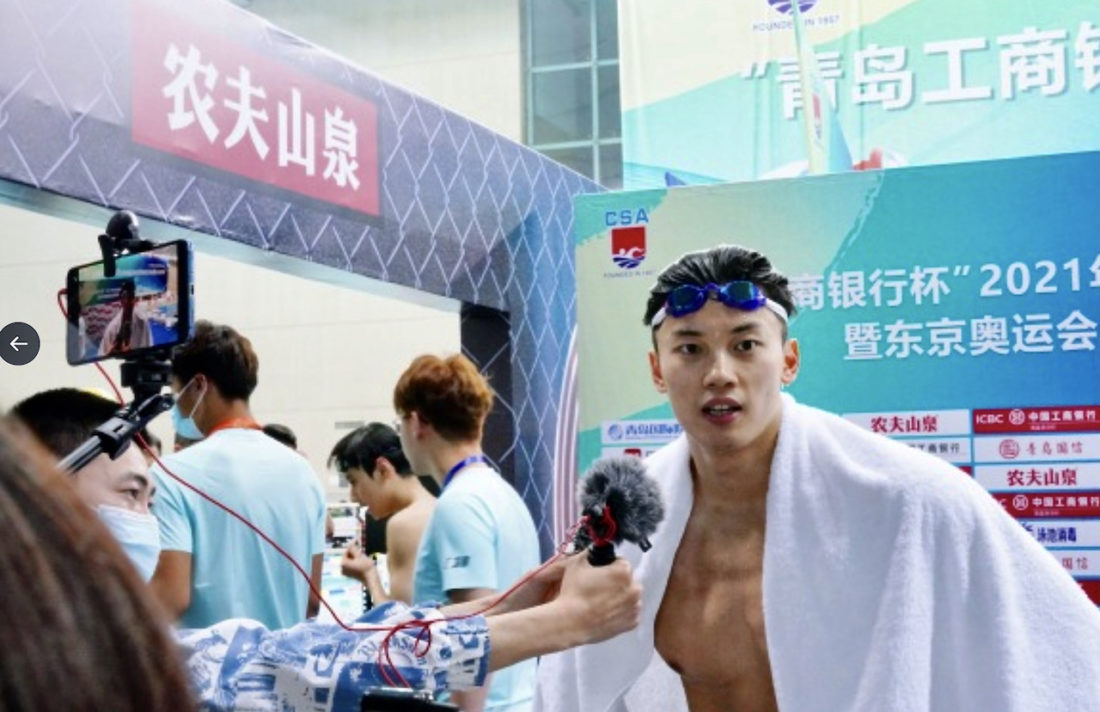 Men:
50m free: Yu Hexin
800m free: Cheng Long (heats)
100m back: Xu Jiayu
200m back: Xu Jiayu
100m breast: Yan Zibei
200IM: Wang Shun, Qin Haiyang
400IM: Wang Shun
Inside the target time at China Swim Series:
Women: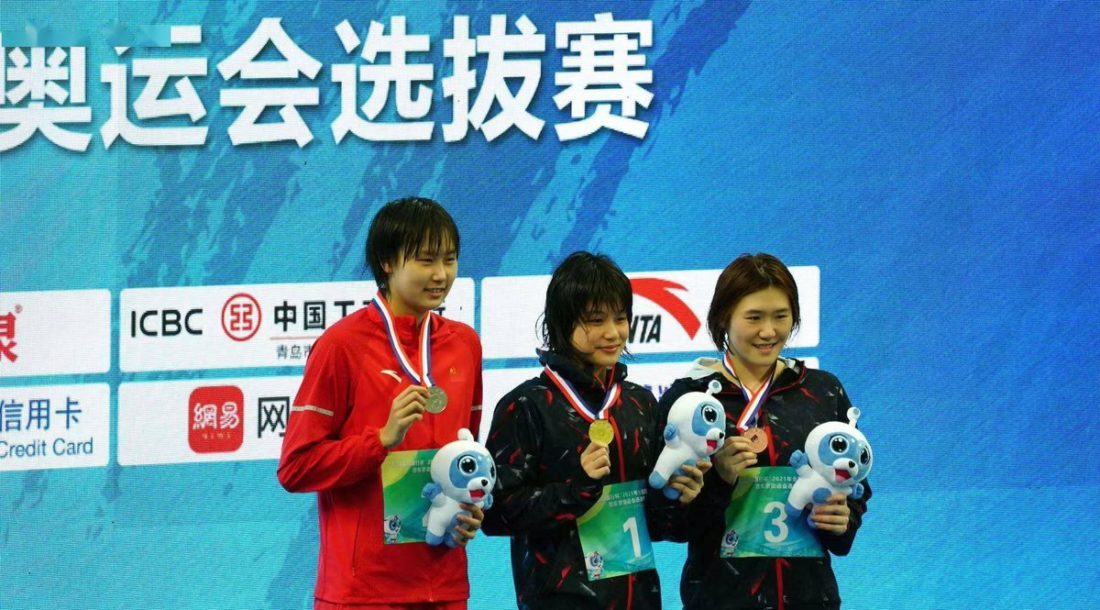 Men:
100m free: He Junyi
800m free: Cheng Long (heats)
100m breast: Qin Haiyang
200m breast: Qin Haiyang
100 'fly: Sun Jiajun