Zhang Yufei 2:05.44 In 200 'Fly At China Olympic Trials On Way To Six-Event Program In Tokyo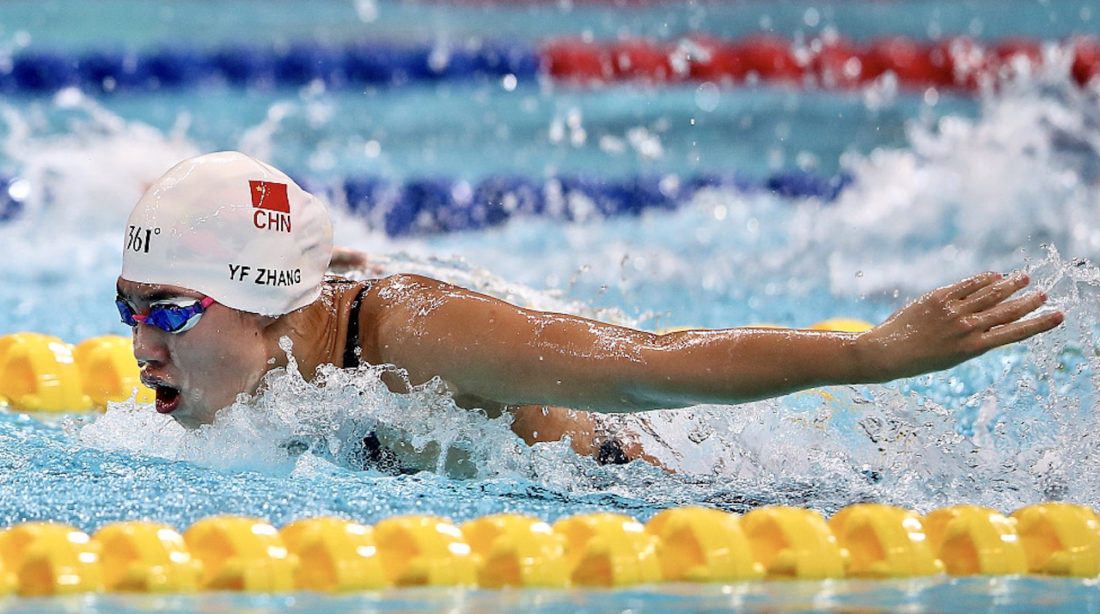 Zhang Yufei moved closer to a six-or-more-event program at the Covid-delayed Tokyo 2020 Olympic Games when she added the 200m butterfly to her roster with a 2:05.44 victory on the fifth day of finals at the Chinese Trials in Qingdao.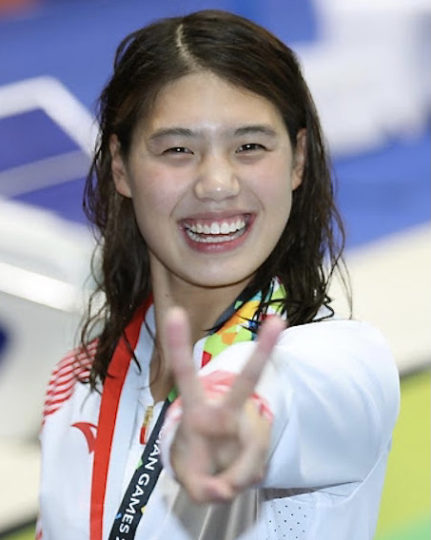 The race produced two qualifiers for Tokyo, Yu Liyan on 2:07.03, a touch shy of her 2:06.83 on The China Swim Series, ahead of Zhang Yifan, on 2:08.16.
Zhang's winning time confirms her as a medal contender in Tokyo in both the 100 and 200m events. It is the best speed seen in the world so far this year though much talk of world-ranks toppers comes without the necessary rider: the United States, Australia and Canada will hold their Olympic trials in June, while Covid-pandemic related conditions and challenges have meant that many have hardly raced and certainly not rested.
Among 200 'fly contenders are also the likes of reigning Olympic champion Mireia Belmonte, pre-selected for the defence in Tokyo and in no need of showing speed until she must. Belmonte claimed Rio gold to become the first Spanish woman in history to claim Olympic swimming gold. The 200m butterfly is often one of the most roller-coaster prone events comparing season-to-season, the 2019 World title going to Boglarka Kapas, of Hungary, in 2:06.78, for example, as the seventh fastest performance of the year.
Zhang Yufei, who had already claimed the 100m butterfly win in 55.73 at trials in Qingdao to register a third sub-56 of the year as the only woman to get inside 56sec so far, started the year without a sub 2:06 effort to her name over 200m.
At the first China Swim Series, held in the first days of the year, she clocked 2:05.70 in heats and 2:05.49 in the final. Her 2:05.44 is the 18th best Chinese performance all-time and kept Zhang Yufei at No4 on the all-time performers list in her country, the helm of pace held yet and for some while to come in all likelihood by Liu Zige, on an extraordinary 2:01.81 World record that is among global standards set in the last flush of shiny suits in 2009 that have remained unrattled by any challenger since.
Closest to her in China and anywhere else in the world is Jiao Liuyang, who four years after taking silver to Liu at the Beijing 2008 Olympic Games claimed gold of her own at London 2012 in what remains the textile world best, 2:04.06. Those two occupy the best 16 times ever by Chinese swimmers (and 12 out of 20- of the best 20 among all nations). At No 17 comes Gong jie, on 2:05.38 at 2012 nationals behind a 2:05.18 from Jiao.
Next, at No18 in China comes Zhang Yufei with her new high bar of 2:05.44. Now No 14 all-time, Zhang also entered the all-time top 10 in textile today: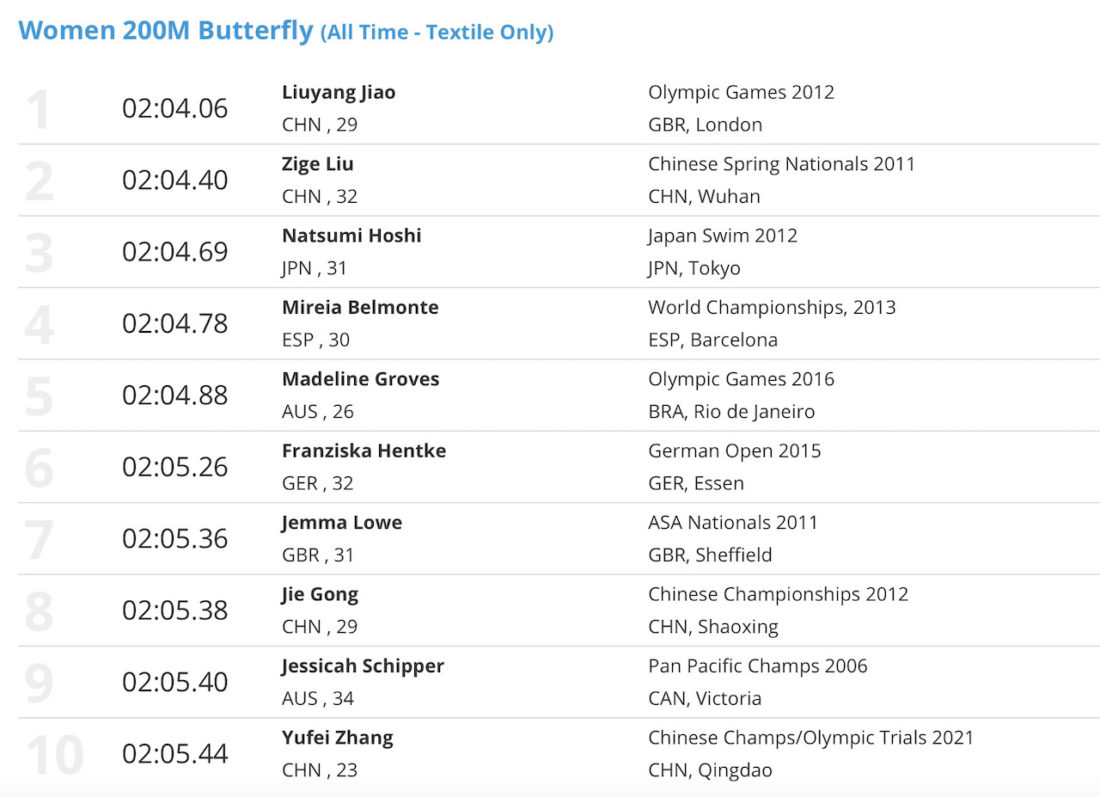 In the same session as her new , she bypassed the 100m freestyle semis after matching her Chinese record of 52.90 in heats to ensure a relay berth, following the pattern of the 200m free, in which she withdrew after heats, having posted a 1:57 low good enough for third fastest in that event in China this year. All in all, she could end up with a solo program of the 100 and 200m 'fly and all four relays in Tokyo, the 4×100 and 4×200 free, the women's 4x200m medley and the new Mixed medley relay.
Zhang Yufei became the first Chinese 100 freestyle to break 53sec when she swam her first 52.90 at October 2020 nationals. After matching that yesterday, she let other take on the pace in that event in semis as she prepared for the 200m butterfly final.
Speedy 200m winner of yesterday in Asian-record time (1:54.57, all-time No8), Yang Junxuan, on 53.56, booked a ticket to lane 4 for the sprint final tomorrow, Cheng Yujie and Wu Qingfeng closest on 54.10 and 54.27 respectively.
No Instant Tokyo Tickets In Men's Finals
All other finals were battles among men – but none produced an instant ticket to Tokyo, though relay action may well follow from the 100m freestyle showdown.
He Junyi took the crown in 48.71, 0.03sec ahead of 16-year-old Pan Zhanle, his 48.74 a career high 0.2sec ahead of Yang Jintong, the last inside 49, on 48.94.
He Junyi has a best of 48.10, clocked when he was 19 back in 2019 for an improvement year on year of 1.53sec. He started the year on 48.57 at the China Swim Series, that time precisely the cut he needed for an instant Tokyo ticket today. If China is to field a 4x100m free relay in Tokyo then it may also stretch back to October last year, where it finds Yu Hexin, out of medals contention today, on 48.44.
The first two finals of day 5 produced no instant tickets for Tokyo, though Yan Zibei, on 2:10.80 at the helm of the 200m breaststroke, is already on the team for the 100m. Closest to him but outside the 2:10.35 A cut was Qin Haiyang, on 2:11.16, third place to Yu Zongda in 2:12.79. Al three men swam faster on the China Swim Series in March, Qin on 2:09.95, Yang on 2:10.39.
Yan Zibei, with Xu Jiayu, Zhang Yufei and Yang Junxuan are among favourites for the podium, if not gold, in the inaugural 4x100m medley relay at the Tokyo Olympics this July: last October at nationals they combined to set a World record of 3:38.41.
Meanwhile, back in Qingdao, Cheng Long got inside the A cut (7:54.31) for Tokyo in the heats of the 800m freestyle on 7:54.02. That marked his first sub-8-minute effort. In the final he was not far out but shy of the mark at 7:55.43, Ji Xinjie second in 7:58.63, Zhang Ziyang, the 400m winner, on 8:03.22. Cheng is now all-time China No6 on a list topped by the other-world standing world record, the 7:32.13 of Zhang Lin from the Rome circus of shiny suits at 2009 World titles. Jin Xinjie is all-time No4, on 7:52.96 back in 2017.
In semis of the 200m backstroke, 100m World champion Xu Jiayu, a 1:57 in heats behind him, was content to cruise through to the final in third place on 2:01.18, lane 4 to Wang Yutian in 2:00.24, lane 5 to Li Guangyuan in 2:00.53.
Winner of the 400IM and the 200m freestyle at Trials, Wang Shun set up a shift at what is an all-but certain gold in the 200m medley, on 1:59.42 in semis, Qin Haiyang, 2:01.28, and Deng Ziqi, 2:03.12, next through to the final.
The session came to a close with the 200m breaststroke semis, the main contenders all keeping their powder dry, Yu Jingyao on 2:27.43, Ye Shiwen, the double Olympic medley champion of 2012 who clocked 2:22.53 at nationals in 2019 before a 2:23.15 for fourth place at World titles the same year, on 2:29.17, the 100m winner and Tokyo qualifier in Qingdao, Tang Qianting, third through in 2:29.36.