Rikako Ikee Appeals For Calm & Understanding After Facing Call To Back Campaign To Cancel The Tokyo Olympics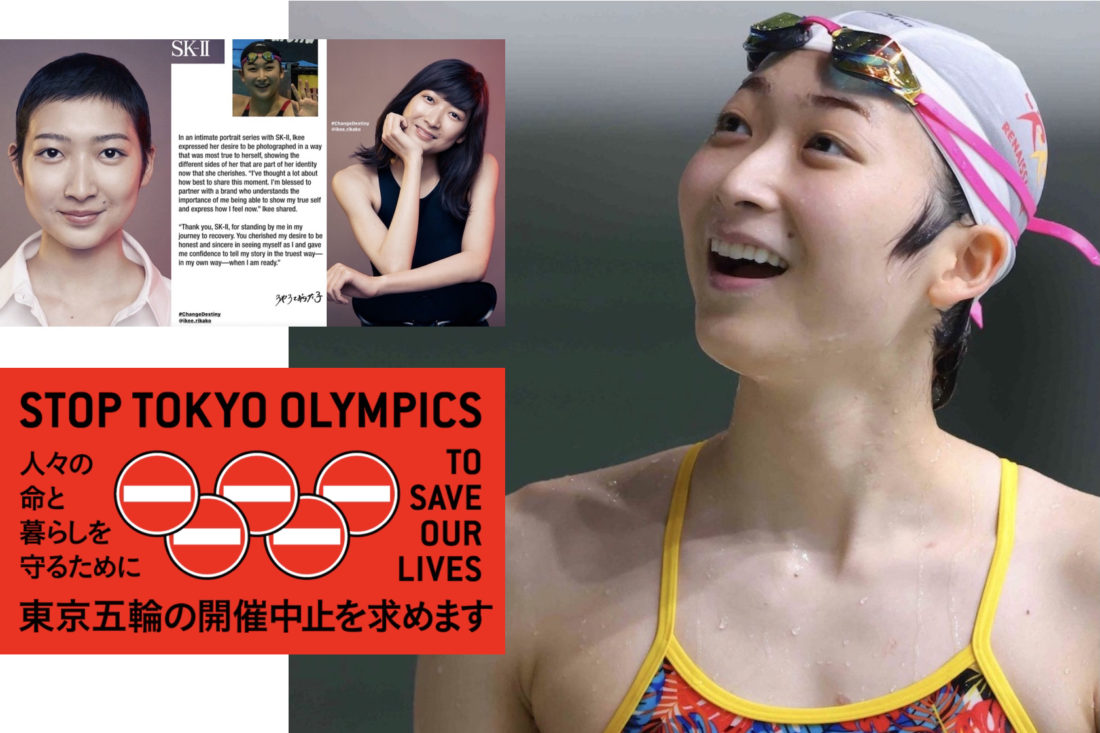 Rikako Ikee, the Japanese sprinter who made a home Olympics team after the the Games were cancelled at a time when she was in recovery from leukaemia, has appealed for support and understanding in response to Japanese fans and members of the public calling on her to pull out of the showcase event and speak up for a nation now largely in favour, according to polls, of having the Games cancelled.
Ikee tells fans and social media followers: "… I want you to warmly watch over not only me but also the athletes who are doing their best in any situation they are presented with."
Her statement on Twitter coincided with further calls for cancellation, among them a petition now approaching its 300,000 target urging the Japanese Government to call off the event adding steel to polls consistently showing that the Japanese public wants either further postponement of cancellation of the Games. The number of daily coronavirus deaths hit a record 148 today, with the nationwide tally of new cases topping 6,000, the most since mid-January.
According to the Japanese Ministry of Health, Labor and Welfare, at least 1,131 COVID-19 patients were in serious condition, hitting an all-time high and stoking fears of further strains on a healthcare system struggling to cope, some emergency units full to capacity.
In a direct message to her twitter followers, Rikako Ikee, who warmed the heart of a nation when she qualified for the Covid-19-delayed Tokyo Olympics just two years after being diagnosed with leukaemia, writes: "I learned that Instagram's direct message and Twitter's reply received comments such as "I want you to decline" and "I want you to speak out." Of course, we athletes have been working hard to compete in the Olympics.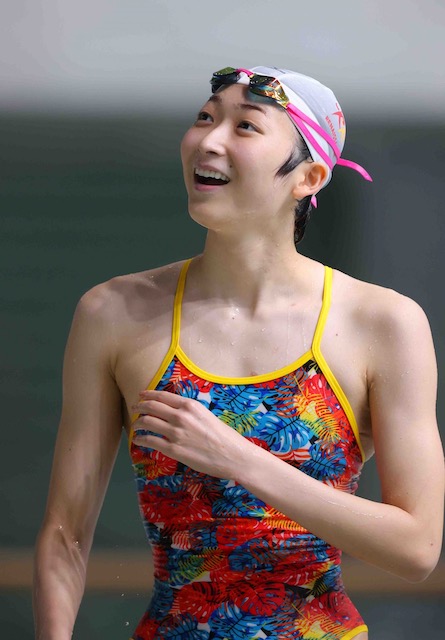 "But, I think it is natural that there are many voices calling for the cancellation of the Olympics due to this corona disaster. I and other athletes will accept what has been decided, with or without the Olympics, and of course I will do my best if I do it, and if not, I will do my best for the next one."

Rikako Ikee – image courtesy of Kyodo
Her message coincides with an extension in the emergency status in Japan and signs of strain in a population frustrated not only by the Games going ahead at a time of crisis for many but because of restrictions on business and life in general.
The Associated Press report ion the situation today starts: "Trains packed with commuters returning to work after a weeklong national holiday. Frustrated young people drinking in the streets because bars are closed. Protests planned over a possible visit by the Olympics chief.  As the coronavirus spreads in Japan ahead of the Tokyo Olympics starting in 11 weeks, one of the world's least vaccinated nations is showing signs of strain, both societal and political."
Rikako Ikee noted how she feels about the place she finds herself in: a 2020 Games would surely have unfolded while she watched from a rehabilitation clinic on the road to recovery from leukaemia. That road back to health and the Olympic delay gave her a second lease of life – and an unexpected chance to race at a home Olympics even though she has stated that her Olympic ambitions are now aimed more squarely at Paris 2024. Rikako Ikee tells fans and followers: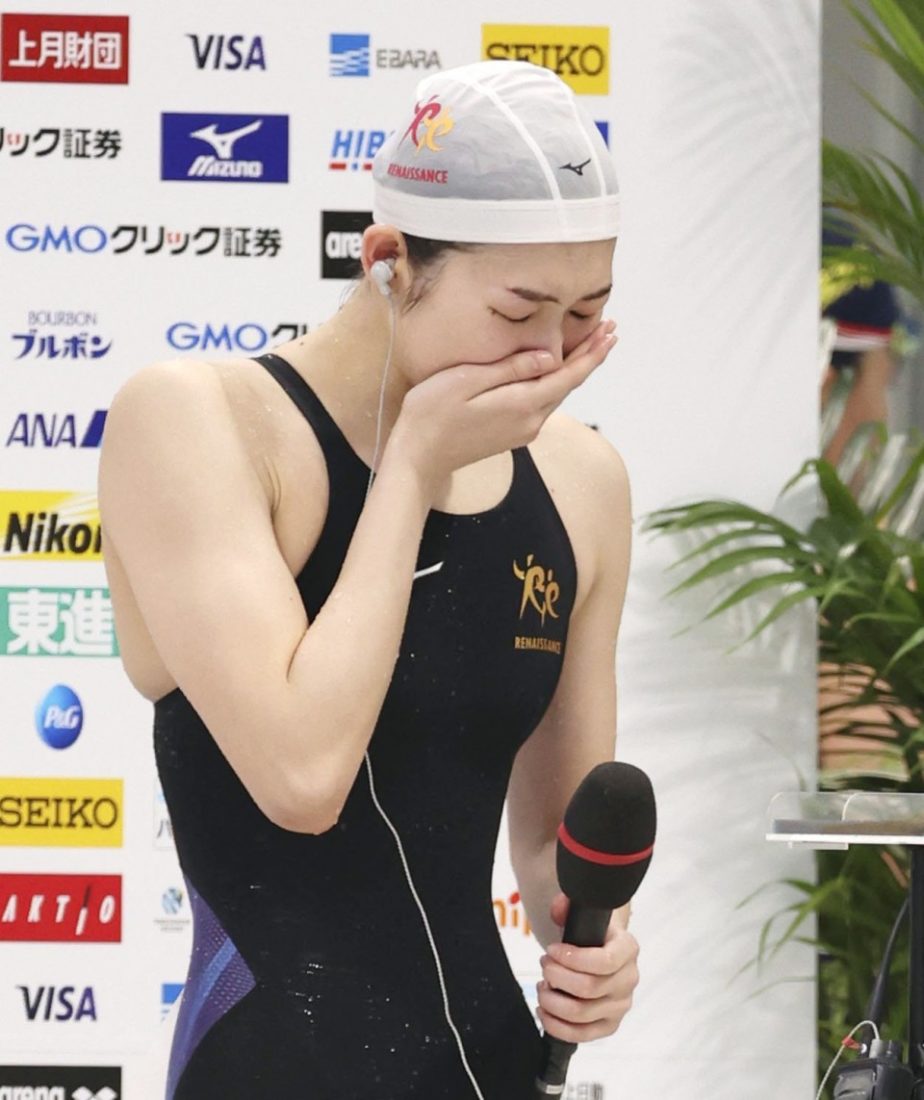 "The Olympics were postponed for one year. If you're an athlete like me, you're lucky but some athletes are desperate [for the Games to go ahead]. Even though I had a chronic illness, even if [the Games] are not held, I am living with anxiety every day due to the [troubled times and upset] in front of me … I can't change anything. Those who have done what they can do are supporting us.

"I practice every day with all my heart to live up to my expectations. Some messages were good about the Olympics, and honestly, there were some very traumatic messages today. I have the same strong desire to change this dark world as quickly as you do. However, it is very difficult to apply it to individual athletes.

"It's been a long time [coming], but I want you to warmly watch over not only me but also the athletes who are doing their best in any situation they are presented with."

Image: Rikako Ikee is overwhelmed after making the Japan team for the Tokyo Olympic Games – courtesy of Kyodo
Rikako Ikee was responding in the wake of an online petition calling for the International Olympic Committee and Japanese government to cancel the Games.
The petition was launched on Tuesday by Kenji Utsunomiya, a lawyer who has run for governor of Tokyo as an independent multiple times. It was well on its way to a 300,000 target – at 238,000 – as Friday was drawing to a close in Japan.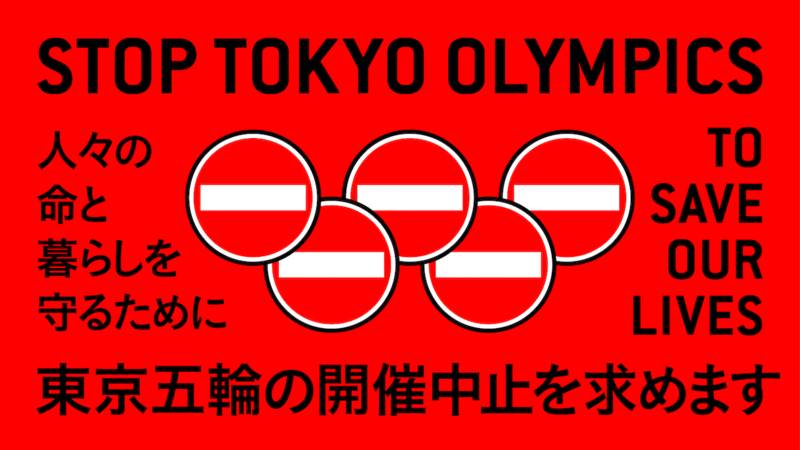 The petition's signing statement asserts that it is "highly possible" the Olympic Games will become a "superspreader" event that will "cause danger and fear to healthcare workers, citizens and participants."
"We demand cancellation" of the games to "protect our lives and well-being," the petitioners declare, contending that Japan's resources should be directed toward struggling citizens impacted by the pandemic, as opposed to an athletic competition. Utsunomiya told reporters:
"Government policies are being set with the Olympics in mind, and measures to curb the coronavirus pandemic are being neglected. Hospitals are stretched thin, and some people are dying at home."
Rikako Ikee – Thanks & Thanks Returned
Rikako Ikee featured in a one-year Tokyo Olympic countdown event during her recovery from illness. Now 20, she addressed Olympic athletes in a keynote speech last July 23 at a closed-door event at the National Stadium.
The news coincided with the first shots of Rikako Ikee in recovery and thanking one of her sponsors, SK-II, the Japanese cosmetics firm, for a photo shoot showing the swimmer in beautiful new light at the dawn of a new day in her life.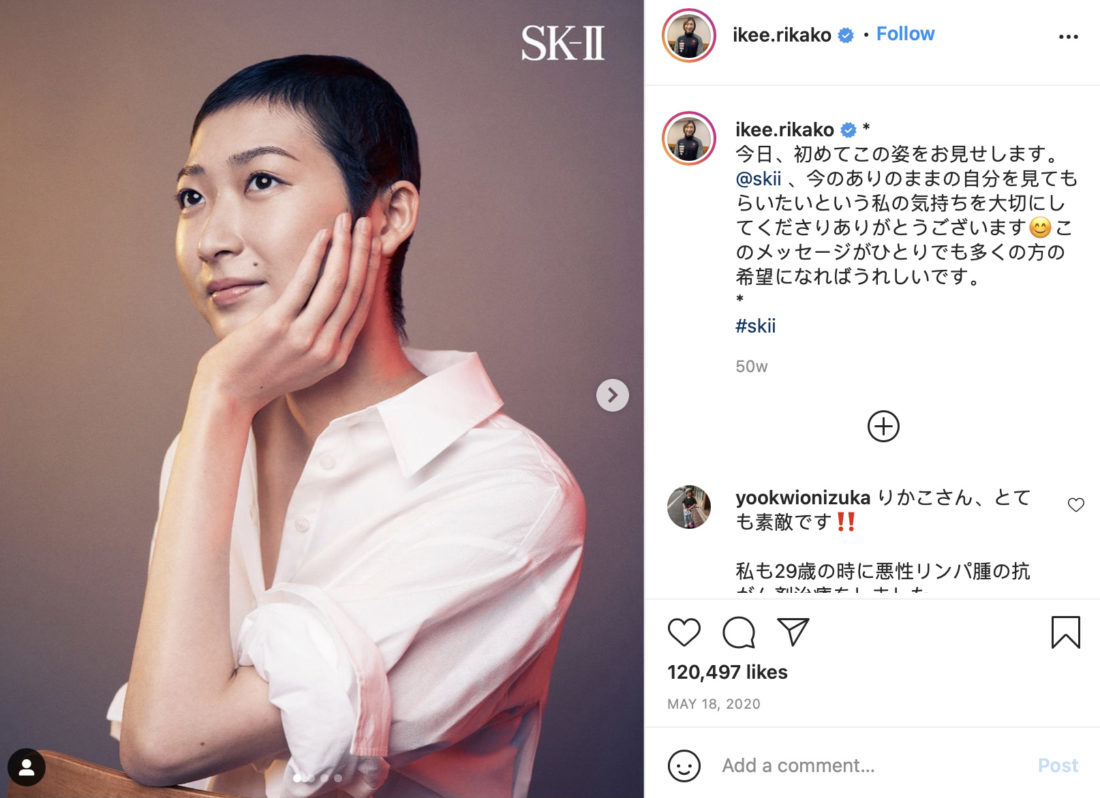 The sponsor responded with a message in Ikee's Instagram page to say:
Ikee-san has showed us what it means to be strong, to be true to herself and to not give up no matter how tough it seems. She has shaped her own destiny by choice, and that is a true testament to what we believe at the heart of our brand.

Thank you @ikee.rikako, we are incredibly humbled for this opportunity to be supporting you on this important milestone.
Emergency Status Extended To End May
The Japanese government decided Friday to expand the COVID-19 state of emergency beyond Tokyo and the greater Osaka area and extend it to May 31 in an effort to further bring down infections and ease the strain on hospitals, Kyodo reported today.
Restrictions on dining establishments and other businesses that had been slated to end Tuesday will remain in place and come into effect in Aichi and Fukuoka prefectures from Wednesday. With their addition, Japan's third state of emergency since the start of the pandemic will cover an area accounting for one-third of its population and more than 40 percent of the world's third-largest economy.
"Infections continue to increase at a high pace, especially in metropolitan areas," Prime Minister Yoshihide Suga said after formalizing the decision at a task force meeting. "We will thoroughly implement measures that are expected to be highly effective."
The state of emergency has been in effect in Tokyo, which is set to host the Summer Olympics in less than three months, as well as Osaka, Kyoto and Hyogo prefectures since April 25, with targeted steps aimed at curbing the spread of the coronavirus during the Golden Week holidays.
Restaurants and bars will continue to be prohibited from serving alcohol or offering karaoke services and must close by 8 p.m. with a fine of up to 300,000 yen ($2,750) for noncompliance. Businesses will continue to be encouraged to have employees work from home.
The government will ease some restrictions to mitigate the hit to businesses. Starting Wednesday, large commercial facilities such as department stores and movie theaters will be allowed to reopen, though they will also be asked to close by 8 p.m.
Japanese Prime Minister Yoshihide Suga (C) attends a coronavirus task force meeting in Tokyo on May 7, 2021. Suga announced the expansion of the COVID-19 state of emergency beyond Tokyo and the Osaka region and its extension through the end of the month. – courtesy of Kyodo
But Tokyo Gov. Yuriko Koike and Osaka Gov. Hirofumi Yoshimura both said they will continue to ask such facilities, classified as having more than 1,000 square meters of floor space, to remain closed, arguing the situation had not improved enough to let down their guard.
A ban on spectators at sports games and concerts will be replaced with a cap of 5,000 people or 50 percent of the venue's capacity, with events being required to end by 9 p.m.
In addition, the government will strengthen restrictions on Japanese nationals and foreign residents in the country arriving from India, where highly contagious coronavirus variants have been raging, and urge people to refrain from drinking alcohol on streets or in parks in groups.
The latest Covid Update From Kyodo: