Sarah Sjostrom Pops Past Popov With 23.91 Triumph For Record 27th European Medal
Sarah Sjostrom landed her second dash gold in Rome with a 23.91 victory over 50m freestyle that made her the most medalled swimmer in the history of European Championships.
Having tied with Alexander Popov's record 26-medal tally yesterday, Sjostrom took the all-time medals lead with 27 podium honours since she took the 100m butterfly title for the first time as a 14-year-old in Eindhoven 14 years ago.
Sjostrom's winning time was 0.07sec inside that she posted for the World title in Budapest seven weeks ago. The silver went to Katarzyna Wasick, of Poland, in 24.20, the bronze to Valerie Van Roon, of The Netherlands, in 24.64.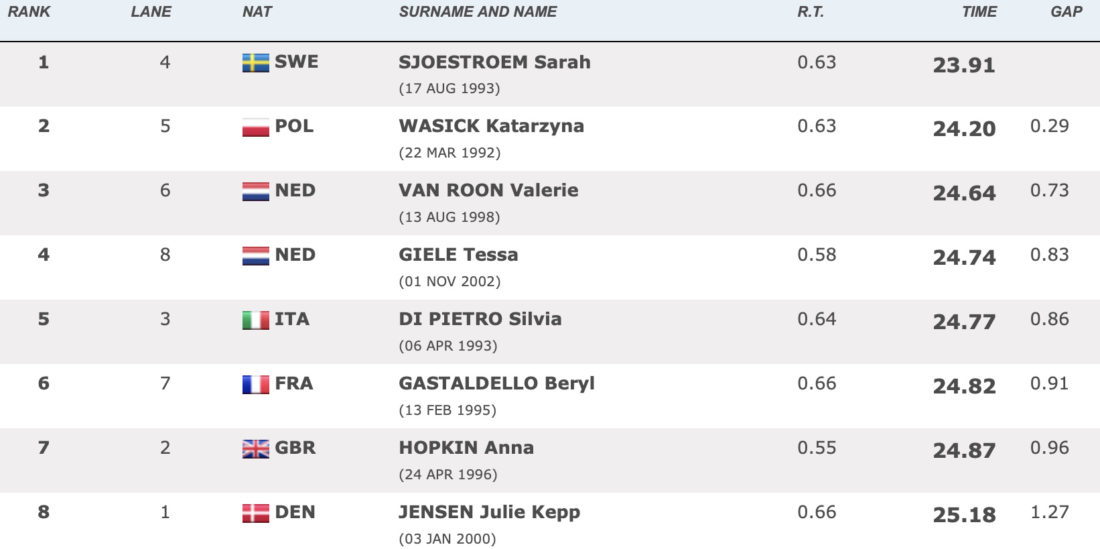 In 2026, the European Championships will celebrate its centenary (99 years for women, who were granted access in 1927). By the time Sjostrom arrives, as highly likely, in Paris for the 2024 and her fifth Games, she may have or be on the cusp of her 100th major international podium for Sweden, most of her successes in solo events.
Sjostrom could not recover well enough from a broken elbow last year to launch a viable defence of the 100m butterfly at the Tokyo Olympic Games but she did not return dhiome from Japan empty handed: silver behind Emma McKeon, of Australia.
Delighted with her win today, Sjostrom said: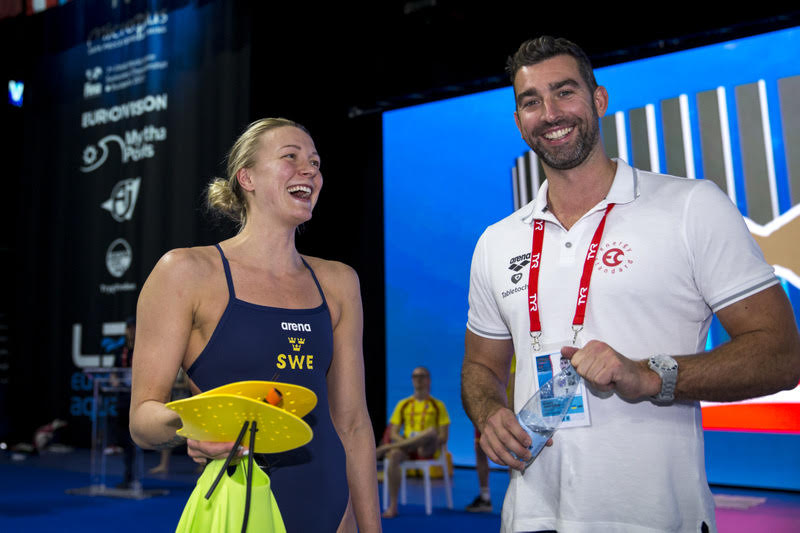 "I'm super happy with this gold medal. It always makes me happy when I can go under 24sec, even more when I manage to do in a final when it counts the most. I think my number of medals continue going up and I'm really enjoying myself here. Now when I look up the stands and I feel the support and energy, I know why I'm doing this and why I want to go on. It just makes it all worthwhile."

Sarah Sjostrom – Photo – with coach James Gibson – Photo by Patrick B. Kraemer / MAGICPBK
Sjostrom & A Challenge To The Most Decorated In The World
Sjostrom, European 50 'fly champion in Rome and 50m free silver medallist in 2014 before she claimed the crown for the first time in 2018, is even threatening to overhaul Michael Phelps in the ranks of the most-decorated swimmers ever, albeit at World-Championship level: getting past the G.O.A.T's 23 golds atop 28 Olympic medals is unlikely to be seen for many Olympic cycles to come, if ever.
In Budapest back in June, Sjostrom made a 19th career World-Championship podium with a 23.98 victory in the 50m freestyle. Phelps has 20, Sjostrom 19, with two more World titles scheduled on the way top the Paris 2024 Olympic Games.
Sjostrom – 'The Team Around Me Really Protected Me'
With a nod to all those solo medals and a World-Championships pantheon that includes just one relay podium, Sjostrom said in Budapest: "I think I need a lot of time to reflect and understand how it has been possible to do that. I think something that really helped me when I was a younger swim was that even if I was winning European champs, World champs, I was not the main star of the team. We had still had some older swimmers on the team that took more of the attention."
She added: I think that was really good for me: I think it would have been harder if I was the main star from an early age. So I think Therese [Alshammar], Stefan Nystrand, Lars Frolander – they were the big stars when I came into the national team, even if I won medals. I think that was very important: I think the team around me really protected me so that's why I've been able to continue. It's a team effort so I am not going to take all the credit myself."
Sjostrom was not the only one piling up the medals in Rome today…
Men's 50m Breaststroke – Martinenghi At The Double
Nicolo Martinenghi, the 100m crown in the bag, dominated the dash with a 26.33 blast that sent the Roman crowd into a frenzy at the Stadio del Nuoto. Simone Cerasuolo delivered another Italian 1-2 in 26.95, the bronze to Germany's Lucas Matzerath in 27.11.
The "big beast" of breaststroke, Adam Peaty, of Britain, had 16 golds with four quadruple victories in the same events at the past four Championships 2014 to 2021, including all the past four 50m titles. Injury and a decision to reach for recovery on the road to Paris 2024, kept him away from Rome. Thus ends a bull run of bull runs.

Martinenghi said: "I'm super happy with my second individual gold and my new personal best. It was a great race, it felt fantastic to be able to offer this race and this win to the best crowd in the world. Yesterday morning I wasn't feeling well in the water but it all changed for today. Looking at the stands makes me prouder than anything else."
Teammate Cerasuolo chimed in: "This was an amazing experience for me, I'm so-so happy with this silver medal, but I'm less happy with the time. I can do better than this. I feel this season lasts forever, kind of infinity war in the movie. I'm happy that I could swim in front of the home fans, that was incredible."

For Matzerath, a debut medal for Germany was more than he had expected: "I still can't realise what I've just done… or started realising in the water but not completely… It's my first international medal and I can carry on now."
Women's 200m Medley – Gorbenko Gold Four Israel
Anastasya Gorbenko granted self and Israel gold in 2:10.92 from lane 2 in a close battle spread across the pool.
The silver went to Marrit Steenbergen in 2:11.14, a result that delivered the rising star of the Dutch team with a Ruch history off success in the junior ranks a sixth medal of the championships. Bronze went to Sara Franceschi, of Italy, isn 2:11.38.
One of those on the 'one to watch' list, Katie Shanahan, of Britain, clocked 2:12.29 for fourth after making the 200m backstroke podium here in Rome at her international debut for Britain just two weeks after her first two podiums for Scotland at the Commonwealth Games, in the 200m backstroke and 400m medley.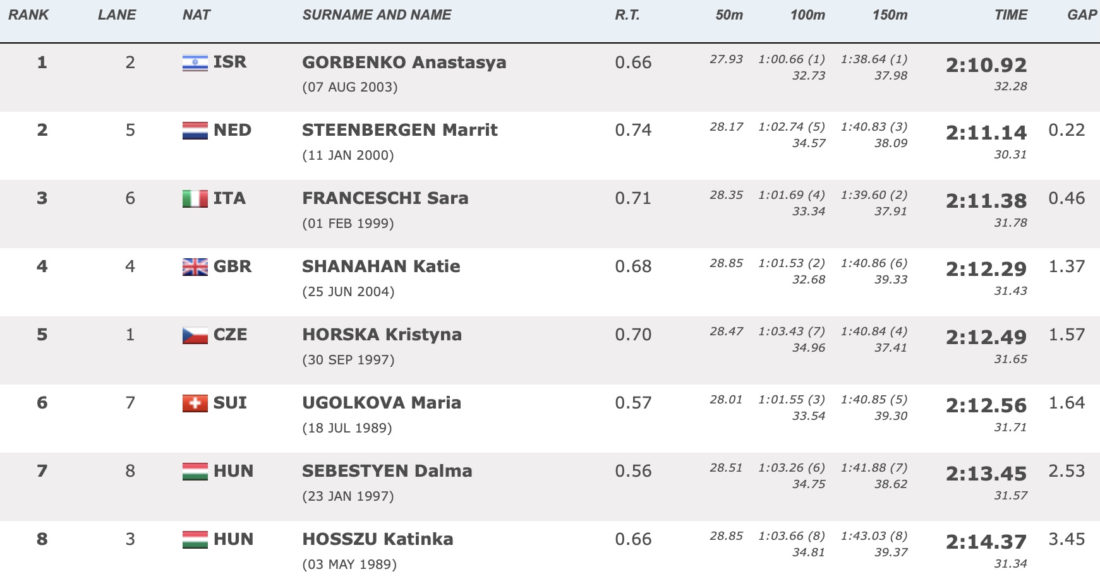 Gorbenko said: "I cannot believe that I've won. I'm very-very happy, I've worked very hard this year, I think sometimes the load was too much perhaps. I achieved what I wanted. My aim was to win this event so I'm happy that I could close this extremely long season with a result like this."
Steenbergen looked back on a her six-medal week: "What a crazy and intense week with a lot of racing! I'm really happy with this particular medal and absolutely not expected winning six medals here."
Franceschi celebrated a debut solo medal for Italy, saying: "I knew I stood a chance. I focused on breaststroke because that is my specialty. This is my first individual podium and this was the last competition of the season for me, so I squeezed out all the power from myself and I'm really satisfied."
Women 's 100m backstroke – Panziera Doubles Up 0.06sec Ahead Of Harris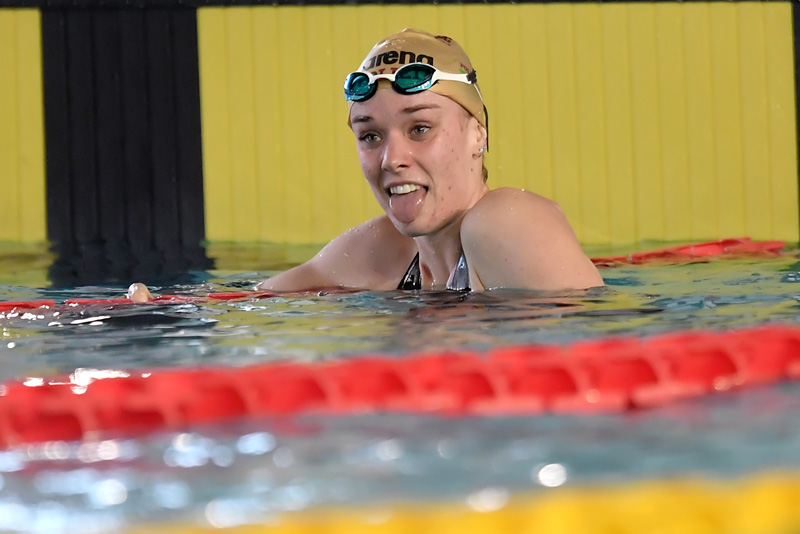 Margherita Panziera stepped up from silver behind Britain's Kathleen Dawson a year ago in Budapest to become the first Italian to claim 100m backstroke gold since 1927, when women were invited to compete at the European Championships for the first time a year after organisers held a men-only moment they had second thoughts about.
Dawson is out of action this summer taking care of a back injury that would not heal without rest but in her absence newcomer Medi Harris came close to causing upset, falling just 0.06sec shy of Panziera, 59.40 to 59.46.
Panziera turned seventh in 29.18, Harris sixth on 28.92, Italy's other challenger in the showdown, Silvia Scala, at the helm on 28.52. Panziera was expected to host back: as 200m champion for a third straight championships here in Rome and the athlete who in 2018 finally took down the 19901 championship record that had stood to Hungarian legend and triple Olympic champion over 200m, Krisztina Egerszegi, the endurance card was bound to play in her favour.
A 30.22 return split later, Panziera was champion, Harris and a 30.54 return good for silver, the bronze gone in 59.53 to Kira Toussaint.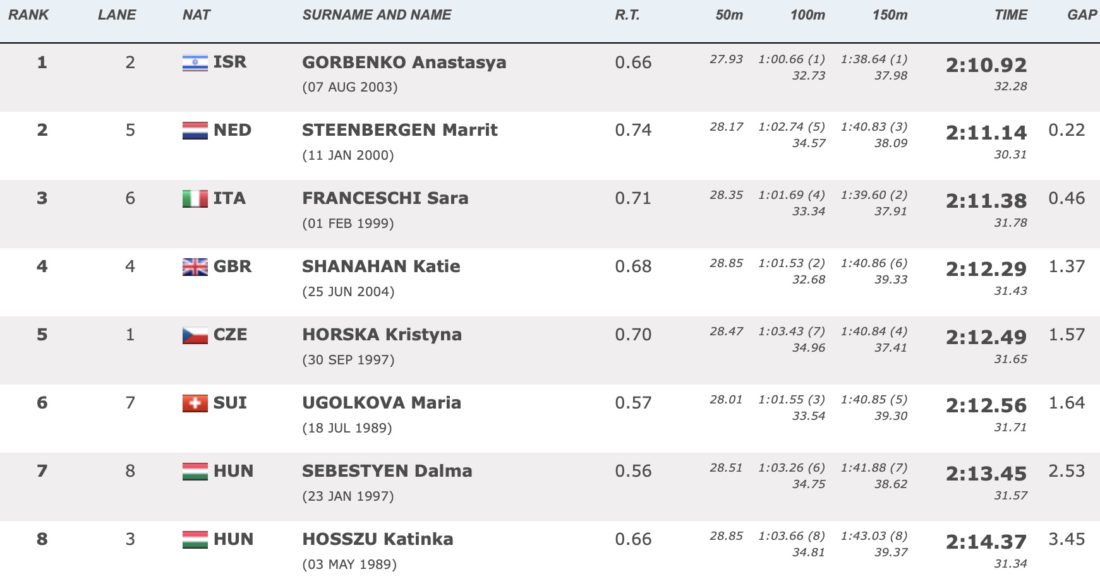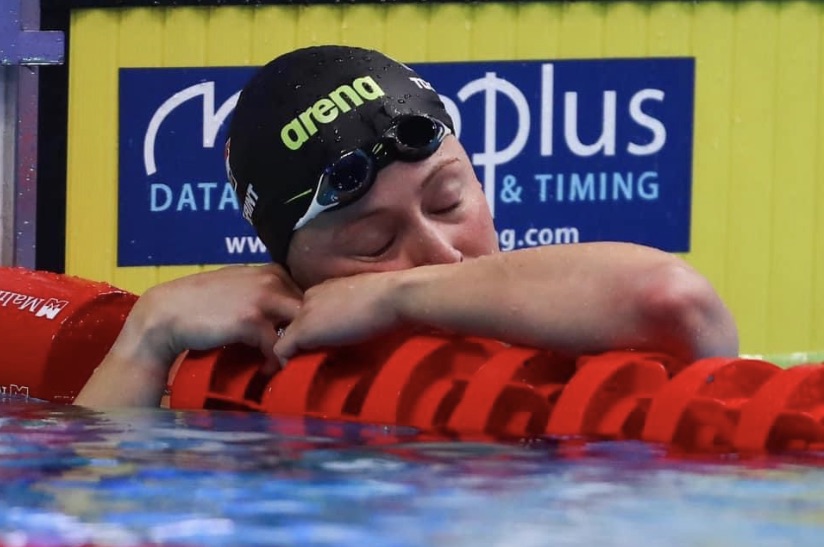 Toussaint's third p[lace was poignant: year ago, the Dutch ace claimed silver but then lost it when the final had to be re-swum an hour later because the starting wedge in the lane of Louise Hansson, teammate to Sarah Sjostrom, had come loose.
Sweden launched a successful appeal. Toussaint, a pure sprinter, dropped from second to fourth as Panziera and her greater endurance stepped up to silver behind Dawson in circumstances far from ideal.
Panziera said: "I heard the crowd but I thought Scalia won. So I couldn't believe it when I heard my name. I carried out a major achievement with these two gold medals. And here is the time that I haven't reached in years, plus two titles at the end of this season pay me everything back."
Harris was feeling the demands of a long season: "I'm happy, I wasn't feeling well yesterday, today was a bit better, but not good enough to be able to compete for gold. Nothing serious, I just felt the exhaution of the long season we that we all had. So I'm really happy to have come out this race with a medal."
Toussaint talked of redemption: "It's a kind of redemption for me to get my first individual medal in Rome. Obviously, I came here to win this event, I was preparing myself for the 100m primarily, not for the 50m. I'm proud that I won a bronze here in a close race like this. Usually I'm a very emotional person, so I'll feel great and moved to stand on the podium."