Britain Benefits From Relay Remedy To Strains Of Stacked Summer As Dean, Richards, Colbert & Anderson Retain 4x200m Crown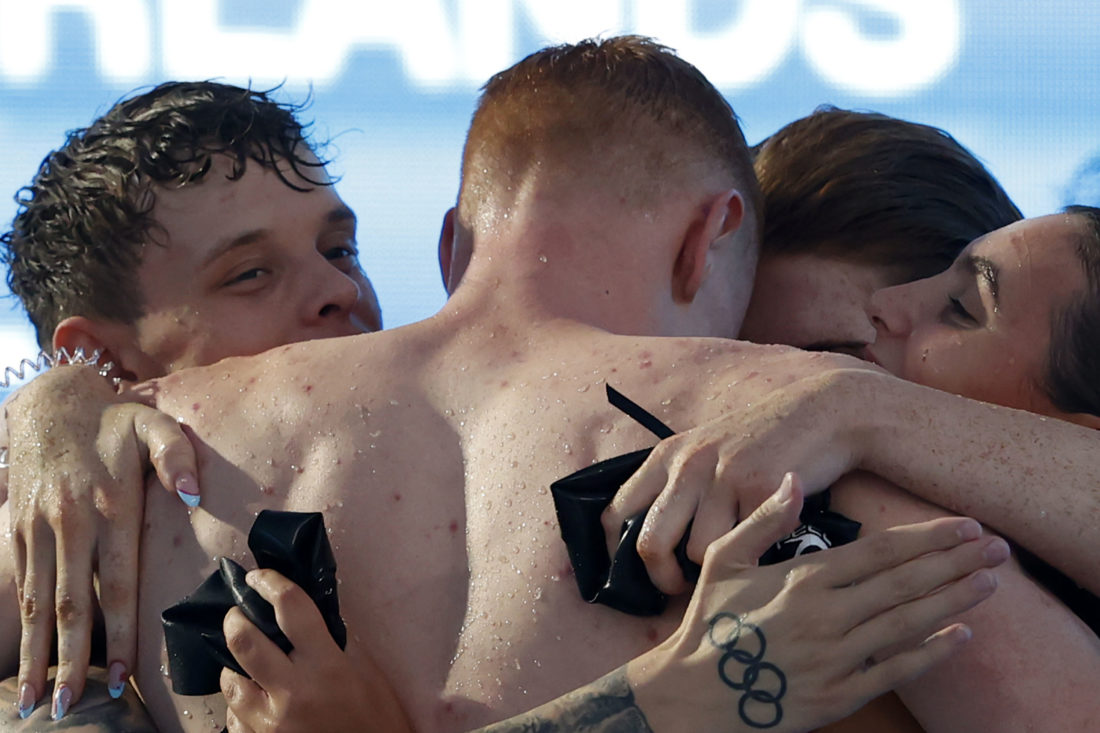 Britain decided half way through the European Championships that switching the demands of a third major event in 6-7 weeks this summer to a relay focus would deliver remedy and relief requires to protect the physical and emotional wellbeing of its swimmers.
Good move if you the relay rollout and podium pick-ups are anything to go by.
Tom Dean, Matt Richards and the two Freyas, Colbert and Anderson produced a roaring display of bravura for gold in the Mixed 4x200m freestyle relay here at the European Championships in Rome.
The bonus to a title retained for Britain a sixth medal in as many days for Anderson. Then there was Medi Harris and the fine tone she set just ahead of the relay.
The quartet headed out for battle knowing that Harris had just fallen 0.06sec shy of gold in the 100m backstroke and understanding well, given the level of noise, that this title defence would unfold in very different circumstances a year ago.
Dean and Anderson, with James Guy and Abbie Wood, claimed gold in 2021 at a championships shunted forward a year by the pandemic and held behind masks, without crowd nor media present.
What a difference a year makes: this year in front of a raucous Roman crowd, not a mask in sight, at the Stadio del Nuoto, Dean took to his blocks a double Olympic champion, Richards his fellow 4x200m Olympic champion and Anderson an Olympic gold medallist from the Mixed medley relay in Tokyo.
Harris, who will leave her teenage years behind her next month, had hardly been heard of. Today, at her International debut for Britain just two weeks after claiming silver in the 100m backstroke for Wales at the Commonwealth Games in Birmingham, Harris added European silver in the same event and will return home after the championships wrap up tomorrow with at least four medals, after gold, silver and bronze in relays.
Britain Vs France With Italy in The Mix Of Mixed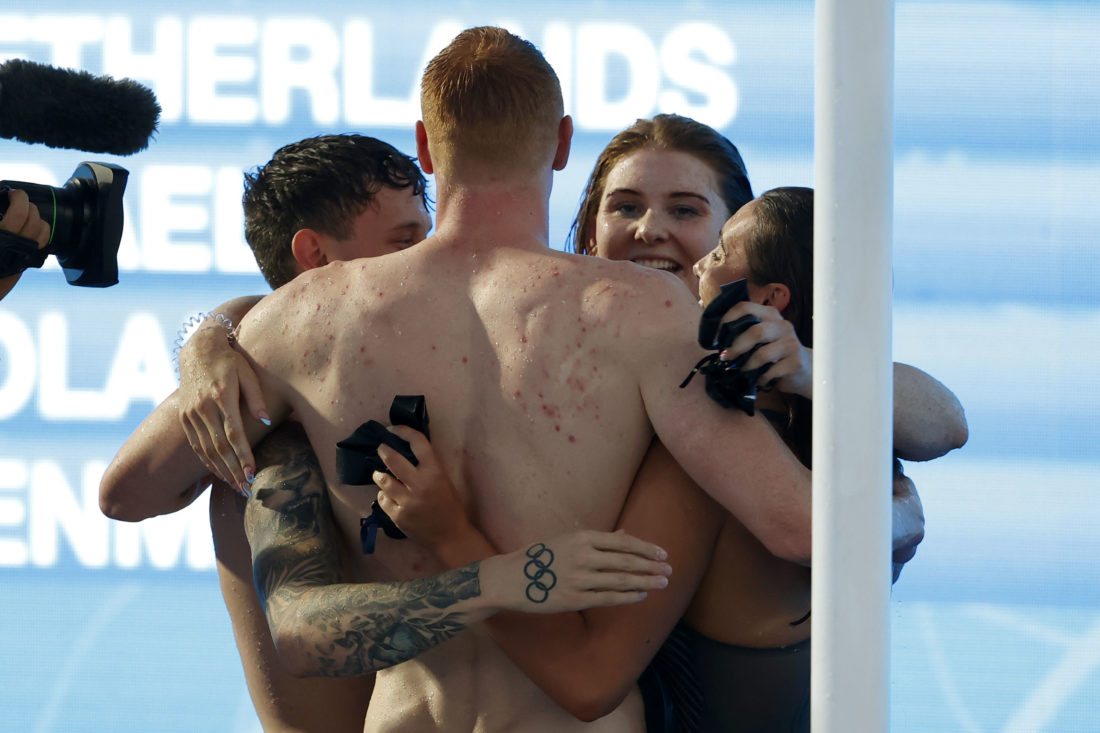 Dean, the Olympic 200m freestyle champion, was first off the blocks in the relay. Up against France's Hadrien Salvan, Dean granted Britain a sizeable lead in 1min 46.16, Richards, in a tussle with France's Wissam-Amazig Yebba then maintaining the lead and handing over to newcomer and surprise 400 medley bronze medallist at the championships Colbert.
France's seasoned Charlotte Bonnet passed her over the first 100m but Colbert had swum the smarter race and down the third of her fourth length took back control.
In went Anderson with a 0.2sec lead over France's Lucile Tessariol. The battle was close going into the last turn, at which point Anderson sprinted and put gold beyond doubt, the title retained in 7mins 28.16, 1.09sec ahead of France, with Italy a distant third.
Anderson raised her hands aloft in celebration: her second relay gold of the championships after victory in the women's 4x100m freestyle meant medal number 6, after silver in the 200m freestyle and two other relays and bronze in the 100m freestyle.
Dean said: "We were the reigning champions since we won Budapest last year and we came here to defend our title. A lot of us gave up our individual events for this relay, for our mates, for Great Britain. A huge team is behind us and we are very grateful for them."
Anderson said: "It's fantastic to win here in Rome. That medal means a lot for us – we successfully defended out title and not was a huge race in a great atmosphere."