Sarah Sjostrom Sits On Cusp Of Toppling Phelps As Most Medalled Swimmer In World-Titles History In Dashing Final In Budapest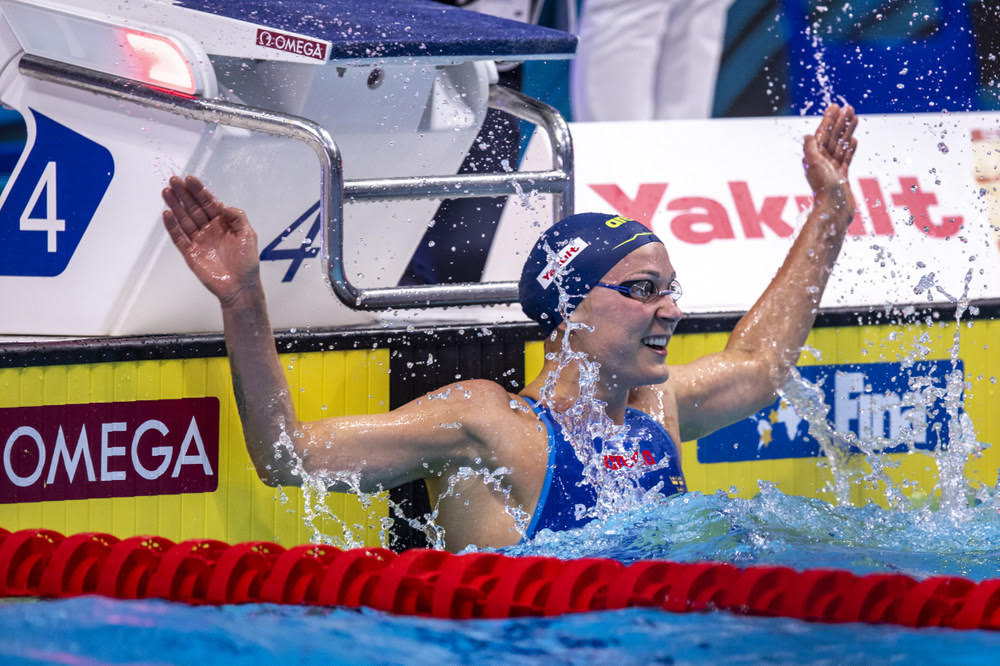 Drama and touch of timewarp marked the dash finals on day 8 as the World Championships came to a close at the Duna Arena in Budapest with victories for Sarah Sjostrom, comeback trailer Ruta Meilutyte and Hunter Armstrong, the latter courtesy of the disqualification of his teammate Justin Ress.
Women's 50m Freestyle – Sarah Sjostrom Takes Crown For Second Time
Given the chaos and crunch of a Covid cycle that's washed four World Championships into four years between 2022 and 2025, Sarah Sjostrom, her 19th career World podium in the pantheon with a 23.98 victory in the 50m freestyle, is on a trajectory to overtake The GOAT, Michael Phelps, as the most medalled swimmer in the history of the global long-course gathering.
Phelps has 20, Sjostrom 19, with two more World titles scheduled on the way top the Paris 2024 Olympic Games.
With a nod to all those solo medals and a World-Championships pantheon that includes just one relay podium, Sjostrom said: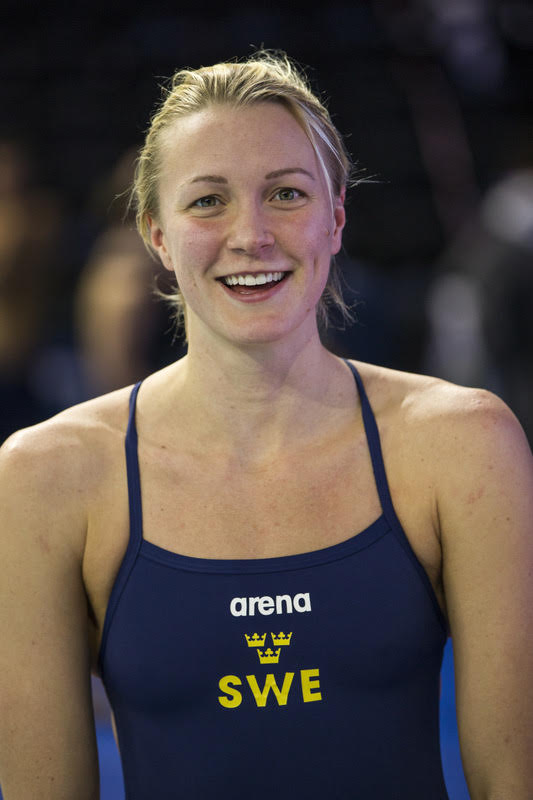 "I think I need a lot of time to reflect and understand how it has been possible to do that. I think something that really helped me when I was a younger swim was that even if I was winning European champs, world champs, I was not the main star of the team. We had still had some older swimmers on the team that took more of the attention.

I think that was really good for me: I think it would have been harder if I was the main star from an early age.

So I think Therese, Stefan Nystrand, Lars Frolander – they were the big stars when I came into the national team, even if I won medals. I think that was very important: I think the team around me really protected me so that's why I've been able to continue. It's a team effort so I am not going to take all the credit myself.

Sarah Sjostrom – by Patrick B. Kraemer
The 50m free podium was completed by Katarzyna Wasick, who in 24.18 claimed a first ever podium for Poland in the dash and a first medal for herself in global long-course competition at the age of 30. Ten years Wasick's junior, Australian Meg Harris took bronze with American Erika Brown, tied on n 24.38.

The Swedish sprinter's 19th medal came her way in the curtain-closing session of the 19th World Championships held since 1973. For some of that time, the gap between global showcases was four years, then two years, the switch to a new cycle dictating the odd three-year cycle. Now, the Covid pandemic and attempts to catch up with honouring contracts signed before the virus was on the wing are likely to mean warp historic medal counts.
Sjostrom, 28, has now won 10 gold, 6 silver and 3 bronze medals in solo events at World long-course championships since her maiden title, over 100m butterfly, at Rome 2009, the years after she claimed her first big senior crown at 14 years of age, the European 100m 'fly title, in Eindhoven.
With 19 solo podiums, Sjostrom tops the women's list of most medals in solo events, one shy of the record tally of 20 solo wins, held by Michael Phelps (15 gold, 5 silver) since 2011.
On her latest victory and second title here in Budapest, Sjostrom said: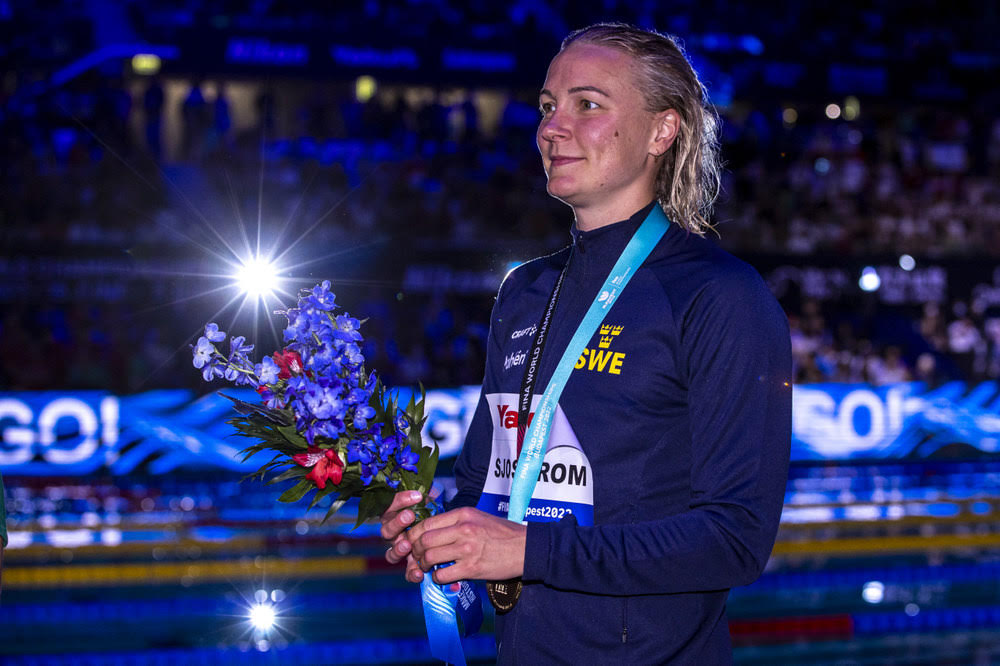 "It feels amazing. Every time I put my hand on the wall first, it means a lot to me. What can I say? It's amazing. Three medals, it's been a busy four days for me so I am super-happy that I've been able to do my fastest race in the final every time. Every race I've done it's been fastest in the final which I am very proud of.

Sarah Sjostrom – by Patrick B. Kraemer
Asked what she would tell her 14-year-old self looking back at her first major gold, the European 100m butterfly title in 2008, she said: "That's a very hard question. It's easy to say but simple things – just enjoy it and don't take anything for granted. Be yourself I guess."
After claiming the 50m butterfly crown for a record fourth time, Sjostrom spoke about the changes and tweaks in her preparation required as she got older. Was she now going to focus more on the 50m events than others?
"I enjoy the training for the 50s," she replied but that didn't mean she was giving up on the rest., It was just a question of energy management. She noted: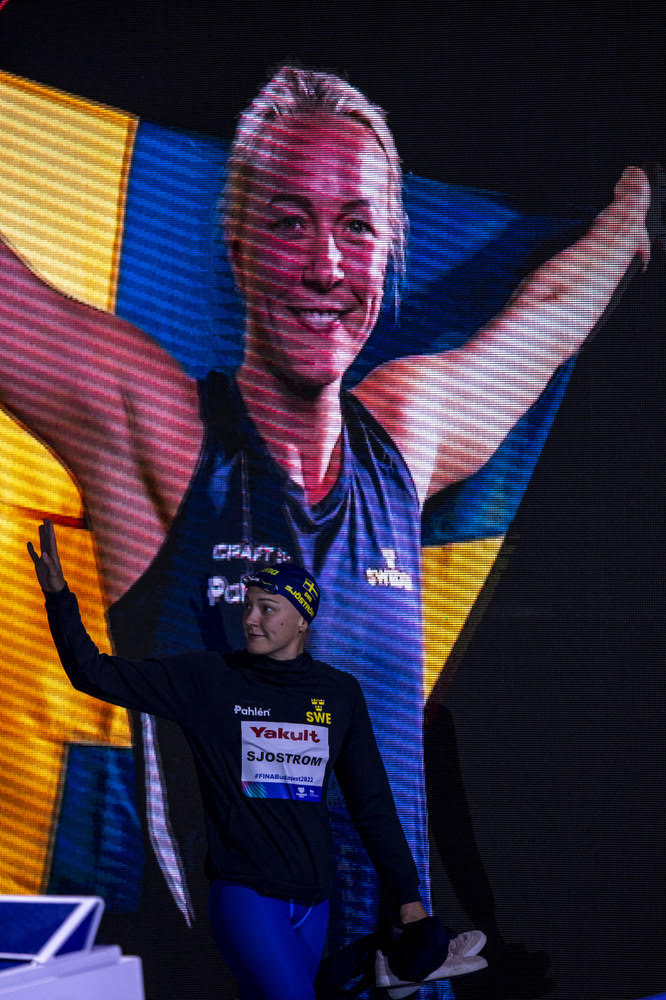 "I could actually keep racing a lot of events, I feel like I'm physically still strong enough to do that but it's just the process around the races – preparing for the race, everything after the race, all of this – doping control, media attention, the bus, in and out of the pool – the process around, that is the part that takes the most amount of energy for me.

That is why enjoy just doing three individual events because I feel I can give everything and I can really enjoy the success. Otherwise when I do too much you feel like it's so hard to enjoy every race because I feel like I need to start preparing for the next one all the time.

So this was a perfect schedule for me.

Sarah Sjostrom (Photo by Patrick B. Kraemer / MAGICPBK)
Women's 50m breaststroke – Ruta Meilutyte Takes First World Dash Crown 10 Years After Olympic 100m Title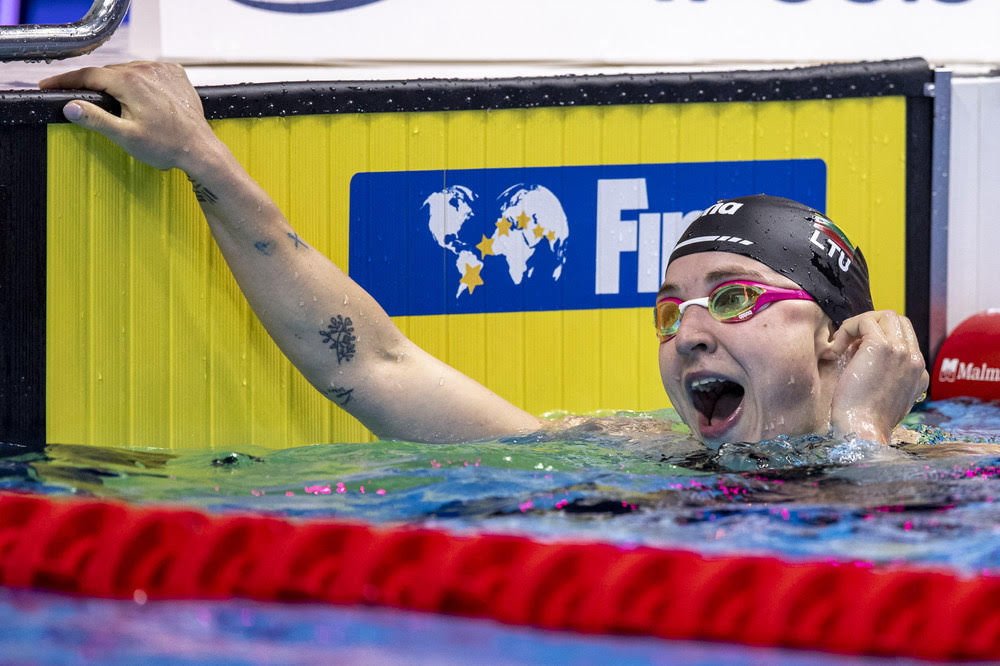 Ruta Meilutyte is back! The Lithuanian took the World breaststroke dash crown in 29.70sec a decade after she claimed the Olympic 100m crown at London 2012 aged 15 and nine years after she last appeared on the podium in the 50m final at the global showcase.
Back in 2013, her silver medal 0.07sec behind Yuliya Efimova's 29.52sec victory for Russia made her the only swimmer on the podium n to to have a doping infraction against her name, American Jessica Hardy third. Both Efimova and Hardy argued that their respective adverse findings were inadvertent, supplements that they took contained banned substances without them being aware, and in Hardy's case without it the offending substance being listed in the ingredients of the product.
Fast forward to 2019-20 and Meilutyte was pulled up for missing three out-of-competition tests when she was not present where her athlete-location form said she would be at the specified time and place.
Meilutyte explained that she had retired and had believed the Lithuanian swimming federation to have submitted her retirement papers. That had not happened and therefore the swimmer was still officially a part of the anti-doping pool. She was served a sanction and last year announced that she would make a comeback.
In spring this year, Meilutyte staged a red-pool protest against Russia's war on Ukraine.
The 50m breaststroke podium, was completed by defending champion Benedetta Pilato, of Italy, in 29.80, and Lara van Niekerk, of South Africa, on 29.90.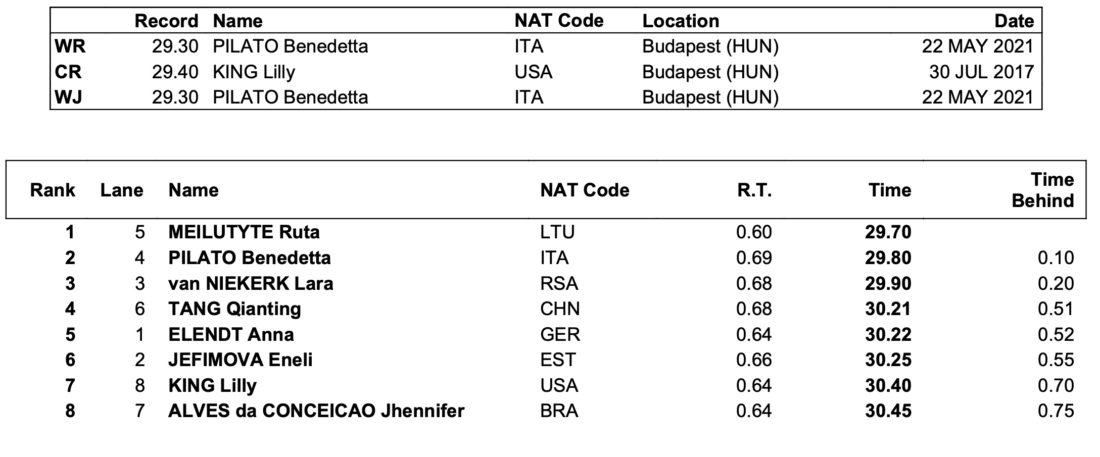 Men's 50m backstroke – Justin Ress Stops The Clock First But Hunter Armstrong Gets Gold After DQ – Then Protest Gets Ress Reinstated
Justin Ress had his hand to the wall first in 24.12, celebrated the World title and then waited for the scoreboard to roll. When it did, Ress found his name at the foot of the page with "DQ" where his time might have been and the gold passed to U.S. teammate Hunter Armstrong in 24.14.
The reason for Ress' removal: he was entirely submerged as he brought his race to a finish, the rule insisting that some part of the human must be above the surface. In fact, it was decided some of Ress was above the surface when the U.S. lodged a protest and the 24-year-old was reinstated as World champion, Armstrong took silver, Poland's Ksawery Masiuk bronze and 100m World champion and record holder Thomas Ceccon, of Italy, found himself off the podium for a second time inside and hour or so.
Result 1:

Result 2 – and final decision: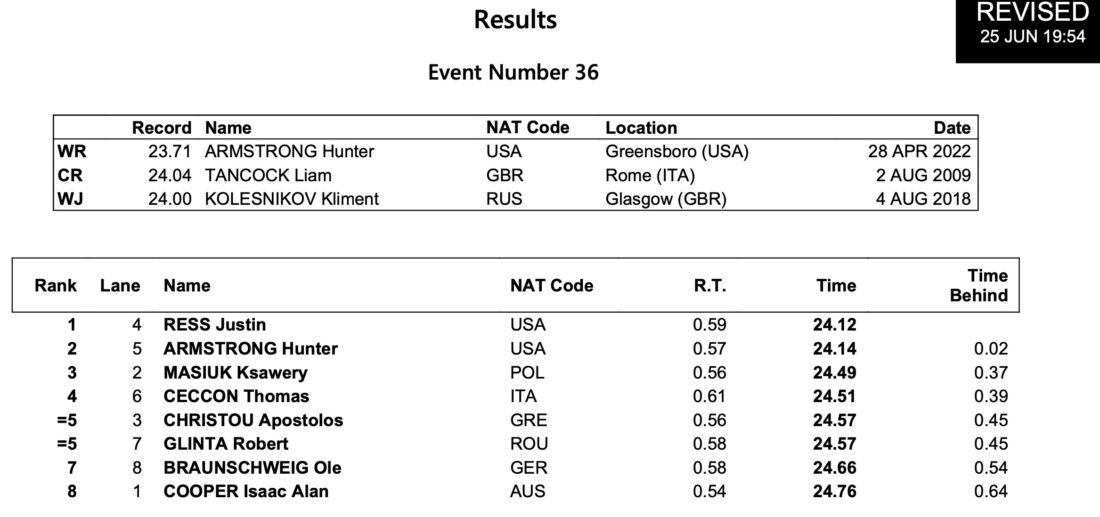 The Closing Medley Relays:
Men: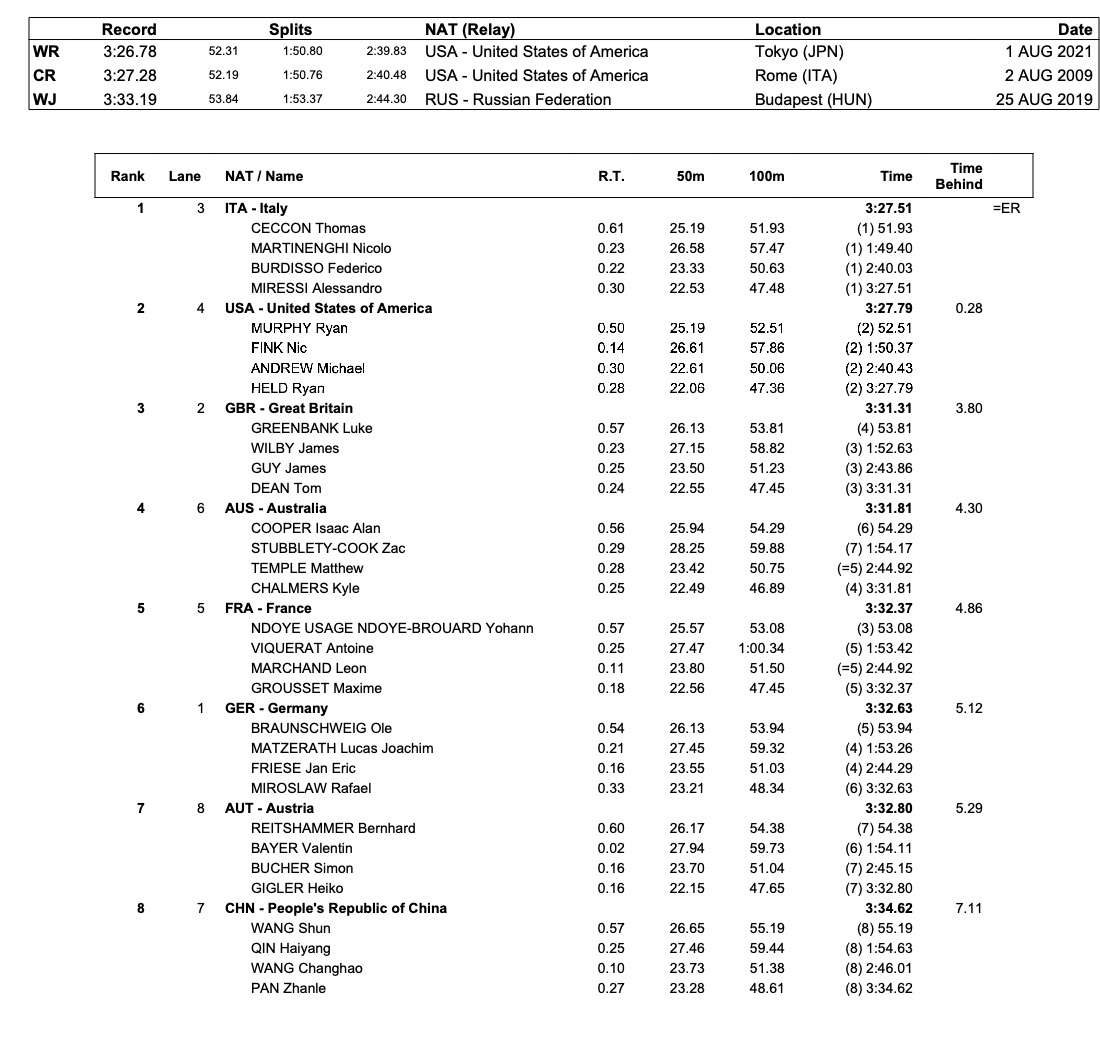 Women: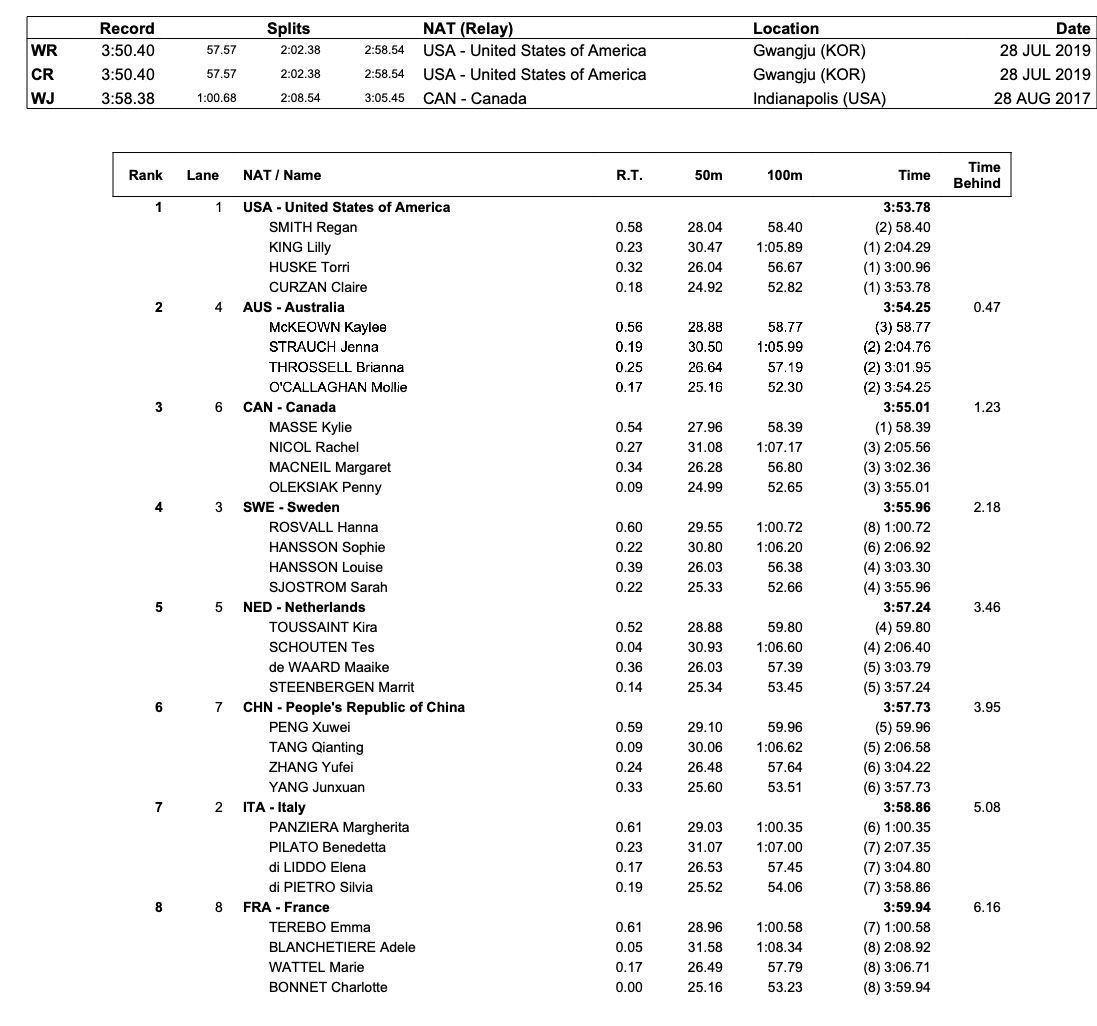 Budapest 2022: Schedule; Prize Money; Start Lists & Results; Where To Watch; FINA Pay-Per-View; Tickets; Covid Regs