Kristof Milak Flies Alongside The Albatross In Double-Double Champion Club With Third Straight 200 Crown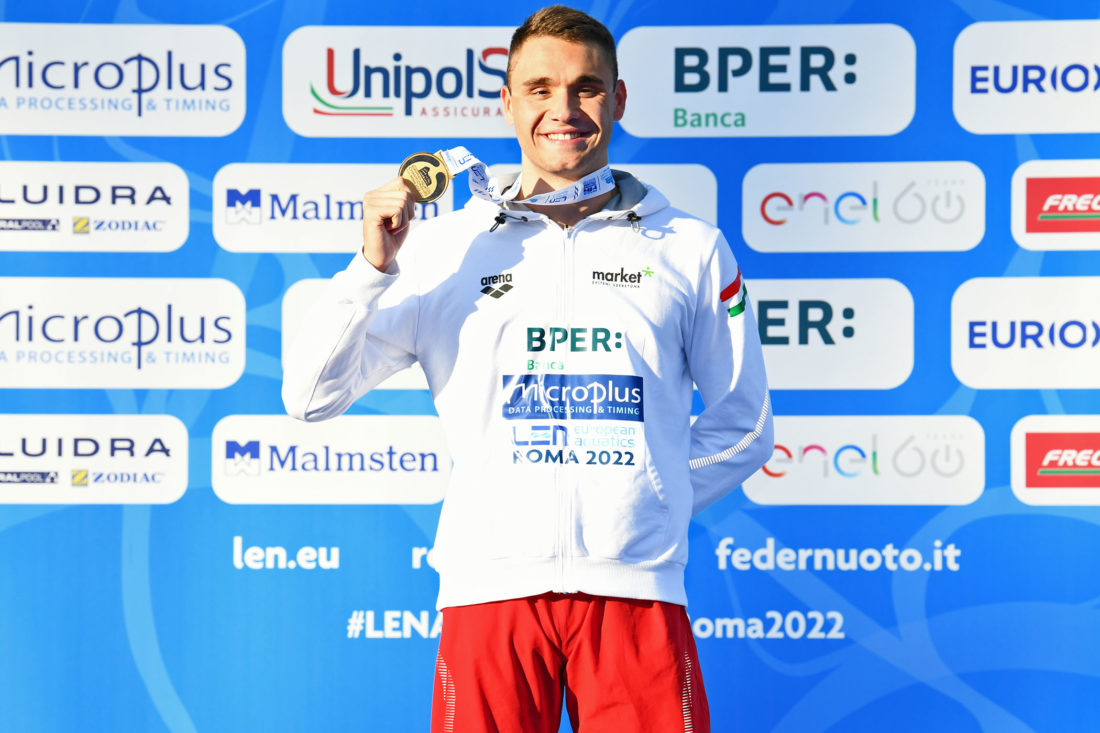 Kristof Milak, the Hungarian master of mariposa, flew to a 1:52.01 victory and third straight European 200m butterfly title that made him only the second swimmer after Michael 'The Albatross' Gross to claim the double-double of 100 and 200m crowns at two successive championships.
Milak, who surges visibly with every underwater pull, claimed his third 200 European crown since 2018 racing in the same Stadio del Nuoto pool in which Michael Phelps set a World record of 1:51.51 that would survive a decade until the Hungarian whistled inside it with a 1:50.73 for the 2019 World title in Gwangju.
All had Milak in their sights soon after battle began, the Hungarian sprinting to a 24.31 first length, no others inside 25, Italian Alberto Razzetti precisely on that time as closest man to the pace-setter. By half way, Milak had built up a lead over over a second, Razzetti still closest. It was the same picture at the last turn.
Then, Milak sailed on and up with a 30.02 last length to go to a place on the clock where only he has ever been in a suit that preserves the modesty of swimming in an element elemental to the outcome of balance between strength and resistance: Phelp's textile best a 1:52.09 from 2007 World titles.
Richard Marton delivered a 1-2 punch for Hungary wist a 1:54.78 for silver on the strength of a 30.38 last length, Razzetti holding on for bronze in 1:55.01 as his teammate Giacomo Carini challenged in the closing strokes, for fourth in 1:55.17.
Marton's performance and fast finish were motivated by the coach to the top two in the race, Balazs Virth. Before battle, Wirth showed Marton Daniel Gyurta's last grasp 0.01sec win in the 200m breaststroke world-title chase at the Rome 2009 shiny suits circus, with a view to pumping up his charge. It worked a treat. Virth was assistant coach of Gyurta at the time of Rome 2009 Worlds.
Milak refused plaudits, turning the super trouper on his teammate: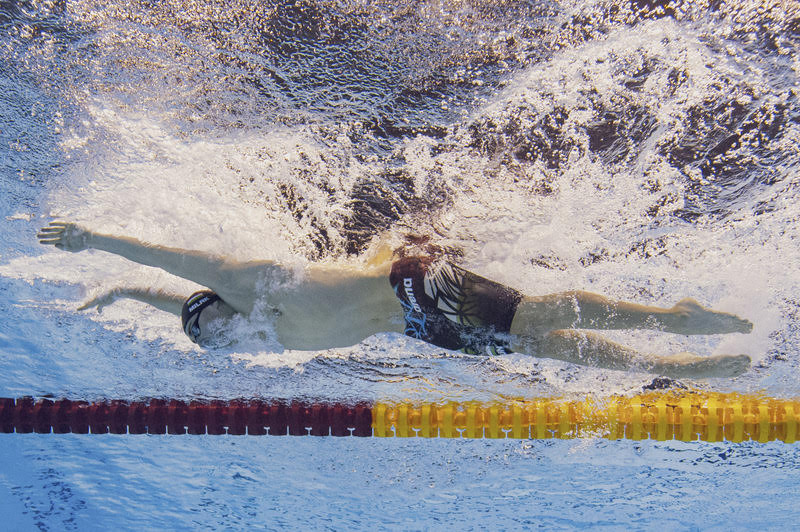 "My swim? Who cares? The big story here is Richard's (Marton) silver. That's something I'm really crazy about. We've been training together for years, before Tokyo he almost quit and stayed only to support my preps for the Games. But we convinced him he had a lot more in him. Now youcould see him coming all the way. Our plan worked out well in the semis, to have a lane order like this, attach to the Italian and stage a big finish. When I turned onto the last leg, I saw only Alberto, not him, and wondered, buddy where are you? But then at the wall I saw he made it and I went mad.

OK, as for myself, this 1:52.0 is a fine one, since, unlike ever before, it was my last swim. I'v never swum a 200m 'fly as a last race and definitely not for a 14th start in a meet – so all in all, this time makes me happy under these circumstances. I care only on times, not the titles – oh yeah, and now on Ricsi (Richard's nickname)!"

Kristof Milak – Photo by Patrick B. Kraemer
Take a bow, teammate:
Marton said: "Well… My first ever senior final at a European Championships and I god medal right away with a personal best – not a bad start, I think. I'm overjoyed right now that we could stick our plans during the last two days and everything worked well perfectly. I knew some will storm away at the beginning but I also knew that I would come like hell at the end. This silver is very special, different than the gold with the relay – but the two together remind me the road I've travelled till now and that give me some satisfaction."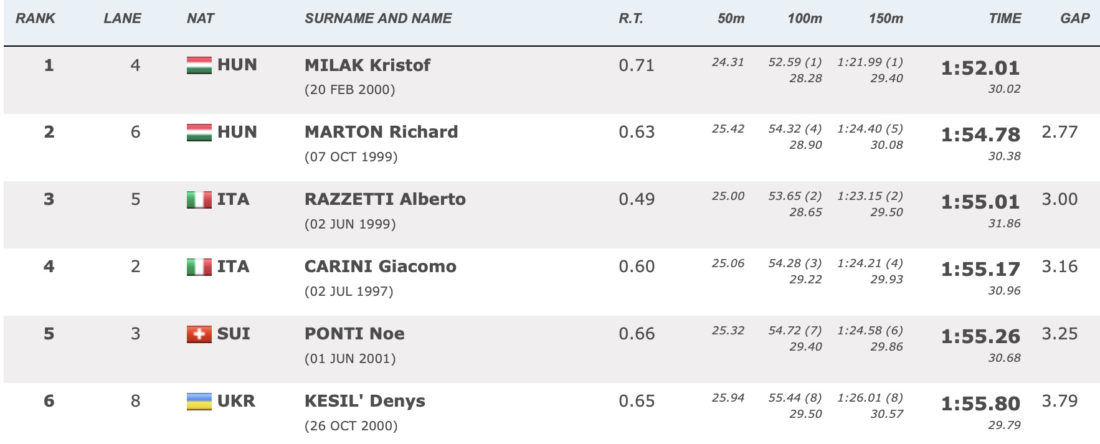 The Hungarian now has six of the fastest eight times in history, his latest blast ahead of the curve of is contemporaries the 6th fastest of his career on a list topped by the World record of 1:50.34 established in wild style at the global championships in his home Budapest pool in June this year. His best five times are the five best times ever.
Only two others in history have claimed the 200m butterfly title three times – and both of them stretched their victory parades to four titles apiece: Germany's Michael "The Albatross" Gross, a straight run in 1981, '83, '85 and '87 (his doubles in '83 and '85); and then France's Franck Esposito in a broken run of 1991, '97, '99 and 2002.
With 100m and 200m victories in 2021 (the 2020 event was shunted forward a year by the Covid pandemic) and here at Rome 2022, the two-length battle won in 50.33, Milak joined Gross as only the second member in the double-double lounge reserved for those who lifted the 100 and 200m title at the same championships not once but twice.
Milak – When The Inevitable Is Also Extraordinary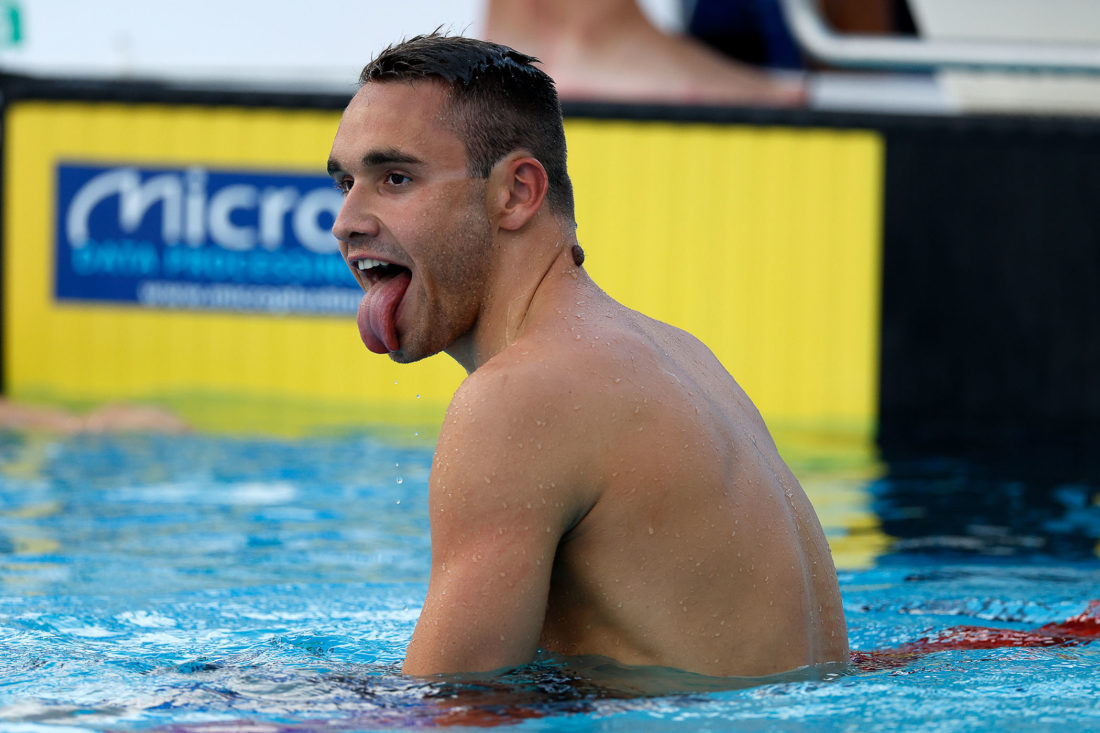 Swimmers of extraordinary ability who outstrip the best of rivals even in the ranks of the world-class peak performers can become victims of their own exceptional status, their wins and times that fall shy of their best but are still ahead of the best of the rest, seen as "inevitable".
Even if it were possible to see anything in the fast lane as 'inevitable', inevitability ought not, of course, be confused with 'boring': the ochre light of sunrise and the full moon over Rome, the birth of a child, the ebb and flow of tides, the migration … all that and much else in this world might be described as inevitable. Extraordinary, inspiring, majestic, even life changing, too.
In sport, great careers are built long before the dawn of wider awareness. All too often, we see references such as "came from nowhere" when a swimmer breaks through in international junior and even senior waters but that's usually because its written by those, even within niche media and fandom, who are almost as remote from the athlete and 'homework' as its possible to get.
Milak, a 50m breaststroke best of 47.77 at nine years of age in an expansive catalogue that includes the likes of an 8:05 over 800m free in local racing between training sessions in April this year, clocked 16:59.83 over 1500m freestyle aged 13 at a time when the foundations of superior fitness were being built.
Foundations fit to pile impressive pantheons on: Milak has run up two sub 1:51s, five 1:52s, 12 sub-1:53s (Phelps: 6), 21 sub-1:54s (Phelps: 17) … and today matched the tally of 33 sub-1:55s that Phelps notched up in his illustrious career.