The Voyages Of Alice Dearing & Hector Pardoe Lead To Team GB Olympic Swim Marathon Tickets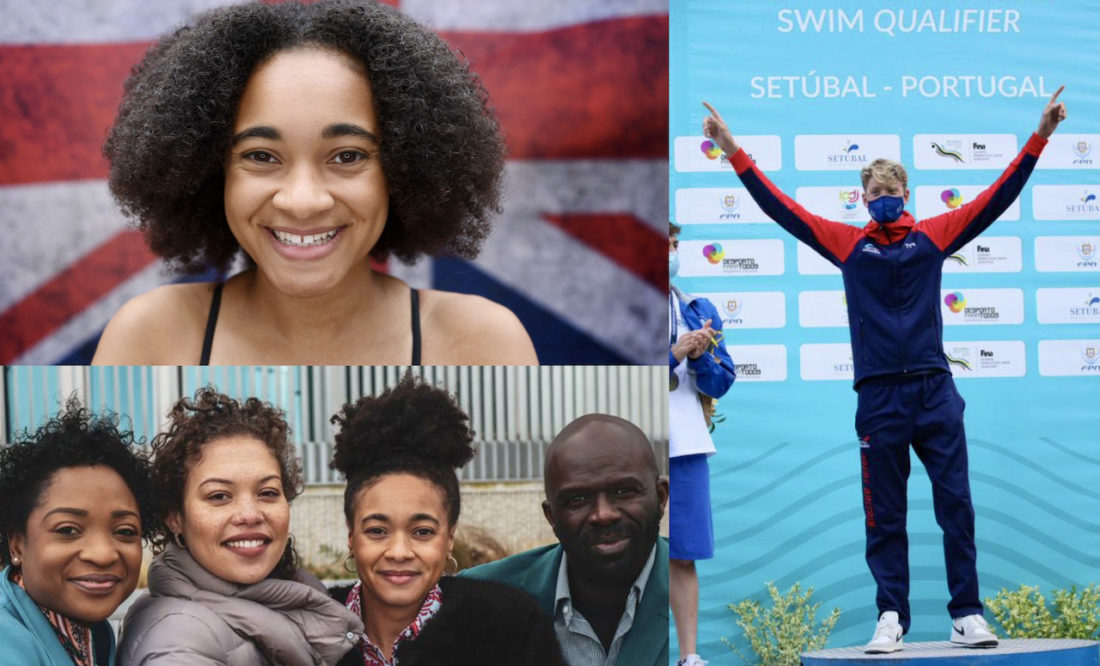 Alice Dearing and Hector Pardoe will contest the swimming marathon at the Tokyo 2020 Olympic Games, the pair named today by the British Olympic Association (BOA) as the last two additions to the Team GB swim squad bound for Japan next month.
Dearing, a founding member of the Black Swimming Association [where that journey began], will be the first black woman to swim for Great Britain at the Olympics since women joined the swim party at the Games of 1912 in Stockholm.
Dearing and Pardoe secured Team GB's quota spots in the distance competition with a pair of eye-catching performances at the recent Olympic qualifier in Portugal, with Pardoe surging clear late on to win the men's 10km race. Loughborough University's Dearing, meanwhile, moved her way through the field across the four laps to finish strongly, touching fourth in the women's 10km event in the lead group battling for top honours in the Setubal last-chance-selection saloon.
The duo's selection has now been confirmed by the BOA, meaning they will join 30 other swimmers, 12 divers and artistic swimmers Kate Shortman and Isabelle Thorpe on the plane to Tokyo.
Speaking about making her first Olympic team, Dearing said: "I'm so excited and honoured to be on the Tokyo 2020 Team GB squad. Achieving this is beyond my dreams and I'm so thrilled to be representing GB on the highest stage of my sport."
Pardoe's take "The feeling of qualifying for my first Olympics is even more incredible than I ever envisioned it being."
More on the Britain qualifiers:
The BOA noted: "Both will be making their Olympic debuts in Japan as they continue to build on promising young careers. Dearing was crowned World Junior Champion back in 2016, while Pardoe's recent rise has seen him claim top-10 finishes at the FINA Marathon Swim World Series event in Doha for the past two years. The women's race is scheduled to take place at the Odaiba Marine Park on Wednesday 4th August, with the men's event following the day after at the same venue."
On Dearing and Pardoe's selections, Team GB Chef de Mission, Mark England, said: "I'd like to congratulate Alice and Hector on their selection and am pleased to see a really strong swimming squad finalised for the Tokyo Games. Both athletes put in confident performances at their qualifier in Portugal recently, especially Hector's first place finish. Both athletes should feel very proud of making it to their debut Games and their performances this season will put them in good stead for competition in Tokyo.
"Today also marks a significant moment in British Olympic history as Alice becomes the first black female swimmer to compete for Team GB, something she should feel proud of and is an important moment in the 125 year history of British Olympians going to the Games."
British Swimming Marathon Swimming Lead Bernie Dietzig – who was in Portugal to see the pair secure Olympic qualification – added: "They have both done a superb job of qualifying for Tokyo 2020. Alice's fourth place in Portugal was a really strong finish in a really strong field, while Hector delivered the perfect race in his event. They have both done a superb job and we now look forward to seeing them compete on the Olympic stage."
The 24-year-old Dearing – who is coached by Andi Manley at Loughborough – recently posted a message to social media acknowledging those who have helped bring her to this point.
Pardoe posted a thread on Twitter that spoke of his journey and thanked those who have assisted his passage to the Olympic Games. After victory at the last-chance qualifier in Setubal, Pardoe noted:
Olympic Qualification! So proud of what I've achieved, the risk I made moving my life to France to a foreign country, not speaking the language, fending for myself, made worst by the covid travel restrictions, making it impossible to see my family for 6 months at a time…
Below, the full thread, including mention of his home coach Alan Bircher, the former Britain international: "Also special thank you to coachbircher, I would not be the swimmer I am or even involved in open water if it wasn't for himFolded hands can't wait to be in Tokyo together!"
More later…