The Guys and Gals Behind James, Biggest Hauler Of Great Britain Relay Honours In History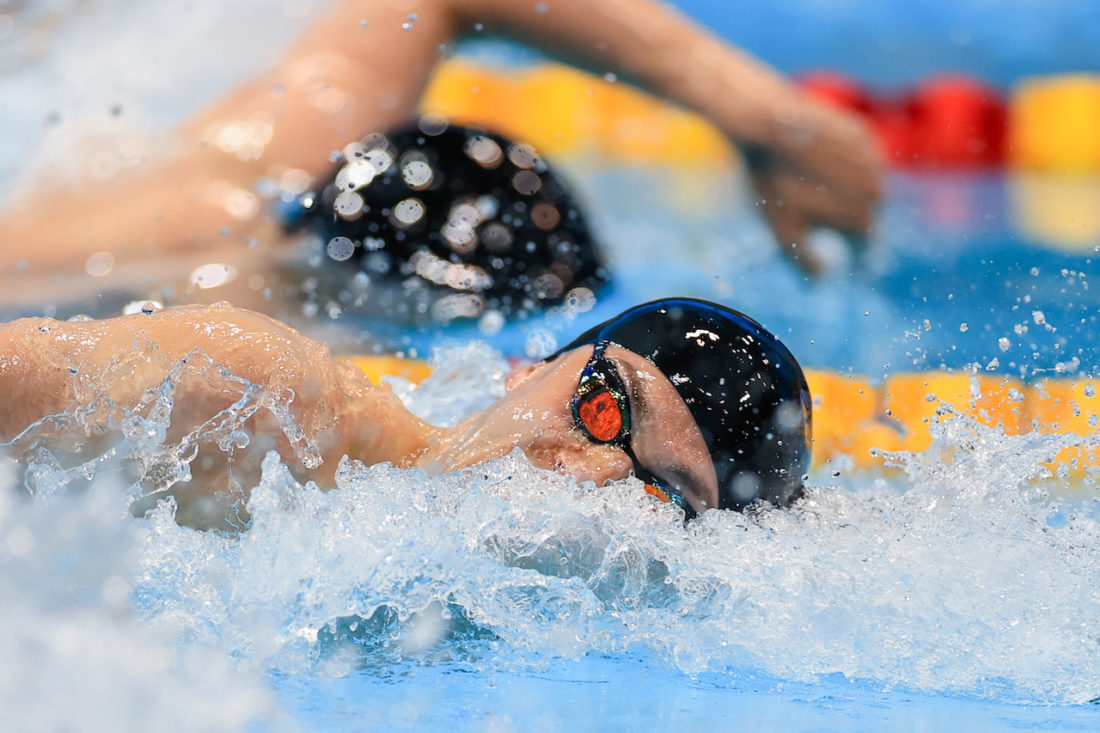 James Guy, son of Cath and Andrew, and the biggest hauler of Great Britain relay medals on the biggest of occasions there ever was in swimming.
This article is part of the following editorial and glimpse into some of the unsung heroes behind the success stories of swimmers at the Tokyo 2020 Olympic Games, here through the lens of the winning Great Britain 4x200m freestyle relay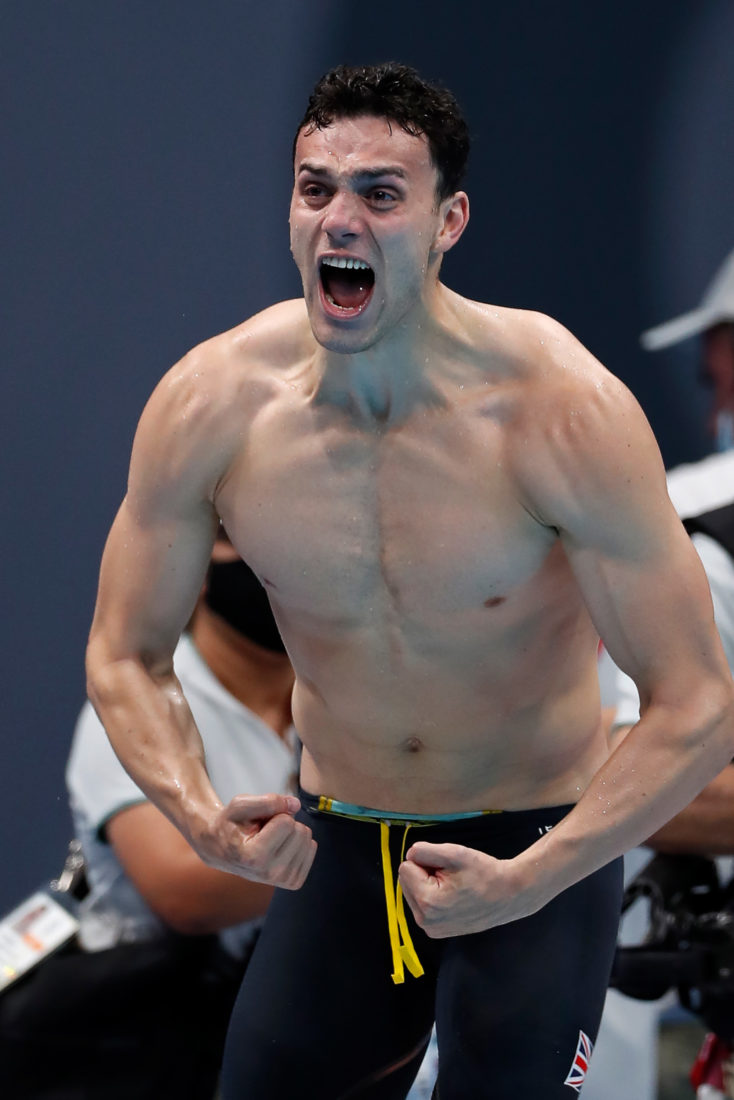 Let's start with this:
Relay honours for GBR: Olympic Games – 2 gold, 3 silver; Worlds – 3 gold, 3 silver, 2 bronze; Euros – 7 gold, 3 silver, 4 bronze; Commonwealth for ENG: 1 G, 3 silver…
Solo honours for GBR and England: 200 free World title, 2015 + 10 other podiums … 14 gold, 13 silver, 8 bronze at big international events.
It might have been even more. So let's get this said and done:
On 28 February 2020, a panel of three senior judges at CAS unanimously found Sun Yang* guilty of refusing to co-operate with sample testers and banned him from swimming until February 2028. The eight year ban, the maximum CAS can hand out, was imposed because it was his second offence after his 2014 suspension. On 24 December 2020, the verdict of eight-year ban for Sun was rescinded and referred back to CAS, after the Swiss Federal Tribunal upheld an appeal lodged by Sun against the chair of the CAS Panel, in a complaint based not in the case itself but the impartiality off a judge who had used racist language when referring to skin colour in tweets railing against animal cruelty in China. The SFT decision said that "doubts as to the impartiality of the arbitrator were objectively justified". The later CAS retrial on June 2021, resulted in the verdict and suspension being upheld, the total suspension time reduced to 4 years and three months, a decision that failed to take into account failed reporting deadlines and new evidence about Sun's 2014 positive test and the reasons given for that outcome.
On 11 October 2019 it was announced by the United States Anti-Doping Agency that Conor Dwyer* had failed a series of anti-doping tests in late 2018. It had been found that he had banned anabolic steroids, namely testosterone in the form of pellets, surgically inserted into his body. Dwyer was banned for 20 months and was expected to miss the 2020 Summer Olympics before the outbreak of the COVID-19 pandemic. He announced his retirement from competitive swimming shortly after the suspension was announced. Dwyer was also a member of the USA 4x200m free relay that claimed gold ahead of Britain at Rio 2016.
200m freestyle final, Rio 2016 Olympic Games:
Sun Yang CHN 1:44.65
Chad le Clos RSA 1:45.20 AF
Conor Dwyer USA 1:45.23
James Guy GBR 1:45.49
Townley Haas USA 1:45.58
This being part of an opinion piece, the bold in the top 5 above indicates the podium that many in swimming consider to be the right one, regardless of when, how, who was involved and what reasons there might have been for the other two names to fall foul of anti-doping rules.
Sun, of course, kept all his prizes, including any medals, relay honours in the mix, tainted and the reflective honours in awards handed out by Swimming World, SwimSwam, the two American niche swimming specialist sites, FINA, China Laureus and CCTV.
From Guy's treasury listed above, two of those Olympic golds and a silver were delivered in relay action in Tokyo, in the 4x200m free and the 4x100m mixed medley as a pioneer champion in the inaugural event, and the men's 4x100m medley, the medals earned in respective records European and World textile best, World and European.
We're told that athletes talked more about the unsung heroes in Tokyo than they ever have before. As said, I think that has more to do with listening than speaking. Back in 2015-16, When Guy was a teenager breaking the mould as the first British man to lift a World long-course freestyle title, any distance, and helping Britain to a ton of relay honours, he spoke often about his late granddad.
George was a champion boxer in India, while James' uncle, his mum's brother, was a boxer on the England junior team. Guy, who would look up to the sky on taking to his blocks, make the sign of the cross and harness that pugilistic spirit in him.
Guy, under the guidance of coach Jol Finck (now at TeamBath) and Euan Dale before Rio 2016 when he switched squads at bath to train in coach Dave McNulty's group, once told me of George: "He's still here an … well, we think of our loved ones every day, everyone thinks about that."
George Guy emigrated from India to England at 17. Guy recalled: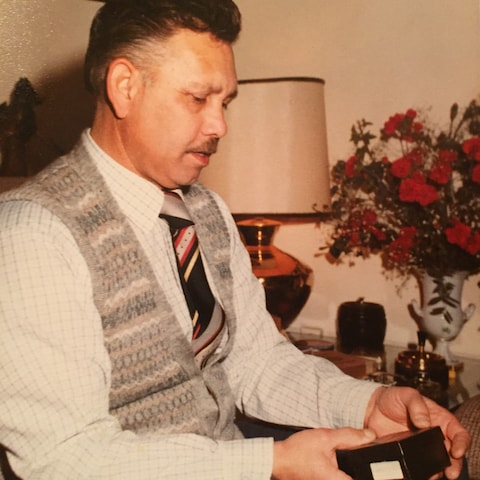 "He came over with a £5 boat and lived with my aunty and uncle. He did odd jobs and boxing to earn money. Eventually he made enough to buy his own house. He met my grandma in India. She wasn't here (in Britain) for a long time. They had five children and my dad was the youngest and the only boy with four sisters. I think they had so many children because they kept trying for a boy. I still think about him before every race. He is my inspiration, he had all those little [motivational] quotes and never gave up in life."

James Guy – photo, Granddad George, courtesy of the Guys
Grandad George's genes gifted Guy a competitive streak. "I was born with it, my dad's side of the family was competitive: I hate losing at anything, fishing (Guy is a keen angler), football, can't stand it (losing)," Guy told me in 2015. "Dad (Andrew) was in the army, he played a lot of racquet sports, he came third in the army superstars when he was younger, that's pretty cool isn't it? Mum (Cath) used to run a lot, marathons and stuff, and granddad used to box for India.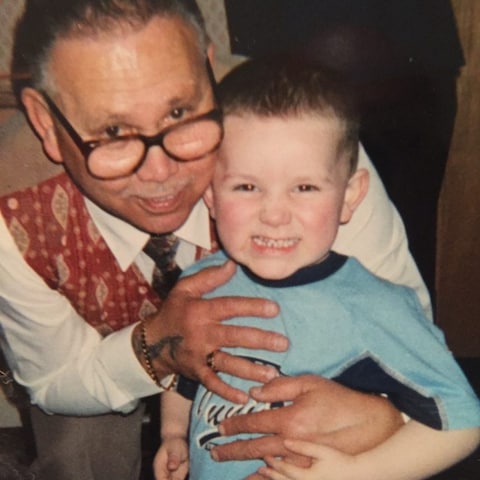 "So yes, it's in me. Even in training the young kids want to race me, I'll beat them. I will not let anyone beat me in training, even though they are only eight, nine years old. I hate losing, I can't stand it."
Imagine the impact of that every day in training at Bath with Tom Dean. Helpful, as Dean noted in an interview with me the day after his second gold in Tokyo, in the 4x200m free relay with Guy, Richards and Scott, Jarvis swimming every stroke of the way with them up in the stands.
Go back to the early days and we find the Guy family upping sticks, leaving Warrington and heading to Street for the sake of their swimming son's progress as he stepped up to train with Finck at Millfield. In 2007, aged 11, Guy won Warrington's Young Sports Personality vote, the judges impressed (and probably horrified) by Guy's daily 4.10am rise-and-shines.
The move to Millfield meant a regime of two sessions a day Monday and Tuesday each week, a single Wednesday, doubles Thursday and Friday, then Saturday morning, with gym, weights, cardio work, running and rowing in the mix, too. Intake required 6,000-9,000 calories a day.
Breakfast: porridge, bagels, poached eggs, spinach and smoked salmon. He put that together himself as a teenager, while lunch was provided at school and then Cath, his mum, made supper as chief of the family relay – and the she's not able, she leaves instructions, like the one Guy once tweeted: "James – just fry up. Put in soy sauce….Do Not Use any metal spoons or forks on the frying pan – only plastic!!"
Take an average teenage boy and, as any parent might tell you, there are moments in the growth cycle when it feels like the cupboards are bare almost as soon as they been stacked anew. When Times 2's Hattie Crisell dipped into the demands of parenting Olympic wolfers.
She spoke to James' dad Andrew, who noted the lorry loads of fish and chicken, legumes and more that his son includes in that diet of up to 9k calories a day. The bills are as impressive as the intake, part of the vast 'Bank of Mum and Dad' hidden subsidisation of swimming and its multi-million-dollar industry (and part of the reason why the Pro-Swim International Swimming League has been so roundly welcomed by swimmers and their parents).
Says Andrew Guy: "With swimmers, when they're young in particular, you've got to traipse all around the country, and every meet you go to, you've got to pay entry fees. Then the kids start racing, and a pair of the swimming skins that they need are £250, £300 a pop."
Another Times writer picking up on a theme that a fine result in Tokyo helped to make a headline even though none of it is new to swimming, swim parents and swimmers, Janice Turner penned a lovely column but emphasised mums, when dads deserve a mention, too. She opined: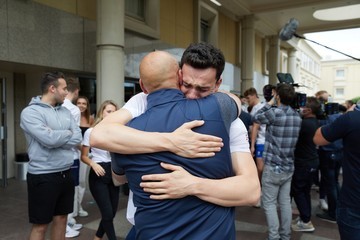 "God bless the swimming mums. I've met a few and I'm in awe of their devotion and rigour, their terrifying schedules. Wake your child at 5am, drive to the pool (in darkness during winter), wait around for hours, then take them to school, with a second session in the evening. Make sure they have snacks, towels, spare goggles. Your house reeks of chlorine, your car windows steam up, your living room is a gym, your weekends are spent taxiing teenagers to meets. Something has to give and often it's a mother's career or a marriage. (Maybe both.)"

Do you have what it takes to be an Olympic parent? Reading their stories, I know I lacked the selflessness to subsume my own life in my child's. Yet many do, for no gratitude and little reward. Even then their devotion or enthusiasm gets written off as pushiness or revelling in proxy glory. "Don't tell me to be quiet," reads a swimming mom T-shirt. "My kid has to hear me cheering underwater."

Janice Turner in The Times

– photo – A hug that says more than words as James Guy and his dad Andrew get to see each other for the first time after the Tokyo Olympics – courtesy UK Sport
Well put. And then she goes and spoils it all by saying something stupid like: "Imagine being a perpetual spectator of a sport which is no fun to watch."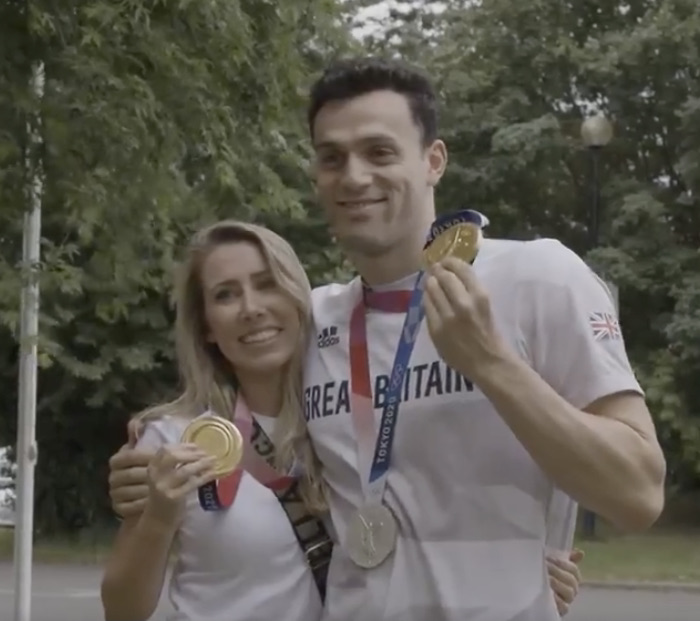 Perhaps she meant the four-five-and-six hours of mini-league and local gala tour of those years of youth preparation that can indeed be draining and do have some families screaming 'let me out'. If so, I take back the 'stupid' and couldn't agree more (the sport needs to change but it also needs funds – and those come from entry fees… answers on a postcard to …).
Turner can't have meant Tokyo. The racing was thrilling, the relay action soaring, far more more fun to watch than vast numbers of league football matches held on a dreary day anywhere you care to mention, for example.
And James Guy was a big part of that.