Swimming 'taught the children self-discipline, time management and how to conduct yourself when you're disappointed' – Tom Dean's Mum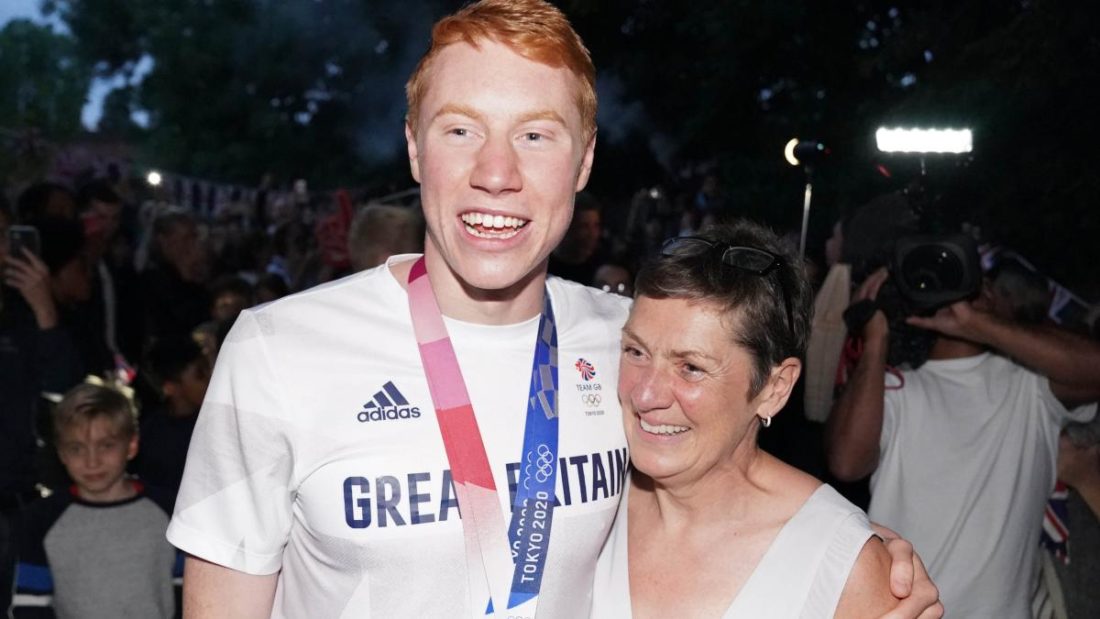 "They're as much her's as they are mine", says Tom Dean looking down at his two gold medals with a nod to Jacquie Hughes. 58. She's his mum and he's the eldest of her son's and second-born of five children.
This article is part of the following editorial and glimpse into some of the unsung heroes behind the success stories of swimmers at the Tokyo 2020 Olympic Games, here through the lens of the winning Great Britain 4x200m freestyle quartet
When Tom made the 200m final, she organised a party in the garden … 'From 2AM Onwards, RSVP or just show up', that sort of thing. About 70 folks turned up, all to watch the family telly in the garden. The video of the cheering throughout a golden effort of 1min 44.22 and the celebrations that followed went viral:
Gold begat euphoria and the celebrations stretched beyond the dawn real and that of new status.
Jacquie went for a 5am swim in the River Thames to celebrate. And 48 hours later, she was taking another dip at the same time of day, this time with Ben Clatworthy, a feature writer on The Times, the newspaper for which I've covered swimming for more than three decades.
Hughes explains the routine of years: five children, all in the swim. The day starts at 5.10am, mum on the rounds at home, each bedroom door given a first-warning knock. "I'd say, 'This is your first call', and then I'd put the kettle on and get some pastries out," she says. Round two of door-knocking, a last warning rarely required before the sleepy troop would clamber aboard the family's "battered van" for the drive to the pool.
The five kids, Tom the second born, are split by six years and all were doing five mornings in their youth, four evenings a week added for each in turn as they stepped up through the age bands and squads at Maidenhead Marlins. There were also intensive weekends for Tom and siblings at the army's 50m pool at Aldershot as well as competitions galore, the racing regime, with entry fees, petrol and hotel bills that are a stretch for many parents, including those with children who are not swimmers, making for divided family time and the need to juggle commitments.
Sharron Davies, the first swimmer home without the "assistance" of Oral Turinabol in the 400m medley at the 1980 Olympic Games, acknowledges that her whole family, including her brothers, suffered so she could make the Olympic podium. Sharron is the same age as me and I would occasionally see her racing on a European race circuit from 11-12 years of age. The Davies family "had no summer holidays", Sharron recalls, also noting that her mum's new washing machine was put on hold because the family budget went on the swimmer and her needs, full on for a decade.
I once asked Wella Hartig, mother of Team USA swimmers Aaron Peirsol, one of the greats of backstroke swimming, and Hayley, a distance ace, whether writing 'Buoyant', her fine book about her experience as a swim parent, was a therapeutic process. She replied: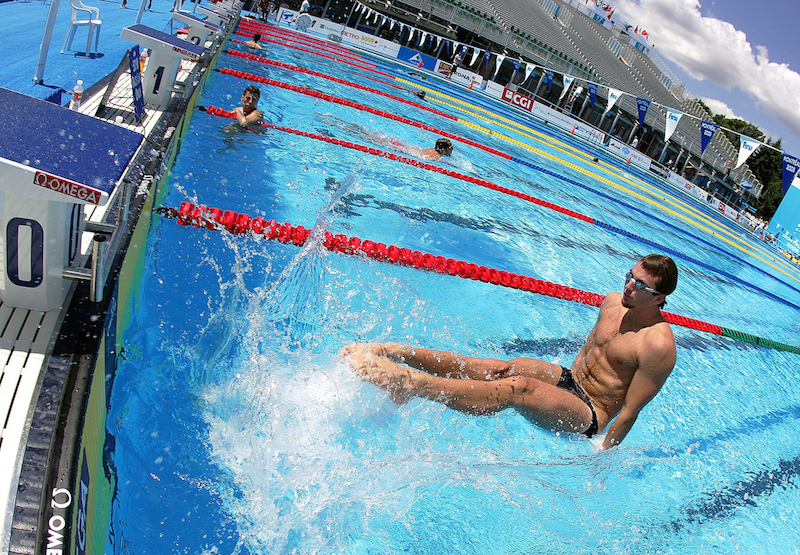 It was certainly therapeutic. I have spent a lot of time crying and I didn't even know that I'd suppressed some things as much as I did. I talk of panic attacks [in the book] and that's when you really know that you need help becomes it comes from nowhere. It came on me when I was driving Hayley to school one day. I was young, in my late 30s and that moment felt like it was the culmination of everything. I did not know that my son was going to be gone so much after the age of 12. I thought 'is this what happens when they're fast?'. I had no experience of what happens to talented people in sport or anything else.

The way I tell it to people is that Aaron served his country. I never saw him on birthdays from 15 to 27. He has a summer birthday but he was always gone. I really gave Aaron to the United States, in essence. Both Hayley and Aaron served their country very well and were respectful of that, of what they said or did. That's super important to me. There was dignity and humility: you are your name.

Wella Hartig – photo: USA's Aaron Peirsol works on a buoyant start during practice at the 2005 World titles – Photo by Patrick B. Kraemer / MAGICPBK
Swimming is often perceived as a "middle-class" sport but many families know only too well the struggle that comes with a commitment to competition. Adam Peaty, who won two golds and a silver in Tokyo, has expressed deep gratitude to his own family and childhood neighbourhood in his home town of Uttoxeter in Staffordshire, for the street parties, raffles and tombolas organised to help raise funds so that his mother Caroline could afford the travel costs and competition suits that soared to ten times traditional prices during the shiny suit crisis and have never got back to where they used to be as far as the cutting edge of race apparel goes.
Swimming is particularly intensive as a youth sport, not just in financial and workload terms but the hours that have to be put in for training, with competition formats and events still built on models of funding decades old: race entries and club fees are what sustain the talent pool in Britain, so the more kids attend competitions, the more money there is to go round. That can often make for very long weekends indeed, with young swimmers and their parents spending many hours at the pool throughout whole weekends.
Hughes, who let the coaches coach and stuck to her role as supportive parent wedded to the message of 'you get out what you put in', tells The Times that the flow takes over, even when there's no thought of any child ever making it to dizzy Olympic Heights. She also notes that it's best not to know what's coming, otherwise swimming might have been ruled out. She's glad it wasn't: in hindsight, whether contemplating the character built in her daughters and sons or at the moment of soaring achievement, the rewards have been worth the price. She says: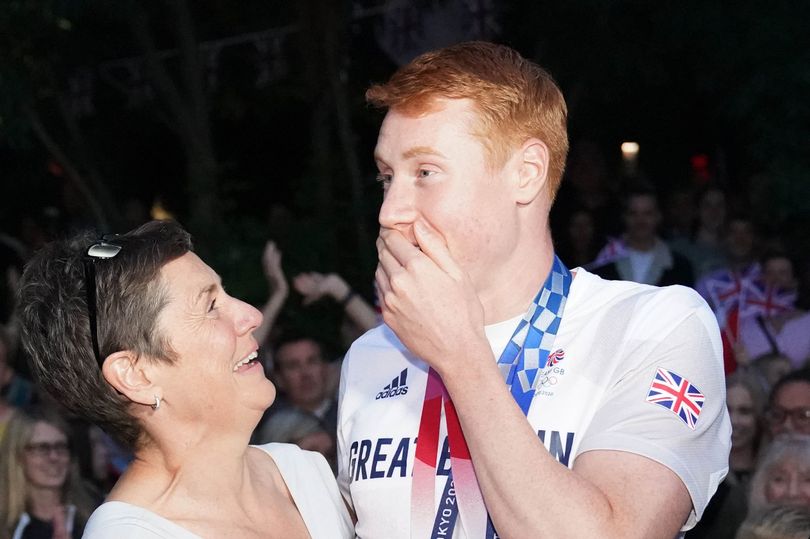 "The minute you get to performance-squad level, you almost can't be in the water enough. You've just got to put in the hours. You have to swim before school, after school and at the weekends. Then you have to go to school, do your homework and I also have to go to work. Then it's repeat. I just wanted them to love the water because I did. I swam every day whenever I was pregnant. Literally, with all of them I'd been in the pool on the day I gave birth. And as soon as they were able, after they'd had their jabs, I got them in the water.

If you'd told me what it was going to be, I might have said, 'That's probably too high a price to pay for a family and for me. But reflecting on it now, how much more can you get than winning Olympic gold? And that's just one part of it. The whole thing definitely taught the children self-discipline, time management and how to conduct yourself when you're disappointed. It also taught them how to deal with stress. And I think that's all just brilliant."

Jacquie Hughes – Photo, with Tom at his homecoming party, courtesy of PA
The last weekend of the swimming in Tokyo, just days after Tom claims his second gold, Hughes is to be found on the competition circuit with youngest son, William, 16, at a meet in Guildford. "Everyone will be looking at what the next Dean is going to do," says Hughes. "It will be lovely for him, but also adds pressure."
On FaceTime from Tokyo, Tom had joked "look at the size of these babies" as he showed the family his two golds. Hughes described the response from his siblings: " … they were all just ribbing him". No laurels nor head room for feet to float off ground in a family of five kids.
Dean's primary school, Malorees in Queen's Park, northwest London, put in one of the many requests for Tom time on his return home.
Hughes tells The Times: "He is very gracious so he will go to the school. I've always told him, 'You have to give back because when you were younger, you looked up to other people'. I tell him to say yes to everything as much as you can. He's very grounded and he's not egotistical. And if he changes, his siblings, oh my God, they'll rib him senseless."