Tom Dean – Mum's The Word On A Golden Double Built On Graft, Polish & World-Class Steer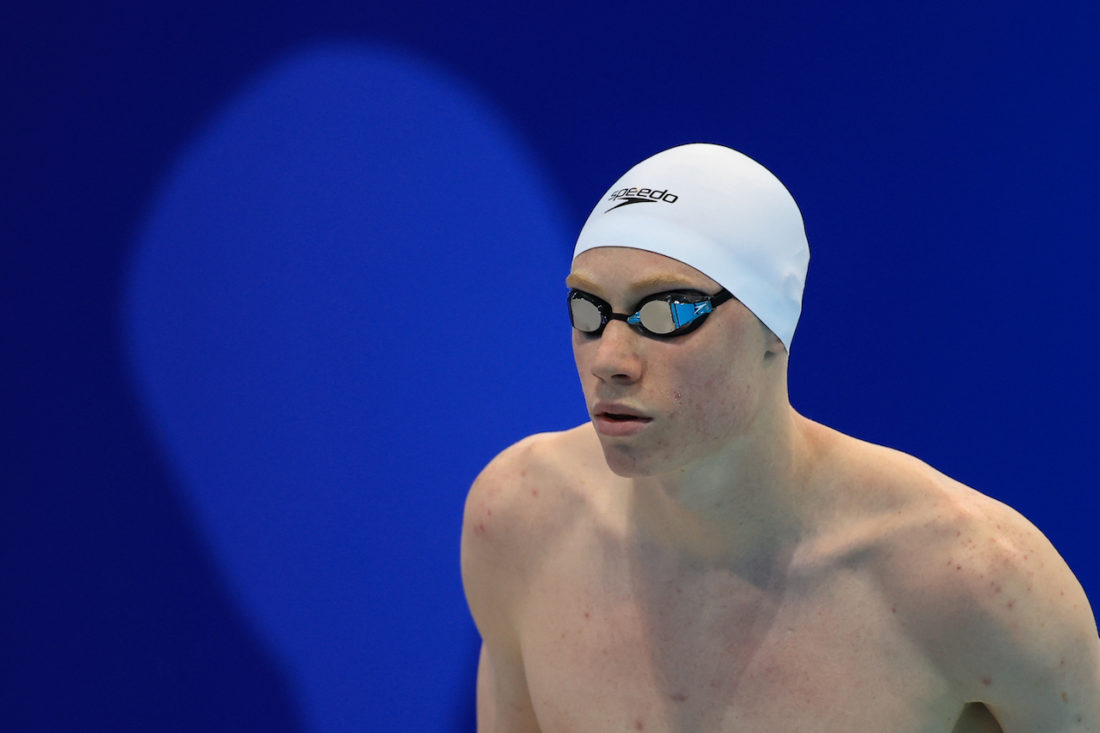 It took 1 minute 44.20 seconds to change his life but Tom Dean measures his Olympic dream come true on a different clock: "The public see the final product in 1:45 or less, the relay, the podium, the lights but this is about more than 10 years of packing 28 hours into every 24 and just repeat, repeat, repeat every single day … that's what she's done and it's a monumental feat."
The 'she' is Jacquie Hughes, Dean's  mother, AKA 'swimming super-mum'. Dean, now 21 and a Mechanical Engineering student at Bath University, was eight when he and his four siblings were taken to Maidenhead Marlins after the family moved out of London. Swimming had it all: safety, fun, fitness, routine, the wear-'em-out factor and, later, lessons in purpose, dedication, commitment and goal-setting. 
"I've been swimming for as long as I can remember," says the first British swimmer to claim Olympic freestyle gold since 1908. Until Tokyo 113 years later, the first London Games remained the greatest Britain haul in the pool at a Games. Henry Taylor, the hero of 1908 with three golds, can finally rest in peace, Dean and TeamGB having delivered a new record haul of 4 golds, 3 silvers and a bronze.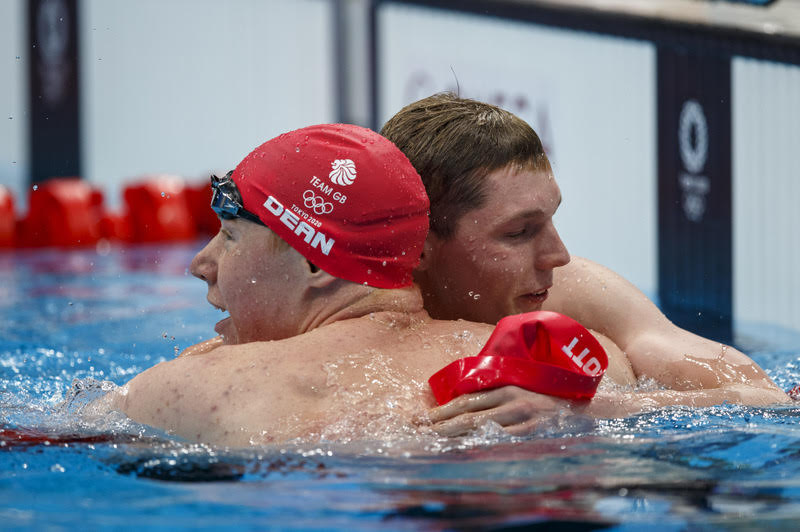 Dean's win by just 0.04sec over teammate Duncan Scott also marked the first time since 1908 that British swimmers had claimed gold and silver in the same race. The margin between Dean and Scott was one of three golds won in less than 0.1sec in the Tokyo pool, while Scott topped the league of silver medallists closest to gold on more than one occasion when 0.28sec away from victory in the 200m medley. 
Their success represented the investment they, their families, coaches and sports entourage, including the support system of UK Sport, the UK Lottery, British Swimming and its associates had put in for "more than decade", as Dean noted in his case alone. 
He reserved the highest praise for the hidden toil underpinning many a pathway to the Olympic podium: mum. Dean tells me: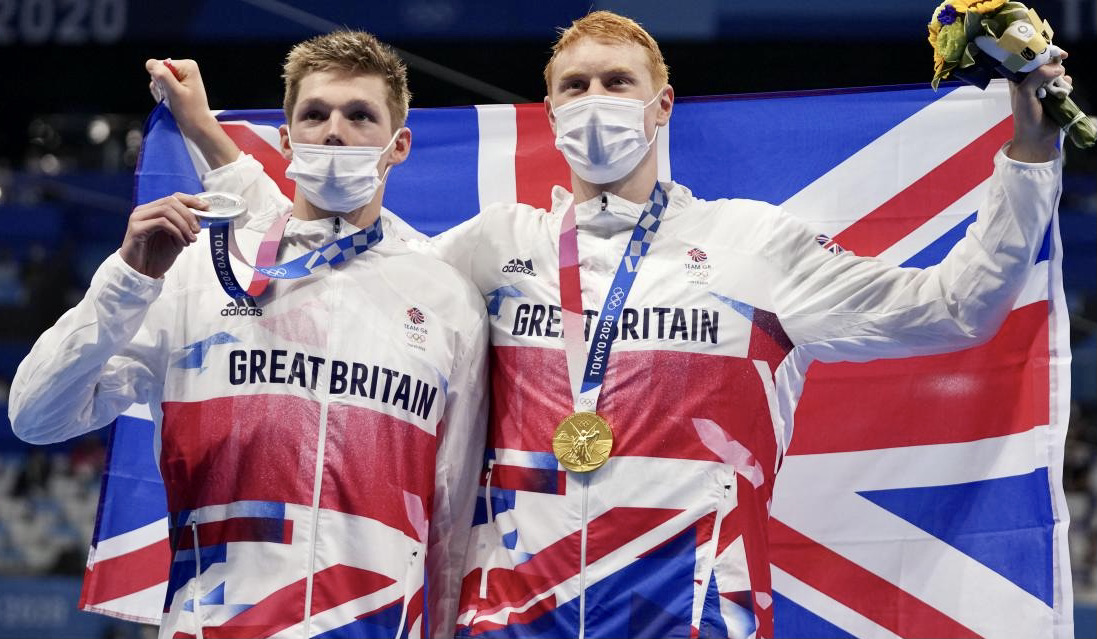 "Swimming is a brutal sport because of the level of dedication and commitment required, as well as the workload. It was her who woke me up every single morning since I was 14 years old, her running the whole household and running the family and getting everyone to training on time. It's been a lot of hard work and I can't thank her enough for that.

"She used to always say that if we're willing to put the training in, the least she can do is wake us up and get us to school on time. So yeah, I mean I can't thank her enough. You know, words don't even begin to describe [her effort] … these two medals are as much hers as they are mine. I know it's cliche but I would not be sitting here today if it weren't for her. Those words get thrown around a lot but they're so true with my mum."

Tom Dean – photo, with Duncan Scott, left, by Patrick B. Kraemer
Five children, her own love of swimming and knowledge enough to know how the sport could be helpful to routine, fitness, purpose, an outlet for boundless energy of youth.
"My mum got all five of us in the water as babies, me and my two sisters and two brothers," Dean told me as as he prepared to fly home after celebrating gold medals in the 200m freestyle and with teammates Matt Richards, James Guy, Scott and heats swimmer Calum Jarvis in the 4x200m freestyle. 
"We moved out to Maidenhead (Royal Berkshire, England) when I was eight and mum, who'd loved swimming her whole life, took us along to the Marlins to 'see what it's like'," says Dean. "Before you know it, you're going full time and doing 30km in several sessions a week, and it's becoming a full-time job." 
And not only for the swimmer. "I don't know where mum got the energy from but she would get us all to training on time, do an hour in the pool herself in the fitness lanes, get us all to school on time, get on the train to commute to London with her bike, cycle half-way across the City and then do it all again in reverse in the evening."
Hughes, divorced from Dean's father Jonathan Dean some eight years ago, worked as a lecturer in journalism, an executive at the BBC and now has a position at Ofcom, the British communications regulator. Dean recalls: "She had high-level demanding professional jobs but she'd get back in time to take us all back to training after school, then the next day wake us up at 5 and repeat." 
Dean describes his own repetitions as "punishing", adding: "Swimming is one of those sports where you have to put long hours in … and if you take a day off, it takes two to get back to where you were. It's really brutal, a real slog and it takes a lot out of you and it's extremely demanding, especially at a young age."
Based at British Swimming's Bath high-performance centre under the guidance of coach Dave McNulty, whose swimmers celebrated seven gold medals in Tokyo (relays count as 1 result and prize but each swimmer is awarded a medal), Dean says: "The work is so hard at times that it feels like you've put in a tough week when it's only halfway through. It's the nature of elite sport and it's always been demanding." And worth it.
"I was asked recently at a tough moment 'why do you still do it'?". Answer: "Because I want the result. If I came to the Olympic Games … and didn't have the work behind me, I'd be a bit shaky, a bit nervous; you're going to get exposed. You have to put the work in and I know Jimmy (training partner James Guy) knows that, my coach knows that and when you're on the same page pushing each other, then that's what it's all about."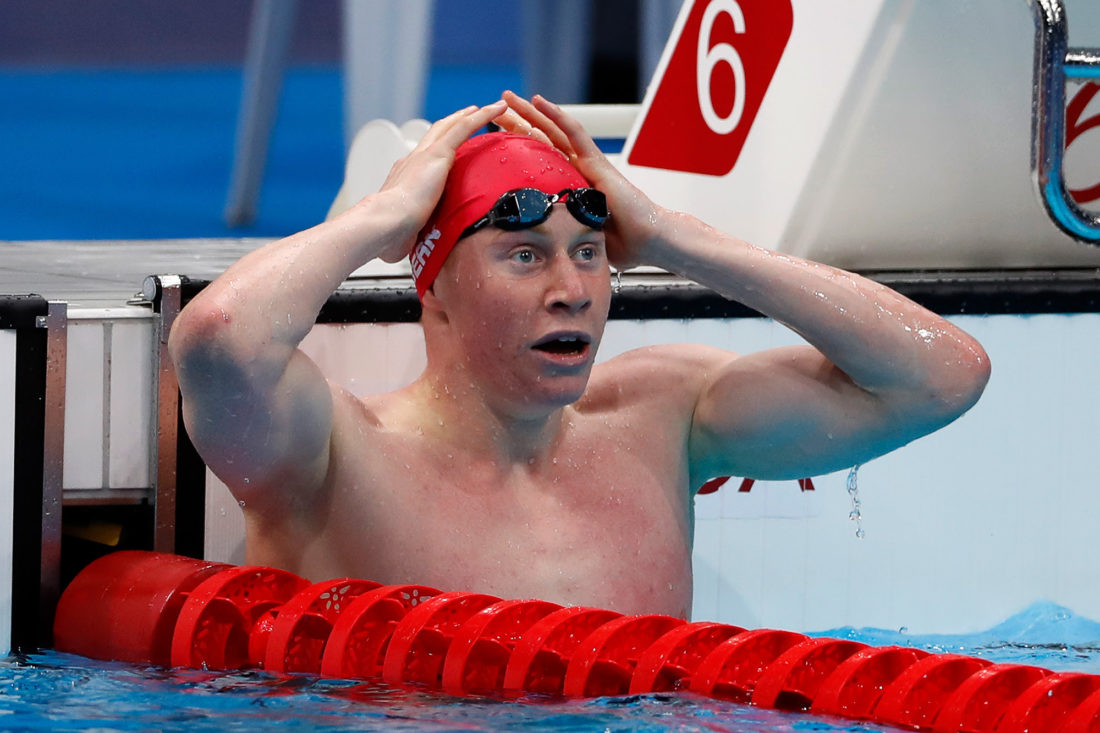 Dean had a shaky moment at 14 when the 5am starts that began with coach Paul Lloyd when Dean turned teen. Not long after the break-up of his parents, young Tom was ready to quit: the prospect of four hours training a day, aching limbs, early nights and chlorine oozing from his pores at school as he fought off the soporific effects of 6-7 miles in the pool before breakfast suddenly had less appeal than a knockabout by the Thames with his mates. 
His oldest sister Connie Dean, a year older than Tom and an excellent medley swimmer and national finalist in seven events in 2016 and 2017 before gaining a scholarship to Duke in the United States, where she has just graduated with first-class honours, talked her sibling round and saved him for the nation's greatest Olympic campaign. "My older sister was a massive inspiration for me," says Dean. "When I was thinking of packing it in, her work ethic really inspired me to continue."
Dean sat down with coach Paul Lloyd, who laid it on the line: "… you've got what it takes but you get out of it what you put in; there's no avoiding the work, it's as simple as that." Dean, his sister as the role model of commitment he needed to make to get the best out of himself, chose to knuckle down.
There's often a critical moment of development when the line between Carpe Diem and Carpe Noctem is a fine one in sport, music and many other pathways in life. The outcome ultimately comes down to whether the young prospect has the will to do what's required to be the best they can be but the process is also highly dependent on the home, literal and swim coach/program and peer environment. Adam Peaty's story is stacked with signage that points to where it might have gone awry but went very well indeed (and not without challenge and struggle and dedication to a life distinctly less ordinary).
Dean, too, was surrounded by folk who made a difference in the right direction. He recalls: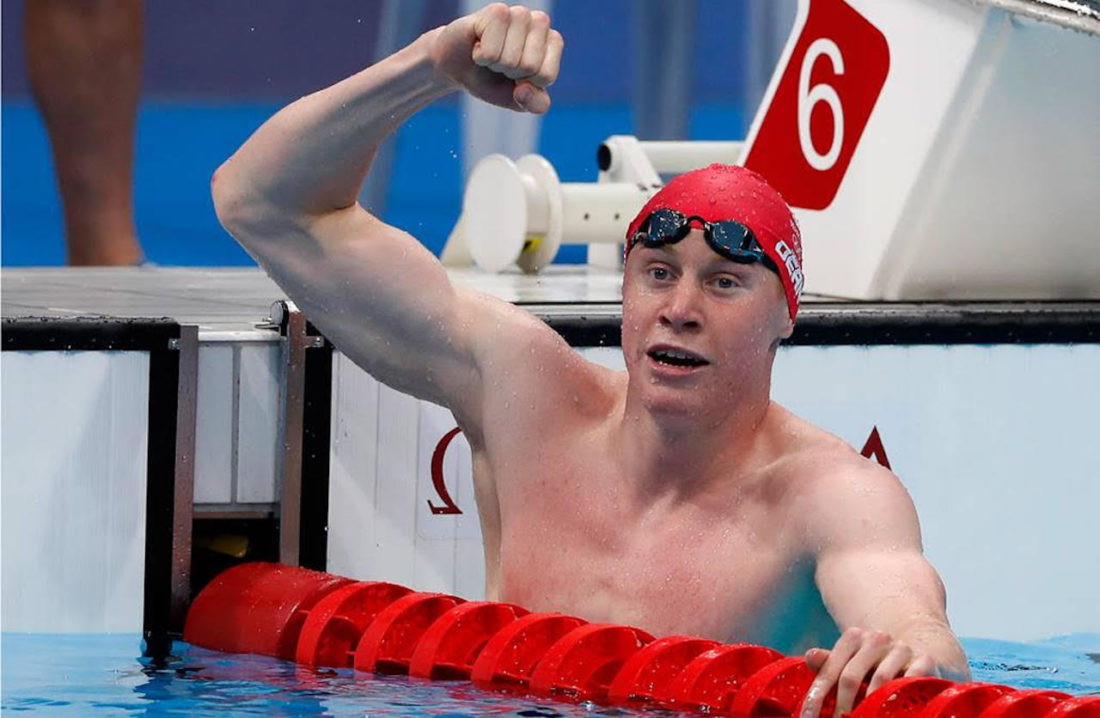 "I think, like a lot of 13 and 14-year-old boys, I didn't really fancy the idea of getting up at 5 in the morning every day to go training. You know, it was tough, and after training there was a full day at school and you'd want to go out and play football with your mates and stuff like that. And … you're just so tired. Your day is … dive in a pool and do a 6000m session for two hours and then do the same again later in the day … and the same the next day and the next day. It's brutal. It's a demanding sport, that's the nature of it and at that point, I wasn't getting the results. When you're doing the hard work and you're not seeing the outcome that you really want to see and at the same time, my older sister was doing extremely well at the time, it's tough."

Tom Dean – photo by Patrick B. Kraemer
Connie was "one of the hardest workers I've ever been fortunate to share a lane with", says her younger brother. Her presence was key as her brother reached the tipping point of choice: "Connie was doing so much better than the rest of us and I remember thinking 'I want some of that'."
Dean sat down with Lloyd. To quit or not to quit, that was the question. "I remember it like it was yesterday," Dean recalls.  "He said, 'look, if you want to swim like Connie, you've got to train like Connie and there's no two ways about it'. From then on, I … knew what to do was to replicate the kind of work ethic she's got to get the kind of results I wanted. Lo and behold, they did start to come.
"The times dropped, I got quicker and … we would push each other and it got to a point where anything our coach would ask of us we would deliver, you know there wasn't a set that we could not do in those two hours," Dean adds. "Anything he asked, we delivered and, you know, I'm convinced to this day that the work we were doing at Maidenhead was unlike any other club in the country, probably in the world, and that our work ethic was able to carry us through."
The world, Britain included, has many programs that would have delivered for others what Maidenhead and Lloyd gifted Dean but his belief that he and they back then were doing work and workloads unique, that they were part of a special journey, is part of a rich thread in the story of successful outcomes in performance swimming, from Michael Phelps and others training on Christmas Day knowing "my rivals were not" to Peaty being put through his paces in the company of military mates to test his limits, physical and mental, as part of his regime of leaving no stone unturned in pursuit of "optimal performance". 
A trickle of good progress gathered momentum and in 2017, Dean claimed the European Junior 200m medley title. A year on, he retained the crown and then made his Britain senior debut: at Glasgow 2018, he raced the heats of the 4x200m freestyle, his time ahead of Stephen Milne and Cameron Kurl, contributors to Britain's 2015 and 2017 World titles.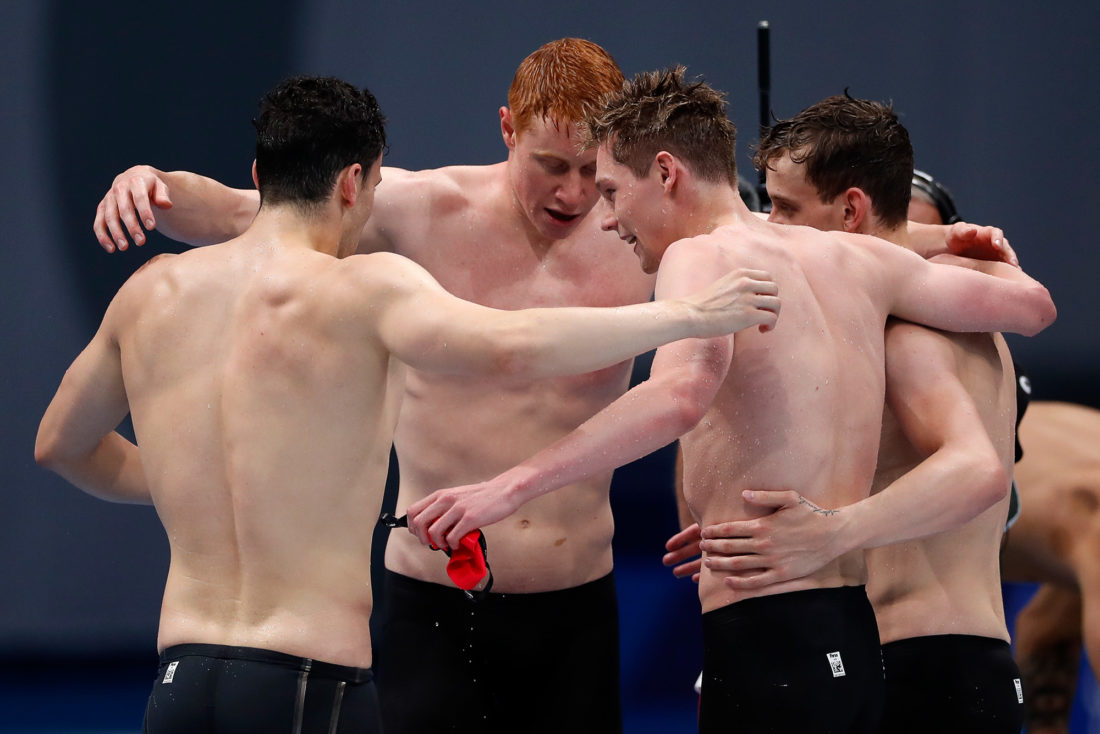 Into the final Dean went – and gold for Britain it was: Calum Jarvis (1:47.17); Duncan Scott (1:45.48) Thomas Dean (1:47.07); James Guy (1:45.60), for a 7:05.32 Championship record. In Tokyo, they, with Jarvis in heats, were joined by 18-year-old Matt Richards, a force that delivered Olympic gold in the 4x200m free for a Britain relay worthy of its Great up front: it was TeamGB's first gold over 4×200  since the relay was first held back in 1908. The combined time in Tokyo: a European record of 6:58.58, victory by 3.23sec, Russians second, Australians third and the mighty USA left to feel the pain of no podium for the first time in history (barring absence and the 1980 boycott).
After that Glasgow 2018 win, it was time for Lloyd and Maidenhead to hand Dean over to the next level where he could have regular access to a professional support network. Bath beckoned and Dave McNulty, who Great Britain head coach Bill Furniss, mentor to 2008 double Olympic champion Rebecca Adlington, calls "my best polisher", took charge.
What Goes Into Priming & Then Polishing Dean & Co
I ask Dean for two lists; the first 'what are the key ingredients from promise to big podiums', and 'what are the differences between preparation in the development environment and the 'polishing' in the high-performance-centre environment of TeamBath'.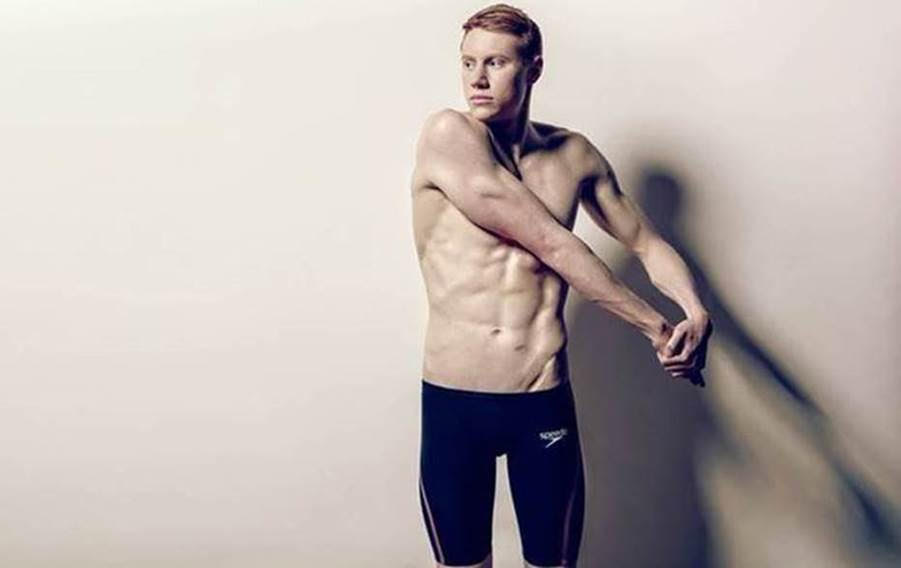 On Promise to Podium, Dean lists:
"Unavoidable amount of hours in which you have to endure the pain and come back for more day after day … straight off the bat … not just one week or one month but more than ten years of grafting"
"The right people around you … first and foremost the coach;  I can't thank my two coaches Paul Lloyd and then Dave McNulty enough for the work that they've put in to get me to where I am today"
"Family is super important and so are supportive friends and the whole support network around you, including my sponsors Speedo and everyone else who helped you get to where you are … for me, that includes strength and conditioning coach, my gym coach at Bath, the nutritionist, physiologist, psychologist: there are so many people behind the scenes whose input helps to get you on the blocks and then, when you actually get there, obviously, your physical, prep is important, your mental prep is important, you've got to do all the correct warm-ups … it's all part of delivering you to your blocks ready to perform attest. Then it's up to you."
"You need to have the best kit, the best suit, the best goggles, the best cap. I wear Speedo, the suit I wore in all my races in Tokyo was the Speedo Pure Valor. I've worn Speedo for years now [well before he was sponsored member of Team Speedo] and its part of making sure that the environment you're in is the best on every level. I know when I step on the blocks that what I wear is the best and it's going to help me get the job done. You have to have the best equipment because you're going up against the best in the world and that's what it requires. Each element provides the building blocks for you to do the best job you're capable of. There's a lot of different inputs and so many cogs in the wheel working behind the scenes. The public sees the final, finished product under 1minutes 45, the podium, the gold, but behind the scenes there's so much going on to make it happen.
"Time, putting in the work: I think this has been over a decade in the making. The process started when I was 8 years old and joined my local club in Maidenhead … that was the start of the competitive journey and every moment since has led me here."
On Polishing and the move from Lloyd To McNulty, Dean notes:
"Before you get to a centre it's about putting in the hard graft and laying the foundations for the work to come"
"Bath is about fine tuning and stepping up on many levels" … such as?
"Your gym work."
"Your nutrition, which was easy for me because my mum was into us eating all the right types of things and watching that side of things."
"Your physiology and paying attention to body composition, too: it becomes a full 24 hours, 7 days a week, 365 days a year job because the work outside the pool is just as important to the work in the pool."
"The quality of people around you: In the pool, every single day I get to go head-to-head alongside the 2015 World champion (200m freestyle, James Guy). It's just the best group of people I could possibly work with."
"Every aspect of performance is broken down and we then work on each thing, meticulously, so that when it's all brought together the idea is that you strive to be the best you can be in every area of a performance."
What kind of a man is Dave McNulty? Dean smiles broadly and says: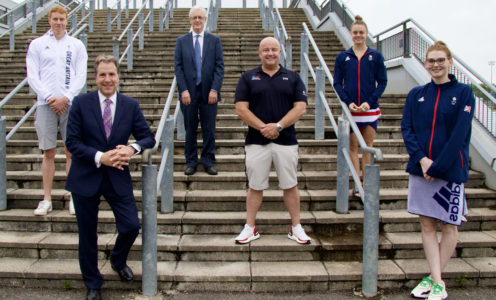 "He's such a character … he's been on the International Swimming stage for two decades now and he's got medals from so many different swimmers. He's a great coach. I'm really happy to have given him his first gold and then the relay with Jimmy made it two. It's been like a gold rush at these Games for him."

Tom Dean – photo, Dave McNulty, centre, with his TeamGB charges and politicians before leaving for Tokyo 2020 – courtesy of TeamGB
A different kind of gold rush awaited Dean when he landed home from Japan last week. As he turned into the road he grew up on along the River Thames in Maidenhead, there was gold bunting, welcome banners and bubbly on ice at a street party of family, friends and neighbours. They'd even spray painted some of the dustbins to reflect the new measure of a man who had once played football and cricket with his mates on the banks of what Kate Bush couples to Shakespeare in "Oh England My Lionheart" as she describes "that old river poet that never, ever ends".
Beyond rest and a breeze of life without singular dedication to being his best at every turn, Dean will return to his studies and training at Bath in September. It says much about the man's drive that even at the start of a well-earned post-Games break he is looking forward to, Dean already talks of "the next chapter" and "seeing how much further we can get by Paris 2024."
He's not sure about Los Angeles yet, though the name Dean may be back on the blocks even if Tom is not. Last in the line of siblings – after Connie, 22 and just back from four years at university in the US on a full swimming scholarship, Tom, Olympic champ, Nancy, 19 and beyond her days in the water into boxing and football, Alfie, 18 and big on CrossFit – is William, 16. 
Says Tom, 6ft 3: "Mum's still doing all of those 28 hours in 24 and getting my youngest brother William to 5am training. He's still at Maidenhead and seems to be growing about half a foot every time I see him. He's getting quicker and quicker, too, and I think he's going to be a force to be reckoned with. I'll be involved with swimming forever. It's been my whole life. I've never known anything different."
How did it feel to land two golds from two events? Was there a sense of "school's out for summer"? "Yeah, there is, absolutely," says Dean before describing his feelings beyond soaring success that followed the crushing lows of two bouts of COVID in the year leading up to the games, the last infection around New Year, the severity of his illness and the timing of events just three months out from Olympic trials leaving him to believe that he might miss Tokyo altogether: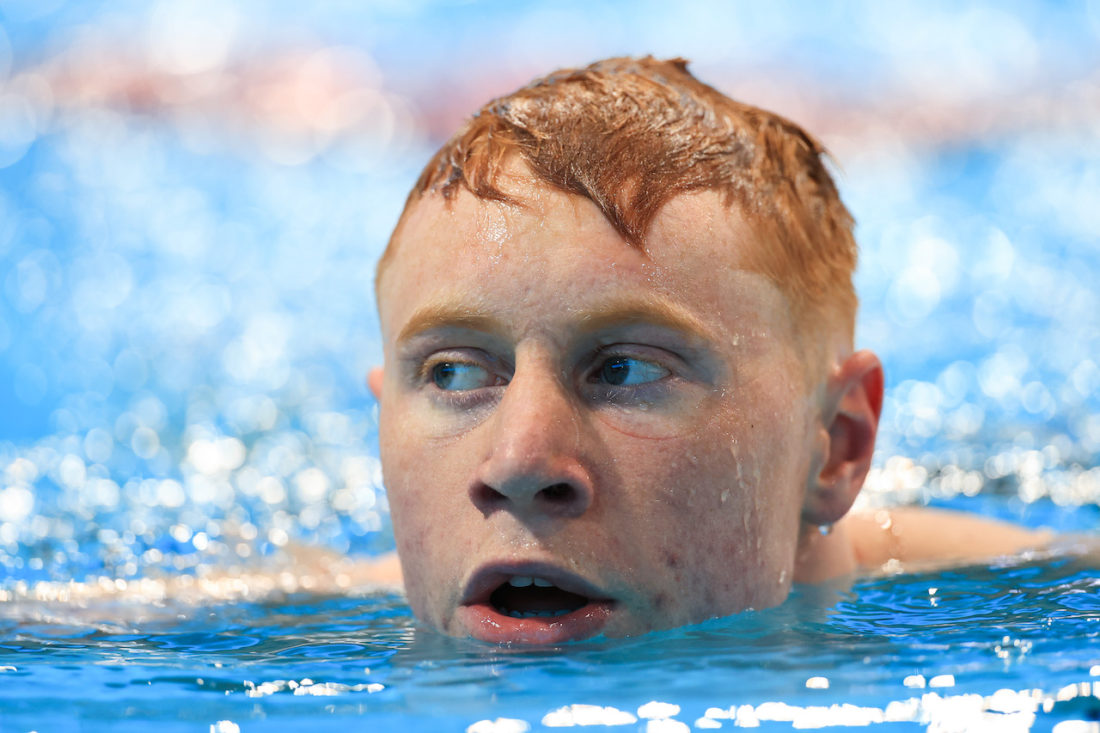 "I think it's excitement; fulfilment. Like you said, it's a feeling of pride but also relief especially for this competition, more than any other because it's literally been like walking a tightrope just to get on the blocks. The number of things that could have knocked you off … throughout [the whole approach to the delayed Games]. We were told if you get COVID, you're out; if you get tracked and traced with a link to COVID, if you get caught out in any way, you will not be getting on that plane, essentially that's been the nature of the isolation and the state of things. 

"All the time, that was an added pressure and I'm thinking 'if I'm walking out in public or I'm walking through my training centre in Bath and come in close contact with someone who has it, then that could be the last five years of hard work down the drain', and that's scary. So, you then not only get on the blocks but then do the job needed to be done. That's a relief in itself and I'm able to say that I did the job to the best of my ability and now I'm going home and I can reap the reward of everything that's gone into it."

Tom Dean – Photo By Georgie Kerr, courtesy of British Swimming
Asked to describe the impact of Olympic gold, Dean says: "Everything. Just the scale of the situation: there's a reason why the Olympics is just bigger than any other competition in the world, why it eclipses everything … It just touches so many people's lives, including people who aren't even invested in it; who don't know the first thing about it. But it touches them.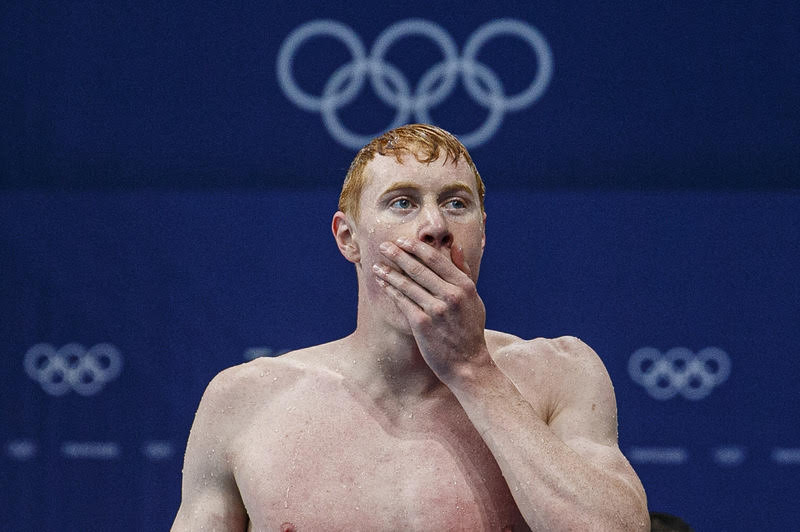 "My mum was getting messages from people who were waking up at three in the morning to watch a swimming race. That's insane but so cool and so exciting. And I'm really glad I could be a part of that. When I got to speak to her (his mother) briefly after the 200, she said that this has changed everything, it's changed your whole life."
It will but as Dean talks you can feel his feet on the ground. In the mixed zone after glory in the 200m, he fingered the gold round his neck when asked about whether he'd go back to his mechanical engineering studies, and said: "This kind of changes my plans slightly but we'll see." It will change much but not everything, he says on reflection. Would he drop his studies?
"No, I'll absolutely finish my course: I've got a passion for engineering," says Dean. "I really enjoy my studies and I'd only ever put them on hold temporarily just to focus on my training and give myself a bit more time. So yeah, I will finish and I'll get my mechanical engineering degree. There's not a shadow of doubt in my mind, whether it happens next year, whether it happens four years from now, that's a different matter but no, I'll return to education. I'm sure of it.
He adds: "The nature of swimming is that we will have to get a proper job somewhere when we're finished. I've spoken with Jimmy (James Guy) about it: we're not footballers or golf players or anything like that. The nature of the sport means that I will go into the world of work and to be honest, I'm really excited about that. The reason I chose mechanical engineering was because it's so broad … I wasn't too sure about which direction I wanted to go in but I know engineering opens up a lot of doors and that degree does too."
Dean notes that he is likely to land endorsements on the strength of Olympic gold but says: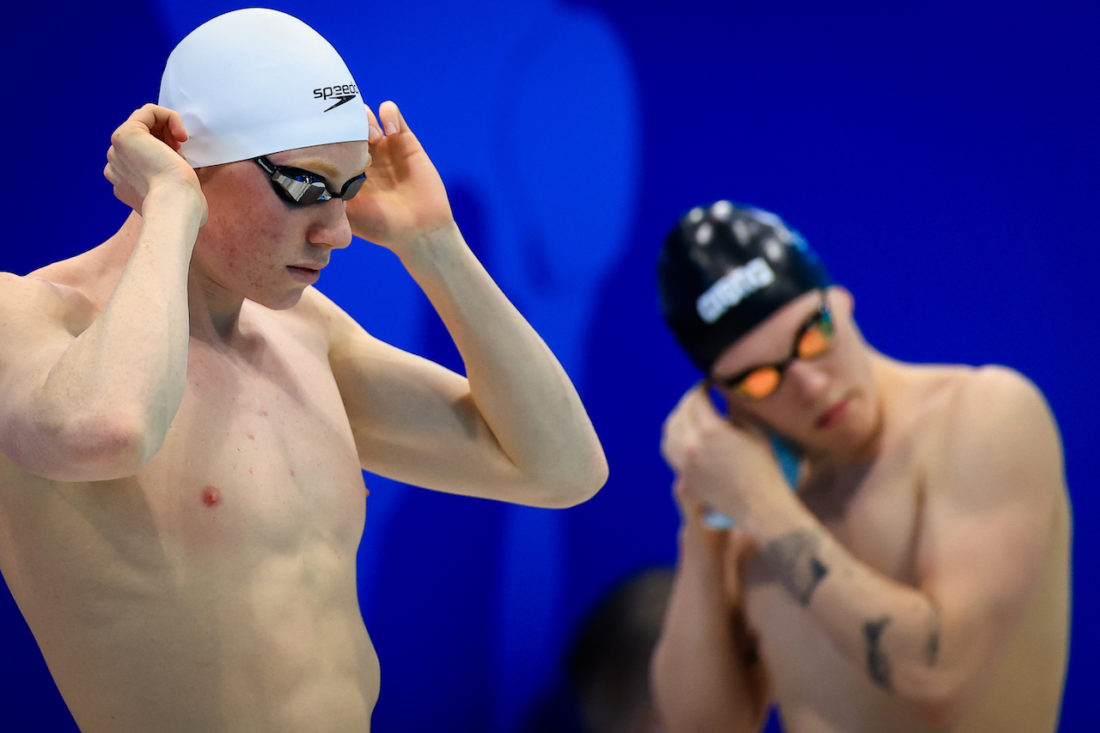 "That's not why you are doing it, though. It's a happy bonus on the side and I can also make a living off the back of it. But like you've said, the reason we do what we do is because we love swimming and we work for a result. It's all about the process and the training: I've got three precious years ahead of me and Paris [2024 Olympic Games] is not too far off on the horizon. When we get back to Bath, we'll be able to have a sit down, have a coffee and discuss the next 12 months and the next three years. Paris isn't that far away and we've got a Commonwealth Games, European and World Championships in the next 12 months alone. So I'll be looking at going to those and stamping down some good performances next season."

Tom Dean – the moment a dream come true – photo by Patrick B. Kraemer
With a target on his back this time. "Yeah, I think this changed a few things," says Dean, an Olympic champion in his first two races at a Games at 21 years of age. The next chapter is yet to be written but the shape of it is likely to include an exchange of notes between coaches Dave McNulty and Mel Marshall and Dean having a chat with teammate Adam Peaty about the nature not of defences but "further attacks of titles", "sustainable progress", career longevity and arriving in Paris with fresh "optimal performance" goals.