Song For Unsung Heroes – The Good Swim Parent Was Ever There But In Tokyo Was More Seen & Heard Through The Pain Of A Pandemic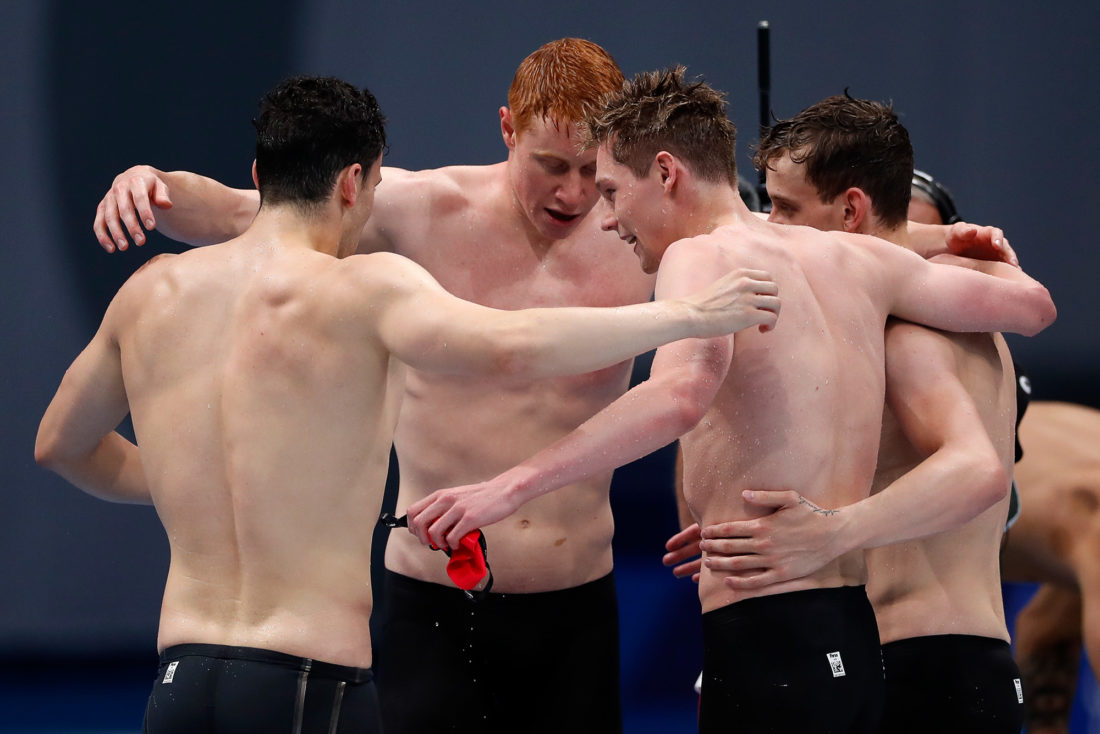 State of Swimming continues to reflect on the Tokyo 2020 Olympic Games and the gold in the grind with a look at Unsung Heroes and the role of the Swim Parent, good and great.
Editorial – It was the best of Games, it was the worst of Games, it was an Olympics of greater awareness of mental health (wisdom ahead), it was the age of living in our times, the epoch of unsung heroes … it was the spring of hope after a long winter of despair and delay that meant heaven for some, hell for others and in that heavy stew some of the "noisiest authorities insisted on its being received, for good or for evil, in the superlative degree of comparison only".
Charles Dickens might not appreciate me leaning on some of his most famous and glorious lines but I'll make up for it by suggesting that he would have been the finest of scribes to put on the Olympic beat in 2021, 162 years after A Tale of Two Cities was first published.
He may well have gone with the flow, that Tokyo 2020 in pandemic season 2 marked the Mental Health Games. He might also have noted that sport has barely broken the surface of an issue that has yet to be properly fathomed and framed in the context of performance sport.
What is it "to win", what reward, what price, what dedication, what commitment, how long a journey with no guarantee of ever reaching the desired destination. Dickens might have pondered such questions if we were to timewarp down from the heavenly hall of great writers and have him pen a different Tale of Two, one spun on the coin of a Games held in a pandemic.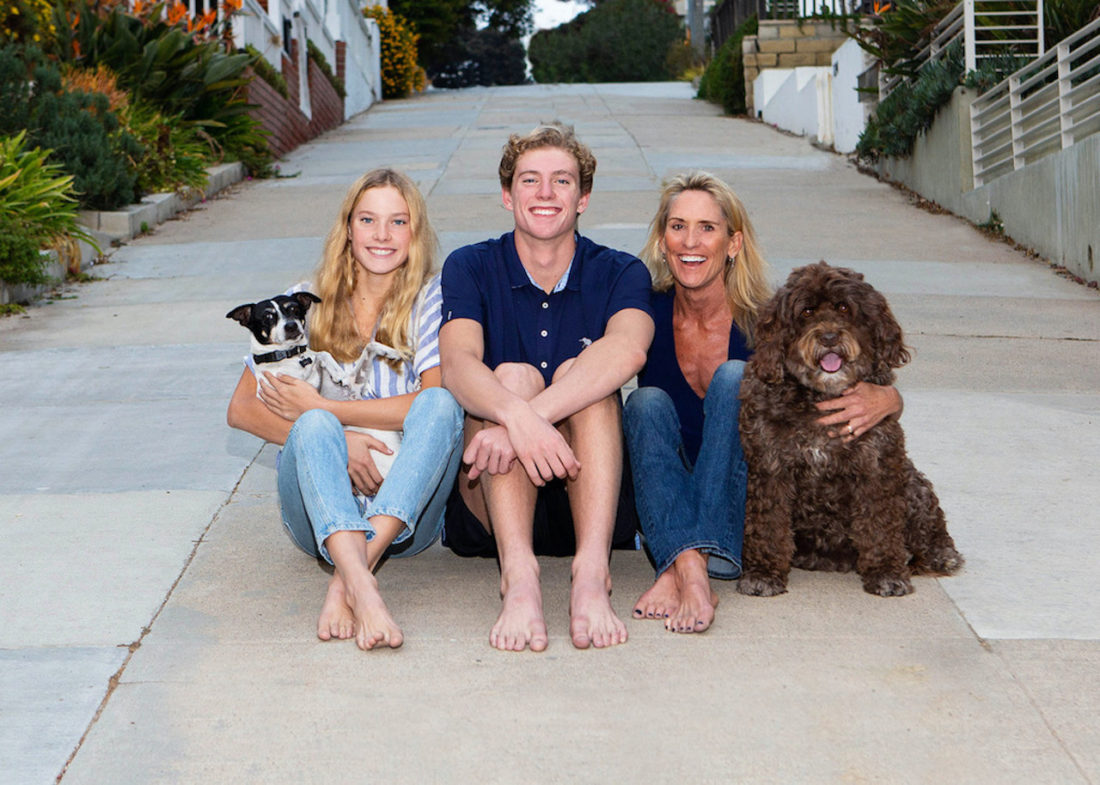 heads, we see awareness of mental health growing, which is to be welcomed and encouraged, sports governors through to media among those on a learning curve and in many places still struggling to understand the damage that can be done through lack of understanding the nature of "performance sport";
tails, we all too often live in our times and in that bubble are apt to lose perspective, mix matters of resilience with serious psychological challenges, forget the lesson of "nothing new under the sun" – take the tale of Sippy Woodhead, one of the greatest swimmers in history but rarely framed in those terms and never recognised by "the noisiest authorities" for the relevance of its "superlative degree of comparison", snap the class of Wendy Boglioli, Enith Brigitha and others battered and bruised by the androgyny about them, when we contemplate the building blocks of mental health, including resilience and events in life at large that knock gold, fourth or a missed cut into a cocked hat.
There is much work to do and little sign that some in positions of authority are even looking in the right direction. Time, with tales of experience and further research that might improve practice depending on the decisions of makers and shakers, will tell the direction of travel.
One key aspect of healthy outcomes, however, draws the light: family and the importance of a great support network of professionals was a theme athletes spoke of in waves of praise. In the ocean of commentary flowing at the ebb of Tokyo 2020 were suggestions that these were the Games of "We" not "Me". I actually think the "we" was there all along: it was the pain of pandemic, prevailing circumstance and a willingness of athletes and others to show and talk about the depth of investment required without being made fools of because this was a time when the media and others were willing to listen like perhaps they've never listened before. The spirit of 'If' was heavy in the air:
If you can dream – and not make dreams your master;
If you can think – and not make thoughts your aim;
If you can meet with Triumph and Disaster
And treat those two impostors just the same;
If you can bear to hear the truth you've spoken
Twisted by knaves to make a trap for fools,
Or watch the things you gave your life to, broken,
And stoop and build 'em up with worn-out tools …
IF, by Rudyard Kipling, in full
Important, of course, not to overlook the other reason why the heart and ear were more open that usual in some quarters: gold, medals, the haul that draws the eye.
There was no better example than Britain: the tears would have been written up in different context, the long days, weeks and years and labouring of parents, coaches and others would not have filled copies column inches of copy because it is only when 'heroes' are present that 'unsung heroes' have a chance in hell of being spotted. Tough love and a great deal of care and calculation led to this record hidden below the headline 4 golds and eight medals: 11 swimmers returned to Britain from Tokyo with 13 gold, 5 silver and 1 bronze medals in total (counting each relay medal per person not per race). Never before.
It made it all the easier for the media to listen as praise for parents and others in crucial support networks flowed.
Where we've seen a fourth place in an Olympic final and no medal in a secondary event at a Commonwealth Games result in the likes of Hannah Miley being asked in the mixed zone nauseating stuff like "do you feel you've let [the nation, no less] down?", the mood and atmosphere in Tokyo and prevailing times made it far easier for all to feel the depth of genuine and moving emotion in James Wilby, who did a fine job of holding it together for team despite personal disappointment until the moment he was asked about his mum, her efforts as a nurse in the pandemic and her 27-year shift as a swim mum; easier to understand and appreciate the tears of passion and joy from James Guy as the 2015 World 200m freestyle champion cheered his training partner Tom Dean and teammate Duncan Scott home to gold and silver in the event he had finished fourth in behind a Chinese controversy at Rio 2016, Guy's South African friend Chad Le Clos the first man home with a clean record that day.
No coincidence that it was former teammate Lizzie Simmonds who spotted the passion unfolding…
The deep investment of mates who have railed against being forced to compete against rivals working to a different Playbook than the one that carries "Fair" up front, was unmasked at a Games where masks were obligatory.
I like to think that by ripping the mask off the secret January 2019 FINA Doping Panel report into Sun Yang's September 2018 clash with anti-doping testers, exposure leading to the whole thing challenged by the World Anti-Doping Agency (WADA), I contributed a drop in an ocean of happy outcomes in Tokyo. The simple act of removing a cloud that ought never to have been allowed to rain on the parade of swimmers in the way that the first man home over 200m at Rio 2016 and his entourage did was like the sun coming out.
The moments Sun*, via twisted events and challenges, was handed a suspension of eight years and then, after that had been rescinded over issues related to the impartiality of a judge and not to the actual details of the case, a suspension of more than four years was, to cite Dickens, with the month of March in his Great Expectations switched to May, "one of those days when the sun shines hot and the wind blows cold: when it is summer in the light, and winter in the shade".
So, there was Guy, tears pouring, the result up in lights that of mates but a part of his heart and soul, forever more. And all who had followed his journey understood why and felt a touch of what Dickens had conveyed, also in Great Expectations, with these words: "Heaven knows we need never be ashamed of our tears, for they are rain upon the blinding dust of earth, overlying our hard hearts."
We should be kinder to the past and those who have fought the good fight in trying circumstances in their own eras and epochs. We can be kinder to those efforts than "We not Me Games" suggests, legion the stories of "We" down the decades, in a variety of circumstances, including the tale of Jesse Owens and Luz Long. In swimming.
Think, too, of the many parents and others who invested heavily in their offspring and swimming but wore the invisibility cloak that comes with "fourth" or even "less than gold". Among the folk forced to wear that fashion are generations of women denied by the state-run doping programs (the plural is deliberate, for while the GDR architects of State Plan 14-25 wrote it all down and couldn't get to the shredders quick enough as the Wall fell, they were not the only dealers in Oral Turinabol and the like).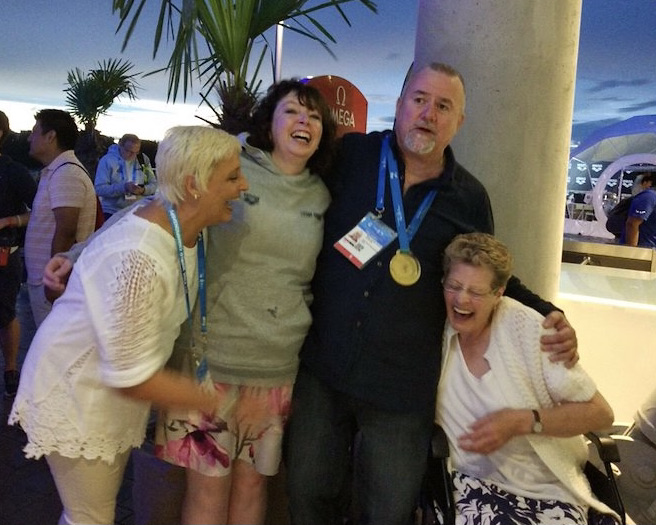 The parents and coaches who made headlines in history tended to be those who were part of the drama unfolding beyond an athlete simply saying "this is what my mum/dad/coach did and why she/he deserves these medals a much as me".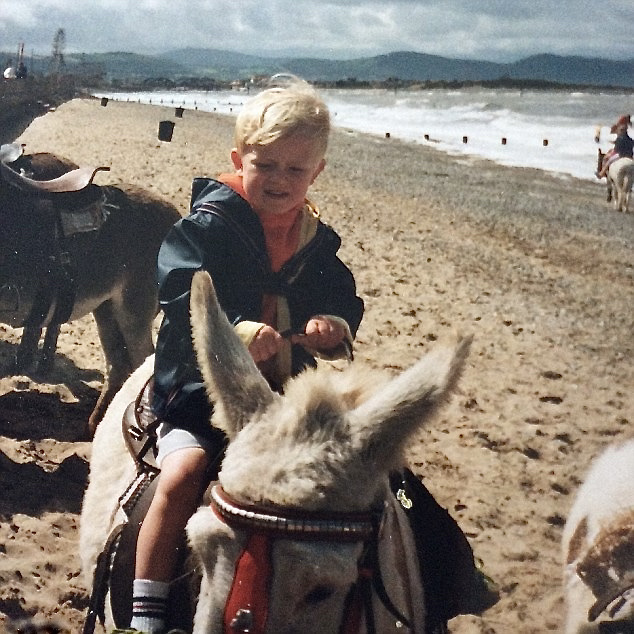 Jean Boiteaux's dad leaping in the pool in 1952 springs to mind. And in my time on the trail, Pablo Morales bringing reporters to tears at Barcelona 1992 as he dedicated his 100 'fly gold to his late mother after waiting eight years after 1984 silver and four years after missing the cut for Seoul 1988 even as a World-record holder; athlete Derek Redmond's dad helping his son limp around the track so that he could complete the race he was out of the moment his hamstring tore; Michael Phelps embracing his mom and sisters in the stands; Becky Adlington hugging Bill Furniss and then talking about her parents and sister and the contribution they made; Adam Peaty's dedication to the work of coach Mel Marshall and her pact with his mum Caroline, the support of dad Mark and #olympicnan Mavis (who had an artist paint a replica lion tattoo on her arm for a laugh at Budapest 2017 worlds much to the horror of her grandson until he realised it wasn't a permanent fixture); Bert Le Clos and his 'beautiful boy' in 2012… and so on.
The pandemic and a bar on any tourists and spectators at Tokyo 2020 was hard on athletes and their families. Mavis Williams, Peaty's nan, is 78. Five years after cheering her grandson on to his first gold, she closed her eyes when wastchjing the TV in the early hours of the morning back home as the World record holder and one of the biggest golden favourites left his blocks in pursuit of becoming the first British swimmer ever to retain an Olympic title. She told ITN television: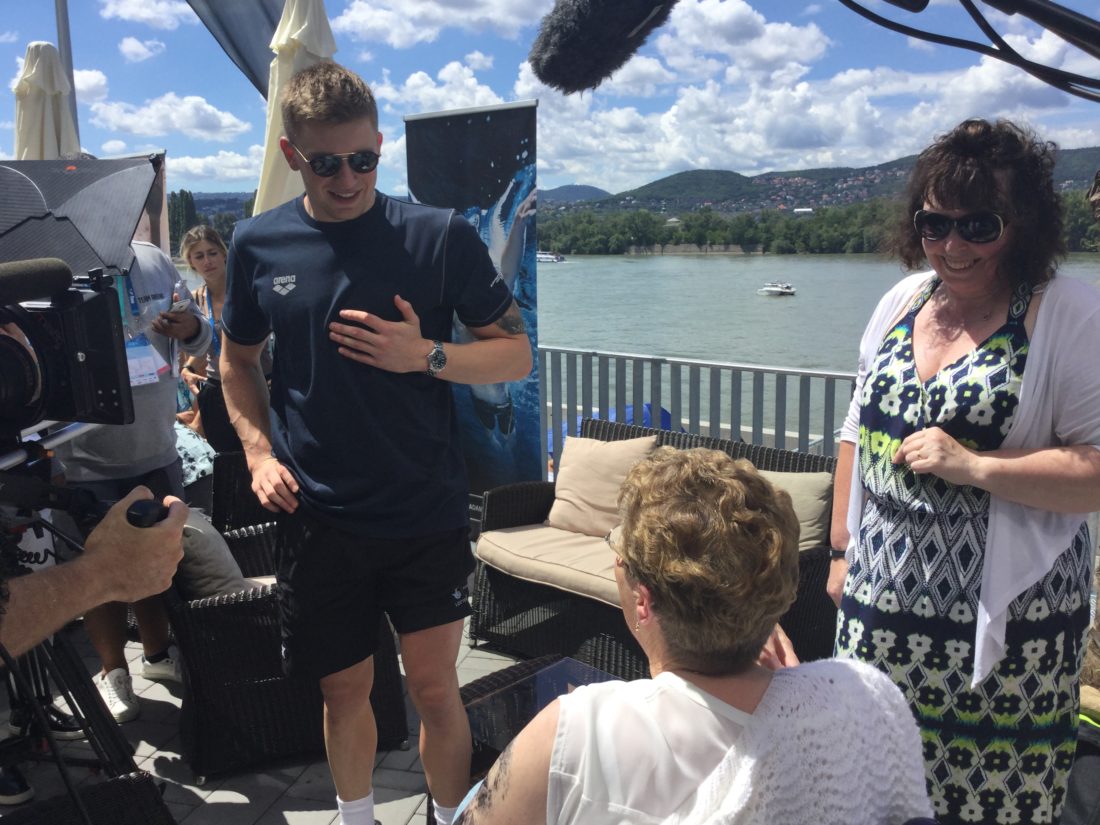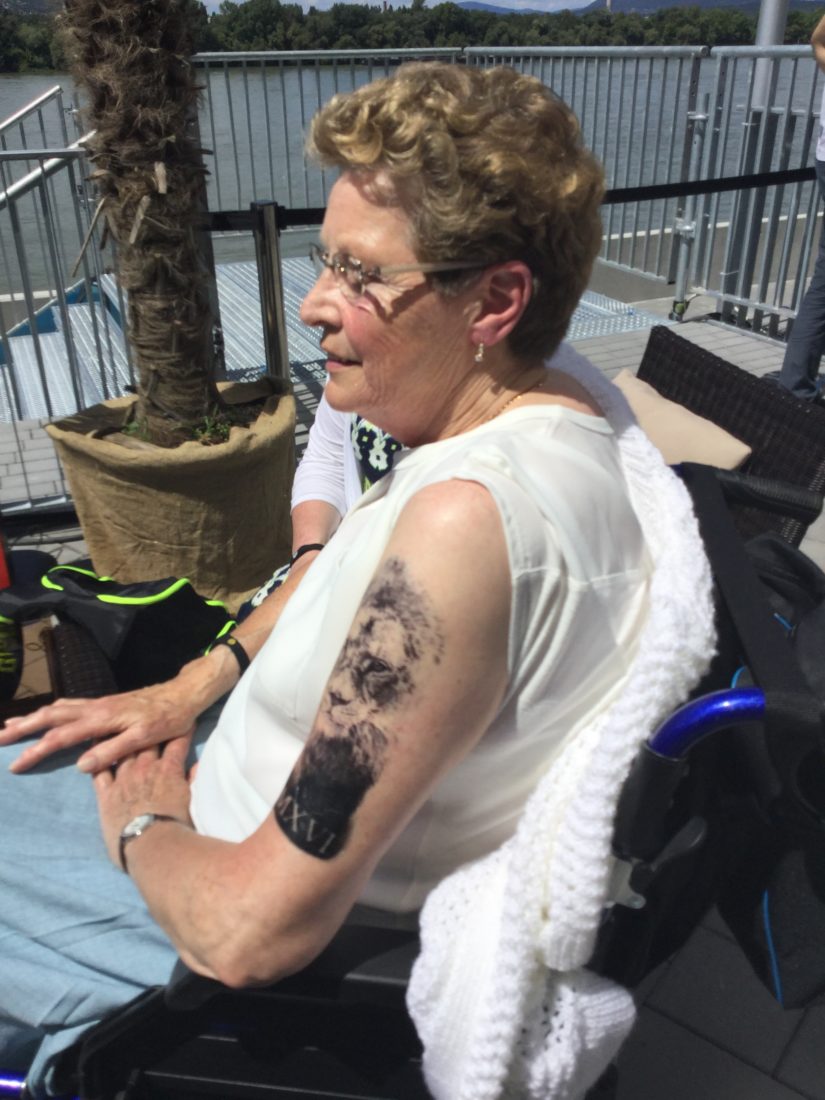 "I had a text from him saying 'I wish you were in the stands', and it just made me get a lump in my throat. I got up at 2(am), made a cup of tea at 3(am) and then it was time and he came on. My stomach went all over, and when he got on the blocks and was going to go in, I closed my eyes, I dared not look. And when they said double Olympic champion i just burst into tears. I was so proud, I can't even tell you how proud I was, and why I cried I just don't know."

Mavis Williams … photos: left, The Big Reveal – Olympic nan Mavis Williams shocks grandson Adam Peaty with a lion tattoo to match his own … Adam's mum Caroline watches his reaction, in on the secret of the tattoo being artwork not permanently etched on skin; right, Mavis and the Lion 'Tattoo' – Budapest 2017 World titles – images by Craig Lord
Tears of joy but also, as for many who invest so very much, relief that the ultimate prize and reward that lives eternal is part of the story, when for so many it never is, that being the nature of world-class sport.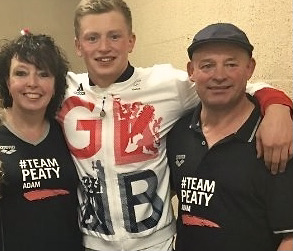 There are a great many more examples – and all of them add up to 'We'. In Tokyo and when the racing was done, the stories of unsung heroes captured the sentiment of the age in the midst of times of struggle and challenge brought on by a pandemic, Peaty leading the many references to "the clubs back home struggling to survive" and appealing to government to increase funding of community sports in a plea not without parallel to that of Paul Palmer at Atlanta 1996 that led to UK Lottery finding of sport in Britain and contributed to the outcome in the Tokyo pool in 2021.
With that in mind, here's a peek at unsung heroes through the lens of Britain's golden 4x200m quartet and a few other experiences down the years:
Song For Unsung Heroes Of Swimming
In Tokyo, Tom Dean, Jimmy Guy, Matt Richards and Duncan Scott unleashed a dominant victory in European-record time of 6:58.58, a World textile best inside the only other 7min combination ever in textile, the 6:59.70 in which the USA claimed gold at London 2012, Here's how those two textile sub-7s stack up in a virtual race: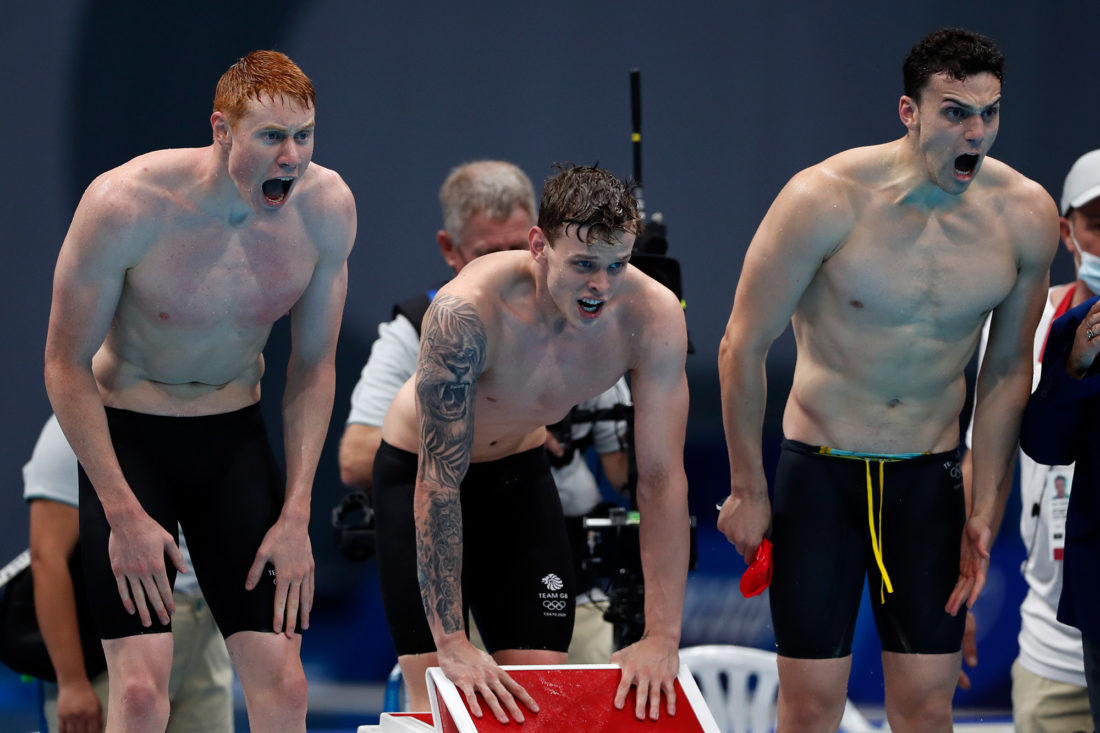 London 2012 – USA – 6:59.70
Ryan Lochte (1:45.15)
Conor Dwyer (1:45.23)
Ricky Berens (1:45.27)
Michael Phelps (1:44.05)
Heats: Charlie Houchin (1:48.22); Matt McLean (1:46.68); Davis Tarwater (1:46.33)
Tokyo 2020ne – GBR – 6:58.58
Thomas Dean (1:45.72)
James Guy (1:44.40)
Matthew Richards (1:45.01)
Duncan Scott (1:43.45)
Heats: Calum Jarvis (1:45.53)
Britain had just one switch swimmer in Tokyo, Calum Jarvis replaced by Duncan Scott for the final. Dean raced heats the evening after his solo 200m victory in 1:44.22, 0.04sec ahead of Scott, the first Britain freestyle gold among men since 1908, the first Britain 1-2 since that same year of a home London Games 113 years ago. In the final, Dean led the way with a time that brings a smile to the Britain 4x200m force: 1.5sec room for improvement right there, in circumstances different to the schedule demands of Tokyo. The 6:58.55 World record owned by the USA since the Rome 2009 shiny suits circus is living on borrowed time.
Britain made a point of celebrating Jarvis as a member of the golden squad. Quite right, too: Britain's heat time, with Dean anchoring and well ahead as he came home in a split 2.5sec outside his new British record from his solo gold, would have claimed silver at London 2012 and bronze at Rio 2016 just 0.12sec from silver.
This weekend, four small insights will accompany this editorial: focussed on Great Britain's winning 4x200m free quartet, they take in a few of the stories of challenge, workloads and the dedication of swim parents far and wide.
Today: Tom Dean and James Guy
Tomorrow: Matt Richards and Duncan Scott