Sarah Sjostrom Home Alone In Stockholm: 23.93 Speedier Than Her 2022 World Dash Crown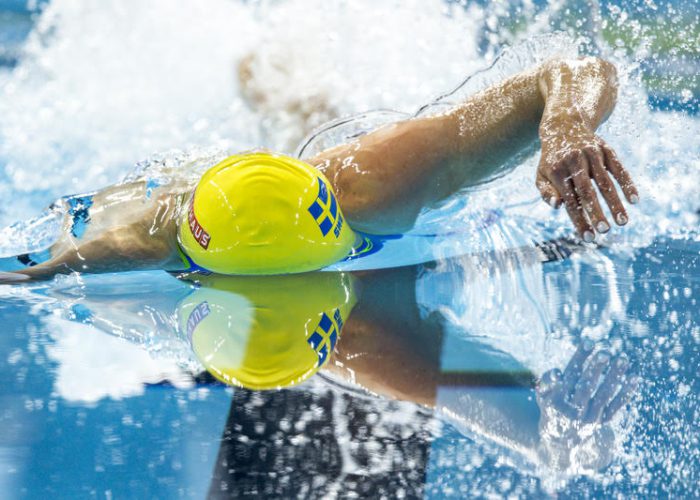 Sarah Sjostrom stole the show with a thumping 23.98 freestyle dash on the third day of action at the Swim Open in Stockholm, faster than her World-title win of last year and just 0.1sec shy of the meet record she set back in 2017 on the way to claiming the World record (23.67) later the same year in Budapest.
Her latest blast made it a record 21st time inside 24 seconds in the 50m freestyle – and marked the 14th fastest of her career. Context: only 10 women have ever raced inside 24.
Sjostrom, Södertörns Simsällskap, has won the dash events in all strokes barring breaststroke at home in Stockholm this week and appears to be in fine form once more as she approaches what will be the eighth World long-course Championships of her career, in Fukuoka, Japan, this July.
Sjostrom In The Slipstream Of Phelps
By the time the global showcase championship ended in Budapest last year with Sjostrom celebrating her 19th career World podium with a 23.98 victory in the 50m freestyle, the Swedish sprint ace was on course to overtake The GOAT, Michael Phelps, as the most medalled swimmer in the history of the top FINA/World Aquatics event all the way back to 1973.
Phelps has 20 podiums, leaving Sjostrom just one medal shy of a match and two to pass the American great in Japan this summer on the way to another milestone beyond Phelps: a sixth Olympic Games (the American raced at 5, 2000-2016), at Paris 2024.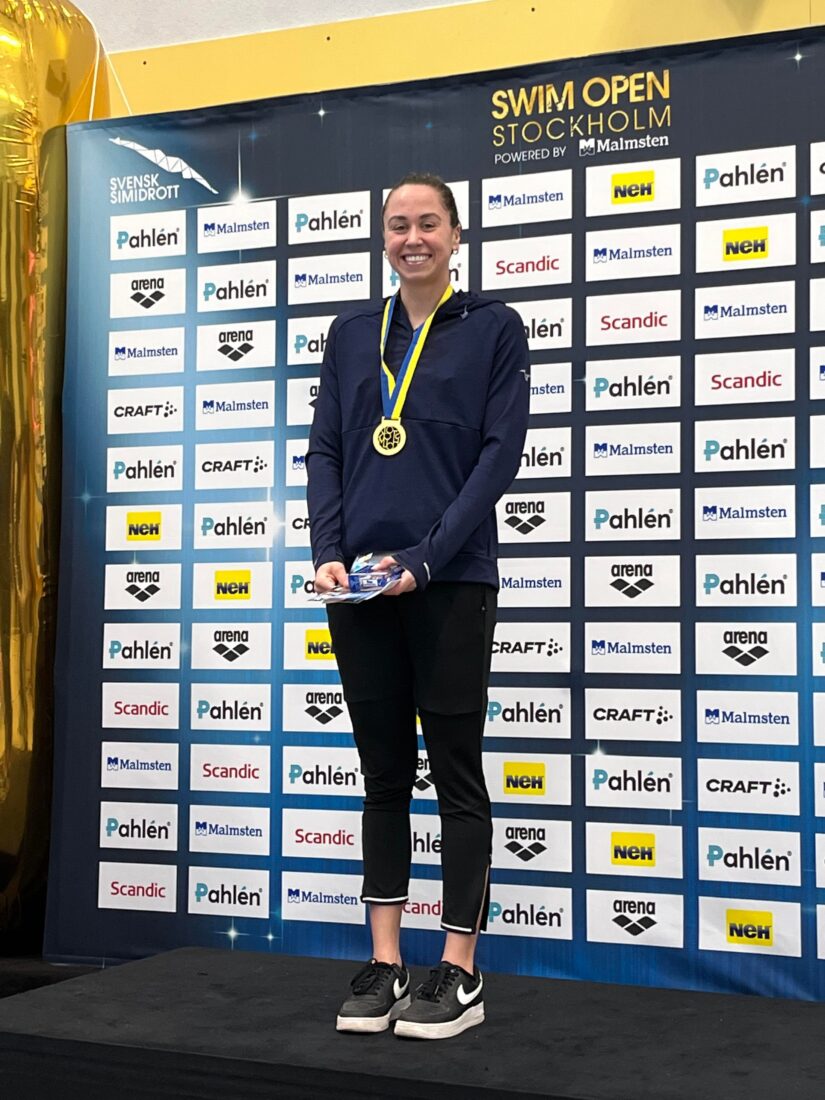 In Stockholm, American Catie Deloof (photo, right, courtesy of Mike Peyrebrune), racing for Loughborough University, was closest to Sjostrom on 24.70, 0.02sec ahead of Michelle Coleman, Spårvägen Simförening.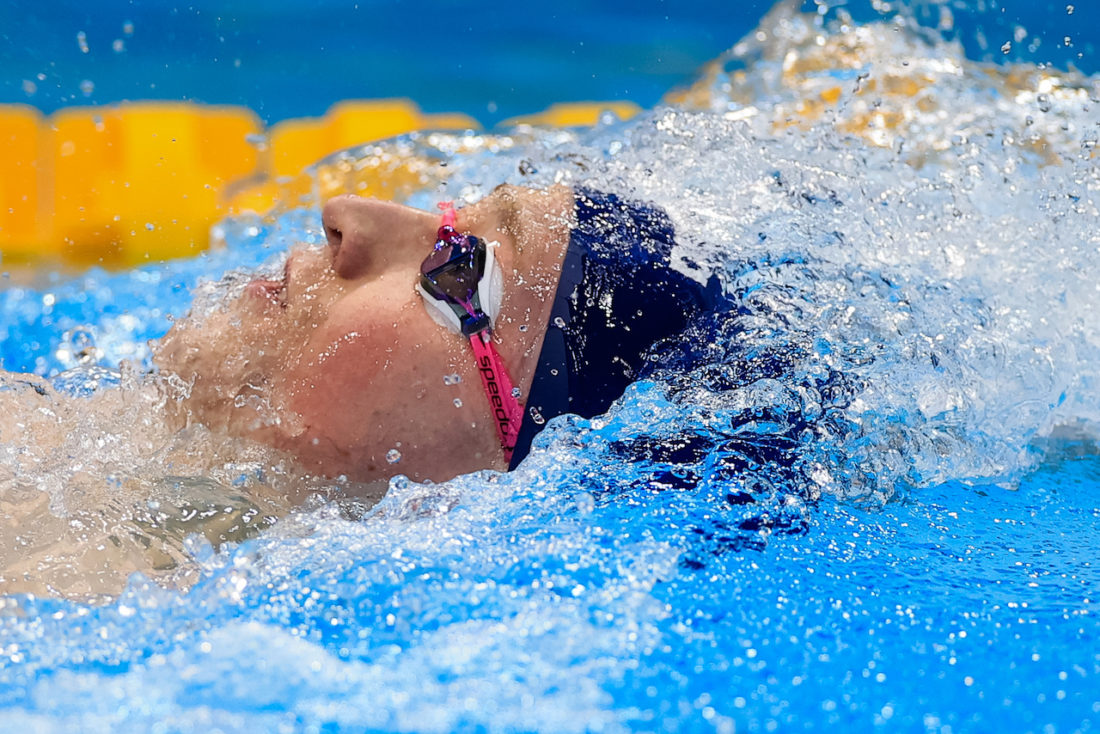 In other events, Max Litchfield, of Britain and Livorno Aquatics, clocked a World-Championships 'A' qualifier (World Aquatics) with a 4:12.85 victory and, technically, could be added to the national team for Fukuoka at the discretion of Head Coach Bill Furniss and Performance Director Chris Spice. Britain is yet to decided if it will add discretionary entries to its 29-strong team bound for Fukuoka in Japan.
Litchfield's flow: 57.55; 2:03.63; 3:14.77; 4:12.85. Next home, on on 4:20.26, was Mykhaylo Romanchuk, the Ukraine ace who finished second behind the global performance of the season so far, a 14:34 from Ireland and Loughborough's Daniel Wiffen in the 1500m free yesterday.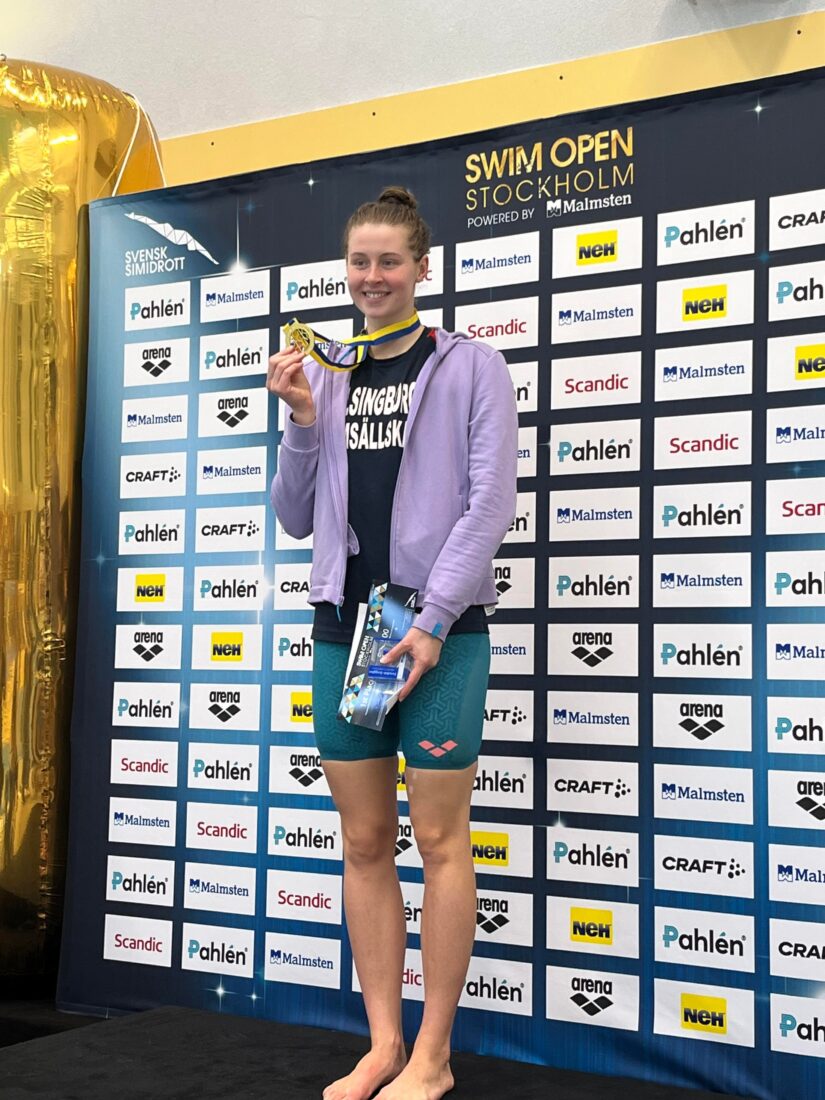 The meet record in the men's 200m butterfly started the day at 1:56.58, in the hands of Belgium's Louis Croenen, from 2019, was rattled ion heats by Ukraine's Denys Kesil, on 1:56.75, before the same swimmer took down the standard with a 1:56.46 victory in the final.
Other winners included Paige Madden, New York Athletic Club, on 4:10.75 in the 400m freestyle; Sophie Hansson, Helsingborgs Simsällskap, on 2:25.31 in the 200m breaststroke, inside Worlds 'A' standard cut – both those winners coached by Ian Hulme in England; and Oleksandr Zheltiakov, the 17-year-old from Ukraine who clocked 54.39 in a tight 100m back battle ahead of Czech teammates Miroslav Knedla, also turning 18 this year, and Tomas Franta, on 54.41 and 54.81 respectively.