Ruta Meilutyte Marks 10th Anniversary Of Olympic Title At 15 With Return To Gold In Rome – For 2nd Dash Crown 8 Years On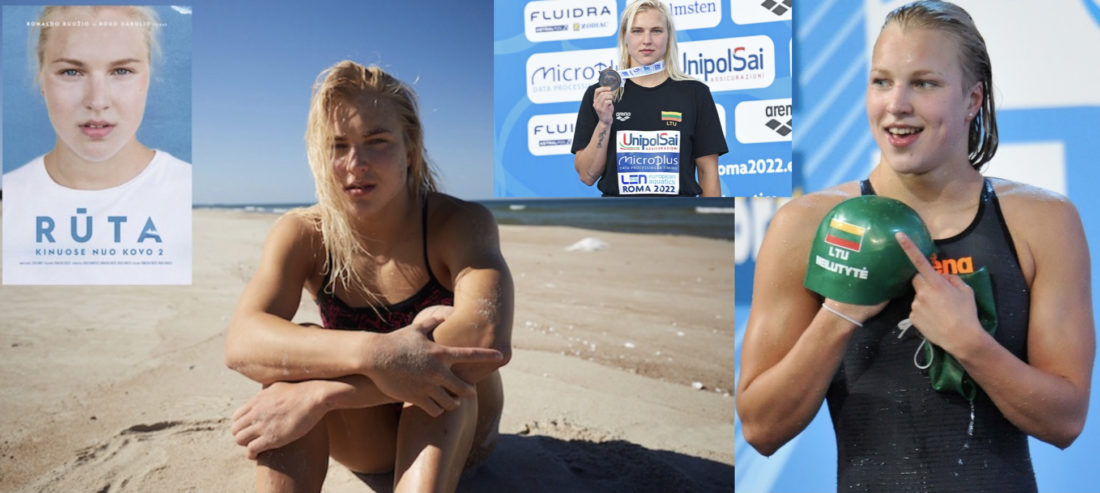 Ruta Meilutyte nailed her comeback to the mast with a 29.59 victory in the 50m breaststroke 10 years after she claimed Olympic gold in the 100m for Lithuania at 15 years of age.
Italian hearts broke at the Stadio del Nuoto on the final day of racing in Rome when Meilutyte fended off a challenge from current world-record holder Benedetta Pilato, on 29.71. The bronze went to Britain's Imogen Clark in 30.31.
Meilutyte, former World record holder and champion, last claimed the European dash crown in 2014, with a 29.89. In semi-finals yesterday, she clocked 29.44, better than the 29.48 in which she held the world record back in 2013. Pilato's best is now best ever, at 29.30.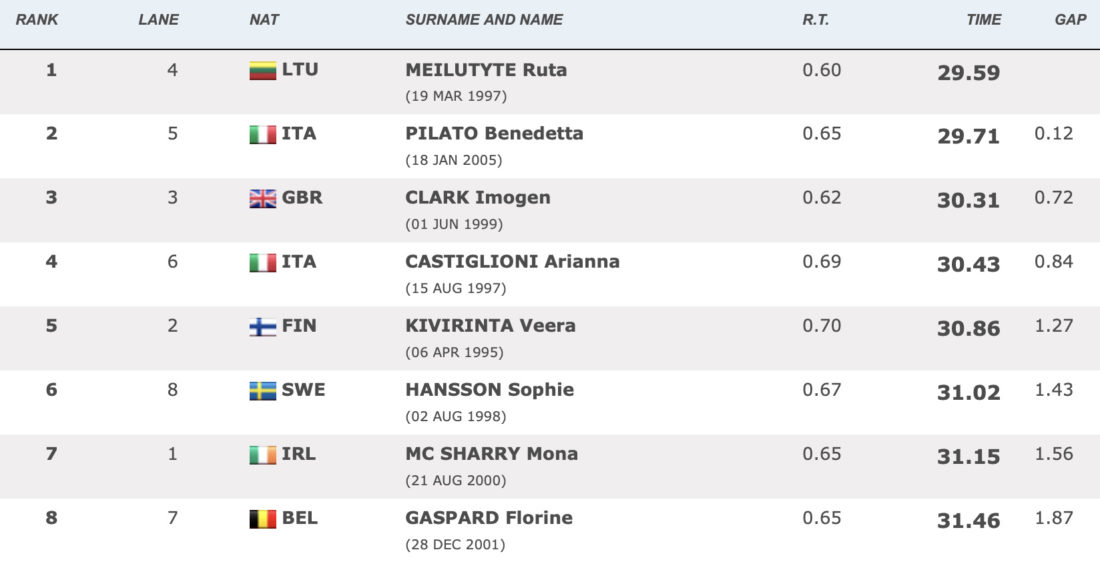 Meilutyte said: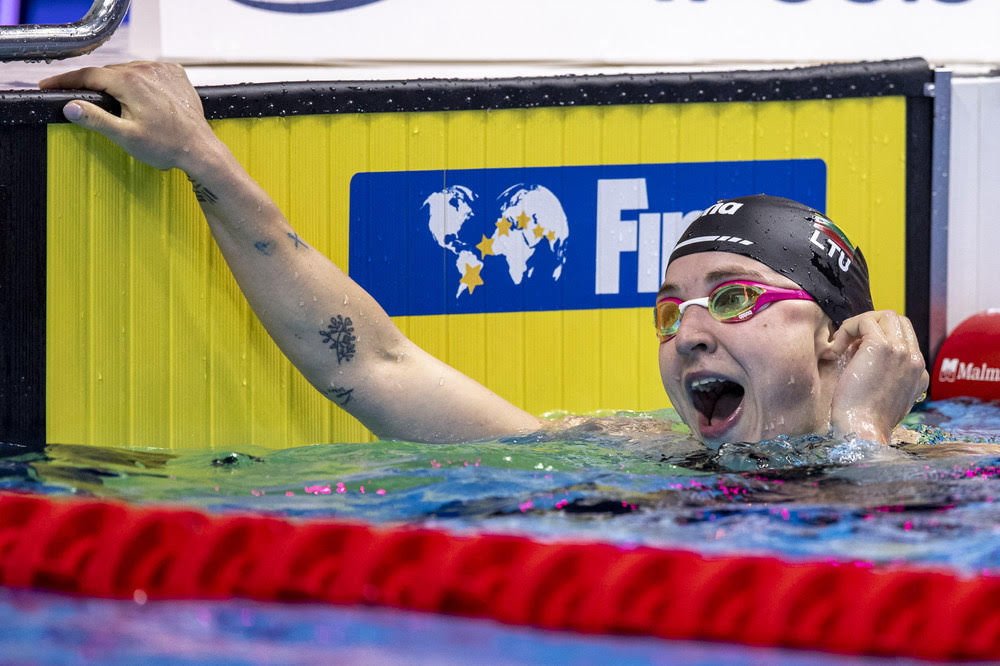 "I'm grateful to be here, for being able to do it this way. It is not so much about the time but more about who I want to be as a person and as an athlete. To do what is right for me. I'm grateful for everything that happened – and I can't tell any more than this."

Ruta Meilutyte – Photo: celebrating bronze in the 100m at her comeback World titles in June (Photo by Patrick B. Kraemer / MAGICPBK)

Pilato said silver was the bonus to her World and European 100m titles: "That was a great time for me because I haven't swum a time like this in the entire year. I've dedicated this season to the 100m, so the focus of the preparations was totally on that event. And this year I managed to win the world and then here the European title in the 100m, so this silver is a gift for me."
Clark was delighted, having spent much of the championships in isolation with Covid: "I feels amazing! It was a great race to be part of. It's truly a dream come true to win this medal. I'm just coming off from the Commonwealth Games, won a medal there as well, and now I got a European one. I haven't swum at the Europeans for four years, so this is great."
Meilutyte Making Her Way Back
In the 100m, Meilutytė claimed gold in 2016, silver in 2018, before she retired, or at least thought she had. The paperwork was not submitted by her federation and while Meilutyte was spending time in North America, anti-doping testing agents called at the location she had cited for out-of-competition controls, found her absent and registered as a no-show. She was handed a suspension as a result, though no doping was involved. The affair prevented her from making a comeback in time for the Tokyo Olympics, which were shunted forward a year to 2021 by they Covid pandemic.
Well down on her previous 100m form as yet, Meilutyte claimed bronze here in Rome adrift Pilato and Italian mate Lisa Angiolini.
Meilutyte & Her Struggle With Russians
Her career suffered on the way to the defence of the 100m Olympic crown in 2015-16 in a Yulia Efimova feud with the world of the world's best breaststroke women. Efimova tested positive for a banned substance in 2013 and was served a lenient 16-month suspension that ended, conveniently, just before Russian trials for a home World Championships in 2015. She likened the matter to losing a driving licence after a traffic offence and then getting it back once the penalty had been served.
Meilutyte's troubled relationship with Russia continues in the prevailing circumstances of 2022, highlighted in sport by Mykhaylo Romanchuk's victory for Ukraine in the 1500m freestyle in Rome yesterday.
Russian and Belarusian athletes are suspended from all international championships as part of sanctions against the Kremlin's illegal war on Ukraine. In April, as LEN and later FINA imposed the whole-nation suspensions, Meilutyte staged her own protest in April when she swam across a red lake that symbolised the blood of Ukrainian people being murdered and maimed by Putin and the forces he commands.
The Olympic 100m breaststroke champion of 2012, swam across a lake near the Russian Embassy in Lithuania that was turned red with dye to represent the blood of the Ukrainian people murdered by the invading troops of Vladimir Putin in the Russian regime's war on Ukraine.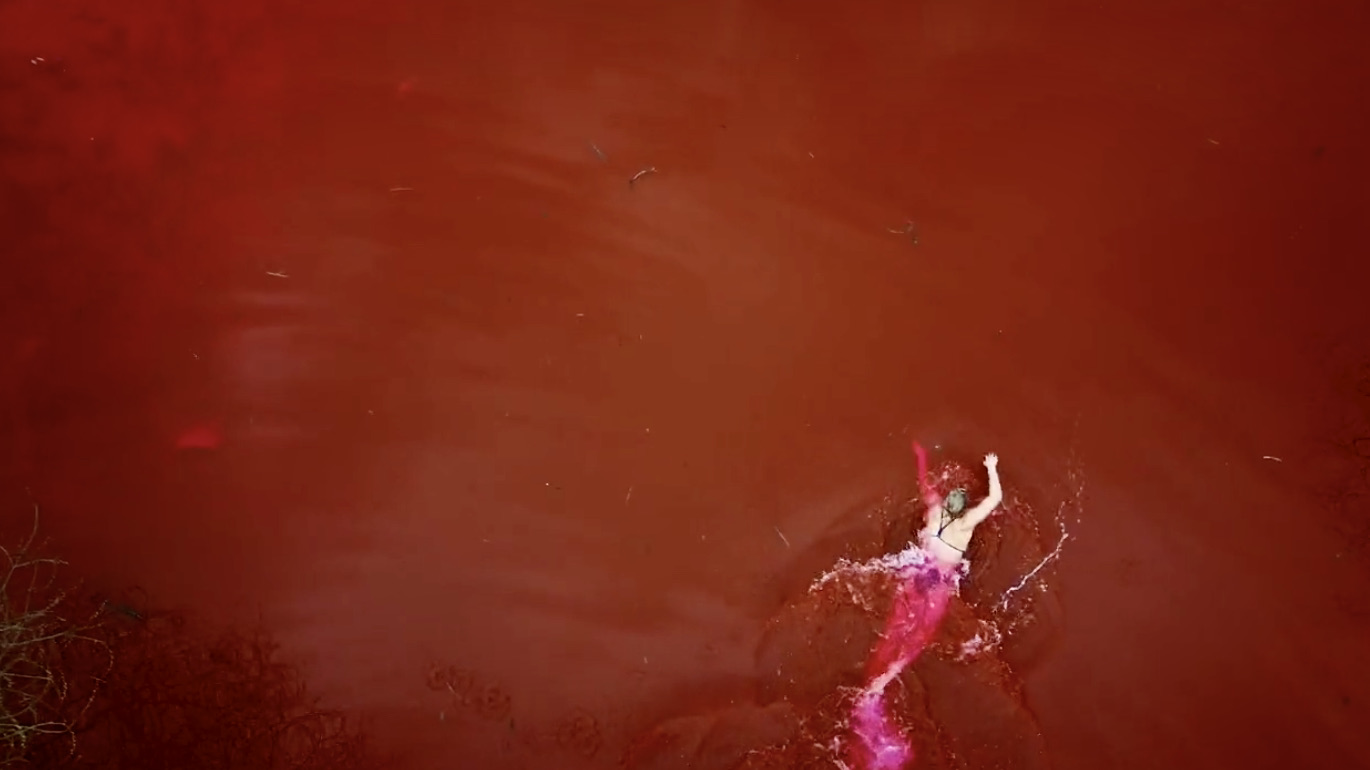 Her swim has been turned into a piece of dramatic art, the performance, titled "Swimming Through", used as a call for action in support of the Ukrainian people as allegations of war crimes mount and evidence of atrocities is documented for submission to the International Criminal Court in The Hague.
From the Archive
London 2012 -Olympic Games, London, July 30
Women's 100 breaststroke final
Ruta Meilutyte, a 15-year-old Lithuanian based at Plymouth College and the Leander swimming club, produced the biggest upset of the Games so far with a 1:05.47 stunner of a victory 0.08sec ahead of world champion Rebecca Soni (USA), the bronze going to Satomi Suzuki (JPN), on 1:06.46.
The school girl, coached by John Rudd in Britain, arrived at the Games with a best time of 1:07.20 and a chance of making the final. She goes to bed this night an Olympic champion, a trail of experience left wondering in her wake.
Beyond Alia Atkinson (JAM), the swim-off entry in the final and on 1:06.93, came defending champion Leisel Jones, on 1:06.95, the last two inside 1:07, US trials winner Breeja Larson, 1:06.96, and Yuliya Efimova (RUS), on 1:06.98.
The splits:
30.56; 34.91; 1:05.47 Meilutyte
31.28; 34.27; 1:05.55 Soni
31.39; 35.07; 1:06.46 Suzuki
In victory, Meilutyte is the first Lithuania first Olympic swimming champion and medallist actually racing for Lithuania**. She is also the youngest winner ever of the 100m crown and the youngest Olympic champion since Kyoko Iwasaki (JPN) claimed the 200m title in Barcelona at 14 years and 7 days.
** – NB – Lithuania has a long breaststroke tradition: Lina Kačiušytė Olympic 200m breaststroke champion (1980) and world champion (1978), and Aiškutė Buzelytė, a European junior champion (1980) on breaststroke; among men, Arvydas Juozaitis (1976), Olympic medallist, and Robertas Žulpa, Olympic (1980) and European (1981, 1983) champion. They and many others we're not allowed to race for Lithuania at a time of Soviet occupation of their country. Thanks to Giedrius Janonis for the reminder of a troubled past in which, as so often, athletes are used as pawns in the politics of sport that stretches al; the ways to the Kremlin and beyond.
Jones, locked out in London, will look back at Sydney 2000 – and a silver medal won after she arrived in home-Games year outside the top 100 in the world – and understand better than most why Meiluytyte looked so stunned by her own achievement.
The Britain-based teenager made her intentions known on the way to the final, setting a European record in the heats. If she was not taken for a doping test after that heat, the time will not count as a record. In the semi, she clocked 1:05.21: again, if she was not tested, then LEN, the European swimming league will not count the time. We assume that test was taken and the record will stand.
The final was delayed by a few minutes after the starter's gun apparently malfunctioned. The schoolgirl was not flustered. She led from start to finish, Soni getting an appallingly slow start that left her at least half a body length to catch up on the rest.
The new champion was tearful after her heat, after her semi and even more so after lifting the crown. She said: "I can't believe it. It's too much for me."
Meilutyte was born in Lithuania and lost her mother to an accident in childhood. She arrived in Britain in 2010, when her father took a job in Britain, and has studied at Plymouth College and trained at Plymouth Leander, where Rudd leads the programme.
He said: "We didn't realistically know what she would do. The Olympics are a funny place. We concentrated on her (training) process and she is amazing at that. She doesn't want me to talk about anyone else. She says 'just tell me what I have to do'."
the only candidate who can keep the crown. If she does it she will be the first in history to have done so.
Archive – February 2018
Ruta Meilutyte The Movie
Unseen, unheard, unknown
The crew captured Rūta's daily life at her home, in the swimming pool and in the gym, at Plymouth College in Britain when she was being guided by the coach who steered her to Olympic gold in 2012, Jon Rudd.
Buožis and Darulis filmed 5am starts, multiple workouts a day, including morning and evening swim sessions and an evening gymnastics session. They accompanied the swimmer and her coach to Tenerife for her final training camp before the Olympics – and then, a year later, met up with her again at the European short-course championships in Copenhagen.
There are scenes from home life in Lithuanian, with location shots in Kaunas, Vilnius and Nida.
Olympic Rhythm
Buožis summed up almost two years of following Meilutytė thus: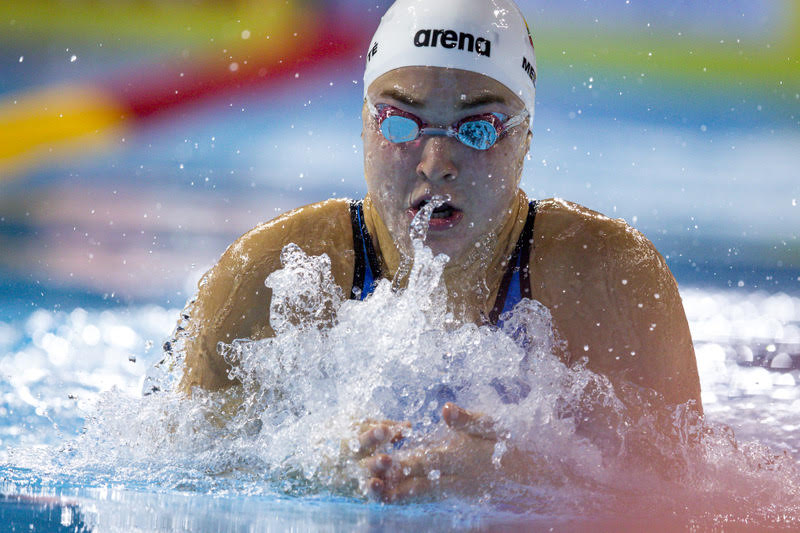 "Adapting to the constant changing was one of the biggest challenges. When an athlete is still active, it is hard to predict or plan the plot of movie. So, with every change in Rūta's life, story of the film changed as well. We continued our shoots and developed new directions of the narrative."
The makers filmed 30 hours of video for the documentary that will be released this Friday, March 2, in Lithuania, with film production supported by the Lithuanian film centre.
Meilutytė, now training at the Energy Standard program in Turkey with coach James Gibson and team, has set her sights on the Tokyo 2020 Olympics.
In 2016 and 2017, her world records over 50 and 100m in the long-course pool fell to American Lilly King, who was also engaged in a very public rivalry with Yuliya Efimova*, the Russian who has worn a doping ban on her sleeve since 2013, her 2015 comeback from a ban marked by her reference [one that went down like a lead balloon among rivals on the way to 'Star Wars' in Rio when athletes booed and jeered the Russian to and from her blocks], to a drugs suspension being like "losing your licence for a traffic offence and then getting it back again".
* -tested positive for a banned substance